MicroStrategy buys another $15 million worth of Bitcoin
These guys just don't quit...
When MicroStrategy isn't using debt to buy more bitcoin, they are using the cash-flow from their business operations to buy more bitcoin.
In a filing with the SEC MicroStrategy (MSTR) revealed that they had bought another $15 million worth of bitcoin.
The filing can be seen here: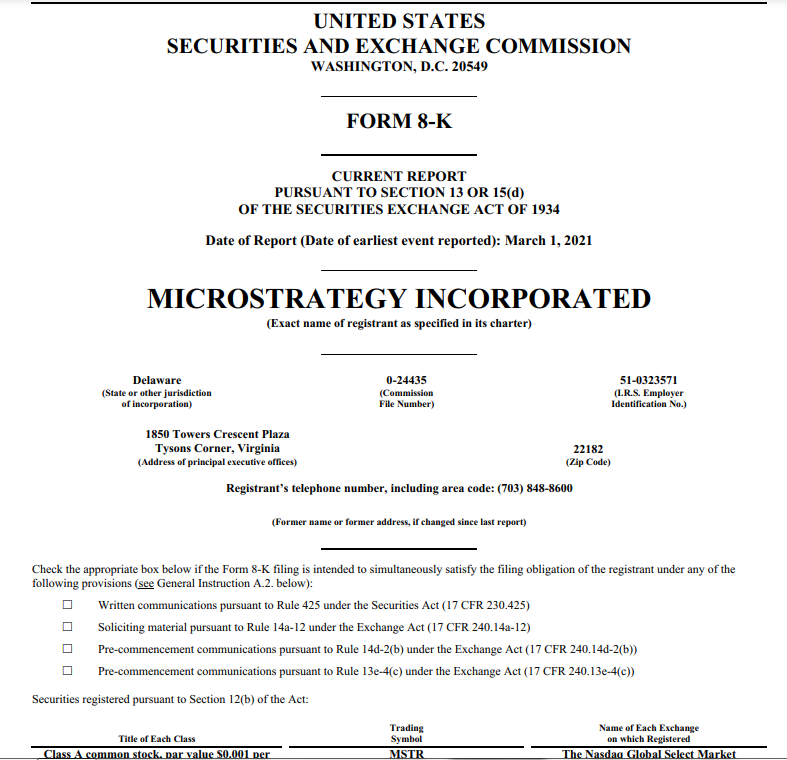 (Source: https://www.microstrategy.com/content/dam/website-assets/collateral/financial-documents/financial-document-archive/form-8-k_03-01-2021.pdf)
While the filing may not have been seen the majority of the people, the tweet from CEO Michael Saylor likely was.
Based on the tweet and filing, MSTR bought the $15 million worth of bitcoin at an average price of $45,710 per coin for a total of about 328 bitcoin.
This brings their total bitcoin holdings to roughly 90,859 bitcoin, and it they invested roughly $2.186 billion at an average price of roughly $24,063 per bitcoin.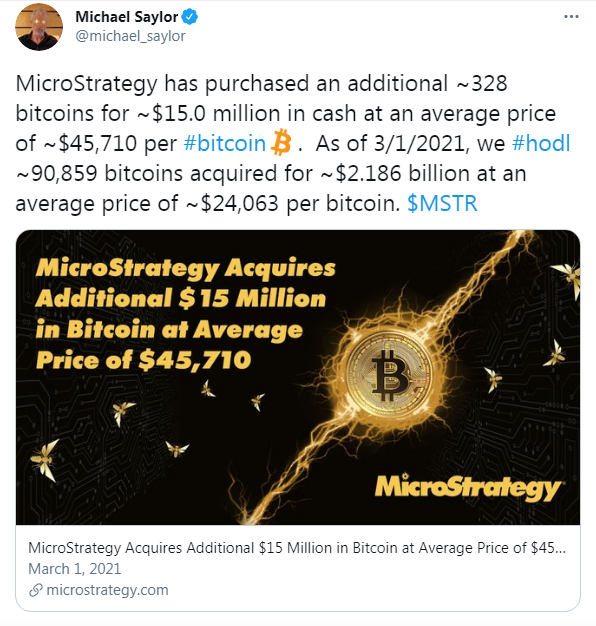 (Source: https://twitter.com/michael_saylor/status/1366375915559792640)
The Lows for BTC are probably in...
Yea, if this news alone was big enough, it's actually becoming commonplace these days with MSTR and others seeming to buy more bitcoin every week, we also got some pretty big news on a couple fronts today...
Our good friend Mr. Wonderful did a complete 180 on bitcoin and went from hating it and calling it a giant nothing-burger, to putting 3% of his entire portfolio into with the intention of buying more...
More on that can be seen here btw:
https://hive.blog/hive-167922/@jrcornel/mr-wonderful-switches-sides-and-becomes-a-bitcoin-believer-investing-3-of-his-portfolio
This is very good news as Mr. Wonderful gets tons of airtime and reaches a lot of people.
Them seeing him change his mind on bitcoin will likely further give them confidence to make the leap into bitcoin as well, especially those that were already on the fence.
The other big news of the day was that billionaire Daniel Loeb was looking at bitcoin and crypto from an investing standpoint.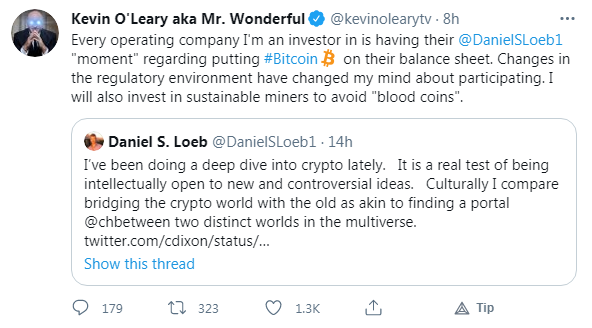 (Source: https://twitter.com/kevinolearytv/status/1366455880502378500)
While getting O'Leary onboard is big for retail investors, if Loeb makes the leap it's going to bring in even more institutions.
A lot of these guys watch each other and when one makes a big move, others often piggy back the idea.
Loeb getting into bitcoin could be what sends the price to new all time highs in the coming weeks and probably means the lows are in.
The news seems to keep getting better and better just about every week.
Stay informed my friends!
-Doc
Posted Using LeoFinance Beta
---
---