[ENG-SPN] Feast of the Almudena, Patron Saint of Madrid / Festividad de la Almudena, Patrona de Madrid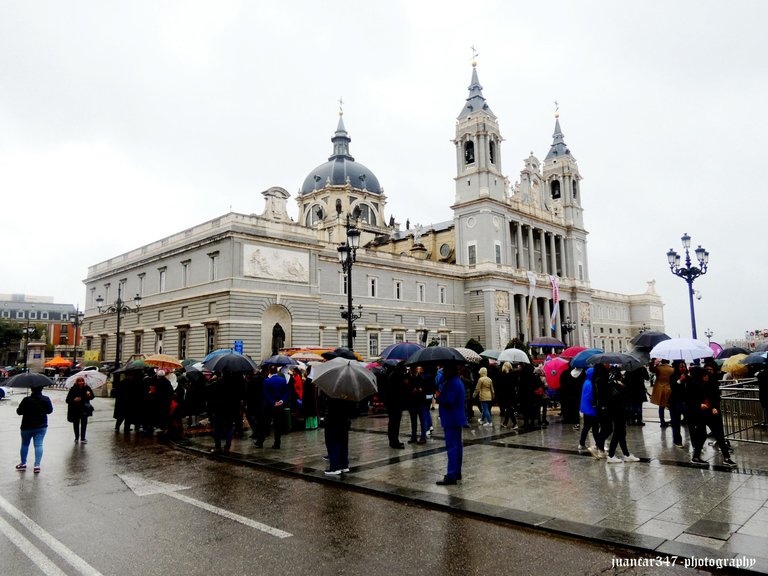 Not even the day, which has dawned with those same brown tones that El Greco liked to show so much in his paintings, nor the rain, monotonous and persistent at the same time, have managed to keep us from Madrid confined under the comfortable roof of our homes. On the contrary, grateful for that rain, which we receive like water in May and which not only cleans the streets but also a multitude of consciences, we have gone out to the streets to honor and enjoy the Feast of our Patron Saint: that Virgin, dark-haired and very dear, which responds to the name of the Almudena, in honor of those walls or almoraimas of the old Arab Magerit, where it was miraculously found.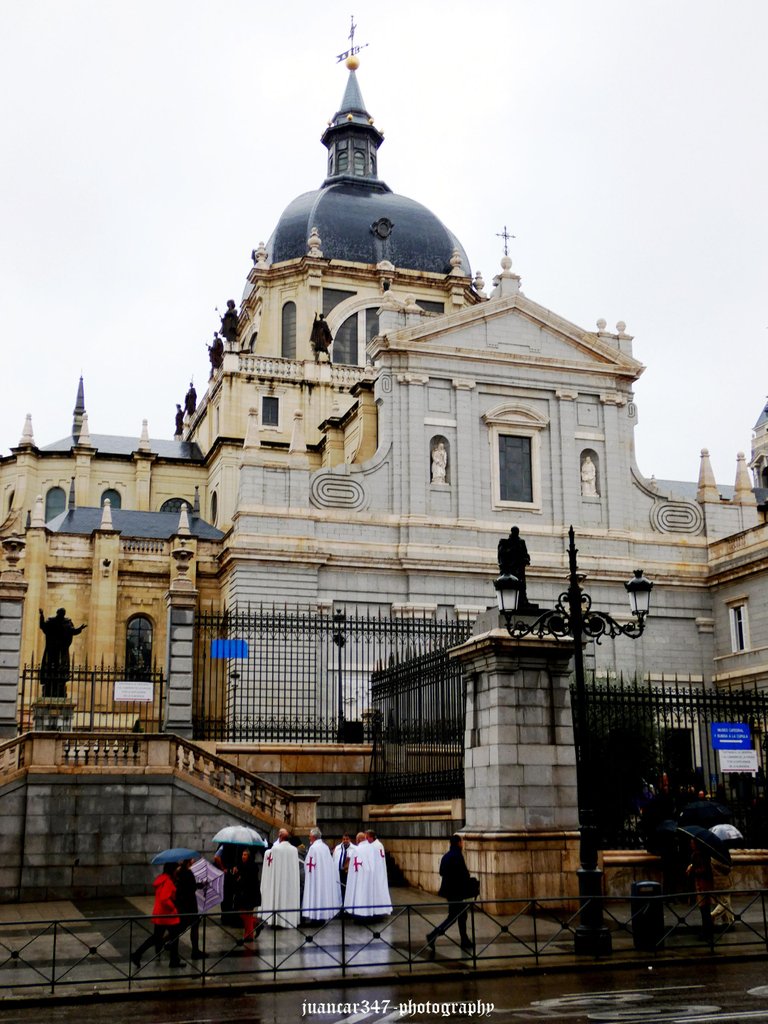 Under the protection of the colorful rainbows formed by the innumerable umbrellas, the cathedral and the surroundings of the Royal Palace have once again become the ideal setting for many Madrilenians, decked out in the typical and seductive regional costumes of chulapos and chulapas, to pay tribute to this meritorious Queen, carrying flowers as an offering and also carrying bags of food, responding, as the caring people that we are, to that call to alleviate, as far as possible, the ravages that hunger is causing in many families, which goes to show that, after all, there is no paradise without its corresponding snake.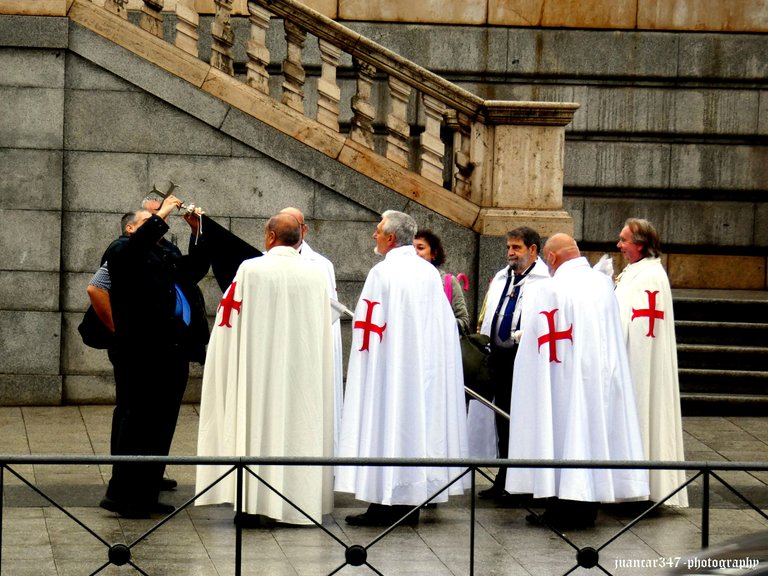 We have also seen, gathered at the doors of the cathedral, Christian knights, wearing the old habit of the Knights Templar - which is not surprising, since for these intrepid milites Templi, the devotion to the figure of Our Lady, not had limits- that have contributed, without a doubt, to form some scenarios, in honor of Tradition, which in some comparative way, also honor that strange quote by Borges, which alluded to the fact that Yesterday continues to be Today and also He still.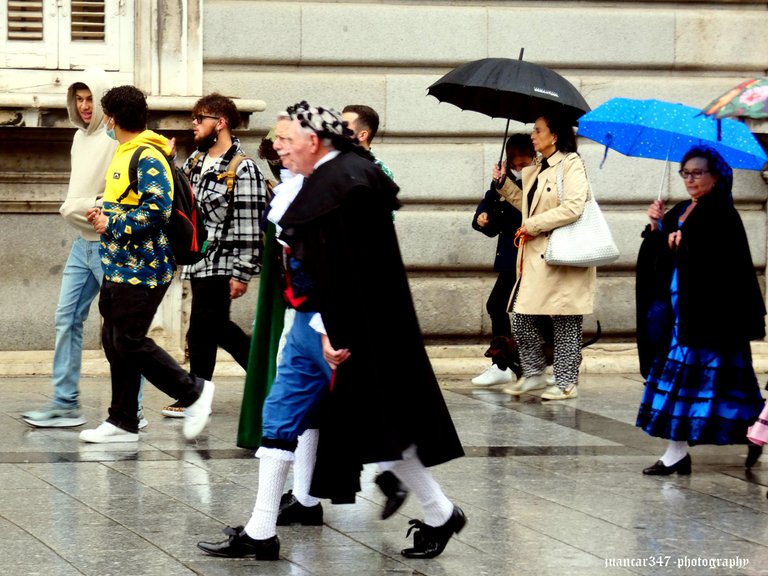 Ni siquiera el día, que ha amanecido con esos mismos tonos pardos que tanto gustaba mostrar al Greco en sus cuadros, ni tampoco la lluvia, monótona y persistente a un tiempo, han conseguido que los madrileños nos quedemos recluidos bajo la confortable techumbre de nuestros hogares. Por el contrario, agradecidos con esa lluvia, que recibimos como agua de mayo y que no sólo limpia calles sino también multitud de conciencias, hemos salido a la calle, para honrar y disfrutar de la Festividad de nuestra Patrona: esa Virgen, morenita y muy querida, que responde al nombre de la Almudena, en honor de esas murallas o almoraimas de la vieja Magerit árabe, donde fuera milagrosamente encontrada.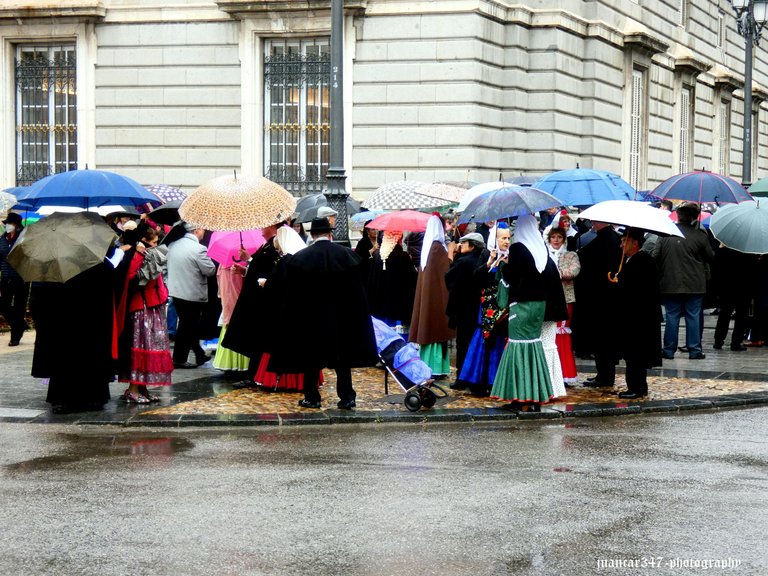 Bajo la protección de los vistosos arcoíris formados por los innumerables paraguas, la catedral y los alrededores del Palacio Real, han vuelto a ser el escenario idóneo para que muchos madrileños, engalanados con los típicos y seductores trajes regionales de chulapos y chulapas, rindan cumplido homenaje a esta meritoria Reina, portando flores como ofrenda y también cargando con bolsas de comida, respondiendo, como el pueblo solidario que somos, a esa llamada para paliar, en la medida de lo posible, los estragos que el hambre está causando en muchas familias, lo que viene a demostrar, que al fin y al cabo, no hay paraíso sin su correspondiente serpiente.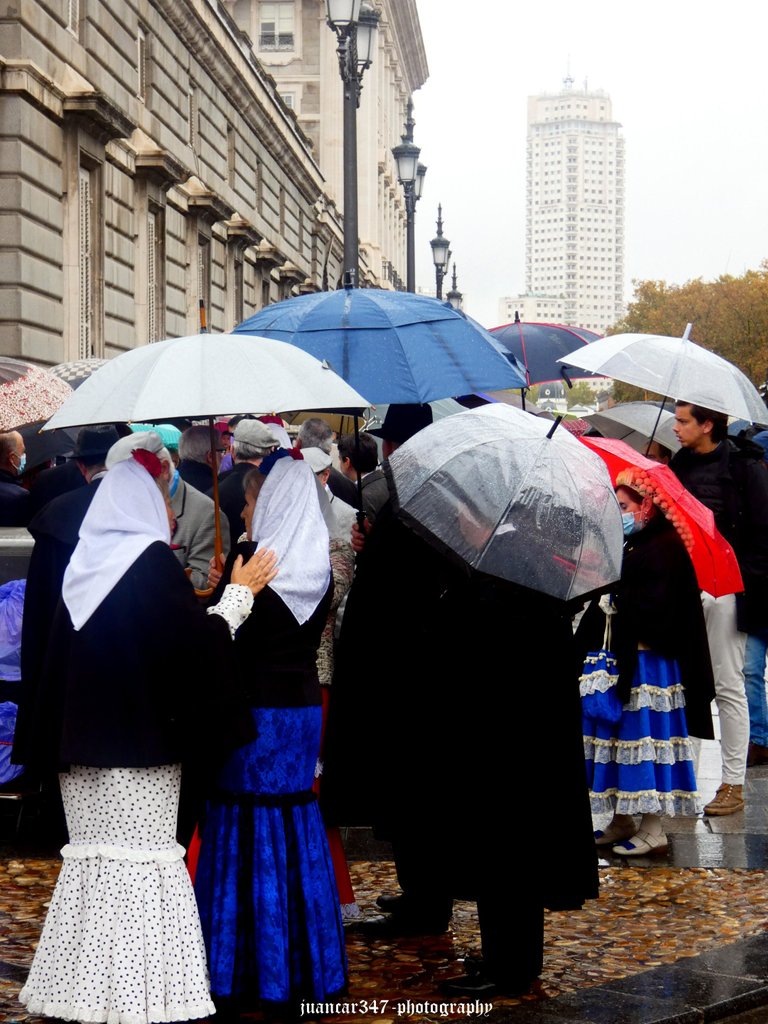 Hemos visto, congregados a las puertas de la catedral, también a caballeros cristianos, vistiendo el viejo hábito de los caballeros templarios -lo cual, no es de extrañar, pues para estos intrépidos milites Templi, la devoción por la figura de Nuestra Señora, no tenía límites- que han contribuido, no cabe duda, a formar unos escenarios, en honor de la Tradición, que de alguna manera comparativa, hacen honor también a aquella extraña cita de Borges, que aludía a que el Ayer continúa siendo el Hoy y también el Todavía.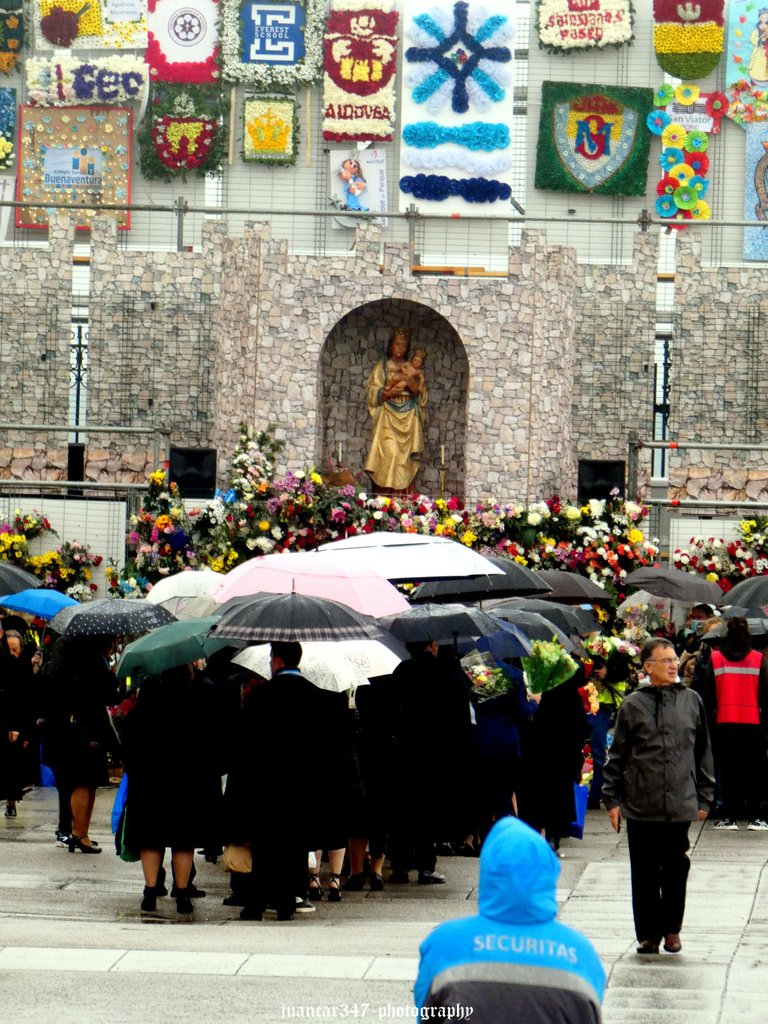 NOTICE: Both the text and the accompanying photographs are my exclusive intellectual property and therefore are subject to my Copyright.
AVISO: Tanto el texto, como las fotografías que lo acompañan, son de mi exclusiva propiedad intelectual y por lo tanto, están sujetos a mis Derechos de Autor.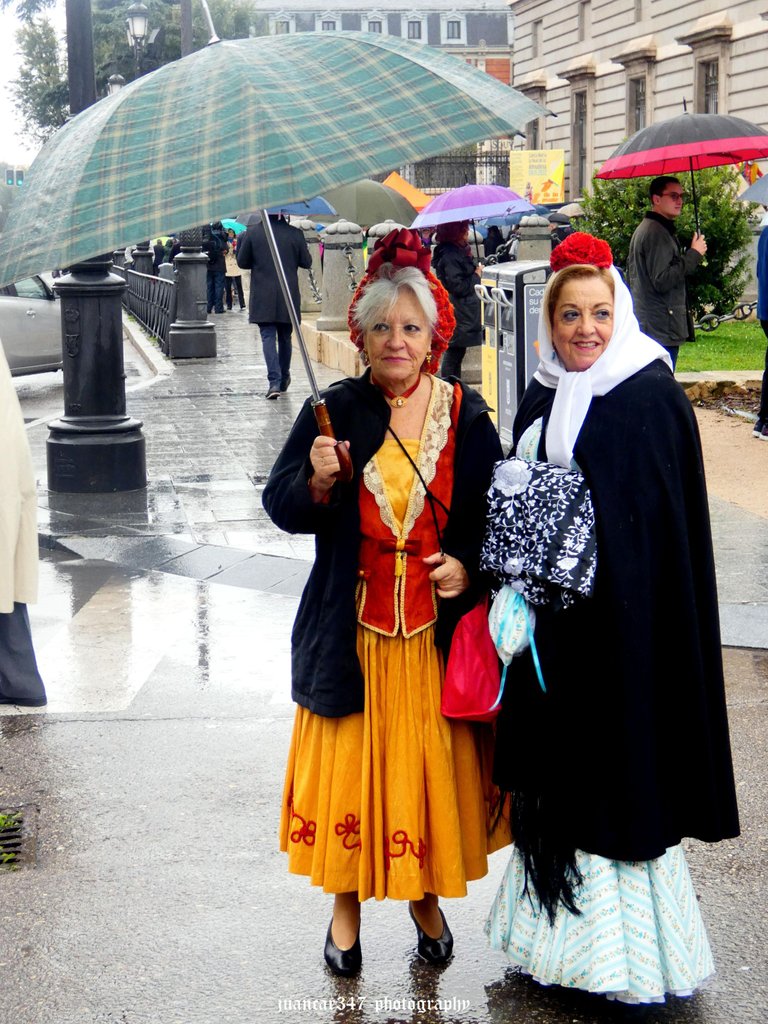 ---
---