[ENG-SPN] From Madrid to heaven with Hergé / De Madrid al cielo con Hergé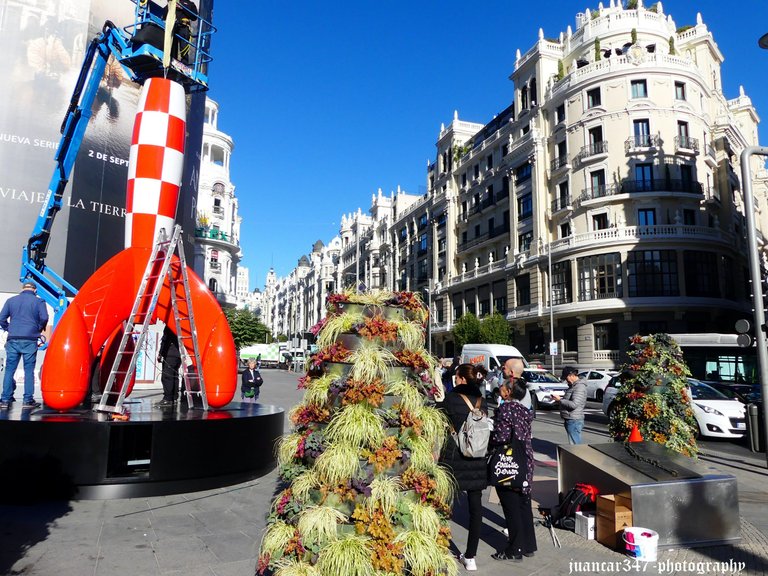 I remember that as a child - so many years ago, that I don't even know how I dare to use the word remember - the first books, let's say, 'serious', that I read - yes, in a children's edition, 'of course', as I would say Uncle Chesterton- were Homer's 'The Odyssey' and that anonymous one from the marvelous Castilian Romancero -and long live Spain- which is the peculiar and esoteric legend of 'The Seven Infants of Lara'.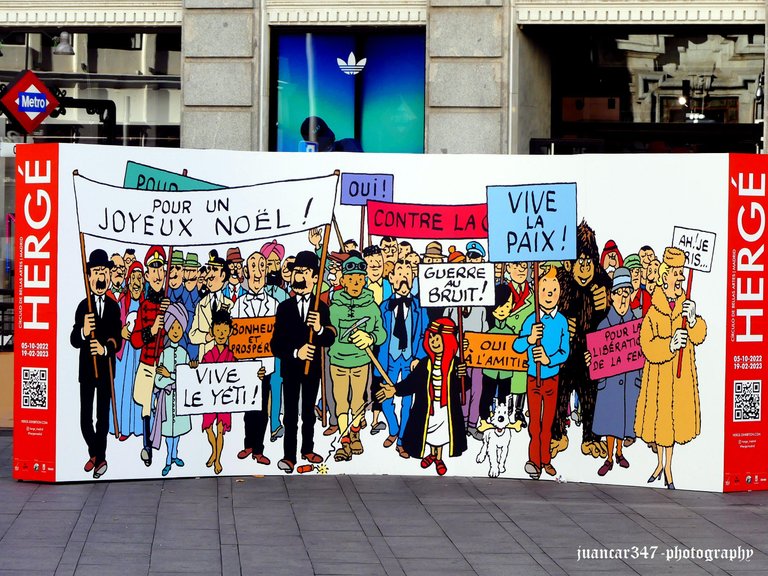 Then, how could it be otherwise, came Disney, Hergé and the Marvel Comics Group -perhaps to alleviate the painful ups and downs of Bambi and the loss of his mother, with the incredible adventures of Namor, the Fantastic Four, Captain America , the Mass, the X Patrol and that Spider, whom he retired, who was going to say, Peter Parker when the atomic spider stung him and became the Spiderman whose adventures we watch so much today- being, possibly, of all of them, Tintin , Captain Hadock and Snowy the puppy, who, in the end, managed to cast a spell on me, with stories like 'The Mysterious Star', 'The Secret of the Unicorn', 'Journey to the Moon' or 'Tintin in Tibet'.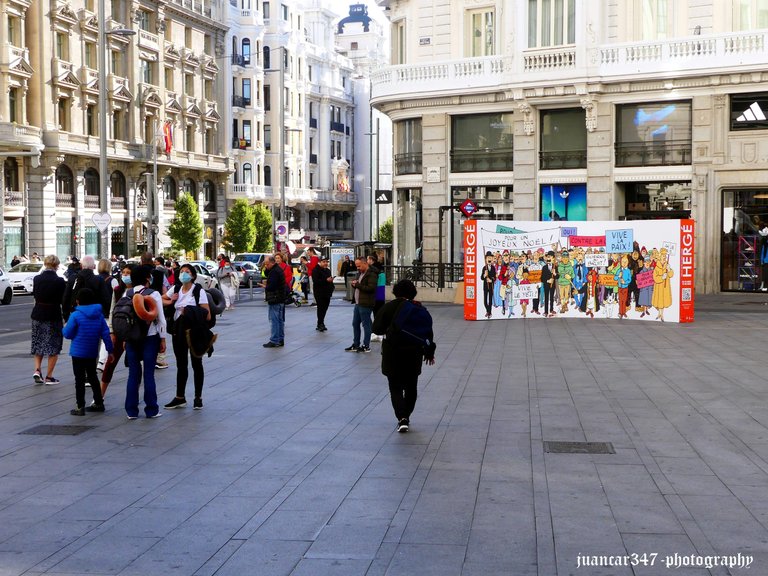 Madrid dresses up to receive Hergé and by default, to honor that work, where Tintin, after all, continues to enchant with his most peculiar virtues, which are, in my opinion, fidelity and self-sacrifice. For this reason, now it can be a great event, for all those who visit our Gran Vía -that little Broadway- to contemplate the tribute that the people of Madrid dedicate to it. And it is that, as Hergé demonstrated, hand in hand with Tintin, with his trip to the Moon, seeing that same rocket mounting by leaps and bounds in front of the Círculo de Bellas Artes, where a phenomenal exhibition is being inaugurated, which I do not intend to miss, remember what we all already know and even Hergé seems to accept: from Madrid…to Heaven.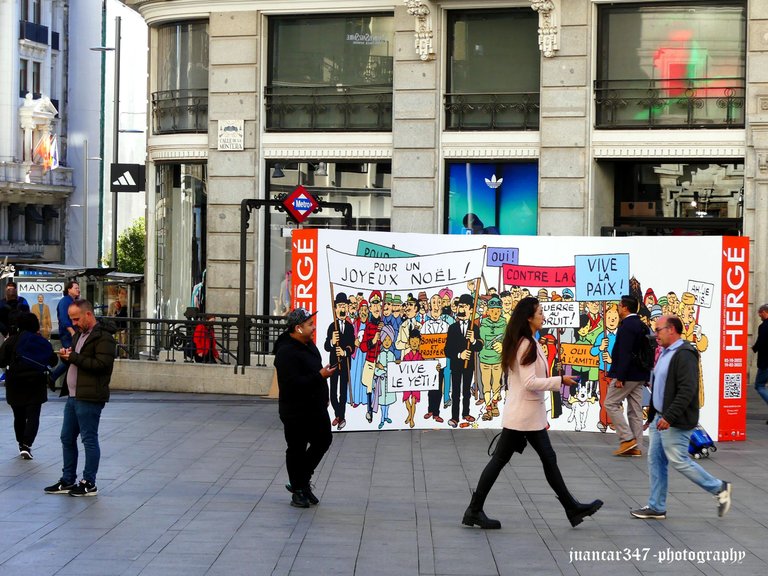 Recuerdo que de pequeño -hace ya tantos años, que no sé ni cómo me atrevo a utilizar la palabra recordar- los primeros libros, digamos, 'serios', que leí -eso sí, en edición infantil, 'of course', como diría el tío Chesterton- fueron 'La Odisea' de Homero y ese anónimo del maravilloso Romancero Castellano -y que viva España- que es la peculiar y esotérica leyenda de 'Los siete infantes de Lara'.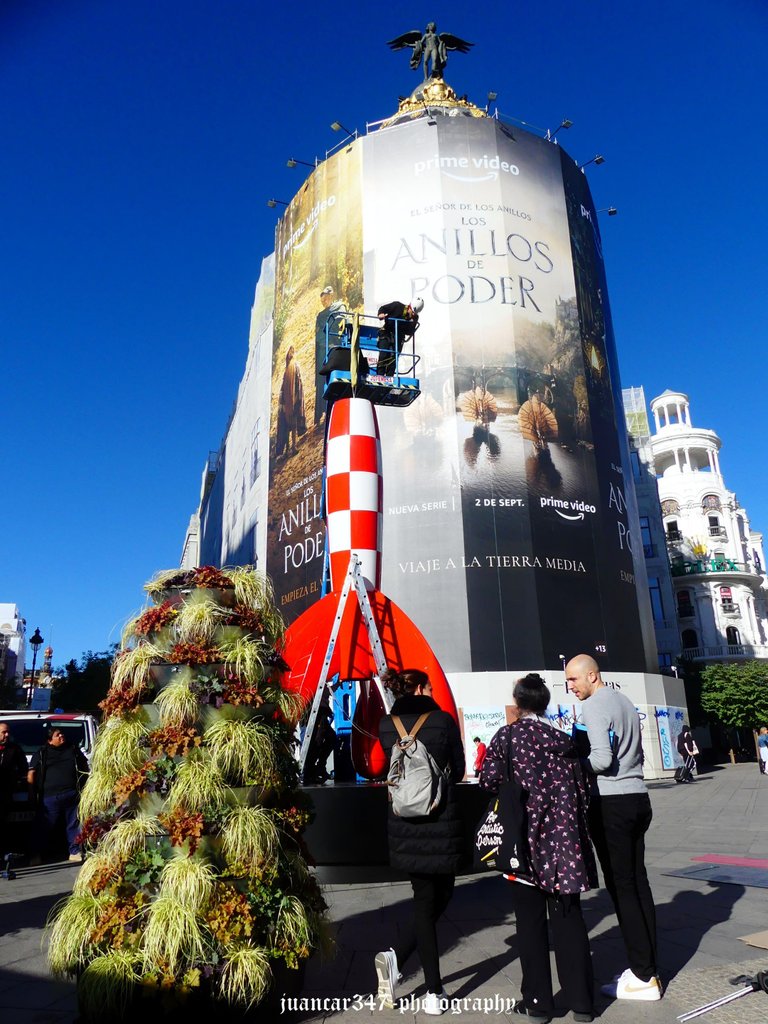 Después, como no podía ser de otra manera, llegaron Disney, Hergé y la Marvel Comics Group -quizás, para aliviar los dolorosos avatares de Bambi y la pérdida de su mamá, con las increíbles aventuras de Namor, los Cuatro Fantásticos, el Capitán América, la Masa, la Patrulla X y ese Spider, al que jubiló, quién lo iba a decir, Peter Parker cuando la araña atómica le picó y se convirtió en el Spiderman cuyas aventuras tanto visionamos hoy- siendo, posiblemente, de todos ellos, Tintín, el Capitán Hadock y el perrito Milú, quienes, al final, consiguieron hechizarme, con historias como 'La estrella misteriosa', 'El secreto del Unicornio', 'Viaje a la Luna' o 'Tintín en el Tíbet'.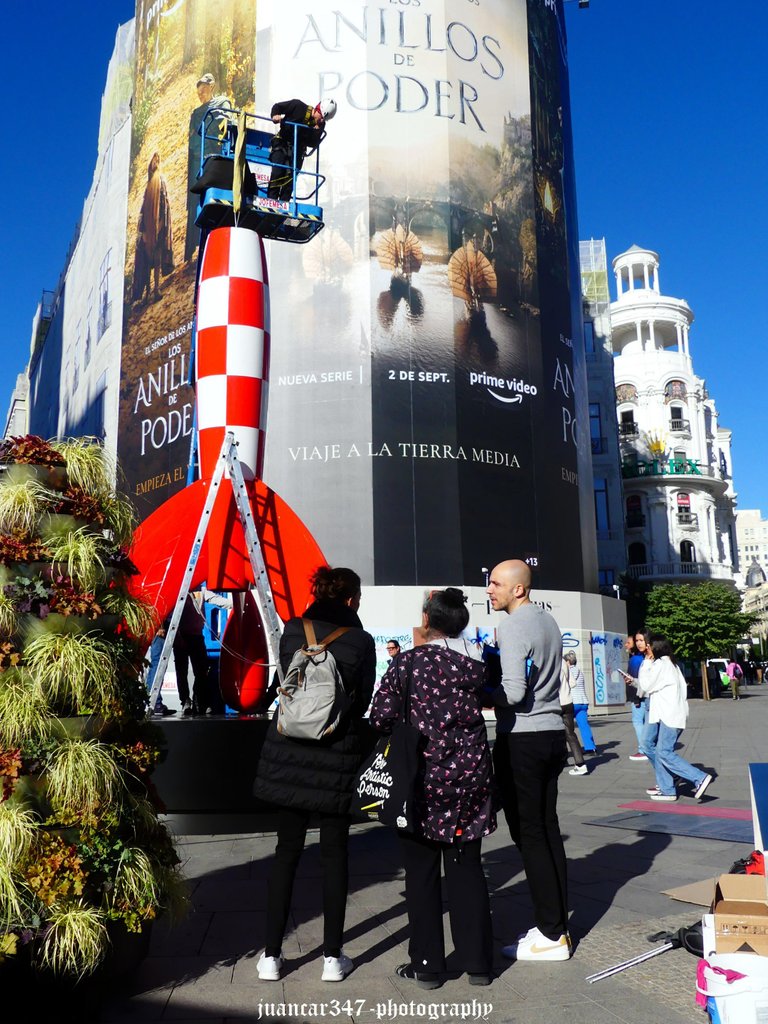 Madrid, se viste de gala para recibir a Hergé y por defecto, para homenajear esa obra, donde Tintín, después de todo, continúa hechizando con sus virtudes más peculiares, las cuales son, en mi opinión, la fidelidad y la abnegación. Por ese motivo, ahora puede ser un gran acontecimiento, para todos aquellos que visiten nuestra Gran Vía -ese pequeño Broadway- contemplar el homenaje que los madrileños le dedicamos. Y es que, como demostró Hergé, de la mano de Tintín, con su viaje a la Luna, ver ese mismo cohete montándose a pasos agigantados enfrente del Círculo de Bellas Artes, donde se inaugura una fenomenal exposición, que no me pienso perder, me recuerda lo que todos sabemos ya e incluso Hergé parece aceptar: de Madrid…al Cielo.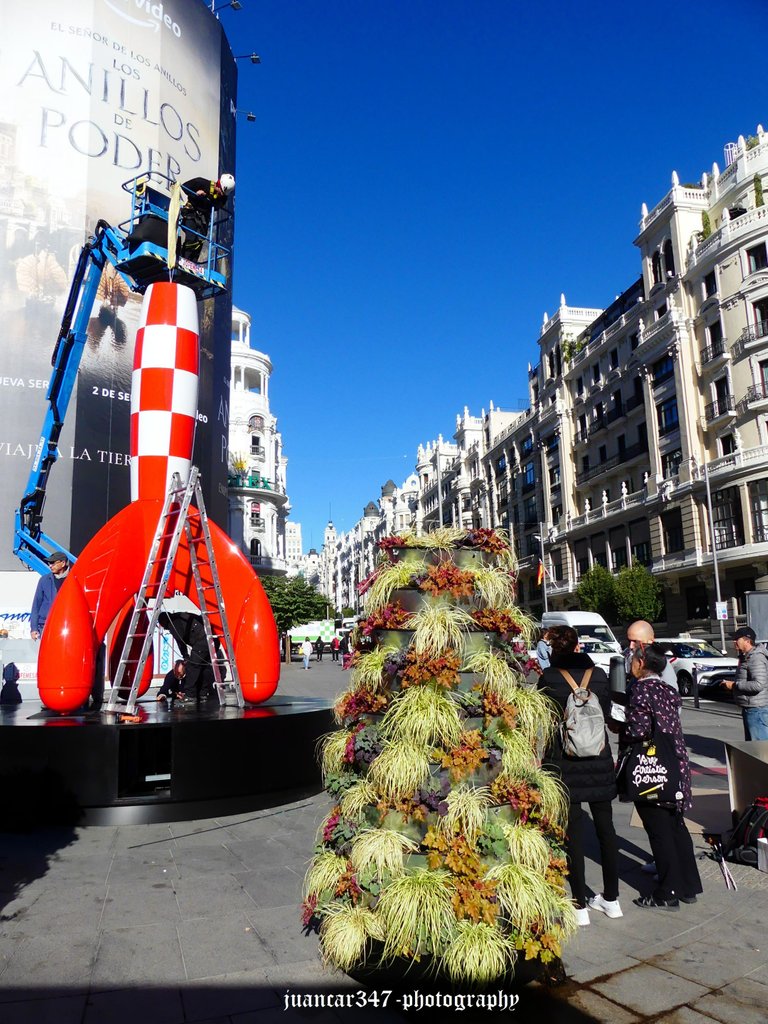 NOTICE: Both the text and the accompanying photographs are my exclusive intellectual property and therefore are subject to my Copyright.
AVISO: Tanto el texto, como las fotografías que lo acompañan, son de mi exclusiva propiedad intelectual y por lo tanto, están sujetas a mis Derechos de Autor.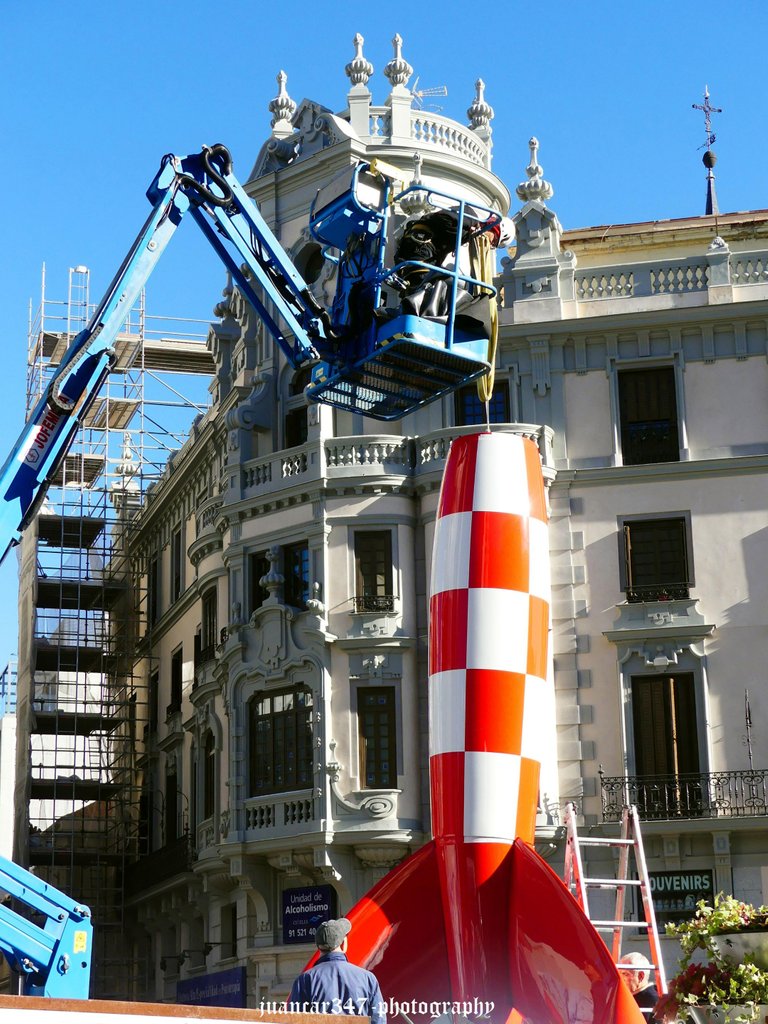 ---
---