[ENG-SPN] With the devil we have run into / Con el Diablo hemos topado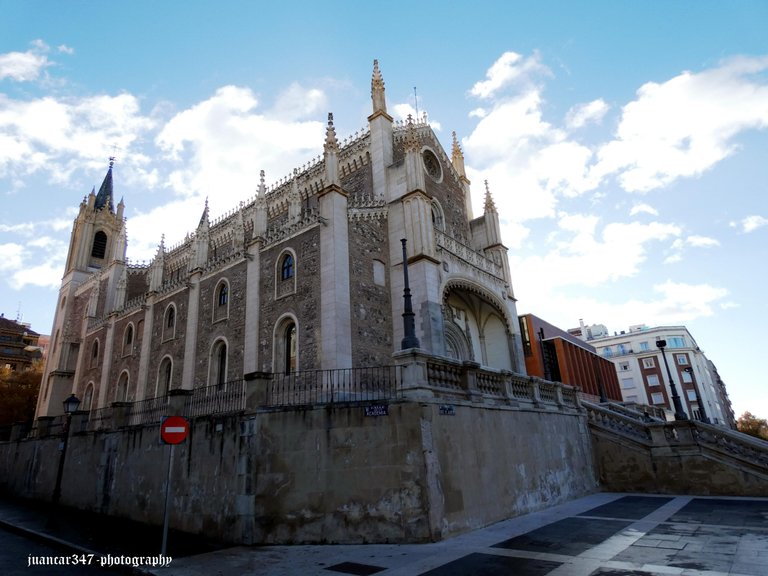 That misogenic and misguided 'enfant de la Patrie', who was Charles Baudelaire, used to say that the Devil's best stratagem was precisely to make us believe that he does not exist.
[Decía aquel misógeno y descarriado 'enfant de la Patrie', que fue Charles Baudelaire, que la mejor estratagema del Diablo consistía, precisamente, en hacernos creer que no existe].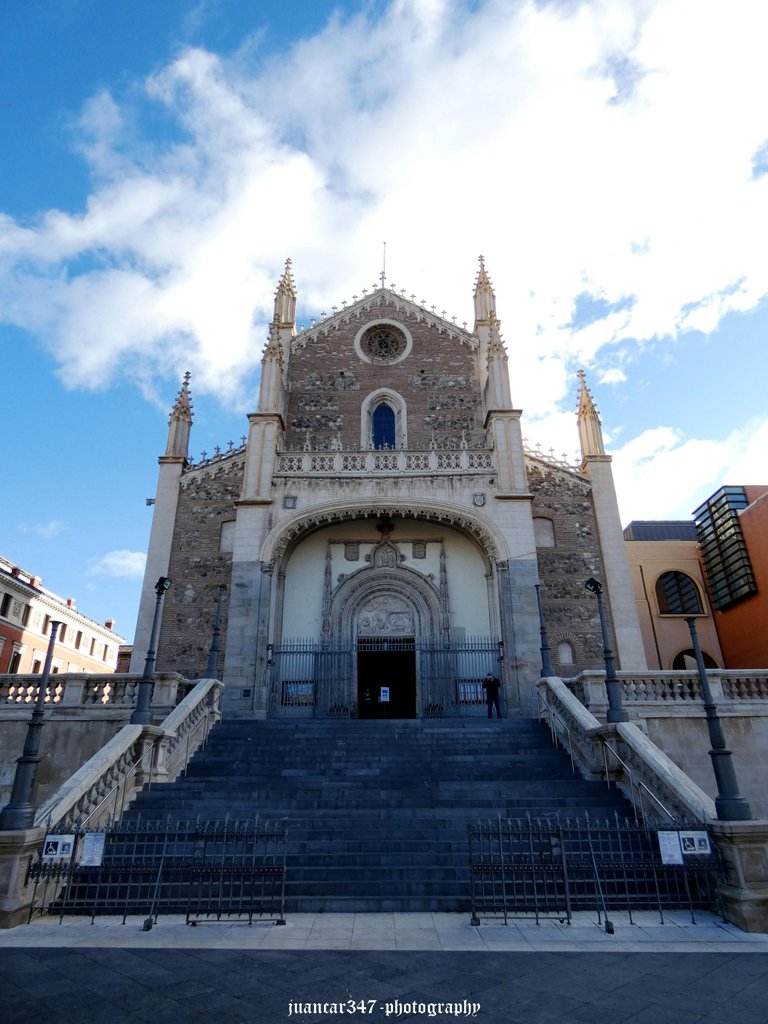 And he had to understand something about the subject, since he lived in a troubled time, where Paris was well worth a mass, but in this case black, where not only part of the legendary Judeo-Masonic plot was conceived with the false Protocols of the Elders of Zion , which put all the European secret services on guard, keeping the issue until well into the 20th century, but it was also a stage that led to the appearance of numerous satanic sects, whose ceremonies, in many cases, were performed by corrupt Catholic priests , like the famous Abbé Boullan, a case that served as an argument to JK Huysmans for his famous novel, entitled 'La-Bas' and more recently, masterfully collected by Umberto Eco, in his famous novel 'The Prague Cemetery'.
[Y algo debía de entender del tema, puesto que vivió en una época convulsa, donde París bien valía una misa, pero en este caso negra, donde no sólo se gestó parte del legendario complot judeo-masónico con los falsos Protocolos de los Sabios de Sión, que pusieron en guardia a todos los servicios secretos europeos, manteniéndose el tema hasta bien entrado el siglo XX, sino que también fue una etapa que alumbró la aparición de numerosas sectas satánicas, cuyas ceremonias, en muchos casos, eran realizadas por sacerdotes católicos corruptos, como el famoso abate Boullan, caso que sirvió de argumento a J.K. Huysmans para su famosa novela, titulada 'La-Bas' y más recientemente, recogido con maestría por Umberto Eco, en su famosa novela 'El cementerio de Praga'].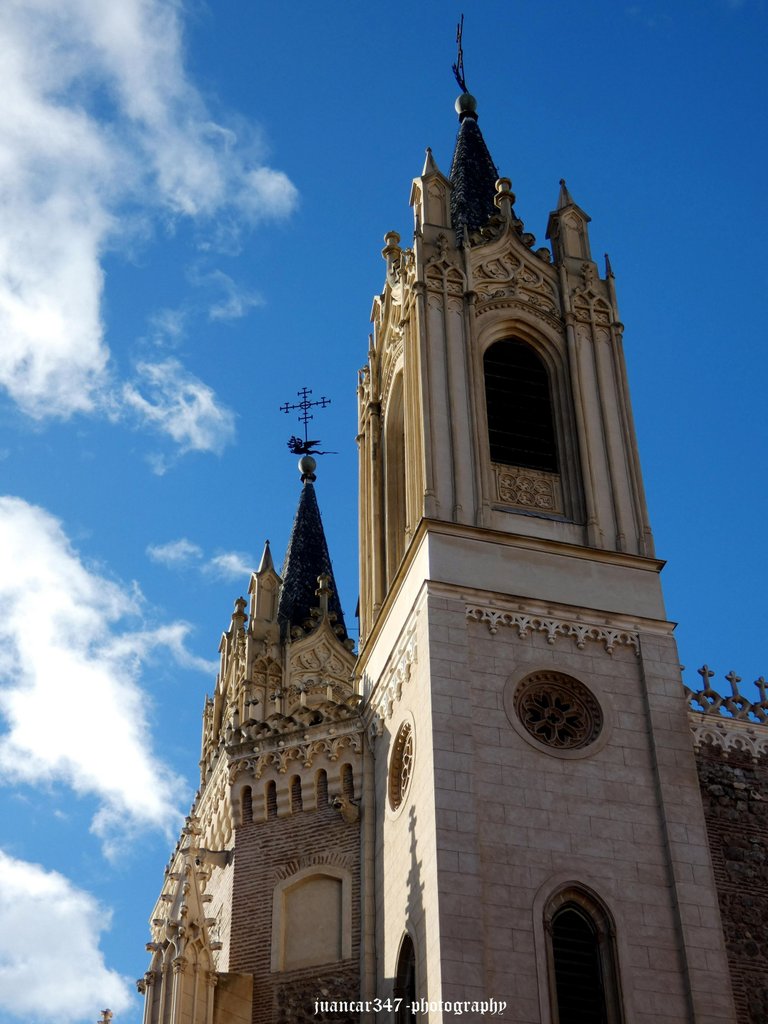 Whether or not it is an invention of Christianity, as many historians affirm today, the truth is that its presence has accompanied us, at least, since John, the alleged beloved disciple of Christ, had a vision during his exile on the island. of Patmos and in his horrifying Apocalypse, he already described it as a terrible beast, the Hydra of Seven Heads, which was to become the metaphorical sword of Damocles that loomed over the fragile mentality of the Middle Ages, as it is represented in numerous churches of that architectural style, the Romanesque, which more than once has qualified and not without reason, as the Art par excellence of Christianity.
[Sea o no, una invención del Cristianismo, como afirman hoy en día muchos historiadores, lo cierto es que su presencia nos ha acompañado, cuando menos, desde que Juan, el pretendido discípulo amado de Cristo, tuvo una visión durante su destierro en la isla de Patmos y en su espeluznante Apocalipsis, ya lo describía como una terrible bestia, la Hydra de Siete Cabezas, que habría de convertirse en la metafórica espada de Damocles que se cernía sobre la frágil mentalidad de la Edad Media, como así aparece representada en numerosas iglesias de ese estilo arquitectónico, el Románico, que más de una vez ha calificado y no sin razón, como el Arte por antonomasia de la Cristiandad].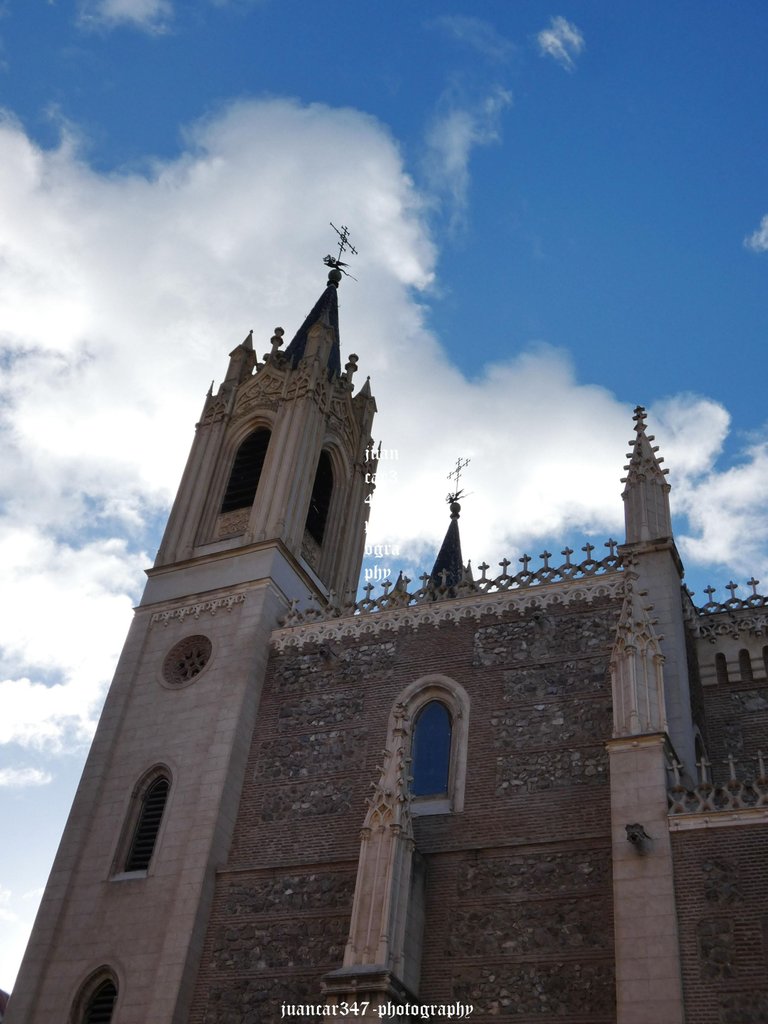 What many may not know is that their presence in the churches not only served to guide the faithful towards the terrible destiny that awaited them, if they died in mortal sin, but it was also a way to exorcise that terrible power of the Evil, subjugating her to the power of God.
[Lo que quizás muchos no sepan, es que su presencia en las iglesias, no sólo servía para orientar al fiel hacia el terrible destino que le esperaba, caso de morir en pecado mortal, sino que también era una manera de exorcizar a esa terrible potencia del Mal, subyugándola al poder de Dios].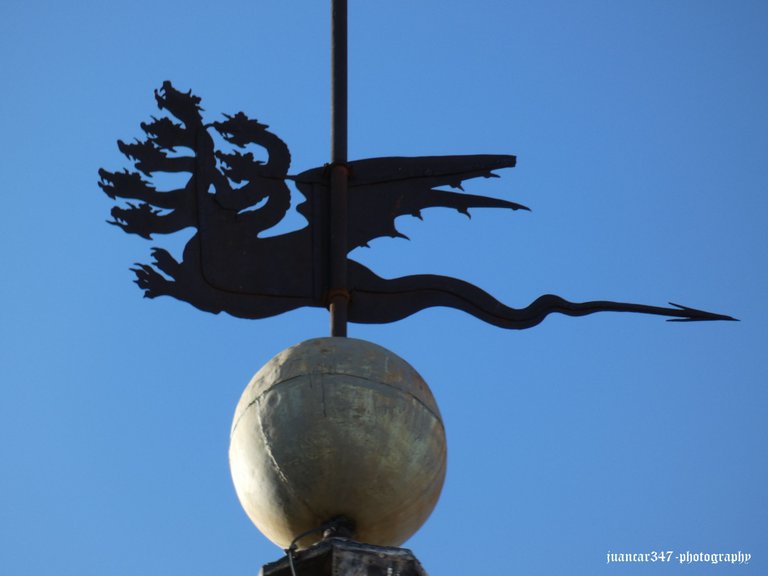 As you can see, pierced by a Jerusalem Cross, if you ever pass by that Madrid's Paseo de la Luz, recently nominated as a World Heritage Site by UNESCO, and you will notice the weather vane that the towers of the old monastery of San Jerónimo el Real, popularly known as 'los Jerónimos'.
[Tal y como se puede ver, alanceado por una Cruz de Jerusalén, si alguna vez pasan por ese madrileño Paseo de la Luz, recientemente nominado como Patrimonio de la Humanidad por la UNESCO y se fijan en la veleta que lucen las torres del antiguo monasterio de San Jerónimo el Real, popularmente conocido como 'los Jerónimos'].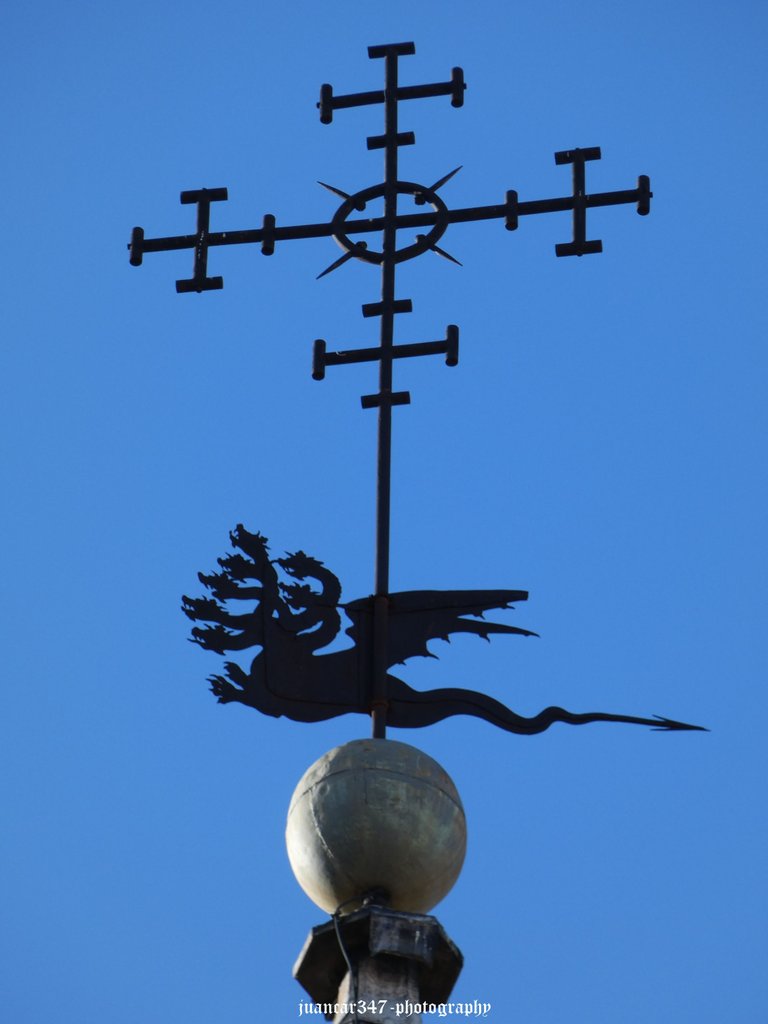 NOTICE: Both the text and the accompanying photographs are my exclusive intellectual property and therefore are subject to my Copyright.
AVISO: Tanto el texto, como las fotografías que lo acompañan, son de mi exclusiva propiedad intelectual y por lo tanto, están sujetos a mis Derechos de Autor.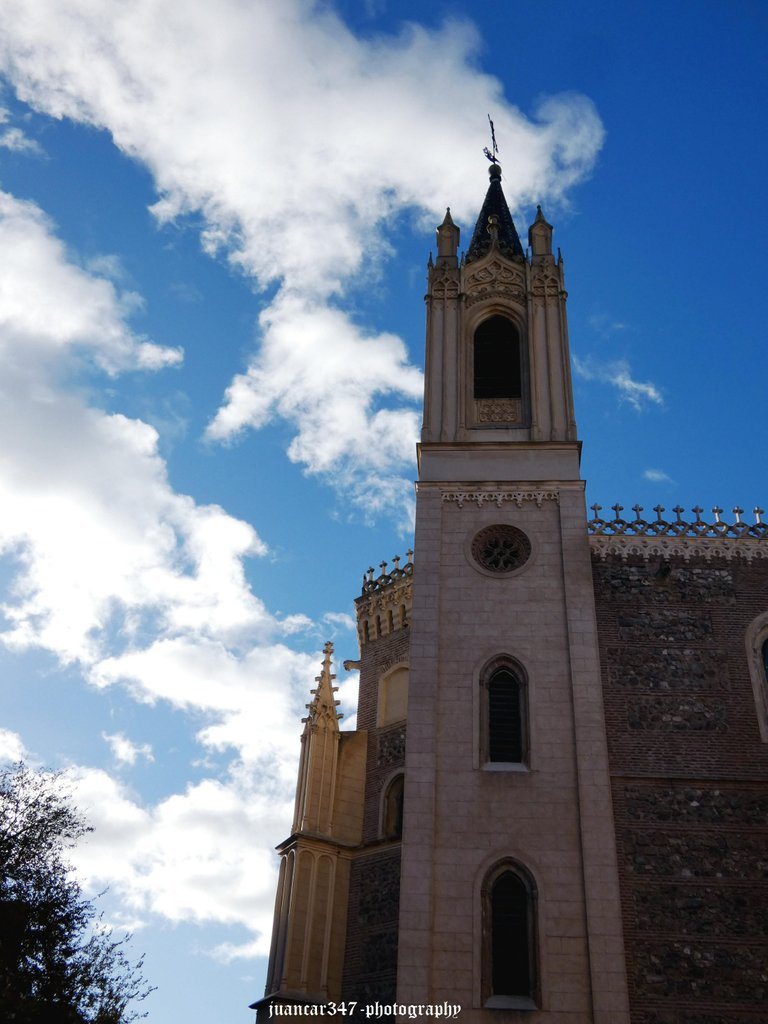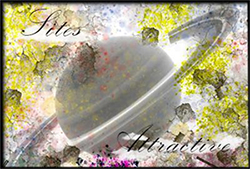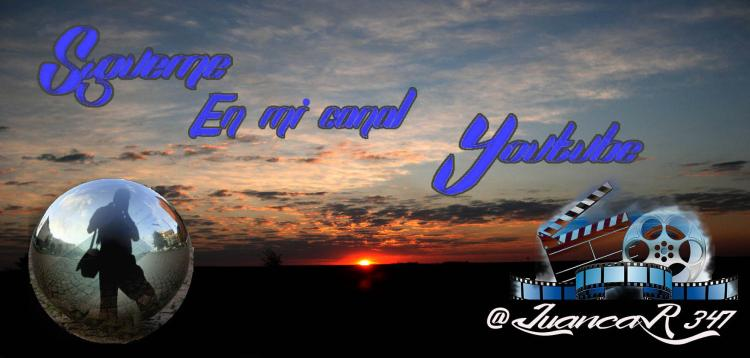 ---
---