[ENG.SPN] A castile cat / Un gato de Castilla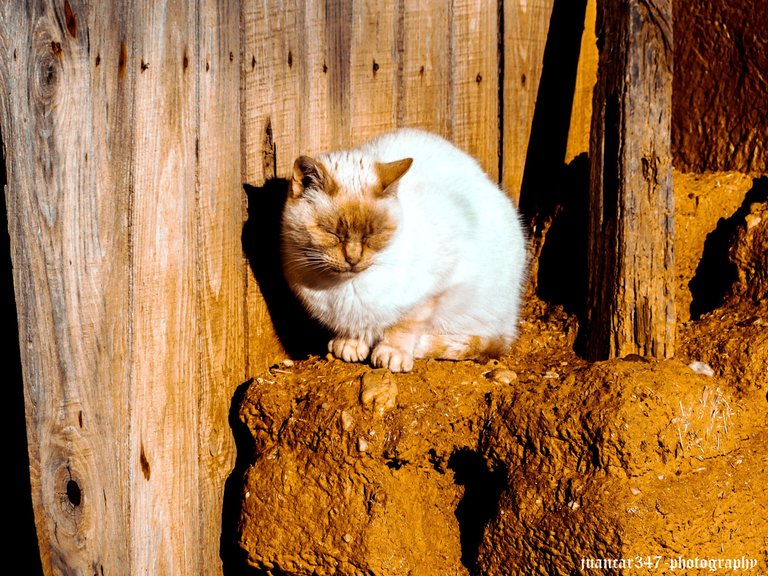 Far from being sad and blue, like that cat to which the popular Brazilian singer, Roberto Carlos, dedicated one of his most successful and well-known songs, this weather-beaten animal, which remains curled up in a ball next to the emaciated adobe of the lintel, demanding the beneficent heat of that sun that frees you from the deadly embraces of the icy frost, is the perfect prototype of the indomitable Castilian character, which defines such an ancient race, as austere in its way of living, although tenacious to remain in the land it loves, regardless of the incalculable sacrifices that such obstinacy entails. The cat, like the old, meditates in the silences of winter and is grateful for that sun, which caresses but does not burn, while the ice dissolves in streamers along the weathered tiles, forming puddles where sparrows and jackdaws will drink at noon, hungry for a cereal that gestates, indolent, in the deep womb of the earth. The cat, like the old man, sometimes closes his eyes, who knows if wondering about the lives he has used and those others that he still has to use, if what men say were true, something that the animal, closing again the eyes, I sincerely doubt. Nobody like him knows, after all, that even on this earth, truth and fantasy sometimes ride on the back of an old donkey -as a certain poet once said- meeting in the most unexpected corners. For this reason, Castilla is different. And he, who is, after all, a Castilian cat, knows it very well.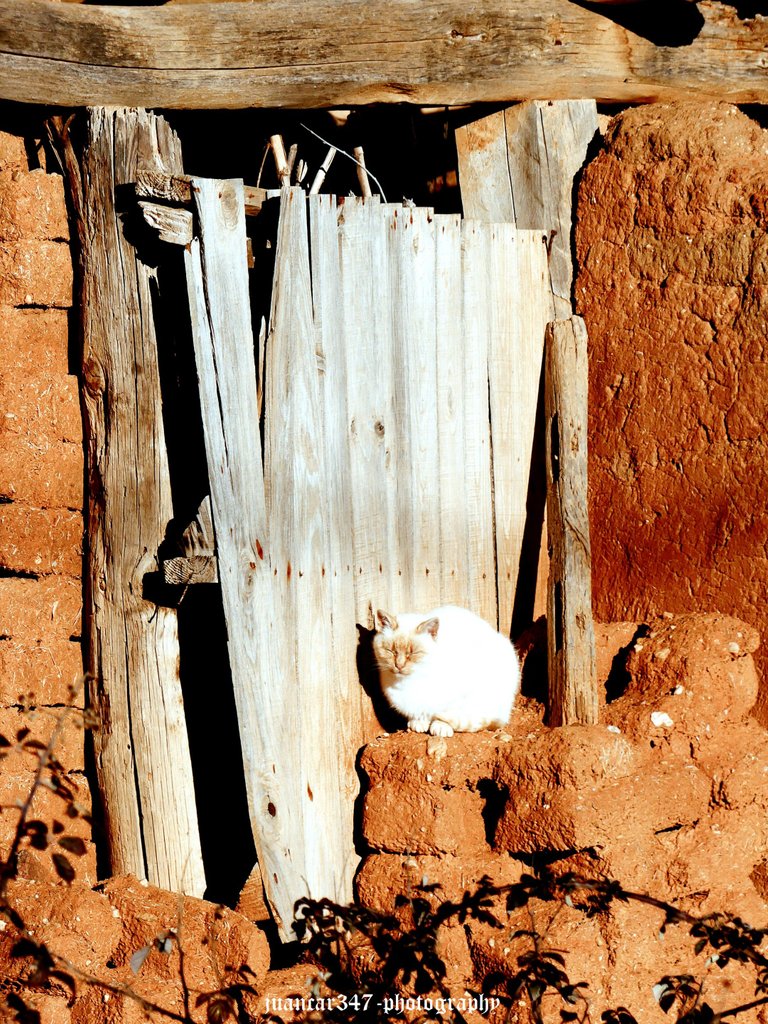 Lejos de estar triste y azul, como aquel gato al que el popular cantante brasileño, Roberto Carlos, dedicó una de sus canciones más exitosas y conocidas, este curtido animal, que permanece hecho una bola junto al macilento adobe del dintel, reclamando el calor benefactor de ese sol que le libere de los mortales abrazos de la gélida escarcha, es el prototipo perfecto del indómito carácter castellano, que define a una raza tan antigua, como austera en su forma de vivir, aunque tenaz por permanecer en la tierra que ama, sin importarle los incalculables sacrificios que tal obstinación conlleva. El gato, al igual que los viejos, medita en los silencios del invierno y agradece ese sol, que acaricia pero no quema, mientras el hielo se deshace en chorreras por las ajadas tejas, formando charcos donde al mediodía abrevarán gorriones y grajos, hambrientos de un cereal, que se gesta, indolente, en la profunda matriz de la tierra. El gato, como el viejo, a veces cierra los ojos, quién sabe si preguntándose por las vidas que ha usado y aquellas otras que aun le quedan por usar, si fuera verdad lo que dicen los hombres, cosa que el animal, entornando otra vez los ojos, sinceramente duda. Nadie como él sabe, después de todo, que incluso en esta tierra, la verdad y la fantasía, en ocasiones cabalgan a lomo de burro viejo -como dijera una vez cierto poeta- encontrándose en los rincones más insospechados. Por eso, Castilla es diferente. Y él, que a fin de cuentas, es un gato castellano, lo sabe muy bien.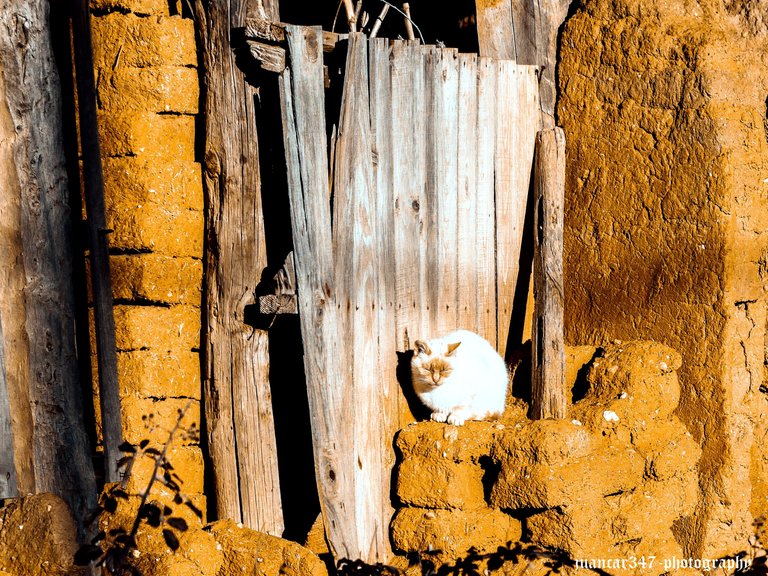 NOTICE: Both the text and the photographs that accompany it are my exclusive intellectual property and, therefore, are subject to my Copyright.
AVISO: Tanto el texto, como las fotografías que lo acompañan, son de mi exclusiva propiedad intelectual y por lo tanto, están sujetos a mis Derechos de Autor.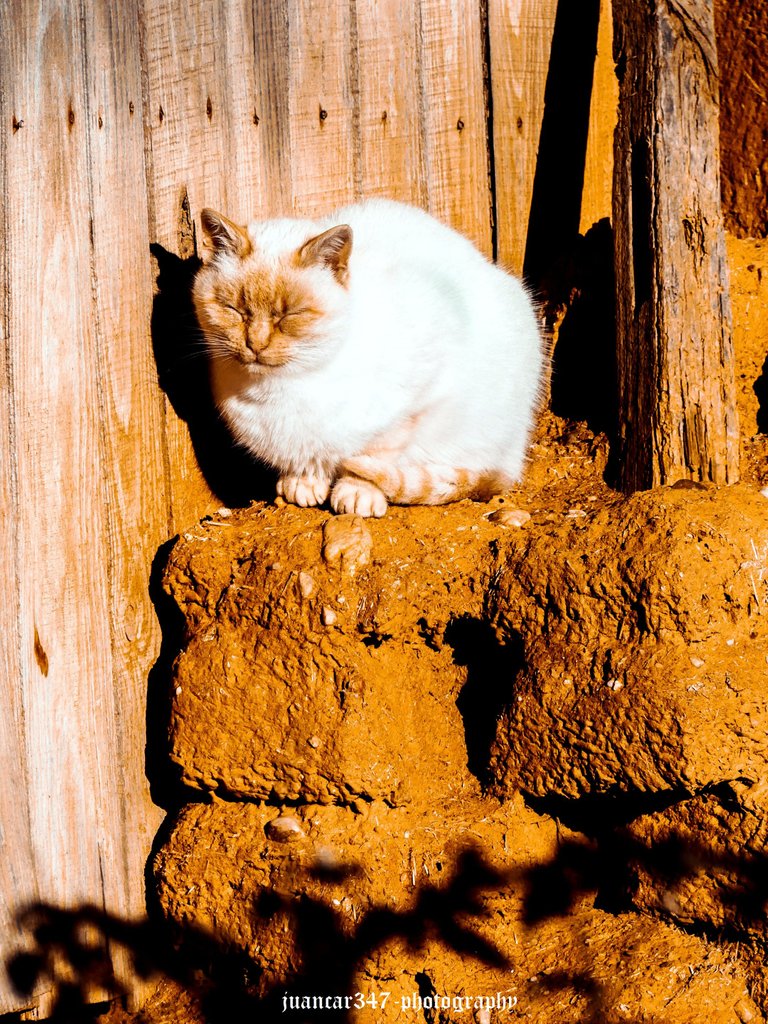 ---
---