THE LAND OF THE DREAMWEAVERS | LAKE SEBU, SOUTH COTABATO PHILIPPINES
---
A friend of mine from Luzon was planning to visit Mindanao, she asks if there are cool places for us to travel and have fun.
our friend from General Santos City suggested we travel to Lake Sebu, The land of the Dreamweavers, and experience the culture of the t'boli tribes.
I am so up for it because I love learning about different tribes and cultures.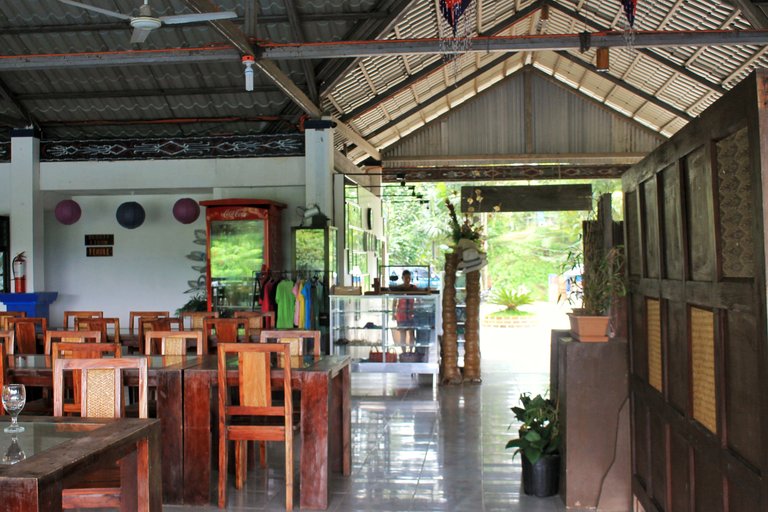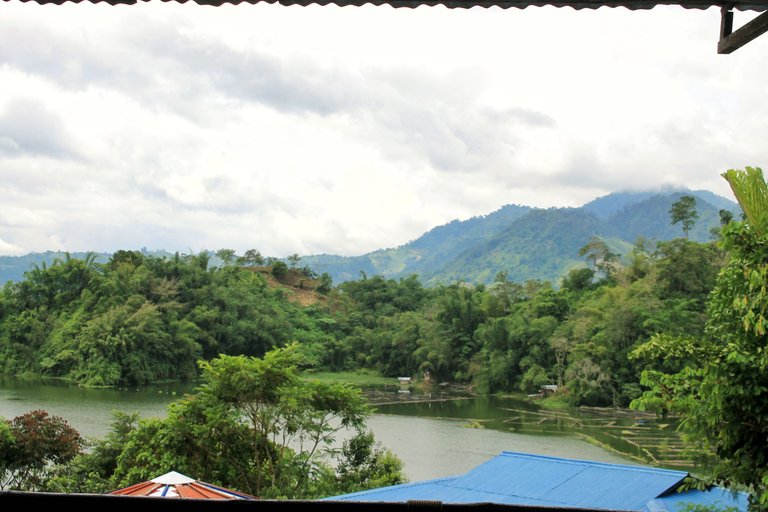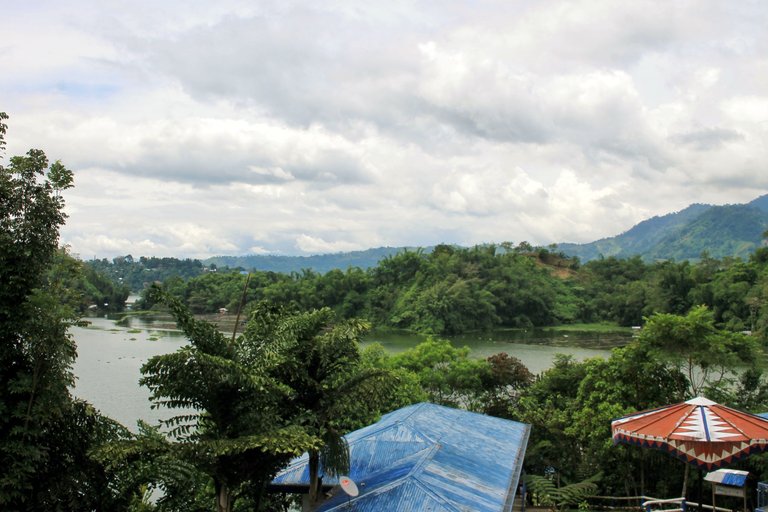 In our first day we stayed in MOUNTAIN LAKE ECO RESORT , recommended by our habal-habal riders. The scenario of the resort is beautiful and peaceful.
Be very mindful of the area though, there was a time a small snake was wandering around the place.
Also if you plan to travel here, don't forget to bring a jacket because the weather is cold especially at night.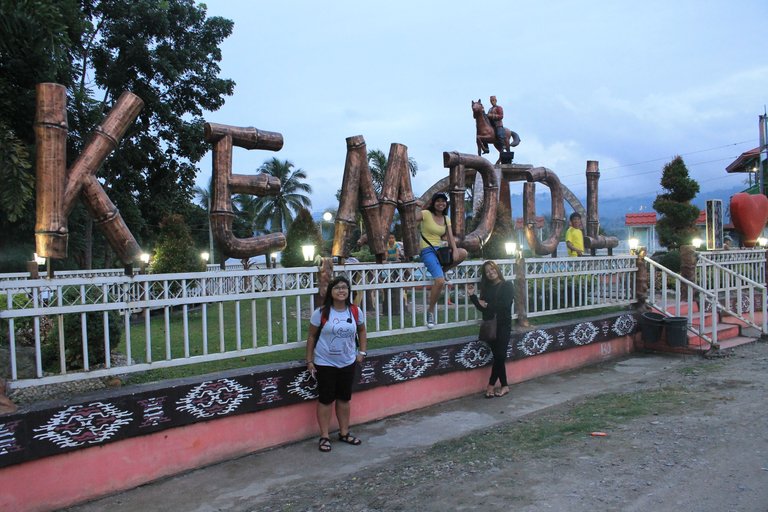 We actually arrived late in the afternoon which we still have more time to go around someplace and kemdol was our first stop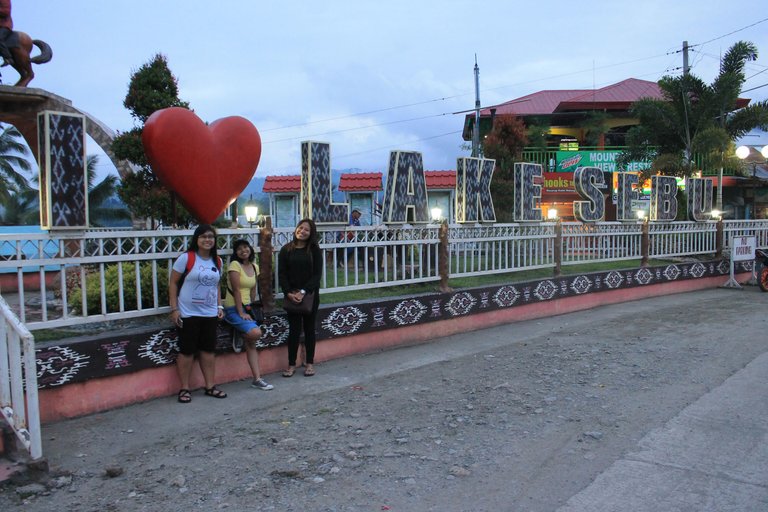 YES! WE LOVE LAKE SEBU ALRIGHT 😍 ~ ❤️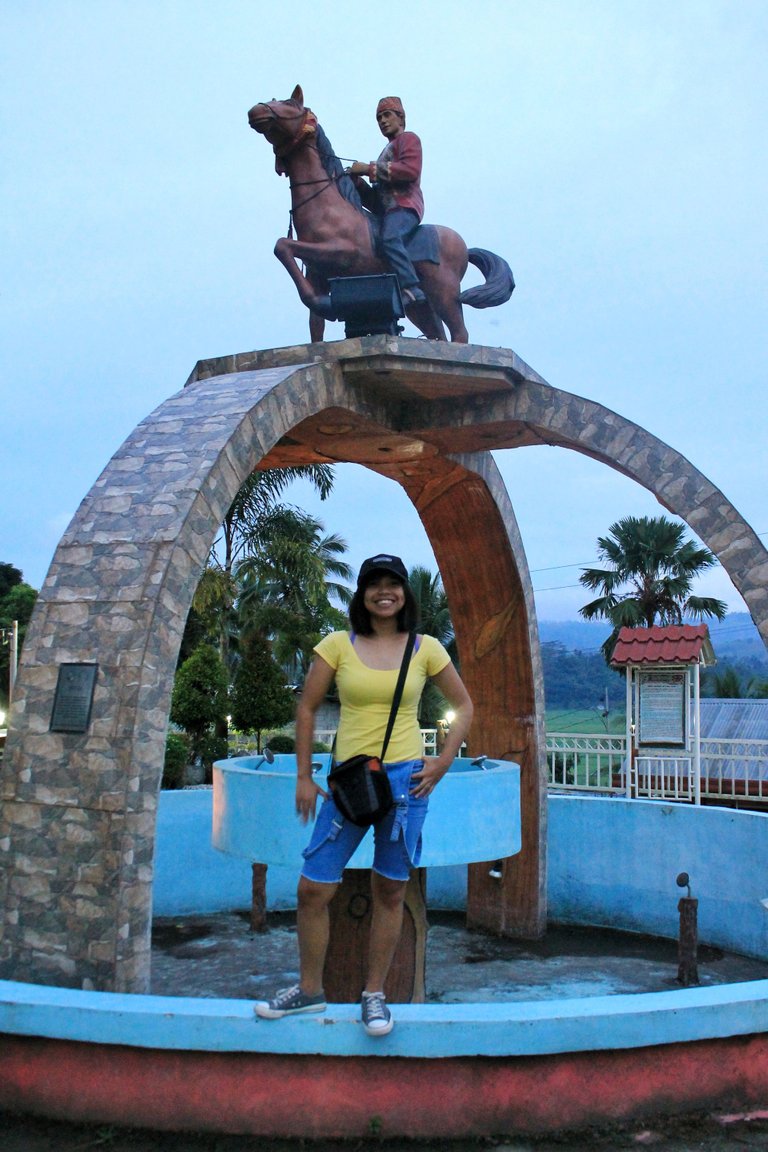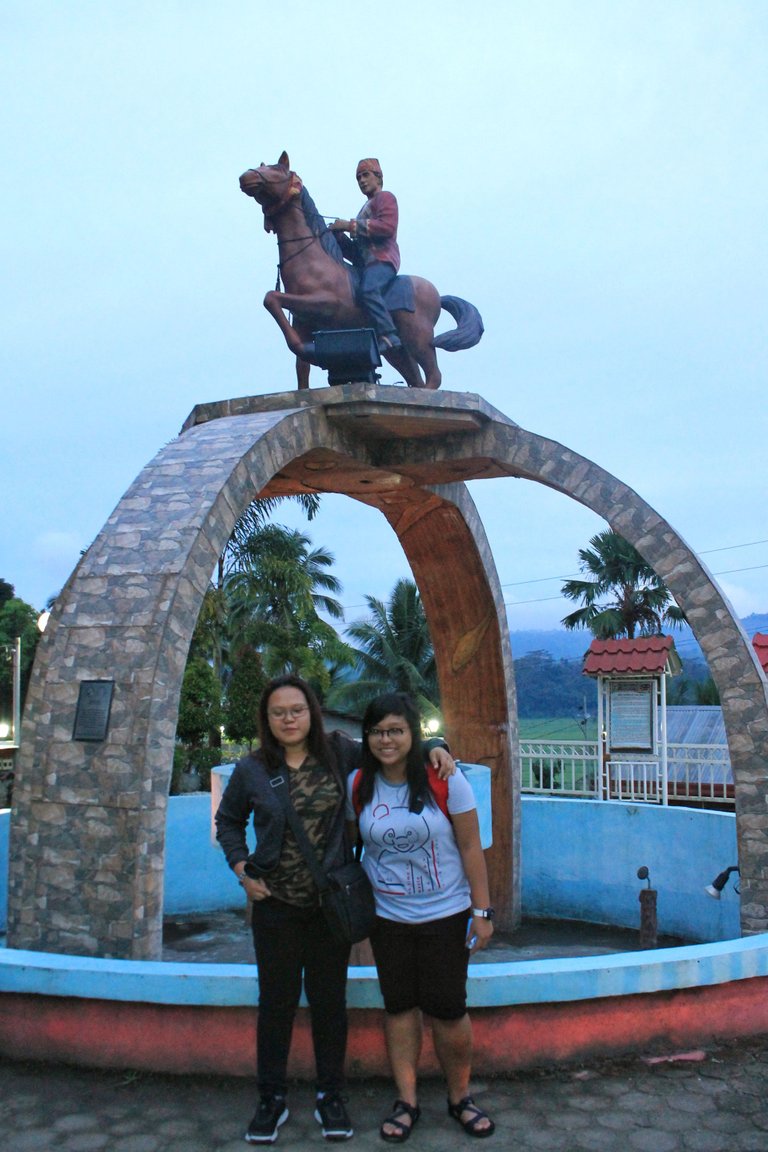 you won't be seeing much of me in these travel photos as I am not too fond of taking pictures of myself nor would want to be taken a picture of, which this will be the only photograph I'll be in it hahaha
---
T'BOLI MUSEUM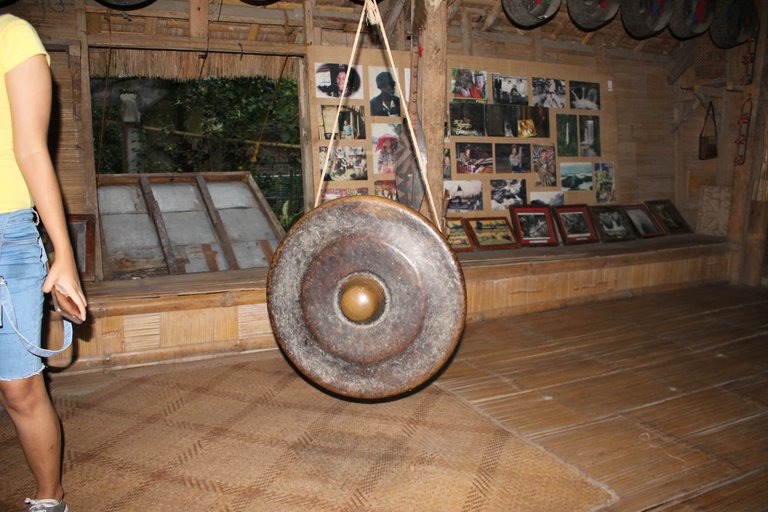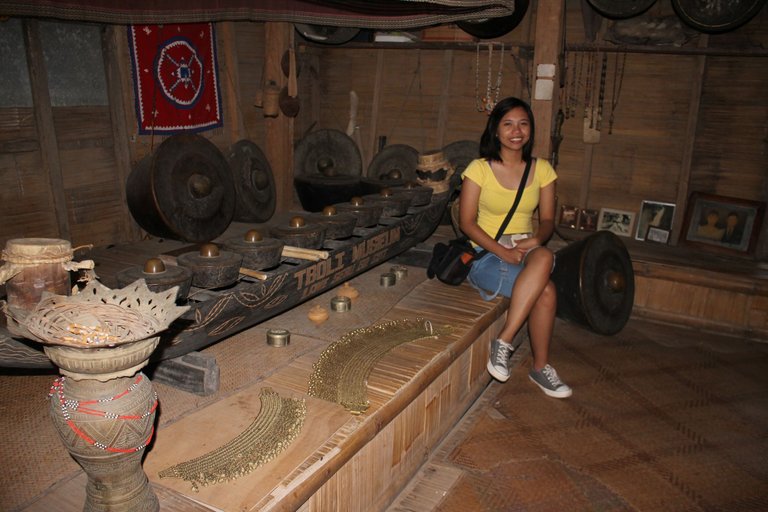 Our second stop is in the T'boli museum, it's almost evening so it's very dark in the place, I had to activate the flash in my DSLR just to get a shot of their beautiful cultural artifacts.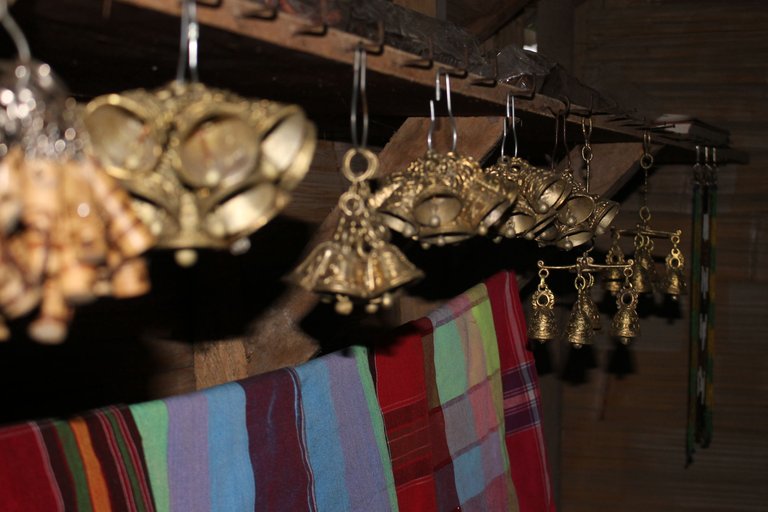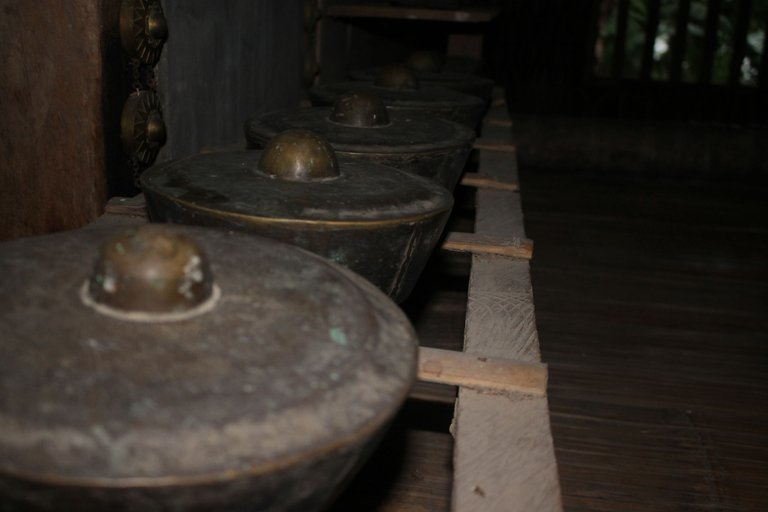 I am not a good photographer, i know 😂 the focus is off, and it was fixed at the back, come on it's dark ~ 😅 seriously though I'm trying.. bear with me hahaha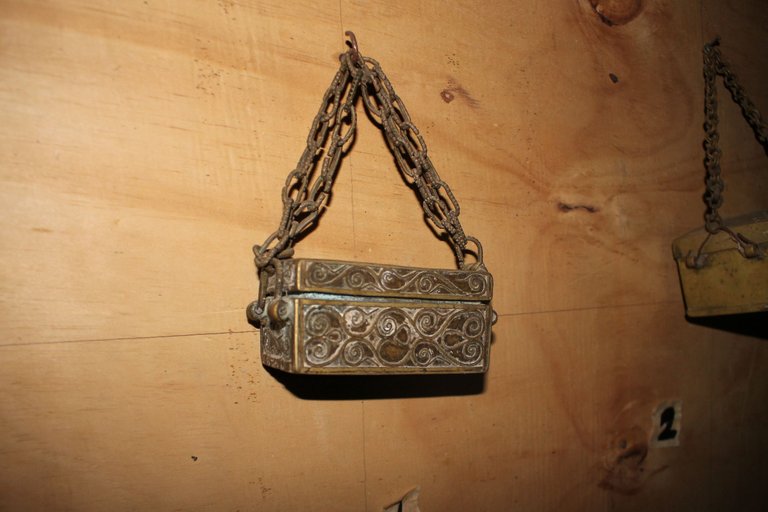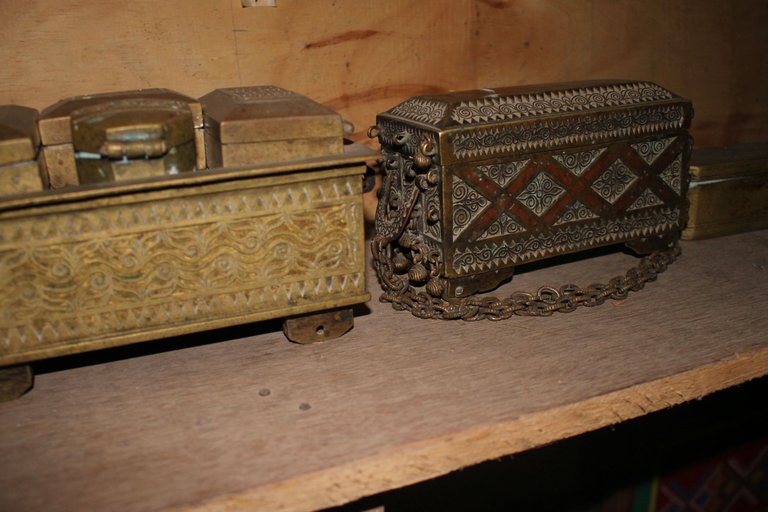 the tribes in Bukidnon call this brass container MAMAAN I don't know if it is called the same in T'boli but I know they have the same purpose by keeping their ingredients such as mint leaves, betel nut, etc. for making a medicine, food or offerings.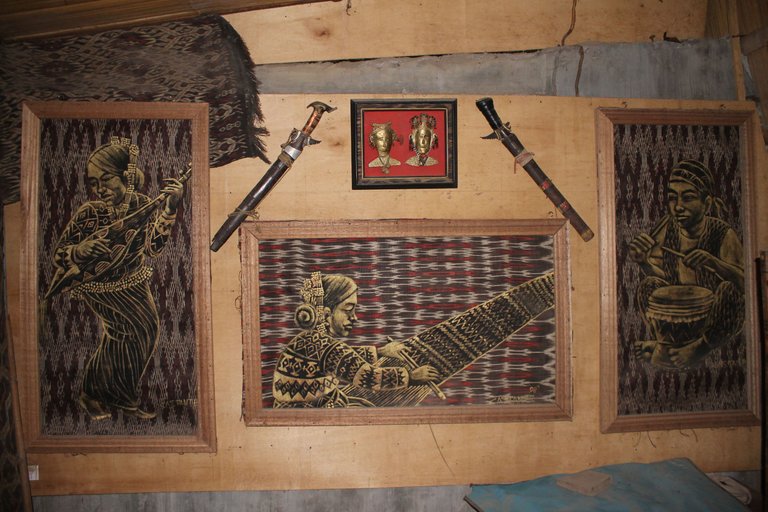 My favorite of all the items they have is this; painting on a T'nalak, I would love to buy myself a T'nalak someday and paint on it or just maybe frame it because it's very valuable.
---
HIKONG ALU: THE FIRST FALLS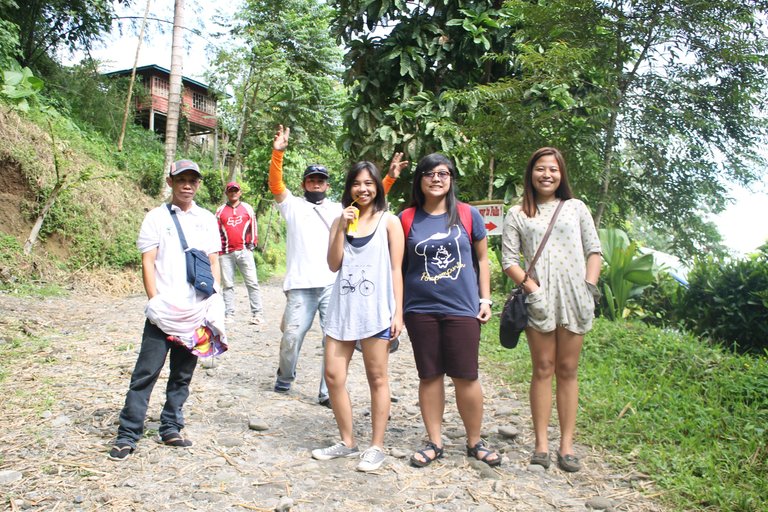 After our breakfast we were picked up by the riders in mountain lake resort, it is a good morning indeed because we don't look haggard anymore unlike our first day, despite drinking alcohol during the night we still manage to get up early in the morning for our new trip. Strong drinkers, I know hahaha
I wonder why I didn't take a picture of our activities that night, I must've been drunk or prevented myself from taking pictures because they were scaring me I might photograph a ghost, I don't remember much I was drunkenly scared, I guess 😂 I remember getting knocked out first hahaha fun times,
I didn't take a picture of the falls, which I don't remember why but I'm guessing it has something to do with the camera getting wet so I just took a video of it. much better, I mean you did see my photographs in the t'boli museum, right? hahaha
After viewing the first falls, we were instructed to go uphill where the zipline area is located.
To see the other waterfalls we have to do a zipline, when I tried it I was too scared to even look around. they said this was one of the highest ziplines in Asia.
---
HOME OF THE DREAMWEAVERS
After experiencing the waterfalls, we visited lang dulay's home, she was the oldest artist to keep on creating beautiful T'nalak cloth, sadly she passed away.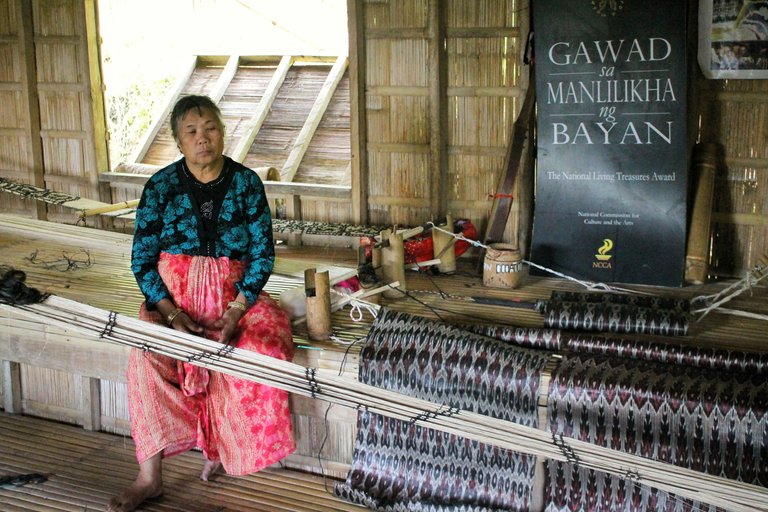 This is the relative of Lang Dulay which she is the representative to continue the teaching of making t'nalak cloth.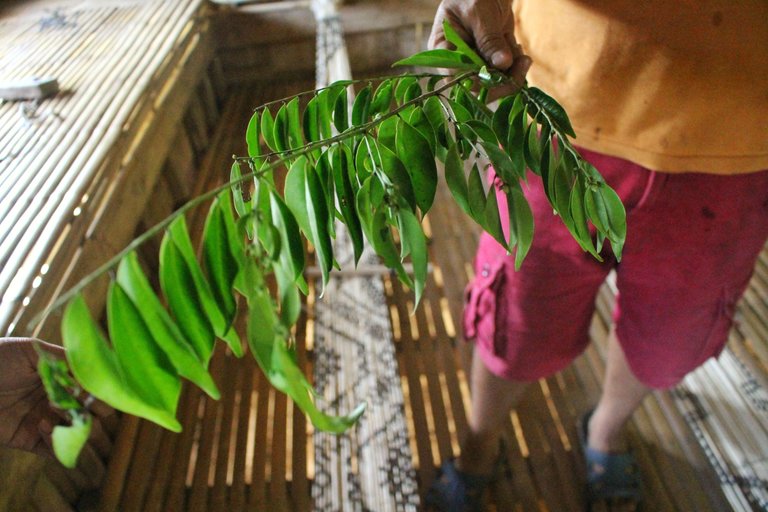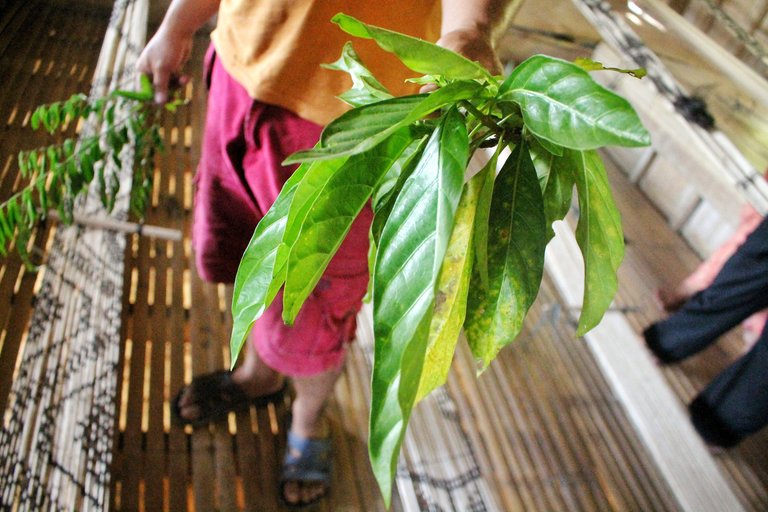 They explained that these two leaves produce the color red and black that is seen in the t'nalak, like wow amazing right?
So imagine those leaves coloring these abaca fibers, they said once they are done making the pattern on the woven abaca fiber they will roll it up and put it in a huge boiling container placing the 2 leaves and the abaca fiber inside. they also do rituals while it is still inside, they said the ones who are designing them are dream weavers spirit they believed in,
after a week they pull it out and see the spontaneous beauty that will look like this t'nalak pattern in their cloth, so amazing!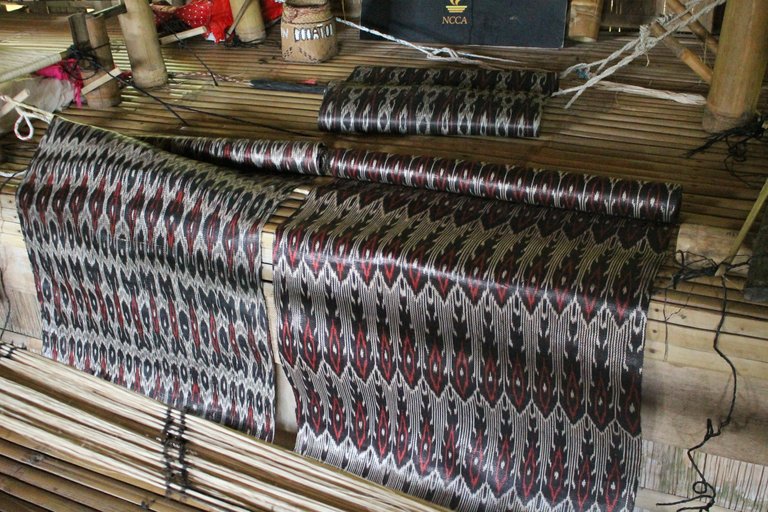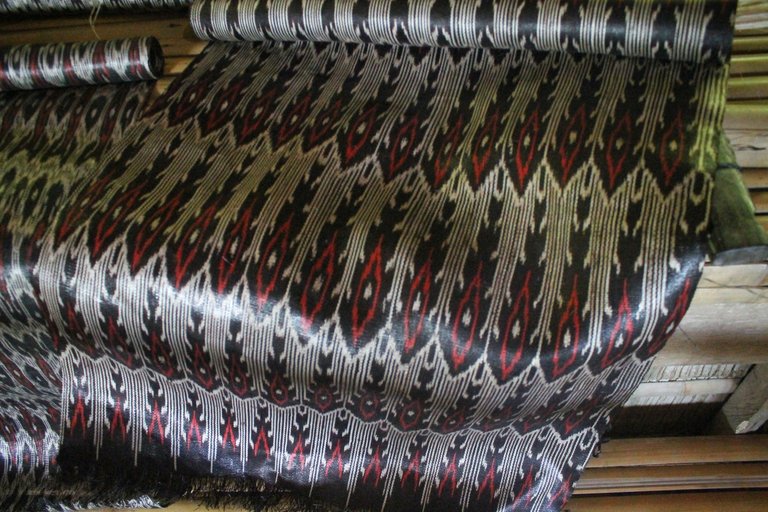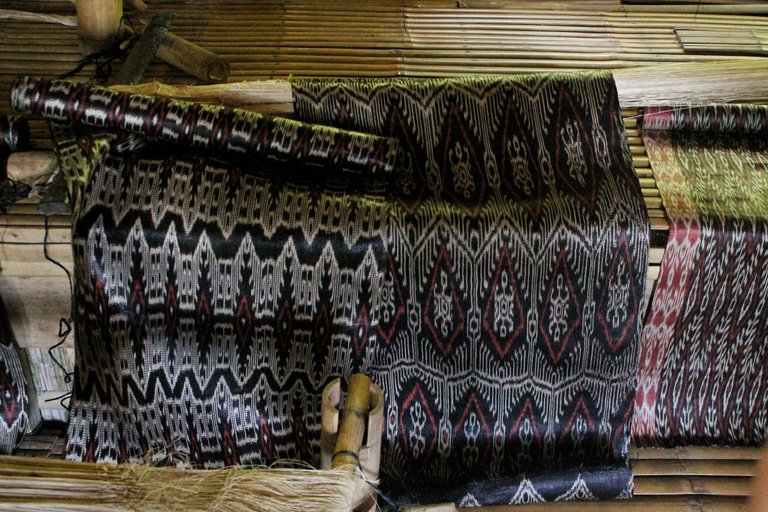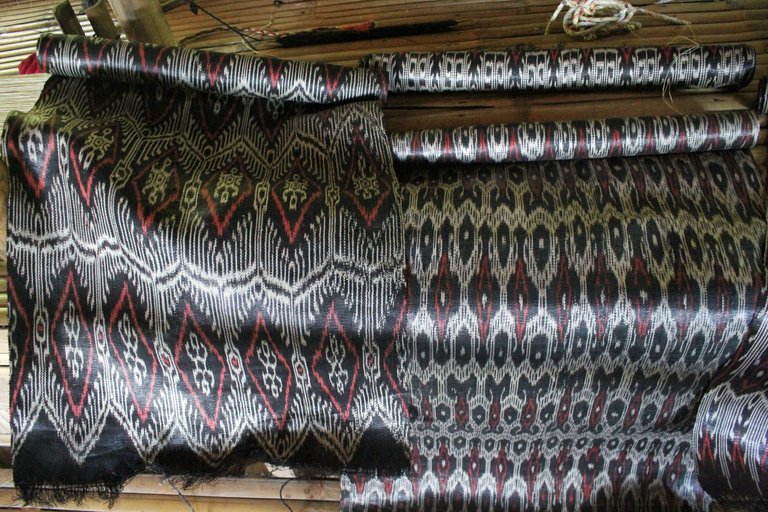 of course, it doesn't look like that immediately when it's pulled out, they have their own process of shining it, traditionally.
amazing right?
That time when I asked about the price it costs around 800 pesos (16.44 USD) to 1500 pesos (30.83USD). I don't know how much it costs now though.
Anyways, after educating us about their weaving, they showed us their tribe's cultural dance
for someone who loves the different cultures in Mindanao and to be able to witness the t'boli tribes' customs, as they put the effort to drum, guitar, and dance for us, it was one of the happiest moments of my life. everything about lake sebu is beautiful! amazing! perfect!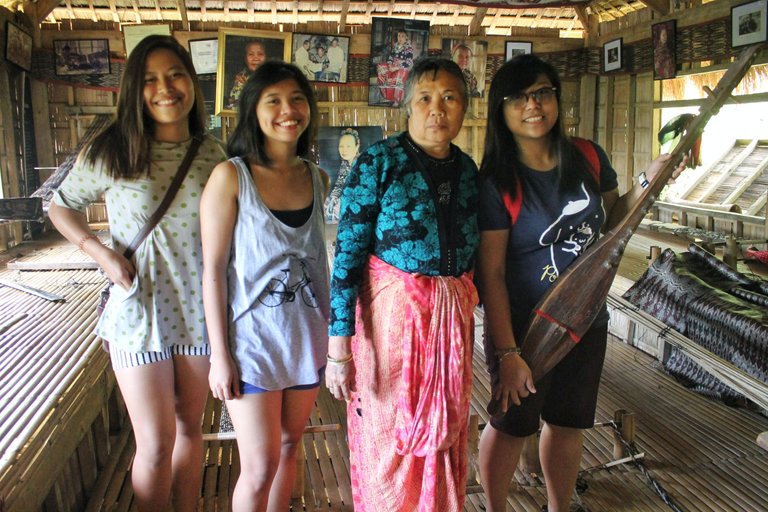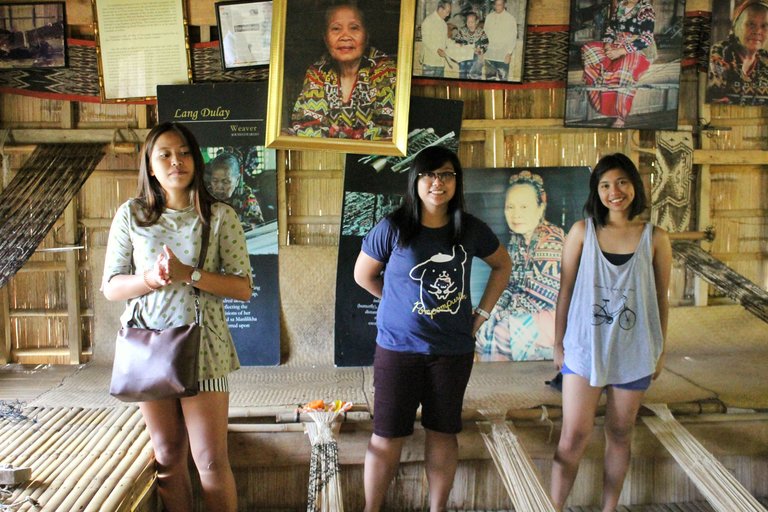 more pictures before going home to General Santos and Davao City, we enjoyed everything we had experienced in the place. it was really worth it coming here. I'll definitely come back again during their festival if our country is covid-free.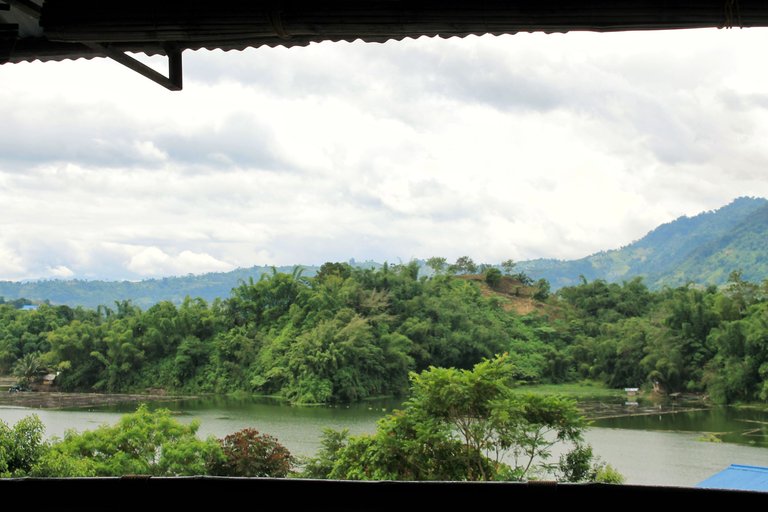 If you ask me if it's safe in lake Cebu, it is very safe. The time when we arrived at the terminal there were a lot of riders waiting, the good thing was they don't come running to you and annoy you to ride with them but instead, they were taking turns who should be next to have the passenger.
If you ask about the fare, you don't have to worry about it because there's a tarpaulin hanged in the terminal showing prices to the tourist spot areas, so take a picture of it just in case. It's not that expensive too.
The riders are very friendly, they inform you about the place and answer all the questions you need to know which is very convenient
Thank you lake sebu for the organized way of traveling.
---
---