The relevance of instituting school clinics at the basic school levels
At the Basic school level, we have School Health Education Program (SHEP) coordinator. His or Her basic function is to monitor all the affairs of health status of the students. He or She sometimes gives talks periodically or call experts at any renowned health centre to give health talks so that students can live quality of life as far as health is concerned. When we go to our Universities, Colleges, Polytechnic and Senior High Schools they look more functional compare to the Basic schools which begin from Kindergarten to Basic 9. At the higher institutions, they even have well functioned Clinics which Qualified Nurses operate, give prescriptions of drugs to patients at the school. But over here in Basic school where I teach and all the basic schools at the public sector, this is out of place. There are no structured Clinics and Nurses to support students who normally fall sick. Even with the SHEP Coordinator, their works are disorganized and I don't see it to function like before.
---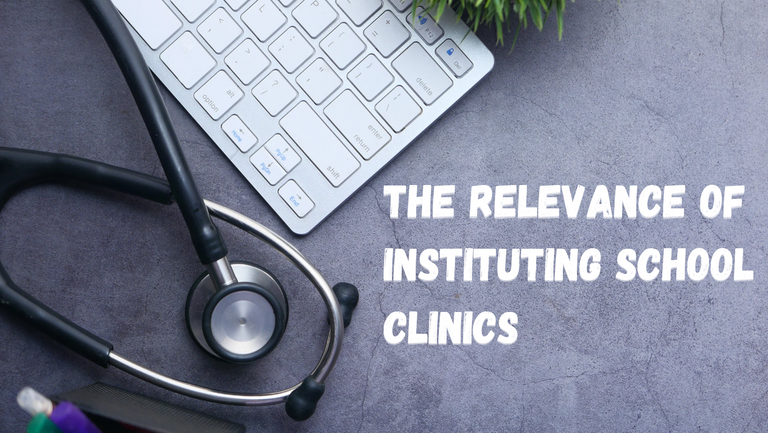 Designed using Canva app
---
Quite recently, I heard that first aids are not to be given to students who would come and complain of his or her stomach, head or even when certain incidence like a cut which is normally associated with oozing of blood. This brings the collapse of the first aid boxes created in Basic schools to serve as immediate action that can be taken when someone is injured. Come to my school; Anansu Presby Junior High, you wouldn't find gentian violet, plaster or paracetamol. I don't even know where the First aid box is. But at first all these first aid materials were in our possession so that students can be supported with urgent and immediate care before taking him or her to the nearby Clinics. Why is everything going mess? Why is the Ministry of education not seeking redress of some of these vital issues.
---
If what I'm hearing is really true then it doesn't sound well for me. That the students sometimes indulge in some of deviant behaviors like indiscriminate sexual intercourse of which some of the female students might have impregnated with some complications when given first aid may affect their health. That is perfect reason, but I think the best way is to institute the school Clinics and get the nurses working there. Or giving the SHEP Coordinators a good training so that they can work as Nurses. What makes individuals as Nurses is the kind of training they have received. At every school they should get a building as school clinics, because some of the schools are far distance from the Clinics.
---
Talking from experienced, few days ago I had few students who came and complained that "Sir!, I'm sick of my head, my stomach and other stuff. I had to led them go home since I don't have authority to give them first aid. Some of the sad news is that to some of them, their parents had gone to work. I was very sad when I saw one girl bumping on the floor due to her stomachache. Like of we had something like Milk of Magnesia it would had maybe suppressed the pain or relief her for the pain. At the Basic level, certain schools have population of about 600 and others 1000, but almost all the public schools do not have School Clinics. But when you go to well structured private schools some of them have qualified Clinics in place.
---
The difference between SHEP Coordinators at higher schools is that where as higher schools the Coordinators job is to work as their solely field of profession, at the basic level they are working as SHEP as part of their work, they don't collect any allowances or incentives for their effort. So, for instance, at higher schools the SHEP Coordinators jobs are well recognized than their colleagues at the basic levels. That's why being SHEP at the basic levels aren't properly functioning. But we can put things in order if the Ministry of Education put measures in place. We hope to see school Clinics established in basic schools.
---
---