Bitcoin getting ready to take the next leg up toward $100k – are you accumulating along the way?
Anyone wishing to pick up some discounted bitcoin for sale, now is the time. Grab all the sub $50k BTC you can and get ready for the next leg up toward $100k and beyond.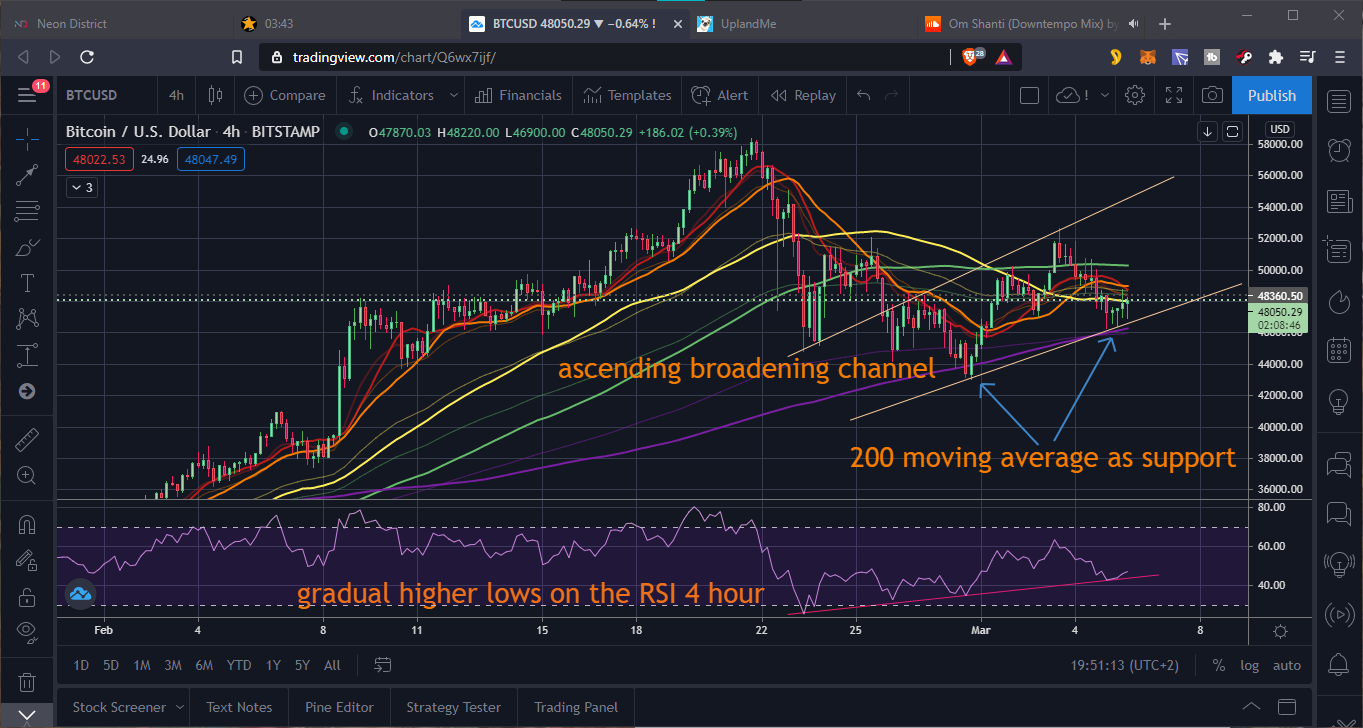 Or trade the swings in the broadening upward sloping channel on the 4 hour chart. The RSI on the 4 hour chart is showing higher lows, which is bullish, along with higher highs. Similarly price is in a healthy uptrend. The 200 MA (moving average) on the 4 hour is acting as support. If price breaks below the 200 MA, I will turn bearish, but for now support is holding.
We will have to wait now and watch as price is at the bottom of the rising wedge and close to the 200 MA support, as seen in the chart in purple. A dip below $46k will look bearish to me, but for now price is holding out and moving upward with the 100 MA as probable resistance at the psychological big even of $50k.
On a fundamental side, reports mention massive amounts of bitcoin being taken off exchanges once more, and put away into cold storage. This implies another liquidity issue, with less bitcoin available to buy on exchanges. As a result price may be propelled upward on the long term trend to $100k and beyond.
The fact is that price is still set to double at least, and probably triple from here before topping out at the new ATH (all time high) for this bull cycle. It's only a matter of time. So buying in now and accumulating as much bitcoin as you can, will only benefit you on the way to the moon. It's written in the code and whale institutional investors are putting their money on the line, to the tune of billions of dollars. So us little minnow fish and plankton can ride along with the whales to the moon, making some profits along the way.
I'm of the opinion that price will actually continue to $400k given enough time. It may be this bull cycle, as price climbs into 2022. Let's see if we make $100k before Q3. That is my ballpark speculation, not financial advice at all of course. My perspective based on recent past price action so far in this bull cycle, is that it took us around 80 days to go from the last ATH of $20k to $60 or 200% in value.
Another 80 days from here would take us theoretically up 400% in value from $20k, to $100k by around mid May 2021. That's a real possibility. The same logic could be used around four more times, since in the last bull cycle of 2017, price made six massive pumps or rallies, as can be seen on the weekly RSI back during the 2017 parabolic uptrend or euphoria phase of bitcoin's price history.
The early five pumps took between 60 to 90 days to play out and the last pump took less than two months to play out. The earlier pumps were between 70% to 160%, from swing low to swing high. The final pump was the biggest at 240%. This time is different as we have already had a first pump of 200% in our first 80 days.(or first two, depending on how you interpret the price action, with two significant retracements already).
This is all my own rough speculation in initial glance, but my bullish conviction regarding bitcoin leads me to consider the possibility of $200k in this current bull cycle before the end of 2022. Let me know your opinions in the comments. Remember, this time we have mass adoption by whale institutions who have bought up bitcoin like never before. As a result this bull run will be bigger than the last one, so anywhere between $200k - $400k is possible.
Posted Using LeoFinance Beta
---
---