A terrifying adventure Resident Evil 7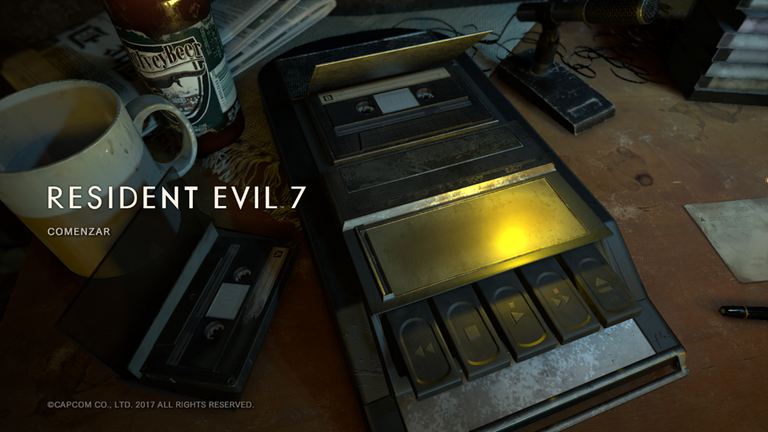 Hola comunidad Gamer, en esta oportunidad quise traerles mi némesis, mi mas grande enemigo, un juego donde comencé a jugarlo en la parte cuatro, me salte el cinco y jugué la parte seis en consola, haciendo de residente vil una de las mejores experiencias de mi vida (sin temor a equivocarme), y tengo hoy la dicha de compartir con ustedes esta maravillosa entrega, donde se puede apreciar las grandes diferencias que hay entre un residente vil 4 y 6, volviendo esta entrega única en el tipo de terror que ofrece y es que esta misma está llena de terror suspenso y SI hay momentos de ACCION sin embargo, muy diferentes a lo ya acostumbrado en otras entregas haciendo esta MUY PERO MUY ESPECIAL, volviendo a esos orígenes de suspenso y terror que de seguro le quitaran el aliento a mas de uno a probar este maravilloso juego.
Hello gaming community, this time I wanted to bring you my nemesis, my greatest enemy, a game where I started playing it in part four, I skipped part five and played part six on console, making resident vile one of the best experiences of my life (without fear of being wrong), and today I have the joy of sharing with you this wonderful delivery, where you can appreciate the great differences between a vile resident 4 and 6, making this delivery unique in the type of terror it offers and it is that it is full of suspenseful terror and YES there are moments of ACTION, however, very different from what is already customary in other installments making this VERY BUT VERY SPECIAL, returning to those origins of suspense and terror that will surely take your breath away more than one to try this wonderful game.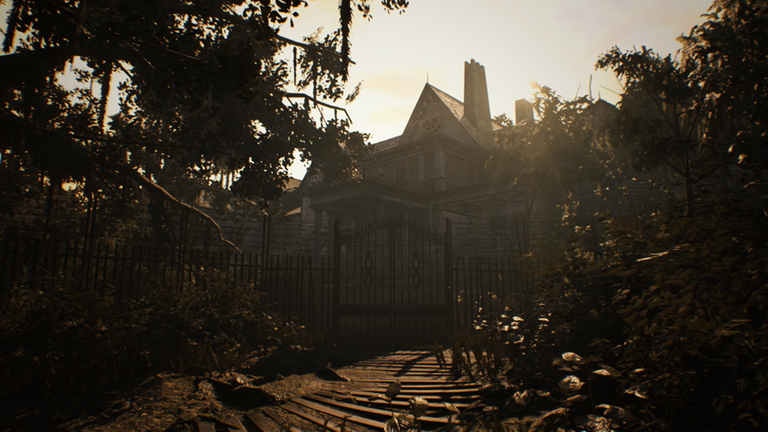 Una de las cosas que mas le llamo la atención fue este apartado. Ya que cada vez que juego residente vil ya sea en PC y más que todo consola me pasa esto, así que 10/10
One of the things that caught his attention the most was this section. Since every time I play resident vile either on PC and more than anything console this happens to me, so 10/10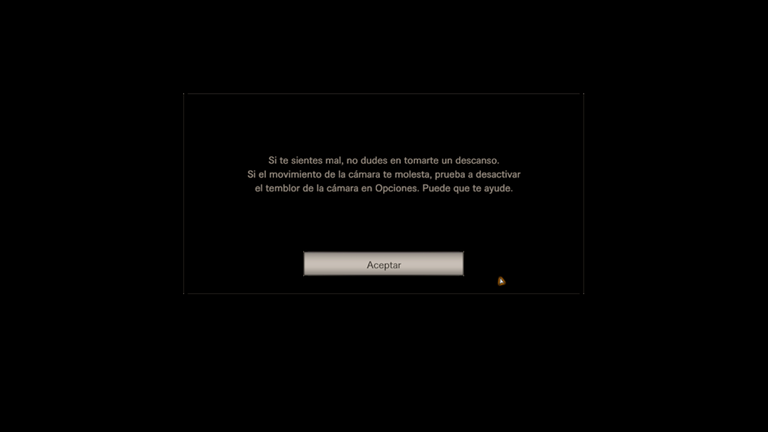 "Si te sientes mal, no dudes en tomarte un descanso. Si el movimiento de la cámara te molesta, prueba desactivar el temblor de la cámara en opciones, Puede que te ayude."
"If you feel bad, feel free to take a break. If camera shake bothers you, try turning off camera shake in options, it might help."

Ya que no quiero que me hagan la vida imposible "XD" decidí jugarlo en "te pondremos a prueba" y creo que es una de las mejores decisiones que tome, ya que no me considero todo un profesional, pero tampoco soy un desconocido de este juego, así que el nivel de dificultad "normal" me parece bastante justo para ir conociendo este maravilloso juego. Otra cosa que me sorprendió bastante fue la música, ya que te envuelve y te hace sentir que estas en la piel del personaje, poniéndote en situaciones bastante interesantes y difíciles al momento de experimentar diferentes escenarios. Por otra parte, debo decir que me impresiono el hecho de (hasta ahora) no luchar con los típicos zombis que caminan lento y se mueren con algunos disparos en la cabeza, lo cual desde el primer momento cambia por completo la mecánica del juego, bien hecho.
Since I don't want my life to be made impossible "XD" I decided to play it in "we'll put you to the test" and I think it's one of the best decisions I've made, since I don't consider myself a professional, but I'm not a stranger to this either game, so the "normal" difficulty level seems pretty fair to get to know this wonderful game. Another thing that surprised me a lot was the music, since it surrounds you and makes you feel that you are in the skin of the character, putting you in quite interesting and difficult situations when experiencing different scenarios. On the other hand, I must say that I was impressed by the fact that (so far) I don't fight with the typical zombies that walk slowly and die with a few headshots, which from the first moment completely changes the mechanics of the game, well done.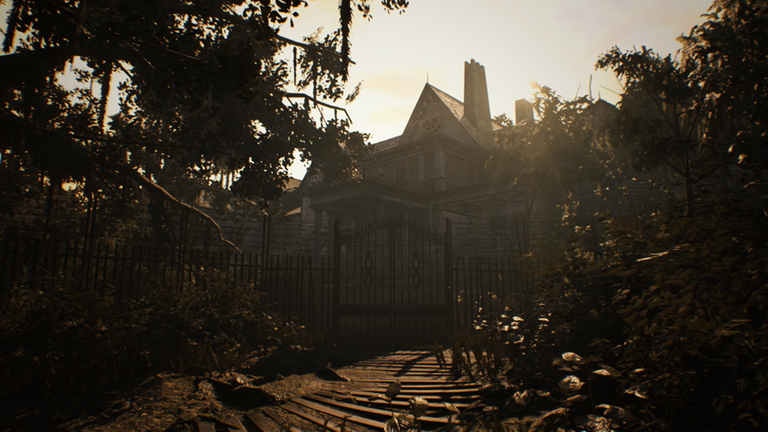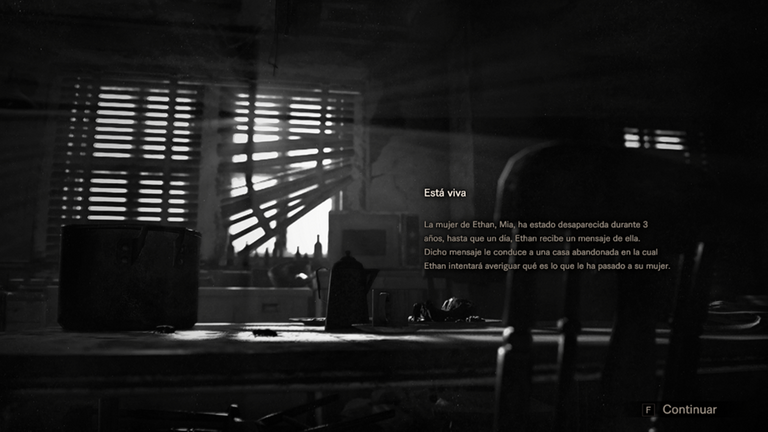 Un poco de contexto - A bit of context.
"La mujer de Ethan, Mia, ha estado desaparecida tres años, hasta que un día, Ethan recibe un mensaje de ella. Dicho mensaje le conduce a una casa abandonada en la cual Ethan intentara averiguar que es lo que le ha pasado a su mujer" Esto me gusto bastante ya que rápidamente y con algunas escenas de video no tan largas te ponen en contexto de él porque nuestro querido Ethan hace lo que hace aventurándose así a lo que de seguro será una de sus más grandes y horrorosas aventuras.
"Ethan's wife, Mia, has been missing for three years, until one day, Ethan receives a message from her. Said message leads him to an abandoned house in which Ethan will try to find out what has happened to his wife" I liked this a lot since quickly and with some not so long video scenes they put you in context of him because our dear Ethan does what he does, thus venturing out on what is sure to be one of his greatest and most horrifying adventures.

Entramos en una casa en busca de respuestas, pero mas temprano que tarde nos damos cuenta que algo está mal aquí ya que, vemos a lo largo del juego como "personas llegan a estos lugares y no se vuelve a saber más nada de ellas"
We enter a house in search of answers, but sooner rather than later we realize that something is wrong here since, we see throughout the game how "people arrive at these places and nothing is heard from them again"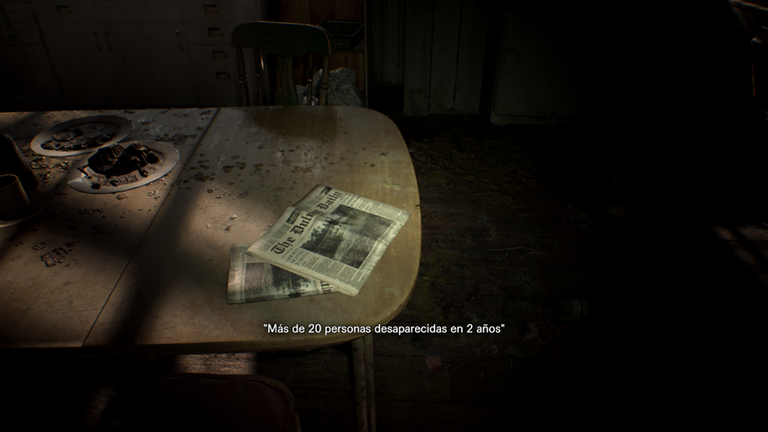 "Mas de veinte personas desaparecidas en 2 años"
"More than twenty people disappeared in 2 years"
La casa en la que entramos esta completamente abandonada, vemos desde comdia en descomposicion hasta una nevera llena de gusanos (lo cual si les soy sinceros me dio un poco de asco), abro una hoya y esta tiene cucharacas (mas asco aun), aun asi, sigo recorriendo la casa y me topo con una cinta VHS la cual contiene los ultimos momentos de unas personas que quisieros grabar una especie de documental, sobre esta casa ABANDONADA y terminaron consiguiendo EL FIN DE SUS VIDAS. Me parecido interesante como pusieron esta parte del juego ya que al introducir la cinta de video en el VHS puedes mover al camarografo por lo que vendria siendo un recuerdo muy bien elvadorado (muy bien hecho).
The house we entered is completely abandoned, we see everything from rotting food to a fridge full of worms (which, if I'm honest, made me a bit disgusted), I open a hole and it has spoons (even more disgusting), even So, I keep going through the house and I come across a VHS tape which contains the last moments of some people who wanted to record a kind of documentary about this ABANDONED house and ended up getting THE END OF THEIR LIVES. I found it interesting how they put this part of the game, since by inserting the videotape into the VHS you can move the cameraman for what would be a very well elvadored memory (very well done).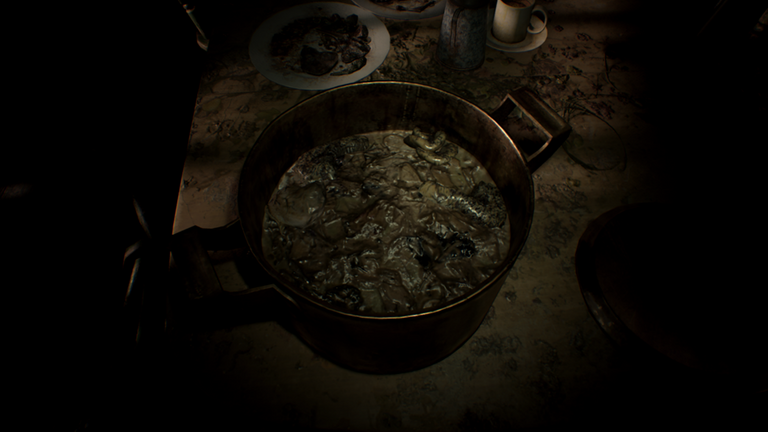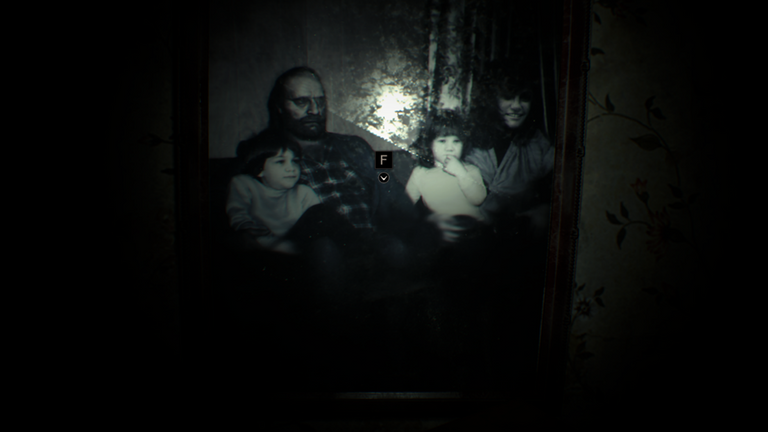 "los dueños de la casa al parecer"
"the owners of the house apparently"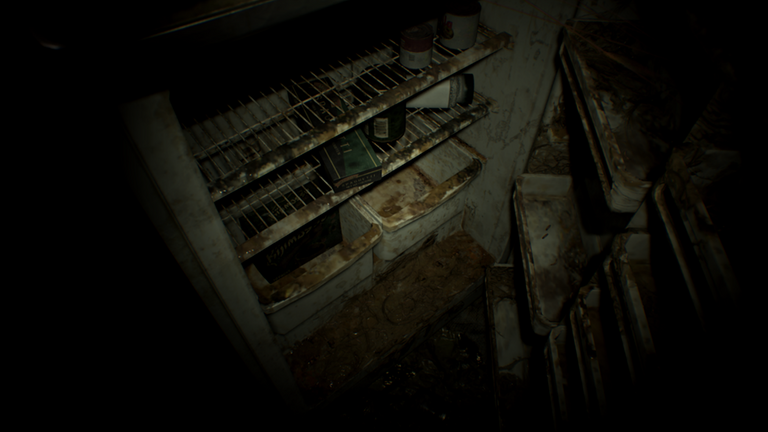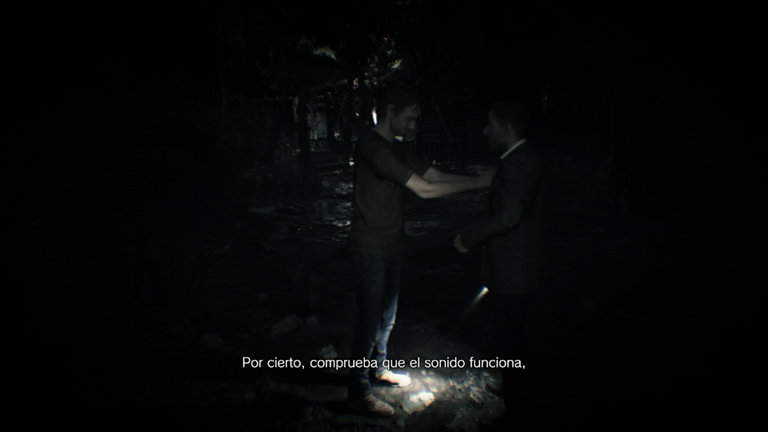 "Reviviendo los recuerdos en VHS"
"Reliving memories on VHS"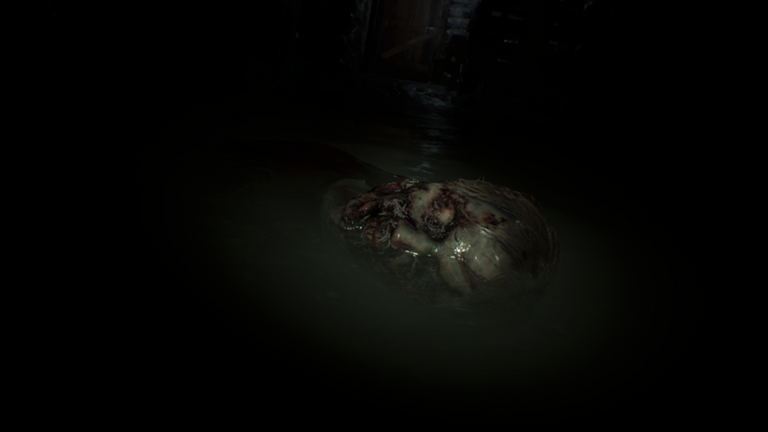 Cuando vi este cadáver supe que no estaba jugando el típico Resident Evil xD me saco un susto
When I saw this corpse I knew that I was not playing the typical Resident Evil xD I got a scare
Al terminar de ver la cinta y recorrer los mismos pasos que recorrieron las personas antes de ser brutalmente asesinadas, (que gran idea Ethan) me encontré con una mujer encerrada, "inmediatamente mi corazón se sobresaltó, aquella mujer que pensaba había muerto hace mas de tres años estaba aquí, inmediatamente agarré una herramienta para cortar las cadenas y liberarla del yugo de sus tormentos, poder salir de ahí y volver a casa, fin"
¡PERO NO!
When I finished watching the tape and going through the same steps that people went through before being brutally murdered, (what a great idea Ethan) I found a woman locked up, "immediately my heart was shocked, that woman I thought had died more than I was here for three years, I immediately grabbed a tool to cut the chains and free her from the yoke of her torments, to be able to get out of there and go home, the end"
BUT NOT!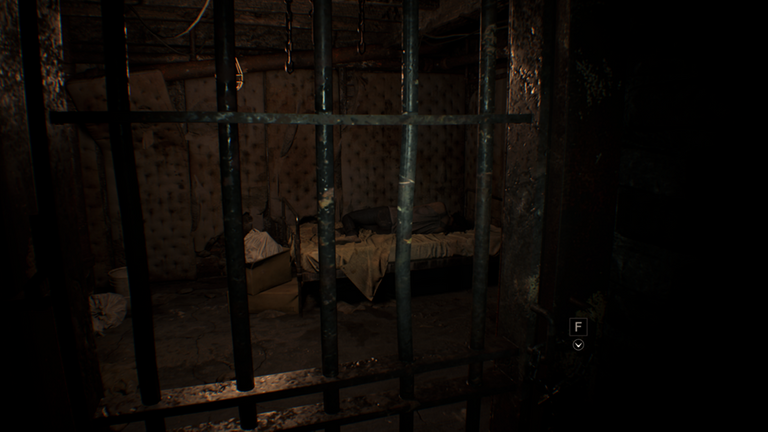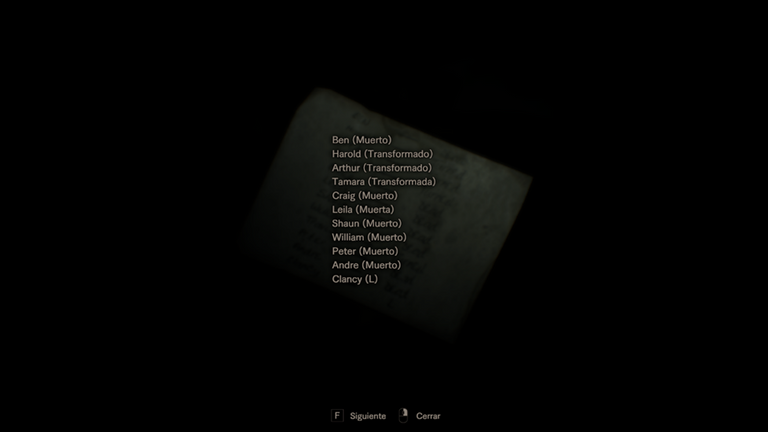 "LISTA DE PERSONAS MUERTAS Y TRANSFORMADAS… lo que una persona común tiene pegada a la pared, que lindo xD
"LIST OF DEAD AND TRANSFORMED PEOPLE… what an ordinary person has attached to the wall, how cute xD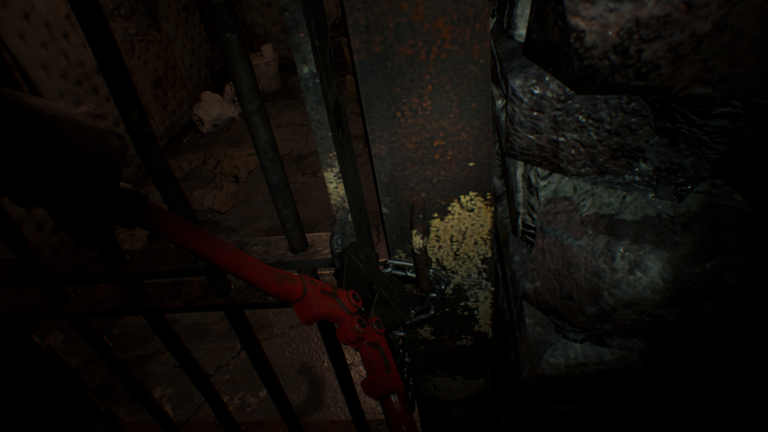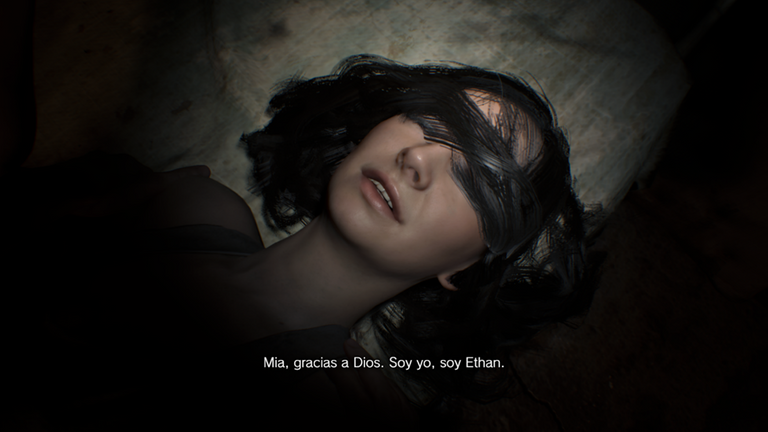 Mi primera impresión fue pensar… "ESTA MUJER ESTA LOCA"
My first impression was thinking... "THIS WOMAN IS CRAZY"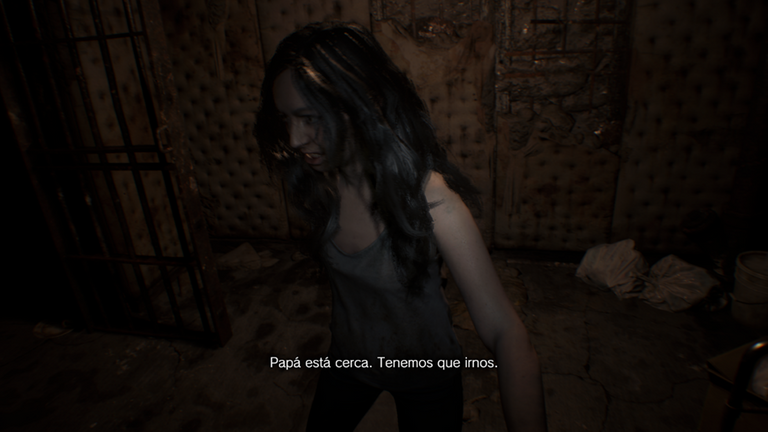 Veo que mi esposa de 3 años de supuestamente estar muerta, me manda una cinta un día diciendo que estaba viva, llego, la trato de rescatar para que me diga "papa esta cerca tenemos que irnos"
I see that my wife of 3 years of supposedly being dead, sends me a tape one day saying that she was alive, I try to rescue her so that she tells me "dad is close we have to go"

Aunque si debo decir que es muy linda, quizás por estar loca xD
Although I must say that she is very cute, perhaps because she is crazy xD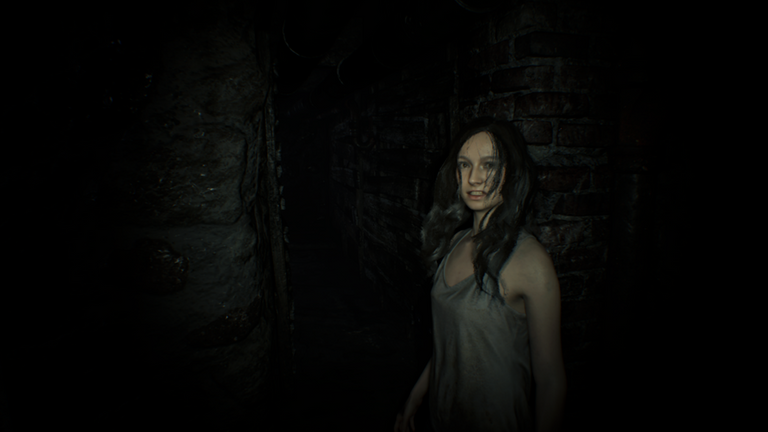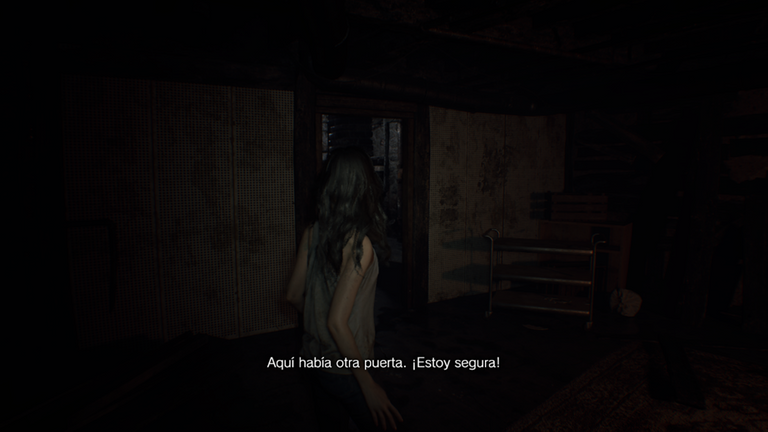 Me llevo por varias partes de la casa. Una especie de túnel, luego no sé qué paso, pero al buscar una entrada secreta todo se volvió muy confuso. ¡La señorita empezó actuar como LOCA! Y empezó atacarme, así que luego de recatar a mi esposa que di por muerta hace mas de 3 años, la traté de matar para que no me matara a mi con su fuerza sobrenatural… NO, PERO ESPEREN, olvidaba en ese momento que esto es RESIDENT EVIL y las cosas no permanecen muertas xD.
she take me through diferents parts of the house A kind of tunnel, then I don't know what happened, but looking for a secret entrance, everything became very confusing. The lady started acting CRAZY! And he started attacking me, so after rescuing my wife who I left for dead more than 3 years ago, I tried to kill her so she wouldn't kill me with her supernatural strength... NO, BUT WAIT, I forgot at that moment that this is RESIDENT EVIL and things don't stay dead xD.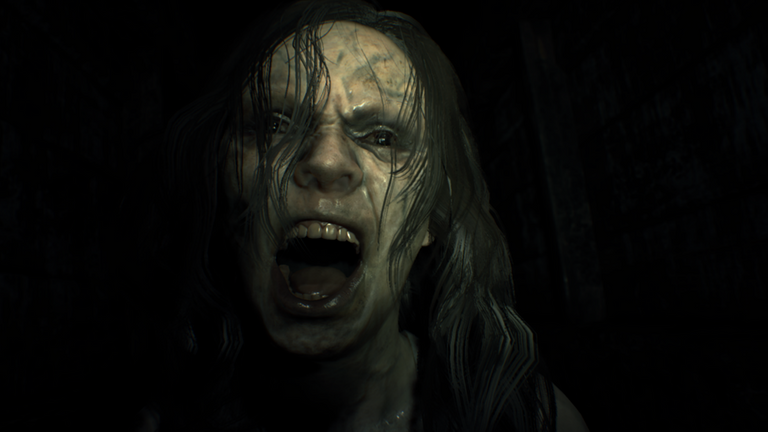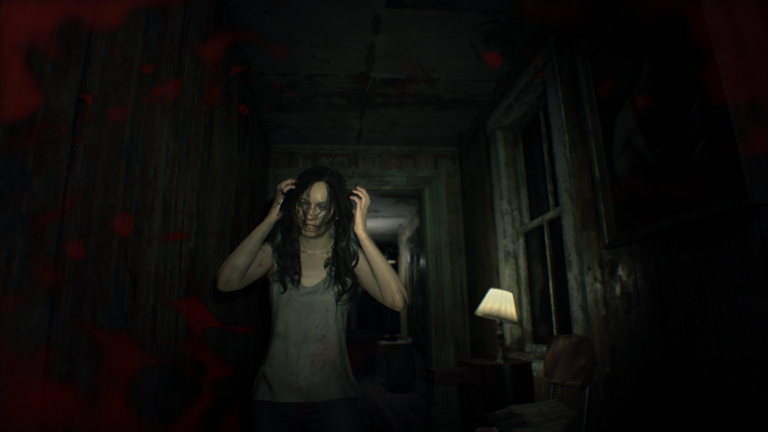 "Aquí dándose cuenta que ella… No es normal"
"Here realizing that she... It's not normal"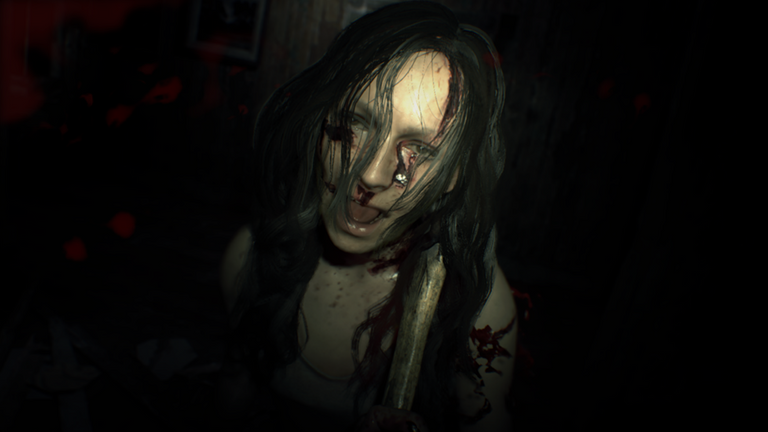 El cadáver de Mia (que se supone debía ser un cadáver) xD ya desapareció y empieza a sonar el teléfono, una chica con una voz muy sexy llamada Zoe me dice que escape y trata de ayudarme desde las sombras (desde las sombras porque hasta ahora no le he visto la cara).
Mia's corpse (which was supposed to be a corpse) xD already disappeared and the phone starts to ring, a girl with a very sexy voice called Zoe tells me to escape and tries to help me from the shadows (from the shadows because until now I haven't seen his face.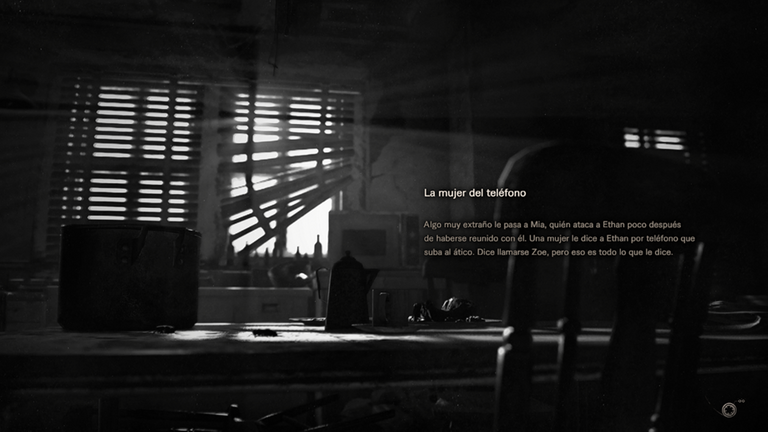 Rompí cadenas, guardé partida (la cual por cierto se guarda en un lindo reproductor bastante vintage) y me encontré otra vez con el amor de mi vida, dando vueltas por la casa (lo normal). Y así como las parejas que se pelean nos volvimos a unir. Pero para tratar de matarnos de nuevo, y ella estando tan loca como una cabra agarra una motosierra y me intentar matar… Otra vez.
I broke chains, saved the game (which by the way is saved in a pretty vintage player) and I met the love of my life again, hanging around the house (as usual). And just like couples who fight we got back together. But to try to kill us again, and she being crazy as a goat grabs a chainsaw and tries to kill me… Again.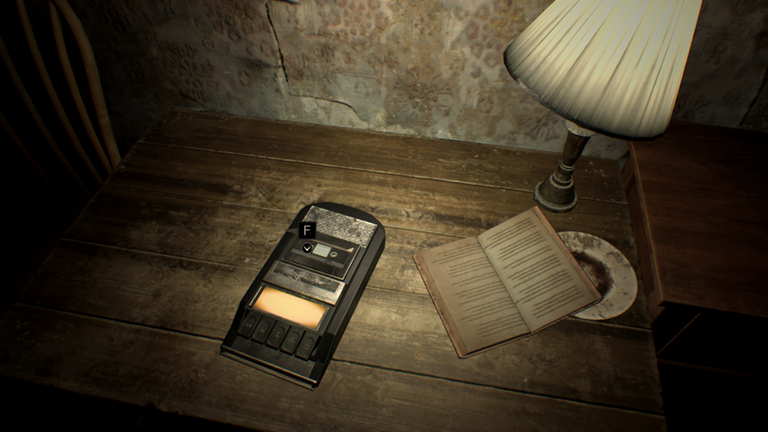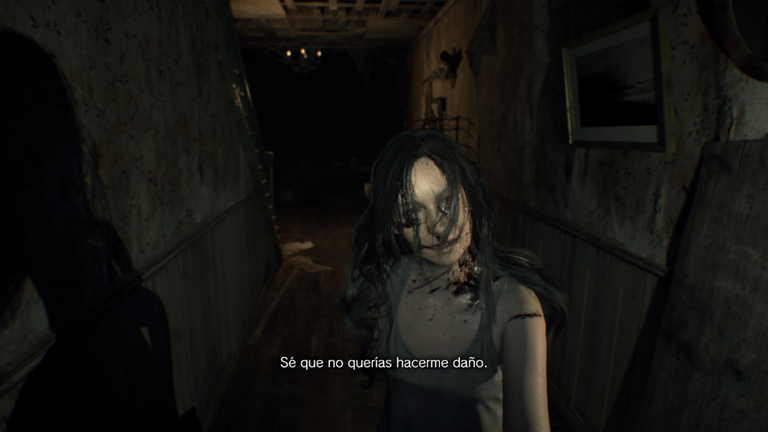 "Se que no querías hacerme daño" lo decía con aquel tono dulce y normal como aquella vez que la encontré encerrada en la celda.
¡Pero BUM! Se volvió loca otra vez, clavándome un destornillador en la mano me dejo pegado en la pared y luego que intenta matarme otra vez xD
"I know you didn't want to hurt me" she said with that sweet and normal tone like that time I found her locked in the cell.
But BOOM! She went crazy again, sticking a screwdriver in my hand, leaving me stuck to the wall and then trying to kill me again xD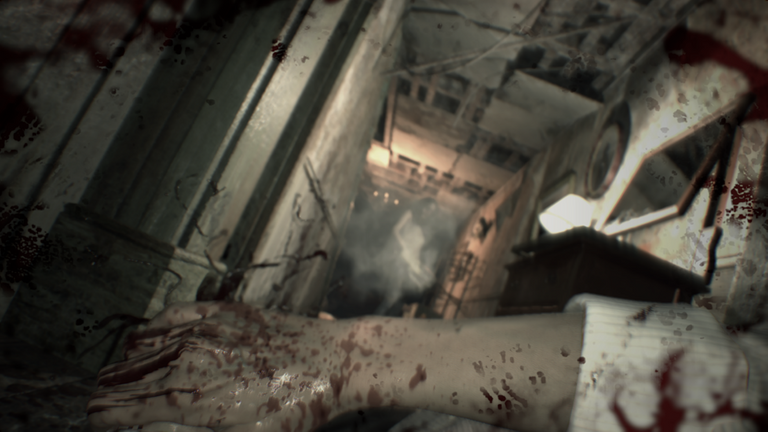 Lo admito esta parte si me asusto.
I'll admit in this part i got scared.

Como pude conseguí escapar de ella y conseguir un arma con suficientes municiones (y esta parte del juego la llamo, ser un pendejo) así que supuse.
empiezo a tener un arma de fuego, de seguro será el típico RESIDENT EVIL que ya había jugado antes (seguro campeón xD). Intenté curarlo luego que le pasara la motosierra, pero al parecer era parte de la historia así que no pude xD.
As I could I managed to escape from her and get a weapon with enough ammunition (and this part of the game I call it, being an asshole) so I guessed.
I start to have a firearm, surely it will be the typical RESIDENT EVIL that I had already played before (surely champion xD). I tried to heal him after the chainsaw hit him, but apparently it was part of the story so I couldn't xD.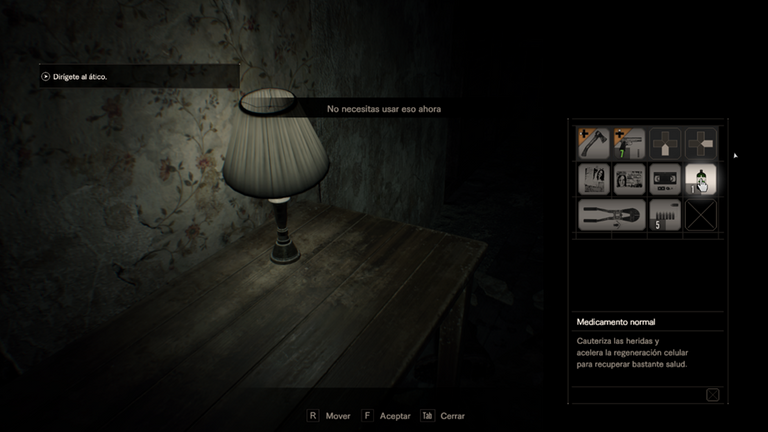 😊 Y ADIVINEN QUIEN APARECIO… ¡SI! EL AMOR DE MI VIDA 😊
Cubierta de sangre y muy enojada por clavarle un hacha en el cuello, quiso literalmente venganza clavándome su gran y poderosa motosierra, así que con arma en mano y una pésima puntería pude "pararla" porque a este punto dudo que este muerta xD jajajaa
😊 AND GUESS WHO APPEARED... YES! THE LOVE OF MY LIFE 😊
Covered in blood and very angry for sticking an ax into her neck, she literally wanted revenge by sticking her big and powerful chainsaw into me, so with a weapon in hand and a lousy aim I was able to "stop" her because at this point I doubt she's dead xD hahaha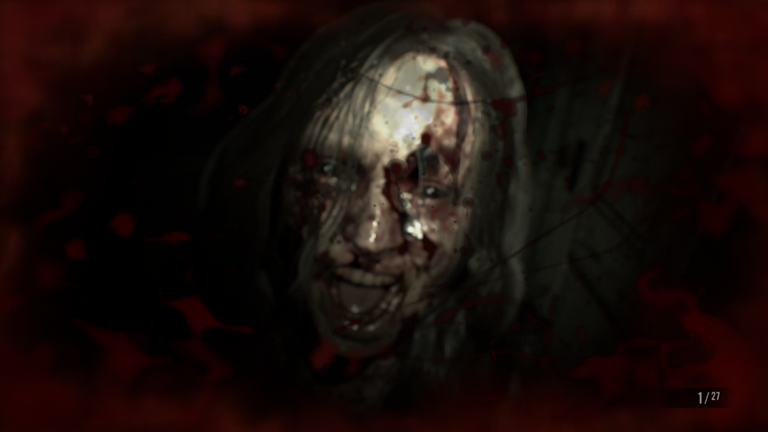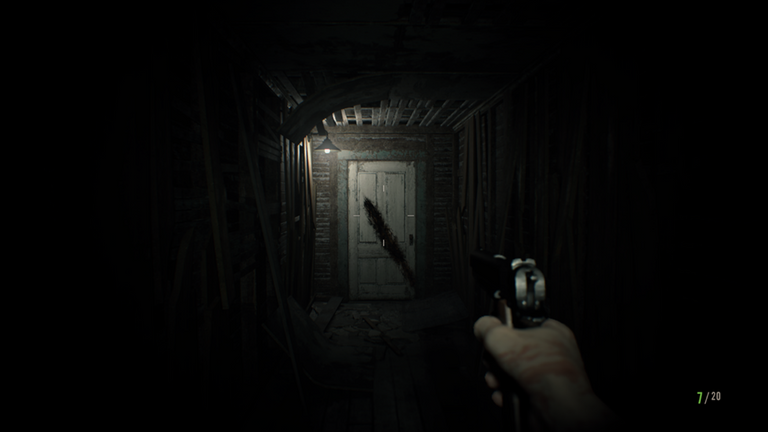 Después de una pelea ella se queda dormidita 😊se veía tan tranquila.
After a fight she falls asleep 😊she looked so calm.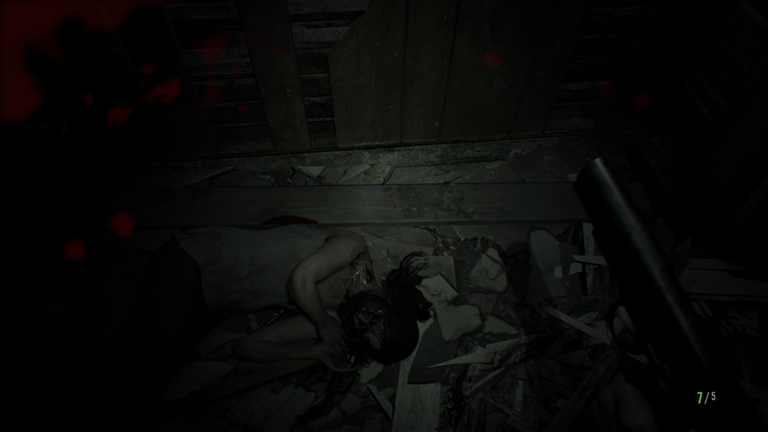 Luego un señor se me acerca y que me da una patada en toda la cara y me arrastra hacia la casa del principio del juego… Claramente quería rescatarme de ella ¿no?... ¿NO?
Then a man approaches me and kicks me across the face and drags me towards the house from the beginning of the game... Clearly he wanted to rescue me from it, right?... NO?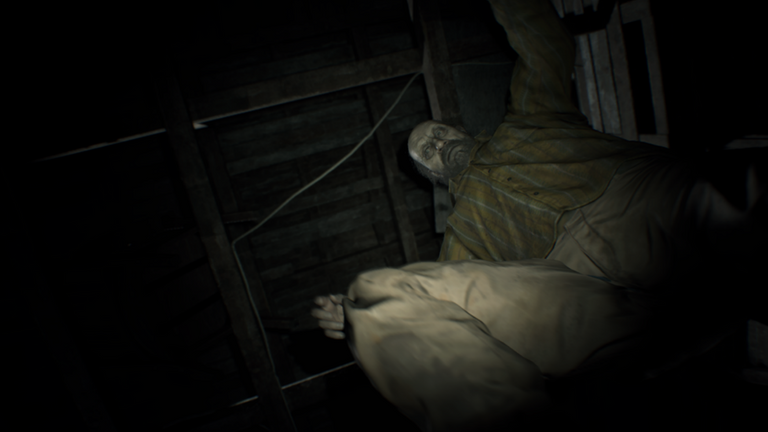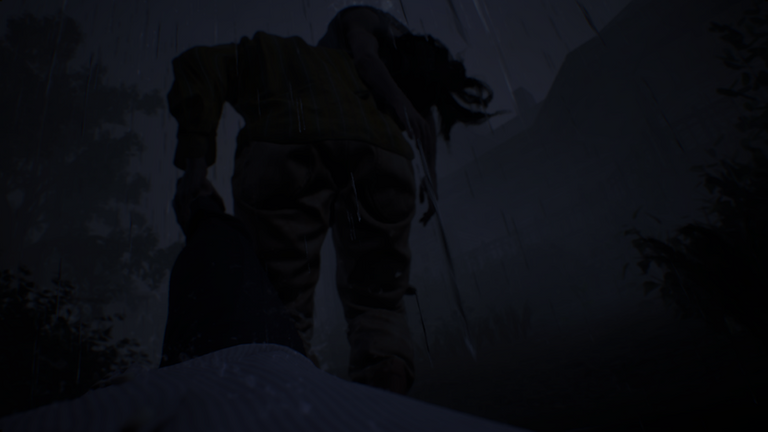 Y así termina este capítulo de Residente vil 7, un juego que hasta los momentos lo tengo avanzado hasta el capitulo 2 y espero seguir jugándolo mas tarde, creo que cumple con lo prometido y de seguro cualquier fan de Resident Evil podrá apreciar esta MARAVILLOSA ENTREGA. Se que tiene tiempo de haber salido, sin embargo, no lo había podido jugar hasta ahorita y aun escribiendo este post y reviviendo todos estos momentos pude revivir todo lo que sentí jugándolo jajaja, super recomendando, así que si aun no lo han probado los invito a probarlo, me despido de ustedes gamers y díganme que les parecido el juego, ¿lo han jugado? ¿les gusta Resident Evil o por el contrario piensan que han sacado muchas partes? No te olvides de votar, comentar, y compartir eso me ayudaría mucho para seguir creciendo, un gran saludo y hasta luego.
And so ends this chapter of Resident Evil 7, a game that until now I have advanced to chapter 2 and I hope to continue playing it later, I think it fulfills what was promised and surely any Resident Evil fan will be able to appreciate this WONDERFUL DELIVERY. I know it has been out for a while, however, I hadn't been able to play it until now and even writing this post and reliving all these moments I was able to relive everything I felt playing it hahaha, highly recommended, so if you haven't tried it yet I invite you Let's try it, I say goodbye to you gamers and tell me what you think of the game, have you played it? Do you like Resident Evil or on the contrary do you think that they have released many parts? Do not forget to vote, comment, and share that would help me a lot to continue growing, a big greeting and see you later.
---
---