Playing for the first time diablo II Remastered
English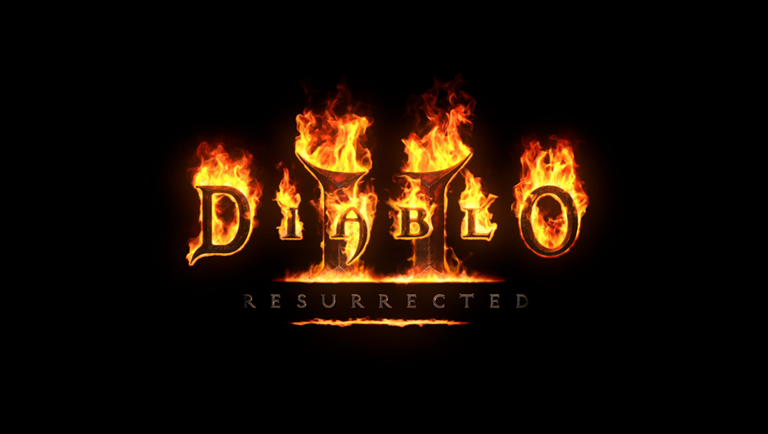 Hello gamers this time I wanted to try a game that for years I have passed up and now that they have released a new one I want to complete this one that I have not tried, also another thing that motivated me to play it was that for a long time I left it aside and when I found out that it had a remastered version I did not want to stop trying it.

One of the things that surprised me most about this game were the cinematics that left me perplexed because I expected a much crappier, but they are in a good quality and with very bright colors made me want to try it even more and see how it was his mechanics when it came to play.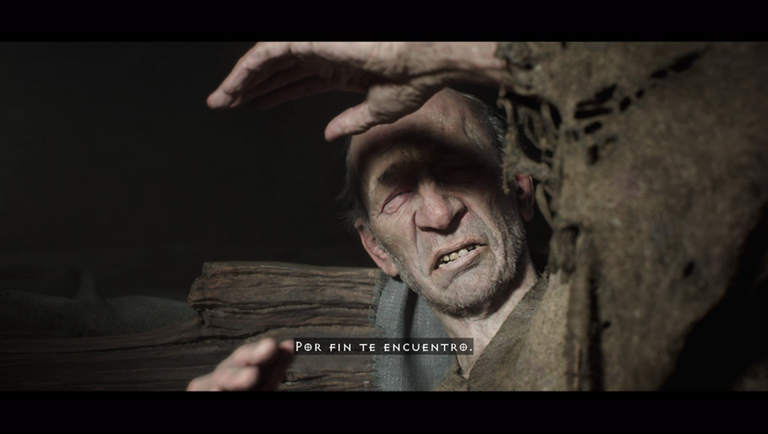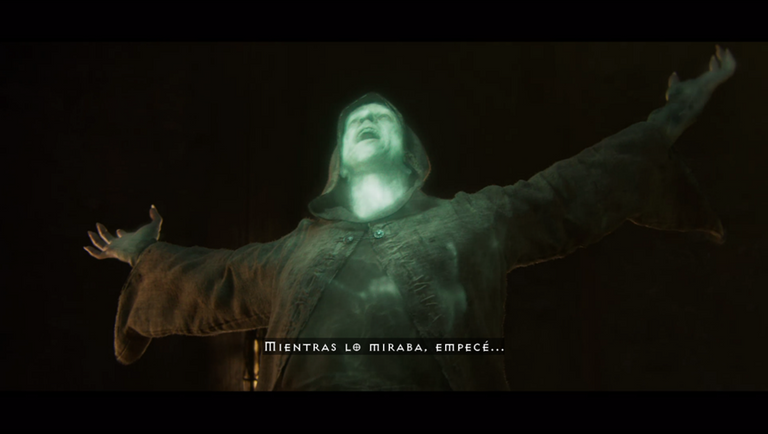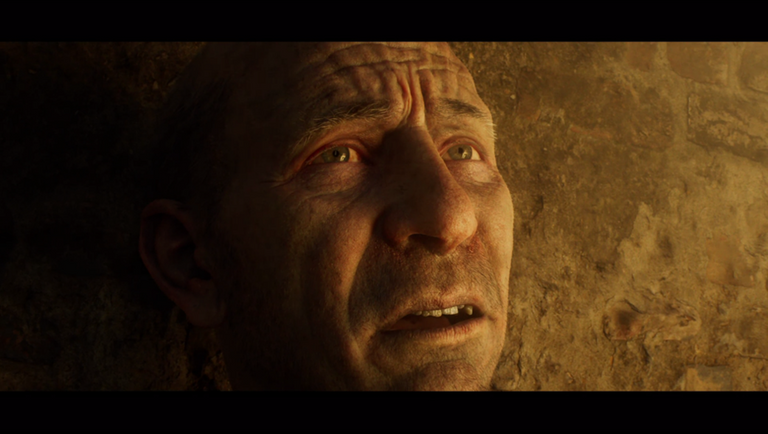 As I had no idea which class to choose, I tried them one by one to see which one I liked the most and diablo 2 has different classes that adapt to the way you play, either as a powerful Necromancer raising the dead to serve you, an assassin, a sorceress or a powerful druid. I leaned towards the sense of history and that is that if I fight against domains the most common would be a Paladin which serves the light, a powerful warrior that would temper the hordes of demons that fight against it.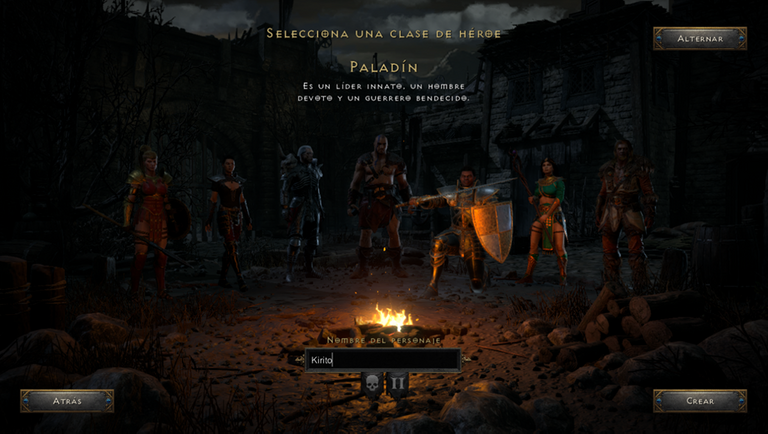 Playability
The gameplay of diablo 2 consists of moving your character with the mouse which also serves to attack and support you with the keyboard (so far I use it to heal me xD). You can make your character stronger by using the objects that are falling from the enemies and getting the gold you rely on equipment that you can also acquire with the various NPCs, on the other hand, the gameplay seemed quite comfortable. With respect to the sound is a gloomy music xD that in my opinion goes hand in hand with the game and the different situations that the character faces along the way, kept me in suspense in many parts which comes in handy.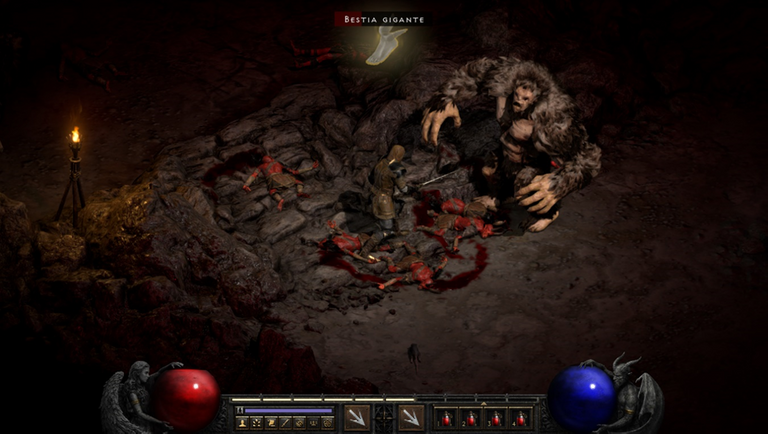 As your character levels up, he has a number of stats which you will increase such as strength, dexterity and vitality, as well as a talent tree which will help you hit harder.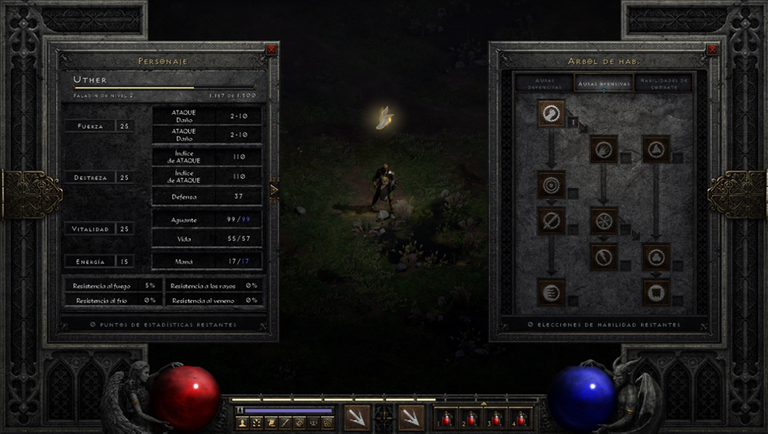 My experience
After going through several missions and with several characters, I decided to become the chosen character who would face his worst fears and would go into dangerous caverns, I decided to arm him and give him the gold I had collected with the other characters and thus begin my adventure.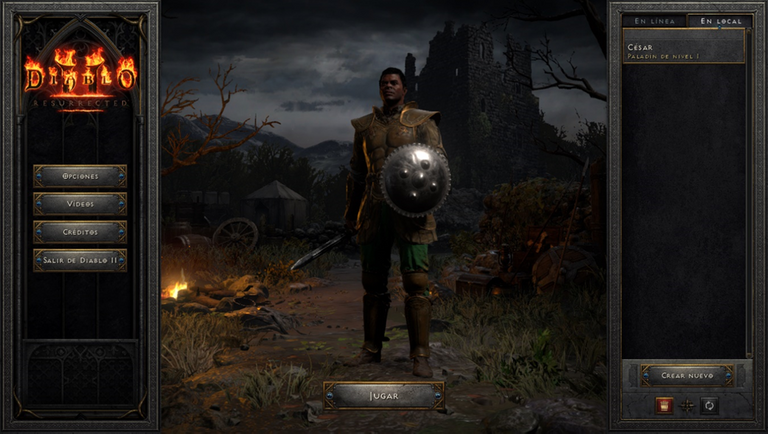 At the beginning of the game you talk to a merchant who tells you that he will take you to the next village if you help the people of this (the initial village) and puts you in context of everything that is happening in this camp, I found it quite nice that they put in context, I also realized that as you talk to each NPC you go further in the story and you find out everything that is happening around. Another of the merchants that I see more useful is Gheed which you can buy and sell many things that you find which makes you earn enough gold, I bought a basic equipment and although expensive I think it was worth it because I wanted to reach level 6 and unlock a powerful aura to continue my adventure.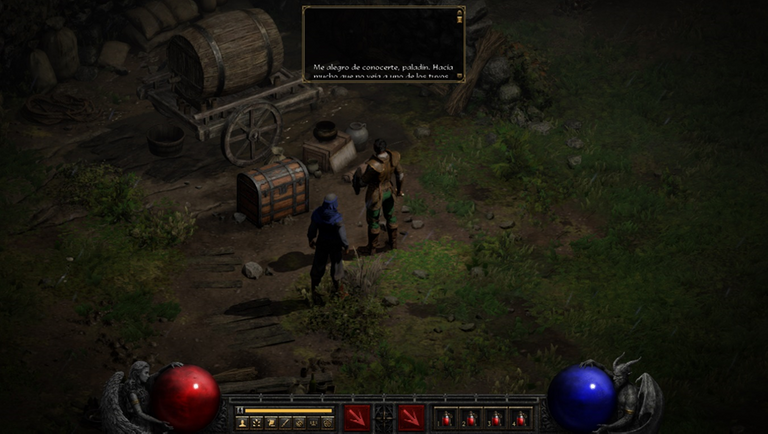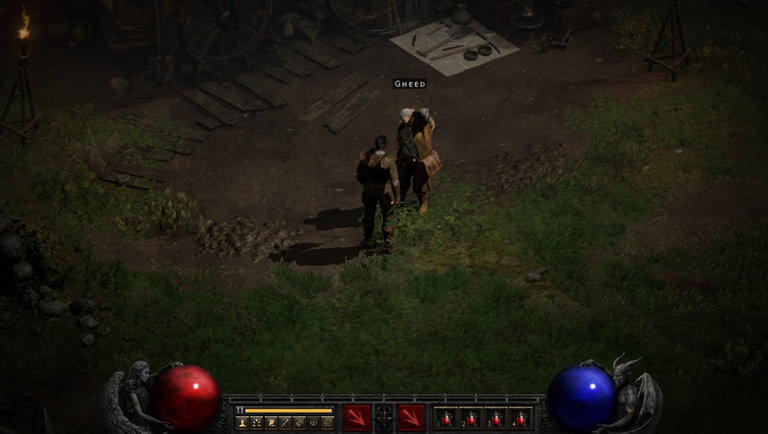 On the other hand, if Gheed fails or you do not find what you are looking for, there is the local blacksmith who also puts you in context of what is happening and in turn offers you her merchandise which I did not see anything wrong.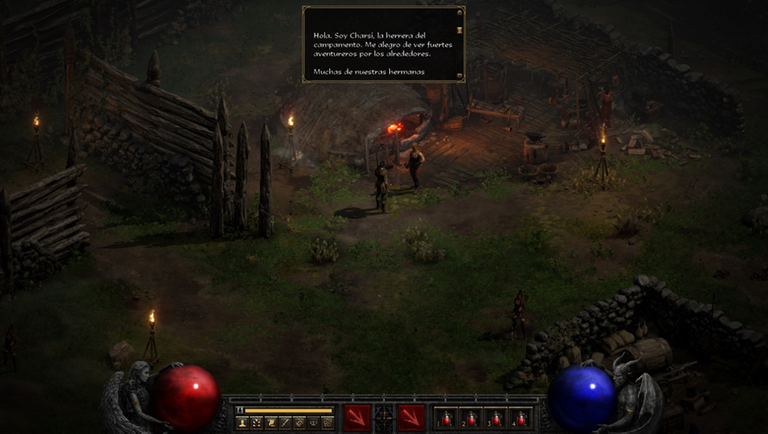 I spoke with the leader of the harpies (warrior women who protect the place), who tells me that I will have to gain their trust before offering their help. On the other hand, Akara the spiritual leader of the place gave me my first mission. Evil forces were gathering in a nearby cave and were planning the destruction of the site, so they asked me to help them clear it out.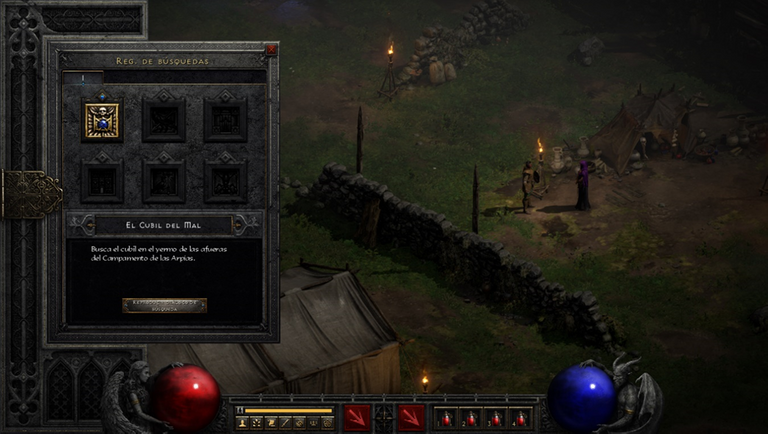 This was another thing I liked about the game and that is how well organized the missions are and the updating at key points so you don't get lost in the process.

My first mission
Leaving the camp as best equipped as possible I decided to investigate the terrain and gain a little more level before entering the cave, and although I did not find very strong monsters it would be a challenge to enter that cave with this character that, although I did not know how to handle very well I had a guide at hand of what talents and stats to climb while progressing with my character.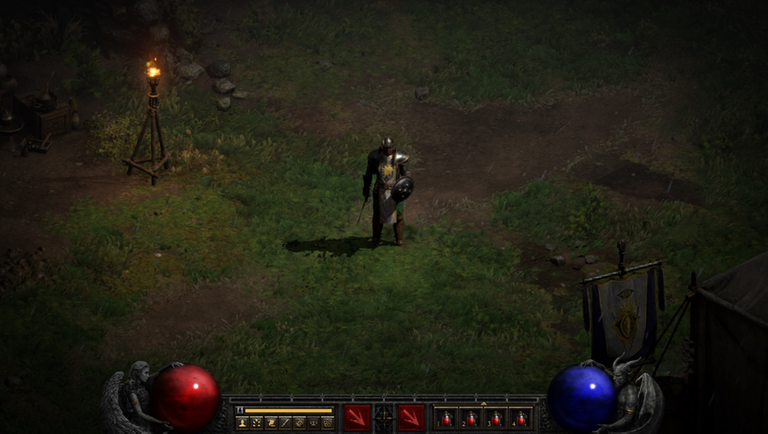 Remastered version and original version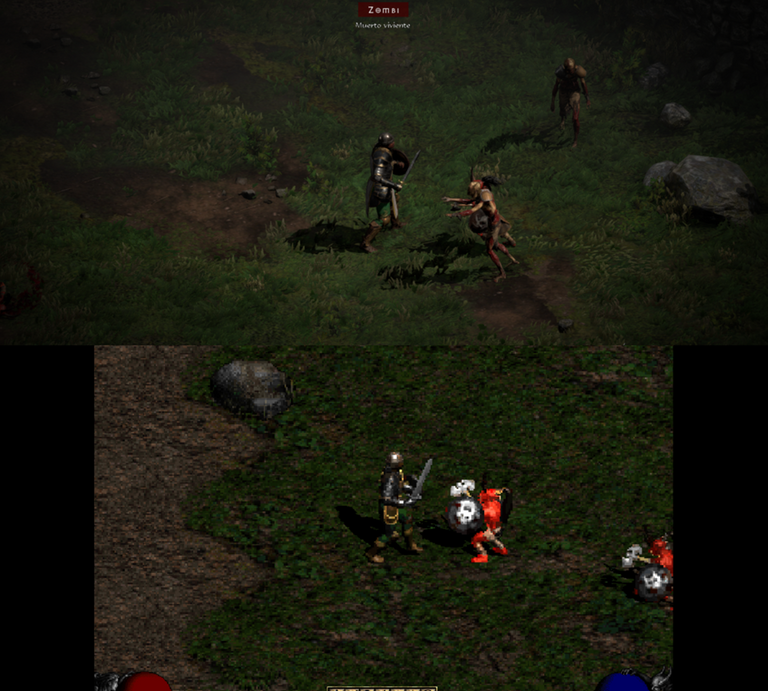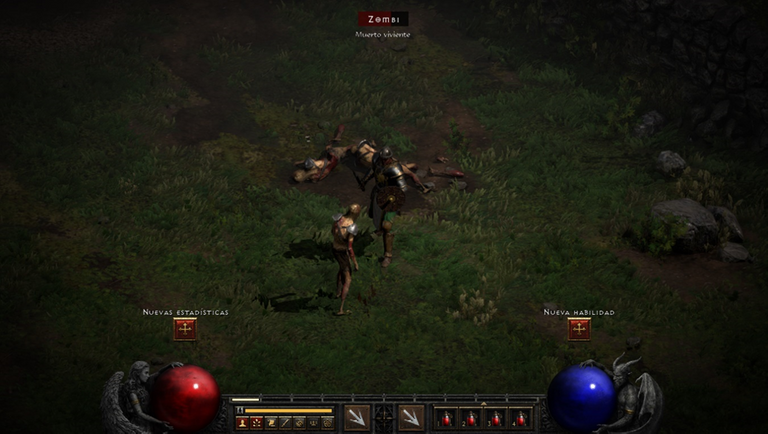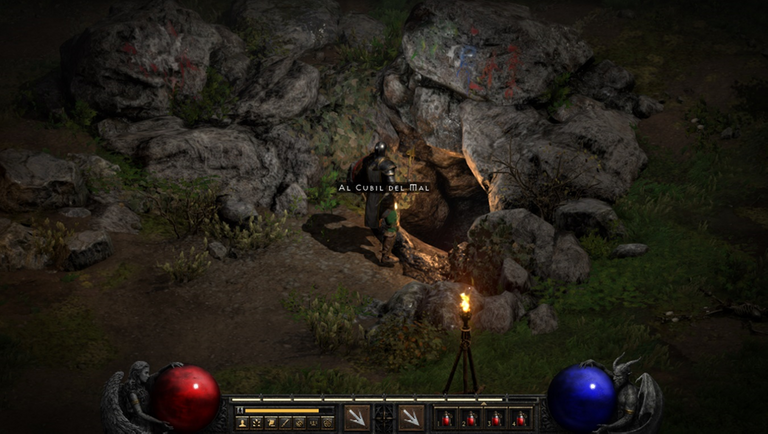 I see that the cave system is quite extensive which pleased me since the more I killed the more I would level up, I did not find it too complicated since I had a weapon that was enchanted with two elements and for now I could deal with many things, once the mission was over I grabbed a portal and went to the camp to report my progress.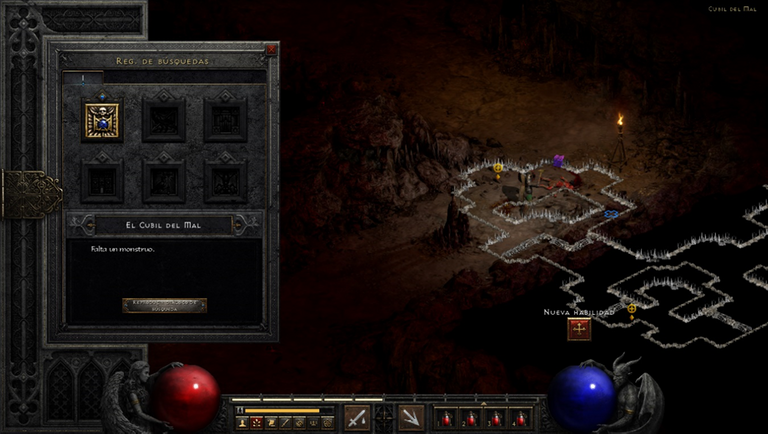 Akara gave me a point to spend it on my character and the next thing was to activate the other mission that the leader of the harpies, Kashya, had for me. One of her powerful sisters fell under the corruption of Andariel, she revived her sisters to use her against them and in turn spread death and destruction throughout the village, so my next mission would be to stop the chaos that consumed the cemetery.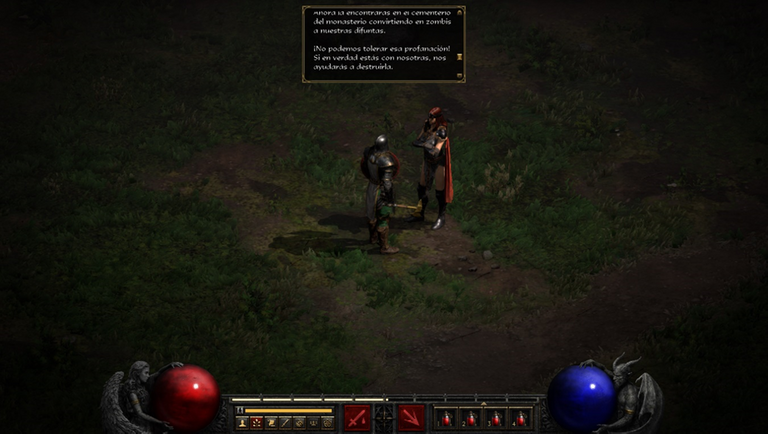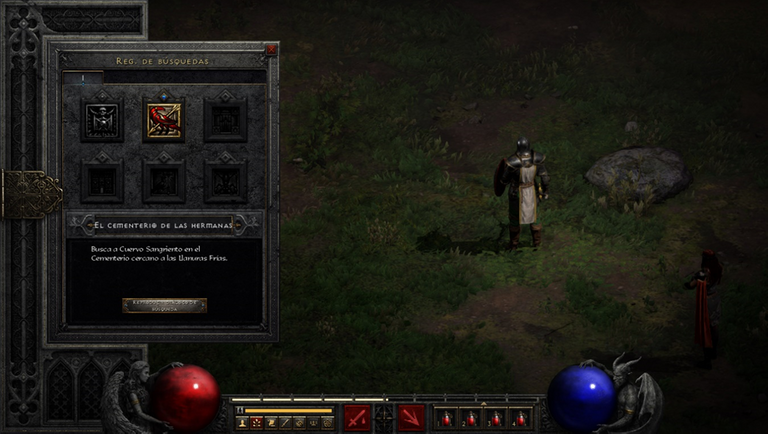 And although I wanted to leave this mission for later I didn't want to stop playing without reaching level 6 because it would unlock a power which was an Aura that would damage the demons around me, so I had to explore a bit the next area to reach this level.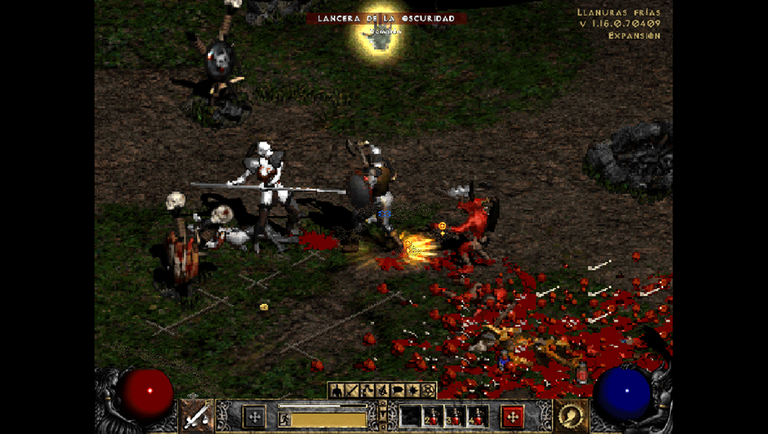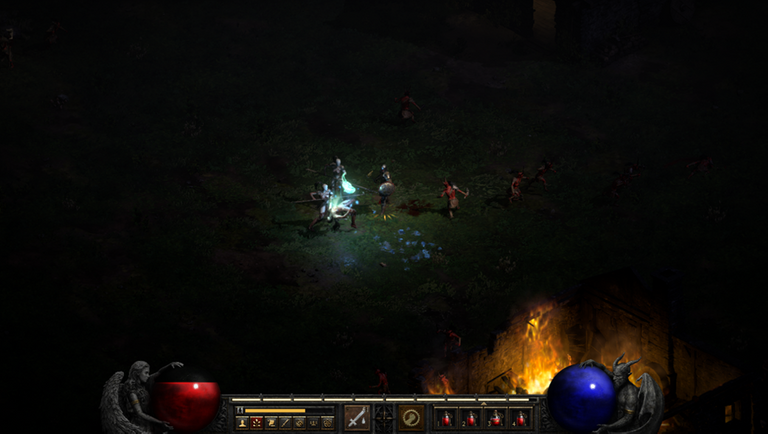 Summary
Although I did not play much this installment of diablo I want to propose to pass it to me and see how far I can get, as I understand this version includes a kind of expansion which is quite entertaining and makes me curious how strong can become my character and other levels of difficulty open, no doubt although I'm not very good at these games, I think it's a fun challenge that can surprise me and learn a little of this saga thus returning to the origins which I never played, xD thank you very much for reading me. Don't forget to Vote, Comment and Share, that would help me a lot, goodbye adventurer fighting against demonic forces.
All photos were taken by me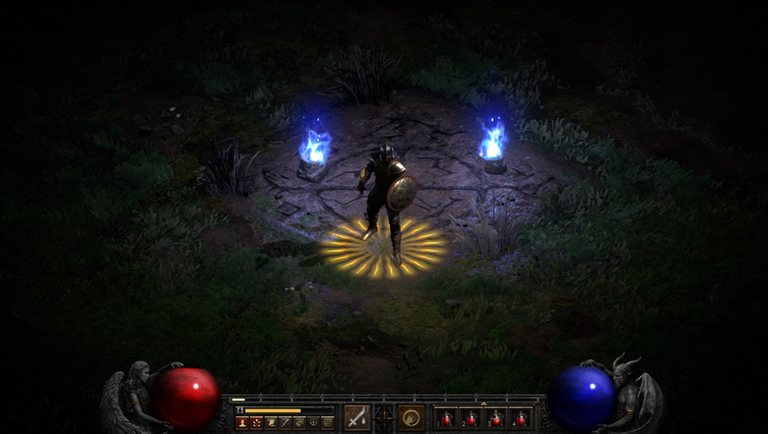 ---
Español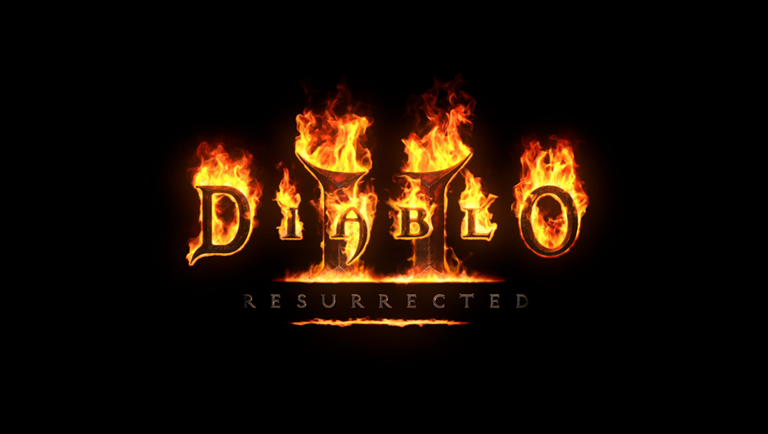 Hola gamers en esta ocasión quise probar un juego que por años he dejado pasar y ahora que han sacado uno nuevo quiero completar este que no he probado, también otra cosa que me motivo a jugarlo fue que por mucho tiempo lo deje a un lado y al enterarme que tenía una versión remasterizada no quería dejar de probarlo.

Una de las cosas que más me sorprendió de este juego fueron las cinemáticas que me dejaron perplejo ya que me esperaba unas mucho más cutres, pero están en una buena calidad y con colores muy llamativos me hizo querer aun mas probarlo y ver como era su mecánica a la hora de jugar.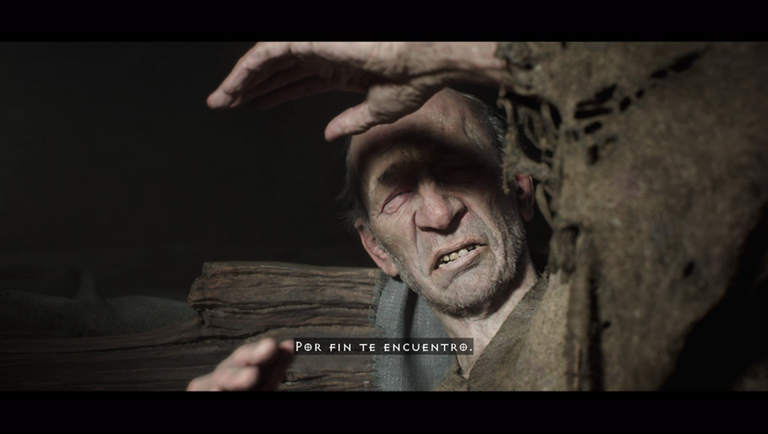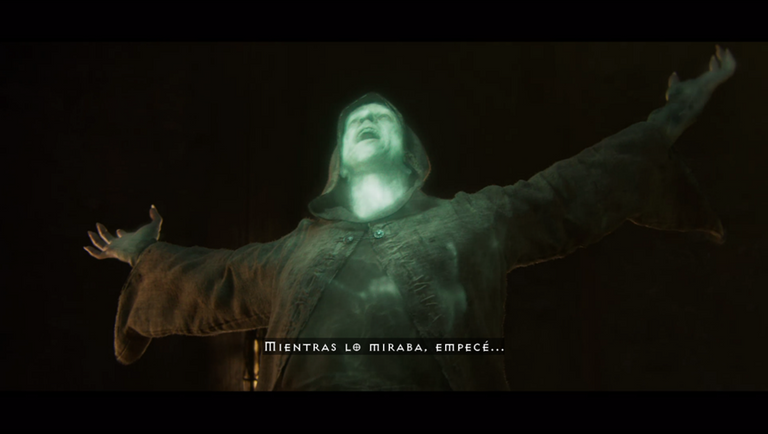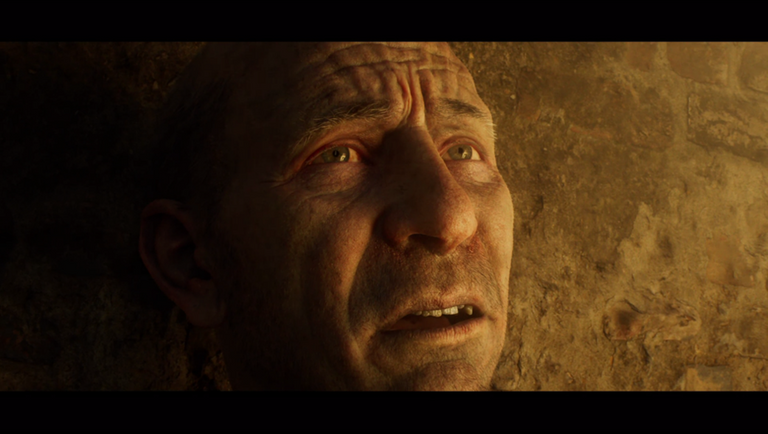 Como no tenia idea de que clase elegir las fui probando una a una para ver cual me gustaba mas y es que diablo 2 cuenta con diferentes clases que se adaptan a tu forma de jugar, ya sea como un poderoso Nigromante levantando muertos para servirte, una asesina, hechicera o un poderoso druida. Yo me incline por el sentido de historia y es que si lucho contra dominios lo más común sería un Paladín el cual sirve a la luz, un poderoso guerrero que haría templar a hordas de demonios que luchen contra este.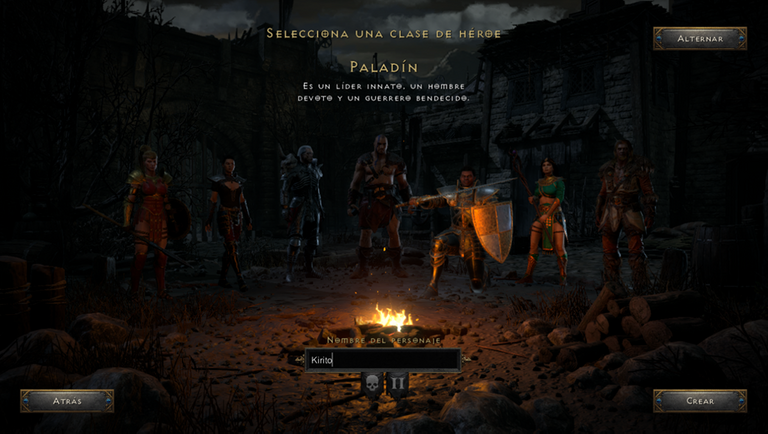 Jugabilidad
La jugabilidad de diablo 2 consiste en mover tu personaje con el ratón el cual sirve también para atacar y apoyarte con el teclado (yo hasta ahora lo uso para curarme xD). Puedes volver mas fuerte a tu personaje mediante los objetos que van cayéndose de los enemigos y haciéndote con el oro te apoyas en equipo que también puedes adquirir con los distintos NPC, Por otra parte, la jugabilidad me pareció bastante cómoda. Con respecto al Sonido es una música tétrica xD que a mi parecer va de la mano con el juego y las diferentes situaciones que el personaje enfrenta a lo largo del recorrido, me mantuvo en suspenso en muchas partes lo cual viene bien.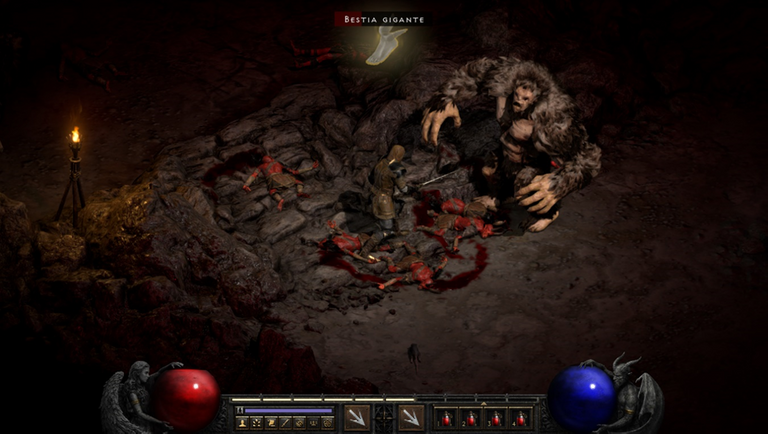 El personaje mientras sube de nivel tiene una cantidad de estadísticas las cuales vas a ir subiendo como la fuerza, destreza y vitalidad, también un árbol de talentos los cuales te ayudaran a pegar más duro.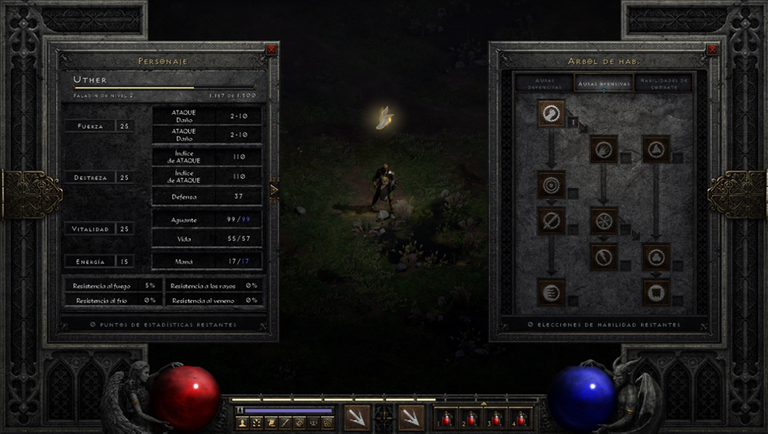 Mi experiencia
Luego de pasar varias misiones y con varios personajes, decidí hacerme el personaje elegido el cual se enfrentaría a sus peores miedos y se adentraría en peligrosas cavernas, decidí armarlo y darle el oro recolectado que tenía con los otros personajes y así iniciar mi aventura.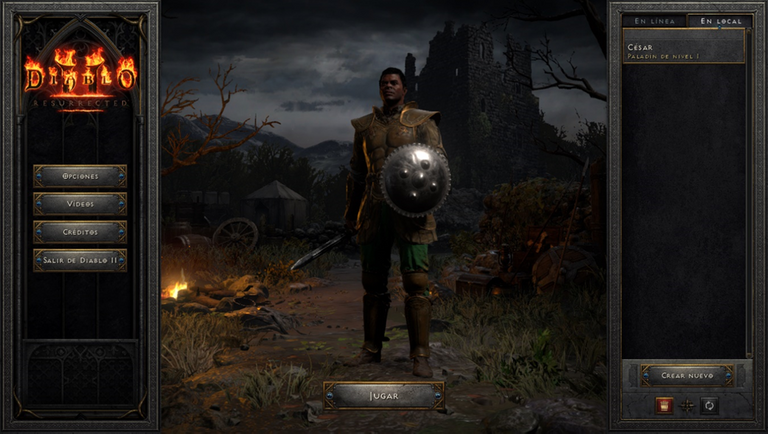 Al principio del juego hablas con un mercader el cual te dice que te llevara al siguiente pueblo si ayudas a las personas de este (el pueblo inicial) y te pone en contexto de todo lo que esta sucediendo en este campamento, me pareció bastante agradable que pusieran en contexto, me di cuenta también que mientras hablas con cada NPC vas avanzado mas en la historia y te vas enterando de todo lo que está sucediendo alrededor. Otro de los mercaderes que veo más útil es Gheed el cual le puedes comprar y vender muchas cosas que te vas encontrando lo cual te hace ganar bastante oro, me compre un equipo básico y aunque caro creo que merecía la pena porque quería llegar al nivel 6 y desbloquear un aura poderosa para seguir m aventura.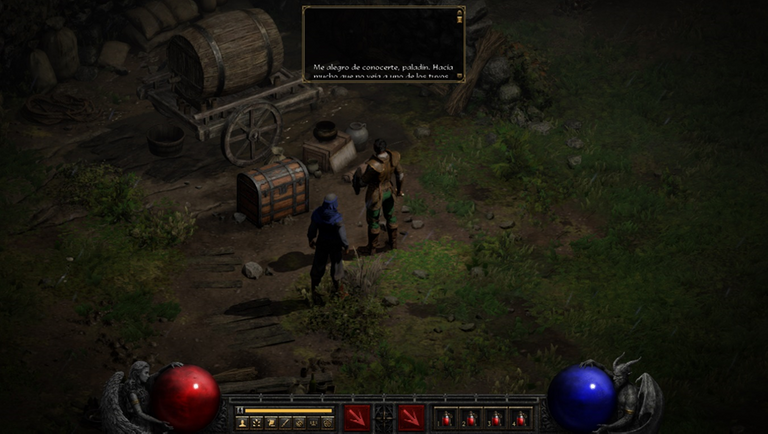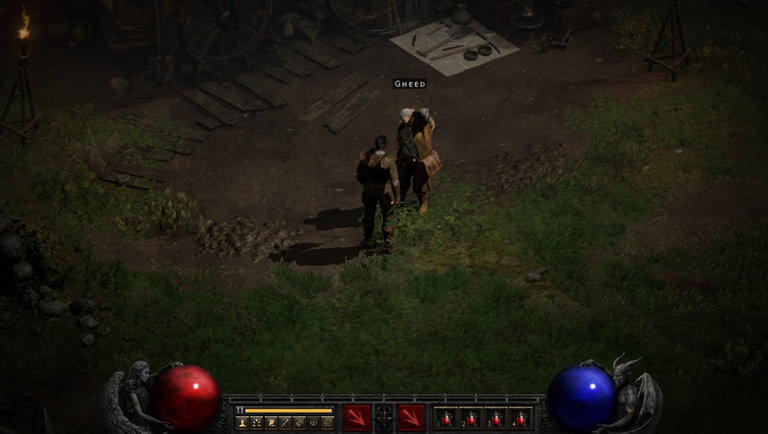 Por otra parte, si Gheed falla o no encuentras lo que busca esta la herrera del lugar la cual también te pone en contexto de lo que esta pasando y a su vez te ofrece su mercancía la cual no vi nada mal.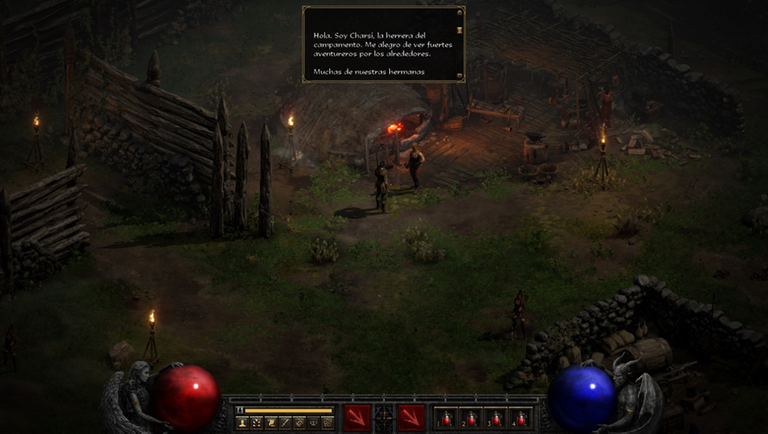 Hable con la líder de las arpías (mujeres guerreras que protegen el lugar), la cual me dice que me tendré que ganar la confianza de ellas antes de ofrecer su ayuda. Por otra parte, Akara la líder espiritual del lugar me dio mi primera misión. Las fuerzas del mal se reunían en una cueva cercana y planeaba la destrucción del sitio, así que me pidieron ayuda para despejarla.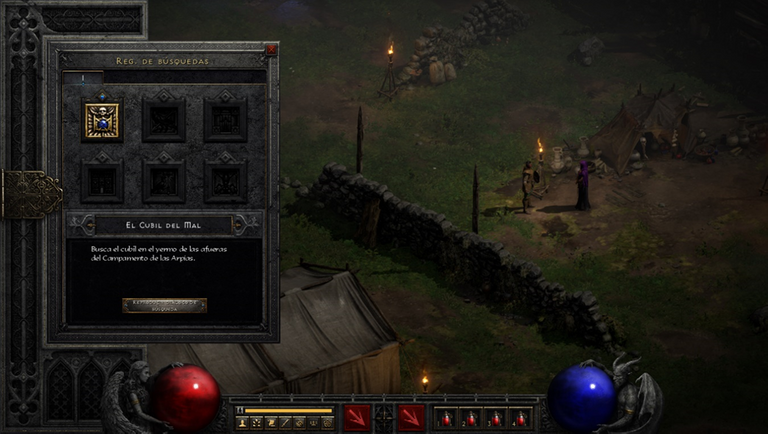 Esta fue otra cosa que me gusto del juego y es lo bien organizado que tienen las misiones y la actualización en puntos clave que tiene para que no te pierdas en el proceso.

Mi primera misión
Al salir del campamento lo mejor equipado posible decidí investigar un poco el terreno y ganar un poco mas de nivel antes de entrar a la cueva, y aunque no me encontré monstruos muy fuertes seria un reto entrar en esa cueva con este personaje que, aunque no sabia manejar muy bien tenía una guía a la mano de que talentos y estadísticas subir mientras progreso con mi personaje.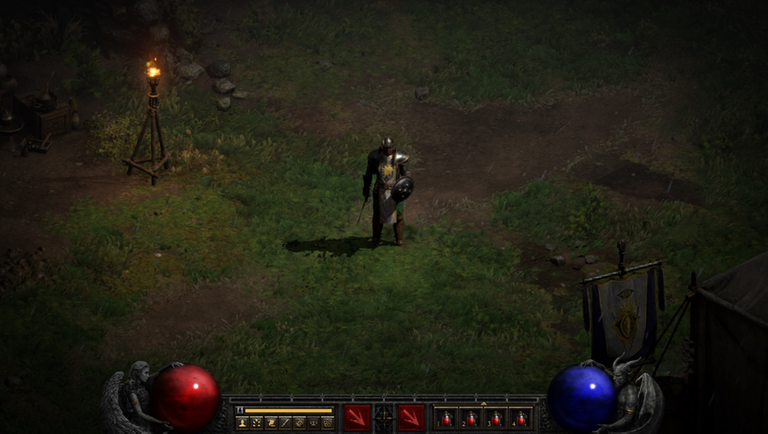 Versión remasterizada y versión original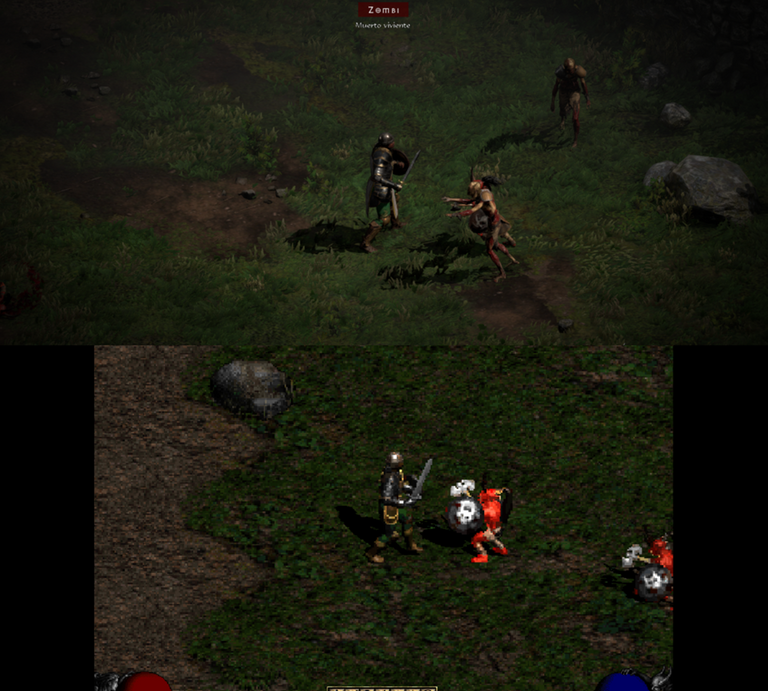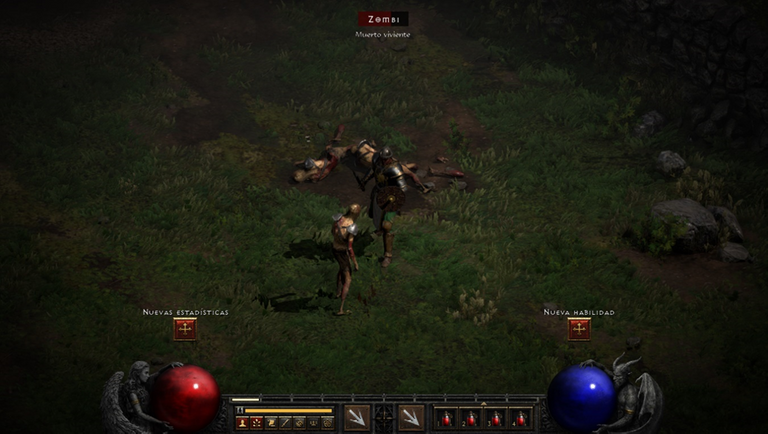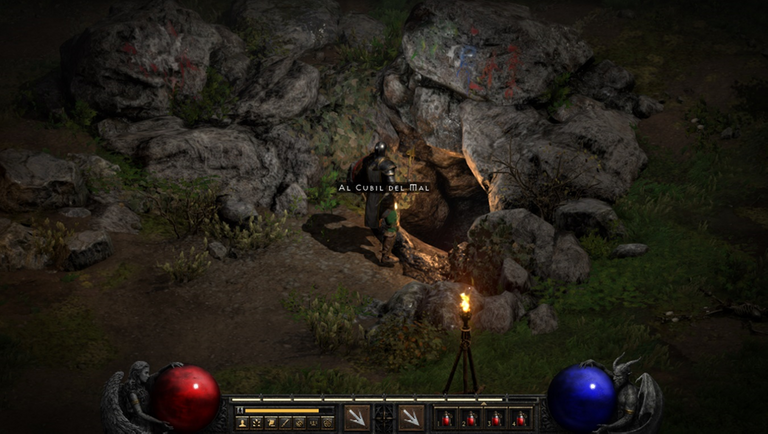 Veo que el sistema de cavernas esta bastante extenso lo cual me agrado ya que entre más matara más subiría de nivel, no me pareció demasiado complicado ya que tenia un arma que estaba encantada con dos elementos y por ahora podía hacerles frente a muchas cosas, una vez terminada la misión agarre un portal y me fui al campamento para informar mi progreso.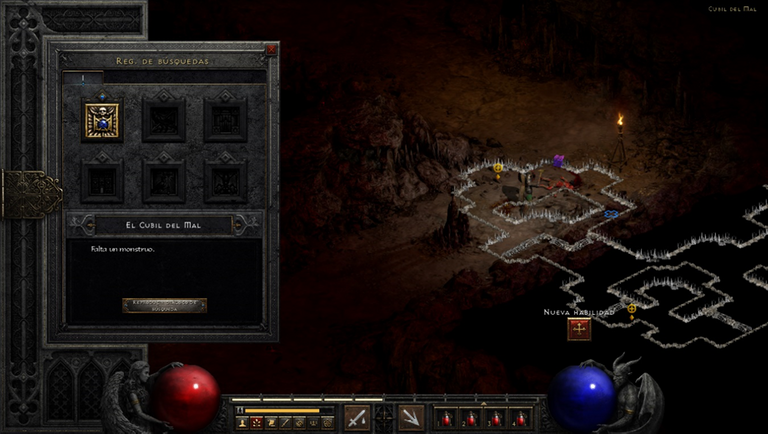 Akara me dio un punto para gastarlo en mi personaje y lo siguiente fue activar la otra misión que me tenía destinado la líder de las arpías, Kashya, una de sus poderosas hermanas cayo bajo la corrupción de Andariel, revivía a sus hermanas para utilizarla contra ellas y a su vez propagaba la muerte y destrucción en todo el poblado, así que mi siguiente misión seria detener el caos que consumía el cementerio.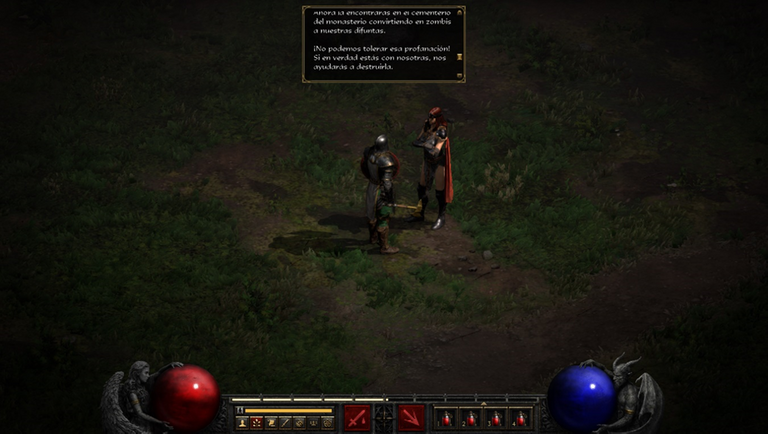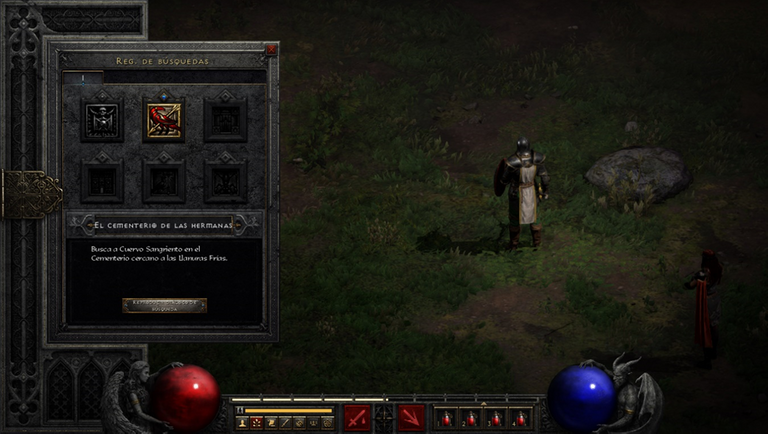 Y aunque quería dejar esta misión para después no quería dejar de jugar sin alcanzar el nivel 6 ya que desbloquearía un poder el cual era un Aura que, hacia daño a los demonios a mi alrededor, así que tuve que explorar un poco la siguiente zona para así alcanzar este nivel.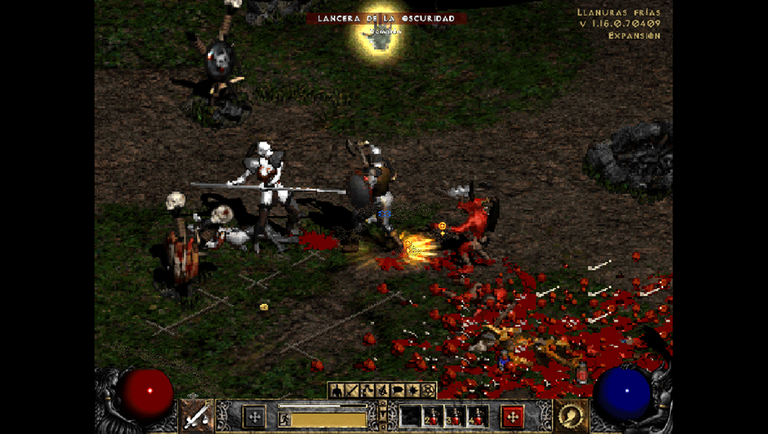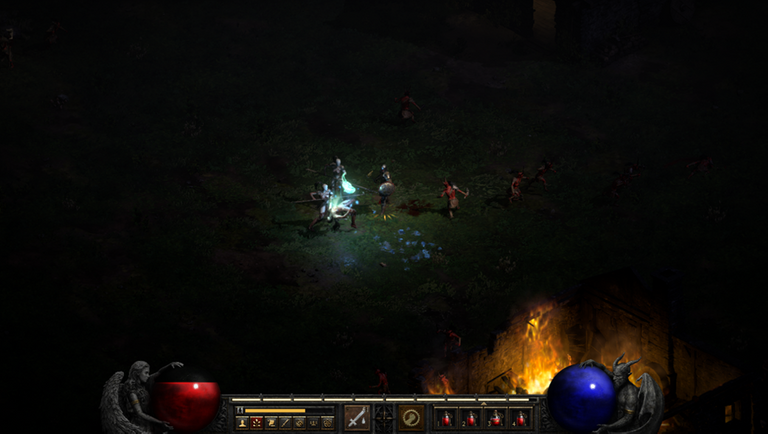 Resumen
Aunque no jugué mucho esta entrega de diablo quiero proponer pasármelo y ver hasta dónde puedo llegar, según tengo entendido esta versión incluye una especie de expansión la cual es bastante entretenida y me da curiosidad que tan fuerte puede llegar a ser mi personaje y que otros niveles de dificultad abran, sin duda aunque no soy muy bueno en estos juegos, pienso que es un divertido reto que puede llegar a sorprenderme y aprender un poco de esta saga volviendo así a los orígenes los cuales nunca jugué, xD muchas gracias por leerme. No te olvides de Votar, Comentar y Compartir, eso me ayudaría mucho, adiós aventurero que lucha contra las fuerzas demoniacas.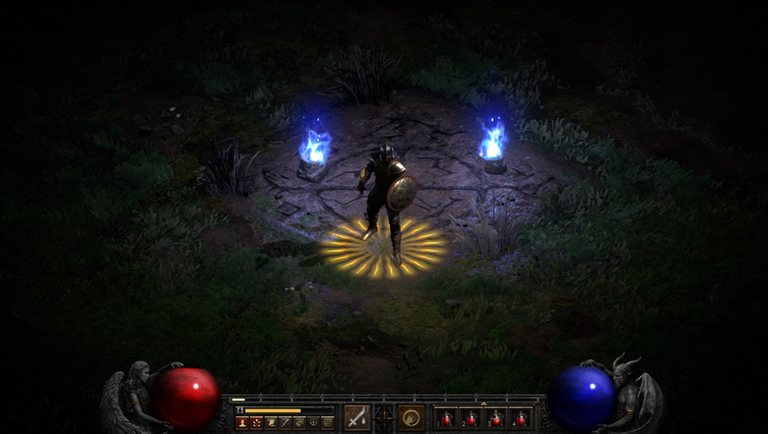 Todas las capturas fueron tomadas por mí
---
---