Mom's Fabulous Vacation (w/short stories) | LET'S MAKE A COLLAGE: COMPLIMENTARY (Combining Rounds #135 / #137)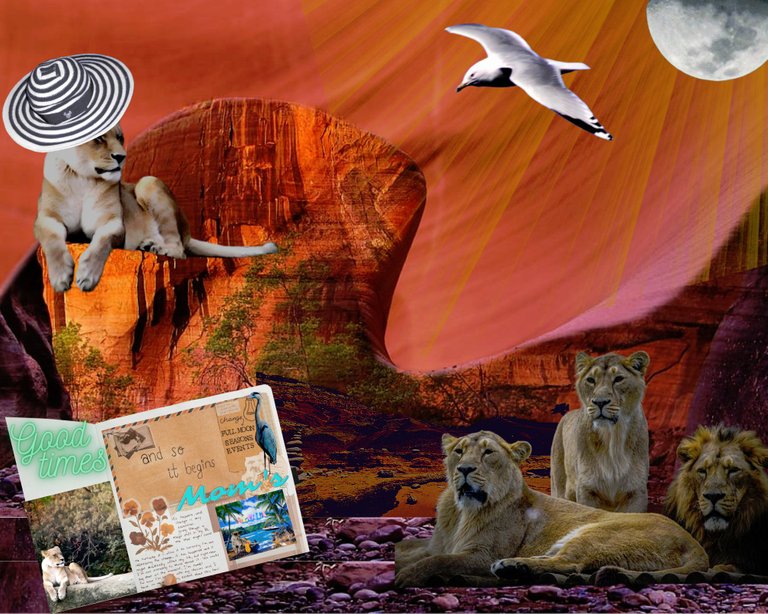 It's time for another Let's Make a Collage ("LMAC"). I missed Round 135 due to other projects. However, I felt the image of the lioness would have been a fun exercise. So, in my complimentary collage this week, I'm combining Round 135 and 137 to create a nice adventure for her.

Kendreya languished daily as her routine grew into boredom. She didn't understand the reason for this lethargic feeling, but a longing lingered for something she couldn't identify. Gazing at her surroundings, she looked toward the mountains and fell into a restless asleep.
Days ended and new ones began. Her mate usually wandered off and remained for an extended period while she stayed near the den tending to the children.
When he finally decided to return home, she enjoyed a break every once in a while. However, his attempted play with the kids usually ended up with her scowling at him to protect them from his grumpy attitude and rough handling.
But the kids were older now.
One lazy evening while her mate was home, she strode over to her favorite shade tree. Suddenly, she chuckled as her thoughts led to a funny episode that occurred last year.
A scorcher. Barely breathable, Kendreya's pride chased a safari hunter from their area. Dust swirled high in the air. She heard screaming from inside the vehicle. In haste, the hunter's backpack flew out as the driver sped away. Her mate drug the backpack back to her den. That was a memorable day they all enjoyed. But she never opened it to view the contents.
The backpack! Kendreya ran to her den. Dragging it back to the shade tree was a bit difficult. Her thoughts took root as she scoured through its contents. There on the bottom lay travel magazines.
What wonders to behold! So another world exists away from this place, she thought. Well, she guessed it would have to be since the safari hunter was dressed oddly and spoke in an unfamiliar language.
And the backpack proved it. Her already large, round eyes grew wider as she saw numerous pages that contained different humans and animals from what she was familiar. Other documents she didn't understand.
Seeking out someone who could decipher the contents, she learned what the other documents entailed.
Fascinating! Passports, airline travel, hotel reservations, travel itinerary, and language dictionaries. But what had to be determined was how she could she use these same documents to get to the places in the backpack.
It took another few weeks to study and learn all that was required. Her heart raced as a plan formulated. For a moment, she hesitated.
Thinking back to her childhood, she remembered being told it wasn't proper for a young lady to leave her family and go wandering off into the unknown. This advice didn't sit well as her brothers just got up one day and left. At least I plan to return, she thought.
Shaking off doubts, she made the decision. Her destinations set, she was on her way to experience a "vacation" she learned. Nothing or no one would dissuade her for this three-week journey of discovery.
But first, a wardrobe. She doubted one was necessary, but she wanted to be prepared.
Sitting high on the rugged cliff, she finalized every aspect of her itinerary.
When she returned, she brought with her a scrapbook of her adventures. Her pride would never believe the people, places, and things she witnessed.
The children were ecstatic. The adult were skeptical. But all enjoyed her "proof of fun."
Below is the short version from the scrapbook of her three week adventure.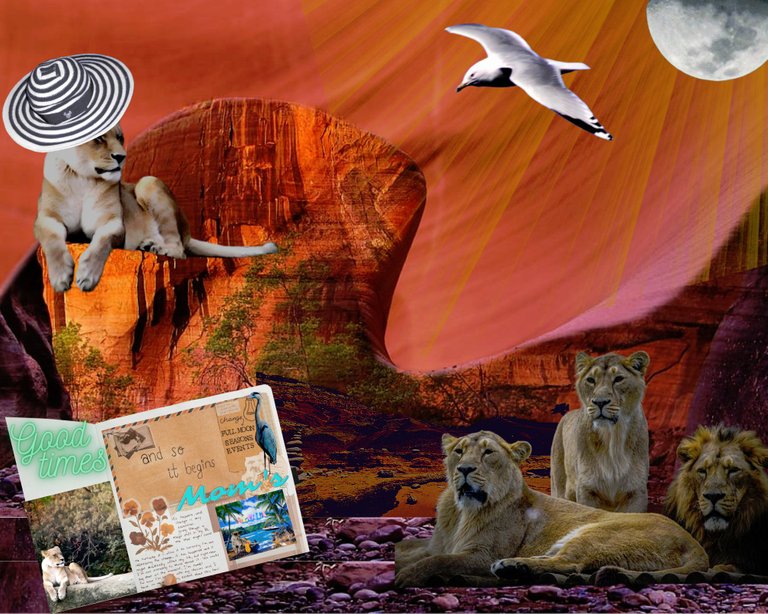 Kendreya's journey would begin through the trail through the mountains in the backdrop. In her own words...
Week 1: Hollywood
What can I say! That town was swinging. Being an outsider, I didn't know the inner workings. But I did manage to meet a few influential media type who were friends of friends. You can't imagine what it's like to be the center of attention once you name drop. I was cast as an extra in an upcoming film to be released early next year. It's an unusual flick, rather dark for my tastes, but it was a fun location shoot. Oh...forgot to mention, while there got a few head shots and my portrait completed as part of a mural to be placed on Hollywood Blvd. Once finished, she promised a copy be arriving in a few weeks.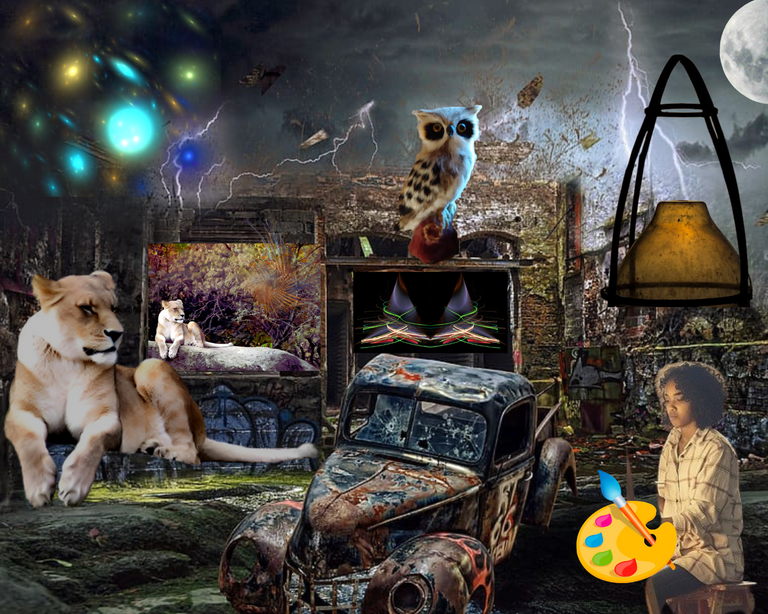 However, after a week, I was ready to move on.

Week 2: Hawaii
What can I say again! One word: Paradise. And my tan. Isn't it just perfect! The weather was perfect. Didn't need my hat. But the shades were a cool effect. So much to do and see here. You discovered it's not just one island, but several.
Each one offers a unique glimpse into the history and culture. I loved the main island the best. Got an opportunity to hang out with new friends and meet some amazing cousins. No scorching environment there. A chance to clear my mind and focus on the next journey in life.
Friends tried to persuade me to go sightseeing. The ocean under the palm trees won out. I did attend a luau the first night. Now that was awesome.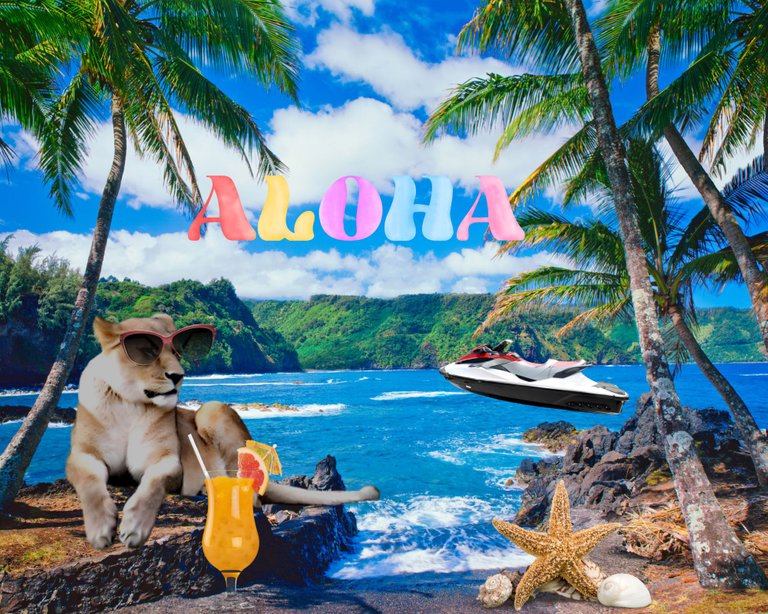 Week 3: Venture Into Space
My final adventure was to head back to the states. Since I didn't visit the lower 48, I thought it would be nice to stop in and check out Nevada. Area 51 was on the list of placed in the backpack. It must have been something unique if the safari hunter wanted to visit.
Sorry to say that I didn't encounter any alien life forms pictures in the brochure referencing the conspiracy theories behind U.F.O., but I did receive an invite from a lovely lady on my route there. She wanted to know if I'd be willing to explore space with her.
I was a bit hesitant as she didn't look nothing like the people in the photos form the backpack. But I was on an adventure vacation, so I accepted.
I did see some strange animals that accompanies us. And there were others aboard. We were all excited about our space travel. I told her I had a family waiting for me to return. She was so nice that once my tour of space ended, she returned me to Nevada. There were some people who stayed behind with her. They must be headed in a different direction.
Anyway, I continued on my way back home. No words can describe the feeling of being invited to join the space exhibit. I must read some more about UFOs. It just goes to show that being different isn't so bad.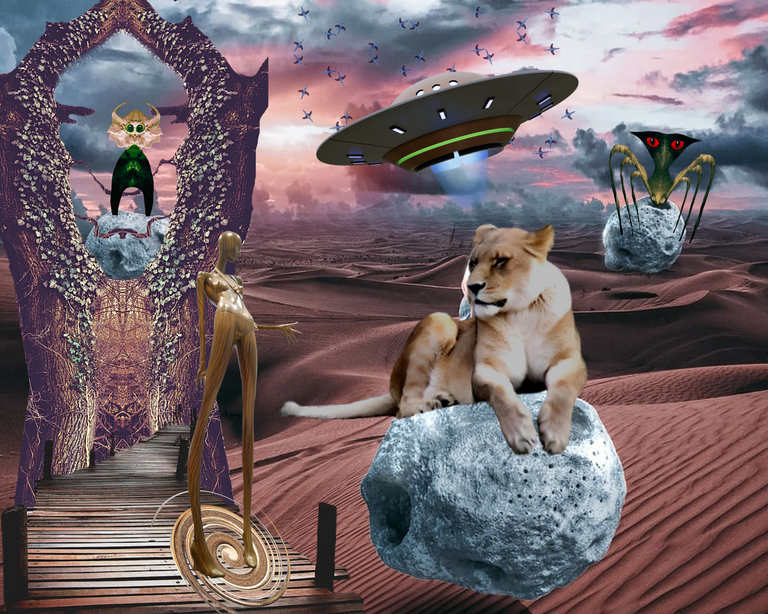 To create the scrapbook, I started with the photographs provided by @shaka in his contest posts:
---
I then uploaded the contest photo and all other images into Canva. I took advantage of my Annual Pro Membership Subscription. All images on the Canva site are free for upgraded members to use.

Mom's Fabulous Vacation Itinerary


Week #1 Collage: Hollywood


Week #2 Collage: Hawaii


Week #3 Collage: Venture Into Space

I appreciate your visit and hope you like my collages and short stories.

CONTEST RULES
IMPORTANT NOTICE:
It is imperative that you read the post LMAC School - Public Domain Picture sources (Free Materials for creating collages) by @quantumg, which discusses public domain issues. The post offers valuable information on images for commercial use. Links are included to sources that offer public domain images and other images that are free for commercial uses. Using public domain pictures and free pictures for commercial use are requirements for all collages that are submitted as entries in the LMAC contest and the LMAC Image Library (LIL).
| What is Let's Make a Collage? | It is a weekly photography and collage contest. |
| --- | --- |
| Who created the contest? | @shaka is the contest owner. |
| What type of contest is it? | This Contest utilizes a single photo provided by the contest owner as the basis for you to create your own photo collage by adding to the photo provided. |
| What are the rules? | 1. Use as your starting point for your collage the photography provided by the contest owner. It is located on the contest owner's post for free use without any copyright protection. |
| | 2. Entries are required to be posted to the LMAC community and must contain a link to the contest post. |
| | 3. Entries need to set the LMAC account (@lmac) as 20% beneficiary to be eligible for the dynamic component of the prize pool.; |
| | 4. Extra support with the LMAC trail to all collages where LIL assets have been included AND the respective LIL-contributors set as 2% beneficiaries; |
| | 5. By submitting your contribution you agree that your artwork remains public domain and that it can be copied, modified and distributed, even for commercial purposes, without requiring further permission. |
| | 6. Any graphical element that is added to the photography either needs to be your own original work (e.g. own artwork or photography) OR needs to derive from sites whitelisted by LMAC. |
| | 7. IMPORTANT: Indicate the source of all materials used in your accompanying post. Otherwise your entry can NOT be put up for the final vote. |
| | 8. All sort of editing, modification and/or manipulation is allowed as long as no copyright is affected. |
| What do you win? | Prizes listed on the contest owner's post. |

Thanks,
@justclickindiva
Happy rest of the week everyone with whatever your endeavors.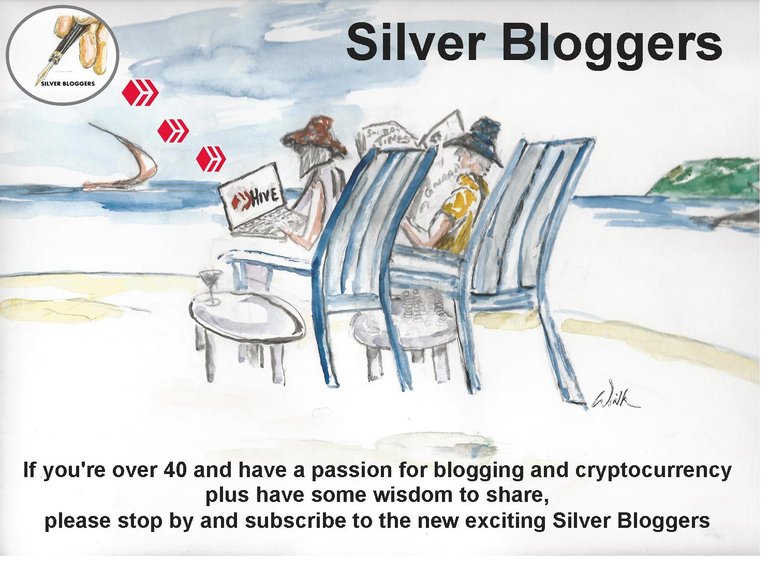 SOURCES:
a) JustClickindiva's Footer created in Canva utilizing its free background and images used with permission from discord admins.
b) Unless otherwise noted, all photos taken by me with my (i) Samsung Galaxy 10" Tablet, (ii) Samsung Phone, & (iii) FUJI FinePix S3380 - 14 Mega Pixels Digital Camera
c) Purple Butterfly part of purchased set of Spiritual Clip Art for my Personal Use
d) All Community logos, banners, page dividers used with permission of Discord Channel admins.
e) Ladies of Hive banner used with permission of and in accordance with the admin's guidelines.
f) Image created in Canva by @justclickindiva utilizing one of its free templates.

Your Personal Terminal Discord Invite


---
---