Sophia of the Pryacork (short story) To Accompany | A Fractal and Stable Diffusion Art Project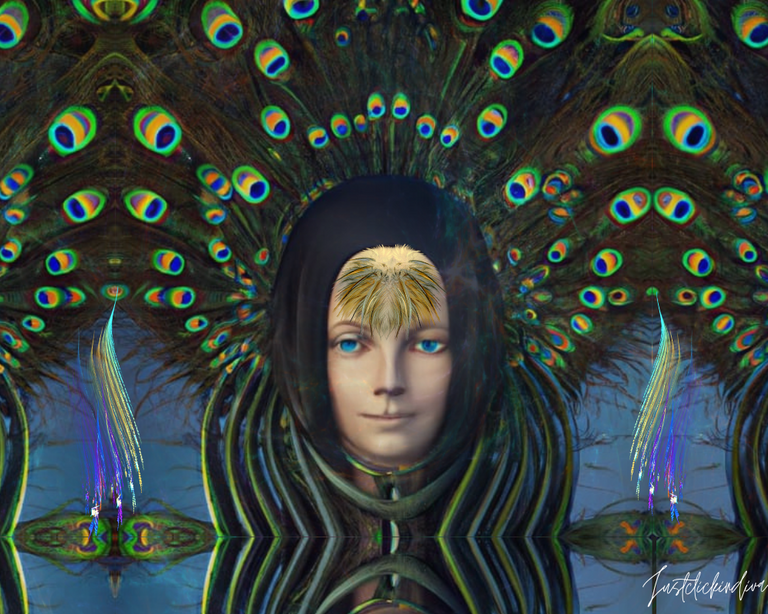 Fractal art project created by me
"But they're blue!" Isadore shouted. "Don't pretend you don't notice, Maxwellan. Each quarter that passes, they grow deeper as the midnight sky. If you dare to gaze long enough in the six years since her birth!"
"Hush, woman, else you'll summon the Lookers to our door. They'll take us all. Then who will care for her?"
No one, Maxwellan thought. Not in Pryacork. Any diversity wasn't tolerated. No one was allowed to enter the city harboring the forbidden blue trait. That a race of people extinguished centuries ago was to blame for millions now being banished to the outskirts of the country, was in his mind cruel and unethical.
At first, the family surmised it was due to the dim gray glaze in her eyes that had changed gradually. Unlike anyone else color, the family was reported anonymously.
The Lookers arrived with papers for their relocation. They weren't allowed to re-enter the city.
That was only the beginning. Maxwellan learned other families were banished for different reasons. No explanations were given and there seemed to be no rationale for punishments handed out for being "different".
His daughter, Sophia's, sixth birth date arrived. He held her close and cried silently as they danced around the room. Her facial features didn't match the youthful countenance that should be evident like other girls her age.
Changes in other body features also worried him. A long, thin cut above the right side of her lip. Thinning hair until only a small section on her forehead was visible. I wanted to laugh as she resembled an elderly man long past his need for a healthy tussle. But these oddities didn't add up.
With curtains drawn together on the lower floor of their home, the celebration was quiet. Half loaf bread, small block of aged cheese, and a quarter roll of dried beef. The items were placed in the middle of the wooden table, together with a low-burning candle. On the sideboard, a small, square pan of sweet bread was still cooling.
Maxwellan didn't divulge how difficult it was to save for the meager celebration.
Smiling, Sophia announced, "the best celebration of my life. I love you all so much. I give thanks to you for sacrificing yourself for my well being. My journey will end soon."
"How do you come by that knowledge?" her mother asked, shaking her head in confusion.
In response, Sophia bowed her head and uttered a prayer for her family.
Maxwellan worked in a small town near Pryacork. A blacksmith by trade, his meager salary didn't reflect his value to the town. No one knew him personally. Instead, he kept his business and family to himself, refusing to encourage friendships.
All the knowledge he inherited about Pryacork was from listening and observing. The only way, in his mind, to keep Sophia safe.
The season was extremely warm that year. Sophia should have been able to roam and play outdoors with the other children. Instead, she kept to the lower floor of their house.
On the evening of the tenth day after the celebration, at dusk Sophia's parents covered her face and prepared for their journey as planned.
They accompanied her in silence neither asking their destination or reason.
She guided them two miles from their dwelling to the foot of a nearby peak.
She paused. Pushing away the hands that restrained her, she effortlessly scurried up the side. Between steps, she leaned closer to the rock. The signal would come, she knew.
At first a faint beep, then a dull thumping that grew louder.
"Sophia," her dad called. Finally, a response.
"It's here," she shouted looking down at her parents. Pointing to the west, she continued. "It calls to me and appears each time just to the left."
Suddenly, flashing rapidly and lighting up the horizon, a dark figure formed mid air.
As the figure locked onto her face. A strange blue glow embraced her body as if extracting or imparting some type of element.
She fainted.
"Sophia", he kept calling. He grew worried. "I must see what it is that has bewitched our daughter." Maxwellan broke away from Isadore and attempted to climb the rocks. But the path was slippery as though it had been raining. He immediately fell backward and landed on the ground.
"What do you see, woman?" Irritated, Maxwellan shouted. He wasn't upset with her. He just felt helpless to protect his family.
A stunned expression on Isadore's face indicated she had no clue.
He felt scared as if he knew he wasn't allowed to witness the event. An understanding rose up in which he acknowledged the experience was for Sophia alone.
Within five minutes, she returned.
"Don't look back," she asked of us. We obliged. Then, she grasped both our hands and led us home.
That night while Sophia slept, Maxwellan paced back and forth across his front room.
"Please sit and talk about today! What if her ailment is a curse? I'm afraid we'll be persecuted if others discovered whatever she is." his wife implored. She didn't have an explanation. She knew he didn't either.
He pondered on their situation.
"Our child was created different for a reason. I have to believe that. I also have to believe her condition is connected to the occurrence today at the rocks. Our shunning is but a mere sacrifice. I, for one, won't abandon her."
"You should be ashamed, Isadore. She's your flesh and blood. Sophia has brought nothing but blessings to our household. Yes, he have to hide her from everyone, but we are nourished and healthy. You can't say that for many of our friends."
"Blessings! If they were, then why can't we share with others who are oppressed."
"That I don't know. Sophia has not yet spoken on it."

For my current fractal art project, I wanted to highlight two of my pure fractals I created in Apophysis 7X, an advanced version of the fractal rendering software. The blue tones in the fractals gave me the idea for the story as the images developed.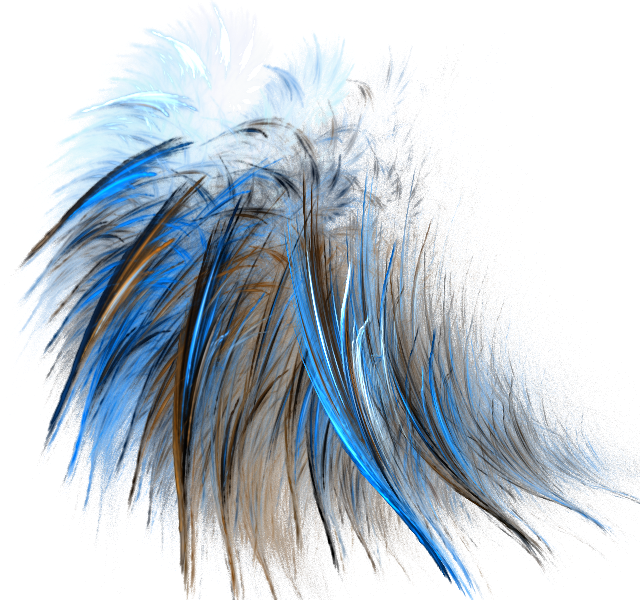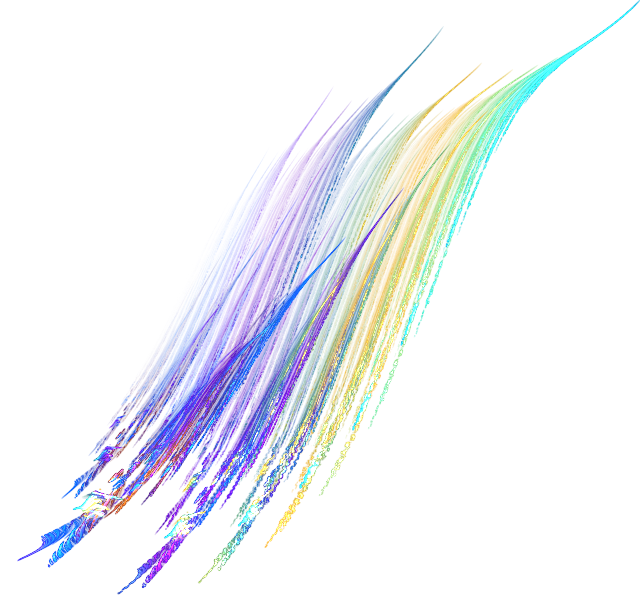 To create the girl's face, I utilized a stable diffusion program, Night Cafe.
Below are my steps:
Night Cafe Text input:
Cyborg female with peacock feathers.
Night Cafe Result: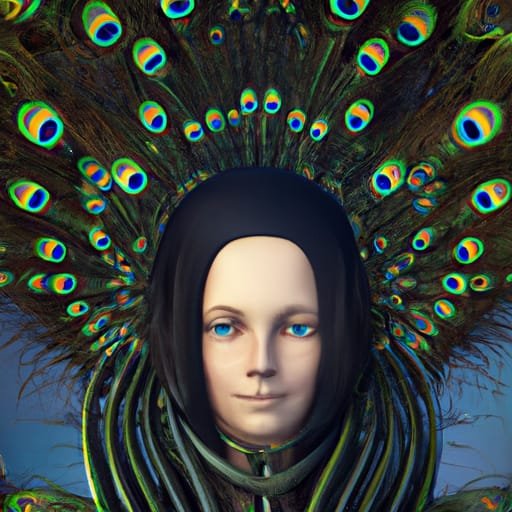 Utilizing Canva, I was able to blend the fractals and the stable diffusion image. Not much else was required, as the diffusion image created a lovely version of a demure face from the prompt description.
Here is the final version: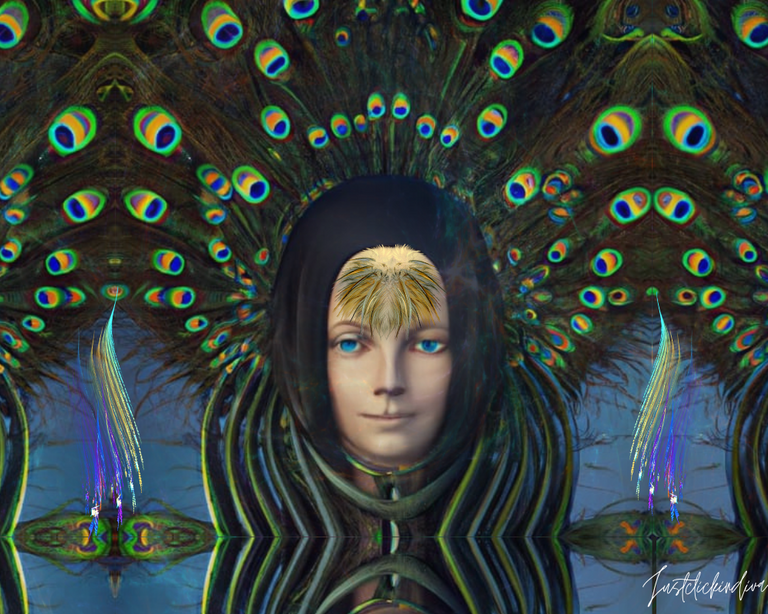 Fractal art project created by me

Thanks for taking the time to view my post. I hope you like my fractal and stable diffusion art project.

Thanks,
@justclickindiva
Happy rest of the week everyone with whatever your endeavors.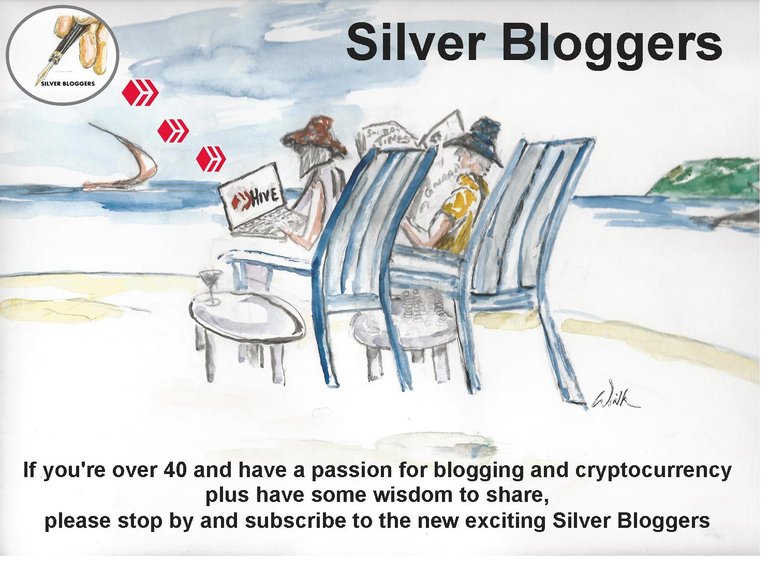 SOURCES:
a) JustClickindiva's Footer created in Canva utilizing its free background and images used with permission from discord admins.
b) Unless otherwise noted, all photos taken by me with my (i) Samsung Galaxy 10" Tablet, (ii) Samsung Phone, & (iii) FUJI FinePix S3380 - 14 Mega Pixels Digital Camera
c) Purple Butterfly part of purchased set of Spiritual Clip Art for my Personal Use
d) All Community logos, banners, page dividers used with permission of Discord Channel admins.
e) Ladies of Hive banner used with permission of and in accordance with the admin's guidelines
f) Thumbnail Image created by me in Canva.
g) "Flames." What is Apophysis 2.09. https://flam3.com/

Your Personal Terminal Discord Invite


---
---