Street Art Magician | LET'S MAKE A COLLAGE: ROUND #156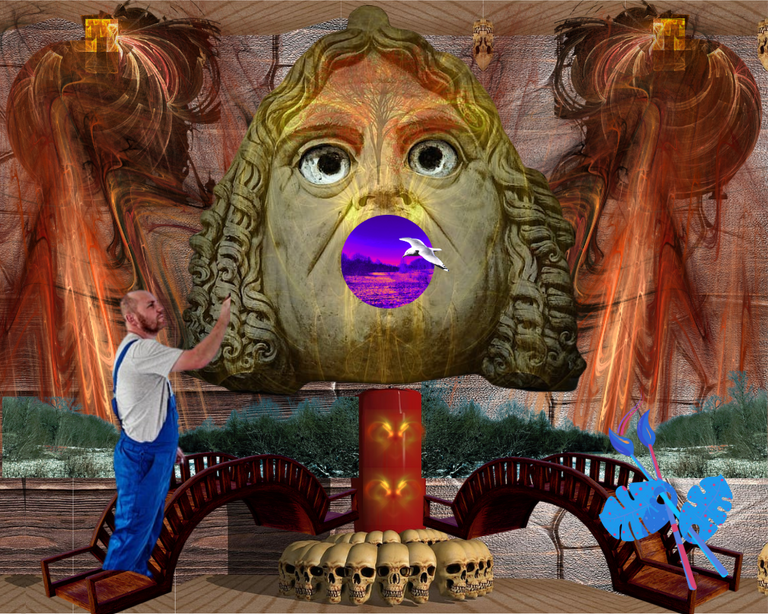 I admire images drawn where the public can view them. These individuals who create such images are known as street artists". The images they create is visual art created in public locations for public visibility. Visual art or "street art" is associated with the terms "independent art", "post-graffiti", "neo-graffiti" and "guerrilla art". 1
Evolution of street art can be traced from the early forms of graffiti drawn in defiance of usually a social issue or to bring awareness of an unjust or unfair policy or mindset. The policy or mindset may be local or on a more powerful level, such as statewide or a federal.
The drawings grew into a more commercial art form.
One of the main differences in the new form of street art deals with the messaging. Today, in some forms, street art is geared toward provoking conscious thoughts rather than negative ones or rejecting mainstream views.
This turnaround was accomplished primarily by stating its purpose more clearly than graffiti.
The issue of permission has also come at the source of street art dealing with graffiti. This form of street art was usually drawn illegally, whereas street art can nowadays be the product of an agreement or even a paying commission. However, street art remains different from traditional art exposed in public spaces by its explicit use of said space in the conception phase. 1
I feel that if artists are forthcoming with their intended use and purpose, together with an outline of what their images will represent and value to the public, then this type of visual expression will be universally embraced as a legitimate form of art.
Throughout the years, street artists have fought to have their artwork recognized and protected. They have sought to claim their proprietary rights. These rights have, to a limited extent, been recognized.
For example, under United States law, works of street artists are able to receive copyright protection. This protection is valid as long as the art is legally installed. However, it must satisfy two additional conditions; originality in the work, and that it is fixed in a tangible medium. This copyright would then survive for the lifespan of the artist plus 70 years. 1
In numerous cities throughout the U.S., street art has become a widely-accepted form of beautification for the areas. Also, artists become known for their work and have gained useful employment in various art fields.
Cities such as Philadelphia, New York City, Atlanta, Los Angeles, San Francisco, Sarasota, Chicago, Denver, and Pittsburgh have pioneered the way for street art. Some cities hold street art festivals or certain months to recognize the artwork, artists, and contributions to the area.
Street art provides businesses, schools, neighborhoods, and cities with a movement as a tool to create safer, brighter, more colorful and inspiring communities. This trend has recently been more widely recognized as organizations like Beautify Earth have pioneered cities to leverage these benefits to create widespread beauty where it would be otherwise empty or dilapidated public wall space. 1
In my city, authorities instituted a special project whereby local street artists were commissioned to create works on the city's designated transformer boxes that are located on street corners.
I love visiting certain districts where I enjoy old and new art such as historical figures, Buffalo Soldiers, botanical scenes, and abstract art, and Hollywood movie actors. Close to my neighborhood is a drawing of the highly-acclaimed and one of my favorite movie actors, John Wayne, who starred in the movie genre, Westerns.
In keeping with the theme of street art, I compiled a scene I wanted to share for LMAC's Round 156 that I feel represents the essence of this type artistry.

A male artist is commissioned to draw a mural on a city block. His primary purpose in creating the drawing is to portray an his view of a face with numerous underlying tones in the person's spoken words and hidden thoughts. Parts of the figure resemble a female, while other parts are intense.
The eyes are large and round signifying a larger view of the world with knowledge gained. Turmoil in the past is being released. However, the human's experience appears to express the desire to forget. This can be seen by the black color in the eyes as though the future is bleak or absent.
A bird flying arrives to give voice to the once oppressed. Dramatic and passionate thoughts are released from the ears voicing displeasure perhaps with a situation, an individual, or society at large.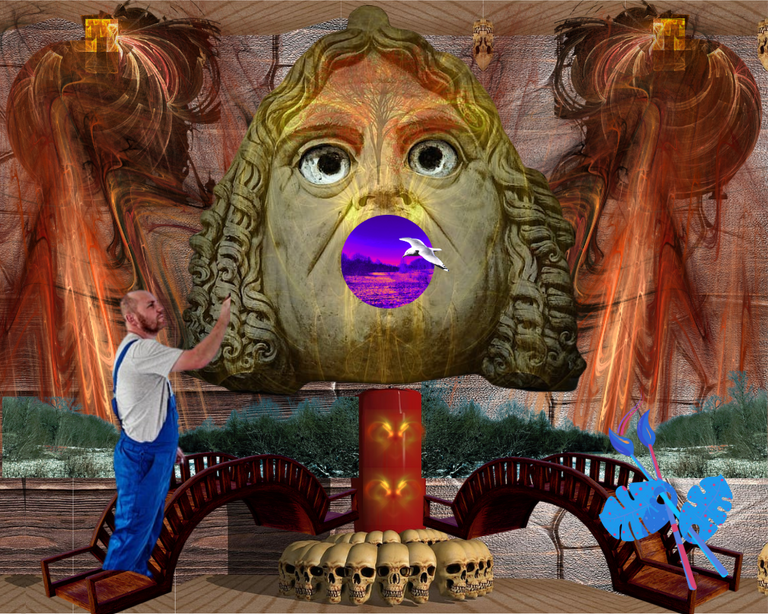 To create the setting, I started with the photograph provided by @shaka in his contest post: Let's Make a Collage - A Contest for All Creatives on Hive - Round 156 - ✨127 HIVE in the Prize Pool!. I knew I wanted to utilize the image as a minor background landscape.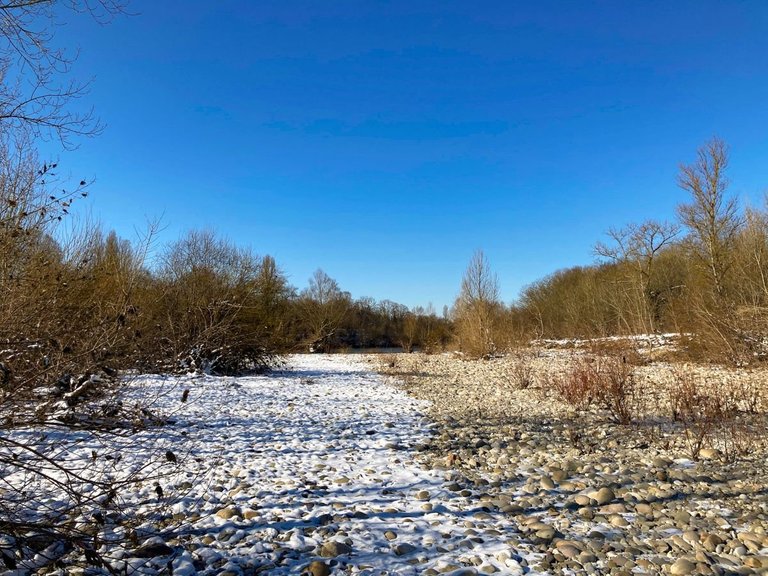 Image used with permission of contest owner for contest

I discovered an unusual face with background I felt would be perfect as a starting point for an artist to complete.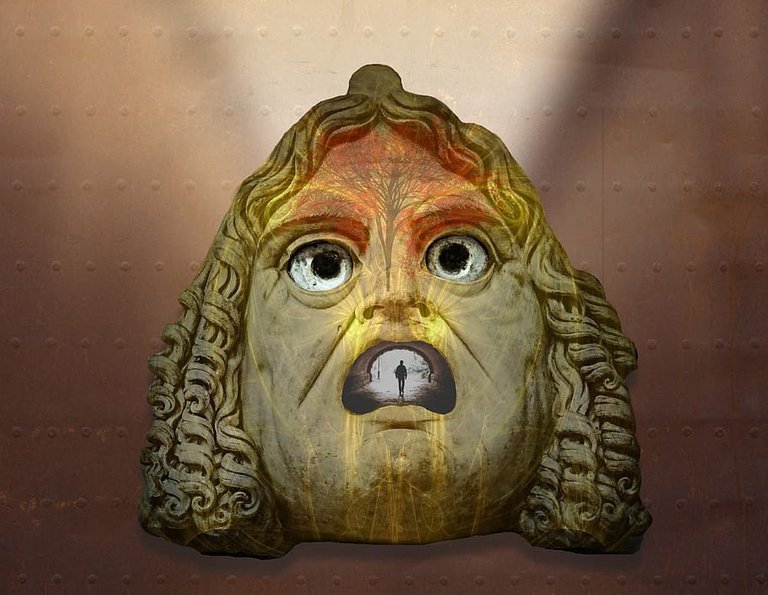 Source
Next, with just a few other unique images to create a painter's scene, plus pure fractals and contributions from the LMAC LIL database, I was able to compile a nice mural. The image I used as a base for the mural consisted of a candle atop skull bones. I really liked the effect it added to the scene of desolation.
I uploaded all images into Canva to take advantage of my Annual Pro Membership Subscription.


I appreciate your visit and hope you like my street art collage theme.

CONTEST RULES
IMPORTANT NOTICE:
It is imperative that you read the post LMAC School - Public Domain Picture sources (Free Materials for creating collages) by @quantumg, which discusses public domain issues. The post offers valuable information on images for commercial use. Links are included to sources that offer public domain images and other images that are free for commercial uses. Using public domain pictures and free pictures for commercial use are requirements for all collages that are submitted as entries in the LMAC contest and the LMAC Image Library (LIL).
| What is Let's Make a Collage? | It is a weekly photography and collage contest. |
| --- | --- |
| Who created the contest? | @shaka is the contest owner. |
| What type of contest is it? | This Contest utilizes a single photo provided by the contest owner as the basis for you to create your own photo collage by adding to the photo provided. |
| What are the rules? | 1. Use as your starting point for your collage the photography provided by the contest owner. It is located on the contest owner's post for free use without any copyright protection. |
| | 2. Entries are required to be posted to the LMAC community and must contain a link to the contest post. |
| | 3. Entries need to set the LMAC account (@lmac) as 20% beneficiary to be eligible for the dynamic component of the prize pool.; |
| | 4. Extra support with the LMAC trail to all collages where LIL assets have been included AND the respective LIL-contributors set as 2% beneficiaries; |
| | 5. By submitting your contribution you agree that your artwork remains public domain and that it can be copied, modified and distributed, even for commercial purposes, without requiring further permission. |
| | 6. Any graphical element that is added to the photography either needs to be your own original work (e.g. own artwork or photography) OR needs to derive from sites whitelisted by LMAC. |
| | 7. IMPORTANT: Indicate the source of all materials used in your accompanying post. Otherwise your entry can NOT be put up for the final vote. |
| | 8. All sort of editing, modification and/or manipulation is allowed as long as no copyright is affected. |
| What do you win? | Prizes listed on the contest owner's post. |

Thanks,
@justclickindiva
Happy rest of the week everyone with whatever your endeavors.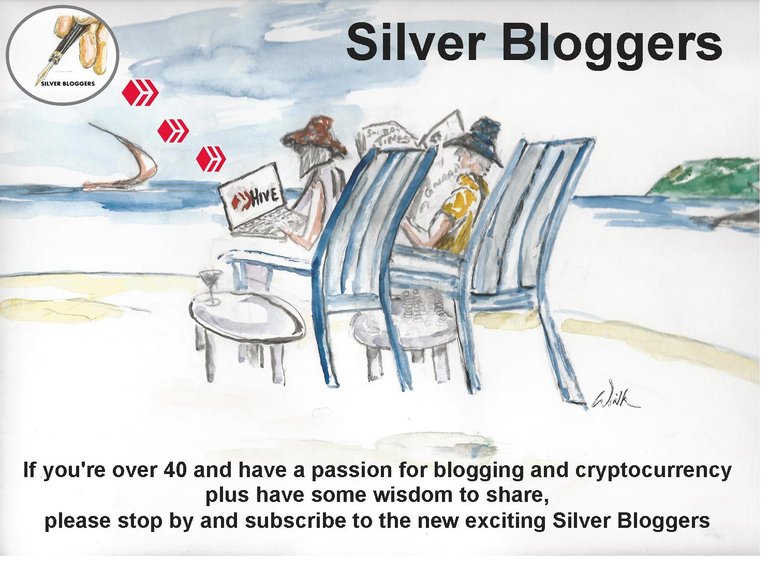 SOURCES:
a) JustClickindiva's Footer created in Canva utilizing its free background and images used with permission from discord admins.
b) Unless otherwise noted, all photos taken by me with my (i) Samsung Galaxy 10" Tablet, (ii) Samsung Phone, & (iii) FUJI FinePix S3380 - 14 Mega Pixels Digital Camera
c) Purple Butterfly part of purchased set of Spiritual Clip Art for my Personal Use
d) All Community logos, banners, page dividers used with permission of Discord Channel admins.
e) Ladies of Hive banner used with permission of and in accordance with the admin's guidelines.
f) Image created in Canva by @justclickindiva utilizing one of its free templates.
1 "Street Art" at Wikipedia. Online at: https://en.wikipedia.org/wiki/Street_art

Your Personal Terminal Discord Invite


---
---