Week 22 : Supporting Hive Projects and Other Worthy Causes Aid In Account Growth | 2022 SATURDAY SAVERS CLUB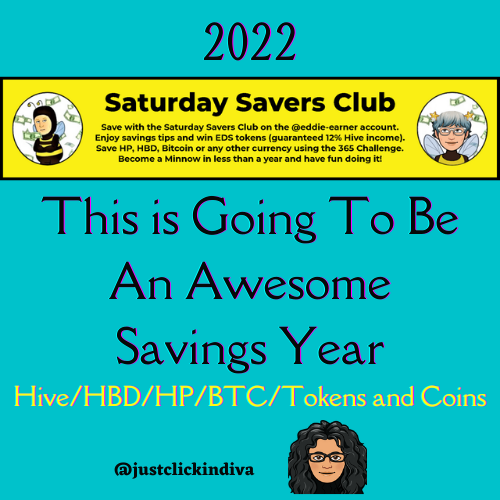 For Week 22 of our Saturday Savers Club, I've watched the price of Hive hold steady under 50cent. I'm holding steady in my resolve. I usually don't participate in panic buying or selling, so I'll just wait this one out. I've been on the blockchain since 2019.
A few days ago, I read with interest a recent article by @leofinance: HBD Has the Potential to Bring Billions of Dollars into the Hive Ecosystem. In the article, HBD was analyzed for its potential growth. @leofinance stated that:
"The opportunity that HBD has is truly amazing. We could see HBD become one of the most utilized stablecoins - quite like UST - with just a little TLC. The on-chain savings rate being increased to 20% APR was the first move in this direction and this is what has seeded the ground for the next step.
4 years ago, all you could do on Hive was blog and earn crypto. Today, there are dozens of highly utilized dApps that offer the ability to use DeFi, play-to-earn, move-to-earn, blog, microblog, ... There are dozens of ways to use Hive in your everyday life.
With the 20% on-chain savings rate, now everyone on Hive has a decentralized bank account that pays them 20% to save their money in it. That's powerful."
I considered carefully the entire article and concluded that I would indeed continue to invest and save HBD. I look forward to other potential projects where it can be utilized. It's worth your time to read the article above.
As far as my account is concerned, I continue to see growth due to three activities I practice weekly:
(i) consistent activities on Hive such as content creation is key.
This week, my activity fell below what I'd like. This decline affected my curation and engagement. Some week I'm less active when offline projects need attention;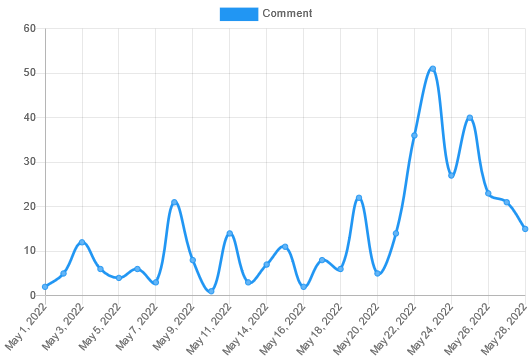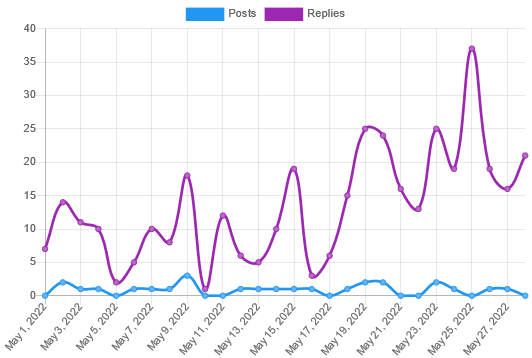 ---
(ii) continued support of Hive Community projects;
@papilloncharity is celebrating its Hive 2nd Anniversary. The account @combination, through its weekly give to draw initiative, enables Hive members to both make a difference by giving and winning. The weekly lucky draw helps non-profit organizations that do such important work in real life, to raise much needed funds. Currently the main non-profit organization that receives support is @papilloncharity. To see their amazing work, visit: PapillonFoundation.com.
In deciding to support this charity, I looked at its value to the blockchain and to society.
Fifty percent (50%) of the draw income is given back in HBD to the winning numbers. Also, a consolation prize is distributed among those that didn't win. I've been the recipient of several prizes. To ensure that I give regularly as I do with offline charitable organizations, I set up an automatic transfer for contributions. My contribution is monthly. If you'd like to know how to support this charity, see: How to Participate in The Weekly Give to Win Draw.
And, you receive this cool badge!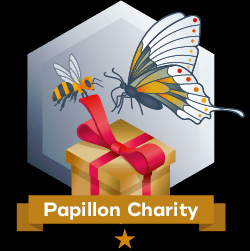 ---
(iii) participation in the Saturday Savers Club.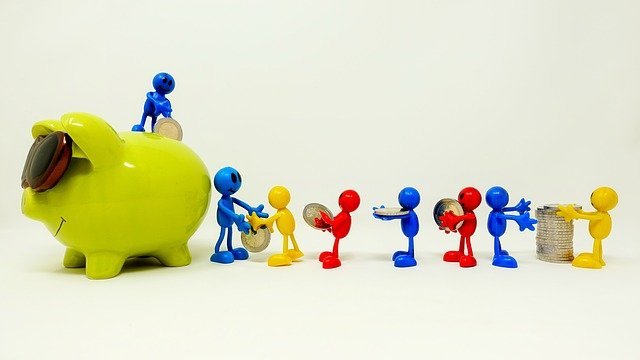 Free Image by Alexas_Fotas at Pixabay
HBD Savings. This week, I added 10.15 HBD to my savings. Total HBD Savings is currently: 224.799. Inching closer to my goal of 667.95 by year end. In diligently savings HBD, my original thoughts to invest in it made sense after reading an article by @leofinance I shared above.

NOTICE: The EDSMs have sold out. New mini-miners will be available soon. Visit the EDS Weekly Report for more details.

My Hive Goals. In January, I listed several goals I wanted to achieve in 2022. I'm working on a few at a time.
| PROJECT | Previous Bal. | Activity | New Bal. | GOAL | Comments |
| --- | --- | --- | --- | --- | --- |
| Saturday-Savers Club 5/28/22) | 214.649 HBD | +10.15 HBD | 224.799 HBD | 667.95 HBD | On pace to reach my stated goal. Adding 10 Hive this week was exciting. |
| Hive Power | 12,354.535 | +25.796 HP | 12,380.331 HP | 15,000 HP | Content rewards slightly lower this week. Busy week offline. |
| Leo @khaleelkazi | 252.326 | +1.039 | 253.365 | 1,000 Leo | New amount after staking and earnings. Delegated small amount to @leo.voter |
| CubLife @cublife | 479.845 | +4.035 | 483.88 | | Participated in monthly buy-in on 5/21 |
| EDS-@eds-holdings | 124.24 | +.92 | 125.16 | | Increase slight from last week. For more details, visit: EDS Weekly Report No. 20 |
*According to @lbi-token, "CUBLIFE (CL) in a nutshell is a hive-engine token dedicated to investing in CUBfinance that pays out weekly dividends in the form of LEO. All LEO/HIVE raised from monthly token issues is invested in CUBfinance. 50% of weekly harvests are converted to LEO and issued to CL token holders, 40% is reinvested back into the platform and 10% goes to LBI as an operators fee for maintaining and actively managing the wallet."
You can join the Club and start saving at any time of the year. I, along with other members, meet over on @eddie-earner's account every Saturday and sometimes on Sunday. To see all Club members goals and objectives for 2022, visit the official Club post each week. Here's the current post: Saturday Savers Club with @susie-saver | Week 22 - Saturday 28 May 2022 | HPUD - 1 June | Win EDS for Comments - everyone welcome!.
@shanibeer is our host and super saver with her @susie-saver account. She keeps the Club running smoothly and shares excellent ideas to get and stay involved with savings.
---
PLEASE NOTE:
As I have reiterated, I'm not a financial adviser. My post is not meant to be financial advice. My articles on cryptocurrency, investing, and saving are meant to share my personal opinion, experiences, and general information about those items once I discover interesting facts and figures. Please perform your own research before investing in any project that you feel comfortable with. In all cases, only spend and invest in project where you have the available resources.

Why not join in this fun initiative and start saving whatever amount you can. To get started, why not take a look at the 2022 Savings Plans for the Club on @eddie-earner's account here: Saturday Savers Club with @susie-saver | 2022 Launch and FAQs | Everyone Welcome | EDS for Comments.
There is also a daily savings chart for 365 days. Check out the weekly Saturday Savers Club post on @eddie-earner's account for more details here.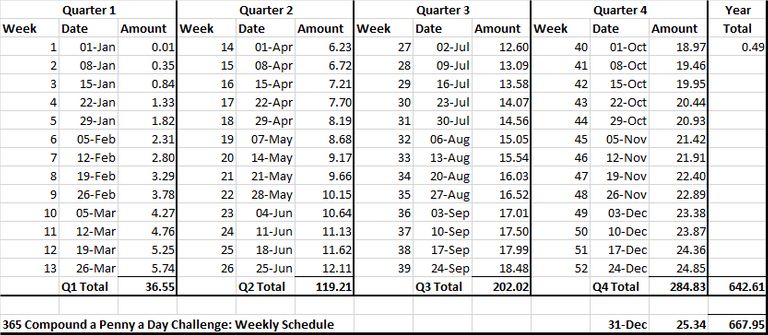 Tell me what's your savings plan. I'd like to hear about different ideas. See you next week.

Thanks,
@justclickindiva
Happy rest of the week everyone with whatever your endeavors.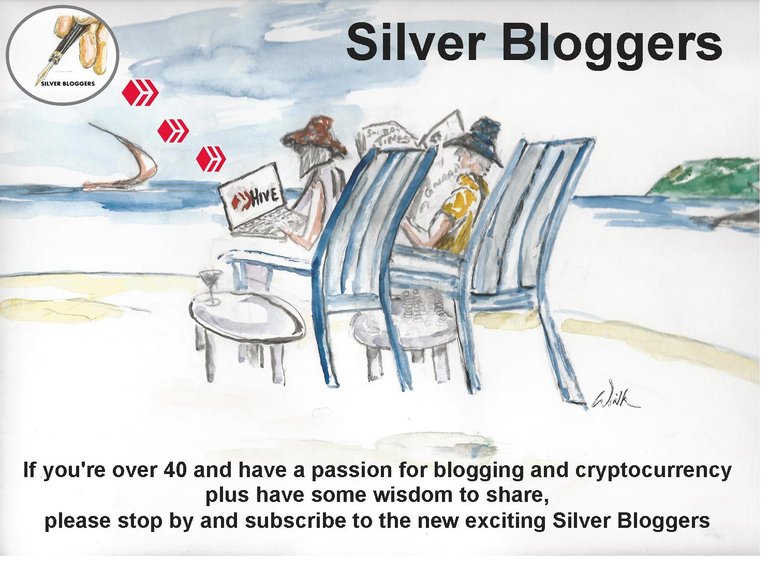 SOURCES:
a) JustClickindiva's Footer created in Canva utilizing its free background and images used with permission from discord admins.
b) Unless otherwise noted, all photos taken by me with my (i) Samsung Galaxy 10" Tablet, (ii) Samsung Phone, & (iii) FUJI FinePix S3380 - 14 Mega Pixels Digital Camera
c) Purple Butterfly part of purchased set of Spiritual Clip Art for my Personal Use
d) All Community logos, banners, page dividers used with permission of Discord Channel admins.
e) Ladies of Hive banner used with permission of and in accordance with the admin's guidelines.
f) Saturday Savers Club logo created by me @justclickindiva in Canva utilizing its free templates and free images from PXFuel (i) and (ii).

Your Personal Terminal Discord Invite


---
---