Winter Is Calling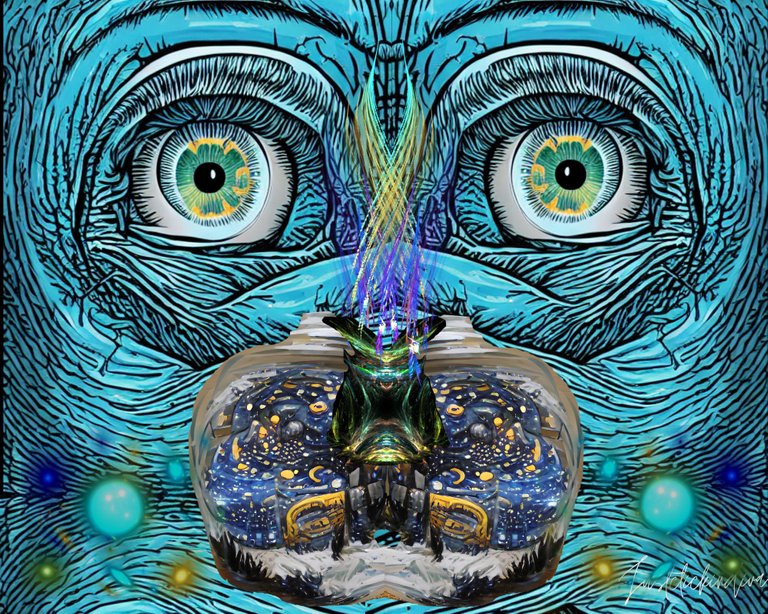 A cozy fire ablaze with the fireplace did nothing to alleviate the chill that ran through my body. Piercing deep within its embers, warm tears scrolled down my face providing temporary relief to the coolness of my cheeks. I rocked back and forth hoping the memories of that season would fade. After five years, I could still see through the dense trees that gave way to a clearing on the lower side of the snow-capped range. Standing less than a mile away, my eyes traced the crimson outline against the thin, white snow. There in the open sat the largest cauldron I'd ever seen.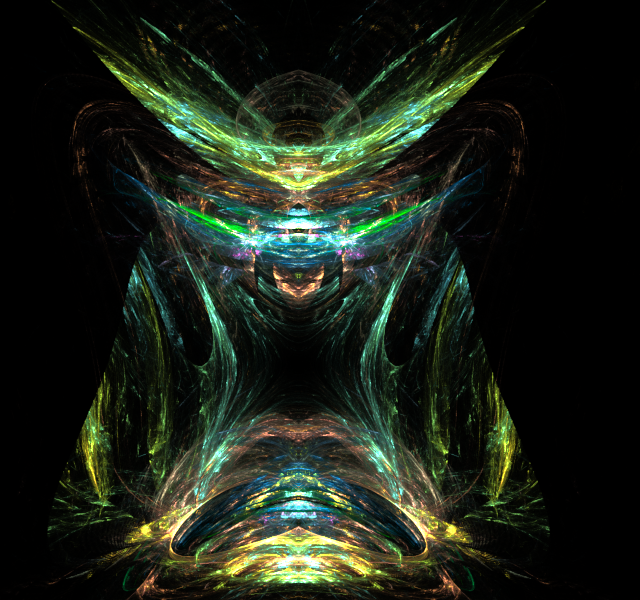 Pure Fractal created by me in Apophysis 2.09
Shaking my head at its enormous size, I rubbed my eyes to ensure they hadn't failed. In my attempt to discern the situation, my thought this could only be a ritual being performed brought into focus by the seven tall stools surrounding the pot.
Haughty laughter spread through the air.
Entrails, I couldn't discern from which animals, spewed high into the air. Screams rose up from what seemed like the depths of the pot as if the night's supper boiling was begging to a higher being for escape from that scalding, torturous end.
Through my parka, I could feel my heart throbbing faster.
At that moment, I regretted venturing out alone and unprepared. Thoughts ran through my mind of family waiting at the cabin for the kindling I set out to retrieve for the night. Why I ventured off the trail so far into the woods I now couldn't remember.
I backed away several steps. Suddenly, an object in the center of my spine prevented further retreat.
Suddenly, I could feel the rope being placed around my neck. The noose tightened slowly.
A husky voice attached to a considerably taller male body than mine whistled in the direction of the cauldron.
Swallowing became difficult. I couldn't speak. My hands were free, but I dared not run. My eye sockets seemed to bulge. My skin began to turn a light bluish color. Tingling in my feet grew intense, then traveled up throughout my limbs.
The next moment, beings I'd never seen before surrounded us. They began chanting words unfamiliar to me.
I could feel myself falling. I closed my eyes before my body attempted to slide from under the arms of the stranger.
In the near distance behind me, my name echoed in the winds from my family.
Holding me upright and pulling me closer, I then heard the husky voice speaking in the unfamiliar language, then whisper in my ear, "Winter is calling."

My current fractal art project was created with my beautiful, but haunting pure fractal that resembled container I presented above. To that image I wanted to illustrate a background that resembled the winter season. To achieve this look, I called upon the following programs:
Starry.AI the stable diffusion program to produce my winter alien utilizing the following:
Text input:
"Large bulging blue eyes with large hands on each side."
Result: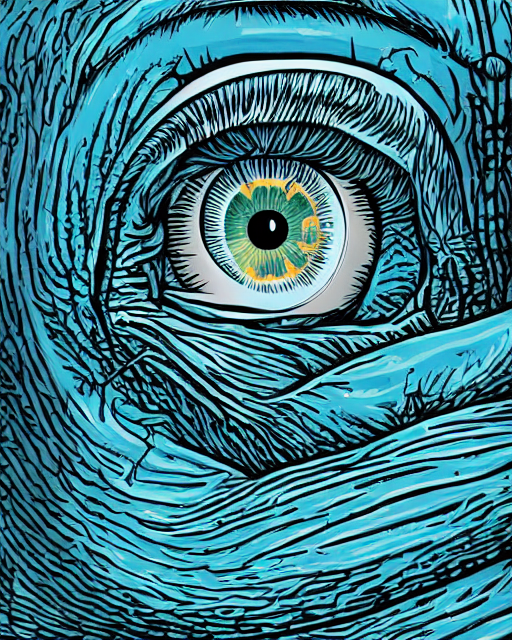 Wombo Dream, a generative art program to capture the essence of a snowglobe holding memories.
Text input:
"Stunning detailed painting of a snow globe in the style of Starry Night"
Result: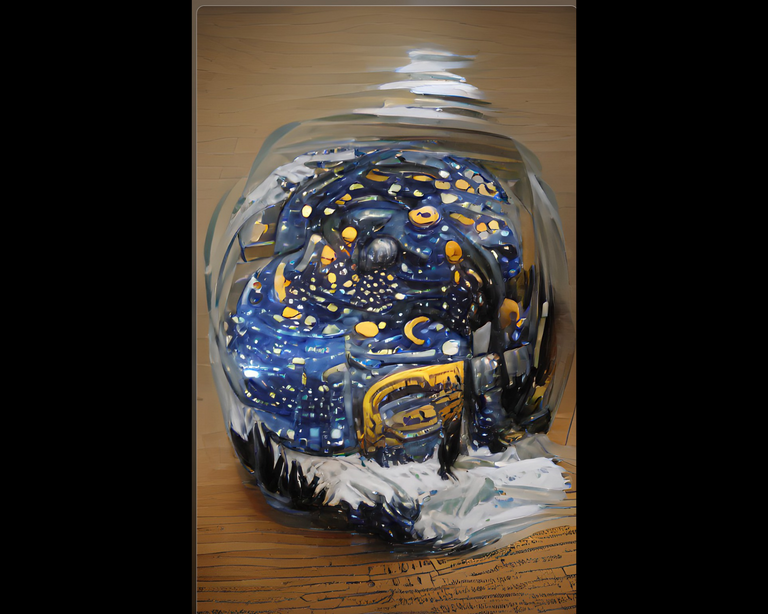 ---
**Finally, I accessorized my fractal art program with additional pure fractals designed in Apophysis 2.09: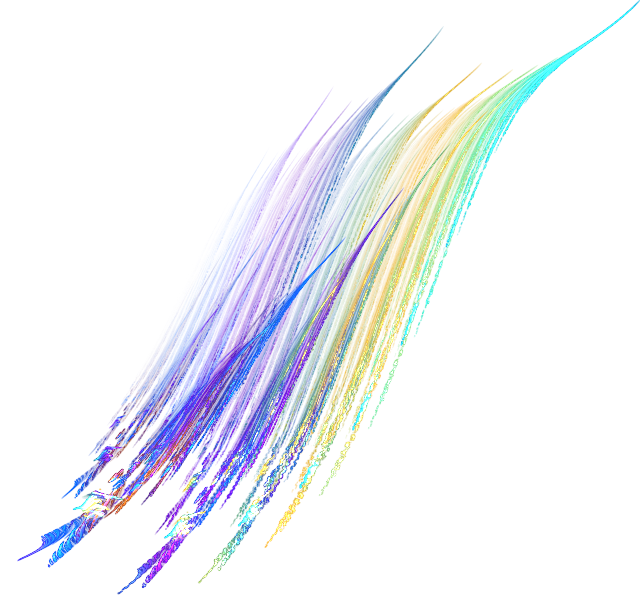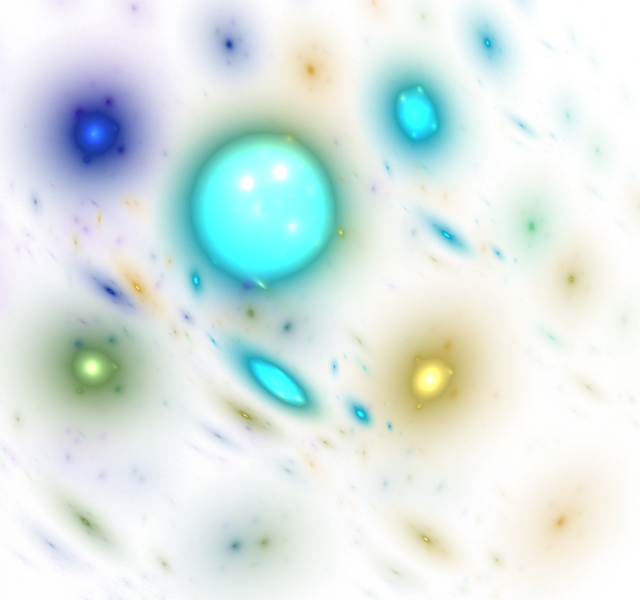 Thanks for your visit. I hope you liked my fractal art project.

Thanks,
@justclickindiva
Happy rest of the week everyone with whatever your endeavors.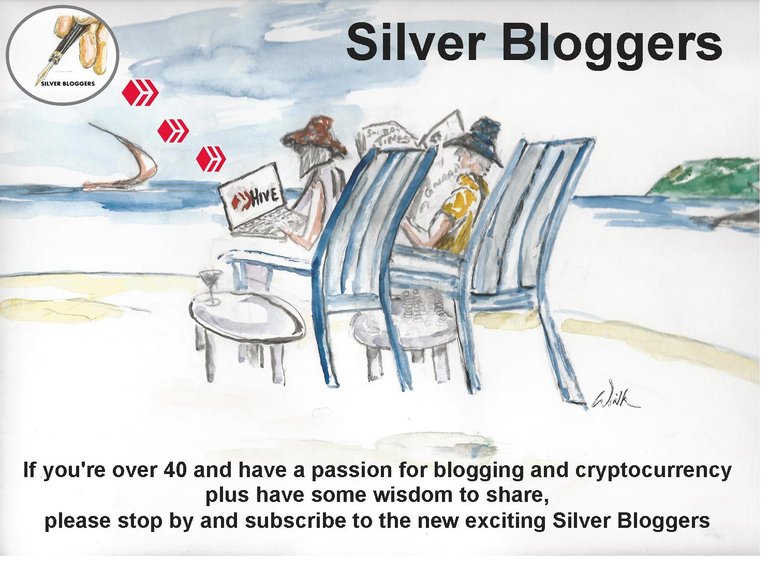 SOURCES:
a) JustClickindiva's Footer created in Canva utilizing its free background and images used with permission from discord admins.
b) Unless otherwise noted, all photos taken by me with my (i) Samsung Galaxy 10" Tablet, (ii) Samsung Phone, & (iii) FUJI FinePix S3380 - 14 Mega Pixels Digital Camera
c) Purple Butterfly part of purchased set of Spiritual Clip Art for my Personal Use
d) All Community logos, banners, page dividers used with permission of Discord Channel admins.
e) Ladies of Hive banner used with permission of and in accordance with the admin's guidelines
f) Thumbnail Image created by me in Canva.
g) "Flames." What is Apophysis 2.09. https://flam3.com/

Your Personal Terminal Discord Invite


---
---