NEWBIES INITIATIVE TASK 6 : EXPLORING BLOCKCHAIN GAMES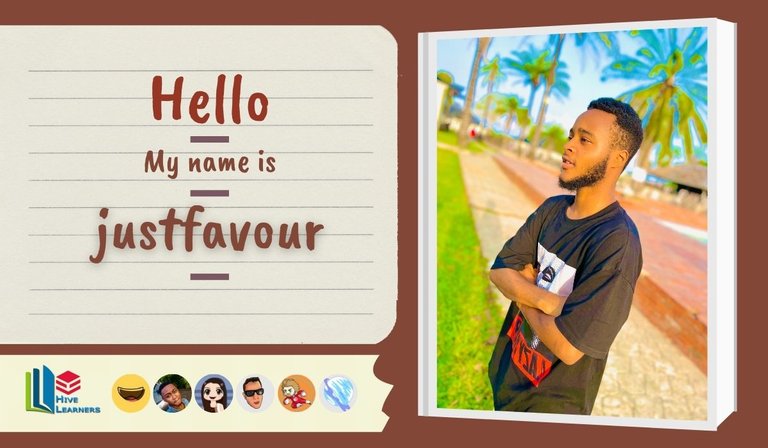 Image designed by @projectmamabg
Hello everyone in the wonderful time blockchain. I hope you're all doing well and enjoying the weather wherever you are. Welcome to my blog.
I'm so proud of myself. Why? Because I made it to task 6 of the newbie's initiatives. I remember the first time we started like it was yesterday. I remember how we applied for this program and some of us were lucky enough to get selected.
I have faced a lot of obstacles since the beginning of this program. School stress, bad network, poor electricity, multitasking, and all were bad obstacles that almost choked me. But I'm a pretty determined guy. As long as I applied with my own hands, I'll be sure to finish what I started.
I'm a gamer. A big-time gamer. I really love playing games, especially football games. I started playing PES (a football game) when I was young. Have I ever made money from playing games? Yes, a few times when I won bets against my siblings and cousins😂.
Before I joined hive, I knew people played games to earn money. But I actually thought the only way to play to earn is when people subscribe to your channel or you stream and people subscribe. I was surprised when I joined the blockchain and I found out more ways to play to earn.
As a gamer and someone who's always curious about things, I decided to explore blockchain games. I checked out splinterlands and some other blockchain games, I was confused and didn't know what to do, so I logged out and continued blogging. Sadly, I never returned to the game nor did I make inquiries. Thanks to @Ksam who lectured us brilliantly about blockchain games. I really learned a lot in the newbie's initiative meeting we had with him.
Now to answer the beautiful questions.
Mention 2 features that make blockchain games different from other games?
Blockchain games are play to earn games; as I said earlier, I'm a big fan of games. Okay, let's take temple run or subway surfers (mobile games) for example. Do you get to play these games? Yes, maybe with coins or some other things. But can you spend those coins outside the game? No! You can only use it within the game to unlock levels, buy things, and all. Unlike these games, blockchain games are different. You can actually cash out (real money (through tokens and all) from these games.
Blockchain games also make it possible for players to be able to sell their assets, you can't do that in other games
List 4 Games on Hive Ecosystem and include their in-game currencies
Splinterlands - Splintershards [SPS]
Rising Star game - [Starbits]
Wrestling Online Organization - [WOO]
Dcrop - [Sim]
What are NFTs and mention 1 use case of NFTs on a Blockchain game
NFT stands for Non Fungible tokens. Nfts are unique tokens. Nft is basically digital art. Basically whoever owns the Nft has rights to the image, video, or whatever the Nft is.
Use case of NFTs on the blockchain
As for use cases on blockchain games. Rather than paying for imaginary assets that can't be used anywhere else, Games now use Nft's so that players can sell them elsewhere.
PRACTICAL EXERCISE
Play/start the Illegal Busking mission on Rising Star
First step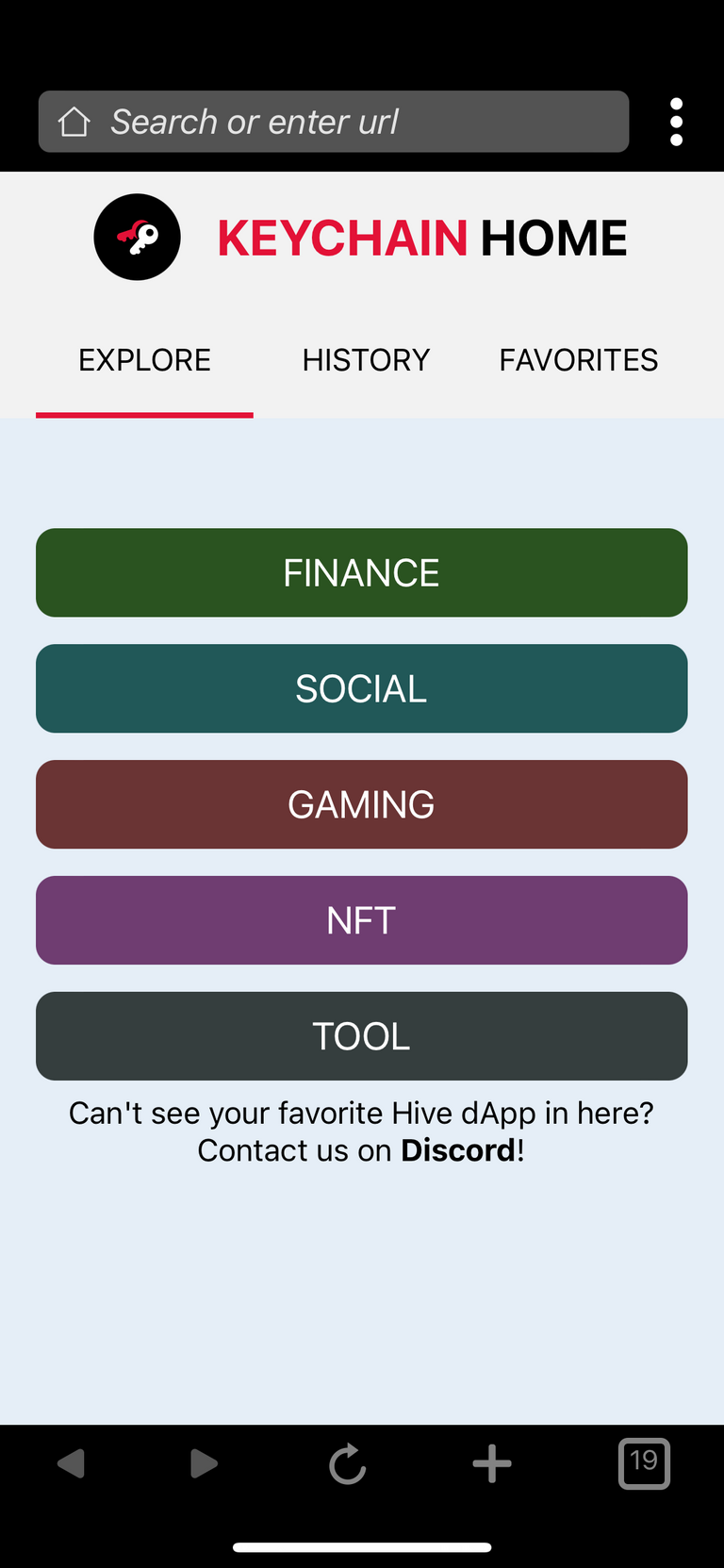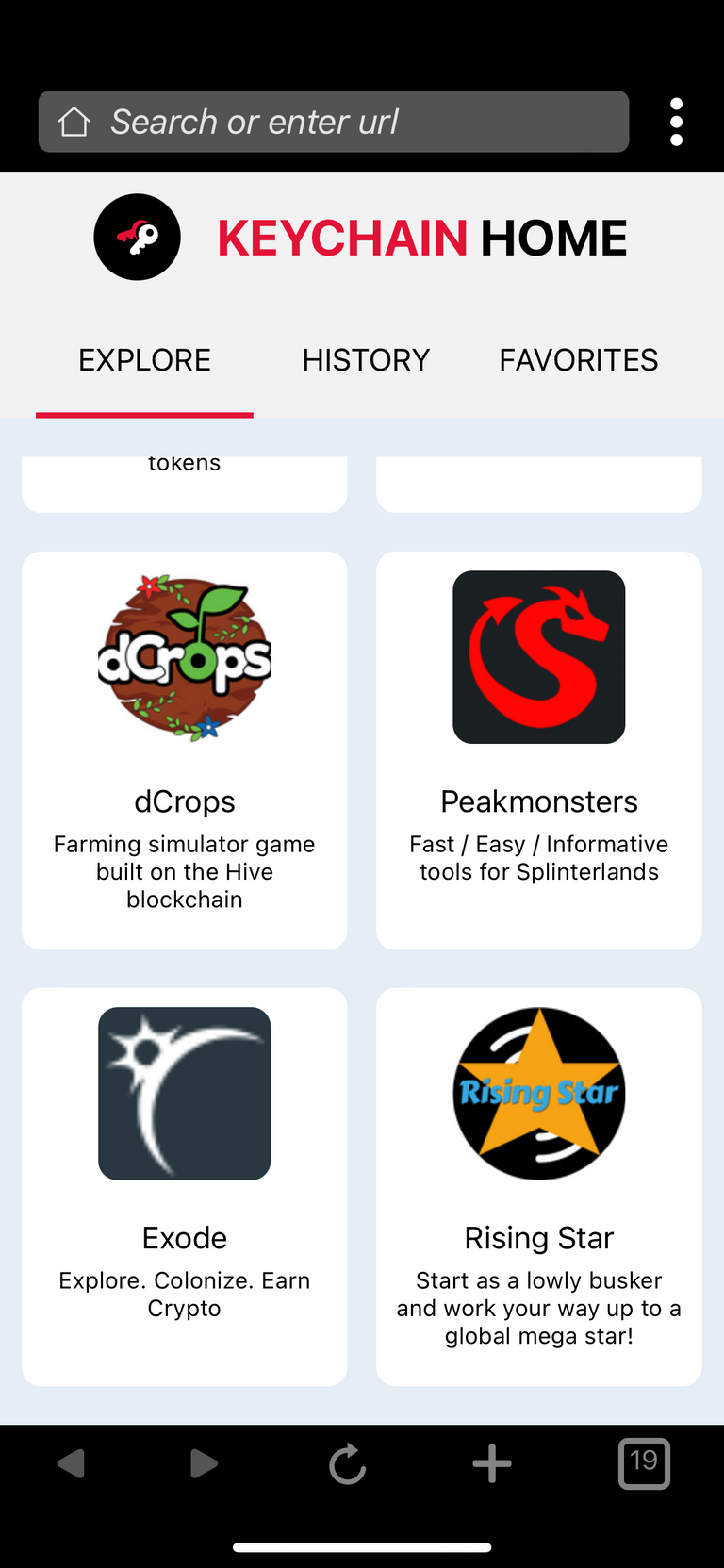 I logged in to my hive keychain. I navigated to GAMING. Here I saw the blockchain games; rising star, dcrops, and all.
Step 2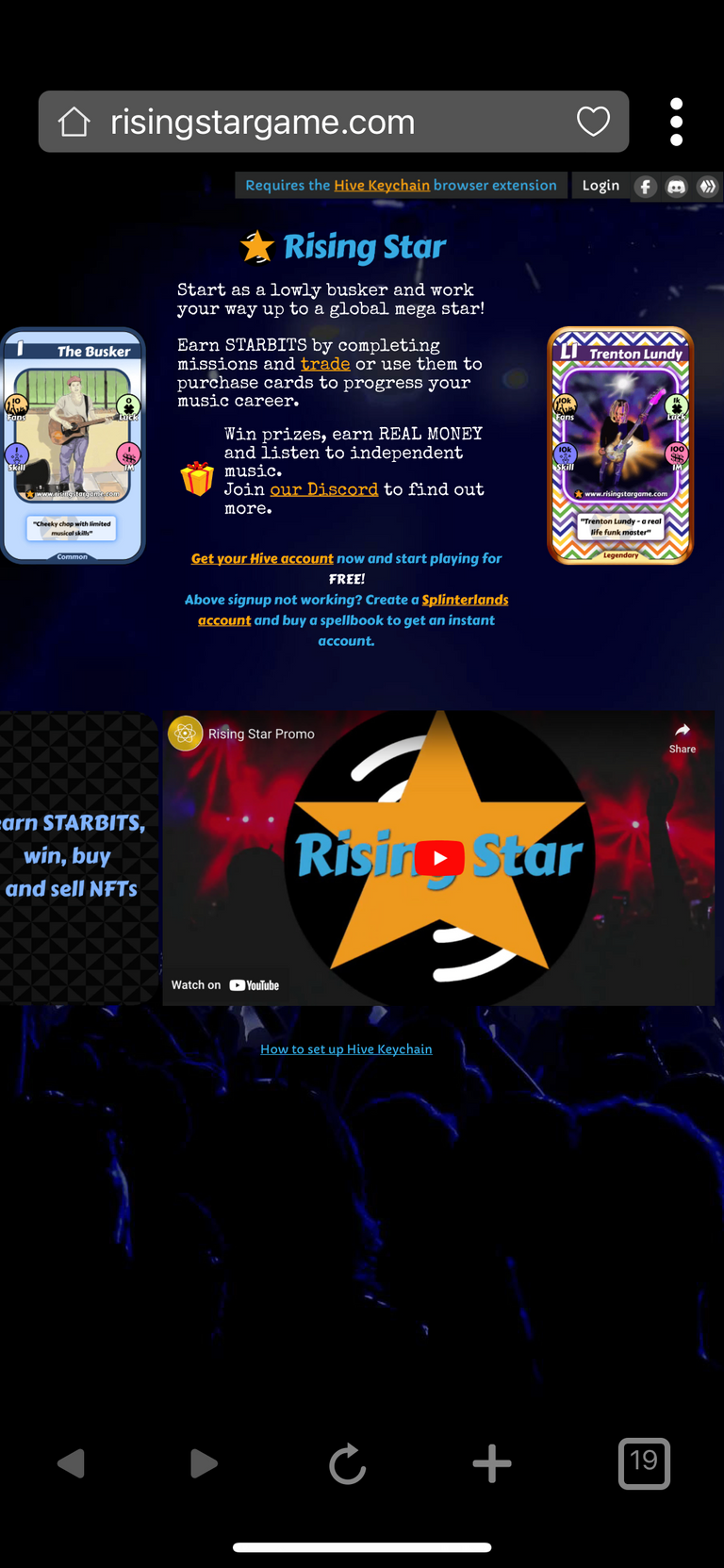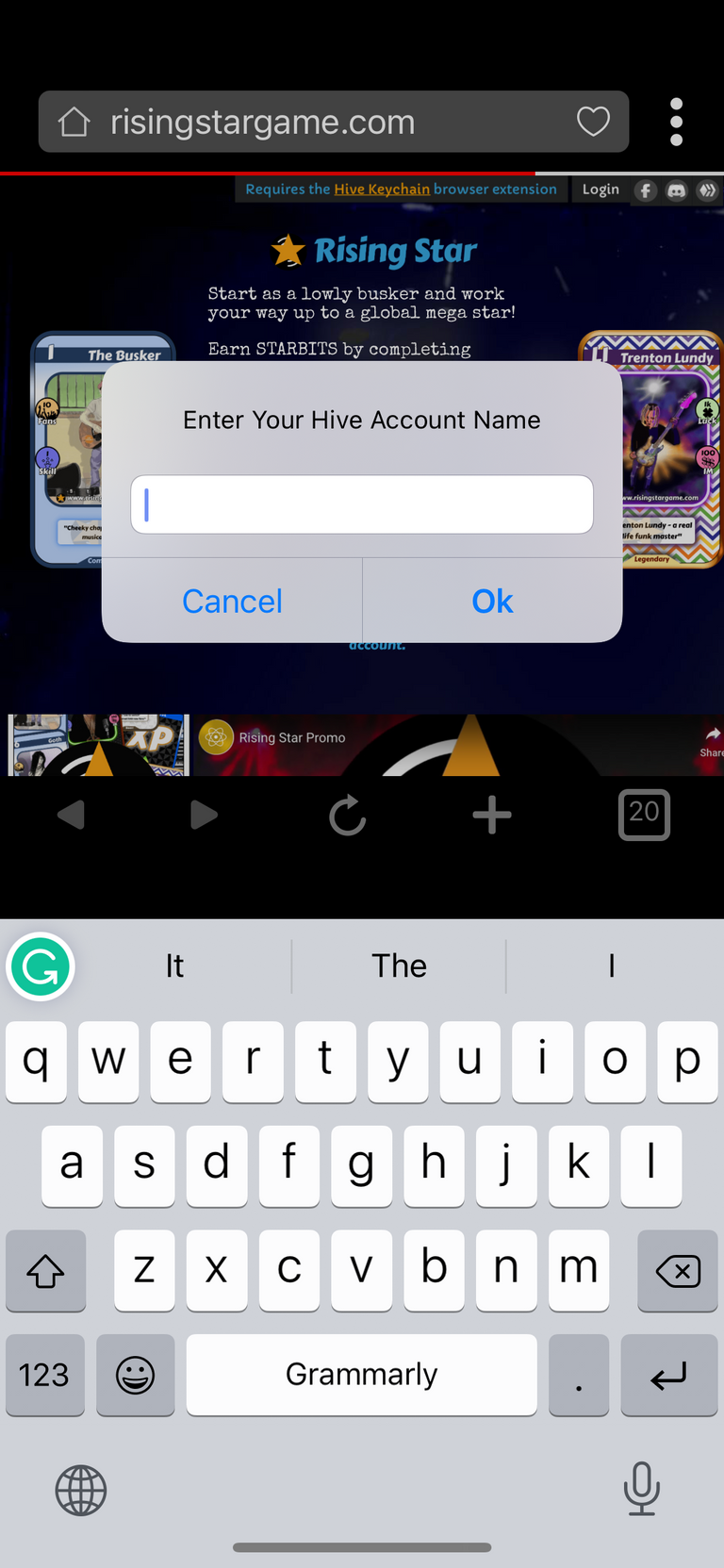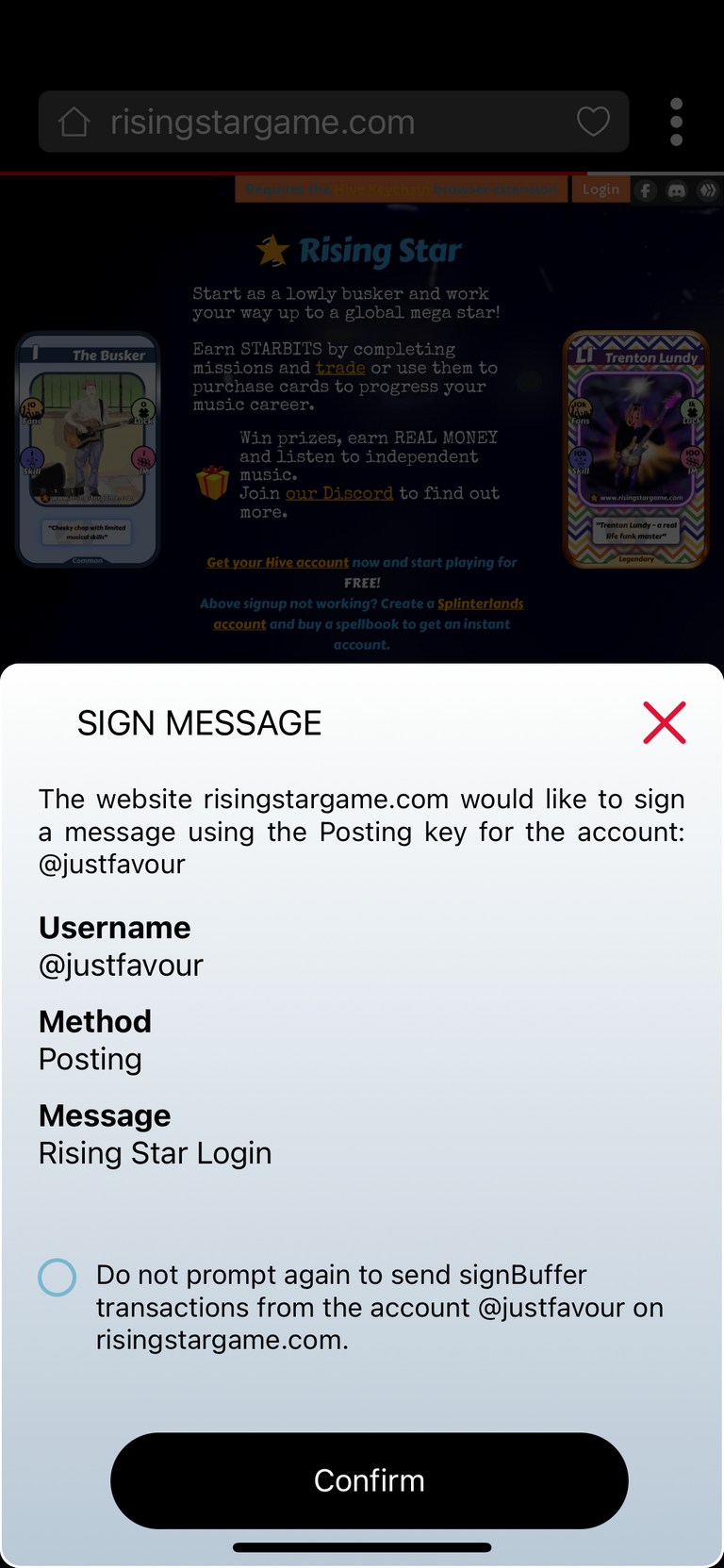 After clicking on rising star game, the second step is to click on login. I logged in with my hive username and posting key.
Step 3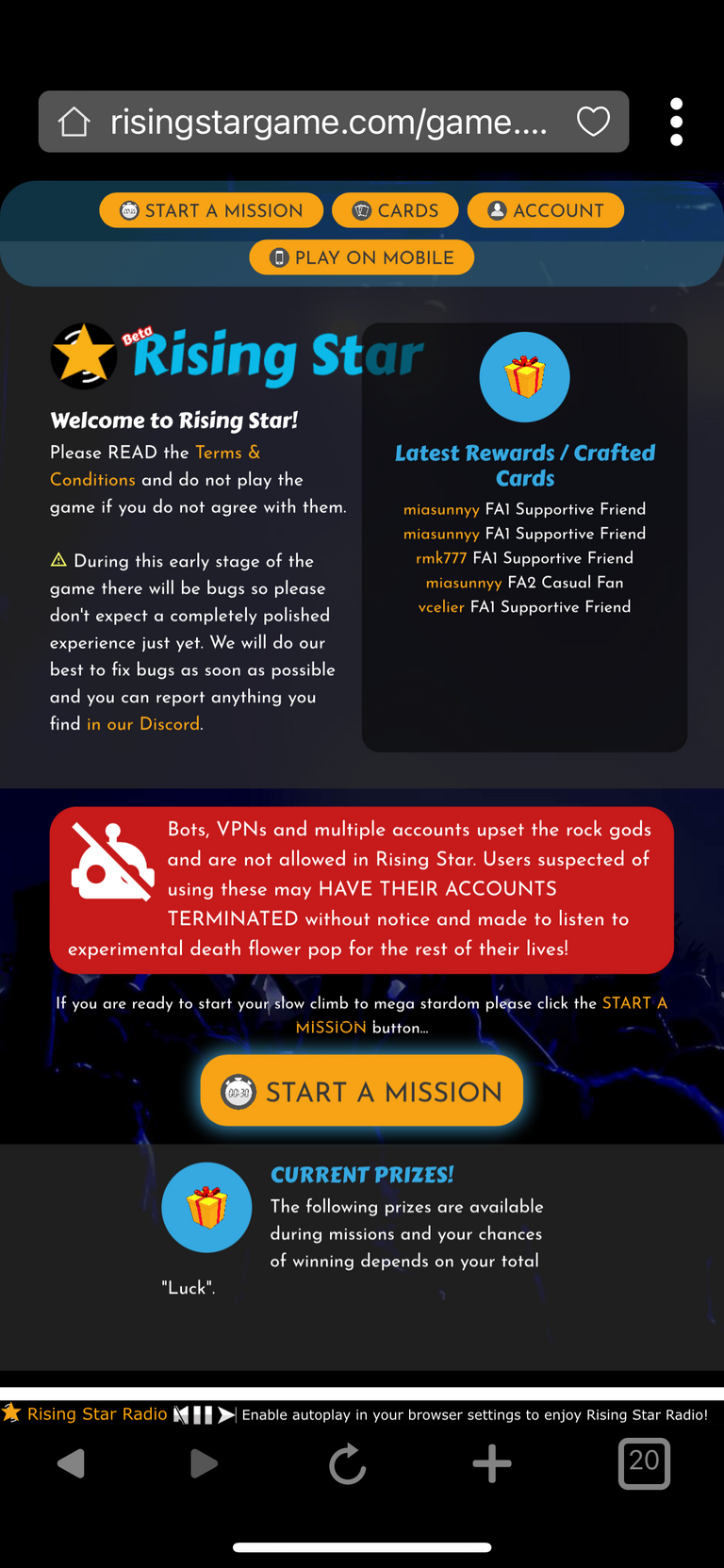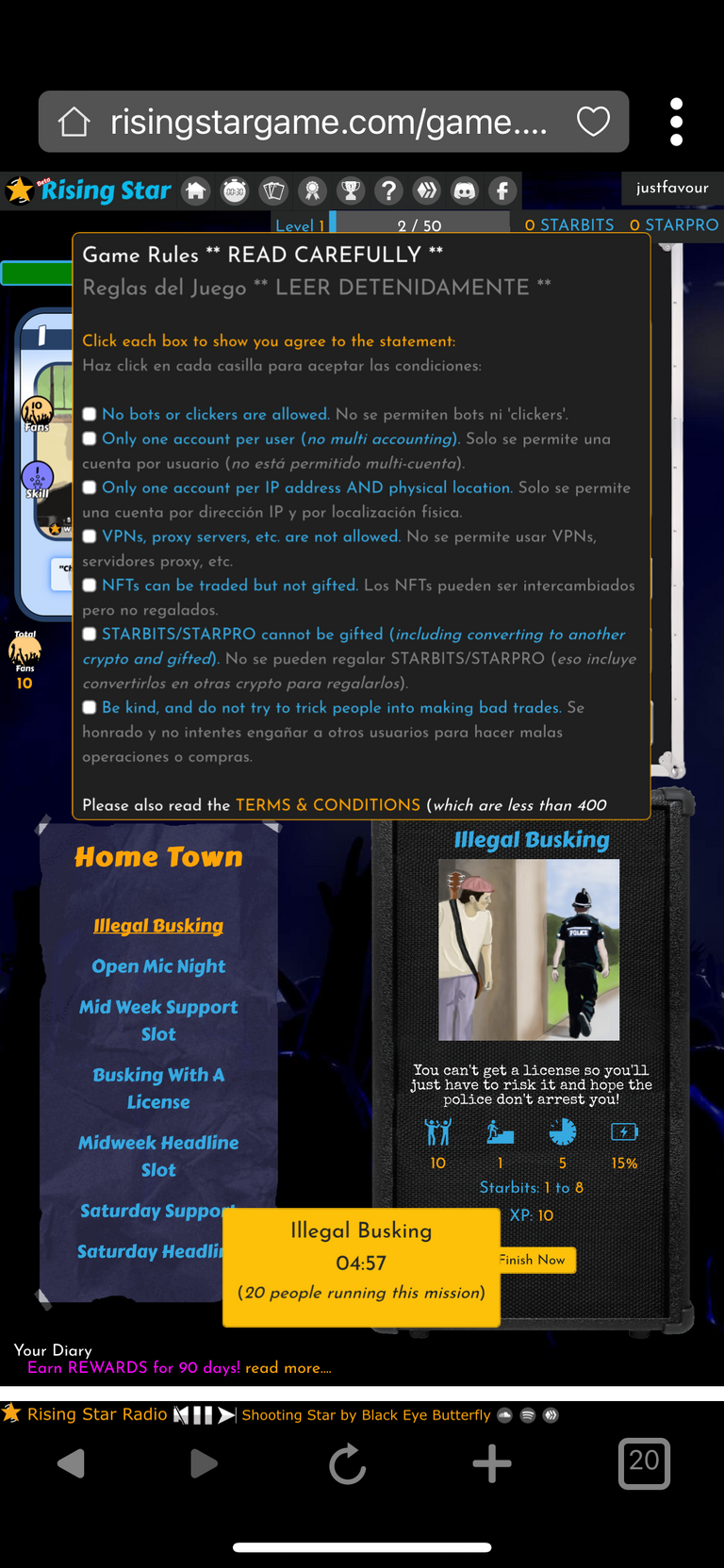 The third step is to click on "start mission" and click on "illegal busking mission" after that.
After 5 minutes, take a screenshot of your Diary or information section showing the rewards you receive from the mission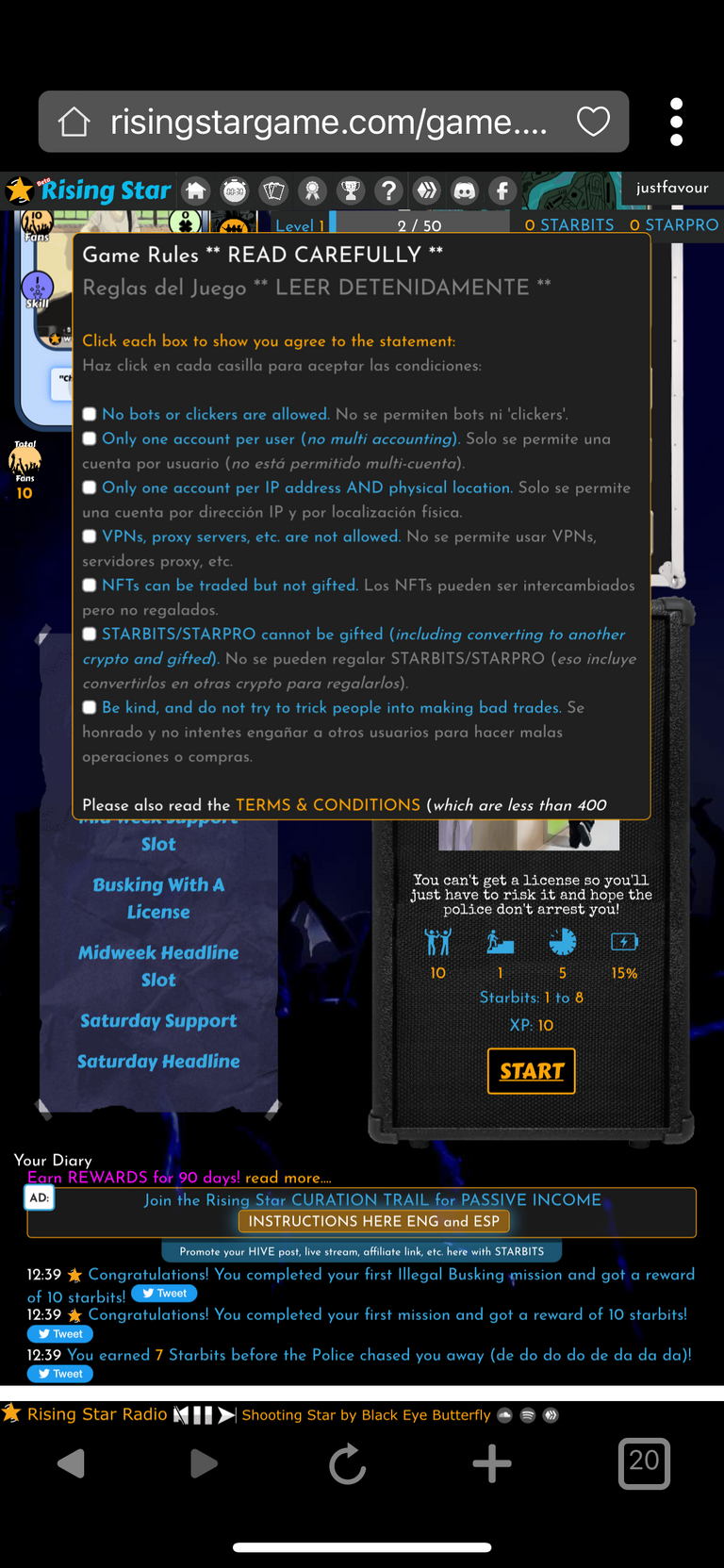 After waiting for five minutes. I heard a sound like coins dropping.
In my diary, I saw;
"Congratulations! You completed your illegal busking mission and got a reward of 10 starbits"
"Congratulations! You completed your first mission and got a reward of 10 starbits"
"You earned 7 starbits before the police chased you away "de do do do de da da da😂)!
APPRECIATION
I say a big thank you to the @newbies-hive for all what they've been doing since the beginning of this program. I thank our gurus @starstring01 and @Ksam. And also to my awesome team leader @nkemakonam89 thanks so much for everything. @projectmamabg thanks ma'am. Other team leaders I say a big thank you to you.
Finally, thanks so much to our curators @theycallmedan and @aliento team
Thanks for reading.
---
---