👽 Alien Insects 🦗 Everything Is Bigger In The Cardamom Mountains ⛰️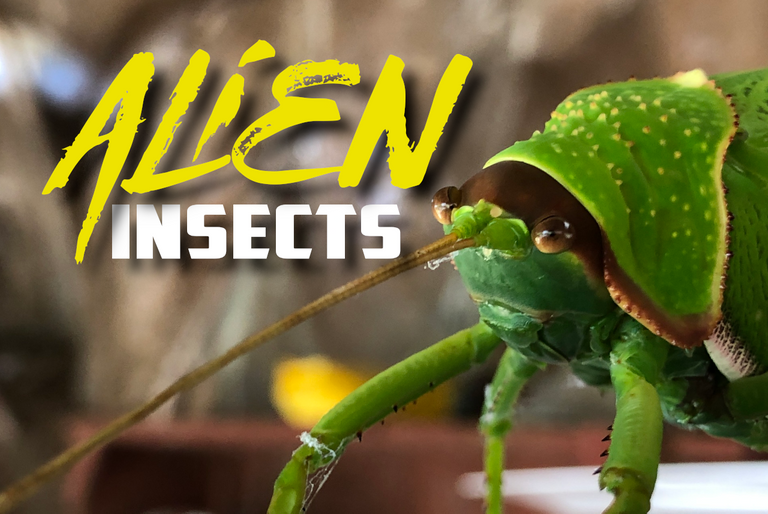 While hanging some laundry today I spotted this Giant False Leaf Katydid hanging out on top of an unused ceiling fan near the tuk-tuk.
Jurassic Cardamoms 🦕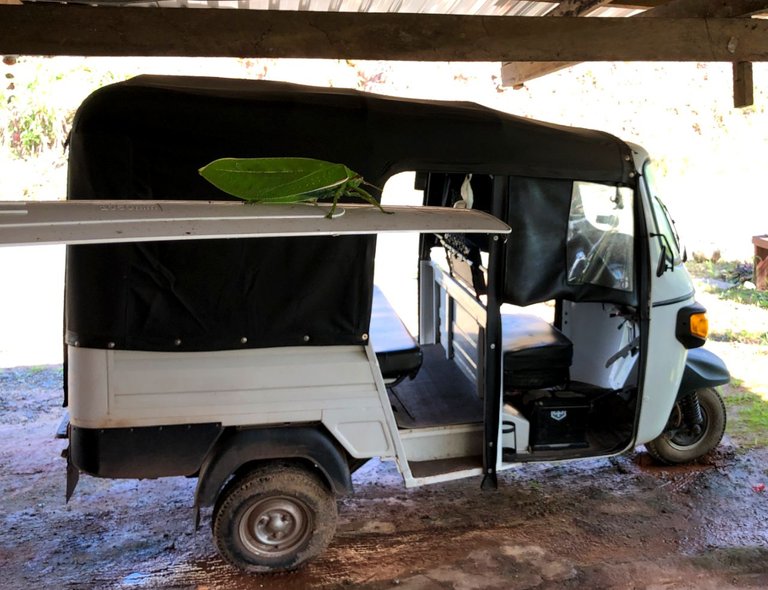 I am often in disbelief at how much of the insect life here is exponentially larger than the rest of Cambodia, a sign this area has a relatively healthy ecosystem and biodiversity. The Cardamom Mountains of Cambodia still have wild elephants, crocodiles, sun bears, but more common to see are the gigantic insects.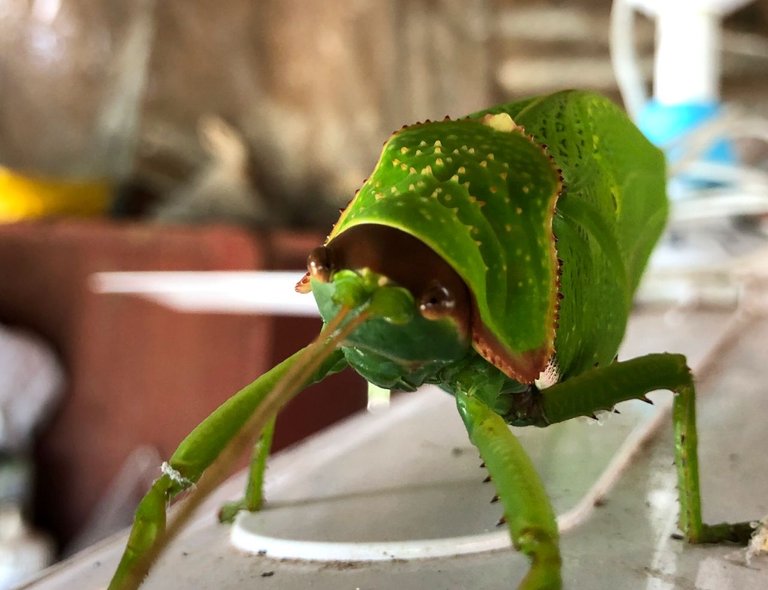 Luckily we are too high in the mountains for this area to be a crocodile or elephant destination, but our neighbors have seen sun bears before in the village. So far I have only seen some strange birds and tiny primates from a long distance. Lately I've been seeing tons of giant cicadas and crickets, and even katydids too, but this particular one is the biggest one I've ever seen in my life.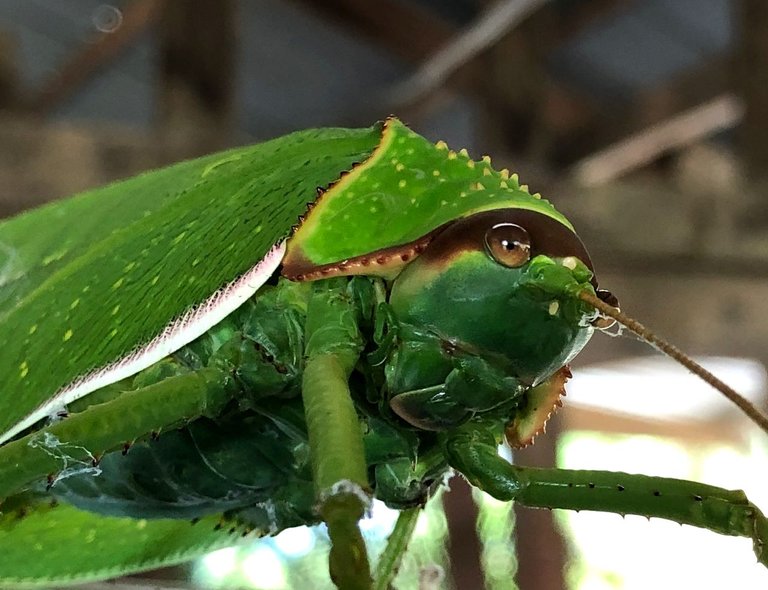 I don't have a macro lens, so closeup shots aren't possible with my phone, but this thing was so large it made me feel like I had a macro lens. It's body was bigger than any rat I've trapped here, and I can only imagine how much this thing eats in a day. Its legs spread out and reached both sides of the fan blade, the pictures just don't do justice to how massive thing is.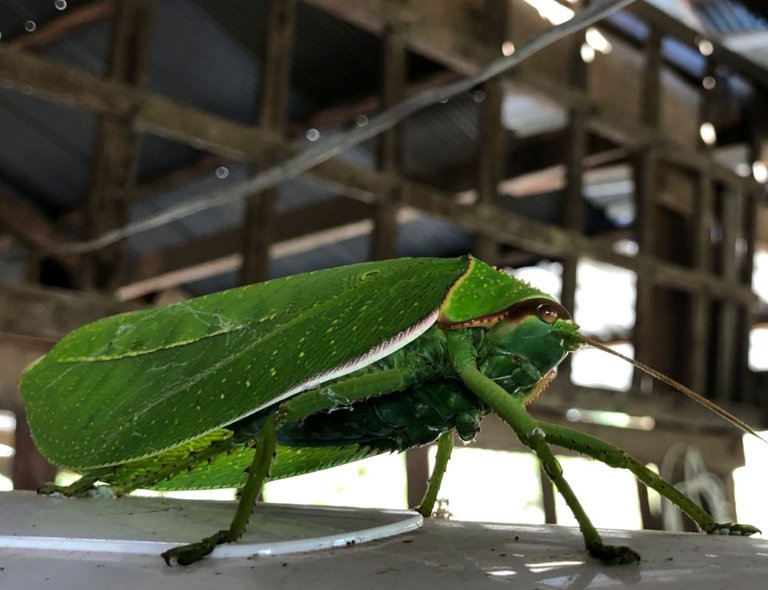 I took a few pics from a few different angles, and all the while I could see the giant eyes of this creature following me. It had a confidence that much smaller insects never display, not afraid of me getting close for pics at all.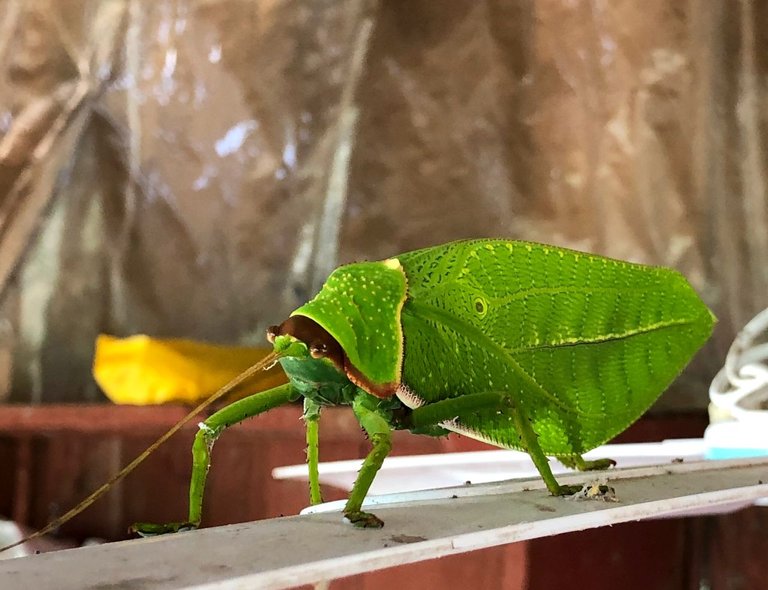 I don't usually do insect photography, but this chance encounter made me want to document this and share it with you all. Only moments after this I slipped in the mud and went feet-first skiing on my butt to the bottom of the hill, quickly stood up, scanned the horizon for potential witnesses, then allowed myself to experience the pain 😁.

CLICK HERE TO JOIN HIVE AND START EARNING CRYPTO LIKE US
---
---