Collecting Money From Trespassers 💵 & Cleaning Up Their Mess Too 🚯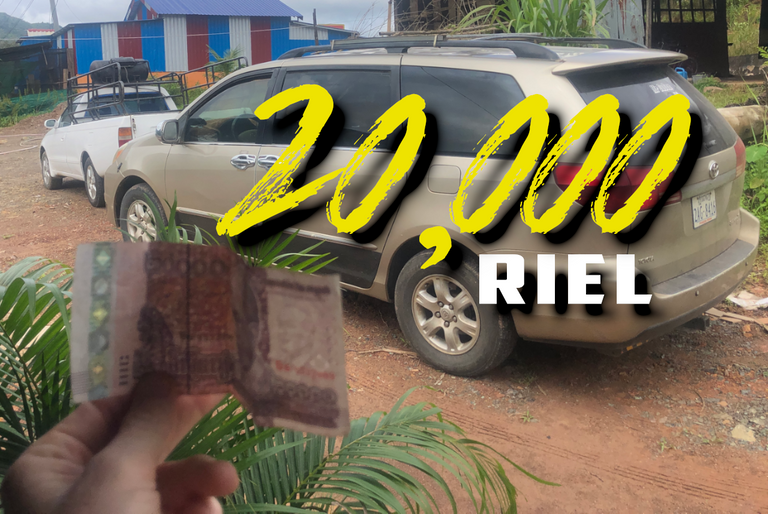 Cambodians and littering go hand-in-hand, so today when I found 15 trespassers enjoying our hammock hut, instead of kindly asking them to leave, I asked for ៛20,000 ($5 USD).
Rewind A Bit First ⏪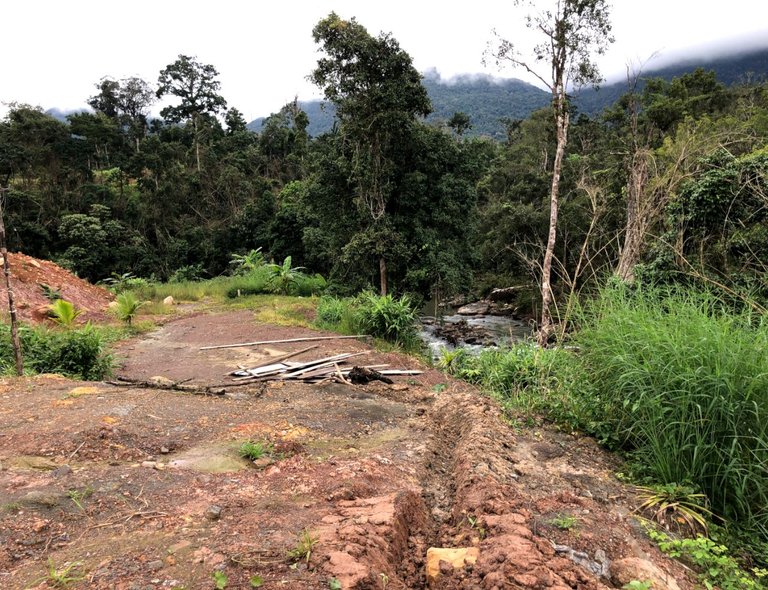 Before the trespassing incident I took some time to finish the drainage ditch I've been digging for a few days. The goal is to prevent rainwater runoff from going over the cliff's edge and causing further erosion. The only other place to send the water is the old government road, so that is the end destination for all evacuated surface water.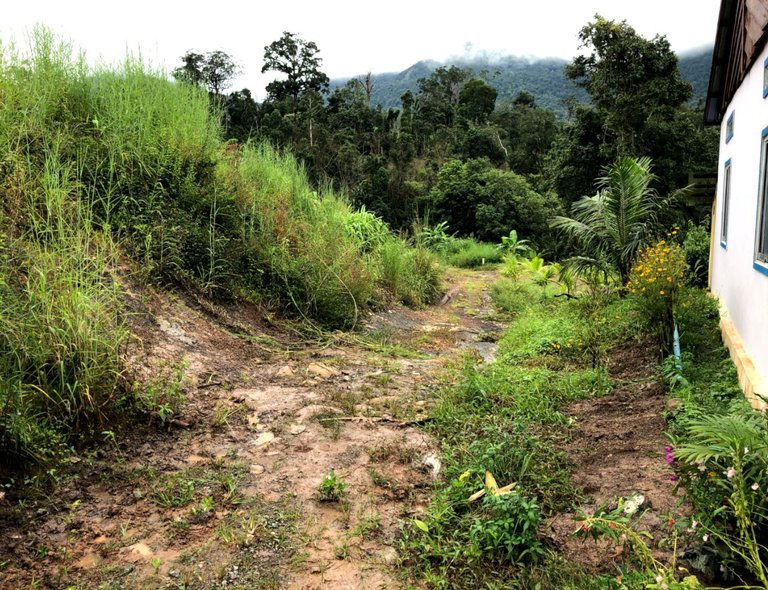 On the opposite side of the house, you can see the old government road nearly touches our house, well that's because our neighbor backfilled their land several meters higher than us, causing their land to slowly drift over the road. I heard a rumor that the owner of this land (also the head military honcho here) wants to seize the road for himself. Every week I have to pile more dirt on our side of the road to prevent erosion, but if they guy cared at all about our difficulties, he would spend a half day to dig a ditch on his side of the road.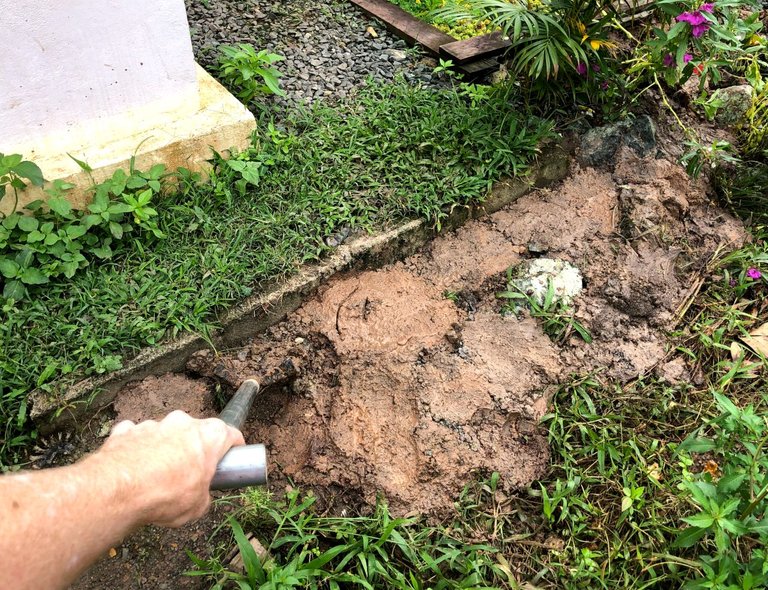 There is no easier place to take the dirt than from the land that is invading ours, so I just try to make sure the main flow of water never comes close to the foundation of our house because that would cause major problems eventually.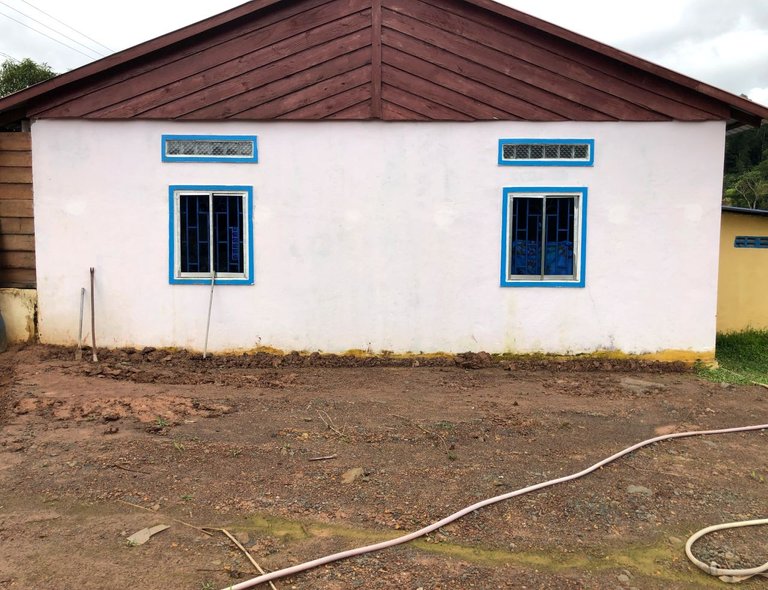 I've also noticed surface water slowly drifting towards our house over time, mostly because the edge of our house is now a few inches lower than the land nearby, so I've been shaving off surface dirt with a hoe and tossing at the base of the foundation, and I'm learning more and more than rainfall and surface water will be the number thing to worry about when constructing anything in the future.
Be A Steward Of The Land 🌏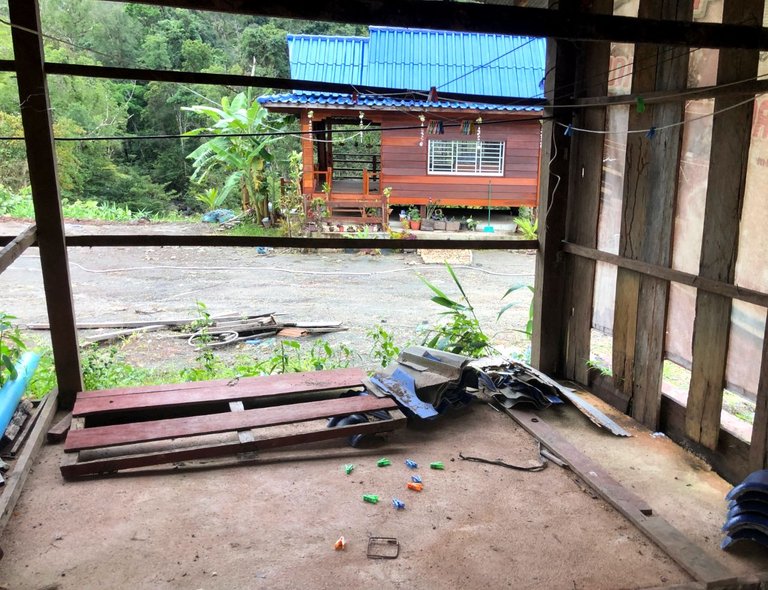 Just as I was finishing up outdoor work, I decided it was time to tend to ASEAN Hive and curate some content. While I was inside the house the rains came and I noticed a group of young moto riders take shelter in the shack by the highway. Usually I ask people to wait out the rain somewhere else because time after time Cambodians prove they are unable to spend 5 minutes anywhere without making the place worse than before they arrived, but on this day I didn't feel I had the energy.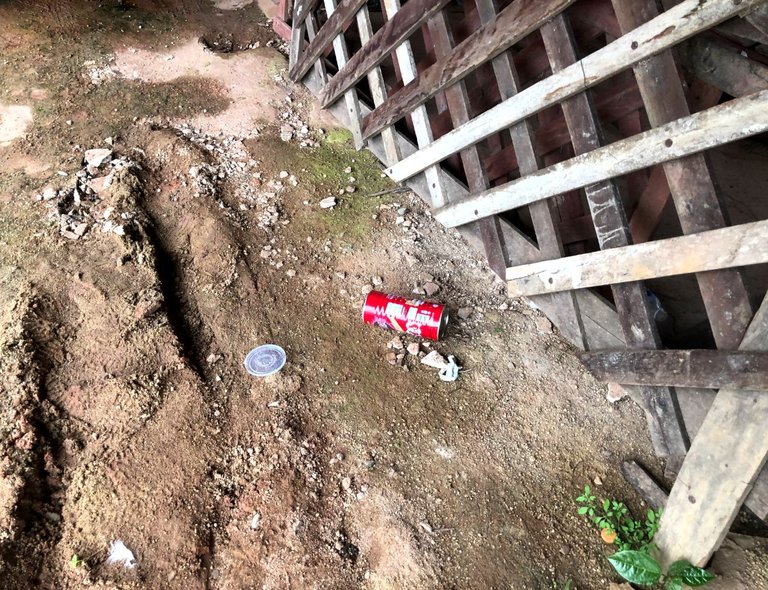 After I heard them leave I wandered up the hill to assess the damage. I found half of my laundry clips on the ground and an empty tin of shrimp crackers. I don't know why, but stuff like this enrages me, after all, you've encroached on someone else's land without asking, so the least you could is not leave the place worse than before you came. I assume they hung wet items on my laundry line, then unclipped their items and just tossed the clips on the ground instead of placing them back on the line.
     I was raised to be a steward of the land, and to always leave places you visit cleaner than you found them, especially natural places like parks and forests. I really hope some day that Cambodians will learn to appreciate nature and respect the Earth, and I really the think the Buddhist monks should spend less time meditating and collecting money to build bigger temples, and more time warning citizens of the karma of careless actions like trashing their own country day in and day out.
Trespassers Are Unwelcome 🚯
     Okay, with this last picture, I ask you to recall the thumbnail where I collected $5 from the trespassers. After picking up the mess the kids left by the highway, I went back inside and continued my Hive work, only to hear some human sounds 30 minutes later. I went outside and found 15 people had helped themselves to our hammock hut without asking. Normally I ask people to leave in these circumstances because they throw half their trash in the river, half on the ground, and leave animal bones lying all over the floor of the hut.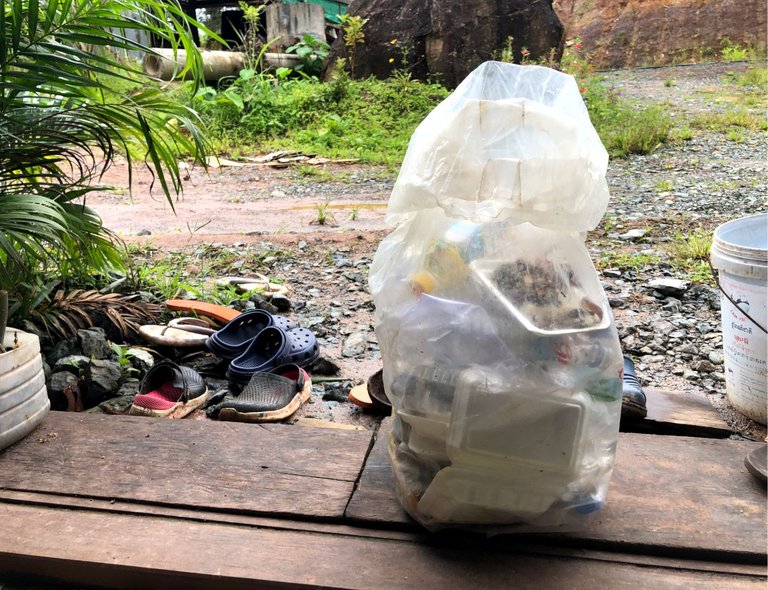 As a vegan and more importantly a Nazarite, I don't want to touch bones or flesh, so I beg people to take their trash with them when they go and leave the place as they found it, but 100% of Cambodians have lied and not followed my instructions even after looking me in the eye and agreeing. Because this party had already made themselves comfortable, I reminded them they were trespassing, this is a private home with no business signs, and I would like them to pay $5 and take all their trash with them when they leave and place it in the bin on the highway. They agreed, murmured that the place next door is more beautiful (and I reminded them I don't need their money and they are welcome to leave), and as always, left a human sized bag of trash behind for me to deal with.
     The amount of trash a small amount of Cambodians can produce in just 30 minutes is mind-boggling, Not only did they lie to me just like every other group of Cambodians, but they mixed the recyclables and uneaten food in one bag, so now I have to pick through pork bones to separate the recyclables and dispose of their trash for them. I really don't think Steung Kach is ready for Cambodian tourism, so I am very eager to fence off our land completely to prevent strangers from walking past me as I wash dishes. With a fence we can carefully control how people interact with the natural environment here, and I think going forward I will demand a $5 refundable littering deposit from trespassers in addition to the $5 fee for using the hut without permission.

CLICK HERE TO JOIN HIVE AND START EARNING CRYPTO LIKE US
---
---