Monkey-B Finds A Hair In The Back Of Her Throat 👎 & A Little Gardening Update Too 👨‍🌾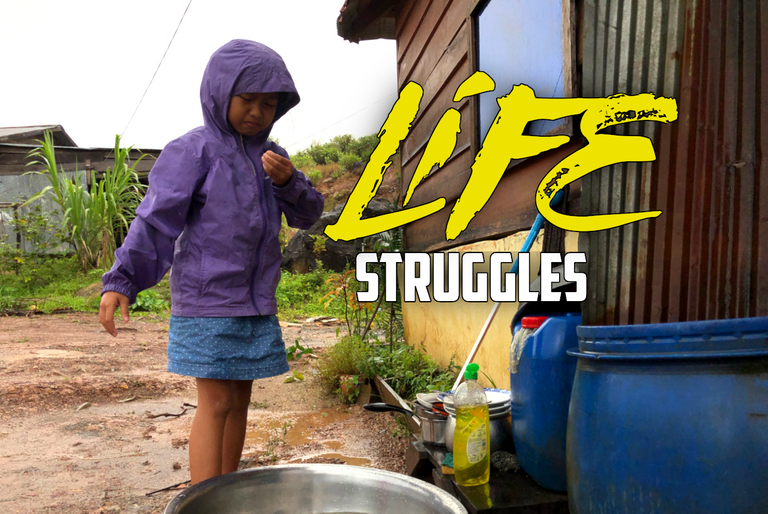 While washing dishes, Monkey-B noticed a hair stuck in the back of her throat, and as soon as she had some clean hands she fished the hair out of her mouth.
The Struggle Is Real 👧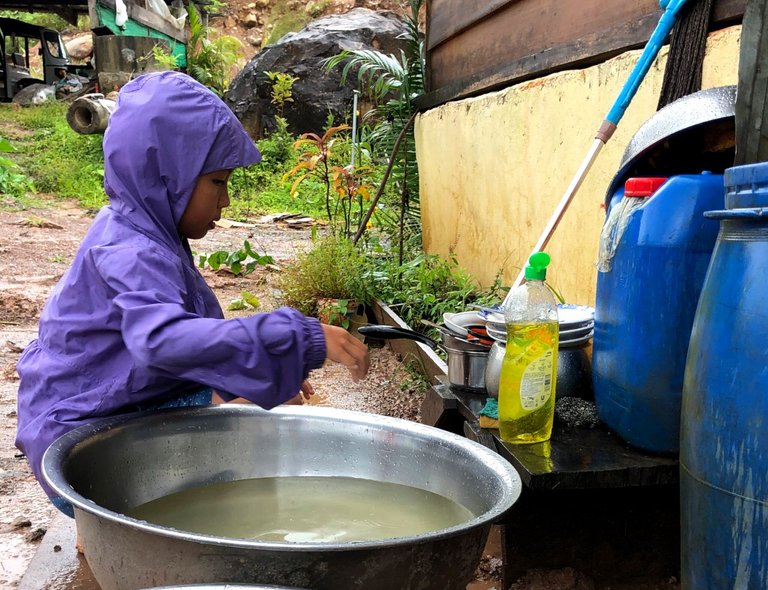 I was running behind schedule all day today, and when I finally got some time to create a post the day was almost gone, a very common situation. I walked outside and found Monkey-B washing the dishes, so I sit down and chatted with here while awaiting photo opportunities.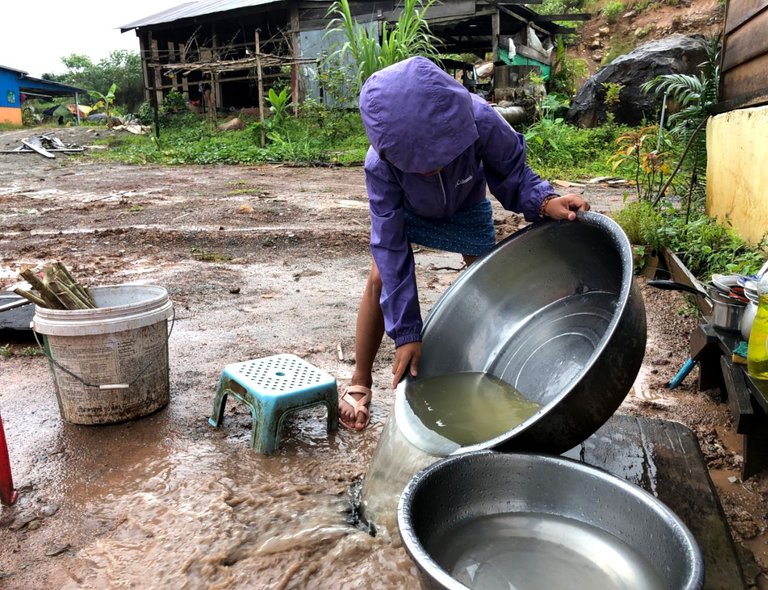 When Monkey-B began making funny noises, she said she had a hair in her throat, so I acted quick and captured the shot that I used for the thumbnail. I suspect the hair came from the piece of bread she dropped on the ground, causing her to shout out "3 second rule!", meaning as long as you can pick it up in less than 3 seconds, hygiene is not compromised 😜. I often invoked the 3 Second Rule in my youth to recover various dropped snacks, so I naturally have a lot of experience pulling hairs from my mouth too.
Planting Noni Trees 🌱
     I asked my wife to bring back some baby noni trees with her upon her departure from Pursat because there are none in this village. We like to make noni juice and also use the leaves in amok, a traditional Cambodian curry. Noni trees are fighters, unafraid of bad soil or droughts, so they are a perfect choice to help get some roots in our clay.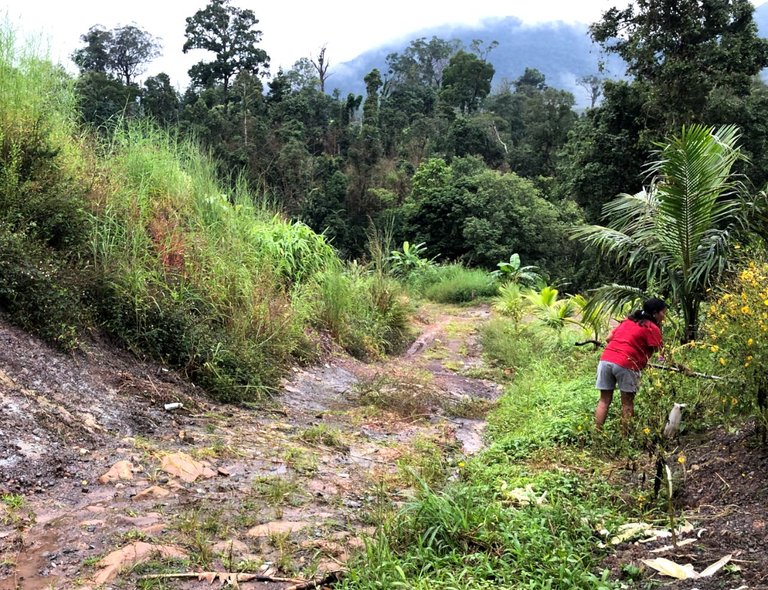 We had three trees to plant, so we chose three different locations for planting. She brought back some fruit too, and we are currently fermenting noni as I write this post. Noni juice has a taste not liked by many, but its pungent quality works well in salad dressings and dipping sauces. Noni vinaigrette is something you definitely need to try before you give up on this stinky fruit.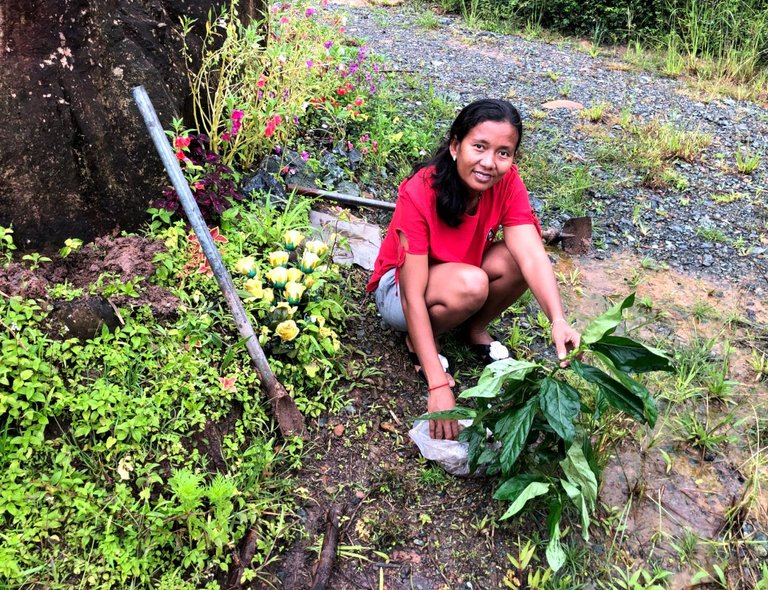 After wandering around planting and using the situation for photo ops, it was time to start cooking dinner. We had some pak choy, so I decided to make aloo palak for the family. For whatever reason I didn't take any photos of dinner, but I was quite pleased with accoutrement I prepared while waiting for the potatoes to cook.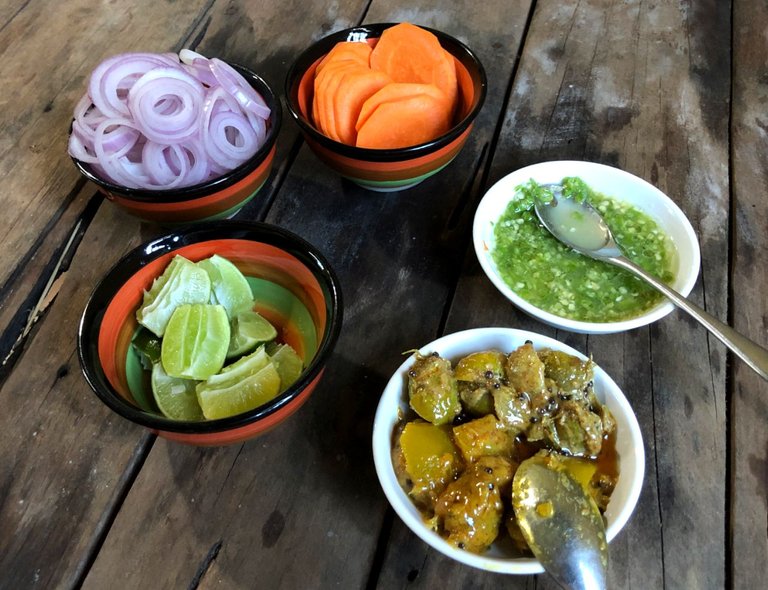 Some dishes need raw onions, and because Monkey-B and I are raw onion addicts, I made a plate of those, some raw carrots, limes, some green chilies with a bit of salt and lime juice, and some gooseberry and lime pickle.


CLICK HERE TO JOIN HIVE AND START EARNING CRYPTO LIKE US
---
---