♨️ Nibi Spa 🧖‍♀️ Best Place To Visit In Kampot, Cambodia 💆‍♂️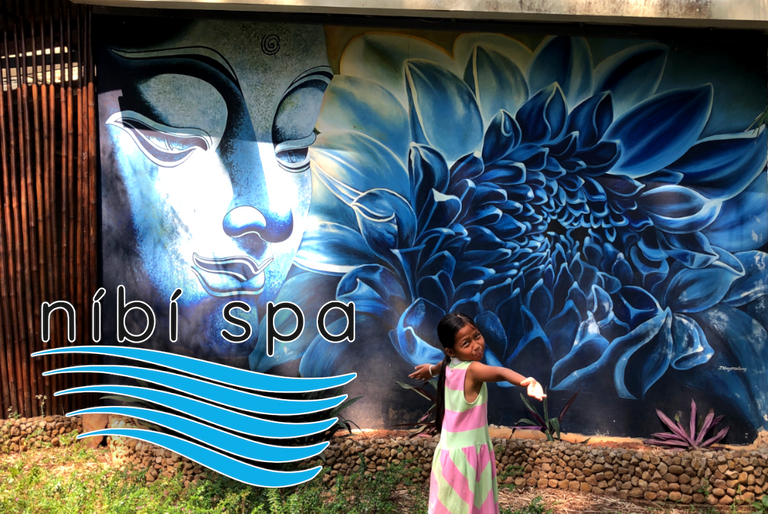 Nibi Spa is the best place to visit in Kampot, Cambodia, nestled along a scenic tidal river, and a must-visit for massage therapy, saunas, and steam rooms.
Rustic But Cozy 🛖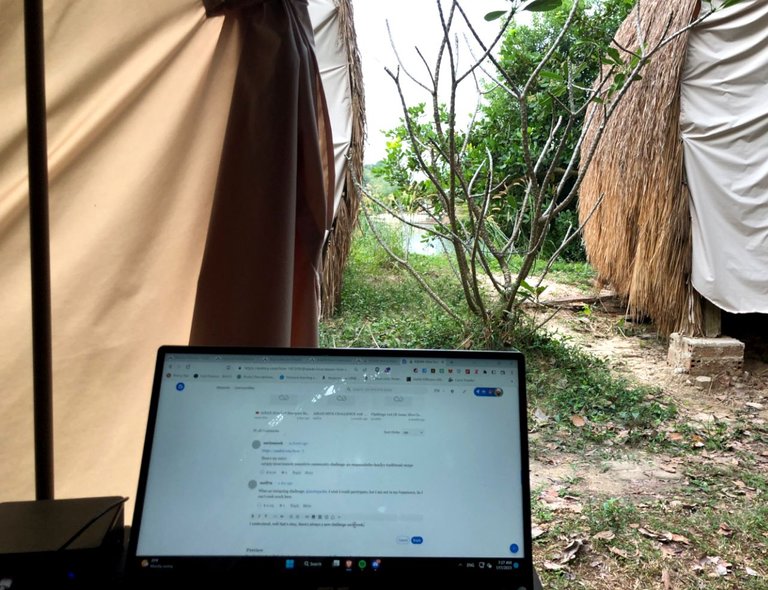 Full disclosure, the owners of Nibi Spa are close friends of mine, but Eric and Karine will likely become your friends if you visit this amazing place on the outskirts of Kampot. Many years ago I worked as a Khmer language teacher for this lovely couple at this very location, back when Nibi Spa lived mostly in the imagination of its would-be owners. They took a hands-on approach from day one, and my Khmer lessons initially focused on construction talk because Eric and Karine wanted to facilitate communication between themselves and the construction crew.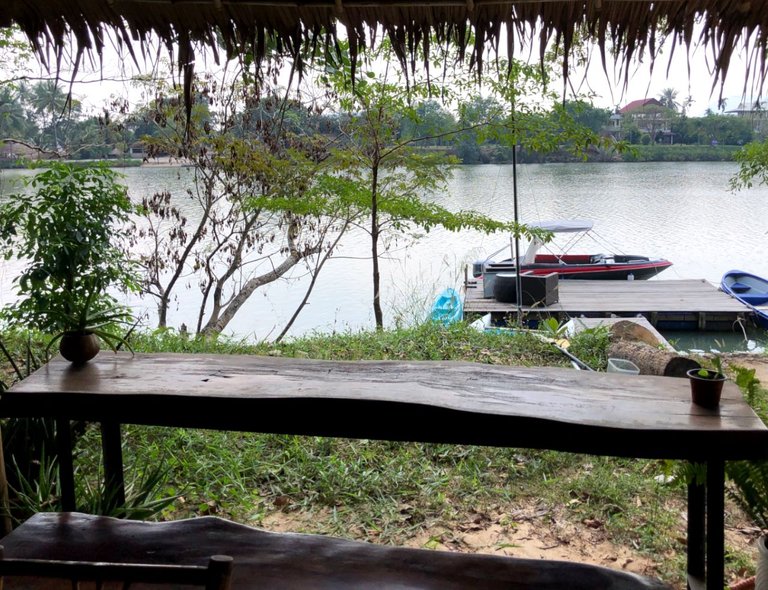 I was here before official opening hours doing a bit of visiting and catching up on Hive work, and this place is just as beautiful as it was 4 years ago before my family left Kampot and were stranded abroad in South America for 3 years. I've been back in Cambodia now for a year, and for far too long I've been meaning to go the best place to visit in Kampot, Nibi Spa. Luckily my youngest daughter came with me on this 1,000km roadtrip to Kampot and other Cambodian destinations.
The Teuk Chhou River 🏞️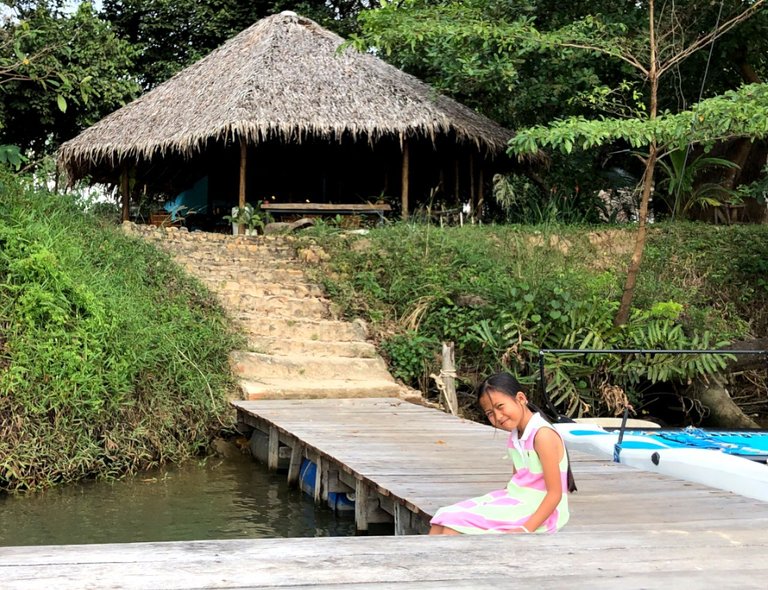 Even if there was no Nibi Spa, this would still be the best place to visit in Kampot because of the tidal river and the view of Bokor Mountain, a popular destination for most visitors to Kampot. Eric and Karine are fond of the natural beauty along this river, and they've built everything on the property in a way that integrates well with the many old-growth trees that provide cool shade to all guests.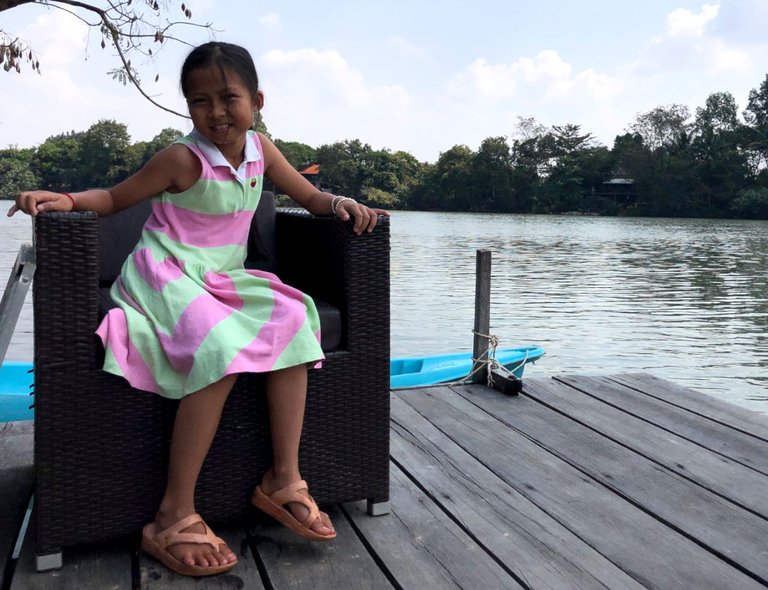 There is much to do here, and even though the spa services are the highlight, one could easily get distracted with swimming in the river, sunbathing, reading, and other non-spa activities. This is great for families who come with young kids that may not be interested in a day of sweating and cold plunging. Have no fear parents, your kids can have just as much fun here as you regardless of whether or they partake in thermal activities.
Hungry? 🥗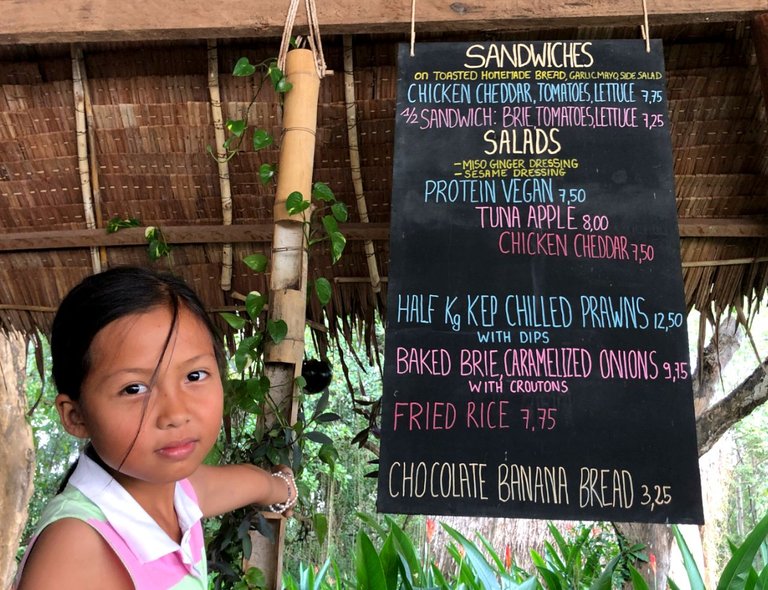 As a cook myself, there is nothing that scares me more than a menu with too many items on the menu, decreasing the odds that everything is made fresh to order. The bar at Nibi Spa has all you need to drink, both alcoholic and non-alcoholic beverages, from wine to mango smoothies and more. In addition to that is a menu board that is always changing and offering fresh made to order food, and you might want to take in some calories after burning so many. Didn't I tell you this is the best place to visit in Kampot?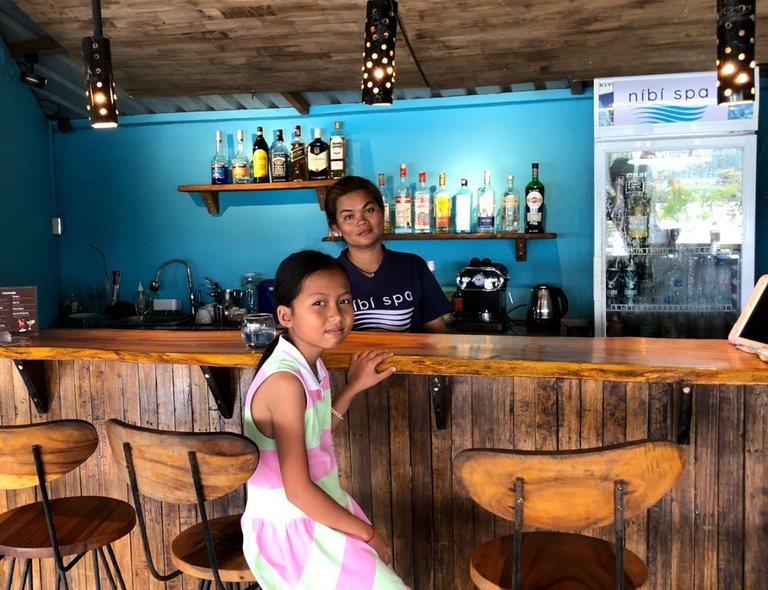 I spent half the day here just relaxing at the bar and enjoying some conversation with Monkey-B, Eric, Karine, and Joe, a visitor from the USA traveling along with me on this trip. The scale of everything is just right, and the bar is cozy just like the rest of the property, creating a social atmosphere you won't find in cookie cutter soulless mega resorts that now dominate Cambodia, and unfortunately Kampot too. If you aren't convinced this is the best place to visit in Kampot, keep reading and I'll convince you by the time this post is over.
Turn On The Rain 🚿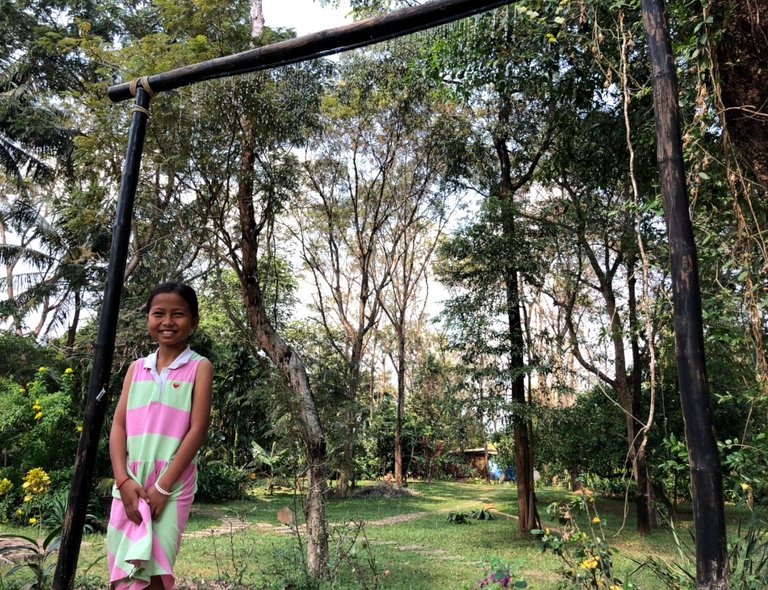 One of the features I like most is simple, but nonetheless amusing, the rain-esque outdoor shower you can use in between treatments, or even when you need a quick rinse. I use this when I leave the sauna or steam room to rinse my sweat off before hopping into the cold plunge pool.
The Sauna ♨️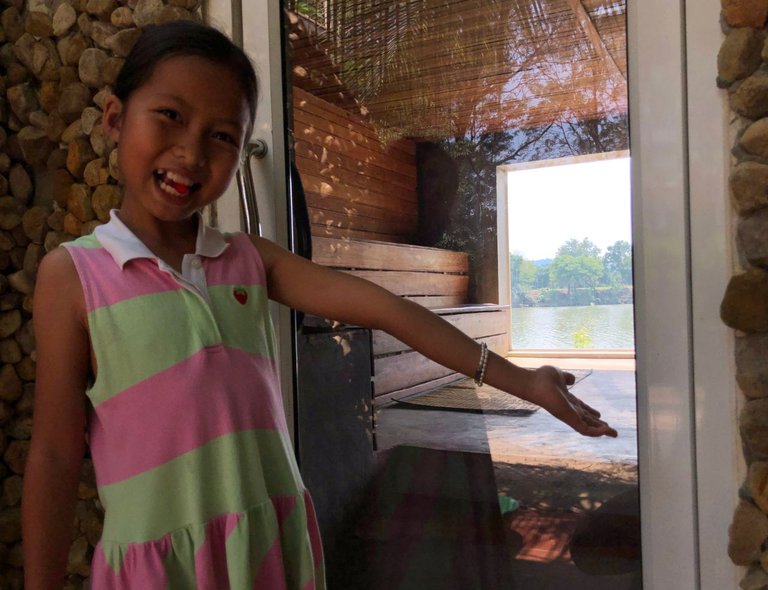 One of the best views can be enjoyed from within the sauna, where you will find a massive window with a view of Bokor Mountain and the river. You may see a kayak or jet ski pass by while inside, and this will only remind you that made right choice by coming to the best place to visit in Kampot, the one and only Nibi Spa.
Steam Room 🧖‍♀️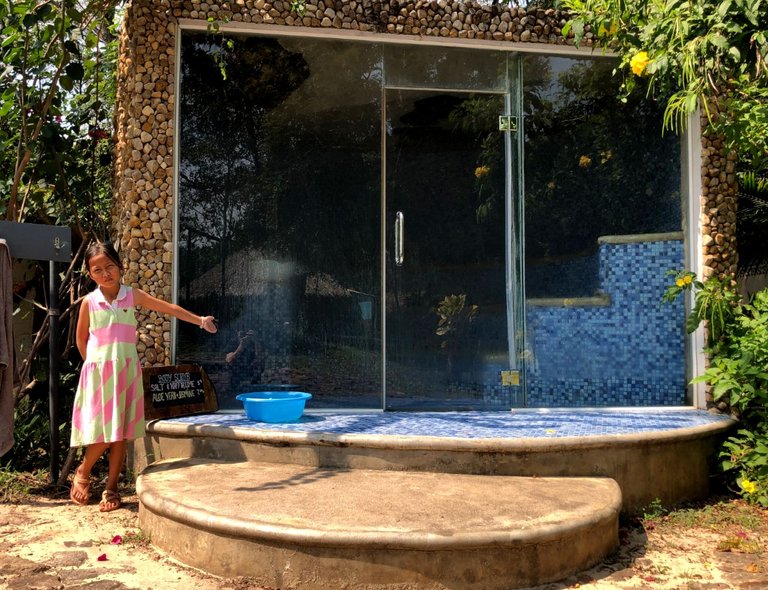 I can remember interpreting some things for the construction crew when Eric and Karine were building this steam room. There is a low spot in the ceiling where the condensation drips back into a collection sink, and this took some explaining because this isn't exactly a normal build for the average Cambodian construction worker. There is eucalyptus in the steam, and I can't explain in words how much more awesome it is than plain old steam. You'll just have to visit I guess.
Cold Plunge 🥶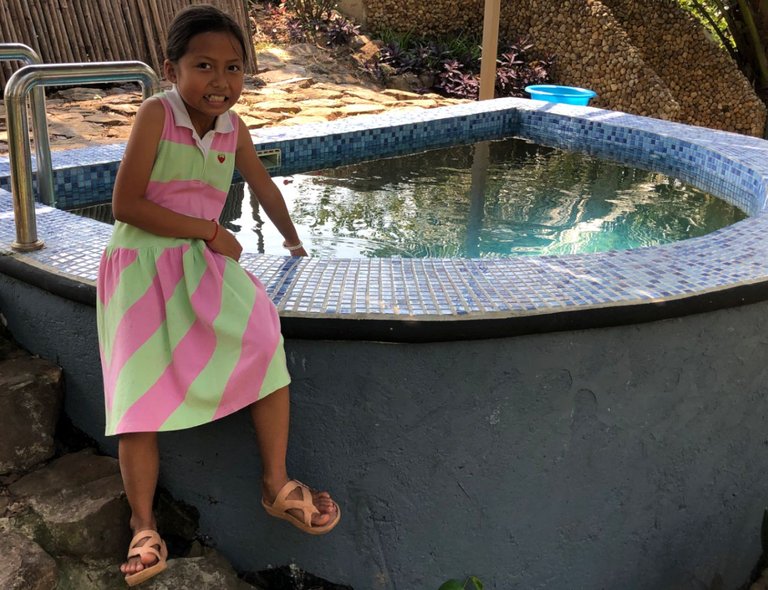 The concept of the cold plunge wasn't something my daughter thought was a good idea. That being said though, it's not much colder than the river at our place back in the Cardamom Mountains, a river my wife and oldest daughter mostly refuse to enter. Well, I personally love a cold plunge, especially when heat is just a few steps away, and it's an easy reset button when the sauna has you sweating bullets.
More Distractions 🌺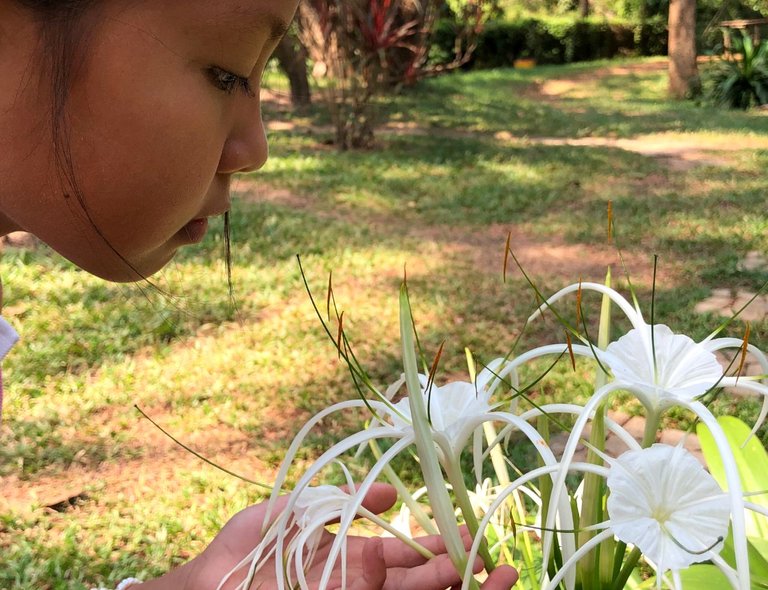 The best place to visit in Kampot is full of pleasant distractions. Not only are you likely to make new friends, you might find yourself taking nature photos for a Hive blog post like me. Traveling isn't free, I gotta earn precious crypto so I can turn it into diesel tuk-tuk fuel and keep this whole show going, right?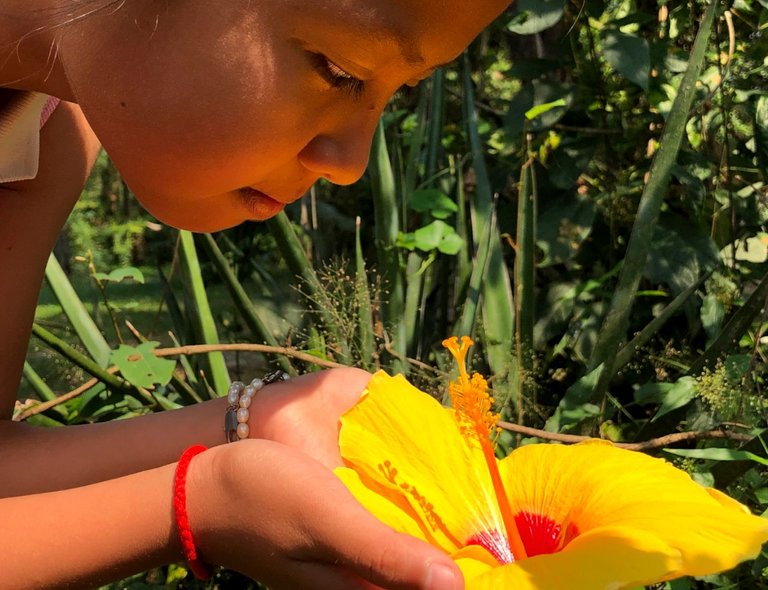 Monkey-B smells flowers, it's a simple formula. What kind of flower is it? I have no idea, but cute daughter + beautiful flower = I feel like a talented photographer for a brief moment. I am just enjoying my time at the best place to visit in Kampot, and hopefully by now the words Nibi Spa are burned into your brain.
Bernie 🐶 Nibi Spa's Canine Mascot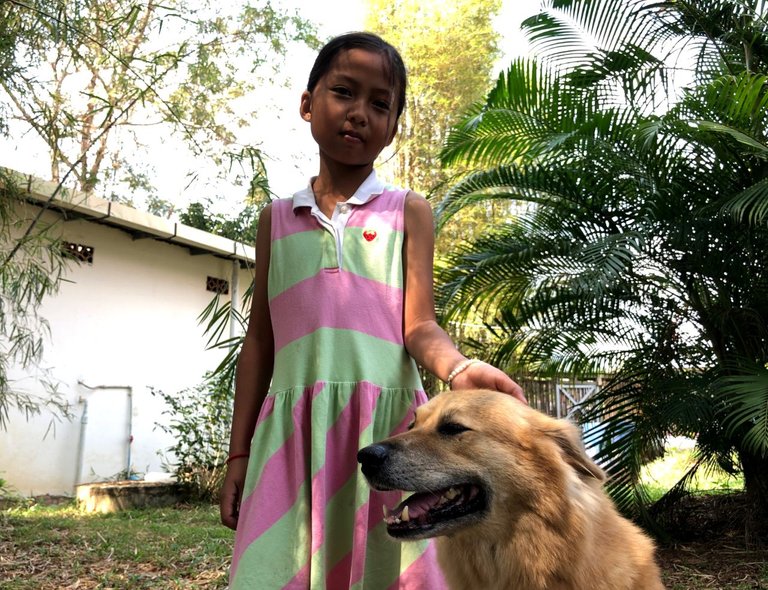 If you're a lover of dogs, one of the must-see attractions here is Bernie the mutt, a gentle sweetheart. He's good with kids and very calm, but Eric and Karine are not allowed any fun adventures without him. He is known for throwing himself in the river when his humans attempt to leave in the boat, so now he's a part of any boat journey.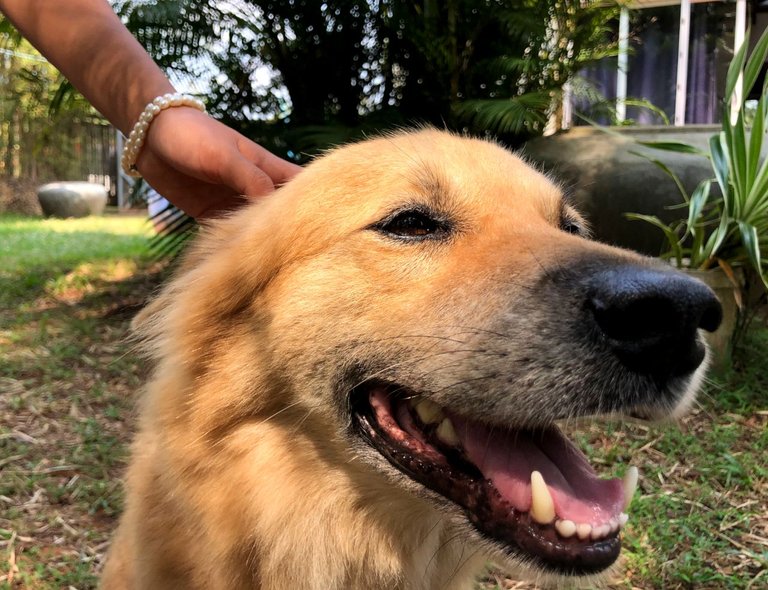 When I used to teach Khmer lessons here, my daughter loved coming just to wander around and hang out with Bernie. He's 100% Cambodian, but taken care of better than most dogs back home in the USA, and somehow I think Bernie is aware of this. He's a good boy, and I strongly recommend you give Bernie a pet or two if you come here. Okay, that's all for now folks, I hope you have enjoyed my shameless quasi-advert, but don't trust my bias, come here and experience this place for yourself if you ever pass through Kampot, Cambodia.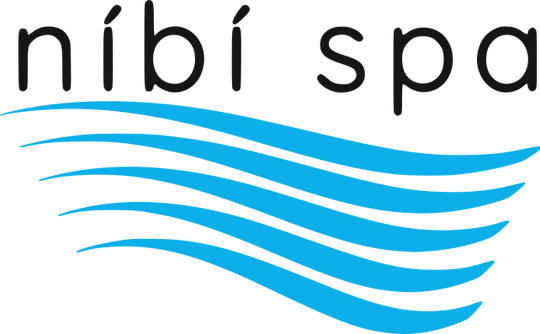 CLICK HERE TO JOIN HIVE AND START EARNING CRYPTO LIKE US
---
---