🛺 Road Trip - Steung Kach To Kompong Chhnang 🛣️ Leaving To Phnom Penh Today 🌆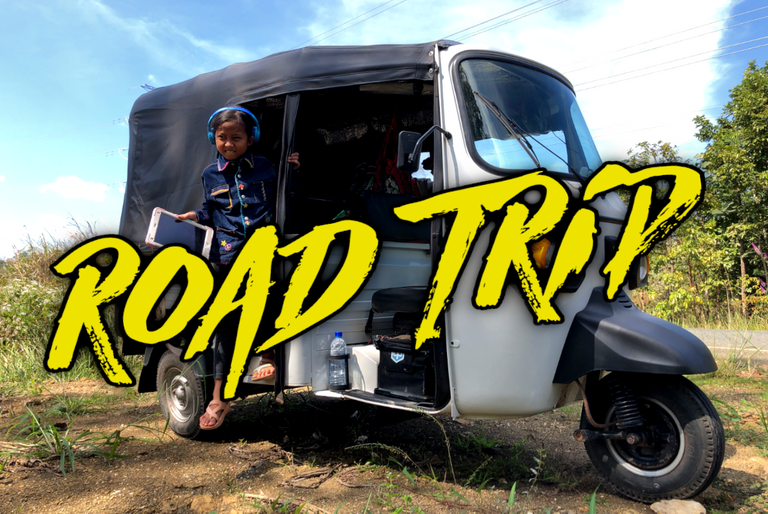 We are on our way to the capital of Cambodia, with plans for shopping, dentistry, and hopefully a little fun too, but not without documenting the trip for Hive to help alleviate travel expenses.
Monkey-B In First ✌️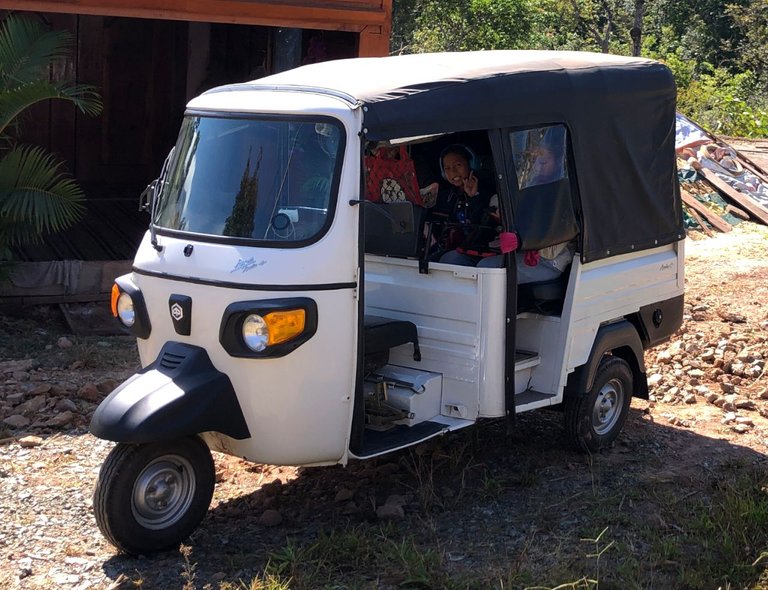 Anytime we fly, drive, or ride, Monkey-B is always the first person to be found impatiently waiting near the mode of transport. We have needed to go to Phnom Penh for many months, but a 6 day a week school schedule makes anything more than an overnight trip impossible except for 3 weeks of the year when school is out of session. Writing that makes me realize I haven't been away from our rural province since I arrived back in Cambodia and bought the tuk-tuk.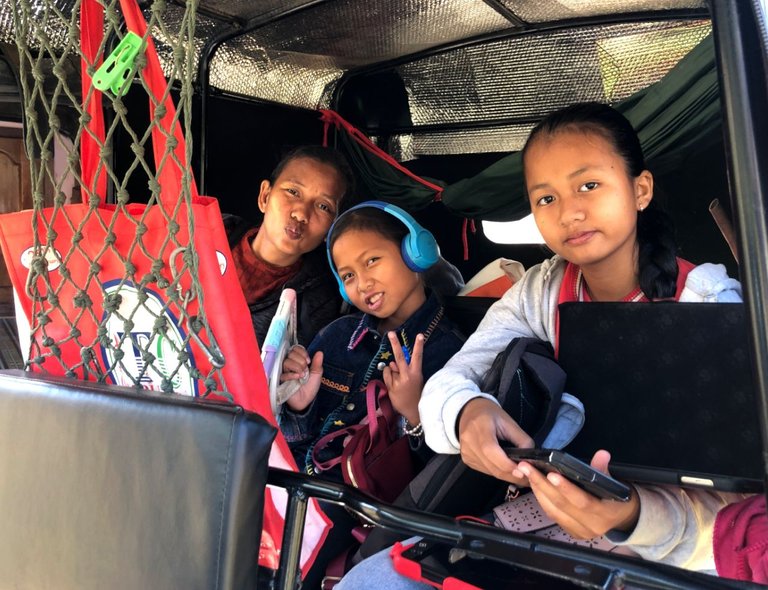 One thing I remembered to do was make everyone bring their updatable electronic devices. We pay per gigabyte on the mountain for internet data, so bringing along the pc, laptop, iPads, and phones on this trip will allow us to save probably at least $30 in phone credit. We prepped the icebox and a large trunk for the journey and hit the road, hoping to cover 250+ km and reach Kampong Chhnang, the last provincial capital before the beast, Phnom Penh.
High Voltage Picnic Stop ⚡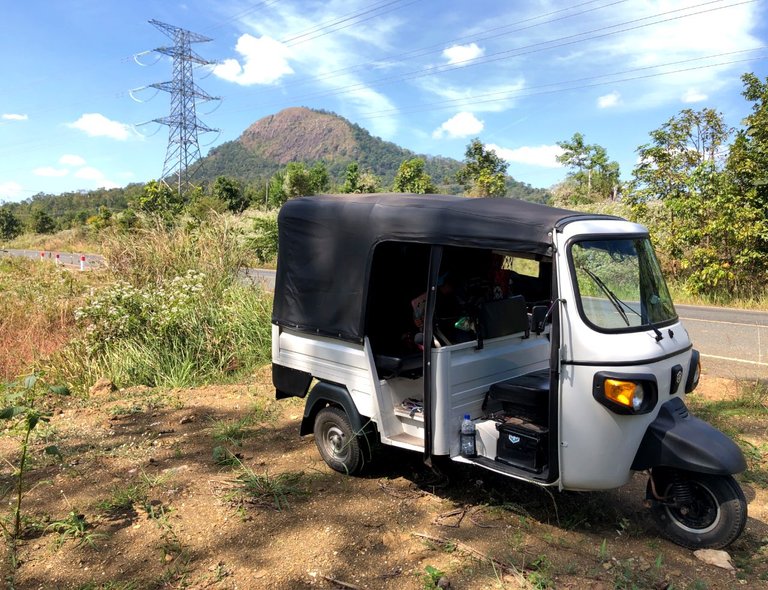 About an hour outside of our old stomping ground of Pramaoy, we pulled over for a picnic stop complete with a green tamarind sour salad bean curd skin sandwiches, and ice cold water. This section of the highway crisscrosses high voltage power lines that more or less follow the road, so I try and make sure any stops are not directly underneath or within the humming sound of these cables of instant death.
A Tuk-Tuk Hammock For Our Smallest Passenger 😊
     On this trip I decided to put a hammock in the back to see if Monkey-B would be more comfortable, and she's used it a bit, but she said it hurts her chest, so not sure what that's about. I'm sure in the capital it will be a bigger hit when we're stuck in traffic or parked for long periods of time.
All Work No Play 🛣️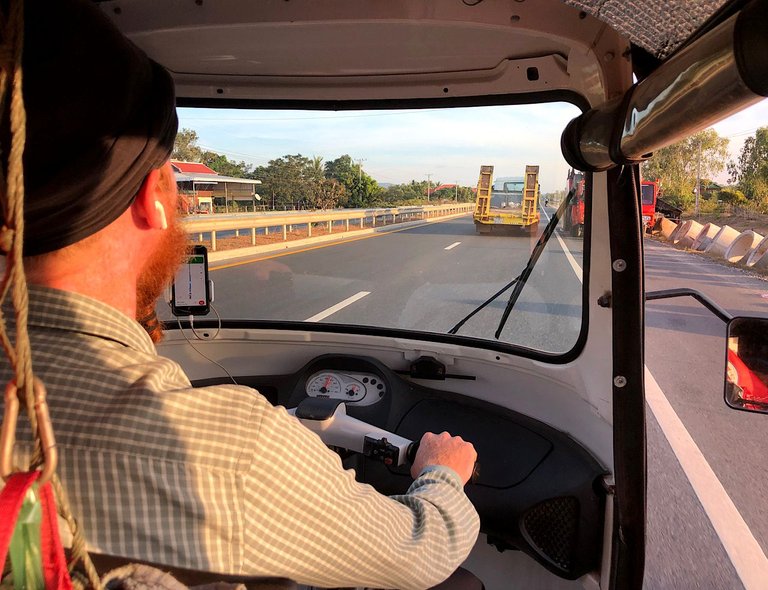 Road trips aren't necessarily fun for me because I still have endless hours of ASEAN Hive work and a personal blog to manage, and that already consumes my days til the wee hours of the morning. During road trips all this daytime work potential is lost, and because my family still hasn't learned how to run ASEAN Hive yet, I have to end the day's travels at 4 or 5pm so that I can work online nonstop until early in the morning.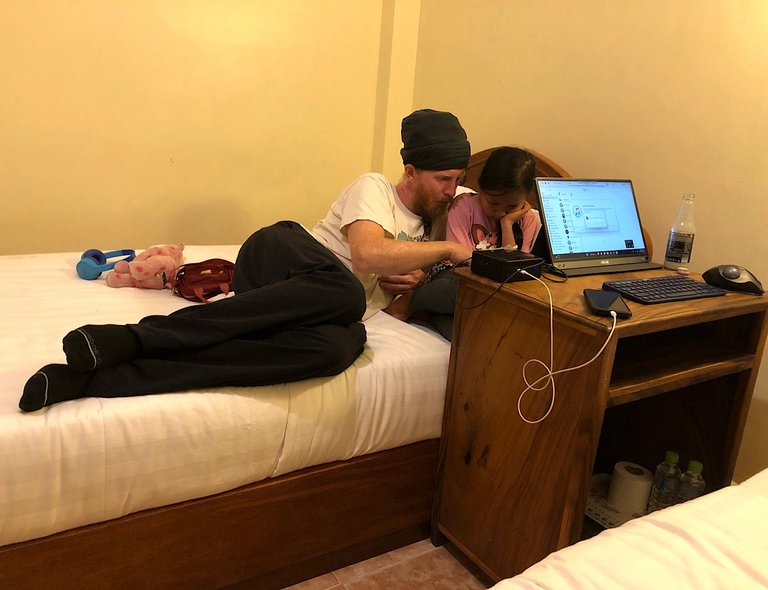 We could've easily reached the capital in a day, but I stopped in Kompong Chhnang after 254 km to do ASEAN Hive work and make a post to alleviate travel expenses. We chose a hotel with wi-fi, and while the ladies were sound asleep, I updated all their devices and apps while I did all things ASEAN Hive. Even as I write this now, my ladies are waiting on the beds anxious to hit the road again because 10am is a late time to leave, but this is the best I can do given my circumstances. To be continued in Phnom Penh....

CLICK HERE TO JOIN HIVE AND START EARNING CRYPTO LIKE US
---
---