Steung Kach Is Raging 🌊 Calling All Whitewater Boaters 🚣‍♂️
It's been raining heavily in the mountains for several days, and the river is now a raging torrent ready for whitewater sports.
Calling All Boaters 🚣‍♂️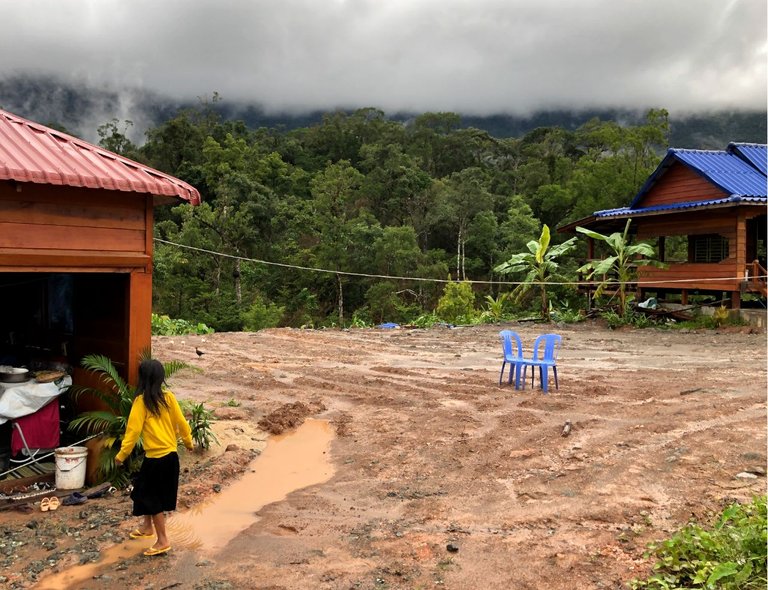 The river was really loud today, so I decided to go have a look and check the water level, which happened to be the highest I've ever seen, and super close to the hammock huts. When I saw the state of the river, my mind began imagining the paddling possibilities of this river.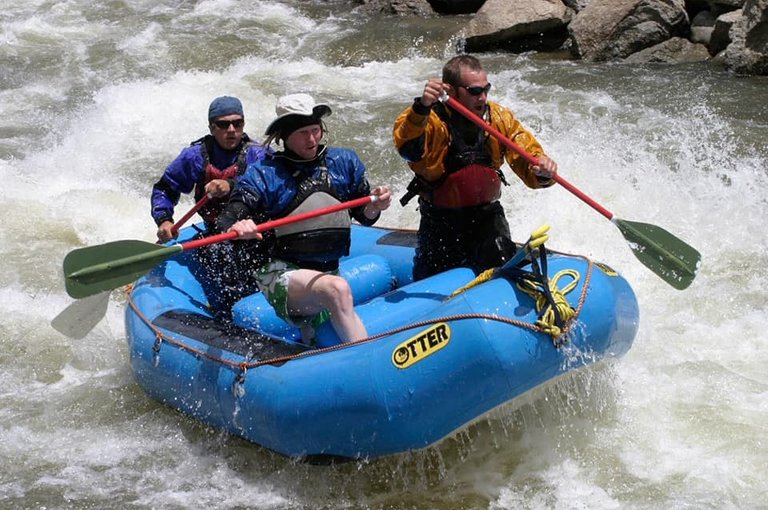 Yep, that's me on the Arkansas River in Colorado in a former wilderness guiding life. I used to do a lot of whitewater boating, but I'm particularly poor kayaker, but I loved rafting, especially R3 (3 people), R2 (2 people), and duckying (alone in a tiny raft).
Steung Kach Possibilities 🌊
     Our home is basically the headwaters of Steung Kach, and the first real rapids are in our backyard. It's a bit of a shallow river, so I never assumed there were any kayaking possibilities until several more kilometers down river, but at highwater this river is a beast. Even as a former whitewater rescue technician, I would be very hesitant to swim Steung Kach under these conditions.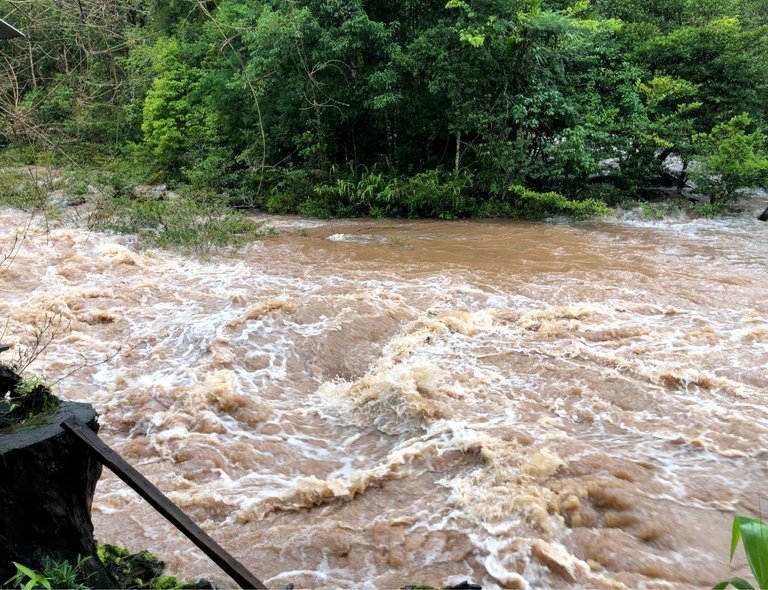 I actually took these pics and short videos to share with my old adventure friends in Colorado that are still living this life and have all the gear and careers to fund massive outdoor adventures. I'd love for one of my old buddies back in Colorado to bring some kayaks or an R2 raft over here so we can make a first descent of Steung Kach.
     There is more than enough depth at highwater for boating, and I am surprised to see some proper whitewater in Cambodia, and even more shocked that it's actually my backyard. In the above GIF there is a little surf hole that many of my old friends could spend several minutes in doing flips and barrel rolls, etc., but my kayaking skills never reached those levels.
Brown Is Beautiful Too 💩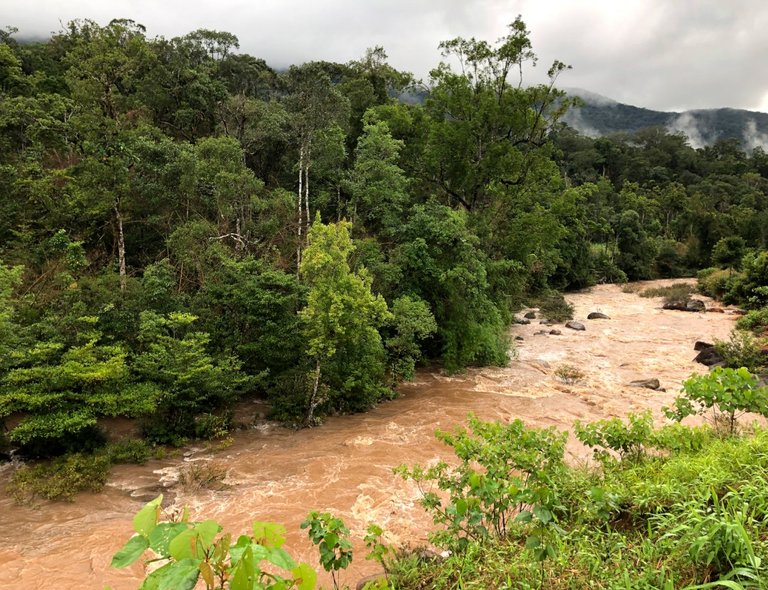 Usually I'm attracted to the river when it's crystal clear and calm because these are the conditions ripest for family swimming. However, I like to see this raging brown beast too, it's just as beautiful in it's own intimidating and dangerous way. There are at least 10km of this river running near the highway, so support for a boating expedition would be fairly from our house to a bridge about 15 minutes away where the river goes into roadless territory where there is still land yet to be checked for landmines and/or demined.
     I know all the boulders in the river and the way it looks during low and clear waters, so I am surprised to see boulders the size of small houses completely underwater, even ones I've had picnics on top of. In the world of whitewater sports, "strainers" are obstacles like rocks or logs that let water pass, but that would catch a human. There are plenty of strainers in this stretch of river, so I was just having fun pretending to scout the river as guide plotting the first descent.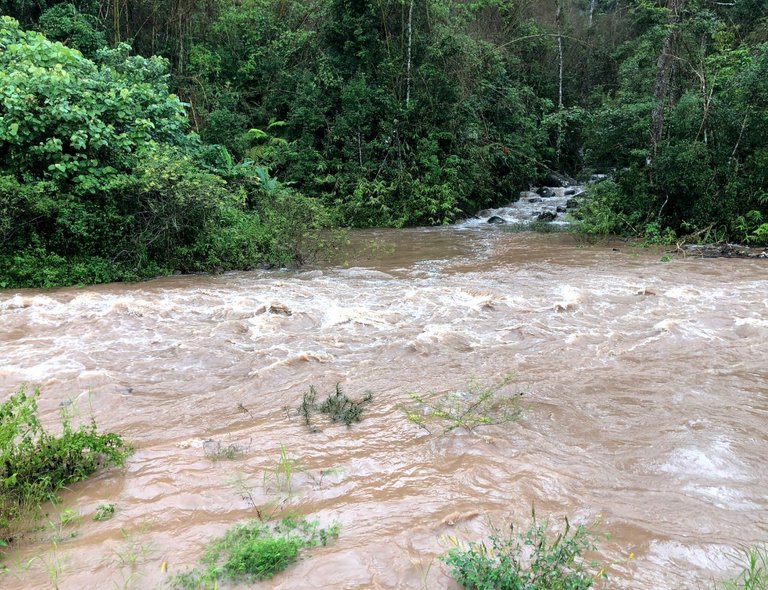 Even though I have no boats, no proper PFDs, and no whitewater gear at all anymore, it is still to now know this river is runnable. I really hope a Colorado friend decides to come over some day and help make the first descent of this river. Sometimes companies will sponsor such a trip for the video footage, but things like these usually take a long time to manifest.

CLICK HERE TO JOIN HIVE AND START EARNING CRYPTO LIKE US
---
---