🛺 The Piaggio Bamboo Hauler 🎍 Surprise Wheelies Anytime, Anywhere 😮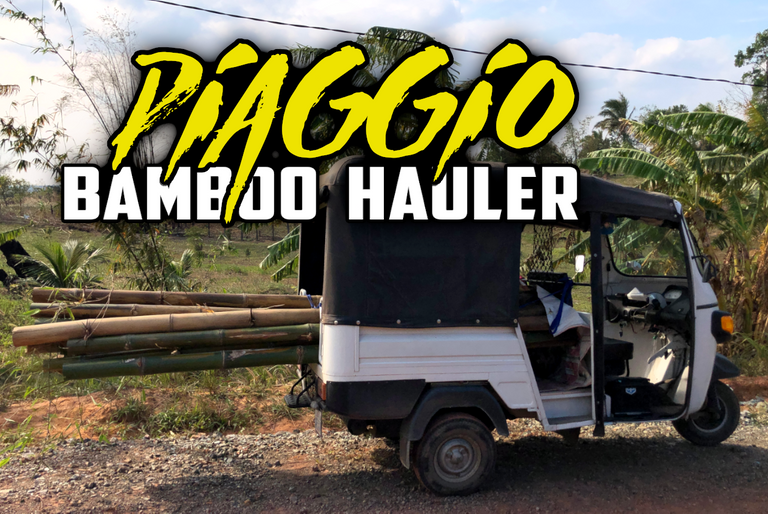 Our fence project is moving along steadily, and now we've secured a source of Chinese bamboo about 18km away near where our kids attend school.
An Affordable Picket Source 🎍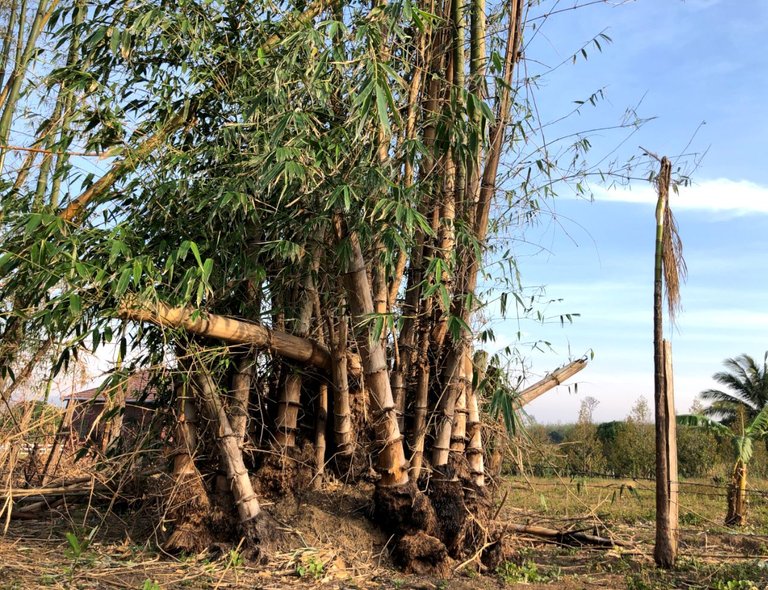 We are a family on a very tight budget, so I knew when would make our fence that we'd have to find a solution other than wood to be used as the pickets in between the fence posts. I had hoped bamboo would work, but the local variety available for free in the forest is not construction quality, and disintegrates in less than a year's time.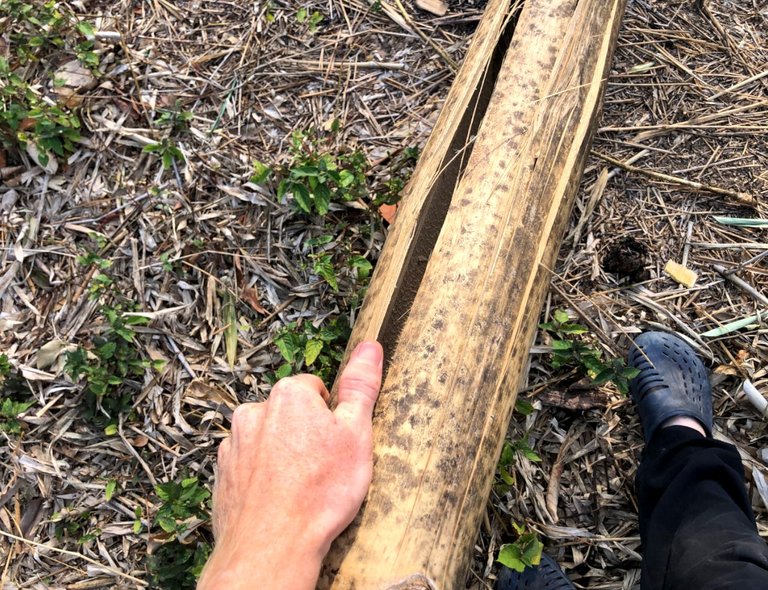 Several months ago I noticed a pickup truck loaded with fat green bamboo climbing the mountain, and ever since then I've been trying to figure out where it came from. We recently had a breakthrough, discovering the location, and also that the landowner wants all the bamboo gone ASAP to make room for his expanding durian farm.
You Cut, You Pay 🪓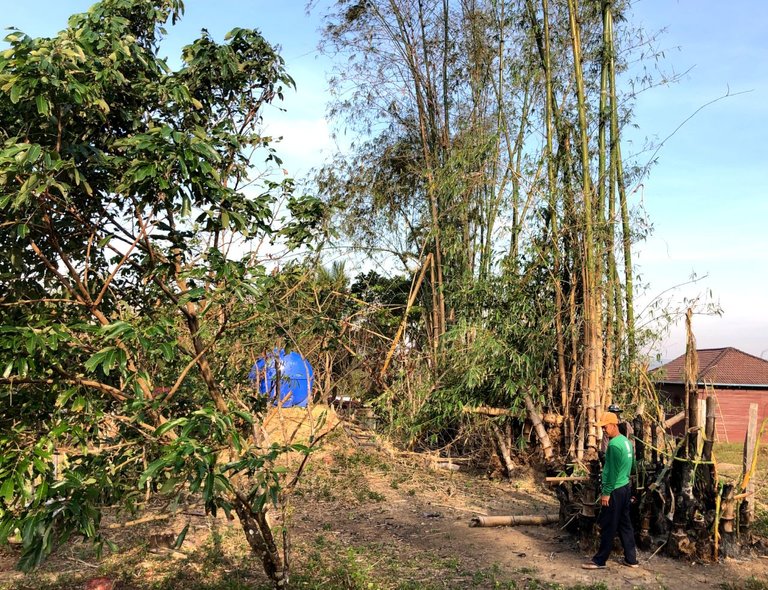 A quick chat with the landowner, and we worked out a deal to pay 75 cents per tree. We have to cut it and transport it ourselves, and so far the tuk-tuk seems capable of transporting 20x 3-meter pieces per trip, which is about 7 bamboo trees. There are about 40 trees left to cut and take away, and we promised the landowner we'd take it all, it's hard to resists at such cheap prices.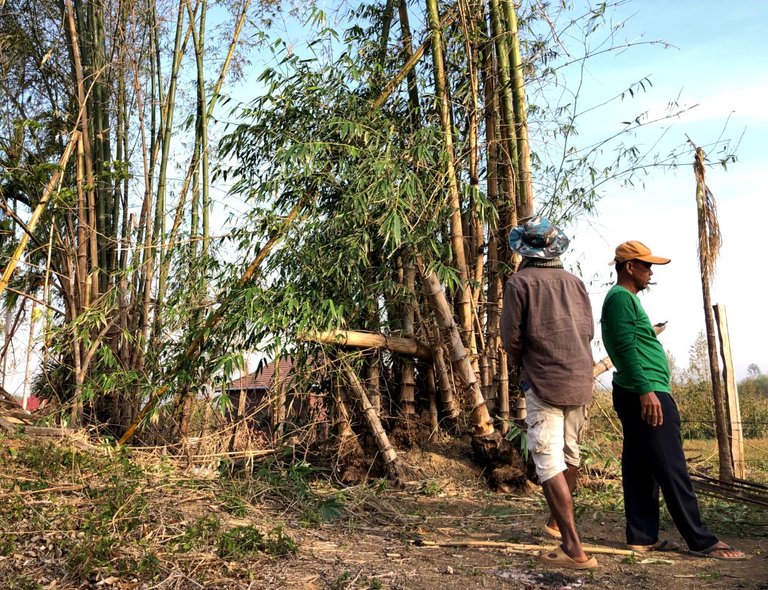 The number one most important thing when we cut the bamboo is to make sure no durian trees are damaged in the process. Windy days are no good because the bamboo is so tall that it can fall in any direction, so we basically just come here when the weather permits. With 40 trees left to cut and transport, I guess I have about 5 or 6 more trips to make with the tuk-tuk before we've cleared the land of all bamboo.
Not Your Average Bamboo 🐼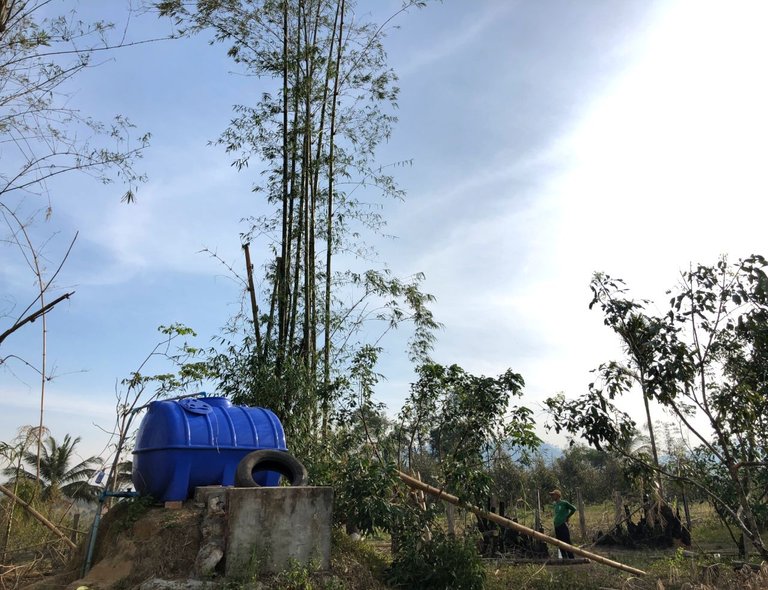 I asked the landowner if this bamboo's shoots were edible, and he said they were delicious. Goof for construction and good to eat, that's a winning combo, so we have a few stalks and shoots in hopes they will grow roots and we can establish this species here on our land.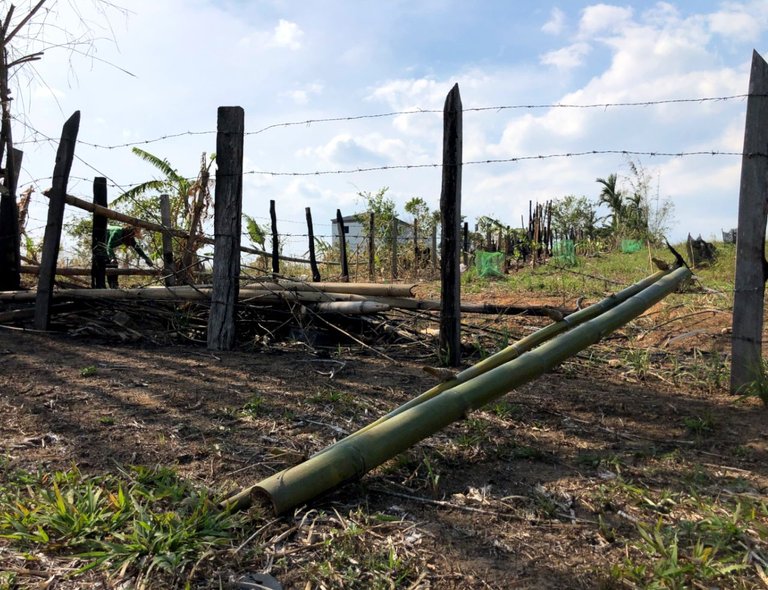 This bamboo is incredibly heavy compared to the wild bamboo I am used to working with, or more accurately using the wild bamboo to make kindling for firestarting. I am only able to carry one or two of these stalks across the field at a time. We discovered a nearby road that is actually closer, but I have to walk across a field to get the bamboo to the tuk-tuk. As I am the youngest, I opted to do the heavy lifting job and let the guys do the cutting.
One By One 🛺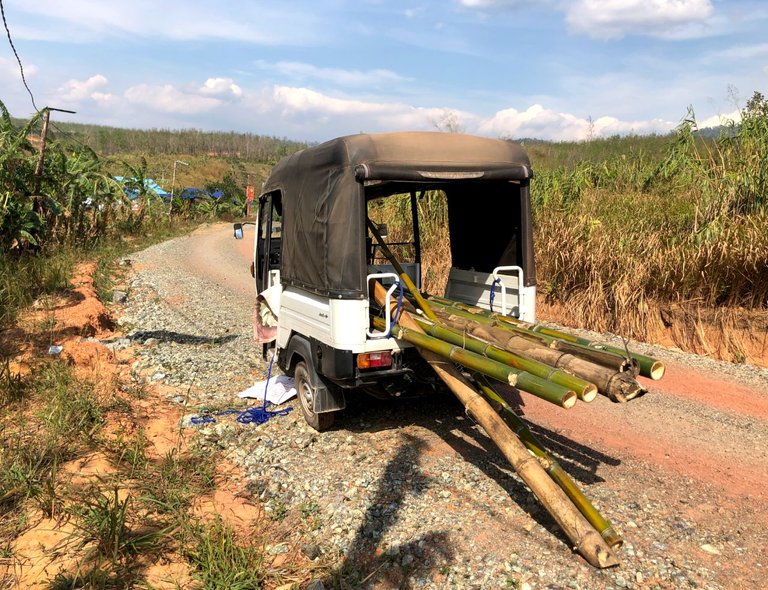 The road that I parked on is actually the road I used to use last year when I took the village kids to a school halfway to the town. Teh bamboo is actually visible from this road, so I wonder how I never noticed it before. My biggest concern was the fulcrum effect from having so much bamboo jotting out behind the rear axles. The suspension wasn't squatting, in the back, but the front end was getting very light, so I stopped at 20x pieces.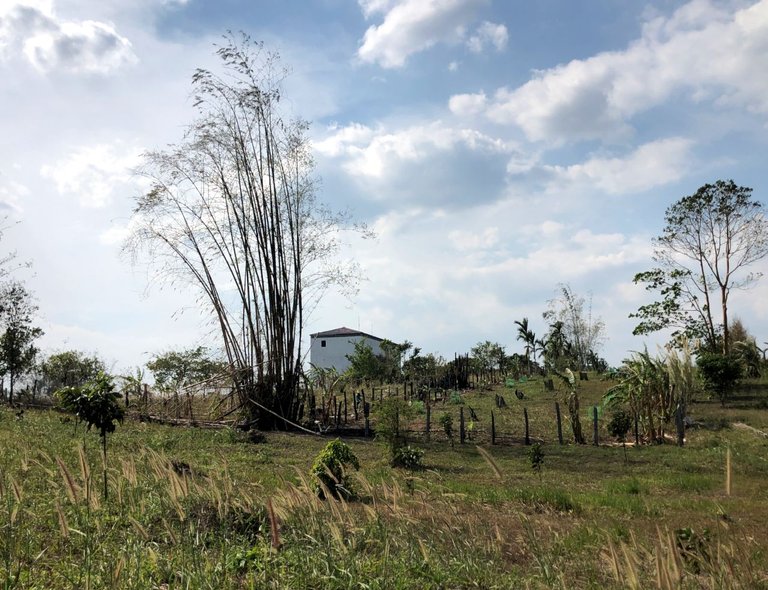 Piece by piece I carried the bamboo across the above field and loaded the tuk-tuk. In retrospect I now know I need more weight in the front, so perhaps with a passenger sharing the driver's seat I could add 5 or 10 more bamboo stalks. Most of all I was glad to not encounter any landmines or king cobras, two things that this area is full of.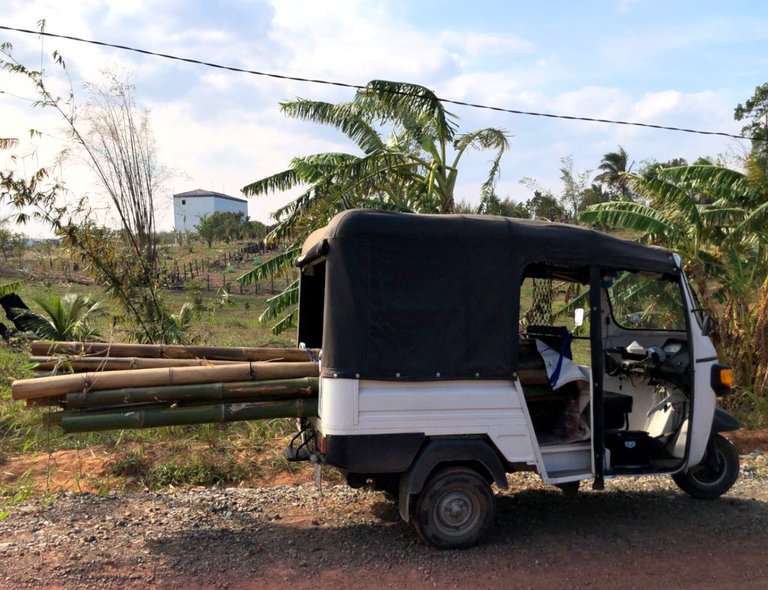 Above is the fully loaded tuk-tuk, a true wheelie-poppin' machine. It's a shame we need the bamboo cut at 3 meters in length because I could carry so much more at 2 meters long. Oh well, it's not a terrible trip, and some of the runs I could do on my way back from shopping or other errands.
Safe Arrival & A Surprise Wheelie 🏚️
     I knew the front end was light because the suspension was rattling on the way home, a sign the shock was under almost no load. Going up the mountain and banging gears, everything seemed okay, but the little lip that I have to climb to get in the hardly a garage caused me to pop a surprise wheelie, allowing me to arrive home in style 🤣.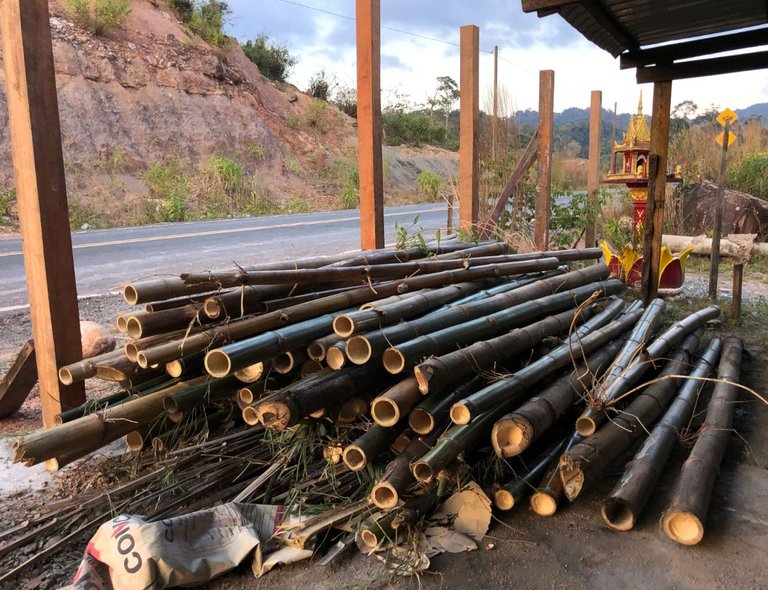 I've had little time for much engagement on Hive and missed several posts because of this project, so I'm having a hard time juggling funding the work while still participating in the work. Well, it's certainly satisfying to see the fence posts in the ground and the mound of bamboo stalks growing day by day. That's all for now folks, more wheelies and picket fences in the near future......

CLICK HERE TO JOIN HIVE AND START EARNING CRYPTO LIKE US
---
---