A 2021 Challenge ~ Getting to Know One Another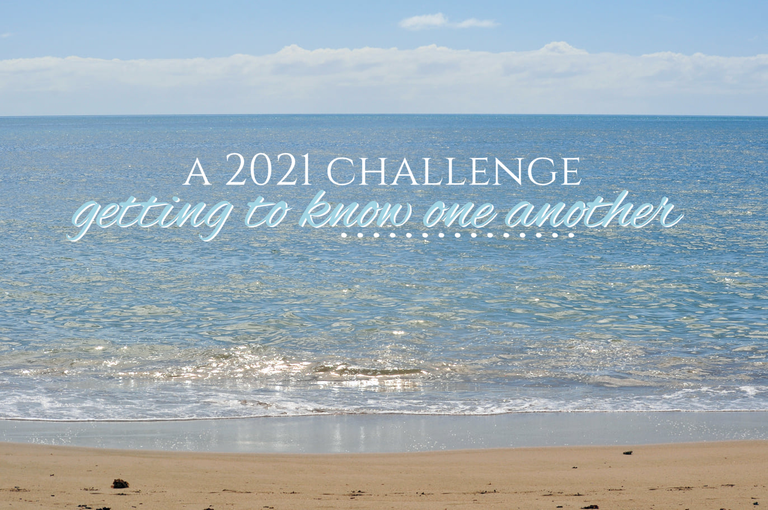 Yesterday, I was tagged in a challenge post by @emuse. I haven't been tagged in a challenge since forever! I think the last time was way back when I very first joined the parent-blockchain and the challenge was to talk about where our usernames came from.
If interested -- @kaelci comes from my second ever World of Warcraft character. She was a hunter, and was most certainly not my favourite character, but I really liked her name and ended up using it as my internet alias. I also really liked the "Kael" bit of the name and have used that as my characters' surname in any games that allow a surname. AND! Ended up using it with a C, Cael, for my character's name in the book I wrote and everyone hated, Vengeance. 😅 (There is also Caelin, a descendant of Cael, but he hasn't been published yet.)
ANYWAY! I'm babbling already, and not even about the challenge yet. Just about the previous challenge!
---
The challenge is:
Answer these questions:
What have you done in November?
What are your plans for December and the new year?
How's 2021 treated you so far?
AND
I also challenge you to make up TWO new questions!
Tag three (or more) of your friends on hive, and let us get to know each other a little bit better!
---
What have you done in November?
I'm not a very exciting person. And I guess I'm even less exciting thanks to Covid hanging around. Not that it's really been affecting me, personally.
I don't really go out anywhere, I don't travel, I have no desire to visit the other states in this country, and Queensland has been really good at keeping the virus at bay, so in my regional area we don't even have to wear masks or anything, all businesses are open, etc.
My Google Timeline message for November literally just came in today!
Apparently I have walked 75km, visited our local Queens Park, the Rose Gardens, and a little coffee shop called Alowishus.
Ahhh yes, Alowishus. Where I went for a job interview and failed remarkably.
I ended up getting feedback from the interviewer -- apparently I was lovely and she really liked me and my accomplishments, however, my lack of confidence is not what she's looking to mentor right now. My damned anxiety and babbling and overt nervousness has struck again! If only I was a normal person, able to conceal the nervousness and act confident in an interview setting, I would have paid employment right now.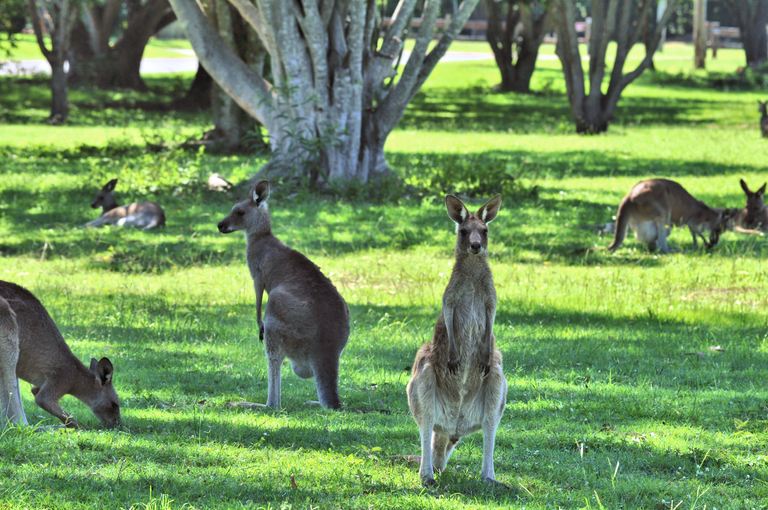 Just some Skippies that have overtaken one of our local parks and now we can no longer go into it without fear of being kicked in the face and disembowelled. #straya
What are your plans for December and the new year?
My son finishes school for the year next week! And I'm so happy that I don't have to walk 6-12km a day in 700% humidity beneath the glaring sun for the next 6 weeks.
I can sit on my butt and relax!
Hooray for school holidays! Boo for choosing a school that's 3km away when I don't drive! 😅
But yes. My son finishes school next week and our Summer holidays will begin!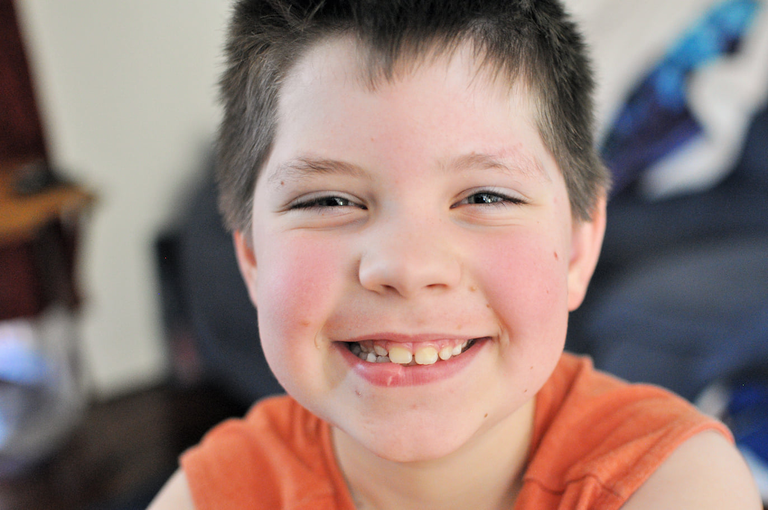 My son! Up close and personal!
We're a quiet family. We don't really have much planned. We'll need to do a thorough clean of the house soon and pop up a few decorations for Christmas. Unfortunately the house we live in isn't big enough to put up a tree, so we just have a little one that sits on the dining table.
I'm planning on baking and making lots of yummy goods. Need to make some White Christmas which is just white chocolate melted, and mixed in with Rice Bubbles and glace cherries and sultanas and coconut, then set in the fridge. A nice easy recipe for my son to help with.
Also lots of rum balls! Which are known as truffles in other countries. I'm not sure why. When I think of 'truffle' I think of pigs digging up special expensive mushrooms.
On Christmas we'll likely go to a friend's house for the day and drink and eat way too much food. I need to make a trifle! I make a trifle for every Christmas day and have for twelve years now. I love the stuff so much.
No plans for New Years. 🙂 I'll probably be in bed at 10pm, haha! And will get rudely awoken by drunken people shouting at midnight. Woo.
(Have I mentioned yet that I'm not very exciting? 🤣)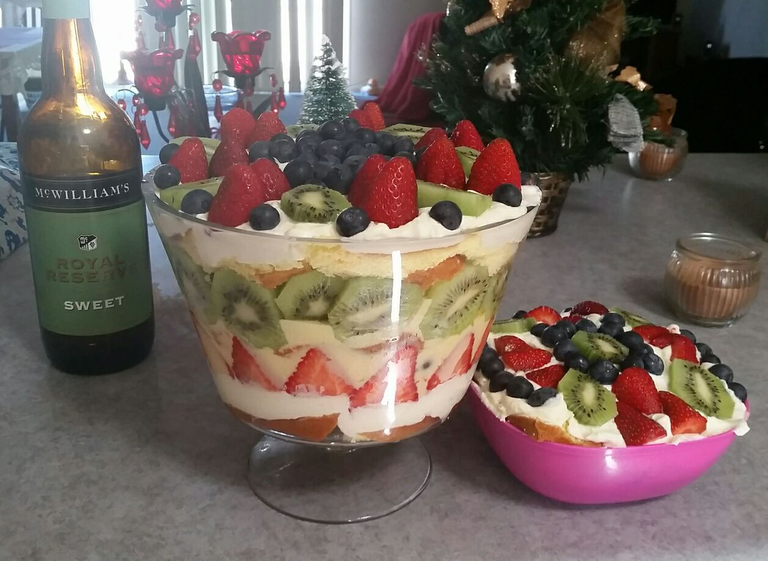 My trifle, and a small unalcoholic trifle for the child, that I made a couple of years ago. Last year's one was a chocolate Baileys trifle instead of a normal Sherry trifle, and it was not photogenic! 😂
How's 2021 treated you so far?
We've had an... interesting... year.
I moved to this town around the beginning of December last year so have been settling in. "This town." A town I lived in from 2002 to 2012 and swore I would never come back to. Well. Here I am. Back! 😅
Being back here hasn't been as bad as I thought it would be. But that's likely due to growing up a bit and no longer bothering with toxic people. I stay in my own little bubble -- I like it in there!
I've been searching for a job, to no avail. I am qualified for Retail and Administration. But, the Retail places want teenagers fresh out of high school and the places with Admin openings want people with experience. I am qualified and certified, but have no experience. So it's been a struggle. And when I finally got an interview for an admin position, as mentioned in my ramblings above, I failed! 😅
⭐️I need Hive to become my employment. Hivey-wan Kenobi! You're my only hope! ⭐️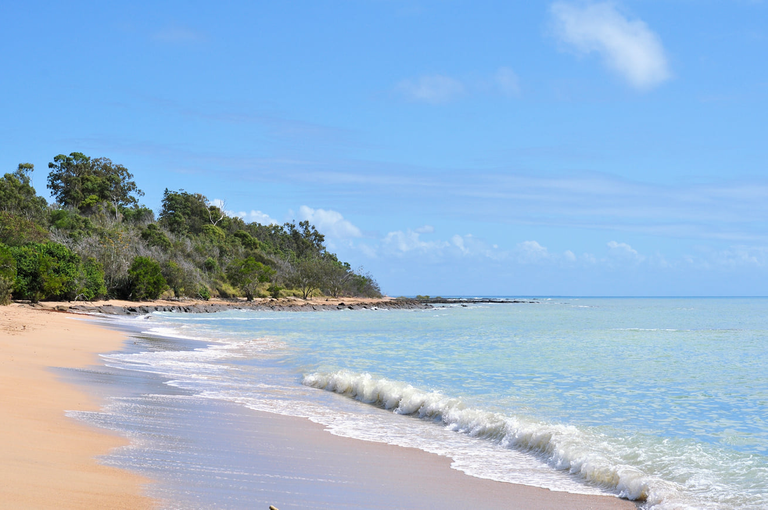 Appearances can be deceiving. Mere minutes after taking this photo, a sheet of dark clouds rolled in and it rained on us and we had to hurry back to the car before my camera could get hurt! 😮
So I moved to this town, have failed to find employment, and family disaster struck also.
A family member passed away in January thanks to a very sudden onset of lung cancer. He was literally healthy one week, and near comatose the next. And then in May, another followed from old age.
So we've had a bit of sadness and grief this year.
At least, as mentioned above also, Covid hasn't really affected us. Apart from signing in whenever entering a business, and getting vaccinated, it honestly might as well not even exist it's affected us that little. 🤷‍♀
I also haven't written enough this year. I published Half Past the Moonfall in 2019, and Vengeance in 2020... my original goal was to get another book out this year too, but I just haven't been motivated. The ideas are there, spinning around and around, but I have this habit of getting emotionally entangled with my fictional characters and I just don't feel like breaking my own heart as I make them get hurt. Not yet anyway.
It's like I can only write fiction when I'm feeling down myself, and although this year has been a bit of a downer, I don't "feel" down. I'm rather content. Which, apparently, is not conducive to creativity! 😂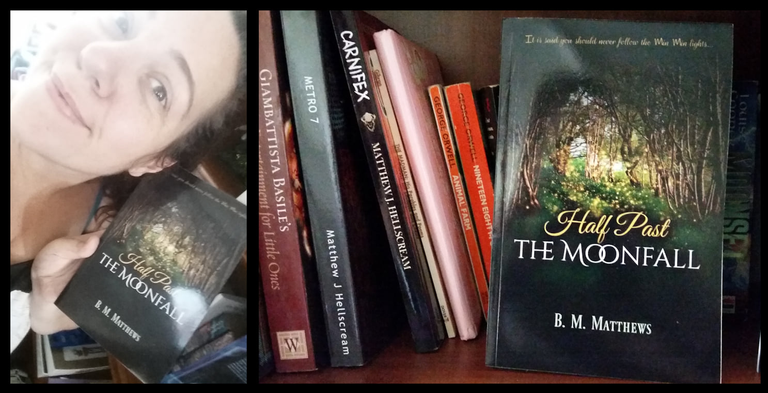 Me and my first self-published book!
Anyway, that's it.
I'm sorry, I'm really not the best at creating my own questions! I would honestly just be taking them from someone else's "twenty questions" type thing... 😅
But!! I will happily tag a bunch of Hive Peoples to join in!!!!!! 😁
Until next time,
Thanks for stopping by!! 🙃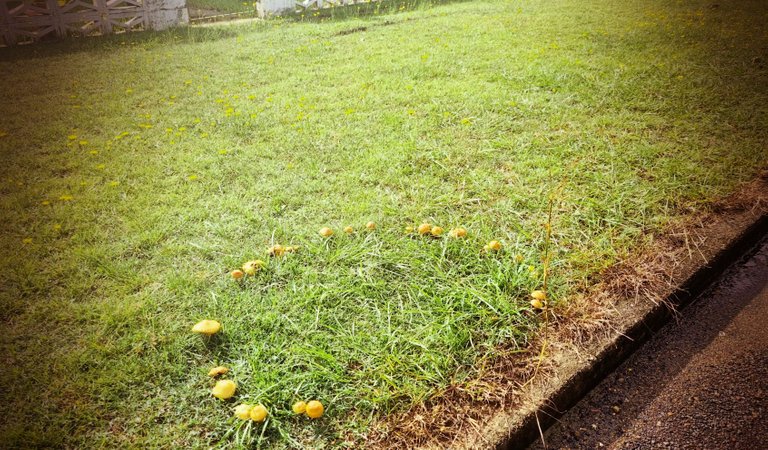 A ring of mushrooms we walked past the other morning. I thought it was spiffy!! This was literally the first time I had ever seen a bonafide RING of mushrooms!
---
All photos in this post are courtesy of me, @kaelci
---
---