A Month of the Sims -- Day One!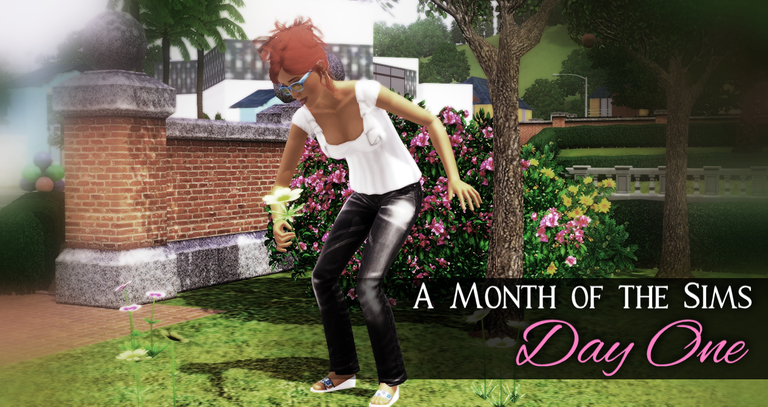 A whole month? Of the Sims? And starting before the actual start of a new month? Madness! 😅
I just had the sudden urge to commit to a game and create a story with it, daily, for a good chunk of time. Likely having a break on Christmas, of course. But basically a solid month.
My choice was between the entire Dragon Age trilogy, starting with Origins, and the Sims 3... and I chose the Sims, simply because there's more opportunity for random storylines to occur to me with this and I know the entire Dragon Age series off by heart. It's almost as memorised as Monty Python and the Holy Grail is. I can recite that entire movie. Halt! Who goes there? It is I! Arthur! Son of Uther Pendragon, from the castle of Camelot!
cough.
Welcome to the start of a brand new Sims 3 adventure. Let's begin!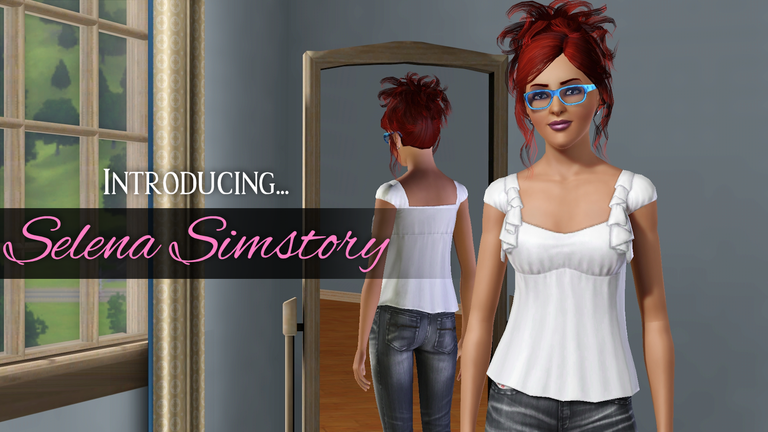 Selena Simstory is a budding stylist ready to charm her way into the hearts and savings of all those who live in Sunset Valley. She's a schmoozer, charismatic, a good cook, a perfectionist, and a little bit of a diva. All things that will one day enable her to reach her lofty goal of becoming the world's most premier stylist and not burning down her kitchen every time she cooks waffles.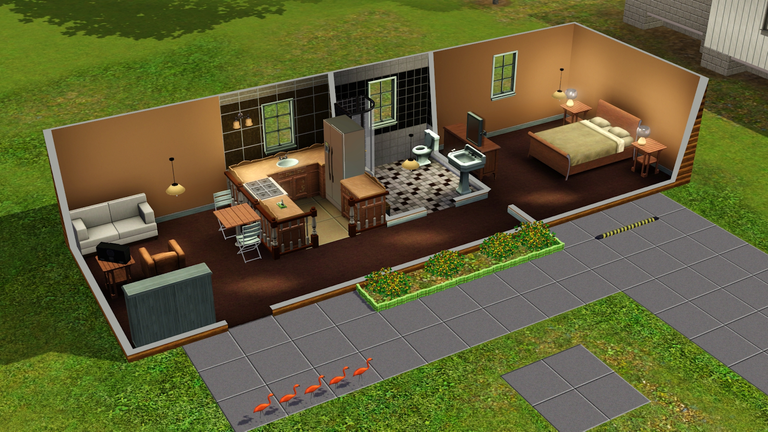 She purchased and redecorated a cheap plot of land close to town and close to the style salon she intends to work at and one day gain ownership of. And left the previous owner's flamingos along the path. They add character to the house, she thinks.
(Maybe she won't be such a good stylist after all.)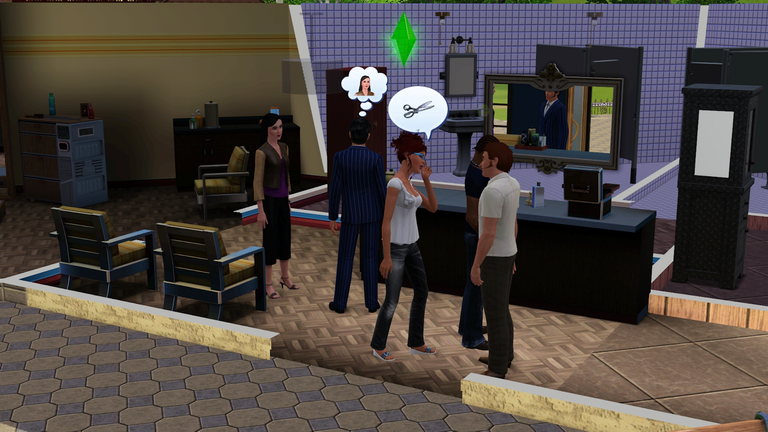 After making sure her belongings fit neatly within her new house and that there would be plenty of room to dance about if need be, she waltzed across the road and through a neighbour's yard and arrived at the local salon and tattoo parlour.
A few people stood bored by the counter. One of them clearly the bored manager of this establishment. Selena schmoozed her way over to him and within five minutes was an employed employee ready to shove random people into new clothes and cut their hair.
She had two days of free time before she could start. That was fine. She would go to the beach and soak up some sun.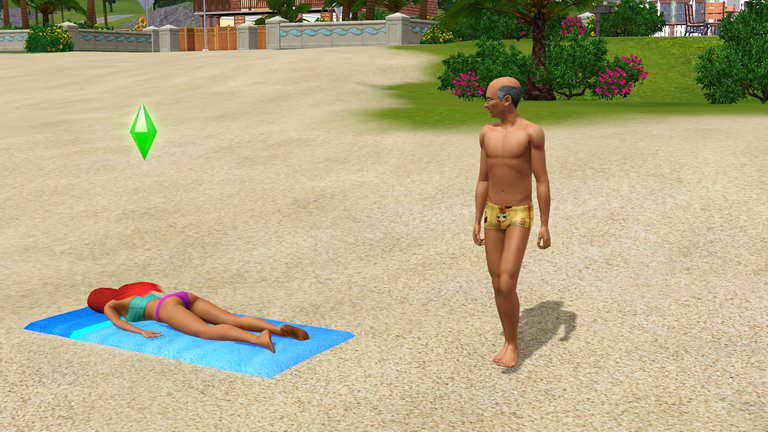 And soak up the sun she did!
Until a creepy old man walked past and ogled her butt.
Maybe she would go for a swim instead.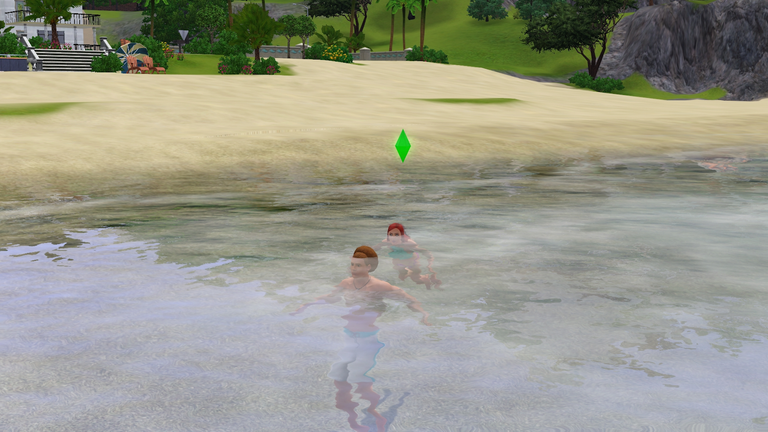 No sooner had she jumped into the ocean when bad hair bobbed up and down in the distance.
Unable to help herself, she found herself swimming towards the bad hair, making slicing motions with her fingers as she closed the gap between them.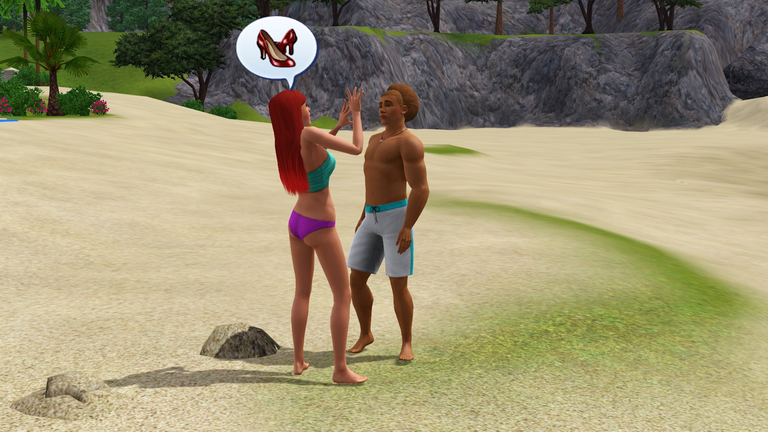 Unnerved by the strange sounds behind him, the bad-haired-man hurried out of the water and confronted Selena.
Taking it in her stride, she tried to tell the bad-haired-stranger all about how she was a stylist and could perform wonders on that terrible hair of his.
He wouldn't have it and soon left her to her own devices, ranting and raving upon the sand.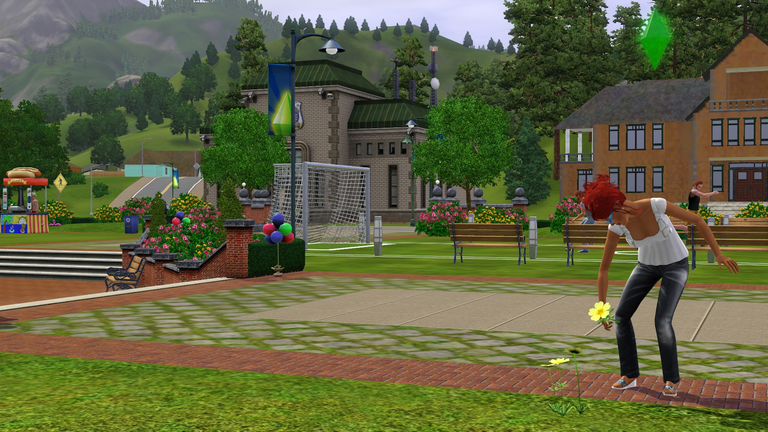 Selena had one more day of freedom before she began harvesting people's hair and turning them into new clothes. The Summer Festival was in town, so she thought she might go down to the park and check it out. And got distracted by some plantlife.
These petals would look great on some skirts, she thought to herself.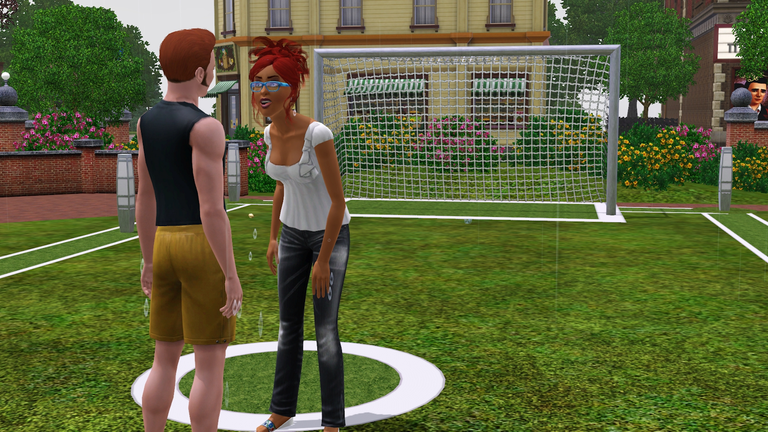 After spending an hour or so ungraciously gaping at random young men, it began to rain.
Not wanting to catch a cold mere hours before her first shift, she hurried home.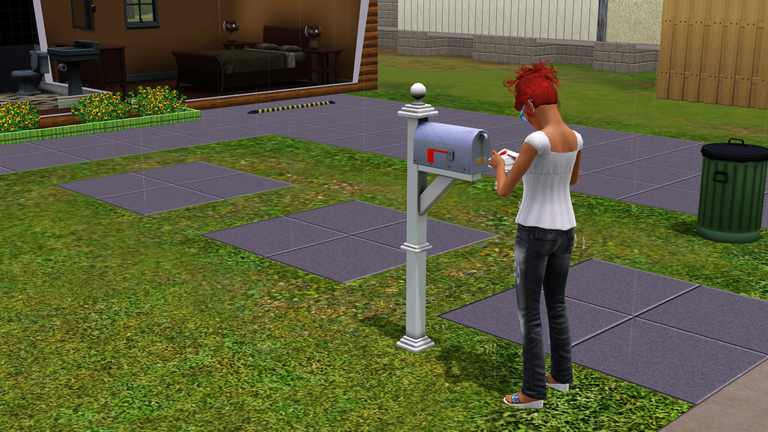 ...only to find that despite only moving into this new house the day before, she had been delivered a handful of bills already.
"Welcome to independent adulthood," she muttered to herself, signing her name across several cheques. Hopefully they wouldn't take the money out of her account until after she had gotten paid for a few shifts.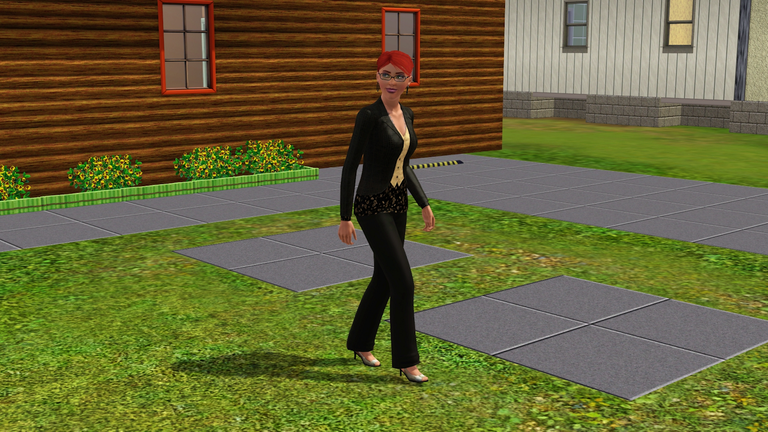 At last, after a restful night of sleep, it was her first day of work as a stylist! All those years of training were going to take her to great places -- GREAT places! She would be cutting the mayor's hair before she knew it.
She just knew it!
Arriving at work 10 minutes early, a man rushed in eager for a new wardrobe.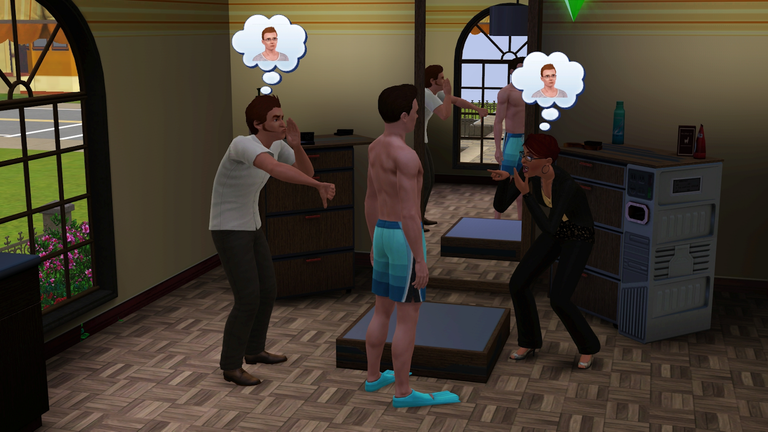 Selena and her new boss proceeded to heckle the man for the longest time before at last allowing him access to the Magical Makeover Machine with which Selena would work her scissors.
Who just waltzes around in their trunks and swimming flippers? No wonder he needed a new style! And Selena was happy to demonstrate her powers. And demonstrate them she did upon several clients and customers throughout the day.
Most of them were quite pleased with the results of their respective makeovers, yet others were lesser so...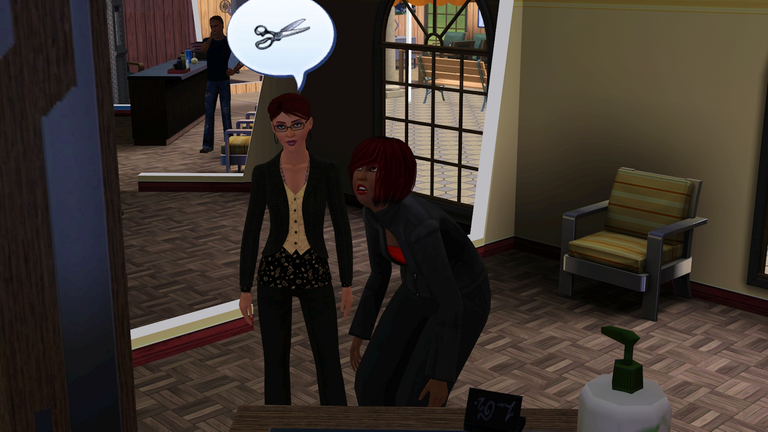 Either way, Selena got promoted twice within the one day!
She was on her way to the top!
Even if a few of her clients were disappointed with their much improved appearances.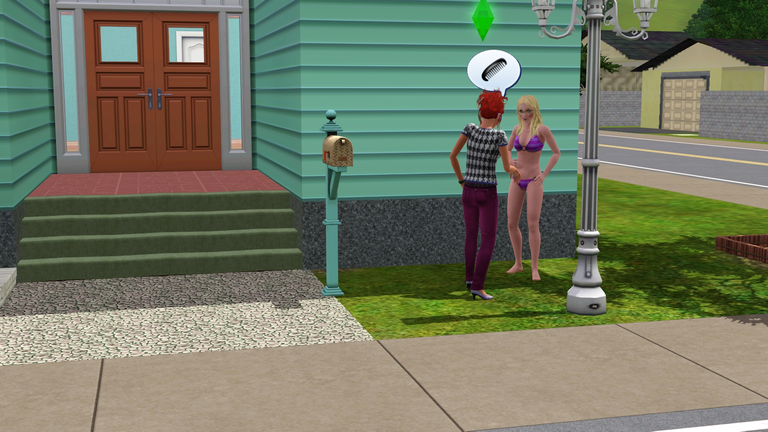 Word got around quickly about Selena, Sunset Valley's Budding New Stylist. So much so that the next day before she even set foot in the salon, a bunch of messages popped up from prospective clients demanding that she come to their homes and work on them.
One lady was so excited that she raced outside in her swimwear and demanded Selena give her a swimsuit makeover in full view of the adoring public. It did not matter who saw her pale butt flashing beneath the sunlight!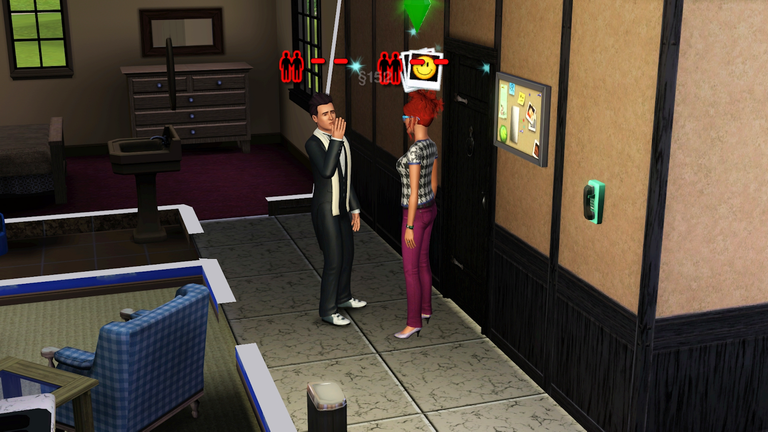 Her other at-home-clients weren't so pleased with their results.
This man was so displeased with his new appearance that he spat in her face and declared her his mortal enemy. "Get out of my house!" he screamed.
"Whatever," she shrugged. She still got paid. She had now made $3000 sim-moneys thanks to her stylistic prowess, and it had only been two days! She truly was on her way to the top.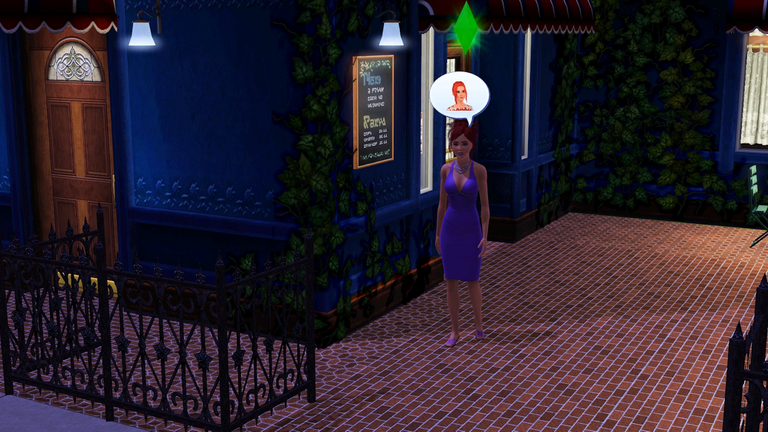 Sick of the leftover waffles sitting in her fridge that she had been eating for breakfast and dinner every day since moving in to this town, Selena decided to celebrate her burgeoning success with a meal at the fanciest restaurant in town.
There may be several unhappy people in this town, but they looked much better now, even if they wouldn't admit it themselves.
One day, when she was a famous Stylist for the Stars, they would chipper and chortle about how she had made them look beautiful back when she was first starting out. They would eventually be pleased. She just knew it.
Until next time! 🙃
---
All screenshots in this post are courtesy of me, @kaelci and are from the game: The Sims 3.
---
---