Blog Babbles ~ it's been one hell of a day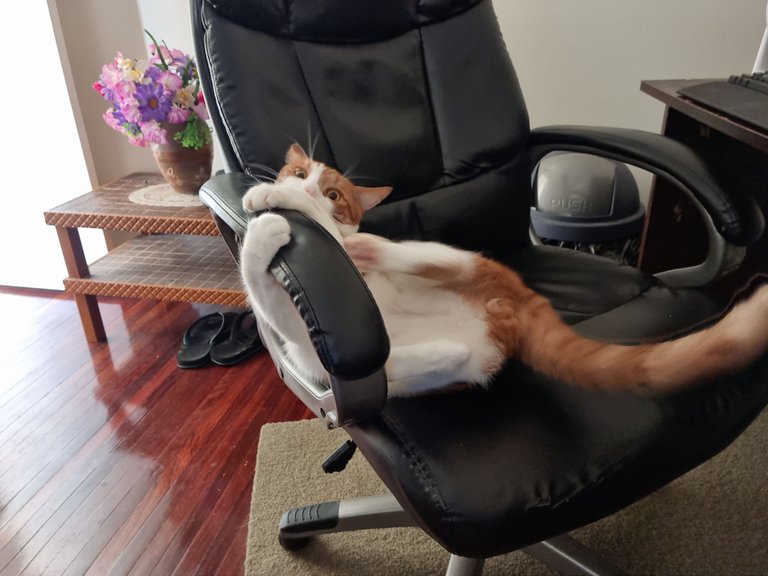 Charlie Cat. In place of a proper Header Image. Photo is mine. @kaelci.
Surreal. That's the only word I can think of to describe today. Surreal.
In various blogs over the past few years I've been on the blockchain, I've written a bit about my childhood. Today, I need to recap my childhood before continuing on with why today was and still is so freaking surreal.
Let's begin. Imagine it. You're a ten year old child. Your father is mentally ill, diagnosed with paranoid schizophrenia, but you don't quite understand. As far as you know, he's just whacky. There's never any money. No food. You scrounge around and find a few dollars so you run to the shops, but you don't buy food for yourself, no, no; you buy food for your cats instead. They need it more than you.
Sometimes your father takes all of his medication in one morning, goes crazy, and accuses you of hiding his medication when he needs it again that night. He takes drugs, leaves you at home alone for days on end. You're a kid, but you're sleeping with a knife under your pillow in case someone breaks in.
After a police incident, he's required to live with a guardian if he wants to keep custody of you, the child, so he moves in with his mother. A religious Catholic who believes with all of her heart that Mother Mary herself speaks with her each day. She also believes that you are evil. Your name quite literally translates into "Beautiful Snake" thus you are the Devil's child and to be abhorred.
You get dropped off to the library in the mornings so you're not being a bother in the house, alone, and no one remembers to pick you up until midnight. In the middle of Penrith of all places, a cesspool.
You lock yourself in your room and live in your own fantasy reality because it's better than real life. Sometimes your grandmother will bash on the door and scream for you to come out. That you've done something, stolen something, even though you've been locked in your room all day, and you need to pay.
Then, one day, the police knock at your door and inform you and your grandmother that your father is dead. Of drug overdose. Could you please come and identify the body.
A whirlwind of life happens before your eyes, the funeral passes, your grandmother is sick of looking after you so uses all of her resources to track down your mother so she no longer has to deal with you, the child with the name of the Snake.
After that day, you never heard from your father's side of the family again.
Fast forward 25 odd years later. Today. The most surreal of days.
Today I was just minding my own business, cleaning the house, defrosting some meat for dinner tonight, harrassing my Charlie Cat like I always do, when there's a knock at the door. The postman is standing there with a letter in his hand. It's registered and he needs to sight my ID before he can give it me.
Confused, I go and grab my ID and show it to him and he gives me the letter.
What's in this letter? A message from an uncle of mine, trying to find me because of an inheritance I'm entitled to.
Apparently the grandmother who hated me, who believed I was devilspawn because I had the audacity to be named "Belinda", who got rid of me at her earliest convenience and never contacted me after palming me off, had passed away and I was named as one of the beneficiaries in her will.
So I've spent this entire day, reliving old memories that I don't particularly want to relive.
I've tried searching for my father's side of the family before, looking around on social media for familiar names. Unfortunately, for each uncle I have there are about 300 results due to very common first names and a very common surname.
To have one contact me, out of the blue like this, and inform me of an inheritance, from a woman who hated me. It's just blown my mind.
It's not a particularly sizeable inheritance, but it's enough for a decent home deposit when the housing market inevitably plummets next year or so. It's enough. What's more is I have a way to contact my father's family and reacquaint myself with my uncles, with their families. They were always kind to me, from what little I remember.
I remember one of my uncles drove limousines and I got to sit in one, once. He also wasn't afraid of spiders and I remember him casually toying with a huntsman, letting it walk all over his hand before he put it somewhere safe.
Another uncle lived in Adelaide and took me to Magic Mountain.
Another, the youngest, was my favourite uncle in the world. He was so friendly and a happy-go-lucky jokester. He was also the one who got me interested in computers and technology at a young age.
It would be really nice to get back in contact with them.
I've just been in a daze all day. It's been a really surreal day. It doesn't feel real. I've had to go to the courthouse with my birth certificate and accompanying ID, get them to sight the copies and sign off on them so I could mail the copies to my uncle and prove that he found the correct person.
I've just been lost in my thoughts all day and needed to write it out. Cheers for reading. ❤️
 
Here's another photo of Charlie Cat, for your patience.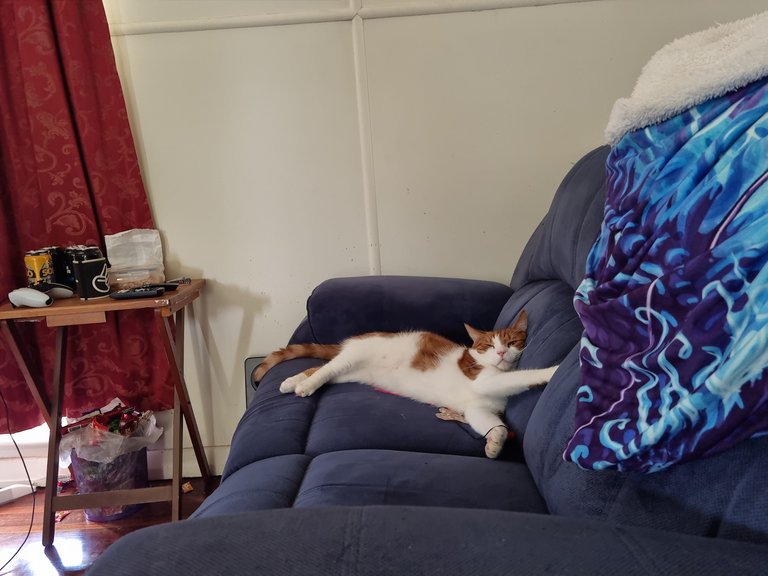 Photo mine. @kaelci.
---
---