Dragon Age: Origins ~ exploring Denerim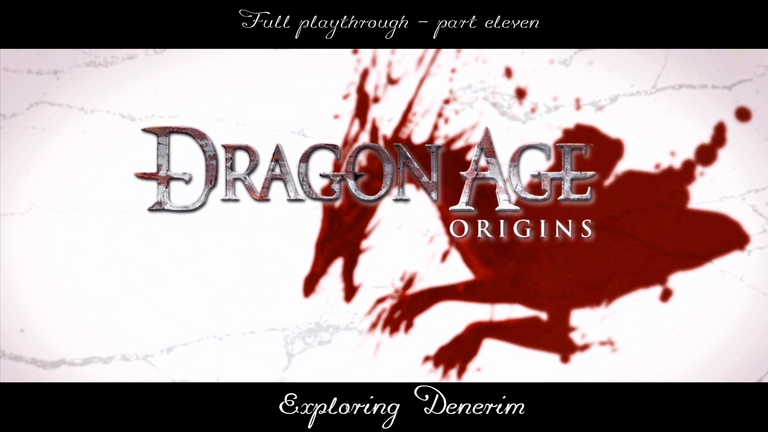 After reclaiming the Warden's keep of Soldier's Peak from the demons and blood magic and having a good rest for the night — well, as good as one could have with darkspawn murmuring in her dreams — Caelyra, Wynne, Morrigan, and Alistair set foot in Denerim city.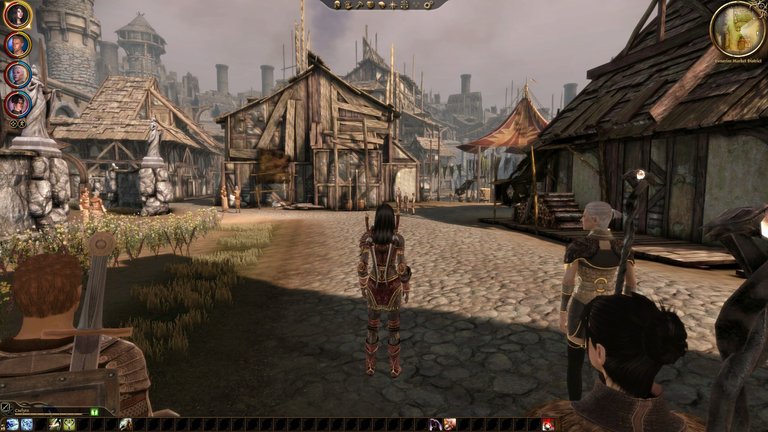 Caelyra had expected the guard to race straight over to them and arrest them, that surely Loghain had told them to keep an eye out for them, but amongst the busy streets they were practically invisible.
Caelyra remained on edge regardless, expecting the guard to walk up to them at any time... not that she knew what they would do if that were to occur.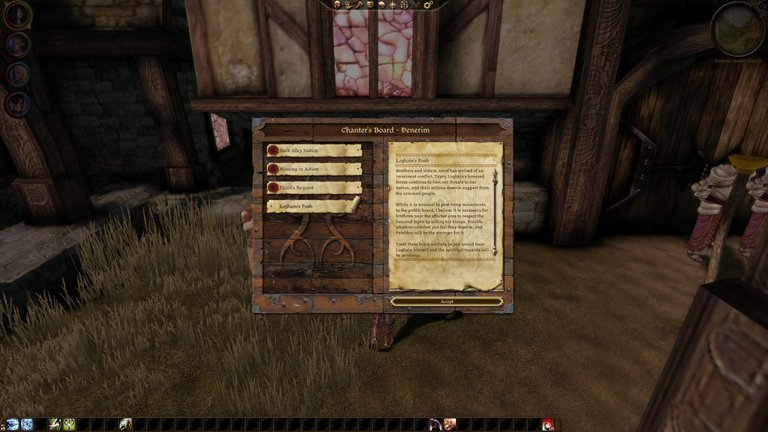 They passed the Chantry and found some notices on the Chanter's Board. The very last notice involved securing aid for Loghain's men out in the wilds. That was fortuitous. Caelyra quickly marked down their locations on her map and stashed it. They would have to take care of those men later.
If Loghain was going to make life difficult for them, they'd make life difficult for him, too.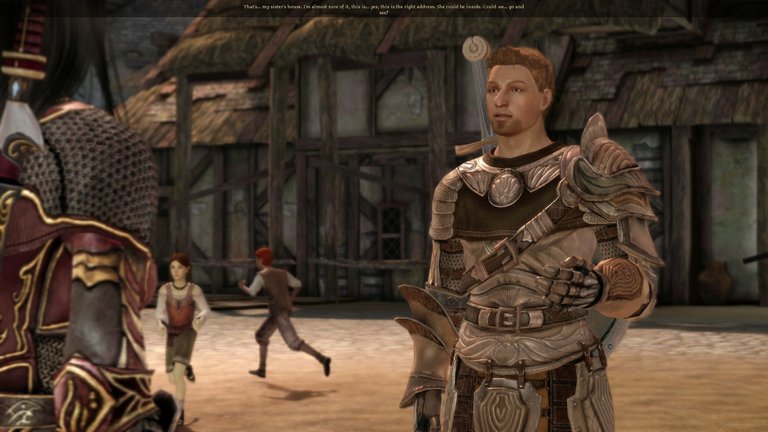 Walking about the city markets, Alistair quickly pulled her aside. A while back, he had asked if they found themselves in Denerim could they look for the sister — Goldanna — he had discovered he had... well, they were right in front of her house, he was sure that was the same address.
Caelyra asked him if he would rather go in there alone, but he was a nervous wreck and asked her to accompany him. Very well.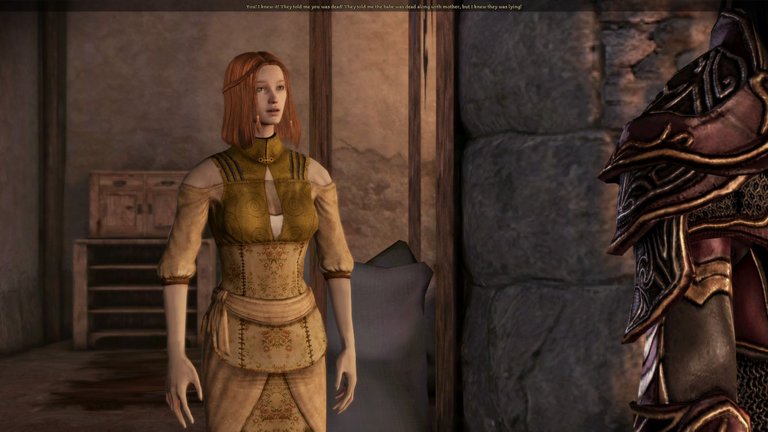 When they walked in, the woman assumed they were there for laundry. When Alistair told her that he was her long-lost half-brother, she thought he was pulling a prank. But then he spoke of Redcliffe, and how their mother had been a serving girl at the castle, and Goldanna flew into a rage.
Her mother had died giving birth to a baby, the king's baby, after the king had forced himself upon the woman, and they had told Goldanna that the baby had died too.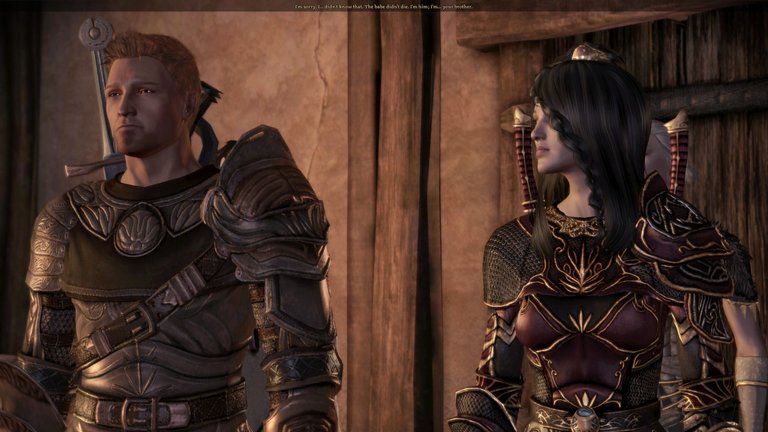 He was a bastard prince and he let her family be impoverished, he allowed them to suffer. Alistair pleaded with her. He'd only recently found out that she existed and he wanted to help, any way he could.
Goldanna demanded money from him, a lifestyle that he wouldn't be able to give her, to hoist his discarded family into the upper echelon of society. She didn't care about him; she only wanted money. She screamed at them to leave and to never come back.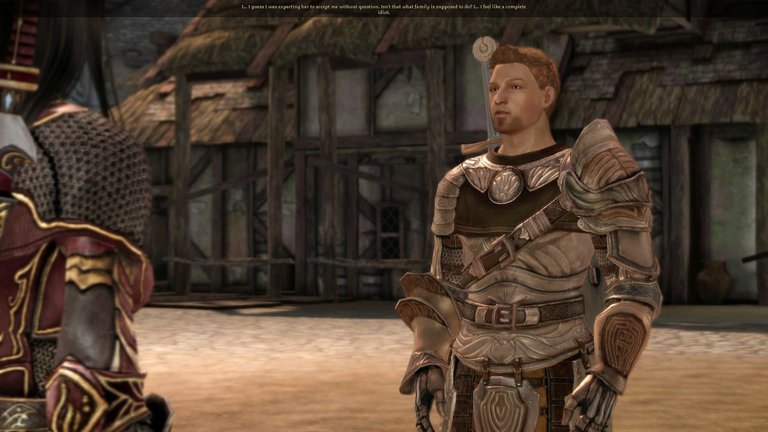 Back out on the street, Alistair was despondent. He hadn't known what to expect but it certainly hadn't been that outcome. He thought that as family, she'd welcome him with open arms. That she would love him as a brother and all would be well. But it wasn't to be...
Caelyra told him that he didn't need Goldanna; he had her, his friends, the Wardens, they were his family.
After a few seconds pause, he thanked her for being there for him, and told her than he loved her. 😊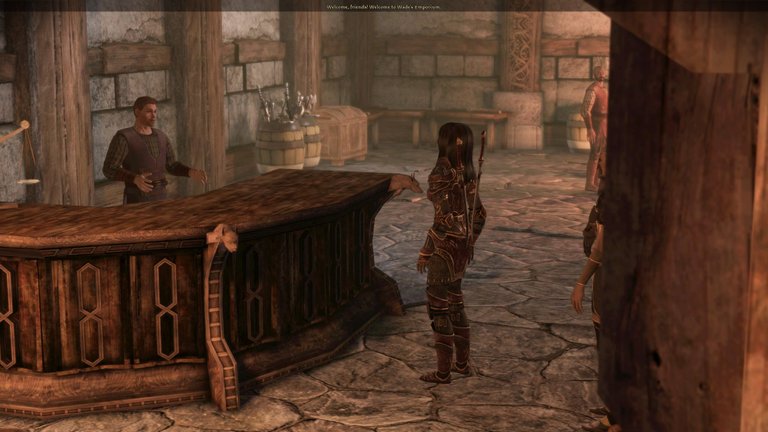 Caelyra playfully shoved him away then continued exploring Denerim. There was an armour and weapons shop called Wade's Emporium and they boasted the finest armour and weapons in all of Ferelden.
Herren the store assistant and Wade the smithy seemed like a curious pair. Wade was desperate to create masterpieces but Herren only wanted him to create the basics. She tried to ask him to create her a masterpiece, she didn't care how long it would take, but Herren shut her down. He would have none of that. Not in his shop.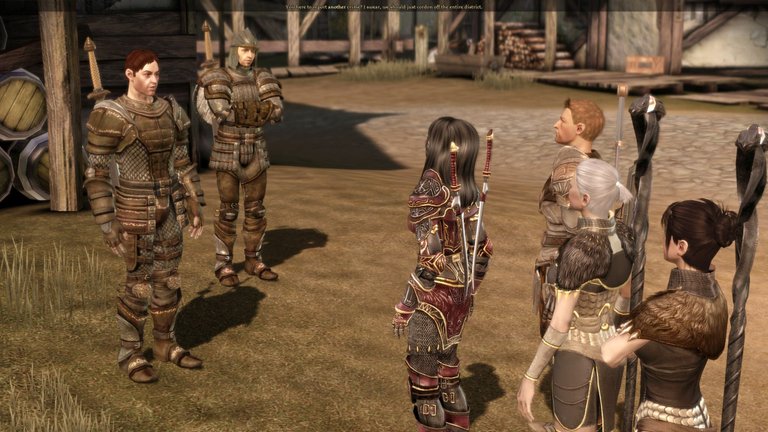 Back out in the streets, one of the guards was shouting orders to his men and was calling them useless. Unable to restrain herself, Caelyra interrupted and asked if she could help with anything.
The guard recognised her as a Warden immediately, but made no moves to arrest her. He was grateful for her help, especially since most of his men were noble brats who couldn't handle life in the guard.
He directed her to the local whorehouse, The Pearl, to deal with some ruffians in there.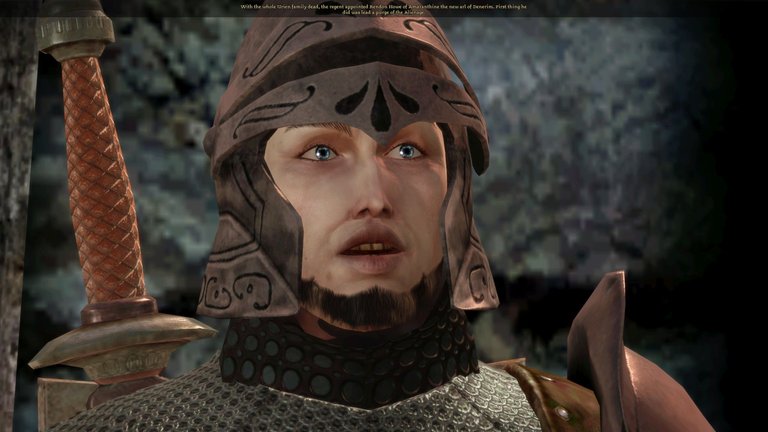 Not knowing the city too well, Caelyra took a wrong turn and ended up at the Elven Alienage gates rather than the docks. There was a guard out the front who denied them entry. Apparently the new Arl of Denerim — Howe — had restricted access and was in the process of purging the Alienage. No one could enter.
Howe. Howe was now the Arl of Denerim? Caelyra bristled, and walked away from the alienage. Something had to be going on in there. They must find a way in, somehow, if they got the chance. Taking Howe's head was going to be a lot more difficult too.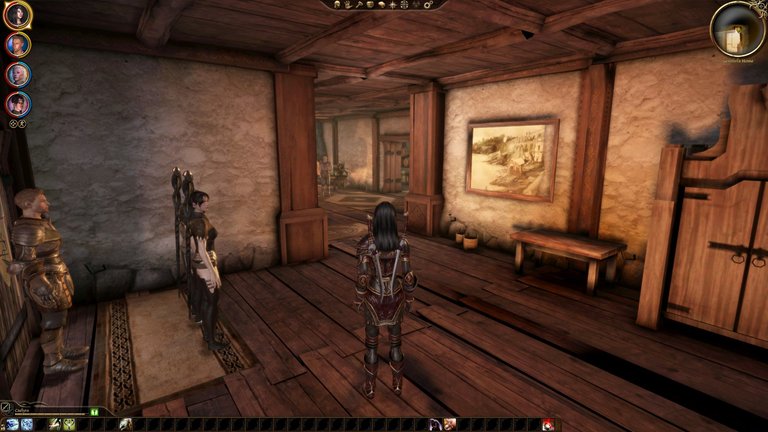 Caelyra soon found herself in front of the main reason they were in Denerim: Genitivi's house. Helping herself inside, she met Weylon, Genitivi's assistant, and asked about the research for the Urn of Sacred Ashes.
Weylon wasn't much help. Annoyed, Caelyra investigated the house and looked at all the books, hoping to find some of Genitivi's research papers. Instead she found books about dragon cults. Very peculiar. Making her way into the last room, Weylon suddenly intervened. She could absolutely not go in there. He was acting very suspicious, so she forced the issue, and he attacked.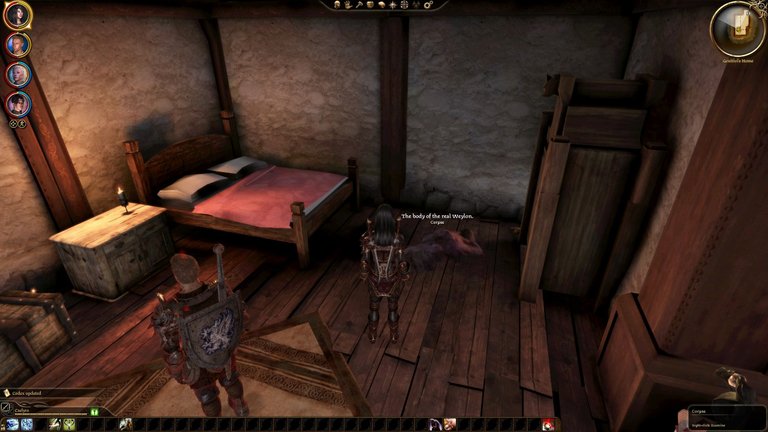 Once Weylon lay dead on the floor, she barged into the room and discovered the truth... that man had not been Weylon. The decomposing remains of the real Weylon lay on the floor, and Genitivi's research had been locked in a chest. Lucky, she had lockpicking skills.
Reading through the research, she discovered that Genitivi had gone to a small township called Haven, situated beneath the Frostback Mountains. She had their next destination. First, however, she wanted to explore the city of Denerim some more. Plus, she had promised the guard to check out the commotion at the brothel.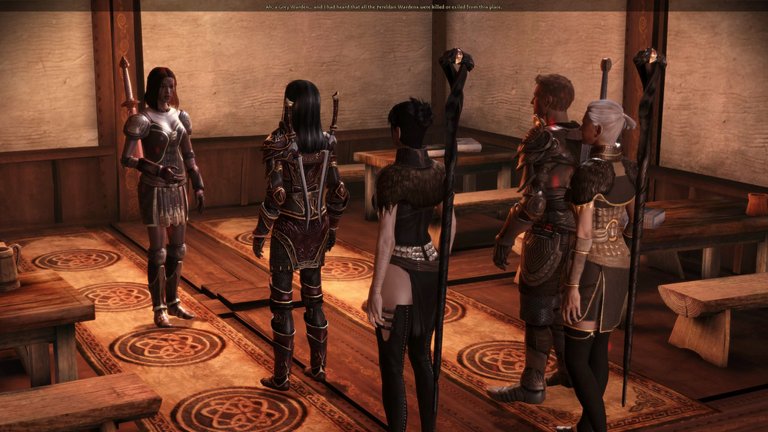 Not accustomed to such places, Caelyra stepped gingerly inside and soon came across the men causing trouble. They were a rambunctious lot but she managed to persuade them to leave, after all, Loghain wouldn't want them causing any trouble.....
With them gone, Caelyra noticed a woman fighting her own battle near some card tables. She was a skilled fighter and took on many men before sending them on their way. Introducing herself to the woman, she discovered her name was Isabela. She had great fighting skills, not much different to her own, but still intriguing. Could she teach Caelyra some finer points?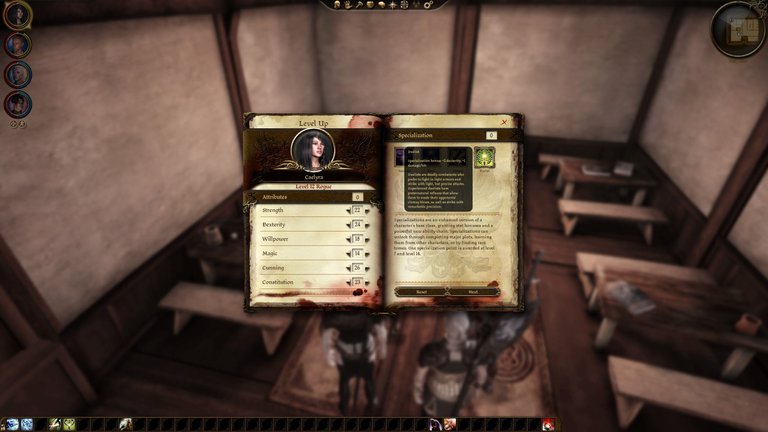 First, a game of cards. If Caelyra could best Isabela in this game, then Isabela would teach her anything she wanted to know. Caelyra knew her cards after playing so many rounds with the guards back in Highever and soon bested the woman, and learnt the skills of a Duelist.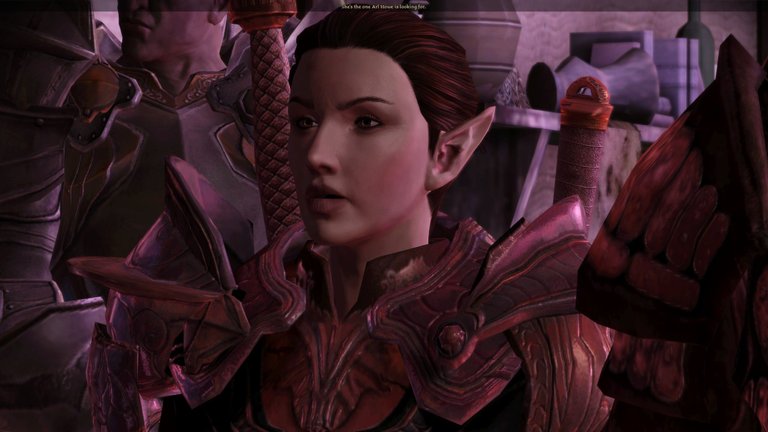 There had been a notice outside, suggesting any friends of the Grey Wardens come to a back room in the brothel. Curious, Caelyra bid farewell to Isabela and went in search of these supporters... only to find Arl Howe's elite.
They had been instructed to kill all Grey Warden supporters, and here they were, actual Grey Wardens walking in. They were no match for Caelyra and her companions however and soon lay dead on the floorboards.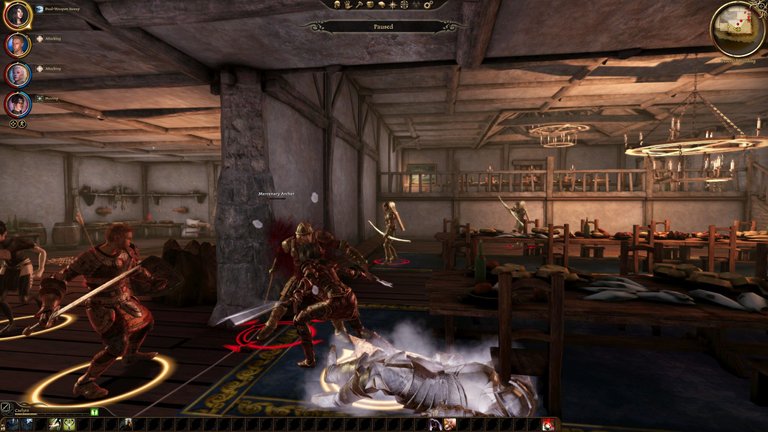 Leaving the Pearl, they came across more thugs and ruffians in the back alleys of Denerim and dealt with them accordingly. They also found the corpse of a templar who had been hunting blood mages. They killed the blood mages for him.
After helping the guard once more, clearing out the tavern of more riff-raff, Caelyra felt sufficiently well-explored of Denerim and decided it was time to return to Camp and have a good rest before hunting for Genitivi in Haven. It was going to be a long trek — on the other side of the country!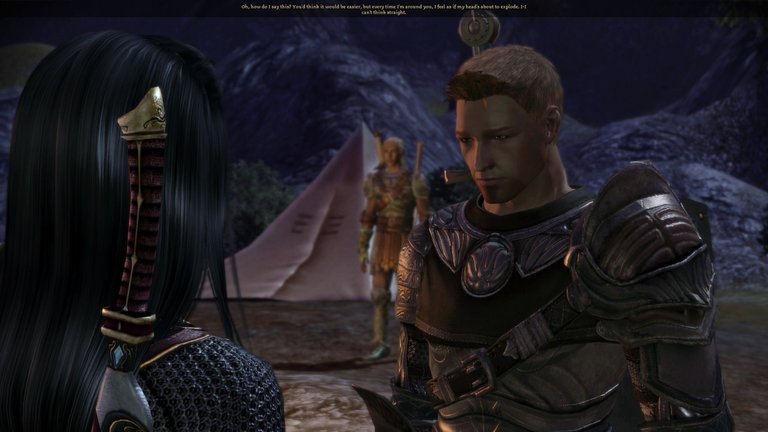 Before turning in for the night, Alistair waylaid her and bashfully asked if they could spend the night together.
Yes, yes they could. 😊
Until next time! ⚔️🐲
---
All screenshots in this post are courtesy of me, @kaelci and are from the game: Dragon Age Origins.
---
---