Exploring the New Minecraft Cave Update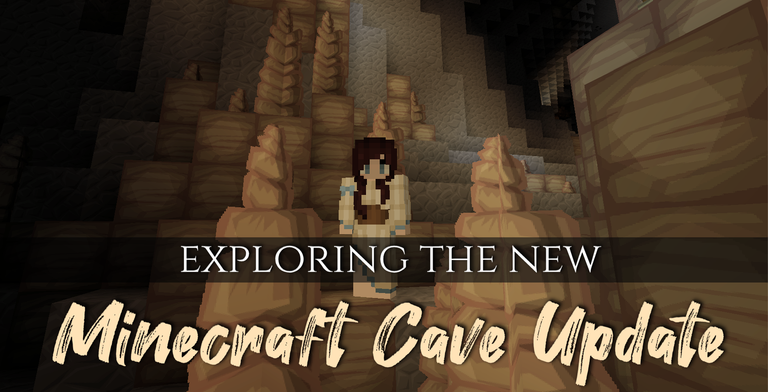 With the recent Minecraft 1.18 update came some world generation changes! Technically 1.18 is part two of the 1.17 update, and apparently a little bit was left out and saved for the nexxtttt update -- namely one specific biome and a creature that exists in that biome -- but I was curious enough to have a look anyway.
What kind of land-masses could I find with this new update? Were the new caves actually as great a wonder as led to believe? Would I be able to find a beautiful, scenic spot to call my new home if I felt like actually playing this again?
So I opened it up, generated a bunch of new worlds, and began exploring.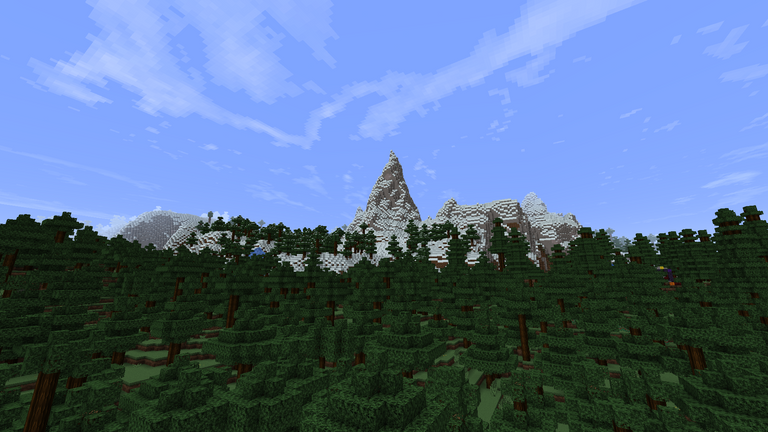 There seems to be so many more mountain ranges now. In every fresh world I made, my character spawned either on top of a mountain or beside a mountain. It was as though the game were so excited about its new generation abilities, that it didn't want me spawning anywhere else. Mountains everywhere! I had to turn on creative mode and fly around to actually find the meadows.
And most of those meadows had mountains in them too.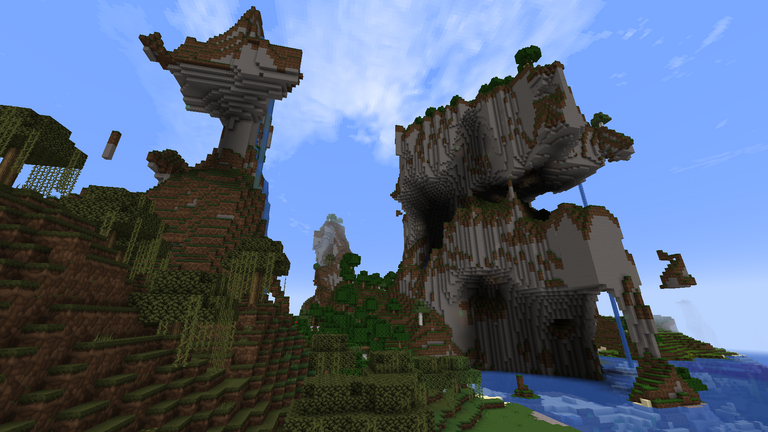 Some areas were very oddly generated, but that's about right for Minecraft. 😅
There were several areas I found with the typical floating islands, misshapen landmasses, and singular floating dirtblocks that Minecraft is known for. So the new world generation isn't perfect, but it's still interesting with the unique formations that can be generated.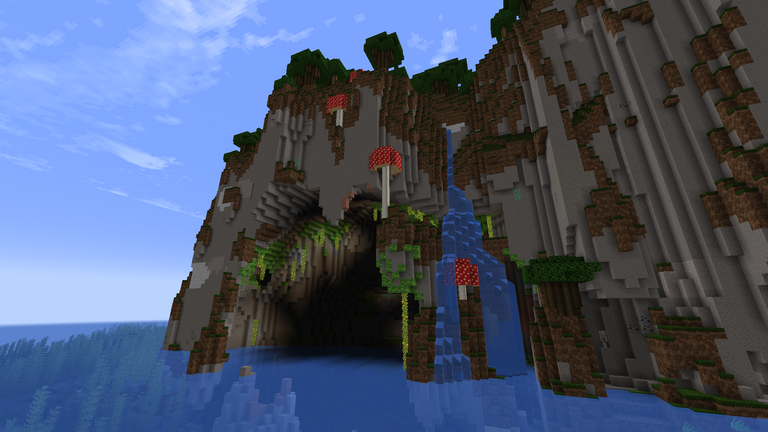 While a few areas looked odd and misshapen, others looked quite scenic. The one above, I probably would have declared my home if the dark forest was larger and if there was some land directly in front of this cave and waterfall.
And if it wasn't just a map of mountainous islands.
(Mountains!)
After many world generations, I finally settled on this next area: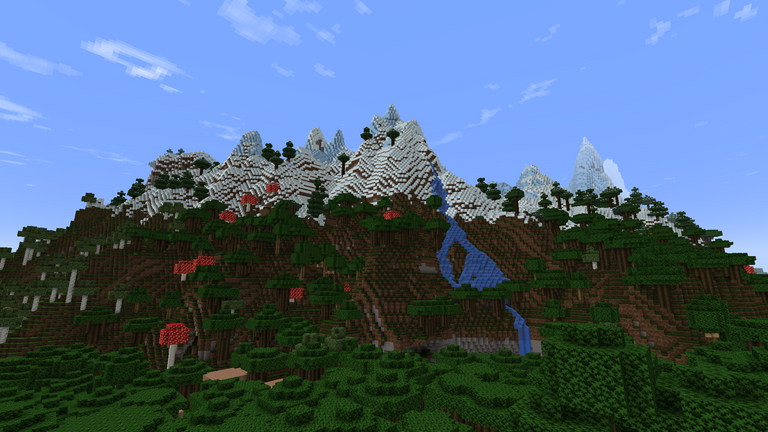 The dark forest is large and bounteous. The mountains in the background are pretty and scenic. And, bonus, it looks like there's ice back there so I'm going to have some nifty paths around my up and coming city.
I planted my character in place, noted the seed and coordinates so I could restart it in a Hardcore world, and continued making new worlds solely for exploration. I wanted to have a look through some cave systems and just fly around, see what I could find.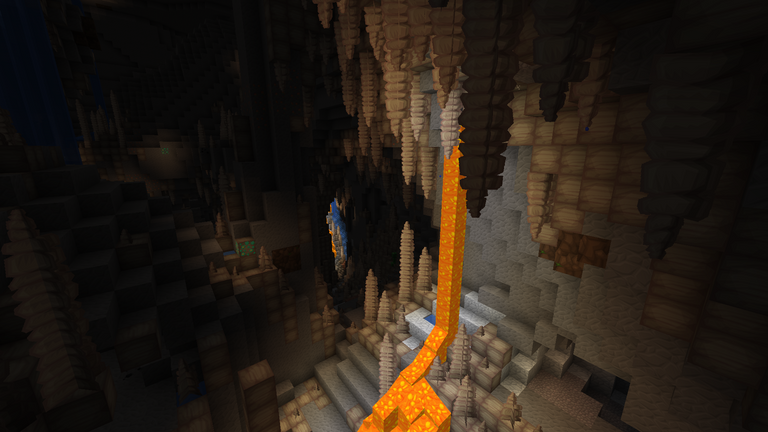 This cave in the screenshot above was massive. It just went on and on and on. It was filled with lava-falls and waterfalls and stalagmites as far as the eye could see.
It did look pretty spiffy.
But I preferred the look of the next cave that I found and had a look through.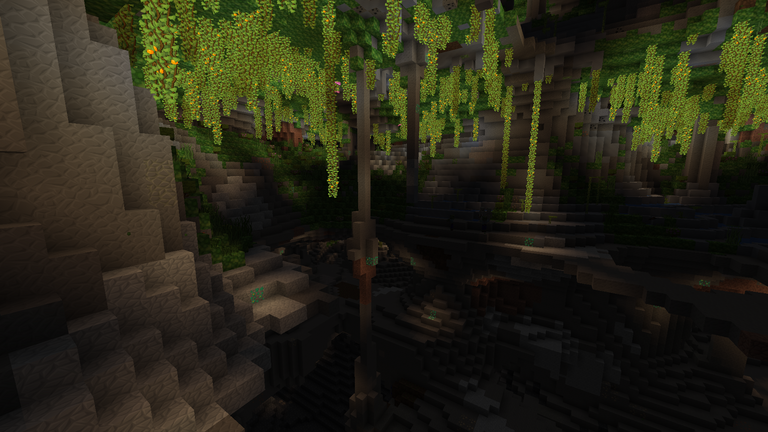 This one!
It was pretty and lush with flowers and vines dangling from the ceiling. Moss and leaves were all over the floor. The vines had berries on them called "glow berries." I'm wondering if once eaten they'll make my person become a light source for a few minutes. That would be spiffy!
These caves do look very interesting and I'm already inwardly screaming about exploring them whilst playing in Hardcore mode. 😅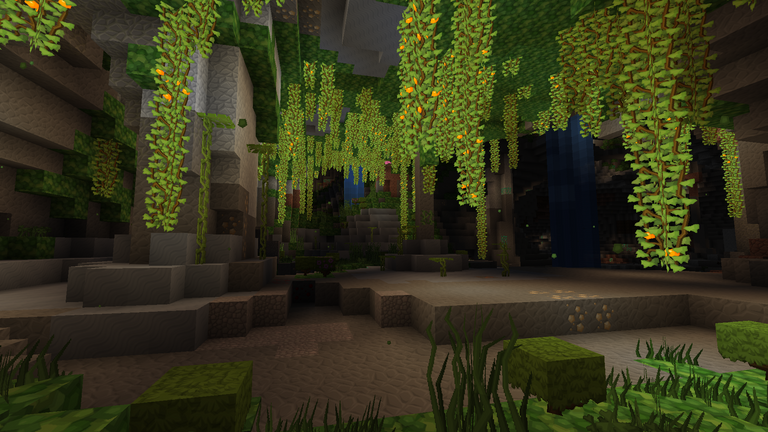 Exploring caves like these are going to up the difficulty factor by a lot.
I already die due to stupid things like accidentally digging beneath my feet when looking for quartz in the nether and plummeting to my doom, so... this should be fun! 😆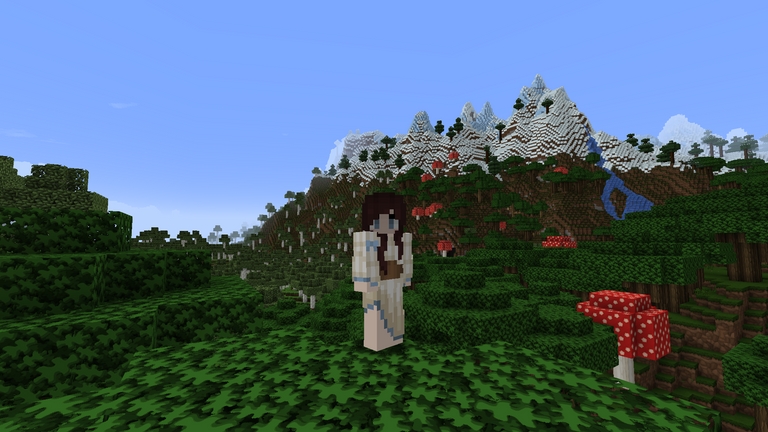 My character is ready to begin her new adventure.
This is going be interesting!
If you're interested in the seed I'm planning on playing on, it's: 1485988664
The exact co-ordinates where my lady is standing right now: 368, -19 ... with a Y of 107 if you count the standing on top of a tree.
And now... may my efforts to go spelunking not end in doom and defeat and if I'm to die, may it be by the breath of the Ender dragon instead of simply falling down a big hole. 😅
The new Minecraft adventure will soon begin!
Until next time! 🌷
---
All screenshots in this post are courtesy of me, @kaelci and are from the game: Minecraft.
---
---