Just another Skyrim Story, part two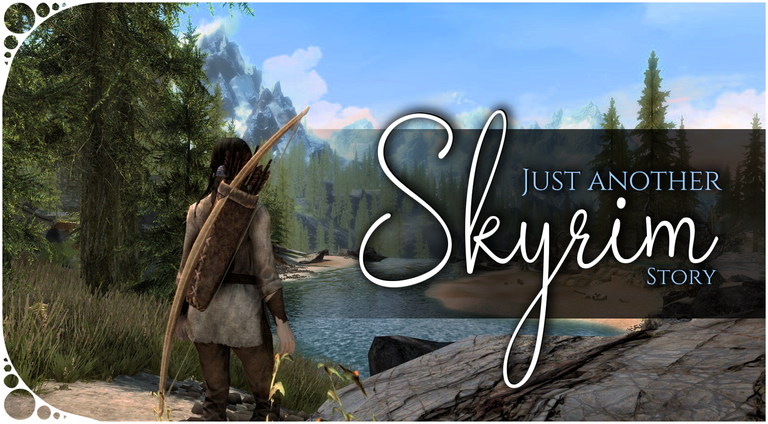 In the last post Kaelci had been left for dead and was slowly gaining her bearings. She found a couple of weapons, some all-important food, and was heading to Windhelm to help some miners and ultimately herself.
You can find part one HERE.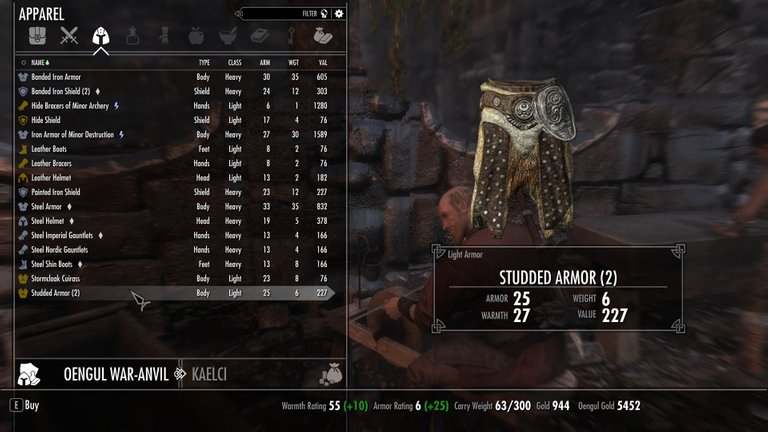 First things first, Kaelci rushed to the marketplace to deliver the note to the alchemist... and got distracted by the blacksmith. She couldn't help it. He was right there, forging weapons right in front of her.
He quickly coerced her into buying some armour and then gave her a wink and a nudge and told her where an ancient blade may be buried. An ancient, magical blade of great fortune. She smiled, nodded, then brushing aside the parchment he offered her she sold him the pelts of all the beasts killed on her way here. He was obviously delusional but at least she got new armour out of him, an some coin.
As the blacksmith tucked the parchment back into his pocket, she suddenly remembered the note asking for medicines for the miners and hurried to the alchemist.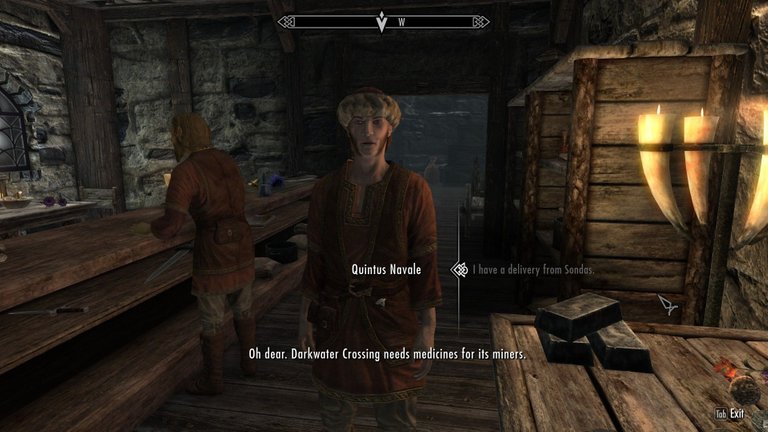 After informing the alchemist of the miners in need, he paid her the gold that she was promised and she spun around to go to the inn for a well-earned meal that she didn't have to cook herself.
However, the other, older, crankier alchemist stopped her. There was a legendary phial that he had spent his many years researching and he had found it at last, only he was now too old and decrepit to get it himself. If she was going to be such a goody goody and help all the random so-and-so's in the region, she could at least help him, too.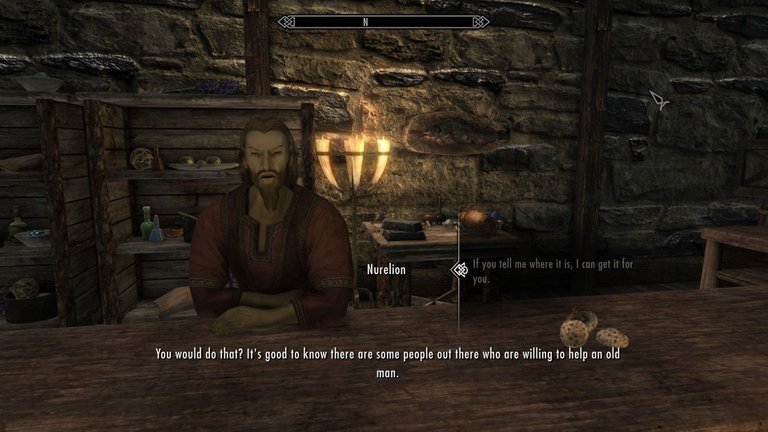 A legendary phial sounded just as ludicrous as the blacksmith's legendary blade — more ludicrous. But he seemed on the level and she agreed. Maybe she would find treasure if not a legendary phial.
After she agreed, the cranky old alchemist immediately changed his tune and thanked her profusely. Then, as she headed out the door, he gruffly barked, "And don't forget the damned phial, you fool."
Clearly the man was bipolar. Maybe she would keep the phial for herself, if it even existed.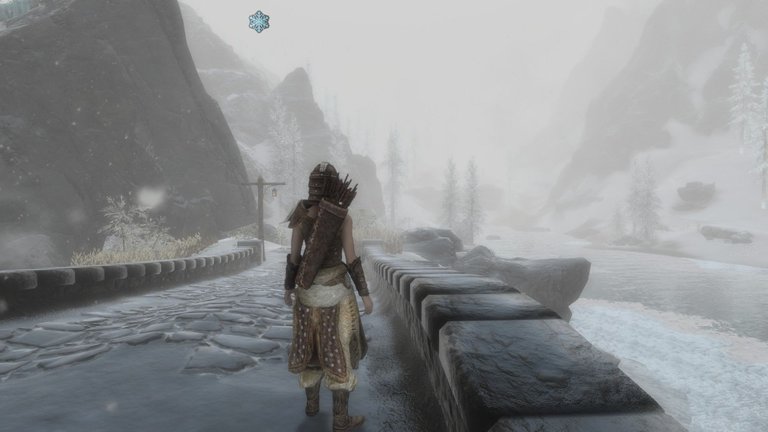 Dressed in her new warm armour, she stepped out of the city gates... and face-first into a bastard of a blizzard. It had only been a couple of hours! The weather here was abysmal.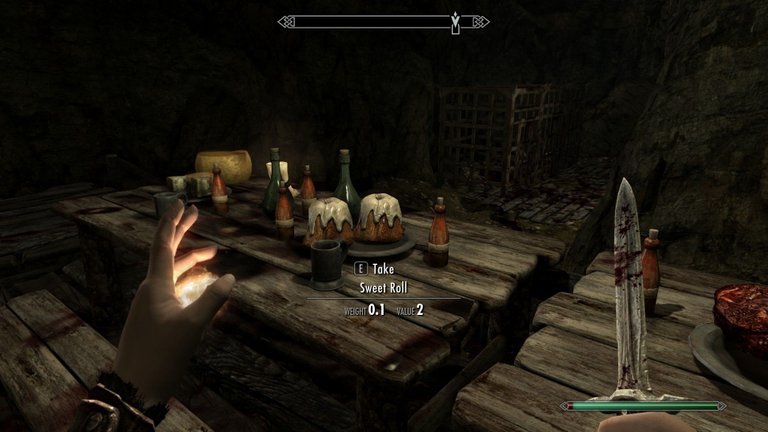 With frost biting at her fingertips, she raced through the swirling wind and snow and slammed into a cliff wall. At least it wasn't off a cliff. Fumbling along the rocky surface, she discovered the entrance to a cave and quickly ducked inside, grateful as the faint light of braziers deeper within started to shine out at her.
Soon the cave widened into a cavern with seating arranged neatly in its centre. Cakes, ale, steaks and cheeses all sat upon its surface, inviting her to eat and be merry.
There appeared to be no one else around.
Stuffing the last sweet roll into her gob, her eyes zeroed in on something hidden in a dark corner of the room where the light of the braziers didn't quite reach. Was that a cage... and blood?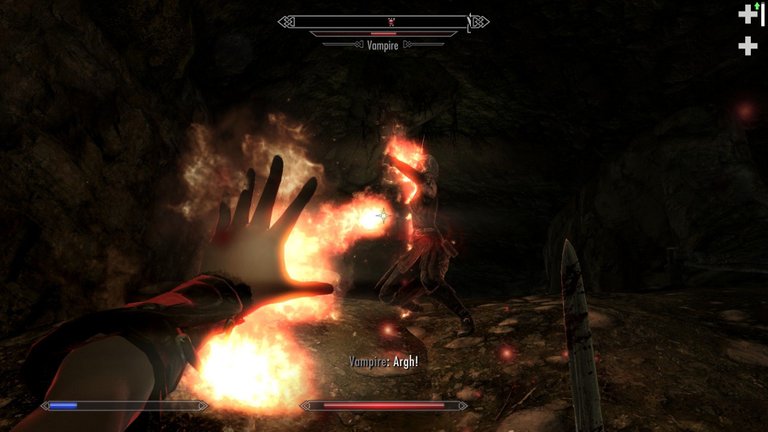 Suddenly, someone leapt out of the shadows and pounced upon Kaelci.
"Yargh!" they screamed. "Fresh blood!"
Teeth chomped down into her and she shrieked, pushing her foe away with all her might. A vampire. She had found a vampire's lair!
Fighting with fire and iron against the creature, it finally lay burnt in a pile of ashes on the floor. Those creatures never lived alone. There had to be more in this cave. What was she going to do?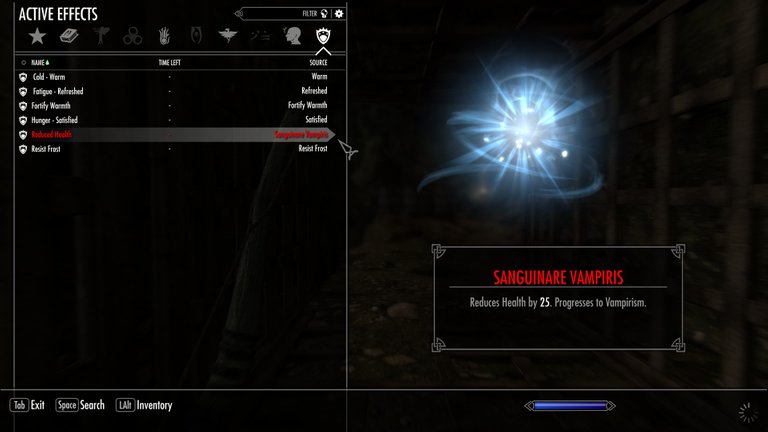 Feeling woozy, she lifted a hand to her head then paled as she saw how white and veiny her hand had become in the past few minutes. Oh no — the creature had infected her!
Freaking out, she ran around the cavern and threw open every drawer and cupboard and opened every barrel and sack. By some miracle a Cure Disease Potion was sitting on top of a dresser next to a bottle of ale and she quickly chugged both down.
She felt better instantly.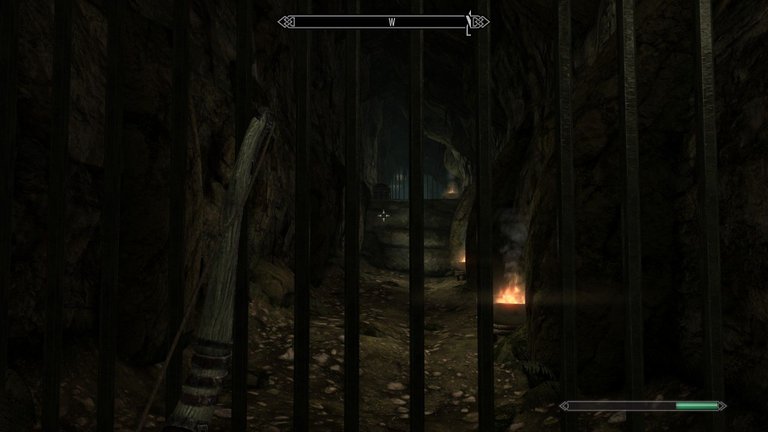 There was another tunnel that led to a larger cavern and inside a barred off area sat a gigantic treasure chest.
Not feeling confident in her abilities just yet, not enough to deal with vampires!!! she quickly backtracked through the cave and entered the outside world once more. The blizzard was over. She was getting out of there.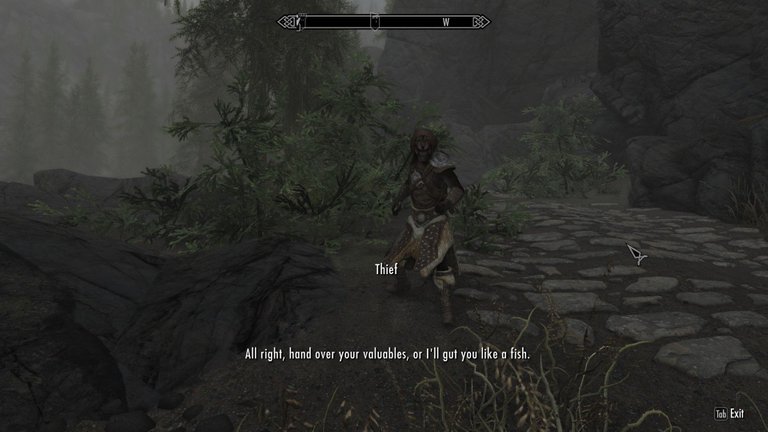 Hastening back to the road, eager to leave this vampire-infested region and eager to look for the alchemist's acclaimed phial, she nearly fell flat on her face as another figure leapt out at her.
This one wasn't a vampire though, it was a thief, and he was demanding her gold and goods.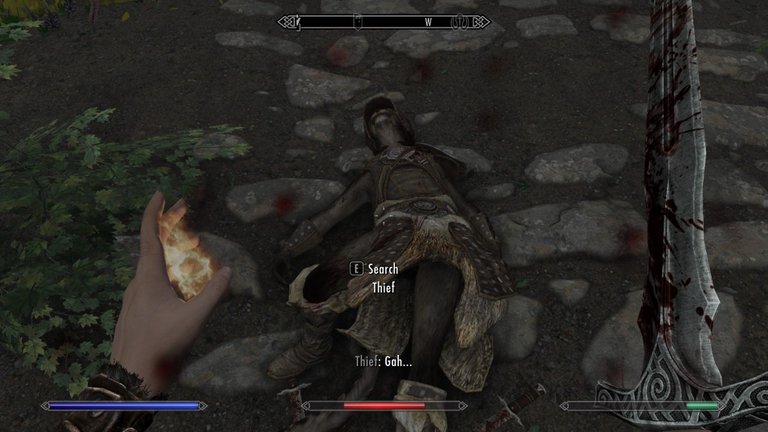 Not willing to even bargain with the stinking bandit, she cut his conversation short and leapt upon him with her blade. He obviously hadn't expected this outcome as he started to run away. She would not allow it.
Within moments she took him out and looted him. The victim became the aggressor.
There was so much horror in this region! First she had been left for dead, then fake soldiers tried to steal from her, then goats had headbutted her, wolves had tried to eat her, and then there were vampires, and now murderous thieves were leaping out of the damned bushes.
There was only one thing that made sense to do.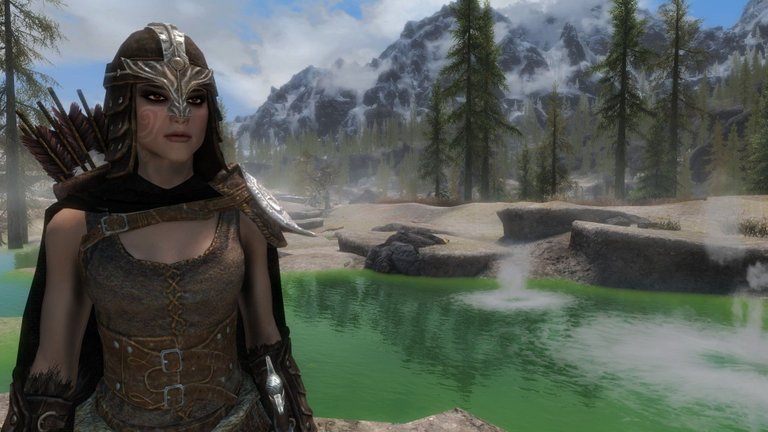 Become an aggressor herself.
Until next time! 🙂
---
All screenshots in this post are courtesy of me, @kaelci and are from the game: Skyrim Special Edition.
---
---