Just doodlin'... Joey and Jenny come to life!
My computer area is tiny. And my laptop doesn't have enough USB ports.
So I got sick of moving everything out of the way constantly, unplugging things, plugging things back in, rearranging the entire tiny desk, fiddling with cords, every time I wanted to use my drawing tablet. So... I haven't used it since my last drawing post where I showed off the creation of my new profile picture.
Yesterday I had a USB hub delivered. 🤣 Now I have more ports and can keep all the things plugged in all the time! Hooray!
It doesn't change the fact that my desk is tiny, but it helps a little bit. I hate fiddling with cords.
Oh. You would like to see my "work station?"... okay!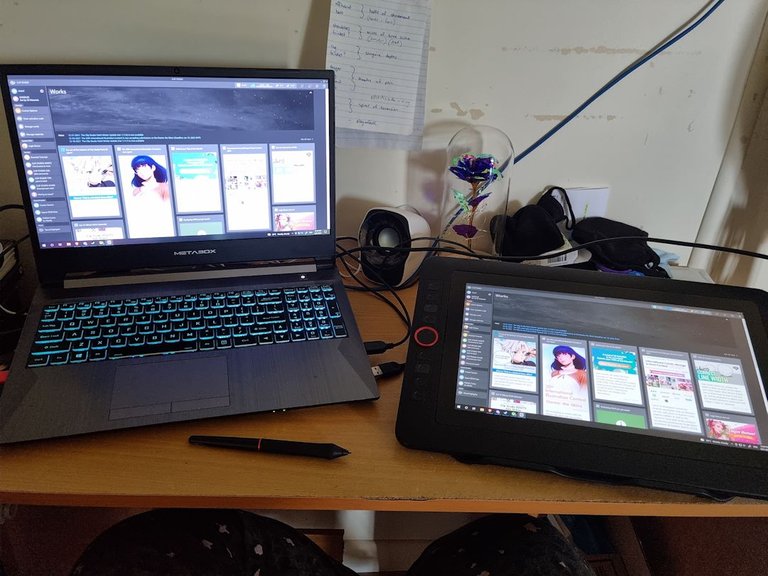 Not much room at all. 😅
Anyway. Now that I have my tablet's cords permanently plugged in and ready to use whenever I want to whip the tablet out, I thought that I'd finally get some drawing done today as I train my talentless hand to one day draw a silly, silly comic that only two or three people will ever read.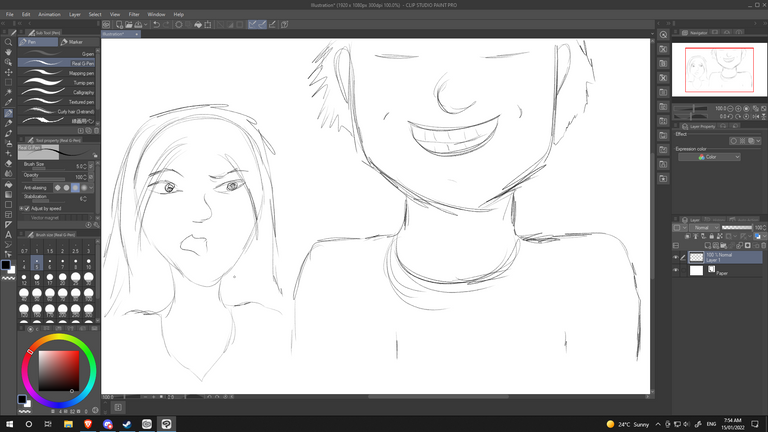 I started with a little sketch.
This is Joey and Jenny. You might remember them from various five-minute freewrites and from my story in the first week of #Maynia a couple years ago.
If they're unfamiliar, basically: Joey is a happy-go-lucky fool who had the good fortune to inherit his great aunt's vast sums of money and house. He has not a care in the world and is forever a goofy idiot who just enjoys life. And Jenny is grounded in reality and is often on the receiving end of Joey's hijinks.
I thought they were perfect in enabling me to finally draw some emotion on my practice sketches.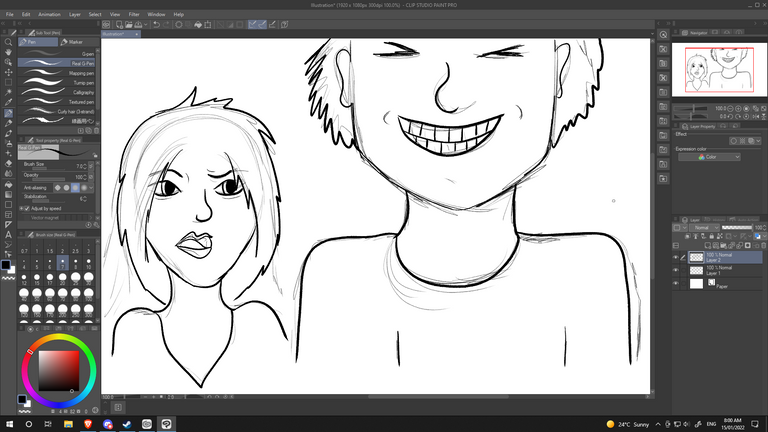 Pleased with my idea, I started solidifying my lines and hoped that this wouldn't turn out terrible.
I have a love-hate relationship with lines. There are a couple of webcomics that I read and their lines are smooth, perfect, and their colouring is fantastic. Yet when I do the exact same smooth lines, it looks wrong.
So, knowing that I wouldn't like smooth lines on my drawing like everyone else can do, I decided to do my own type of lining.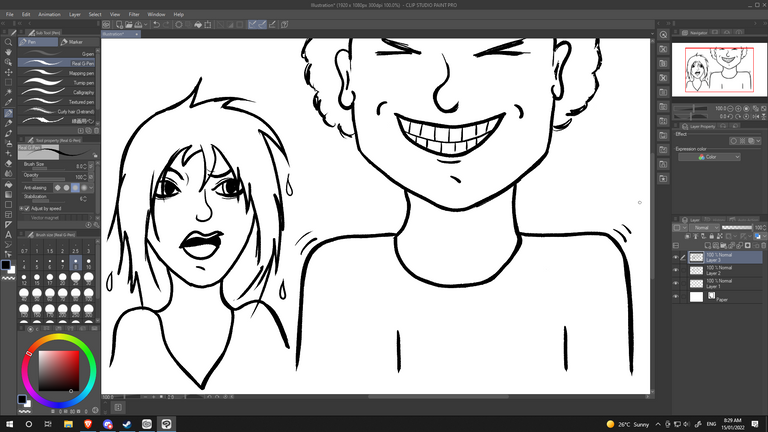 Thick and ragged!
At this point, I was actually liking my drawing. I need to do more with body movements, for instance I kind of imagined Jenny's arms flung up into the air. But one thing at a time. I'm working on facial emotions today.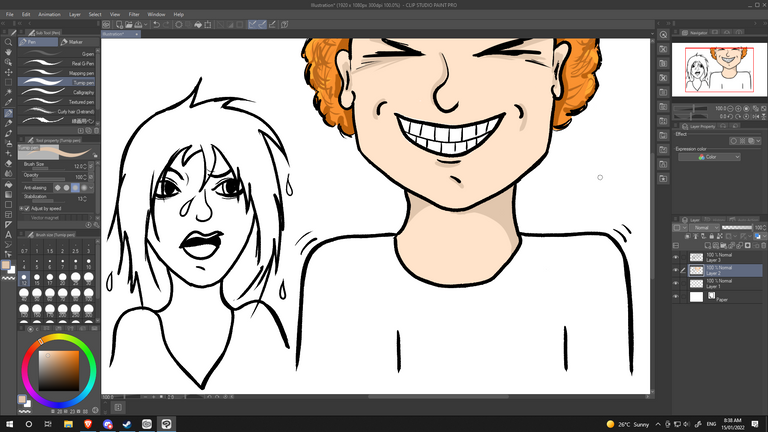 Pleased with my basic lines, I decided there wasn't much else I wanted to do. The focus for today wasn't on backgrounds or anything either. I just wanted suitable faces. And I'm really pleased with how they've turned out.
Joey looks reasonably pleased with himself as he chuckles at Jenny's misfortune.
And Jenny looks reasonably miffed at Joey's shenanigans.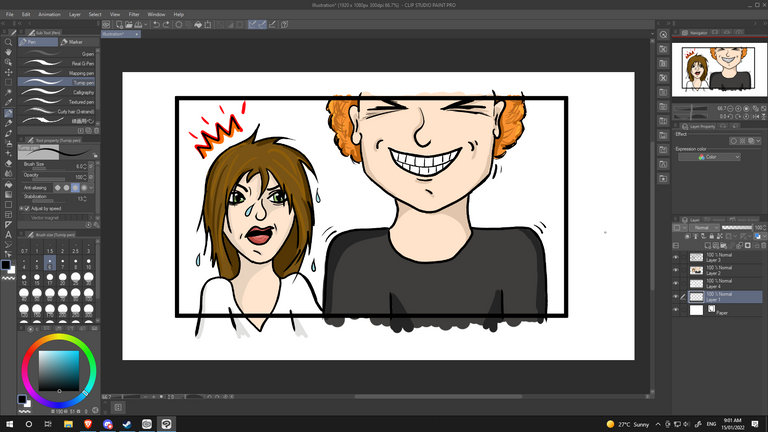 And at last I finished colouring it, popped into a box, and voila: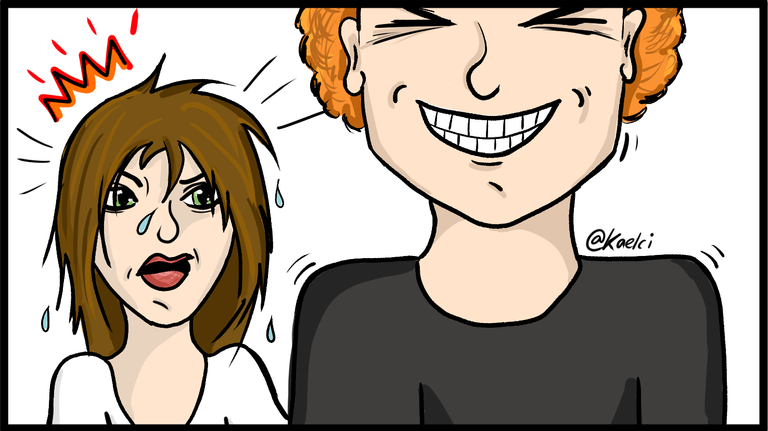 Here is a little gif of the process: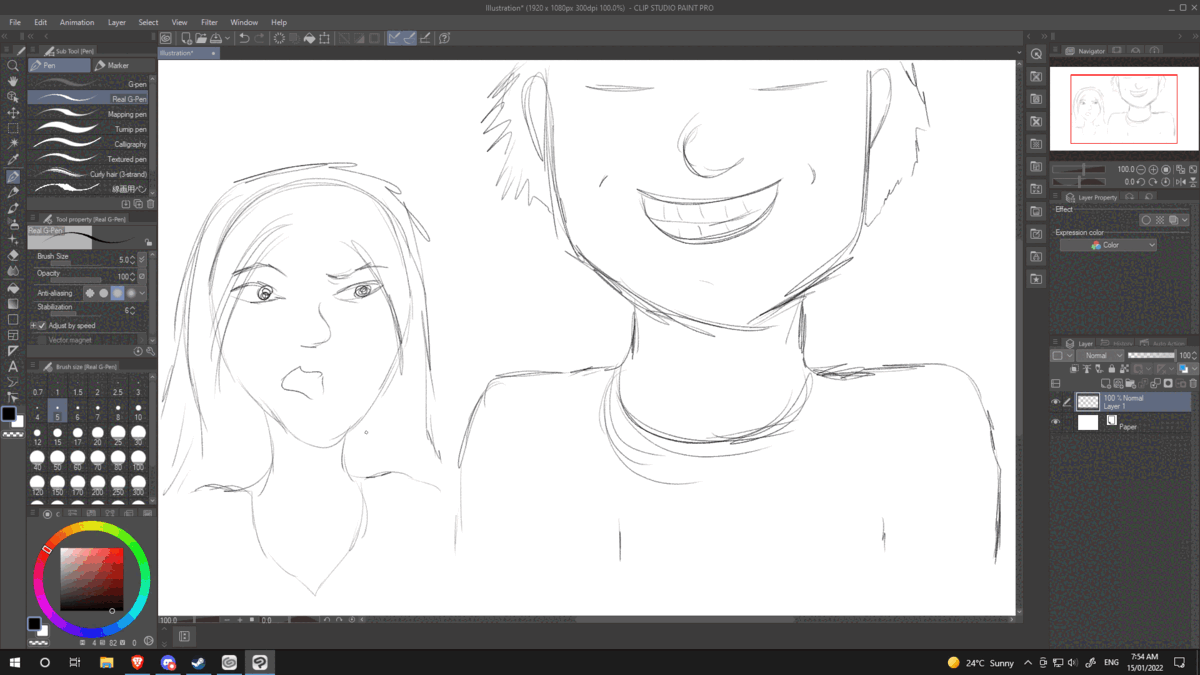 I think I'm improving!! 😊 I mean, it still looks like it's drawn by a child, but I'm getting better.
It's been a very long time since I've drawn anything, and it's taking me a few months to get the hang of drawing on the tablet instead of pen-and-paper, but I think I'm finally getting somewhere.
Once I get emotions down pat, and body movements are my next goal, I think I could finally begin work on my comic.
I'm almost there!! 😁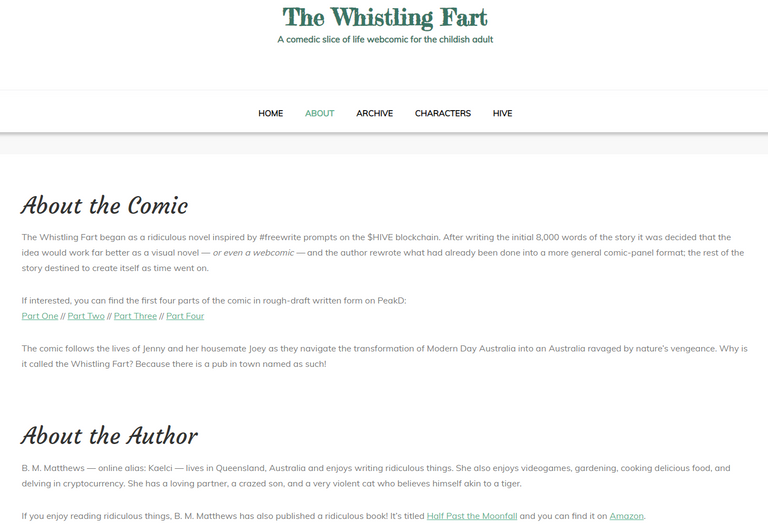 The Whistling Fart webcomic shall soon exist!
I already have a basic Wordpress website set up for it, just need to adjust things a bit for "next comic" and "previous comic" ... but I chose Wordpress so I could link it to Hive easily. Already have a Hive account set up for the comic too. I just need to keep practicing my drawing! 🎨 Which is much easier now that I am able to have everything plugged in all the time instead of constantly rearranging everything. 😆
With a bit more practice, I might even start putting my drawings into an actual community instead of hiding it away on my blog. 😆🤣
Until next time!! 🎨🖌️👩‍🎨
---
All screenshots/images/photos in this post are courtesy of me, @kaelci
---
---