Learning to use Midjourney: Setting up a scene and failing miserably! 😊
In the latest novel I've decided to write — and probably not finish 🤣 — there is a young woman named Kelsey.
After becoming obsessed with a book series and the quote, "it is said that authors gather their inspiration from glimpses of alternate universes," she decides to try and travel to the reality of these novels. And it works!
Although it's only briefly mentioned in my writing how she succeeds, I decided to try and generate an image of it. It looked interesting in my mind and I wanted to see what Midjourney could do with it!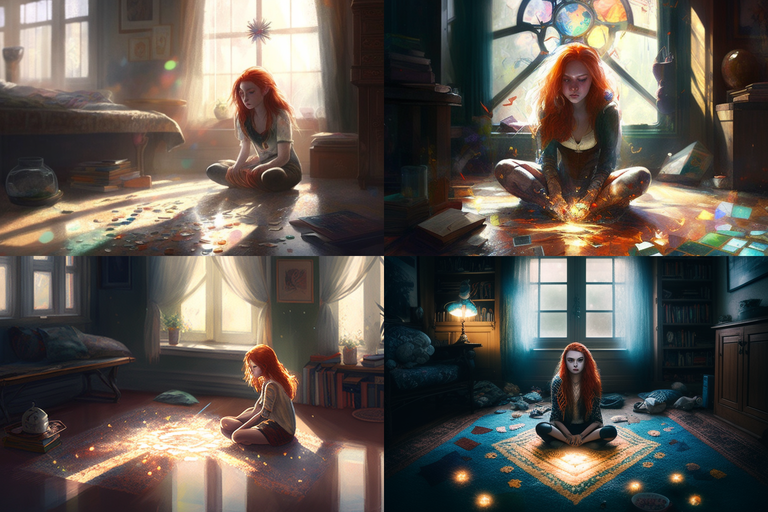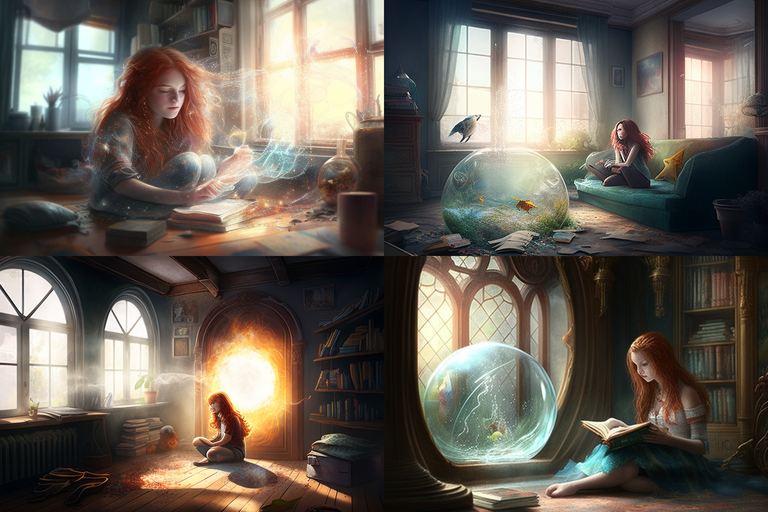 I've only been dabbling with this for a day or so and I'm still learning how to best word my prompts and how to utilise different commands, but I feel like I'm getting the hang of it.
My main issue with generating this image for the longest time was that it kept generating a girl instead of woman. Finally I specified "adult woman" and that seemed to work a little better.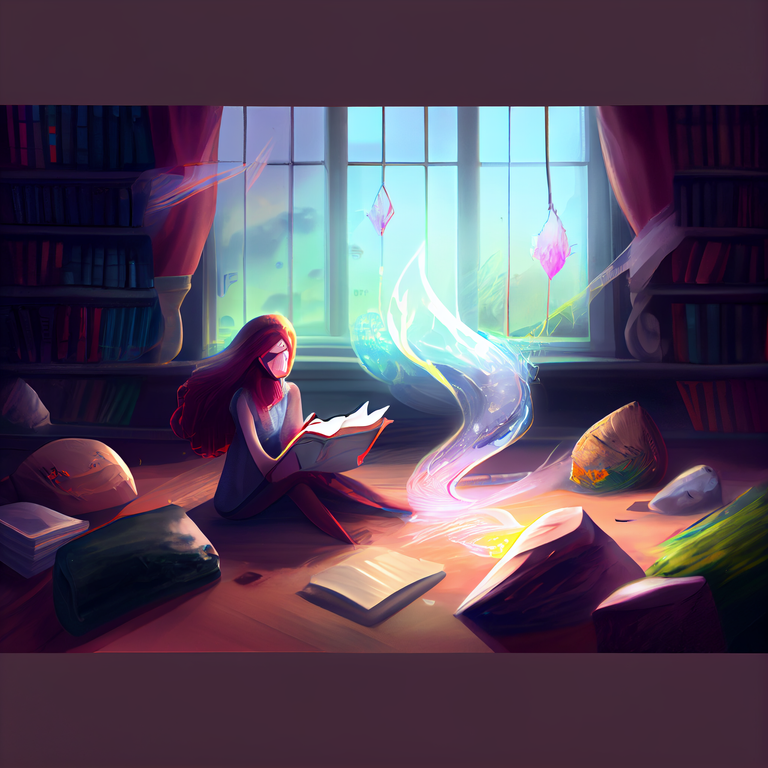 Unfortunately, the more I fiddled with an image and blended it, the more cartoony it became when that wasn't what I wanted, so I tried again.
This time I generated a bunch of images specifying highly detailed and realistic. I generated gemstones and the woman reading a book separately. I've noticed a lot of people feeding Midjourney a giant very descriptive paragraph, but I don't find that works for me. I find it more accurate to generate a few images then try and blend them together.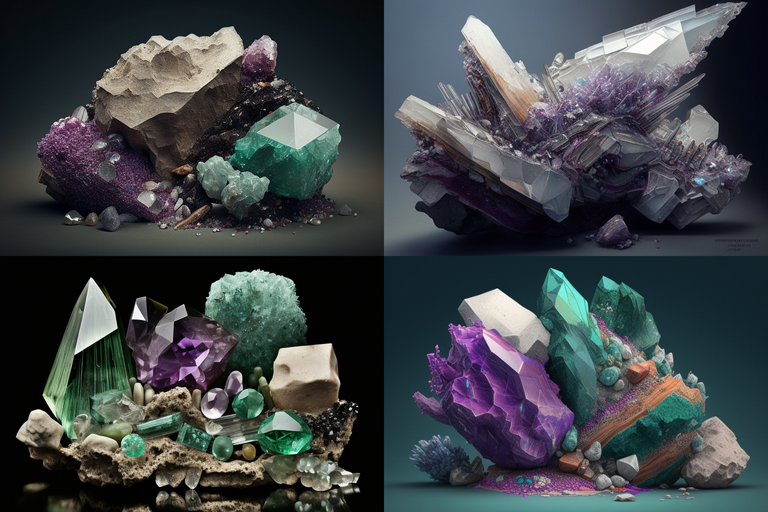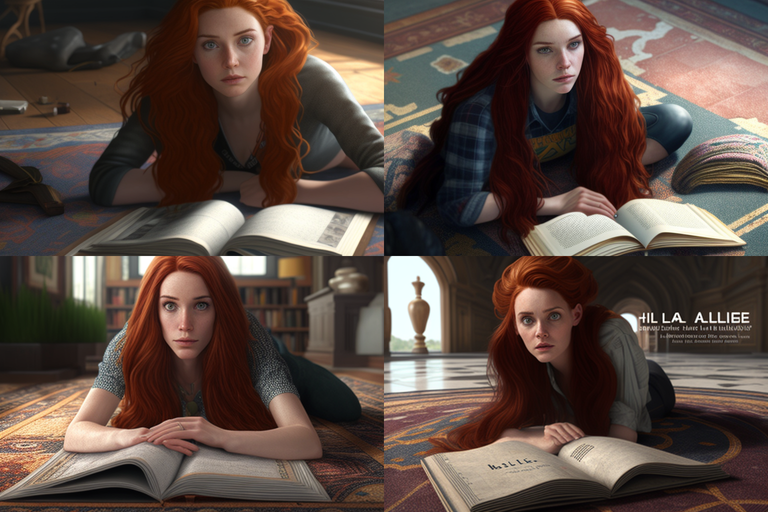 Honestly, generating the woman was the hardest part of all this. So often, despite specifying realism and woman, I received cartoon children. Some of them didn't have books, but guitars instead! The AI needs more training. 😅
Like, at one point it started randomly inserting an animal as the main focus of the image! No where in my prompt did I ask for a cat, or beast, or any type of animal. And I don't know how a "woman sitting on a rug, reading a book" even suggests an animal should be included.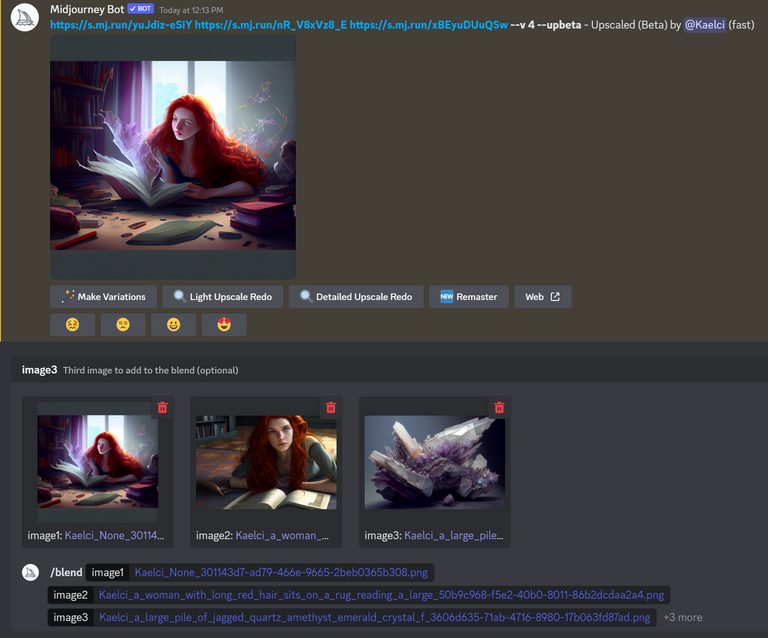 Once I had a crystal formation, woman, and loungeroom that I liked — which took about 2 hours, I might add — I started the act of trying to set the scene using these images. I got this one that I liked, but I still thought it was too cartoony.
Not too sure how to keep the general vibe of the image but transform it into a more realistic piece, I blended it with the same images again. Inception.
At one point I tried to put in duplicate images of the woman to be blended so that it focused on that aspect... but I got given a warning that was apparently against the ToS. 😅 Woops. I don't know why. I was just trying to double down on that aspect of the image, and when blending I can't specify which image should take precedence.
Or maybe I can? Would love to hear any tips and tricks for this from more learned users. 😊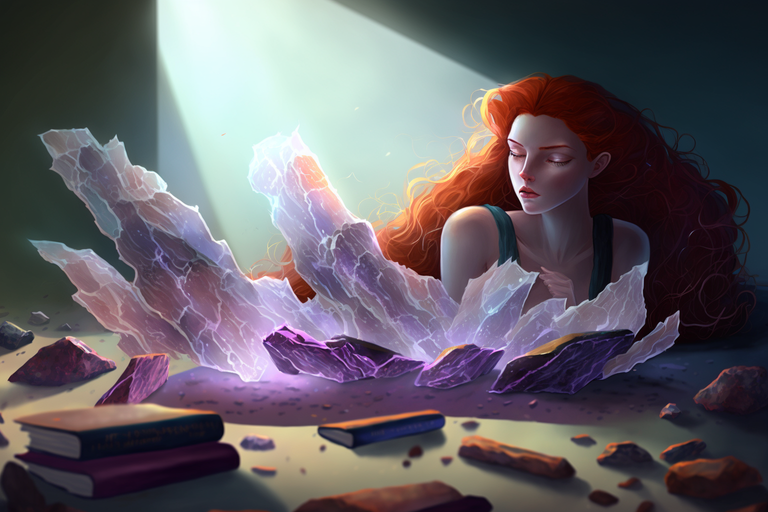 What I wanted to achieve was a living room image, the woman sits on the floor in the middle. She's reading a book. She sits in a circle of jagged raw/natural crystals.
Due to ToS reasons, I couldn't include the blood that I wanted to. Apparently gore is frowned upon.
I'm thinking that there's a setting somewhere in the blend that is making it cartoony. Perhaps the style? This time I changed the style to the highest option and crossed my fingers.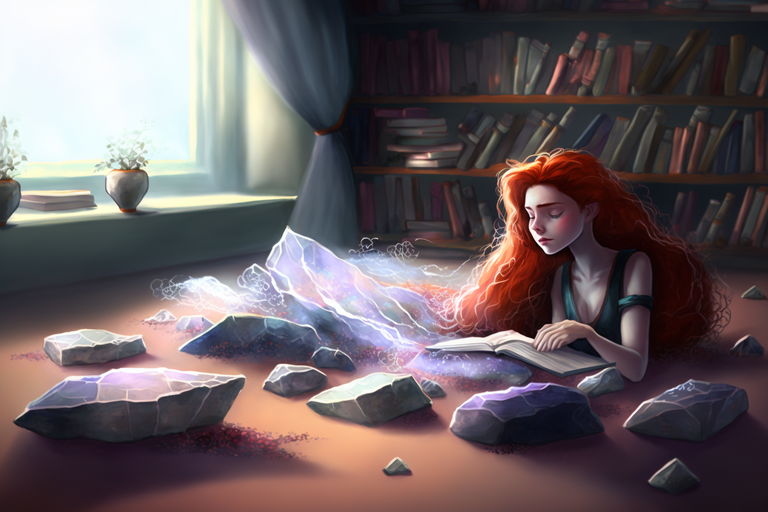 This time I got this image above. It's getting closer to what I want but it's still cartoony. And it's getting to the stage now where if I keep trying to tweak it, it turns into abstract art which is most certainly not what I'm looking for.
After attempting a few other blends and prompts, I decided to do as I've seen others do and be a bit more descriptive in my attempt to get this image.
Wide-angle, highly detailed, life-like:: a pretty woman with long red hair sits on the floor reading a large hardcover book, amethyst and quartz crystals cover the wooden floorboards, sunlight shines through a square window:: --c 45 --aspect 3:2 --uplight --s 750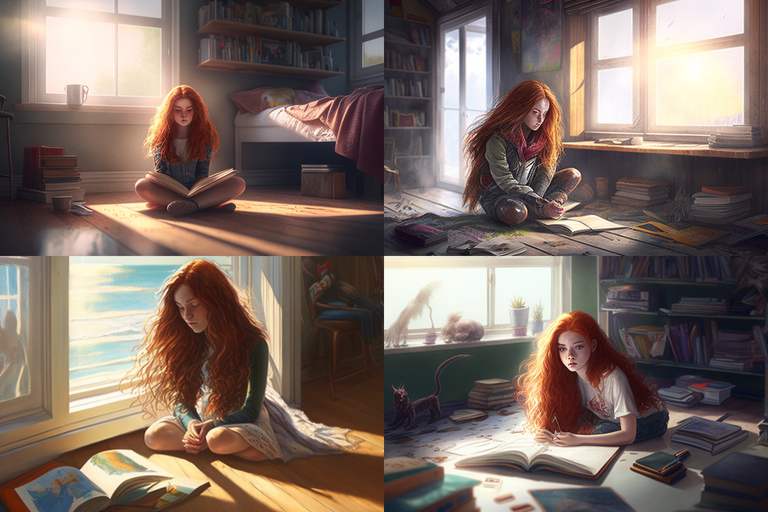 And once again I get children.
Maybe, despite the fact that I am a woman, I don't know what a woman looks like? Haha. I like the positioning and basic layout of image 4 though, so I grabbed it. Next step, I blended it with the more age-appropriate woman I was using before.
And the very moment I blended it, it turned into a cartoon again.
So I tried again:
Wide-angle, highly detailed, life-like, live:: a pretty adult woman with long red hair sits on the floor reading a large hardcover book:: amethyst and quartz crystals cover the wooden floorboards::2 sunlight shines through a square window:: --no child --no canvas --no painting --c 45 --aspect 3:2 --uplight --s 750
"No child," haha.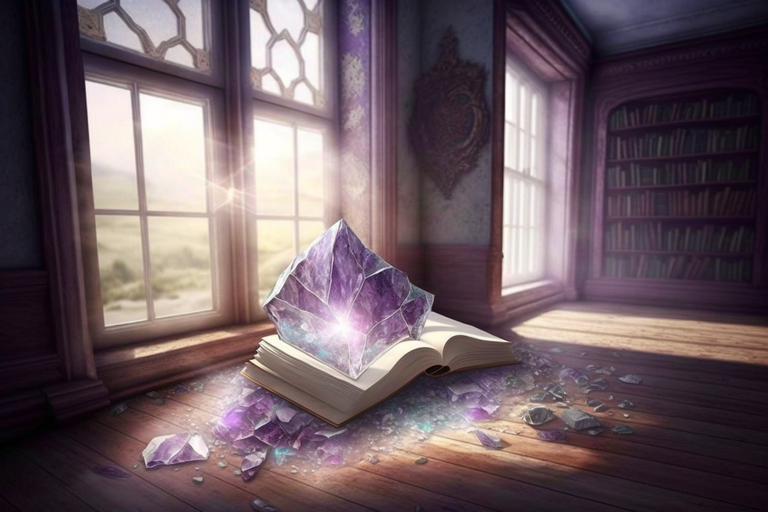 Since the crystals weren't showing up in the previous attempts, I tried to heighten their preference... and I got this lovely image! Only there was no woman in it.
I really like that image though. If the woman was there, reading the book, I would have absolutely loved it.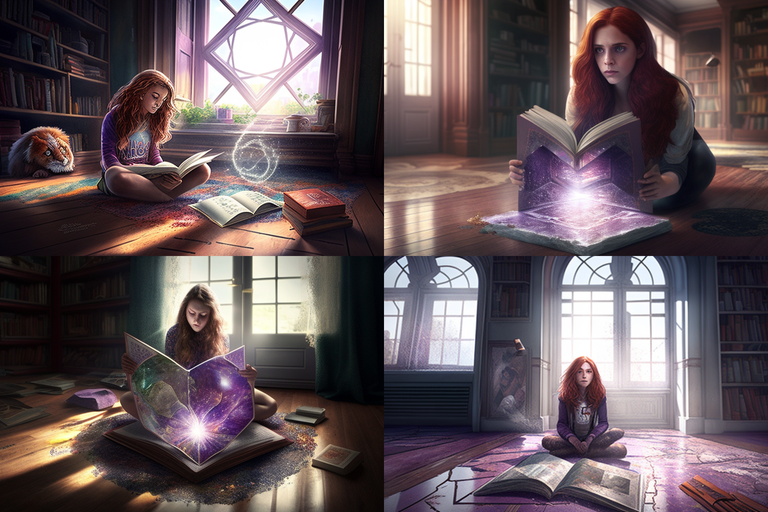 Things were starting to look up a bit now! Though she still looked too young, I was starting to get all the pieces in place. — Here's a reminder: the $10 Midjourney plan? If you spend an entire day on it, you will use all of your hours in that one day.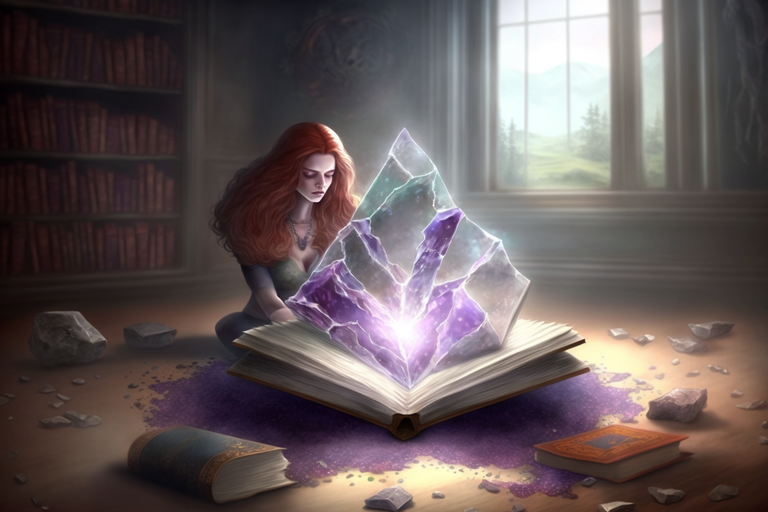 It's just, once again, as soon I started to blend things, it all started to lose its "realism."
The image above? It's not too cartoony but it's also not quite as "real" as I wanted. I didn't want proper real-life real, just... realer than an illustration.
Still, it has what I want. There's the woman, sitting there with her very large hardcover book, she's sitting cross-legged on the floor in a living room, there are crystals on the floor surrounding her as well as a nifty large one on her book.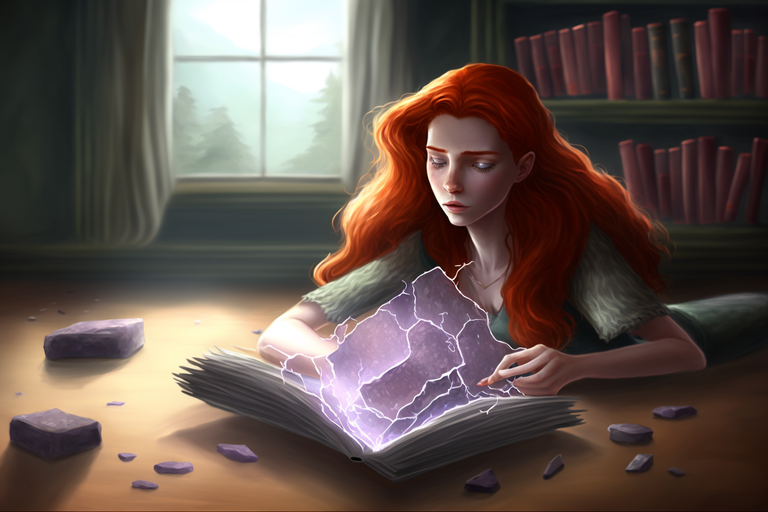 I tried to dabble with it a little more, to no real success. Just a bunch of Disney-princess-looking things, really. But then I tried to add some cinematic lighting and unreal engine effects!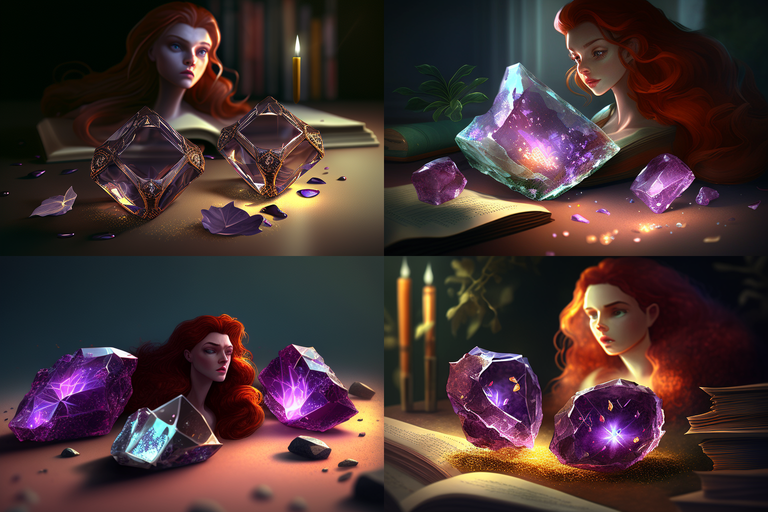 Interesting... those crystals are fantastic!! I'll have to play with that some more!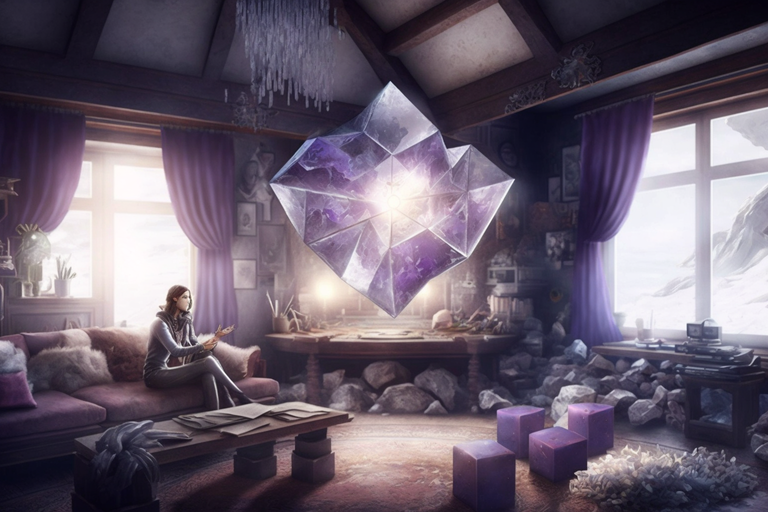 I'd like to reiterate that this is my first time trying to create a proper scene using the AI, so I have no idea what I'm doing and I'm mostly just hoping it works how I imagine. xD I'm hoping my next attempt at scene setting goes a little better!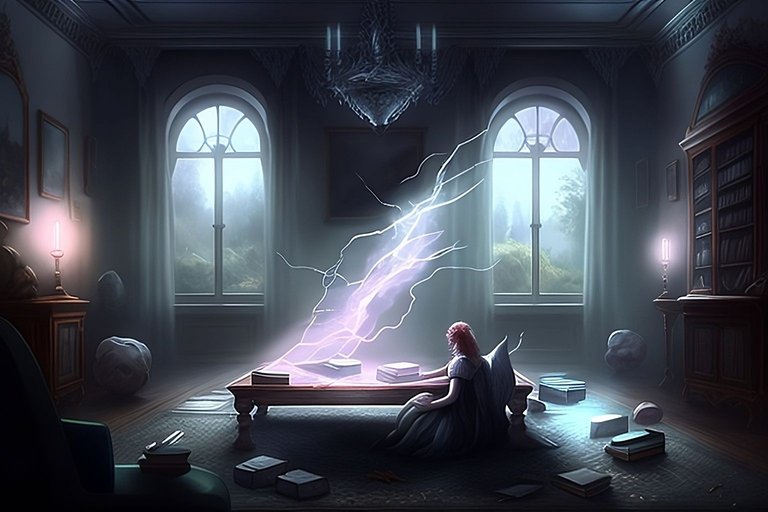 If anyone has any tips, hints, or tricks for prompt usage with Midjourney, I'd love to hear them. 😊
After doing all of this, I then learnt that it's better to save my grid image by pressing the mail emoji and upscale them using a third party. That's something I wish I knew at the start! xD The inbuilt upscaling is atrocious and warped many of my images.
Until next time!! ✨
---
All images in this post are courtesy of me, @kaelci and were created with Midjourney.
---
---