Monster Sanctuary ~ Pokemon meets Final Fantasy, Metroidvania-style!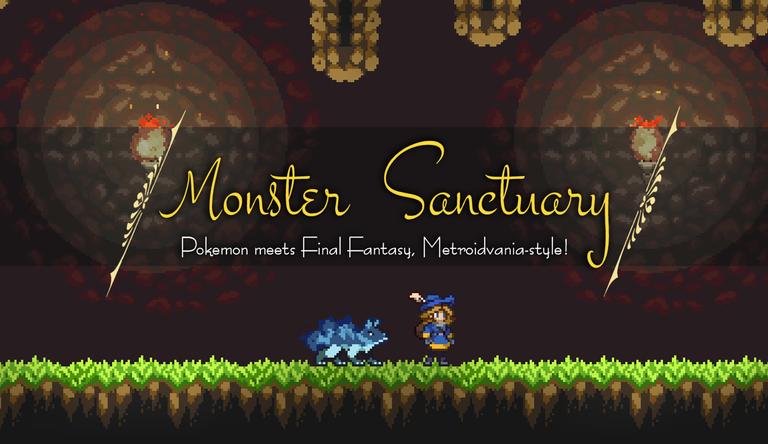 The xbox gamepass and I have a terrible relationship.
I first subscribed to it to play Halo and Grounded with my partner, and then unsubscribed once those were done. Then I got it into my head to try out a bunch of games in the library, so resubscribed! But then I had a few months of gamer's block and unsubscribed. Then it happened again. So I have subscribed several times to the thing to not actually have played anything available on the platform. 🤣
Gamer's Block!! You know -- when you feel listless, there's nothing you really want to play, you're looking forward to this one thing but it's not out for ages so you're kinda just dicking about, trying to pass time, but very unsuccessfully? Yes. That feeling. Or, I don't know. Maybe I'm just weird.
Anyway! For $1 I get 3 months of subscription time, so I thought to myself, "Why the hell not!? Let's subscribe again and see if there's actually something that'll entice me!"
I downloaded a few things. Two of which I've already uninstalled after a mere 10 minutes.
Moonglow Bay is a cute little fishing simulator that looked right up my alley, but it's a computer game that's more suited for console+controllers. (That really grinds my gears, by the way.) Apparently it has keyboard/mouse functionality once you go through the settings but you need to plug in a controller to even get it set up properly. Argh. So that was quickly uninstalled. Starmancer is an interesting-looking pixel game where you're the AI of a failing colony spaceship - intriguing idea, poor execution. Uninstalled.
I also grabbed Slime Rancher, Code Vein, Outriders, annnddddd Monster Sanctuary.
After this elongated, massive babble of an introduction, allow me to officially introduce you to...
 
✨ Monster Sanctuary!!! ✨
It describes itself as "monster taming meets metroidvania"... and, to be honest, that's about perfect. I'd personally add: "Monster taming meets Final Fantasy!" ~ Although I'm quite happy referring to it as my Pokemon Platformer.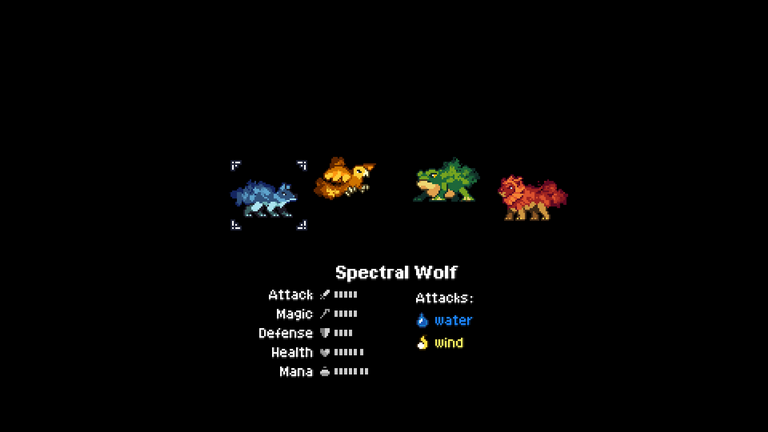 First thing's first -- we need to choose our starter pokemon monster.
The fiery one looks as though it'd be the best all-rounder with high attack/magic/defence/health/mana, but I preferred the aesthetic of the spectral wolf and he had the next best stats, in my opinion. I'm sure they're all good in their own way.
Together, I, Kaelci, and my spectral wolf, Ari, are on our way to quest, battle, and discover all there is to discover in this realm!
And catch 'em all.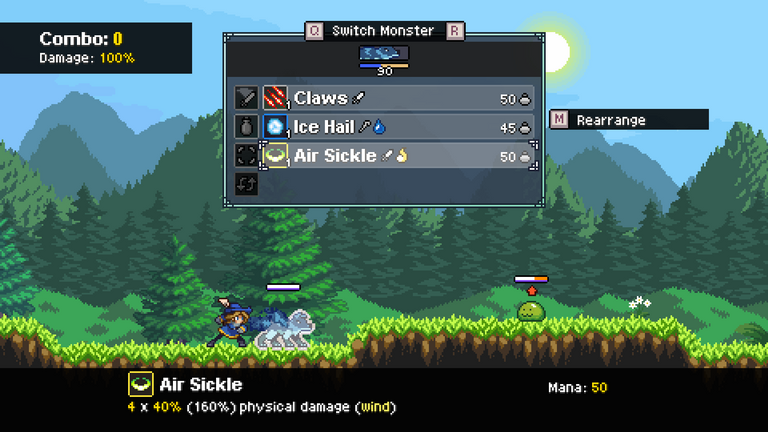 Combat is pretty straight forward. And what I really appreciate is the fact you can see how much health is going to be taken off the enemy when you hover over each attack.
There is no throwing of balls or anything when creatures are weak enough, either. Just... kill everything. If you're lucky, they'll leave an egg of themselves behind as loot! And you can hatch it and have your very own whatever-it-is-you-just-killed.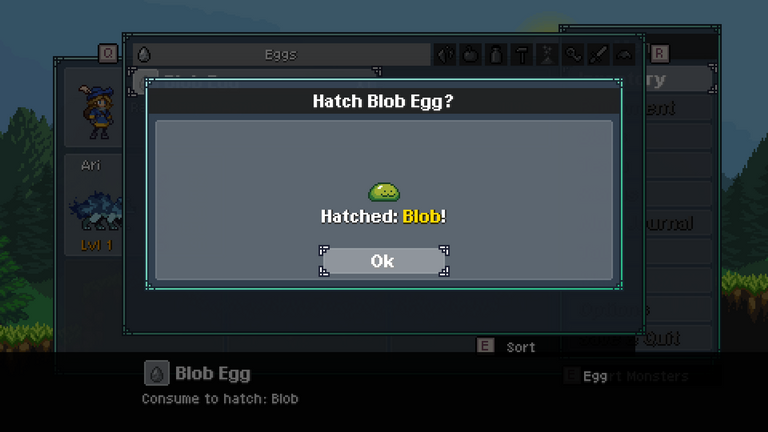 As you battle the things that cross your path, your monsters also gain XP and level up. Even the ones not active at the time!! That's fantastic.
I really like how they've done this levelling up process. It was so annoying in pokemon just switching every single pokemon out and letting them get one tiny hit on something just so the whole party could get xp.
Also... talent trees!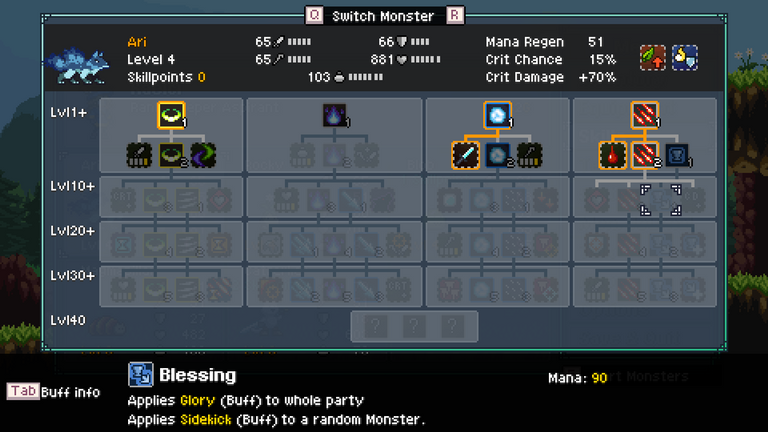 There aren't enough talent trees in this world. I was first introduced to the concept of a branchy talent-tree in World of Warcraft and I loved it! And then I was disappointed that they removed the trees in favour of some weird... choose-a-thing-at-a-certain-level thing.
Same thing happened with SWTOR! A nifty talent tree... gets transformed into something else.
From what I've heard some gamers don't like these type of talent trees... but... I do. 😬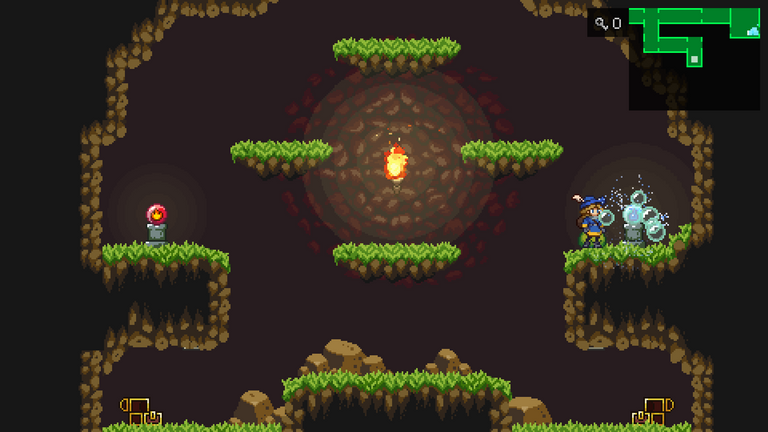 Different monsters also have different abilities that they can use out in the world, out of battle. There are hidden secrets all throughout the game -- there'll be vines you can't pass, what looks like a crack in the wall, things a little too high and out of reach, treasure chests trapped behind elemental doors...
How do we open them?
With our monsters!
It's so quick and easy to switch out your current active monster and bring out the one you want to help you with whatever-it-is that needs doing. My Spectral Wolfie is great at slicing vines out of the way and digging through the earth. My little blob can activate watery puzzles. My fiery caterpillar can activate fiery puzzles. Everything has a use!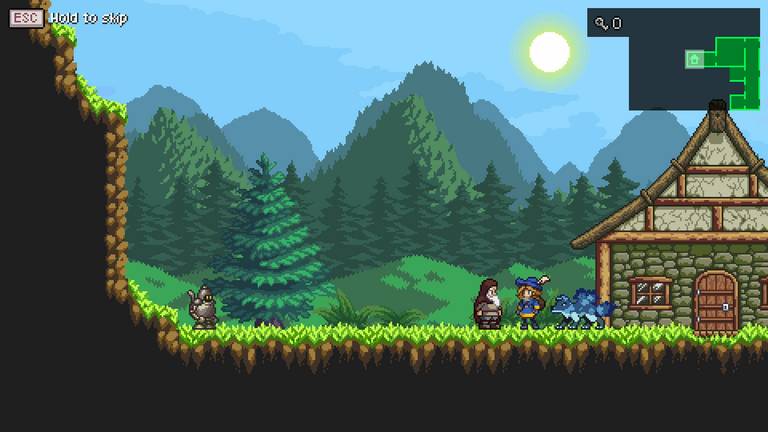 The first quest leads you to this old man hidden in the forest, behind several mobs of enemies. By the time I reach him I've got six monsters of my own and they're all level 5 or so and I'm ready to show him what I can do!
He is soon impressed by my capabilities, tells me about these strange 'champions' that are roaming the lands, and tells me that as a new Keeper of the Monsters I will need to cull these champions to keep the lands safe.
Okie dokie!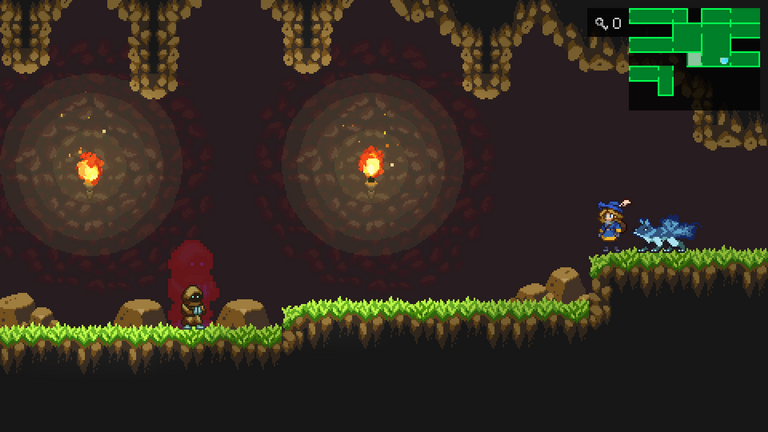 The silly old man gave me a key to go fight one of the champions right now, if I felt ready...
I'm probably not ready. But with key in hand, my wolf and myself race to the locked region and prepare to face a champion.
And he was soon defeated. Although more challenging with more health than the other monsters, he was relatively easy.
With the safety of the realm firm within my grasp and ability, I continue on to the keep where I proclaim my greatness to all the castle-dwellers within and get some more information about what's what.
I also find a blacksmith who utilises a lot of the loot that I find!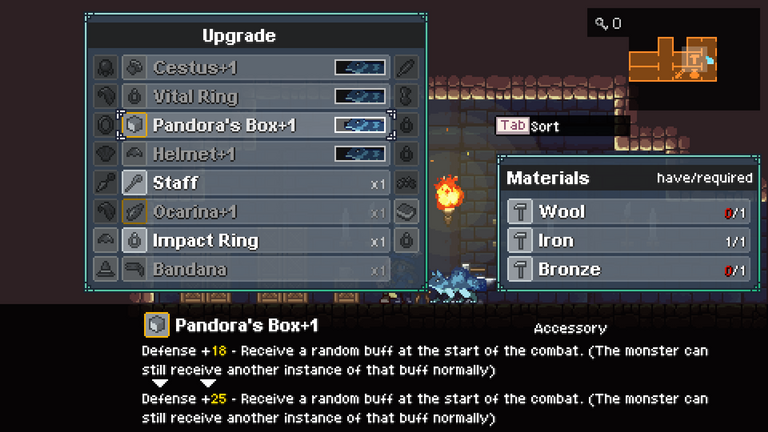 And proceed to upgrade a bunch of stuff until I no longer have any more resources! 😁
So far I'm really enjoying this little game. Final Fantasy meets Pokemon meets Platforming ~ what's not to like? It's fantastic! I'll definitely be playing this one for a little while. Sorry, Sims Legacy Challenge! Something else had grabbed my attention for the time-being! 😅
 

⭐️⭐️⭐️⭐️⭐️⭐️⭐️⭐️
And also on xbox gamepass if you happen to have it!
⭐️⭐️⭐️⭐️⭐️⭐️⭐️⭐️
If you enjoy Pokemon or Final Fantasy or even both, I really think that you would enjoy this game. I'm personally not a fan of platformers, I'm terrible at the things and cringe and die inside whenever any game unexpectedly wants me to start platforming. (I'm looking at you,
New World
, in that terrible dungeon with the purple laser beams that I have to avoid while jumping from one rock to the next, UGH!) 😆
Until next time! 😄🦄
---
All screenshots in this post are courtesy of me, @kaelci and are from the game: Monster Sanctuary.
---
---