Path of Exile ~ The Endless Delve!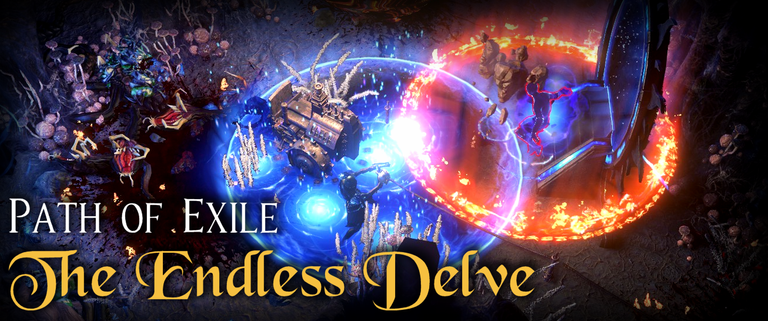 So, I've taken a small break from my ongoing They Are Billions campaign story-playthrough thing I've been doing over the past few days and have dived back into Path of Exile.
Why? 😮
Because there's a bunch of events happening this month!
Actually, I'm fairly sure they do this every December... or at least, for the past couple of Decembers. But last year was the first I heard about it, and I was too busy moving towns and things at this time last year to really care about playing PoE. 😅
This year though!! Here I am! Jumping into the Endless Delve event for the very first time!
Honestly... this type of event -- and the upcoming ones too -- makes me wonder just whyyyyy can't they bring an adventure mode to this game instead of forcing us to plod through the campaign every damned League. They obviously have the capability to do this, so, why not!?
We start at level 1... and... in Grinding Gear Games' words:
You start with a stack of Scrolls of Wisdom and some powerful unique items. Lilly Roth has shown up in the mine encampment to sell you gems, and she's running a special offer — all gems cost only a single Scroll of Wisdom. At level 1, and every 10 character levels until level 70, you gain 3 passive skill points to make up for the ones you'd normally get from quests. And of course the Altar of Ascendancy is available, granting you 2 Ascendancy passive skill points when you reach levels matching the area level of each Labyrinth. But you can't escape Kitava's curses either — you lose resistances and start incurring an experience penalty on death when you reach levels 40 and 70.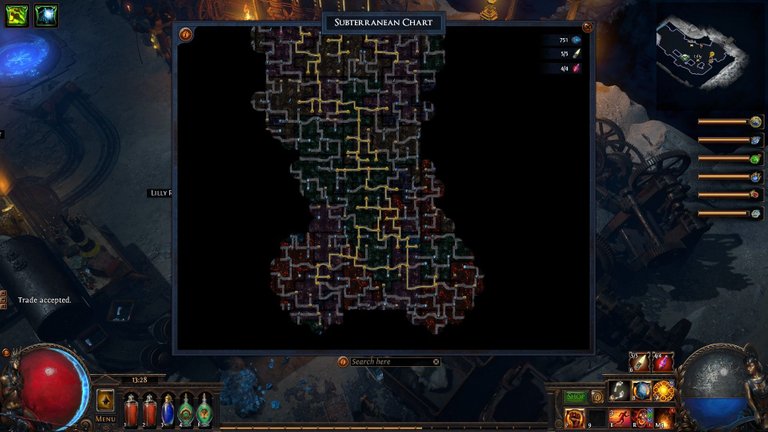 So! Endless Delving!
I guess the goal is to simply get as far as you can through the mines... but the main goal, for me anyway, is to reach a paltry level 50 so I can get myself an Atlantis mystery box.
Because it's the weekend, and my partner was sleeping for his night shift tonight, and because I HAVE NO LIFE! I've been playing all day! 😁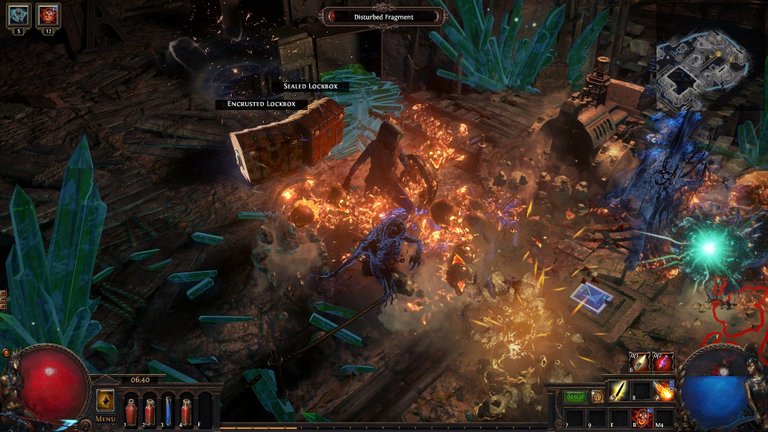 I decided to make another Scion but this time, instead of melee, I gave her the same abilities -- kind of -- as the witch I've been playing this Scourge league.
I started off with Raging Skulls with Infernal Legion support just to get past the first few levels, and then, as soon as I hit the correct level...
It was Flameblast Time!
But this time, it's connected with a Cast While Channelling and Detonate. Muaahahaha! I'm loving it. So much so that I'm going to chuck this on my Flameblast on my Scourge witch. 😁
However, thanks to having Detonate as one of my abilities, I have discovered that there are a fair few mobs in the mines that don't have corpses so I can't explode them. Oh well. For the most part, it seems to be working well.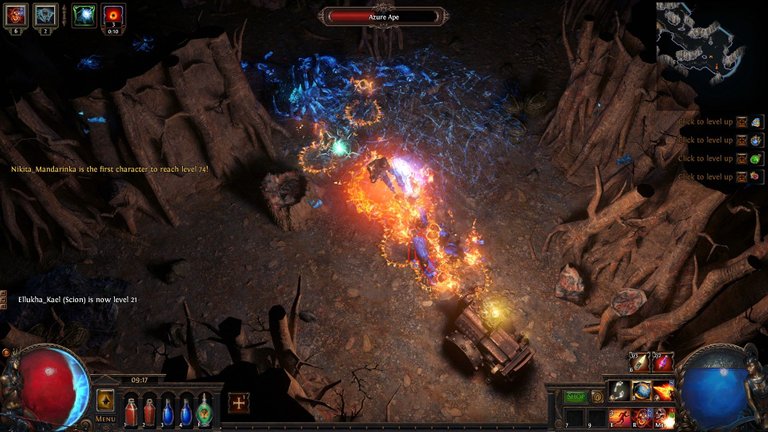 Also! As is the case whenever I start during the start of a new League, I am amazed by how fast people can level in this game.
As can be seen in the above screenshot... the moment I hit level 21 someone reached level 74.
It just astounds me. I started at the same time as everyone else, and sure, I'm not obsessed and I don't plot everything out in Path of Building beforehand nor do I know the "best builds!!!!" off by heart... but still. That's such a significant leap.
Crazy.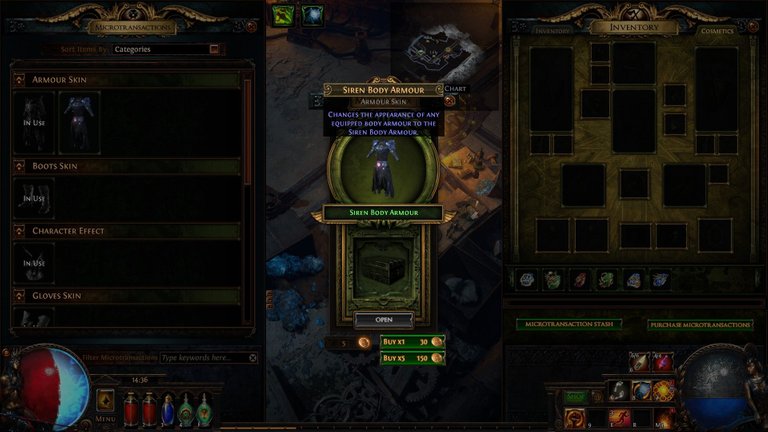 But plodding along at my own pace, far behind everyone else, I hit level 50 far sooner than I would have in the campaign and leapt at my brand new mystery box! (I'm level 63 as of writing this!)
What was inside this mystery box?
Some body armour!
Here's hoping when the other events hit later this month I'll be able to get a bit more of the set! 🙂 Mostly though, I'm hoping for the Siren portal effect. And wings. Both items that are considered a rare find in these mystery boxes.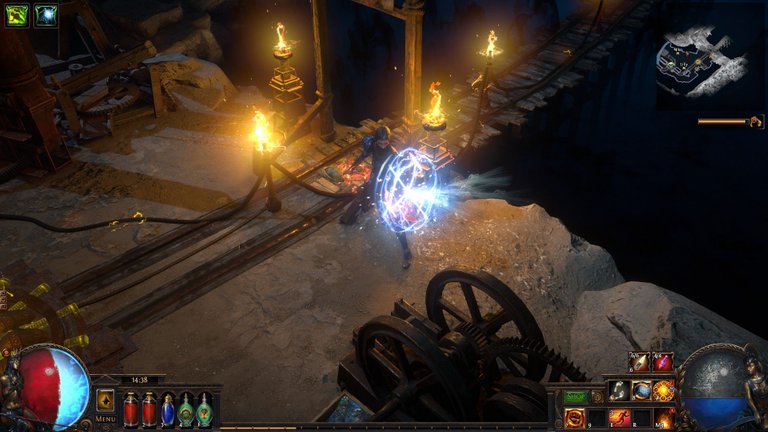 With my mystery box opened and my new armour appearance retrieved, I have accomplished my goal! But I'm not going to stop here. I'm going to see how far I can get while this event is up and running.
In my limited experience so far, delves haven't exactly been kind to me and I haven't gotten very deep, so it'll be interesting to see just how far I can actually make it. Also, I'll be eligible for entering random draws for more cool microtransaction appearances when I hit certain levels, so fingers crossed I'm lucky! 😁
I don't really have any urge to waste money on this game so I like having the opportunity to possibly win these things for just playing. I already bought one of the supporter packs yonks ago and that was enough for me. They're so pricey. There was an anniversary sale on recently, and even on special these things were ludicrously priced.
I mean, they have to make money somehow... but... you know... MORE INVENTORY SPACE!!!! 🤣😉 I know I've said this fifty thousand times now, but, that I would buy.
Until next time! ⚔️
---
All screenshots in this post are courtesy of me, @kaelci and are from the game: Path of Exile.
---
---