The Grumpiest Fairy | @snook's Create Your Fairy Challenge!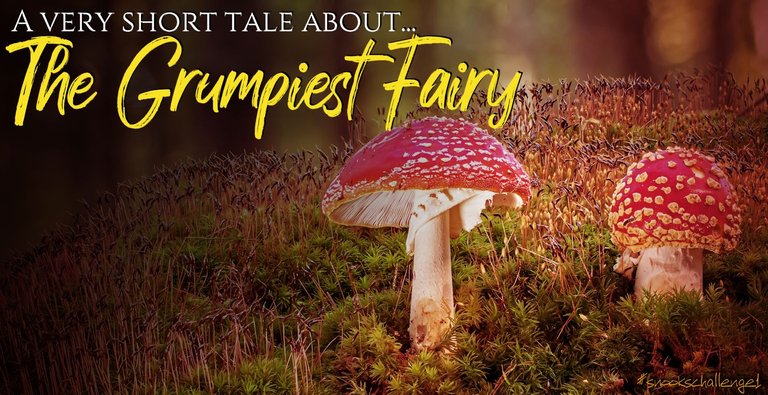 ---
Once upon a mid-summer moon, the grumpiest fairy in all the forest sat upon a bright red toadstool, buried her head between her knees, and moped. She didn't cry, nor did she allow a single tremor shake her body; she was far too proud for that, but... it just wasn't meant to be like this.
Great iridescent wings grew out of her back and shimmered beneath the starlight, raven-black curls ran in rivulets down her back, slightly turning up at the ends as though in a joyful wave to the night sky, and on her face, above her tiny ugly nose, the biggest, bluest eyes any fairy had even seen shone as bright as sapphires.
She was hideous.
Only two days prior she beheld great honking nostrils, complete with oozing wart. The thickest, scraggliest eyebrows set in a perfect mono. A tiny, crooked mouth overfilled with sharp, pointy teeth... she had been perfect. She had been the most wicked, most glorious, the most utterly wretched witch to have graced the land in centuries! And now, thanks to one teeny, tiny mishap, she was this hideous, pathetic creature.
It all started upon her scheduled decadely flight to thwart any stinking love stories from happening. Every prince in the realm was to be turned into a vulture. Particularly disgusting princes with blonde hair and blue eyes and chiselled jaws of storytale proportions were to be turned into warthogs.
It used to be that she and her kind would turn these horrible princes into frogs, but the princesses had actually started kissing them to return them to their natural state! Surely no princess in their right mind would dare kiss a rampaging warthog.
When her journey had completed with a record five princes transformed into wonderful non-human creatures, she licked her favourite toad -- as she always did -- with the happiest of glee and had visions of the other side for a few hours, and then, the next evening... she awoke like this. Ugh. Her poor little toad. She had been tricked!
At least she had turned into a fairy and not a horrible, horrible creature like... a human. In this form, at least she still had magical abilities.
She still had magical abilities.
Her large, sapphire eyes enlargened evermore and she leapt off the toadstool.
"I still have magical abilities," she croaked to herself and flapped her great, shimmering wings.
Well, if she was going to be stuck in this form for the rest of her days, she would make the most of it -- she would become the most wicked, most glorious, most hideously disgusting fairy to have ever flown the forest!
The fairyfolk, and all the other woodland creatures, would soon fear her. Tales would be told for centuries to come.
Her laughter rang through the forest -- a dry, scratchy cackle that sounded nothing like a tiny fairy's titter -- and she smiled a wicked smile.
She would start with the fairy prince: he would make a fine buzzard.
The end.
---
This is an entry for @snook's Create Your Fairy challenge! 😄
You should join in the challenge too! You have until the 11th of December to join in! You can write, draw, paint, make music, anything creative!! You can find more information at the following link:
Until next time!! 🔮🍄🧚🏼
---
---