Trapped in MMO Limbo // giving Guild Wars 2 another try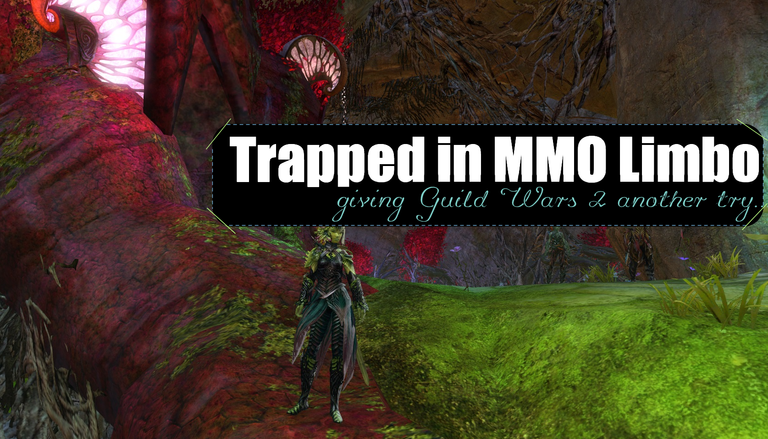 Every now and then I get this urge to play an MMO. Unfortunately, for various reasons, there's not many that I'm actually wanting to play. I've tried so many over the years and I have ones that I like, some that I dislike, and a couple that make me sad for what could have been.
Case in point: Archeage could have been a brilliant MMO if not for the in-your-face pay to win mechanics AND the ghastly labour system in which you can only do so much each day before being told, "Sorry. You're out of labour points. Come back tomorrow." ~ what kind of idiotic company wants to limit their potential playerbase?
Another that makes me sad for what could have been is Star Wars: the Old Republic. What started out as a brilliant MMO with the most fun I've ever had in any pvp, with several wonderful stories as well as an over-arching story, with a wonderful solo-or-group experience depending on your preferences... transformed into a mere shell of what once was and has now turned into a game where you just click a purple button every five or so minutes, with a teeny bit of combat and makeshift story thrown in-between.
So, while waiting for Final Fantasy XIV to install their Oceanic servers they've promised to release in patch 6.1... and also waiting for Lost Ark which is due to be released in February... my partner and I have been trying to think of another multiplayer game to play, preferably MMO-style. Guild Wars 2 was the answer.
Now I have tried Guild Wars 2 once before, many, many moons ago. And I think my main issues with it at the time were the economy -- the trading post seemed weird to me at the time? Overpopulated with everything worth a pittance? -- and mostly just the fact that I was playing by myself. This time I'll have my partner with me. And because this is mostly just a time-sink I don't really care about the state of the economy. 🤷‍♀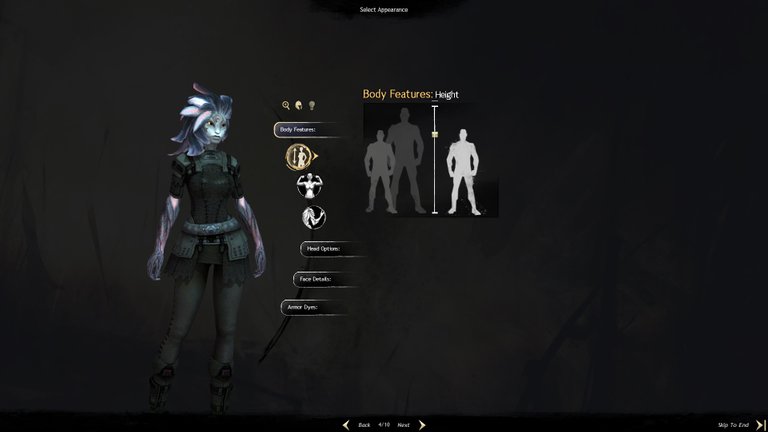 First of all, I had a bit of trouble.
I bought Guild Wars 2 a fair while back, and for some reason my account had been flagged for suspicious activity. I didn't feel like dealing with support and since the game is free-to-play now, I decided to just use my secondary email to get a new account to access the game.
I'm miffed that I don't have what I consider my "proper" account, especially when I paid money for the game back in the day. But it's not as if I got very far in it or anything.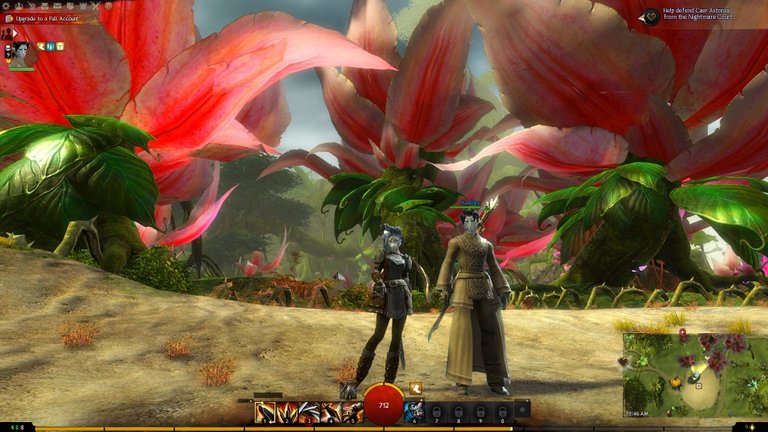 My partner and I made some tree-people. 🌿🌷 I'm a warrior and he's a necromancer.
My first impressions though... I'm just trying to work out why I couldn't really get into it back in the day? I guess my style of play has kind of changed over the years and that could be a big part of it.
Back then, I was more looking for a game that I could farm in and make lots of money on the trading post/auction house. Probably also more of a cookie-cutter-MMO that gave off SWTOR and WoW vibes. Nowadays, whilst I still enjoy doing that, and still enjoy the "cookie-cutter MMO", I also enjoy more.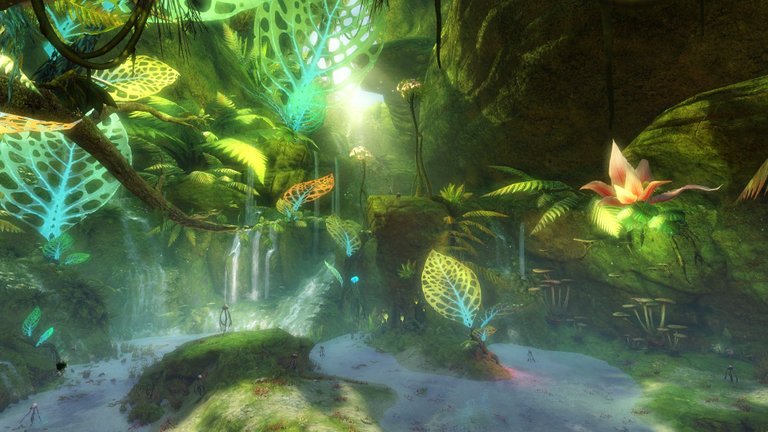 I find it a bit odd that quests are just automatically given to you and are completed by clicking on a flashing icon that appears above the minimap. There doesn't seem to be much talking to NPCs. But I do like the random events that appear, that remind me of the FATE events in Final Fantasy XIV.
Having abilities attached to weapons seems pretty cool too, but at the same time I feel as though the classes themselves should have abilities? Maybe they do? Apparently I unlock "skills" at level 11... so maybe that's where I go a bit more indepth with my character personalisation?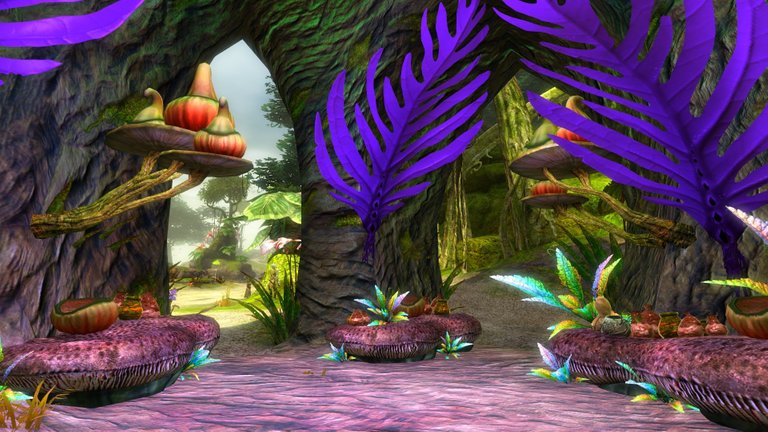 The graphics are very pretty and I've seen quite a few people running around/flying around on interesting looking mounts, with unique pets following them, and some people just chilling on floating, glowing flowers for some reason.
While I'm intrigued enough to keep going, and am enjoying admiring my surroundings, I'm not too sure I can actually get into the game.
Part of me is holding back because I know I plan to spend a lot of time in Final Fantasy XIV and a LOT of time in Lost Ark, so I'm not really wanting to get tooooooo involved with this. It's just supposed to be a mini time-sink while waiting.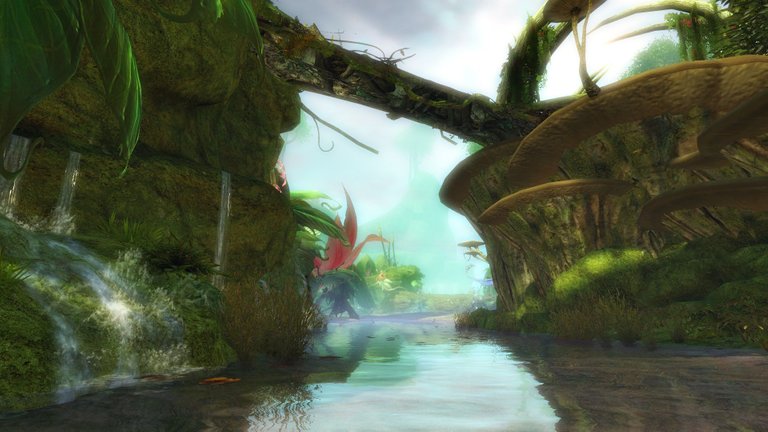 I don't know...we'll see how it goes. 🙂
If nothing else, I'll probably just go from zone to zone fulfilling quests and seeing some pretty scenery as I do so.
I haven't done a Screenshot Showcase in a while... maybe this will inspire that. 📸
Until next time! 🍂🍄
---
All screenshots in this post are courtesy of me, @kaelci and are from the game: Guild War 2.
---
---