World of Warcraft's Dragonflight has launched!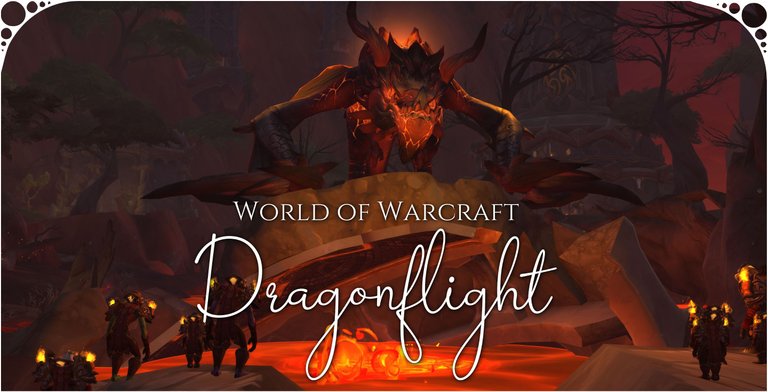 World of Warcraft's Dragonflight has launched!
...and what a giant headache Launch happened to be. xD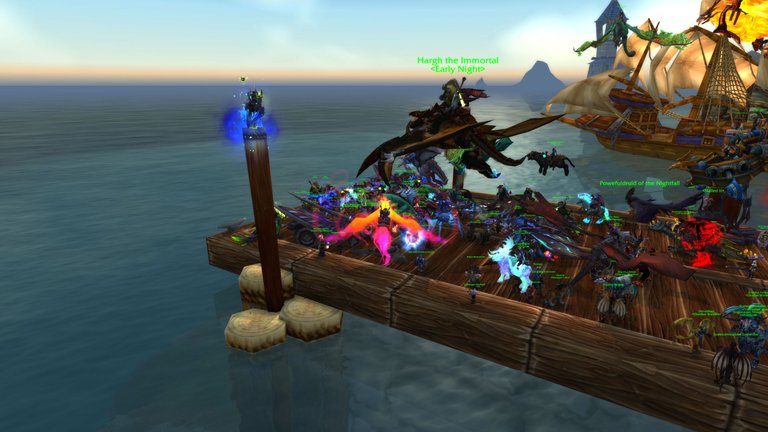 Destined to drop at 9am Australian Eastern Non-Daylight Savings Time, I had done my morning chores, dropped my child off at school, and had settled into Stormwind Docks awaiting go-time.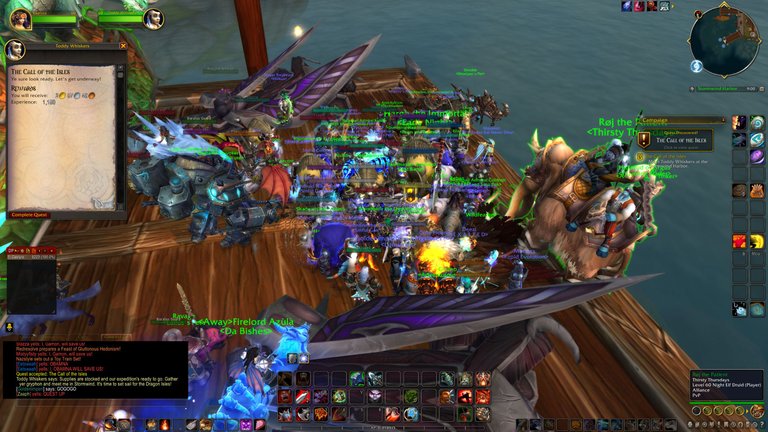 At 9 on the dot, the quest popped on-screen and there was much rejoicing in general chat! The docks were crowded. People were playing with toys, flying around maniacally, awaiting the boat... the boat... the boaaattttt...
...the boat that would never come.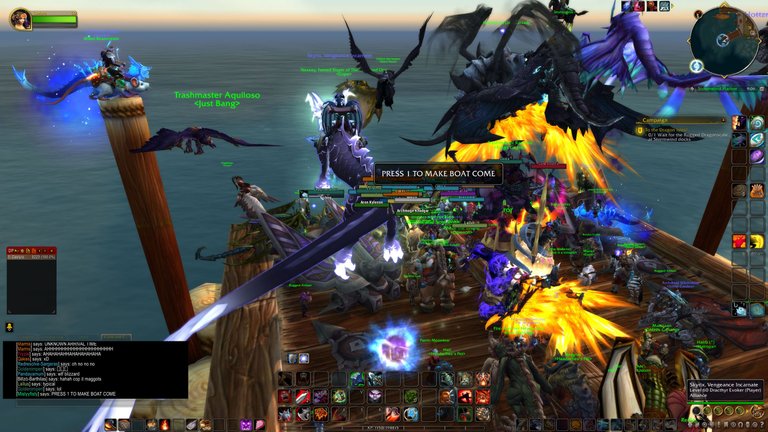 I waited. And waited. And waited. There was a portal. If you clicked it the game would hover in a 3-6 minute loading screen then deposit you back on the docks. Sometimes a vision of the boat would show up in the distance but then it would disappear.
Nevermind! Ever the opportunist, I thought that while everyone was waiting on the docks I would go to Northrend and see if the Time-Lost Protodrake was up while no one was looking... but alas... the zone wouldn't load. It was broken. Officially broken.
The whole game was broken!
To be expected on Launch Day, really. I pity the poor fools who thought they'd chuck a sickie today.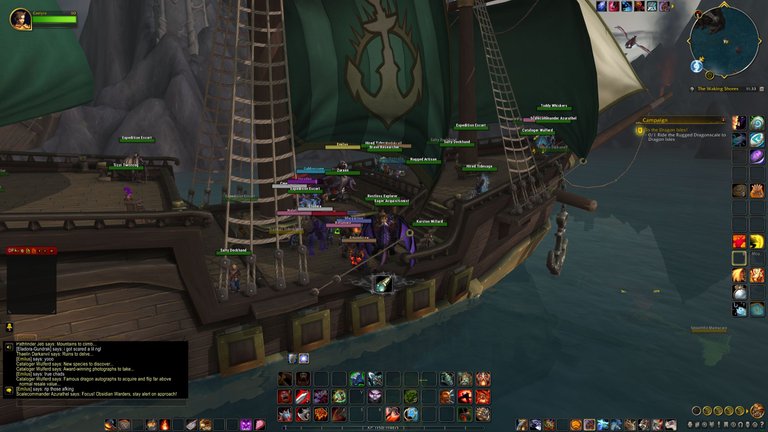 By some miracle though, after a 2 minute loading screen as I was denied passage to Northrend, when I phased in to the docks... THERE WAS A BOAT. The very boat everyone sought. And it whisked us away to the new Dragon Isles.
Some of us anyway.
The boat was full upon departure, and significantly less crowded upon arrival. I'm assuming those poor souls had unfortunate crashes.
(If you look at the timestamp under the minimap, you'll see also that this was 2 and a half hours after actual launch.)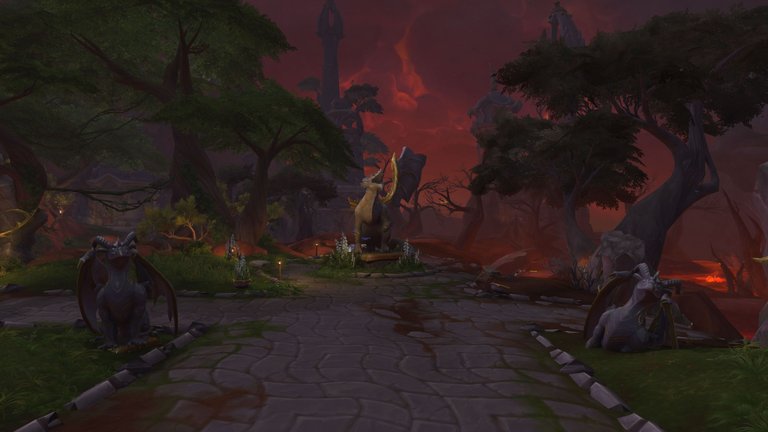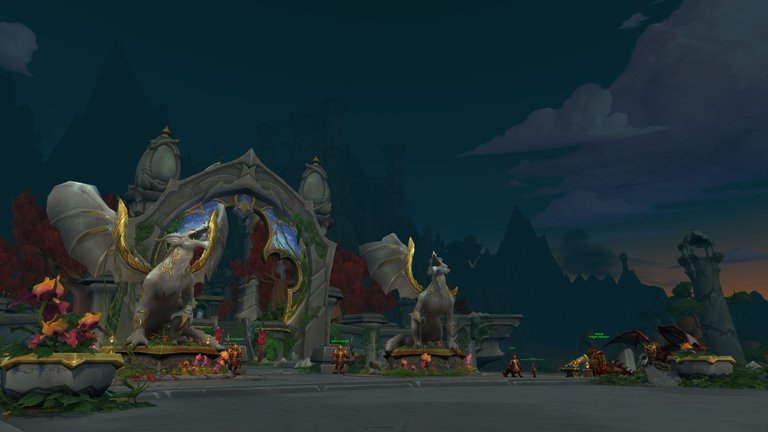 These are only a few screenshots of the first zone but it is definitely quite pretty and I can't wait to dive right in and explore!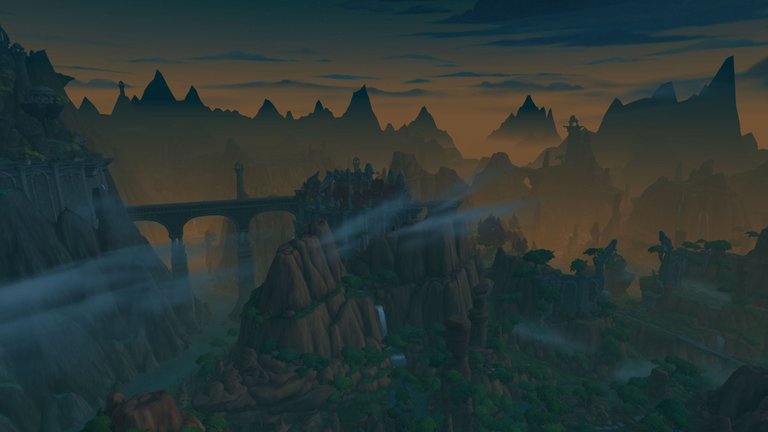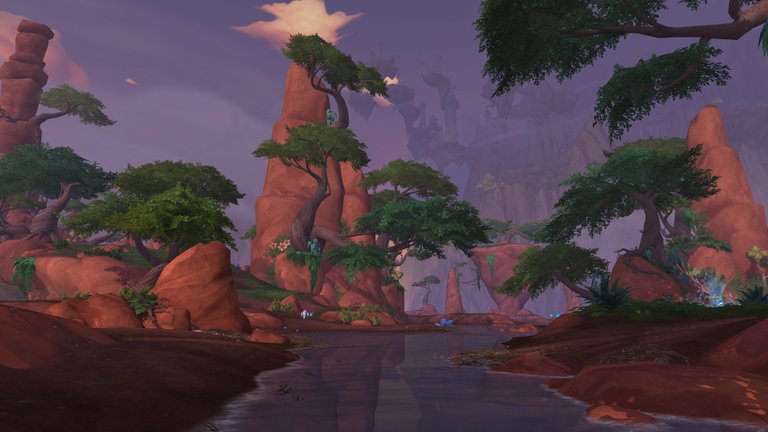 I'm a little disappointed though, that despite having our own Australian realms with their own realm time, our day/night cycles are still linked to the American servers and when it should be day in-game, it's night. I won't be able to see what day time looks like until later tonight or early in the morning.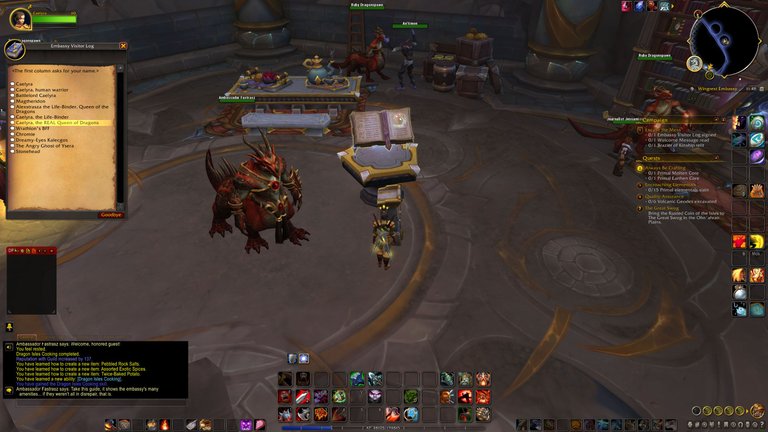 Ignoring the day/night cycle though, I got right into questing and plan to properly explore later tonight when I have plenty of me-time available. 😅
So far the quests have been good. Amusing, even. I stopped reading quests in WoW a long, long time ago, but when you're faced with several dialogue choices you can't help but skim over a few. In this quest in particular were a lot of amusing options when introducing your character to the dragons of the realm. xD
I was Caelyra, REAL Queen of the Dragons! I had come to save the world... again... and then I signed off as someone who doesn't read quests. Perfect!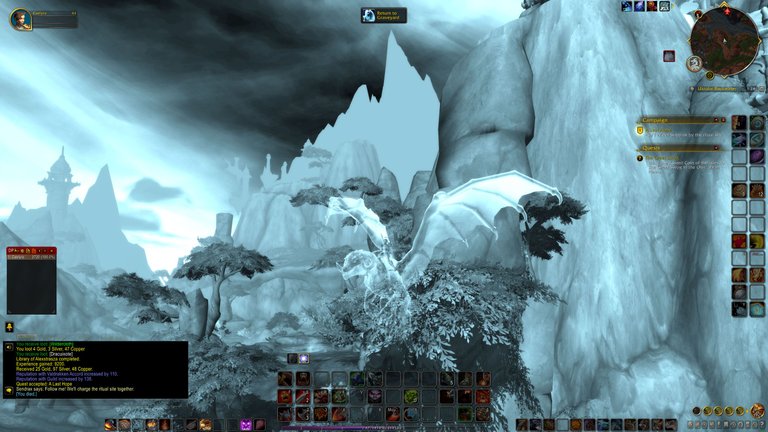 One of the early quests has you following an NPC, and of course said NPC runs through a bunch of enemies and pulls them onto me. Yes, I died. But I was glad that I died!! Because I discovered the most amazing thing.
If you die in the Dragon Isles, your ghost flies upon the wings of a ghost-dragon! That is so amazing. Nothing cheeses me off more than when you die in WoW and have to waaaalkkkkkkk all the way back to your corpse. Now you can fly!! 😁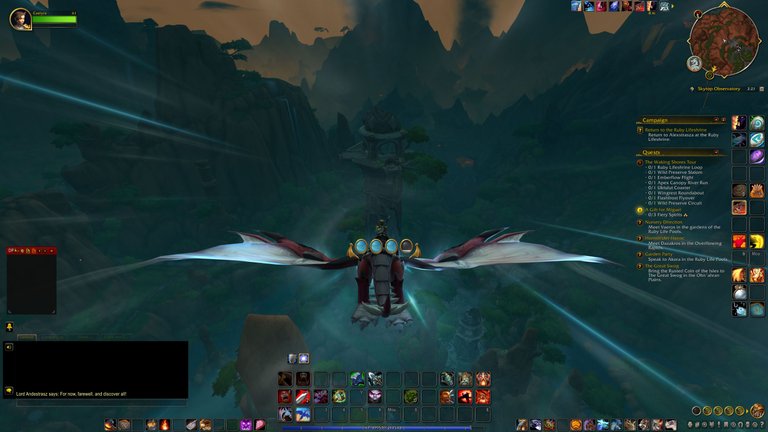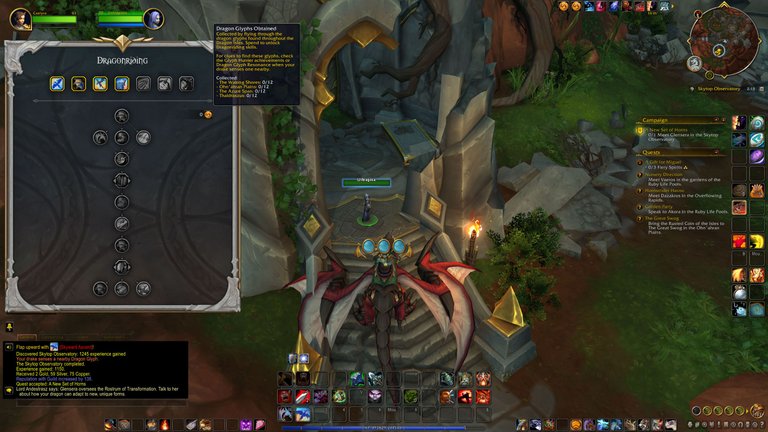 One of the highlights of Dragonflight is, of course, being able to fly, on dragons. Completely negating the inevitable whinge about not being able to fly at the start of an expansion, Blizzard has introduced Dragonriding where you get given a special dragon mount which will glide around the Isles with you mounted upon its back.
Dragonriding comes with its own skill tree. You find dragon glyphs whilst out and about upon your mighty dragon-steed and they, in essence, are the currency with which you use for this Dragonriding tree enabling you to excel at the craft!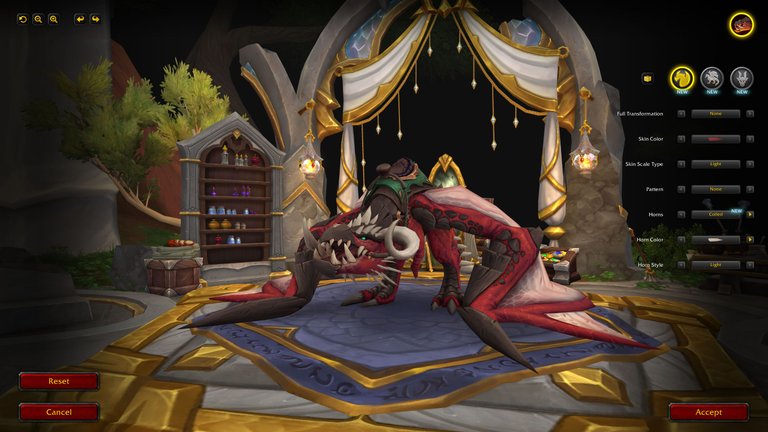 You can even find scrolls and things from achievements, random drops, quests, etc, which enable you to customise your dragon to your liking in its very own dragon character-creator interface! I really liked that addition.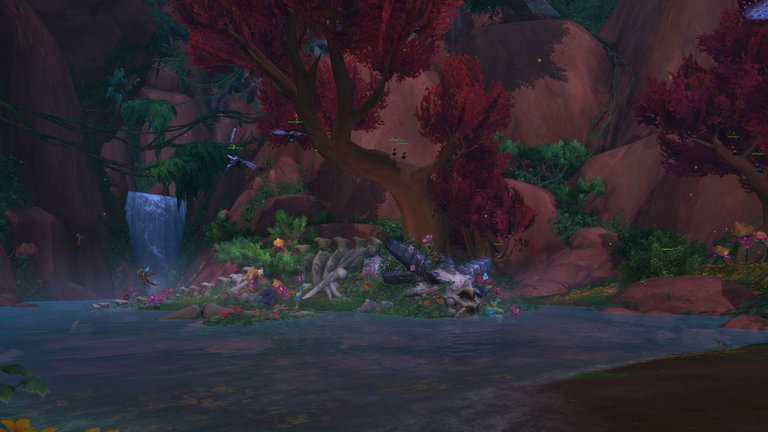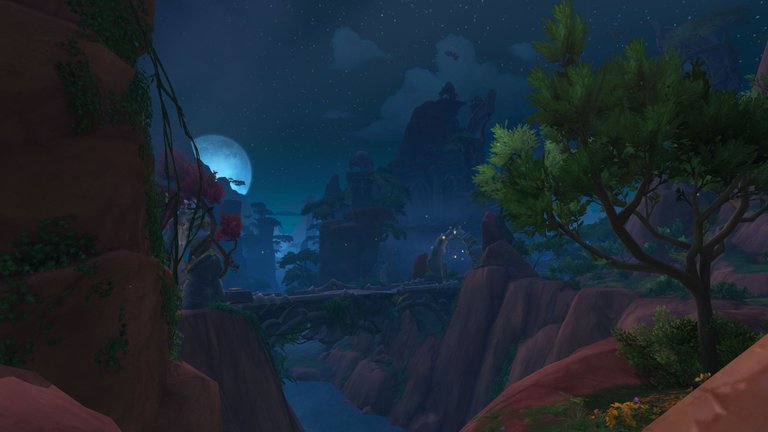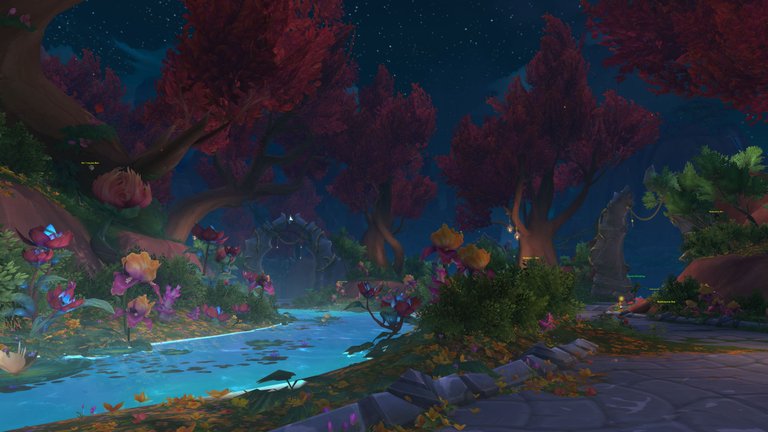 Just a few more aesthetically pleasing environmental screenies. 🙂 As you can see, it's still not daytime. xD Ugh.
Anyway. I'm only at the very, very start of this expansion. This is a ~first impressions~, if you will.
As I'm writing this I'm a lowly level 62 whilst others have ploughed right ahead. But I'm taking my time and exploring the areas, looking for gatherables as I explore, looking for dragonriding glyphs, fighting rares, and just enjoying myself.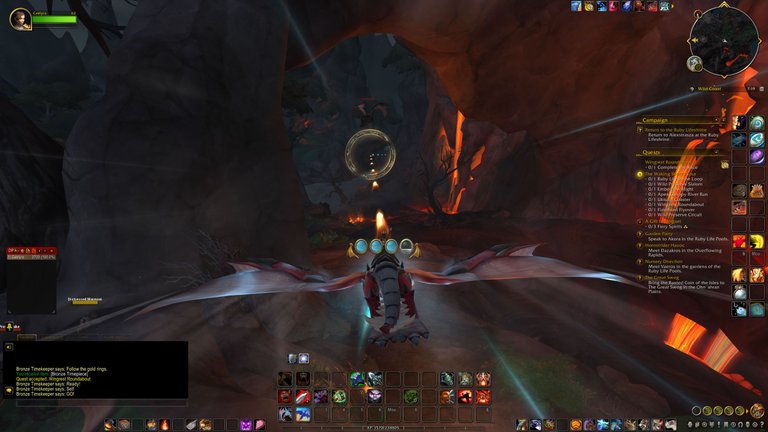 And the dragonriding races are pretty fun! 😁
So far I feel more entranced by the start of this expansion than I was at the start of Shadowlands. I actually feel as though there are things to do rather than just levelling and getting to endgame ASAP. That's a good sign!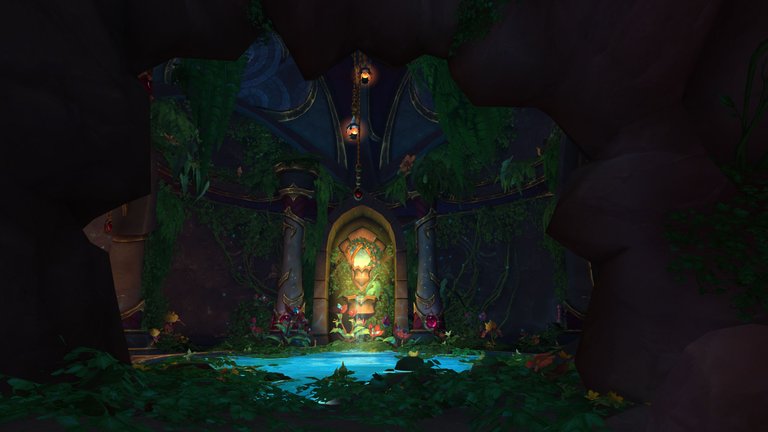 This very first zone brings forth a sense of peace and contentment and not the typical feeling of rush-rush-rush! and at the moment I'm happy to be spending my free time here.
Until next time! 🔥🐲
---
All screenshots in this post are courtesy of me, @kaelci and are from the game: World of Warcraft, Dragonflight.
---
---