Beautiful Sunday: making merits and feeding stray cats at the temple.
I decided to stay in the city during the end of the month as I intended to do some packing and sorting out old belongings. The roads and shopping malls in Bangkok were full of people; they either came out to stock up on food or to get ready for outbound journeys to holiday resorts. Lots of people went to temples to make merits for the New Year. Usually I would go to make merit, (making an offering of boxes of fruit juices, and some household items such as toothpaste and detergent), at an old temple where I used to support a monk on his study of Pali language. But this year the roads around that temple were under construction so the traffic became quite bad.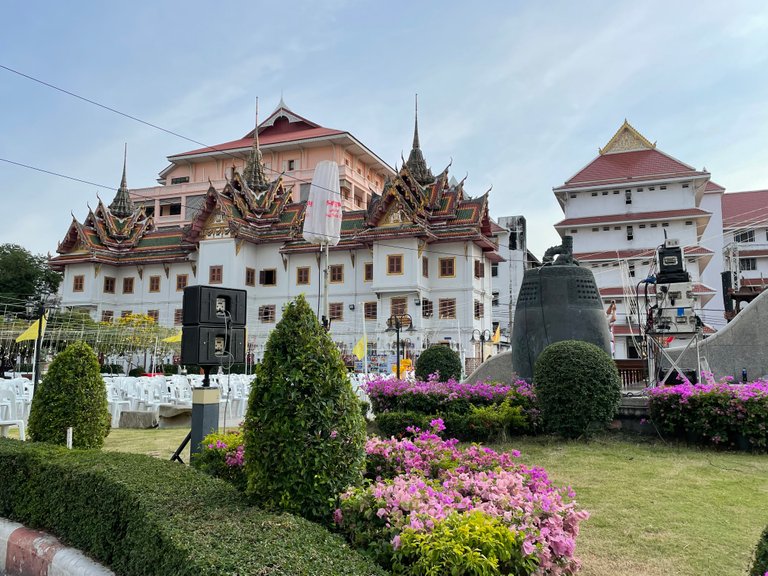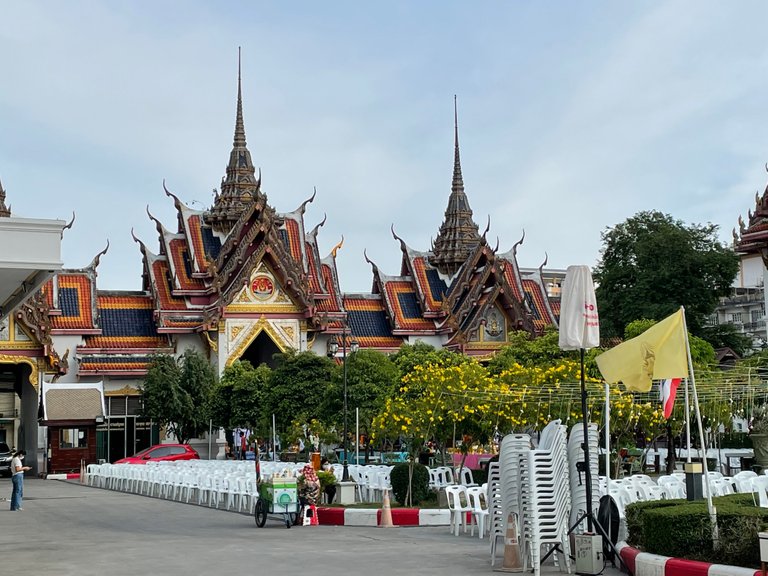 So, for practical purposes, I would have my small ritual of merit making for the New Year at Yannawa temple and feed stray cats afterwards. This temple is quite a famous temple with nice location by the river. In the past, this temple organised very elaborate settings for many religious celebrations. With spacious parking, it's very convenient for groups of people to gather for their religious ceremonies. This year, the customary chanting ceremony to welcome the new year has been permitted in temples all over the country. This chanting from late evening through midnight has always been very popular among Thai people. People believe that this chanting ceremony will give them good luck and fortune for the whole year.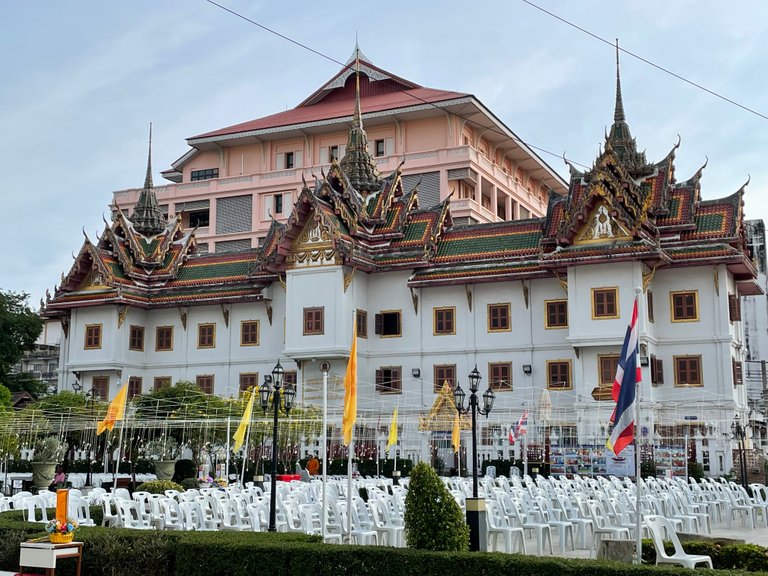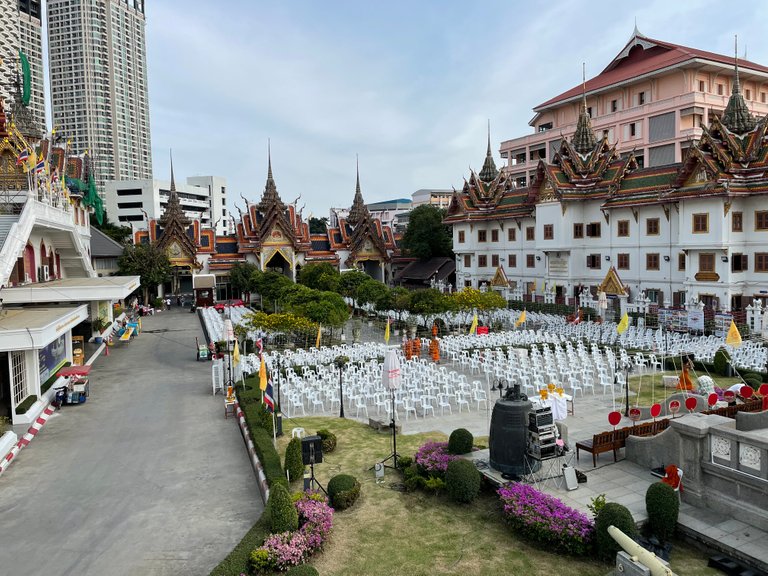 The temple seemed to be expecting many people coming to participate in the evening chanting for the new year. Hundreds of white plastic chairs were arranged in the front yard, car park area and the yard at the riverfront. Long white string (or holy thread) has been placed in grid patterns with extension knots dangling just above each chair. The person sitting on the chair could unpack the knot of string which then should be place on top of the person's head. All the other ends of these white threads would be gathered and combined into one big string to be placed at the shrine where all the monks would be chanting. The accumulated holy white threads would be receiving the vibes from monks' chanting. The idea was that these holy vibes would be traveling along the threads to the top of each person's head. So, all the participants would receive holy blessings for their protection and good luck in the new year.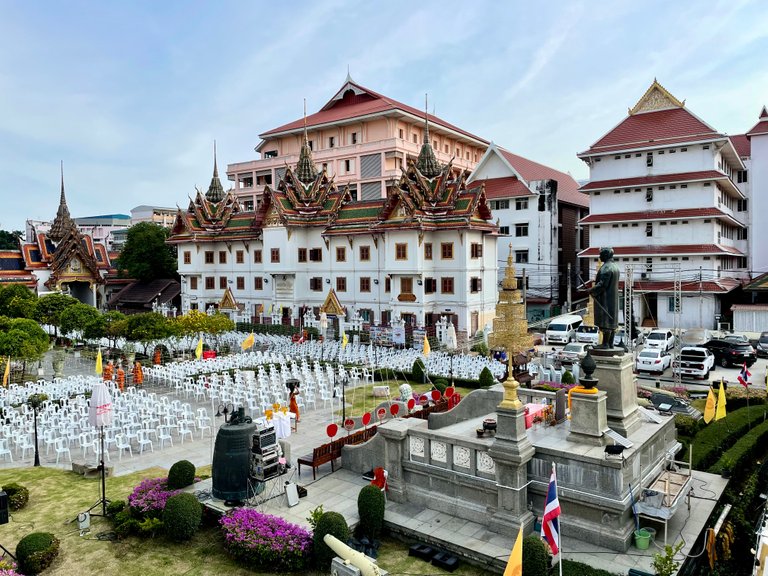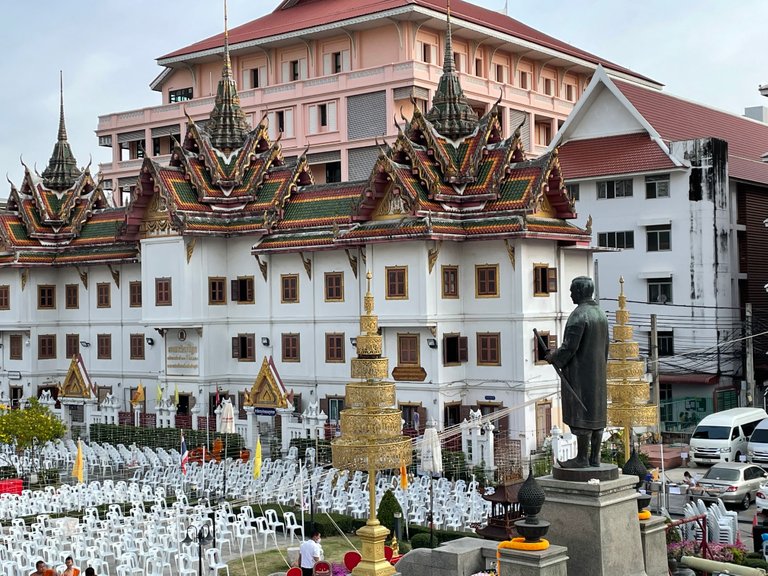 I went up to the Chinese merchant' ship model to pay respect to very old Buddha statues. This small shrine had very peaceful atmosphere and positive vibes. The young staff seemed very dedicated to looking after this shrine; she told me she had been reciting a special prayer for a few days. She asked me if I could feel the strong and calm energy in side the shrine; I was quite impressed by this young staff. She was naturally psychic and could sense that I could understand what she's talking about. I was glad there's a dedicated staff guarding the precious antique objects and old Buddha statues at this shrine.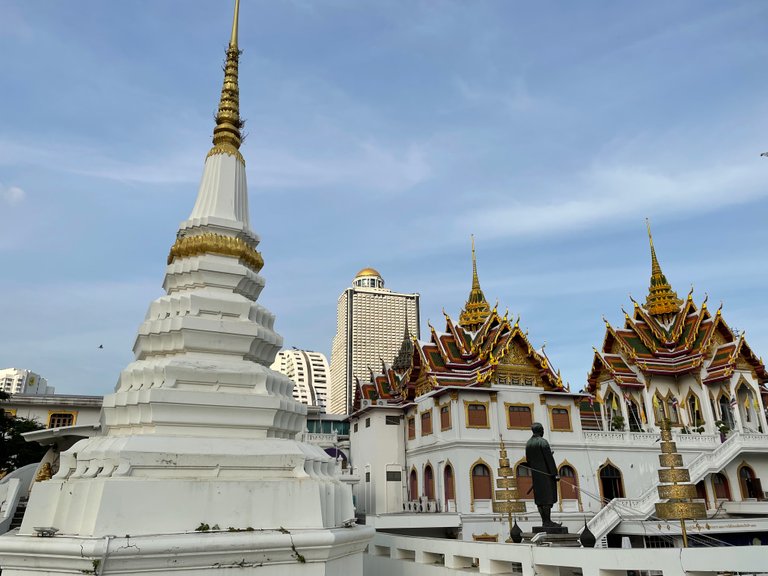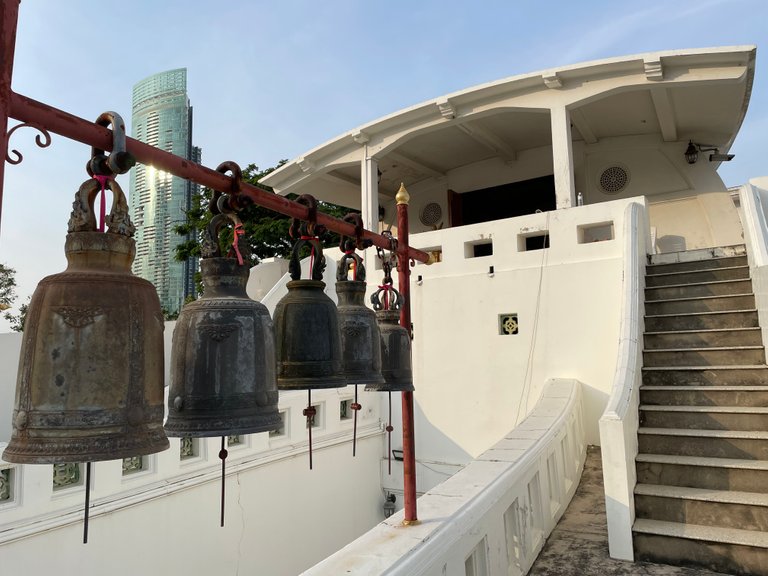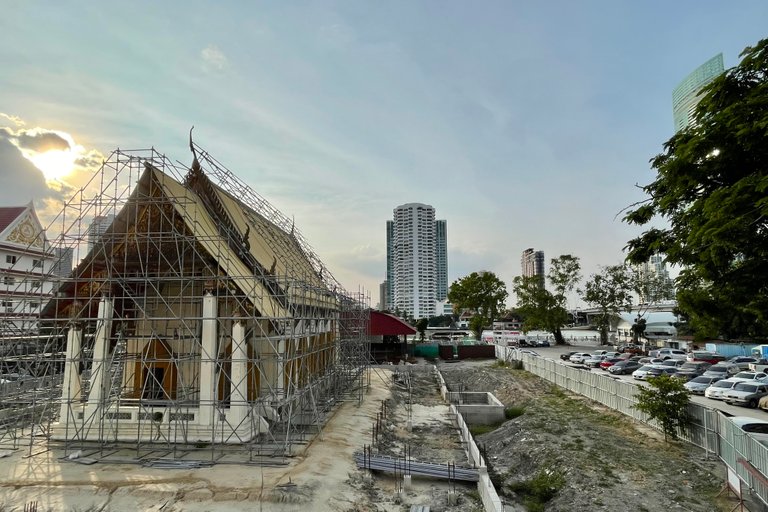 I took lots of photos as the lighting was still acceptable for my iPhone. I never really had the time for walking around and taking photos. As soon as the cats saw me, they wouldn't let me alone and would be crying for food and snacks. They behaved like small children crying for candies. So, I had to feed these cats so I could have some peaceful moment to myself for taking more photos.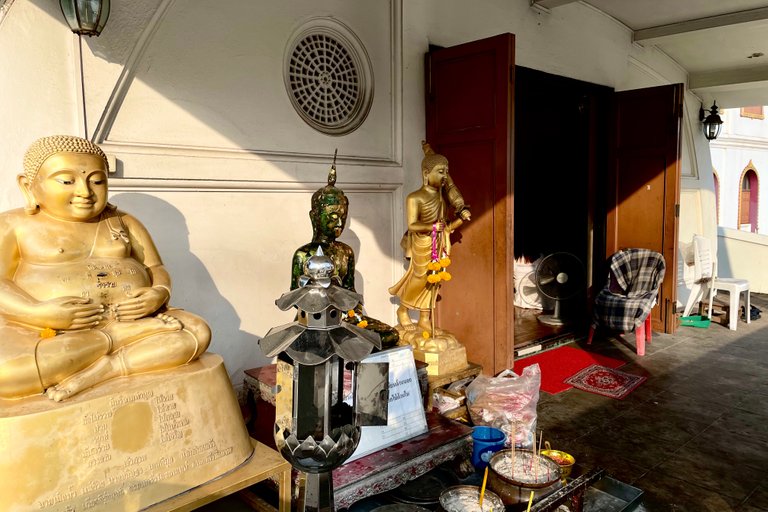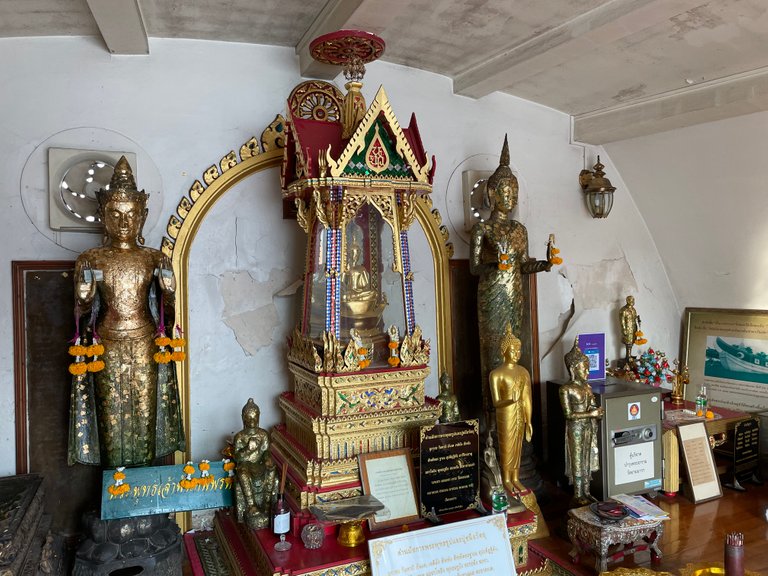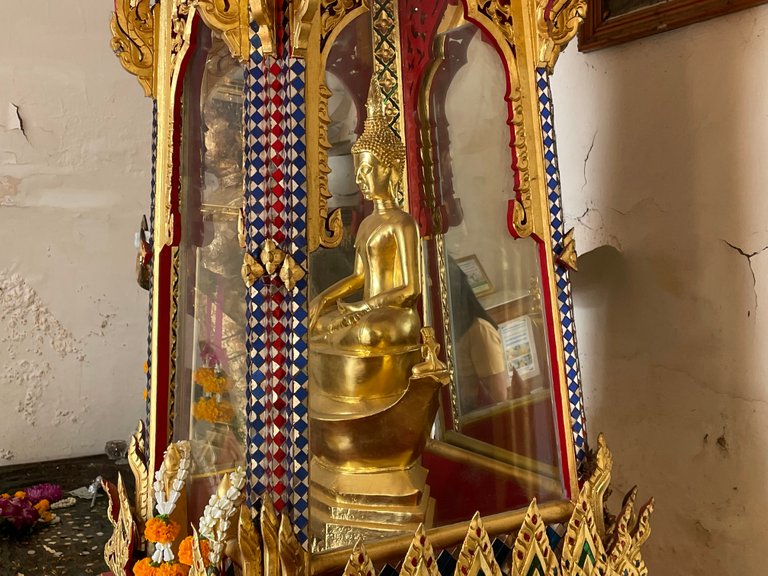 Then I could go around the donation boxes to donate small amount of money and sticking bank notes on colourful sticks. These money sticks with sharp ends were placed on top of a box so they resembled money trees. People would make wishes for happiness, wealth, happy love life and good fortune. I made my donation to pay for my debts to the temple; I used the facilities on the temple for free so it's time to give back something. That's why there was a tradition for people to bring buckets of sand to the temple once a year. People would present the sand as sand mountains with beautiful decorations in a lively competition.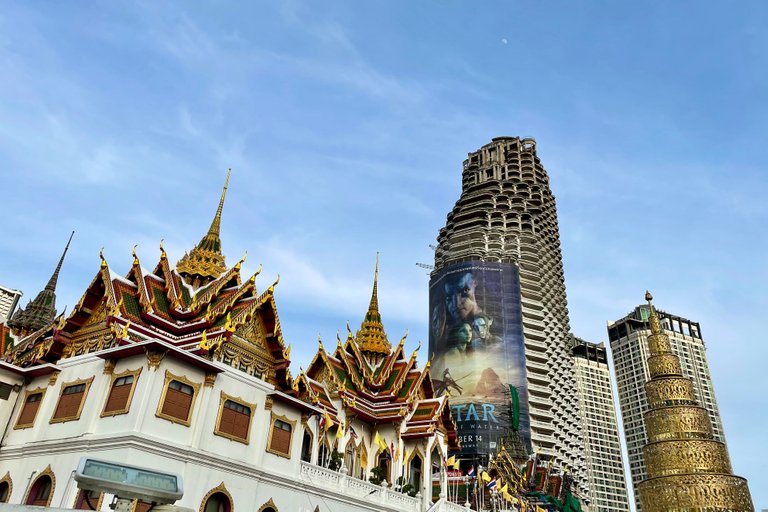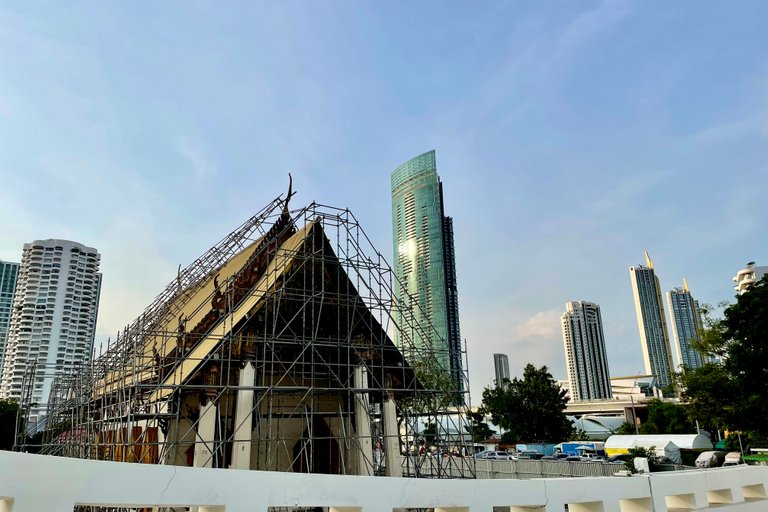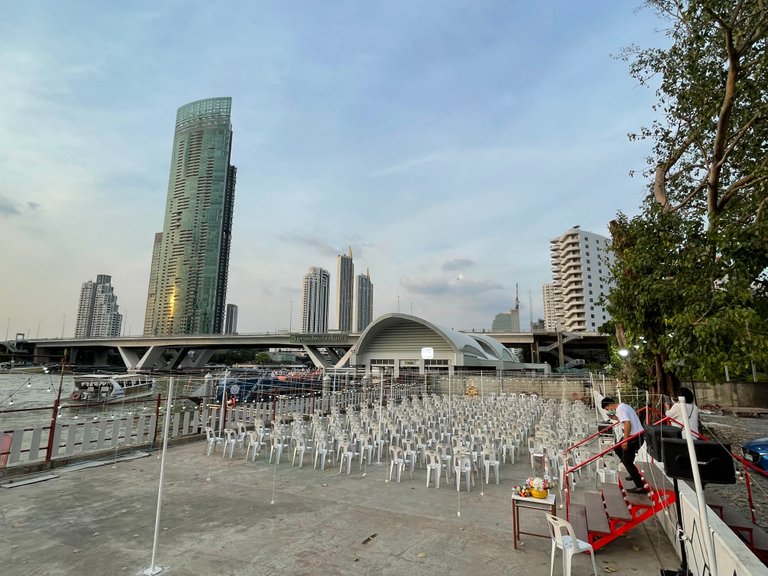 This was an old tradition as on the old days, the temple ground was naturally the soil on the earth which could be very muddy and soggy. So, sand was needed to fill in the potholes and make footpaths or walkways. When visitors went out of the temple, their shoes would be picking up sand. This was unintentional but according to old saying, these people had taken sand from the temple without permission. So, strict Buddhists would be very eager to pay up their debt for fear of bad karma. Hence, the ceremonial occasion for building sand castles on religious days at temples.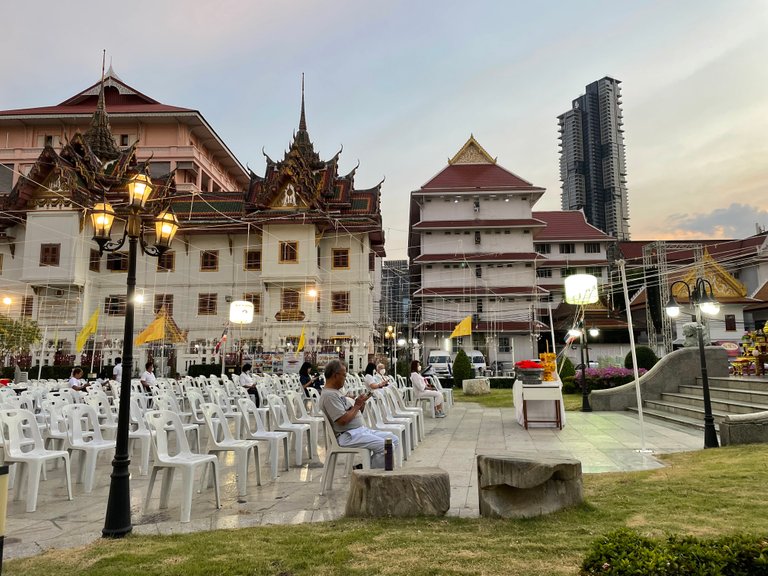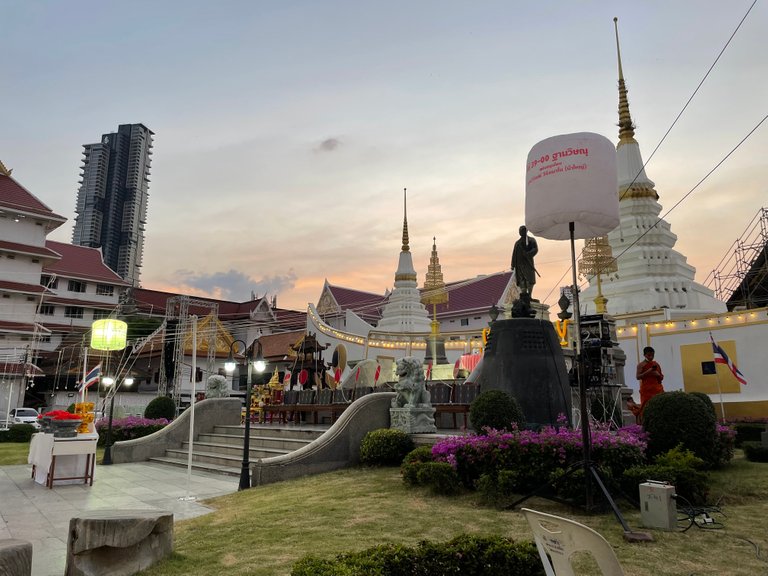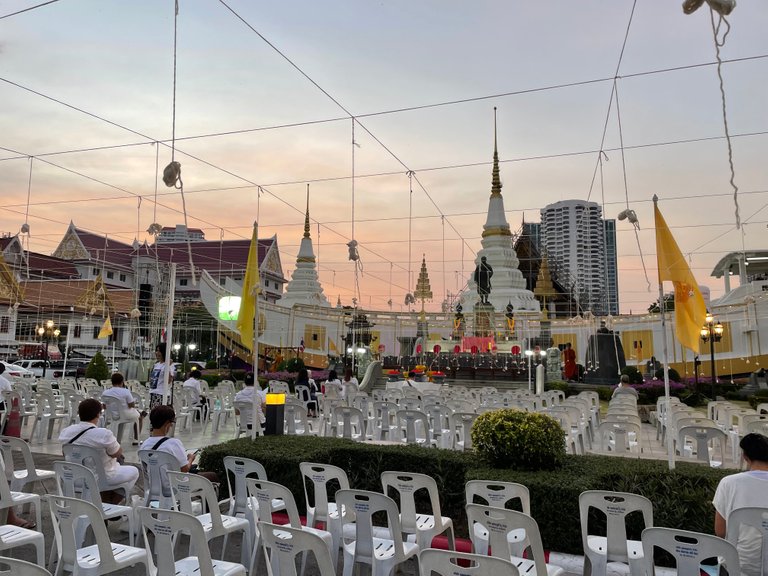 There seemed to be new creative ways to persuade people to make merits at the temples these days. This has inadvertently made people more superstitious and too lazy to read Buddhist texts. They thought they could buy good karma with donation money. People became spoiled and lost their interest in studying Buddhist teaching. Rituals and ceremonies took centre stage in stead of practicing the five precepts and meditation. But I had to accept these deteriorating changes in our society as the Buddha had foretold what would happen in the future including the demise of Buddhism in 5,000 years.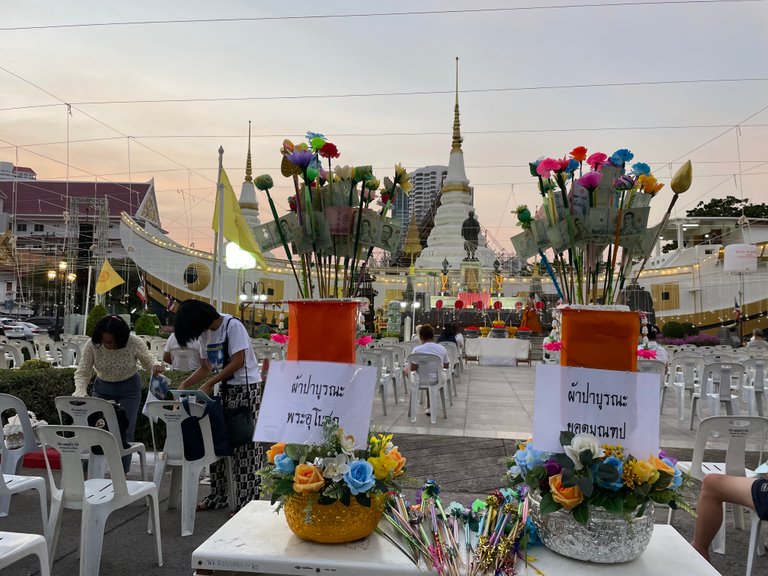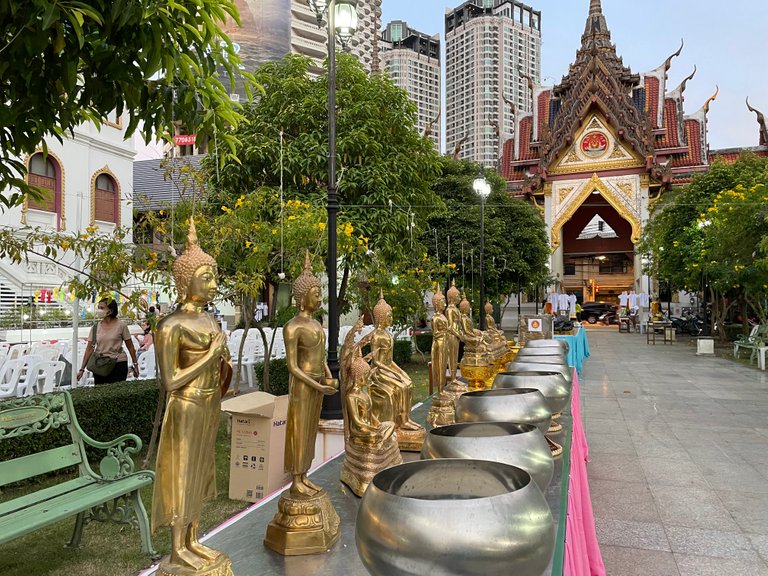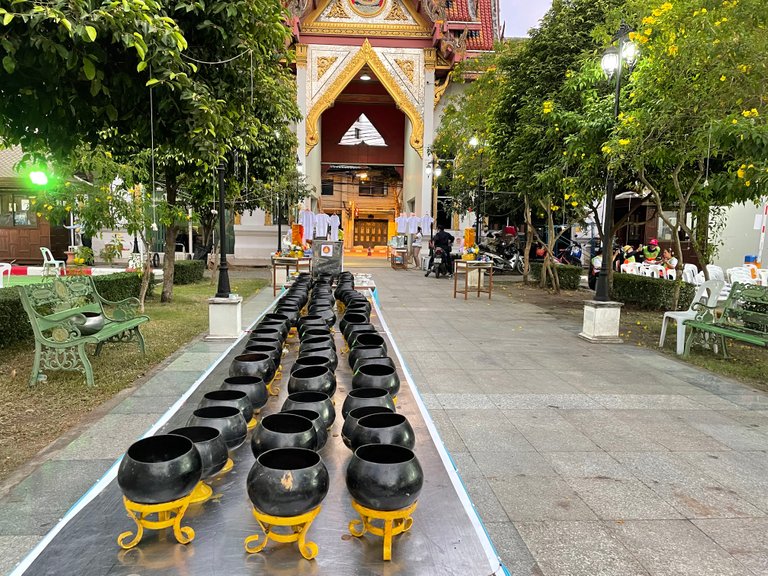 We are living in an era called 'kali-yuk' (in Hindu terms), the era of destruction and chaos. But this thing shall pass, as similarly foretold by Jesus that we should not be too afraid of this upheaval; people with lots of good karma would somehow found safe sanctuaries. Finally, only one-third of people would survive the apocalypse. My head was really busy with myriads of thoughts flying in and out while observing the blue sky contrasting with temple spires. I had to remind myself to live in the present and be joyful of this beautiful reality. My brain often made me live in three dimensions at the same time. (I could also communicate with those in UFOs and go through some kind of wormhole).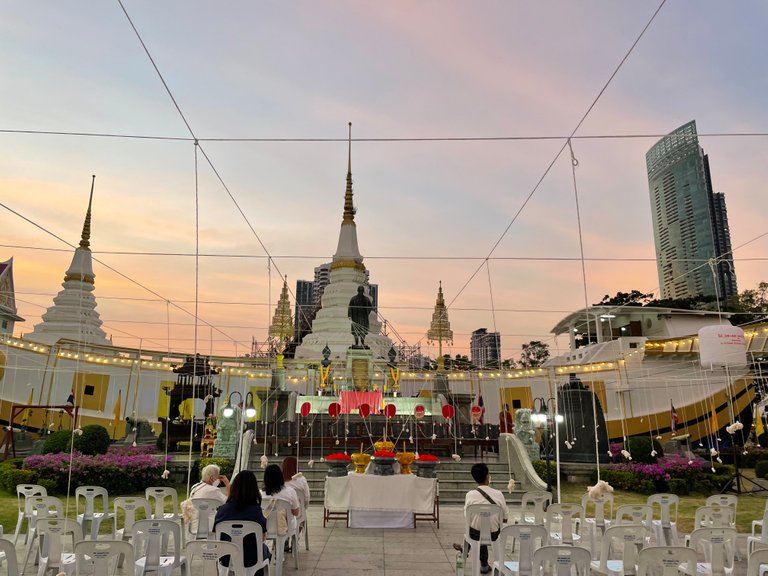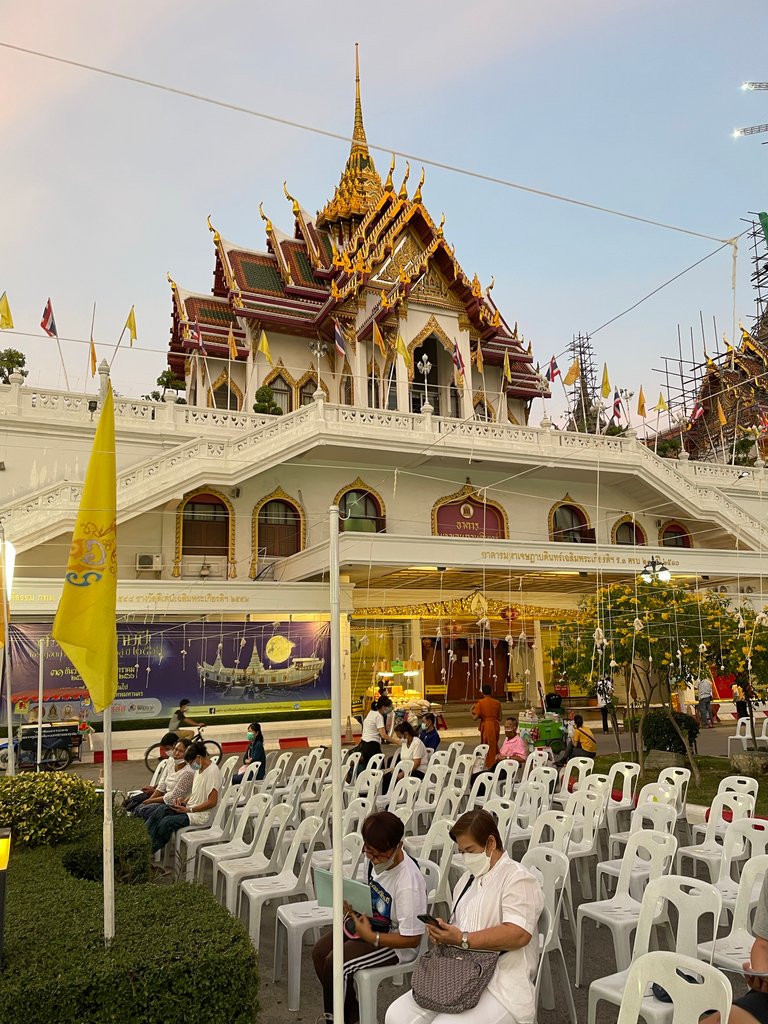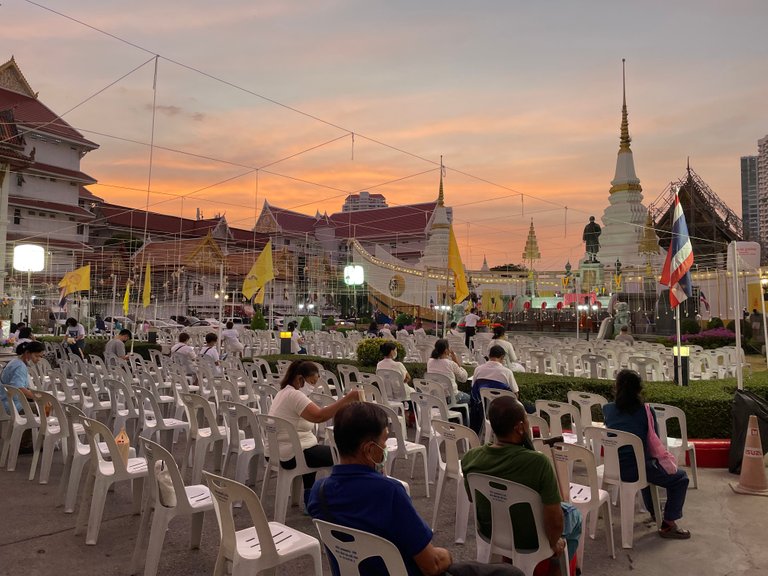 Feeding these stray cats anchored me in the present physical reality so I was thankful to these cats for rescuing my wandering mind. The two sister cats ran up to me as soon as they spotted me. They were very hungry though I could see some people had left small bowls of food by the bush. I have known these two cats for two years; they were tiny kittens abandoned by their mother so I started bringing them food. We are now very good friends; they are Julia and Tommy.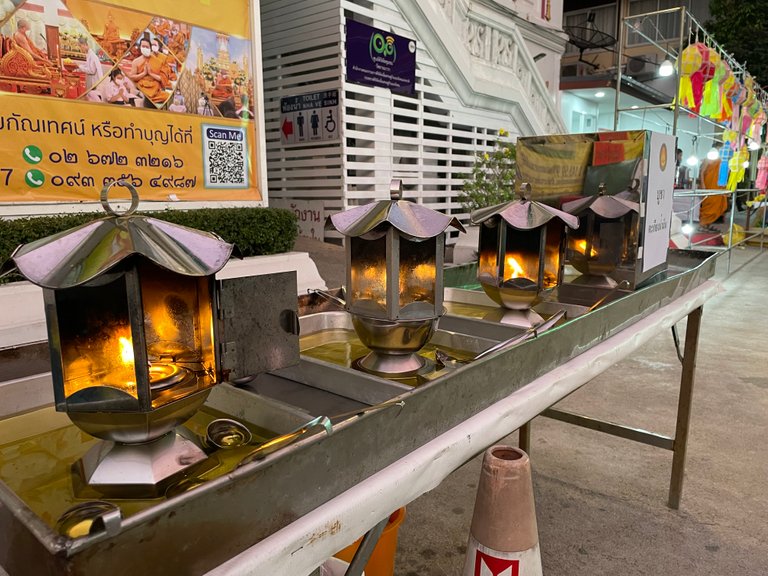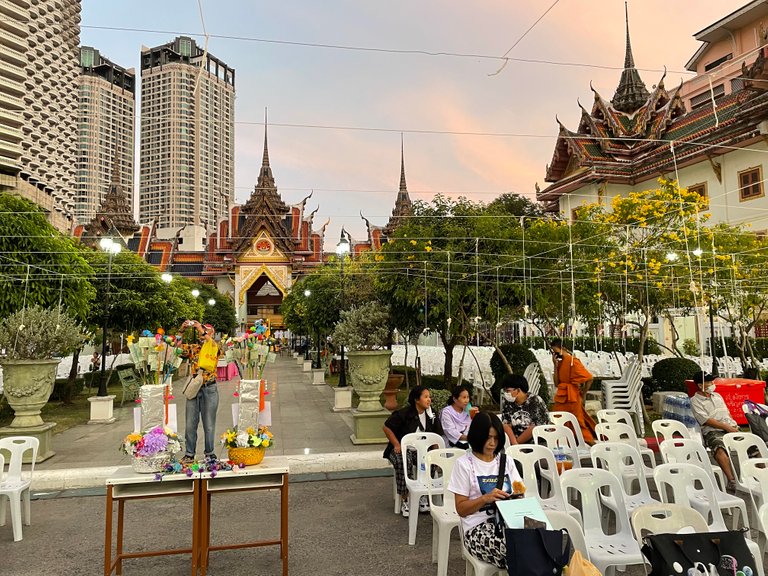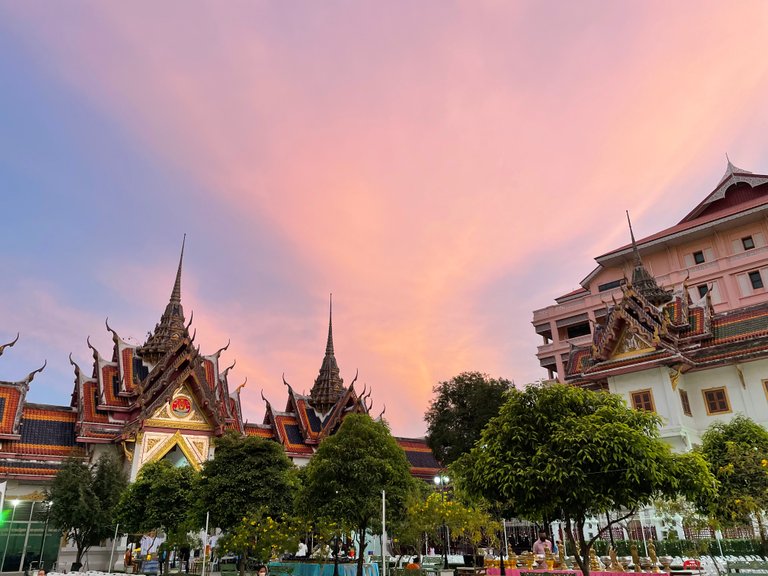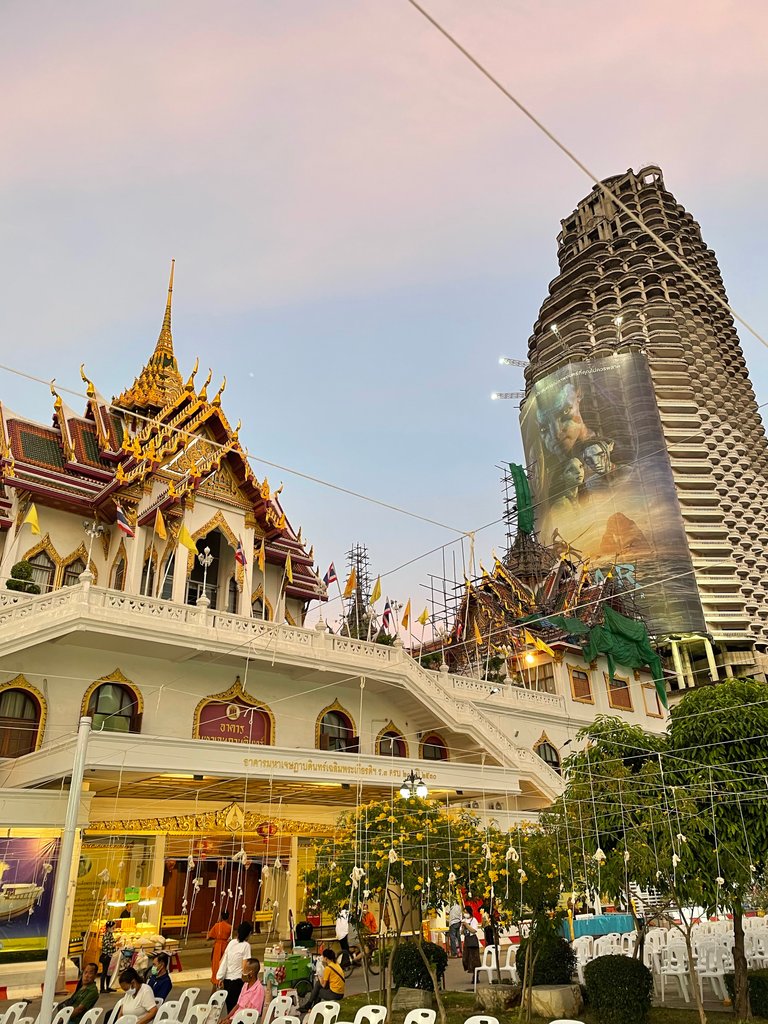 Then, I had to head towards the river as three cats had their hiding places around the area. I was often surprised by the nature of these stray cats. They were so gentle and sweet; they let me pick them up or scold them when they quarrel with stranger cats. I told them there was enough food so there's no need to fight. It was as if they could understand my message and became quite calm. One cat called Spotty seemed to had an injury to her back when she's young. Either she fell from high hiding place or was beaten on her back. She couldn't walk properly and found it difficult to jump onto chair and stalls. She's a loner, always hiding under pickup trucks. She was abandoned by her owner at the temple at night. When I first saw her she's very clean and fat. But we have become good friends, she would run as fast as she could to greet me.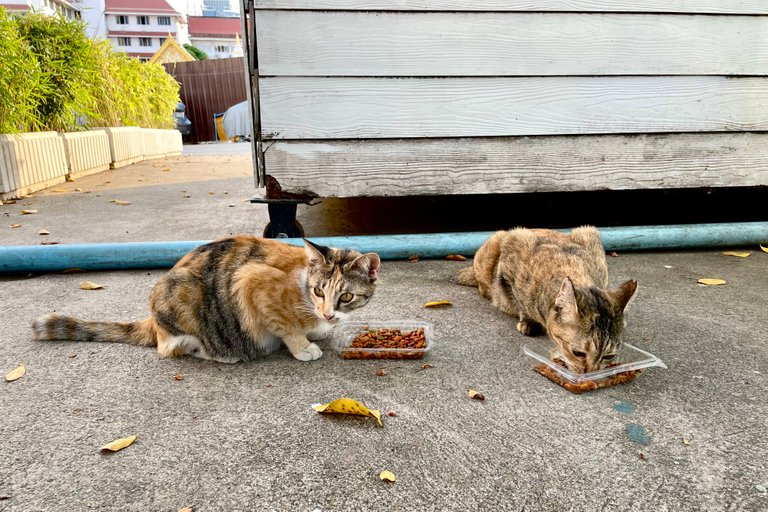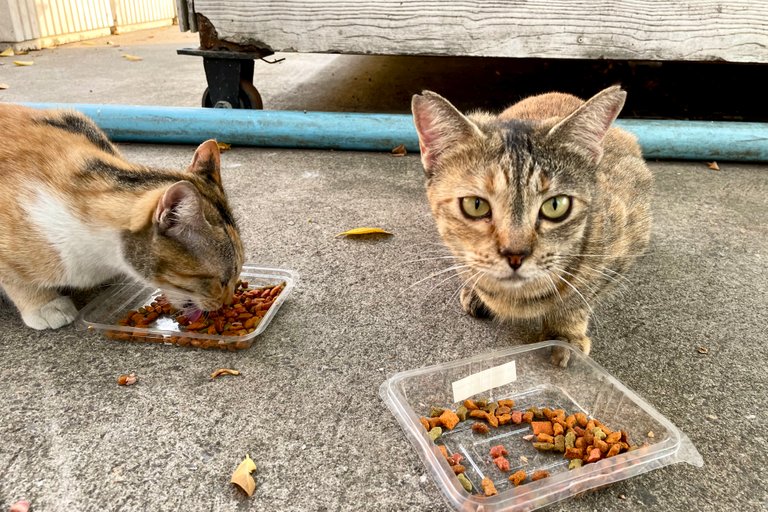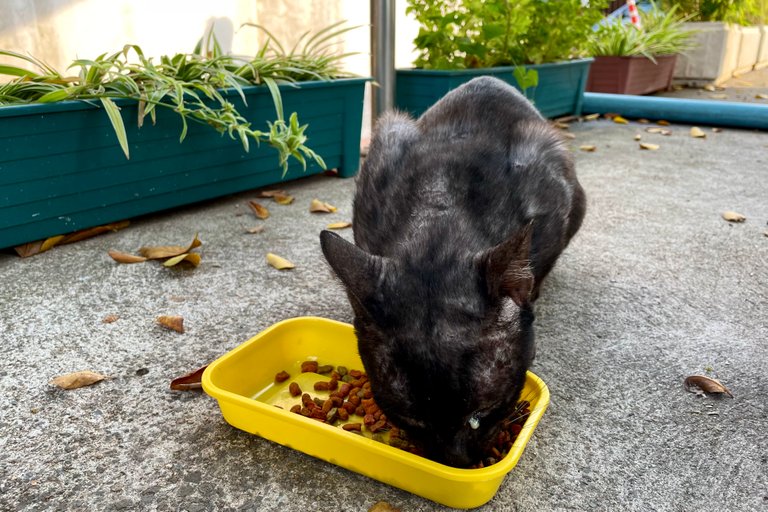 The other two cats were Dang and Samsi who were very friendly and gentle. These stray cats had such good manners and pleasant personalities. I wondered whether this was the effects of living in a temple with good spiritual vibes. These cats might have listened to some inspiring chantings and absorbed all the positive vibes. There's a gang of three cats that often barged in to steal food from these two cats. So, I had to train them to wait for their turns; they had surprisingly improved their manner.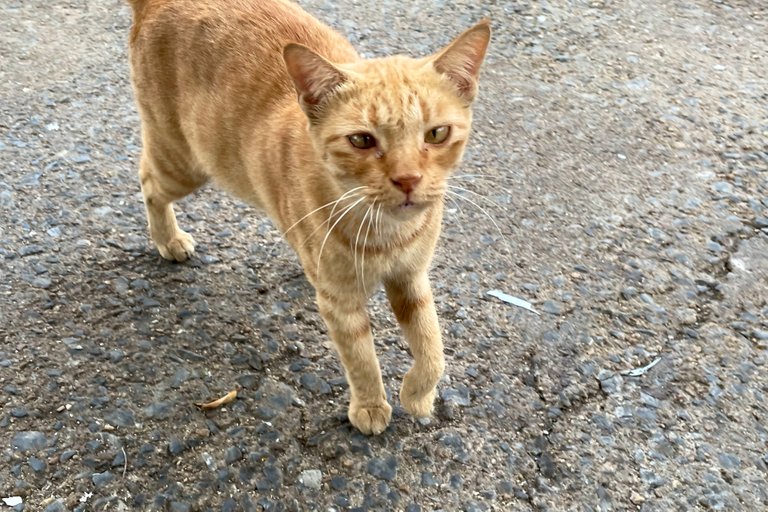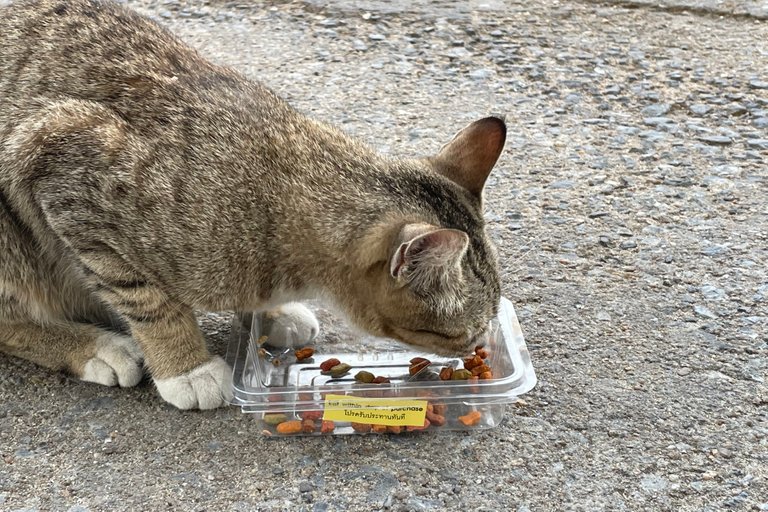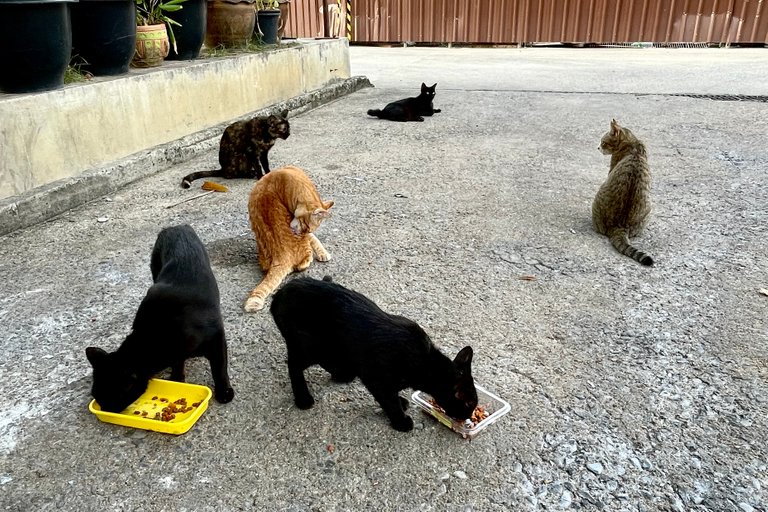 The third set of cats and kittens stationed around the lodging of the skinny monk. Some evening, the kind biker would come to feed stray cats under the big tree by the rubbish bins. I was so glad he fed these cat every week so these cats could continue to survive. This man wasn't rich at all judging by his very old bike and clothes. Rich visitors to the temple weren't that sensitive to the precarious situation of stray cats. These cats demanded very little food; they were used to being hungry most of the time. That's why they were all slender and skinny, yet they were always friendly and polite.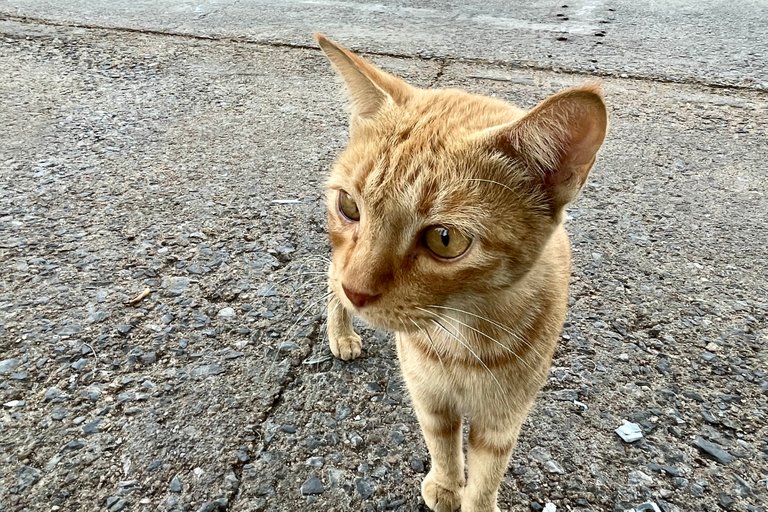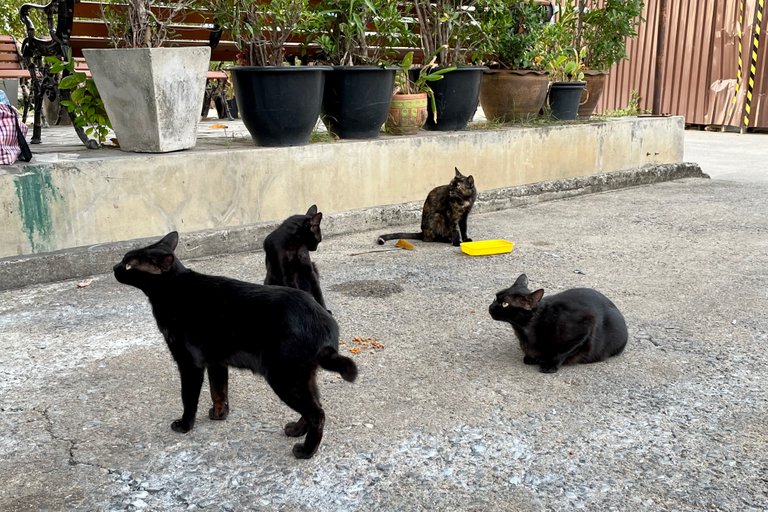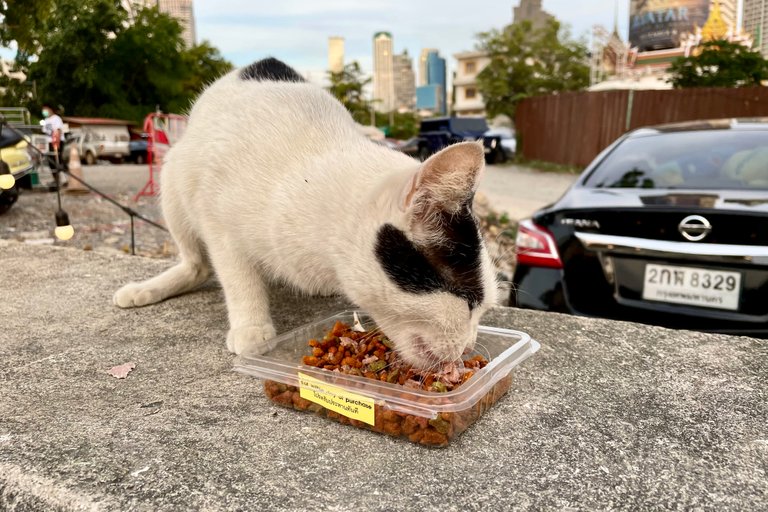 These stray cats had made me a better person with sensitivity to sufferings of small animals. They taught me to be generous and giving towards helpless cats and animals. This enabled me to embark on universal communication with all creatures spiritually. So, in contemplation, it's possible to feel connected in friendship with all sentient beings on earth. We are interconnected and dependent on each other. So, all the aggressions created by people would backfire on themselves and impact the environment as a whole. I have resigned to more spiritual approach in living as that's my beneficial contributions to the peace and harmony in this world.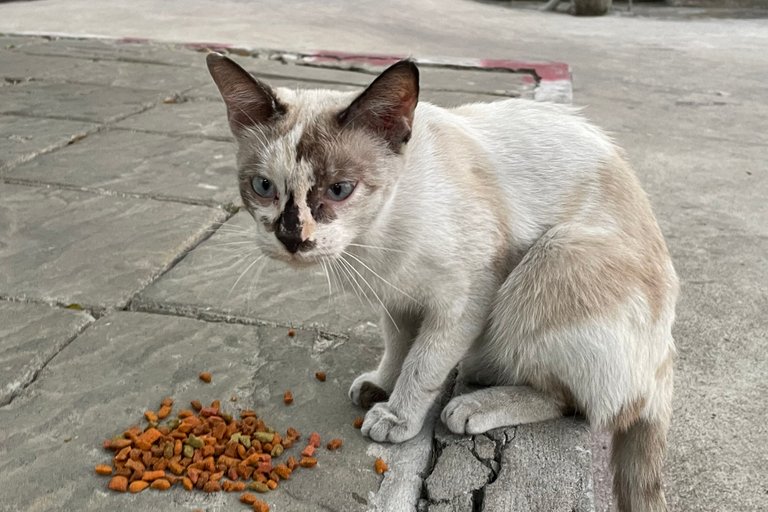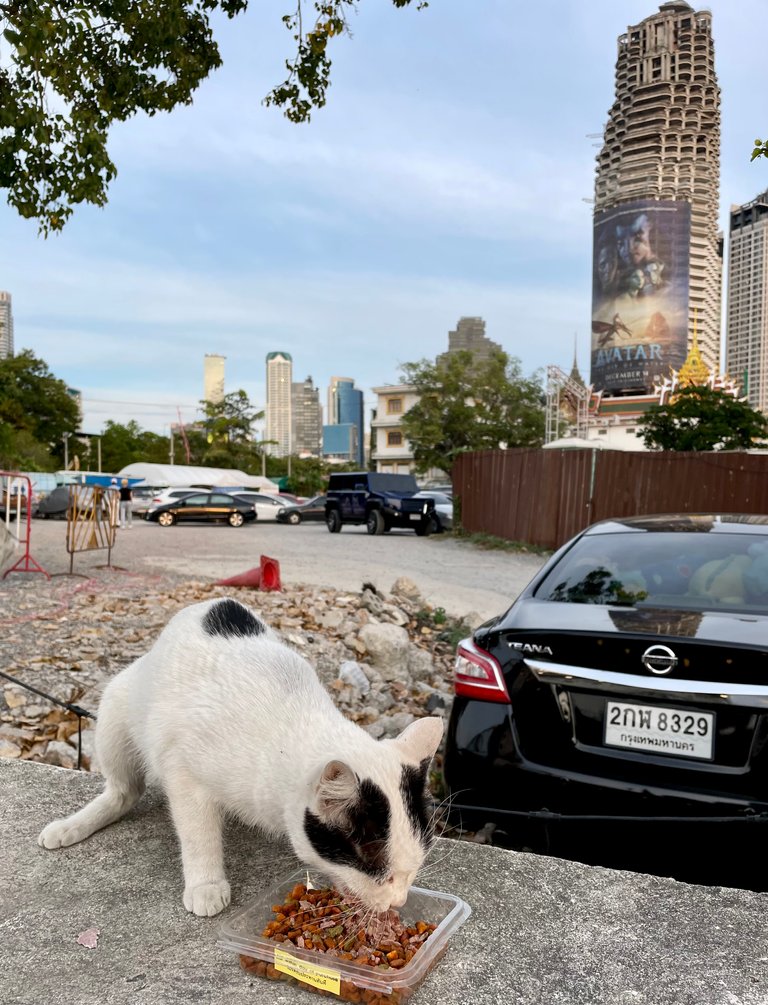 Wishing you peace, good health and prosperity.
Stay strong and cheerful.
---
---