Happy Caturday: orange cats are gaining weights.
My gardener was surprised to see orange cats expanded their bodies like beer barrels after I arrived at the farmhouse for a few days. I had to admit that I fed them twice a day with tea break at noon. I thought the amounts of cat food and snacks were so small that my cats couldn't put on weights so easily. But they seemed to sleep a lot in cooler weather so they didn't get the chance to burn some calories.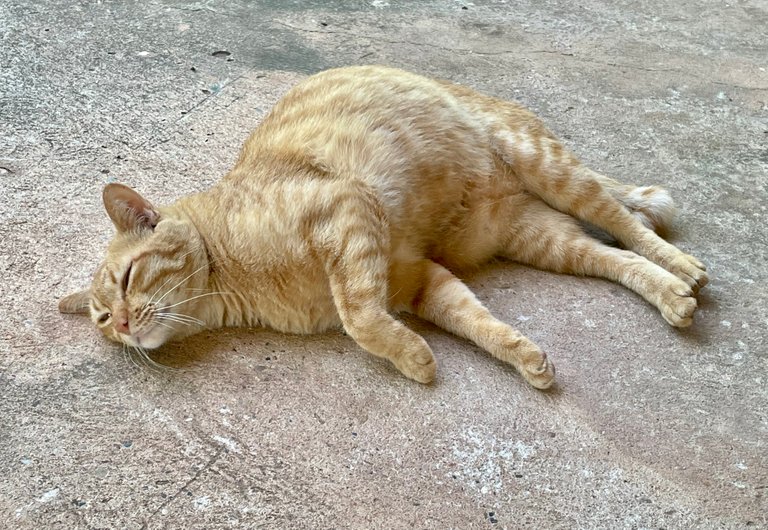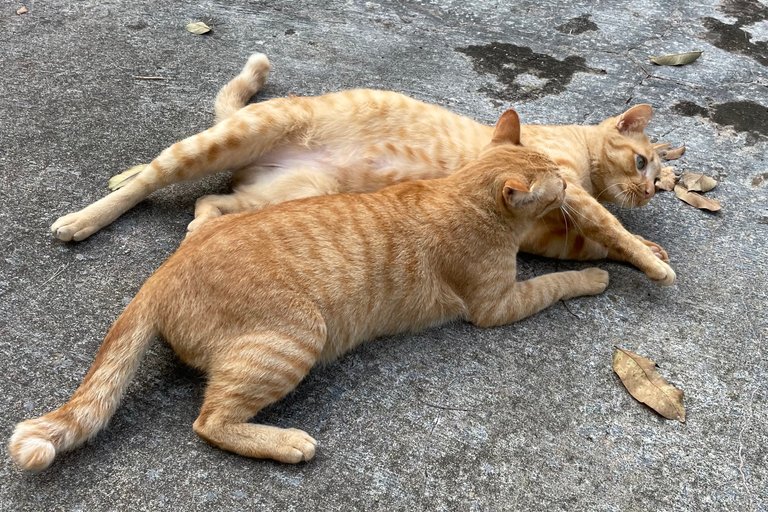 I told myself I shouldn't yield to orange cats' quiet gaze at me in the kitchen. They would just sit quietly waiting for me to get their snack from the fridge. As soon as I opened the fridge, their eyes would become alert and follow the movements of my hands. They could recognise the packet of snack and Joan would cry out in excitement. I tried to limit the portion to one teaspoon each, which didn't seem a lot to me. But they both put on weights after a few days. I could never have my cats in a cats' competition!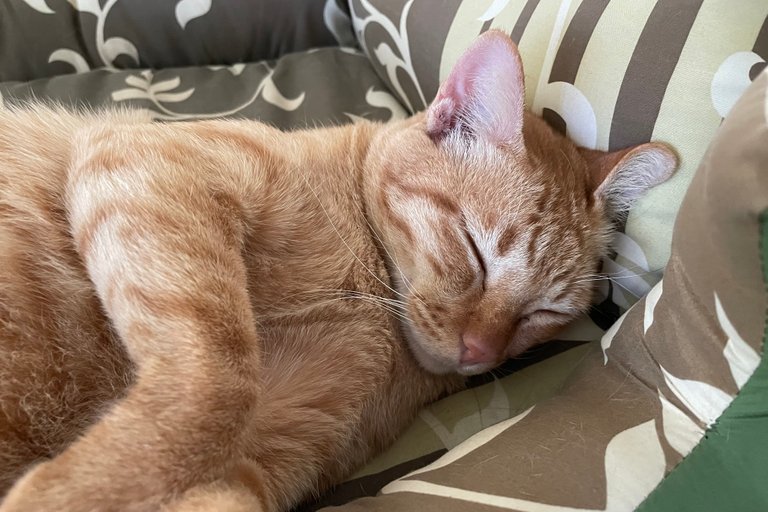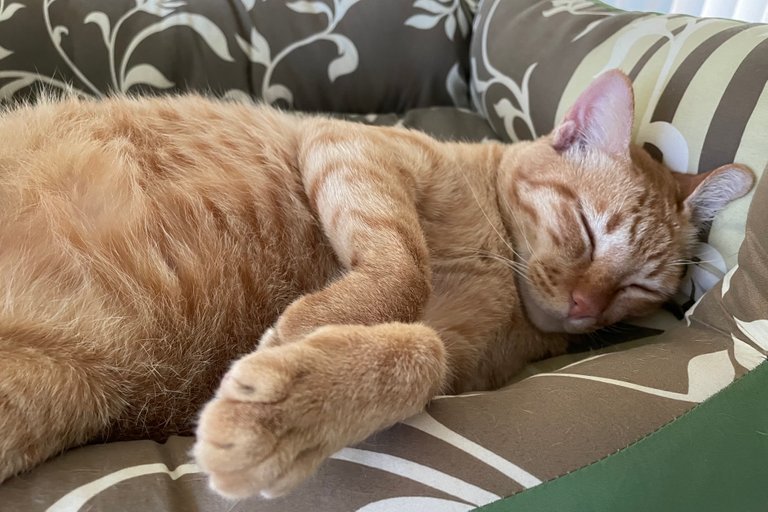 My gardener was quite firm in giving these cats their food only once a day. The food bowl would not be refilled again till the following day. I thought I couldn't do that as these cats could protest or go on strike. But I could reduce the quantity of food in the bowls. It seemed Kwan has become addicted to eating as she couldn't stop eating until she finished all the food in her bowl.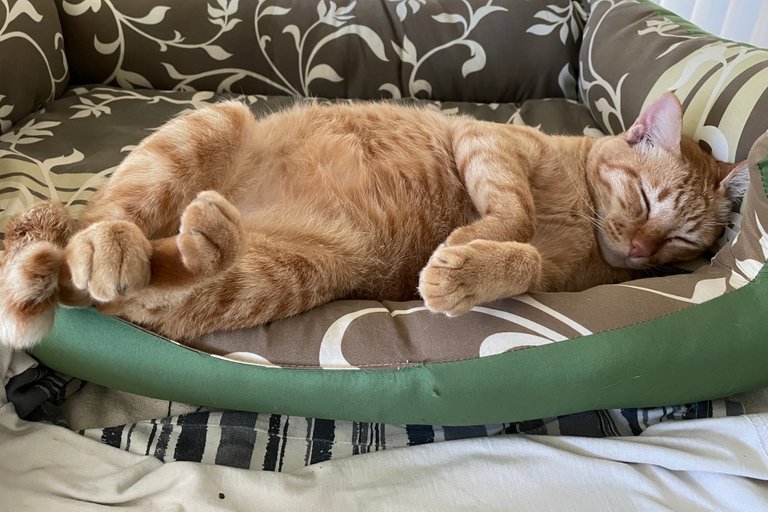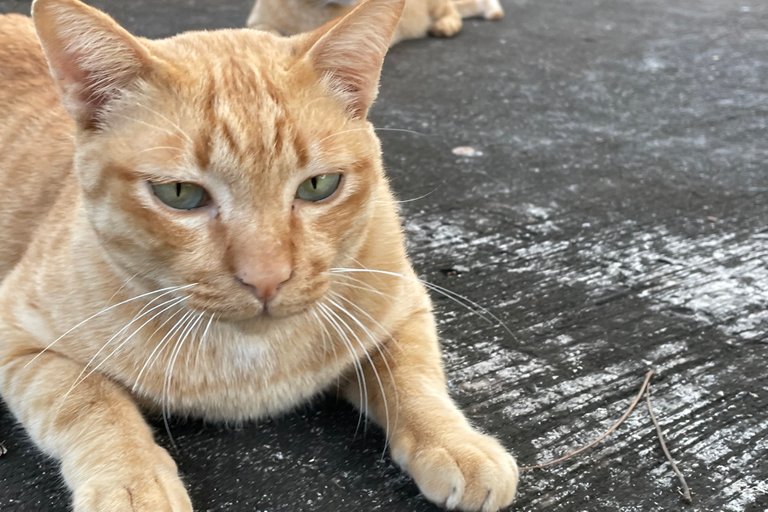 She used to have a few bites then went to take her nap. Kwan seemed to be hoarding food like squirrels in winter season. I just hoped that while I was away, my gardener would stick to her feeding routine so orange cats could lose some fat around their waists. My cats would be making up for lean time when I returned to the farmhouse.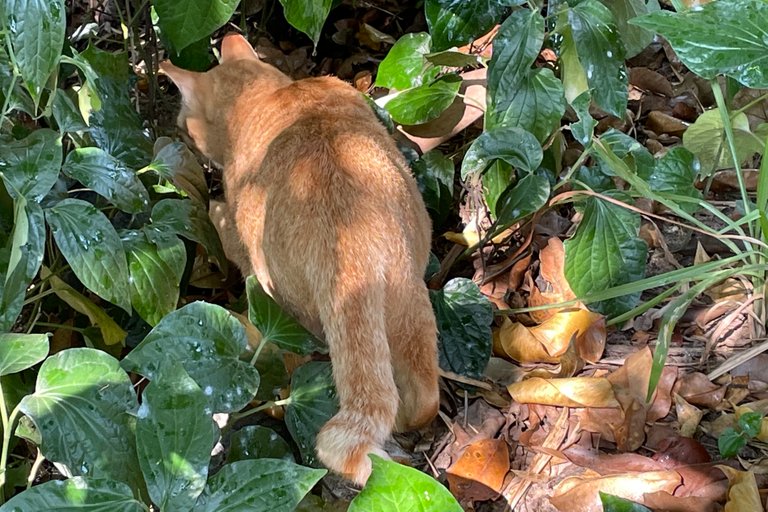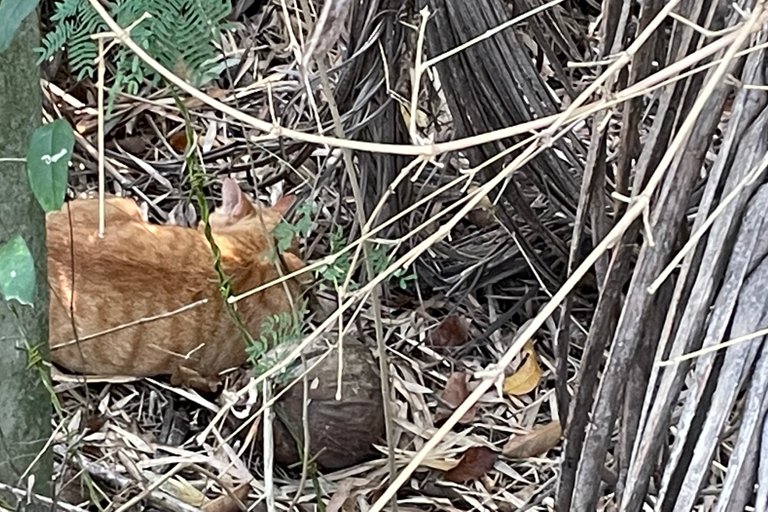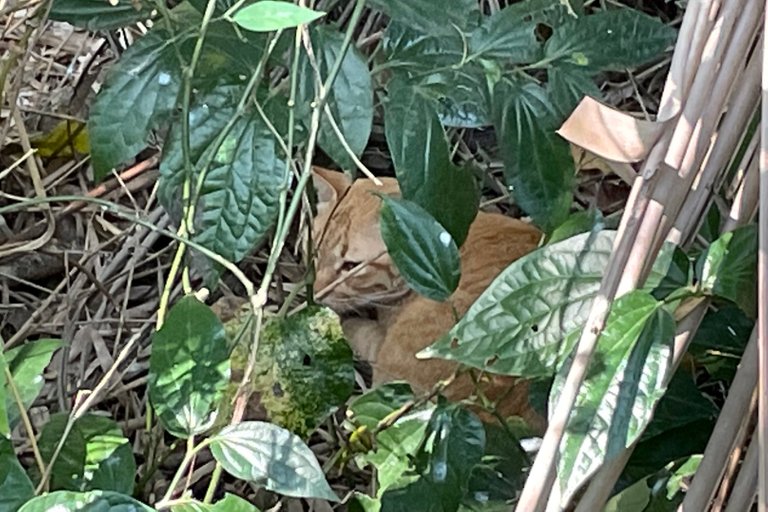 After we had cut down a few large leaves of the coconut tree next door, the roof of the storage room became nice and spacious. Both cats went out on the roof to sniff around for squirrels and field mice that occasionally climbed up the trees and jumped onto the roof. Kwan would have a quick look while Joan seemed to like the view from the roof. Joan would settle down for a short nap on the warm roof, during daytime.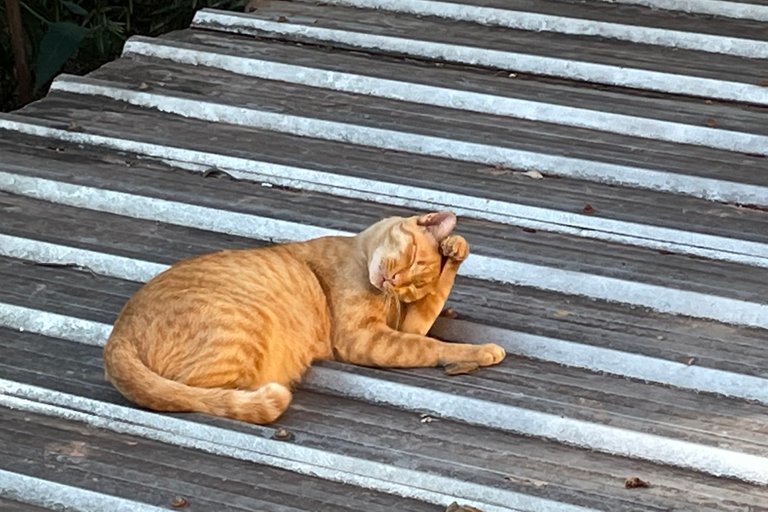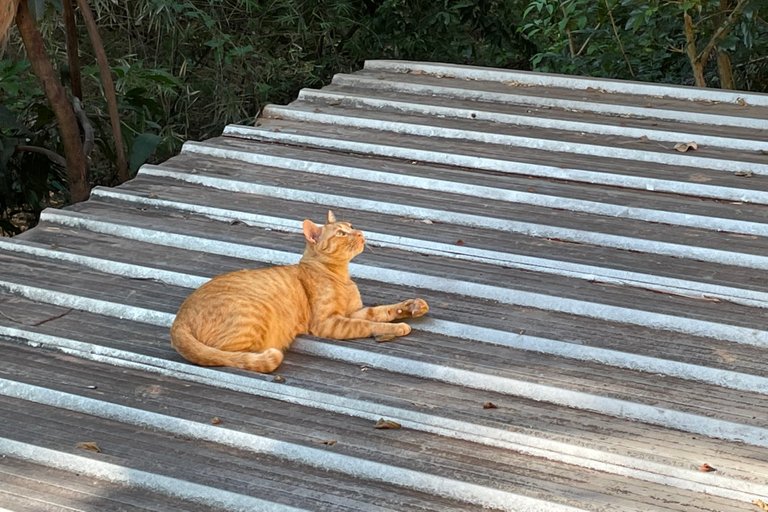 I wondered why he felt so safe and secured sleeping in the open like that. Eventually Joan came back inside to ask for some snack. These cats were very smart; as soon as they heard me cooking lunch they would come to wait quietly with big eyes full of hope for some goodies. Their heads would turn left and right to follow my movements, just in case I was putting some snacks in the little bowls. Their disappointing look and sad eyes made me very guilty, so they always won!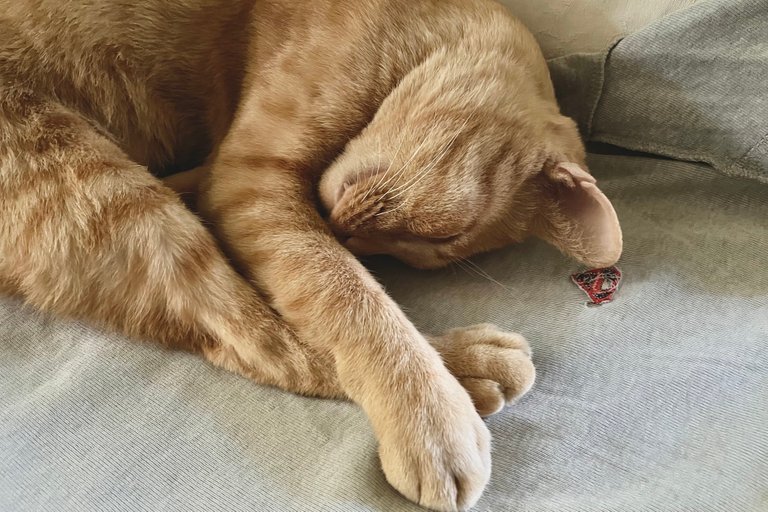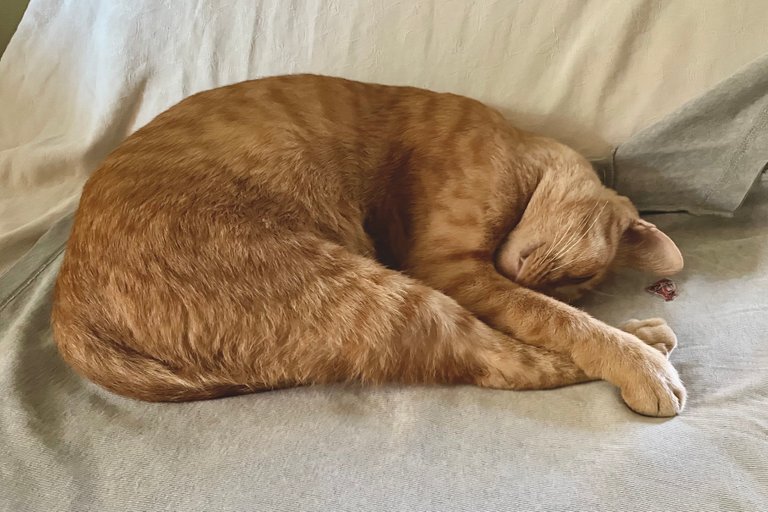 During the cooling winter days, Joan has been sleeping on my bed whereas Kwan would sleep alone on the table. I did wonder why Joan didn't sleep on his usual place in the basket. These cats seemed to become like adults with more confidence and independent way of thinking. Luckily whenever I brought Joan to the basket, Kwan would always snuggle beside her brother. I just hope that these orange cats would be close to each other and keeping each other company always. I am so grateful to have these funny and lovely cats to keep me entertained and be my good friends for many years to come.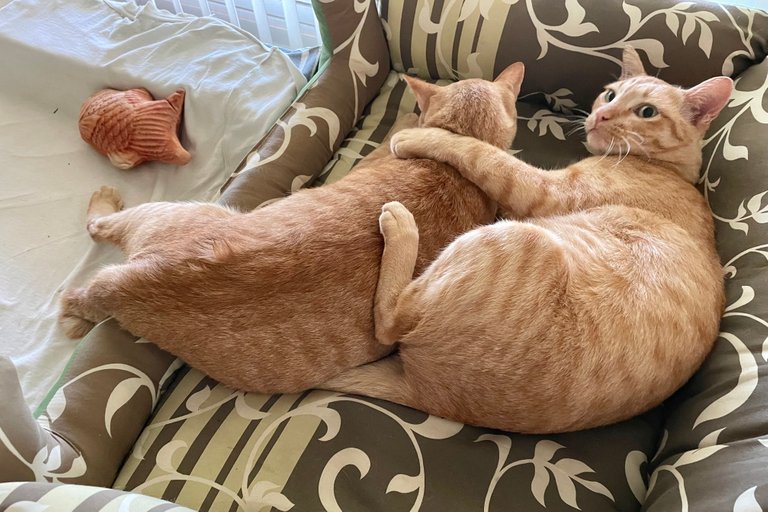 Wishing you peace, good health and prosperity.
Stay strong and cheerful.
---
---