Market Friday: discovering lots of antiques at a hide-away restaurant.

Frequently whenever I tried too hard at something, my 'willed' effort seemed to backfire on me and I had to shelf that project for a long time. Just like this post I had been planning for ages, I did promise the owner of the restaurant, but the pressure mounted too high for me to be at ease in making the post. Something happened to the owner of this small hide-away restaurant during the past few days (I could feel it) which I unintentionally stumbled upon during one of my spontaneous walk around Bangkok. I walked past the small entrance twice without noticing a restaurant inside, I thought it was a tiny coffee shop.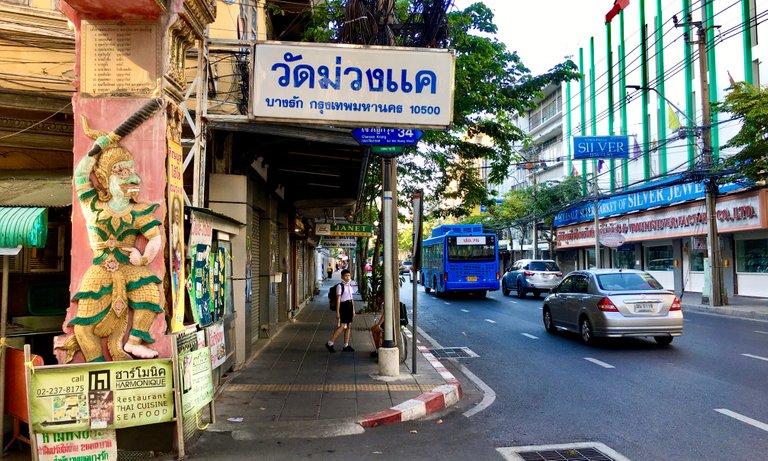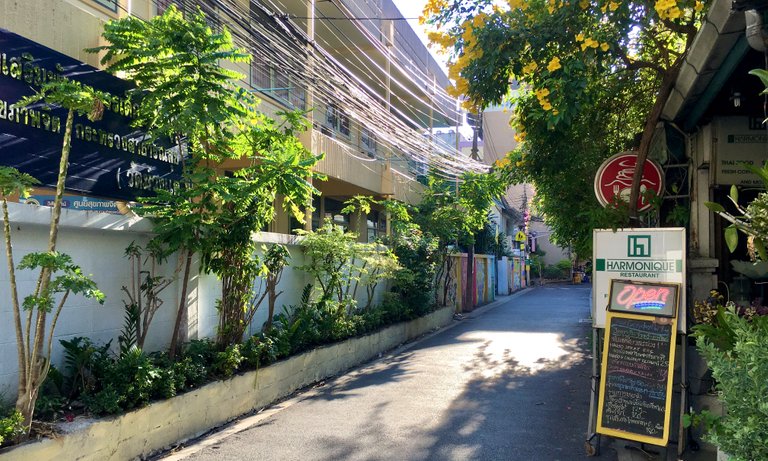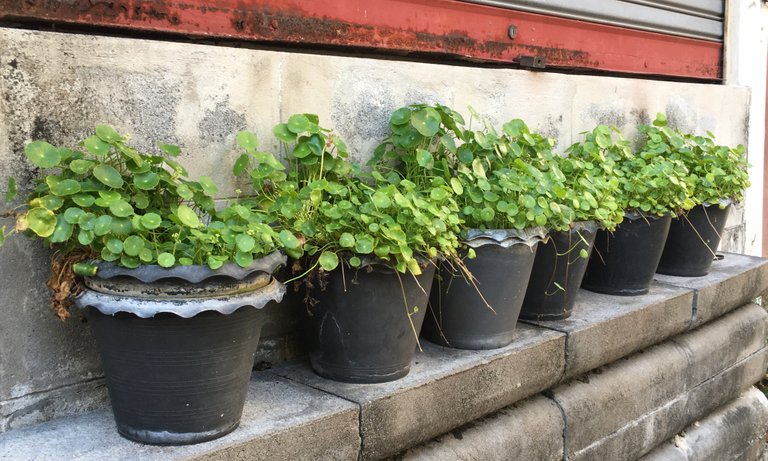 I saw the young owner deep in thought; he had to make his final decision whether to stay on or leave the restaurant as I had predicted about six months ago. Now I know he was thinking of me and our strange conversation about the future of the place. Somehow during my touring of this place, I told him something about my remote viewing of Bangkok in the near future, and he said he had very similar premonition. So, I asked him for more details of what he could vaguely see. Then I filled in some of the blanks; one is not permitted to tell all as we are not supposed to interfere with karmic wheels.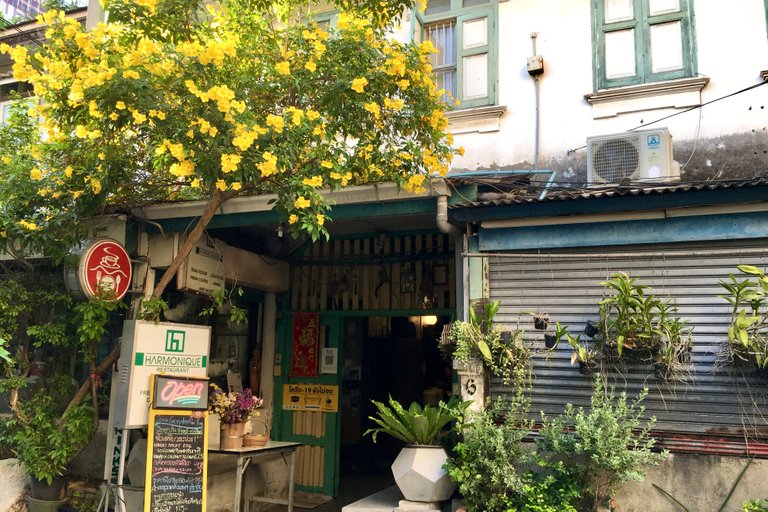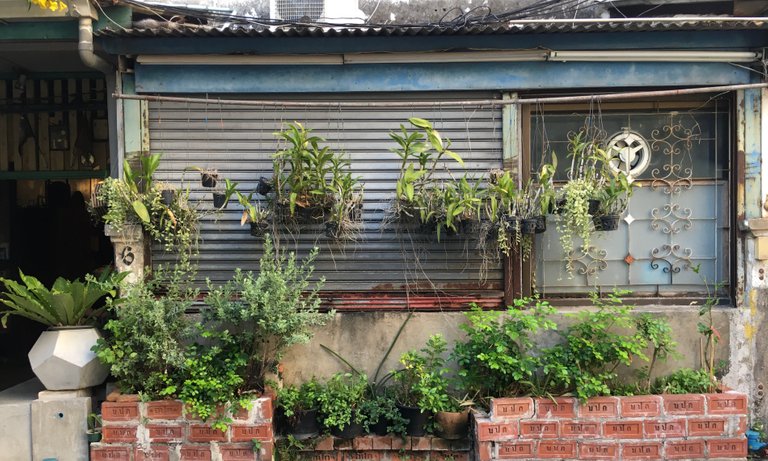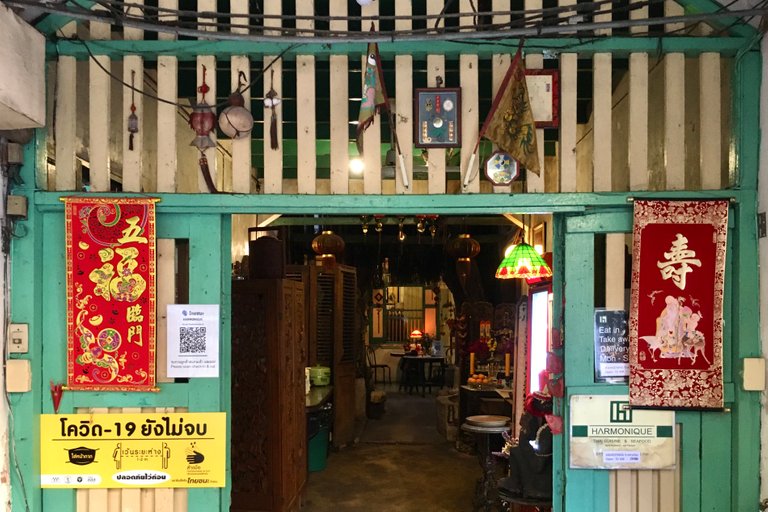 He was very impressed with my sincere concern and precautions for making some emergency plans about the future events. Then, I told him that I had been to this house twice before in my dreams. I had been subconsciously trying to find it for a few months. That's why I had several bursts of spontaneous wandering around Bangkok. My inner voice or subconscious never explained things or symbols to me directly. It would take me ages to decode their meanings or purposes. I wish some of my inner voices would be more straightforward.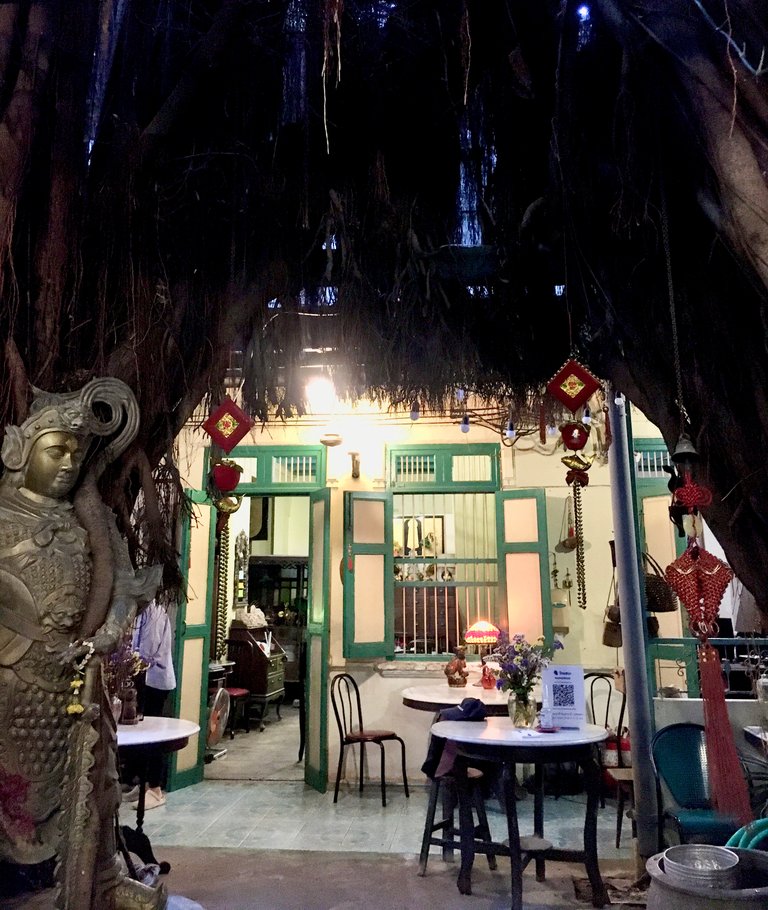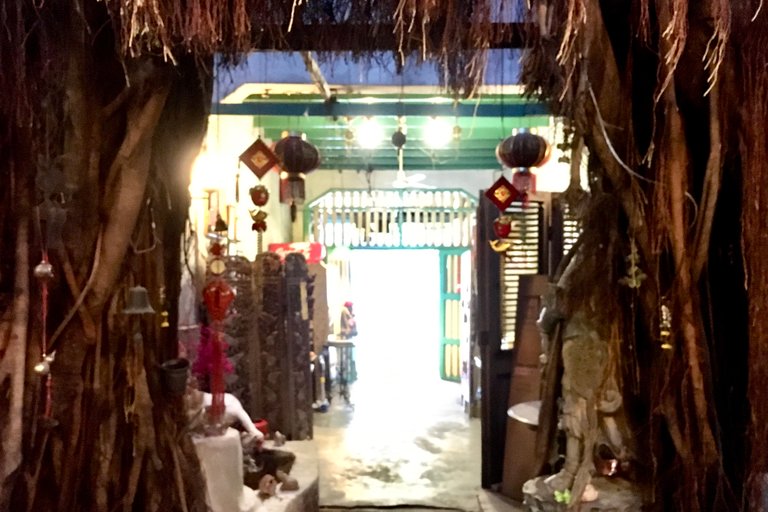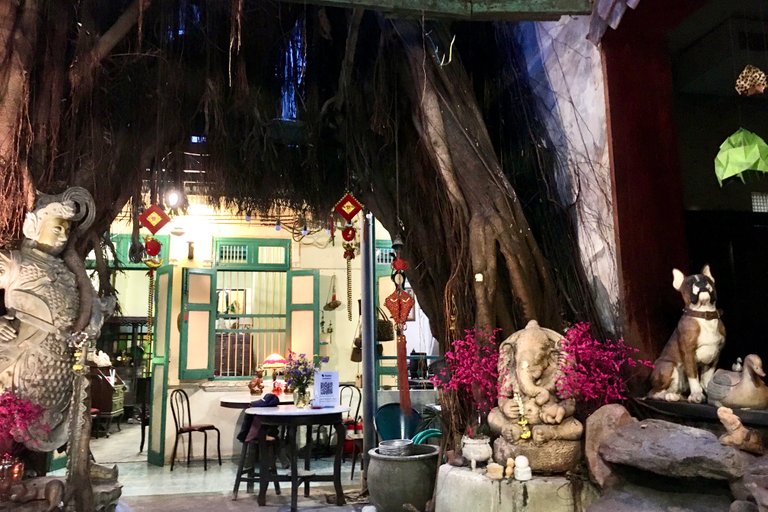 That day I just wanted to explore a small temple which I often noticed during my boat journey along the river. I could easily find the small alley which leads to this small temple right by the river. Sadly, most of the original wooden buildings of this temple were mostly transformed into modern architecture. The good thing about this temple was that many stray cats and kittens were well fed and could live freely among the old buildings. I wanted to get some ice cream from that tiny coffee shop on the way back to the main road. The hanging plants outside the entrance attracted my attention and curiosity about this shop.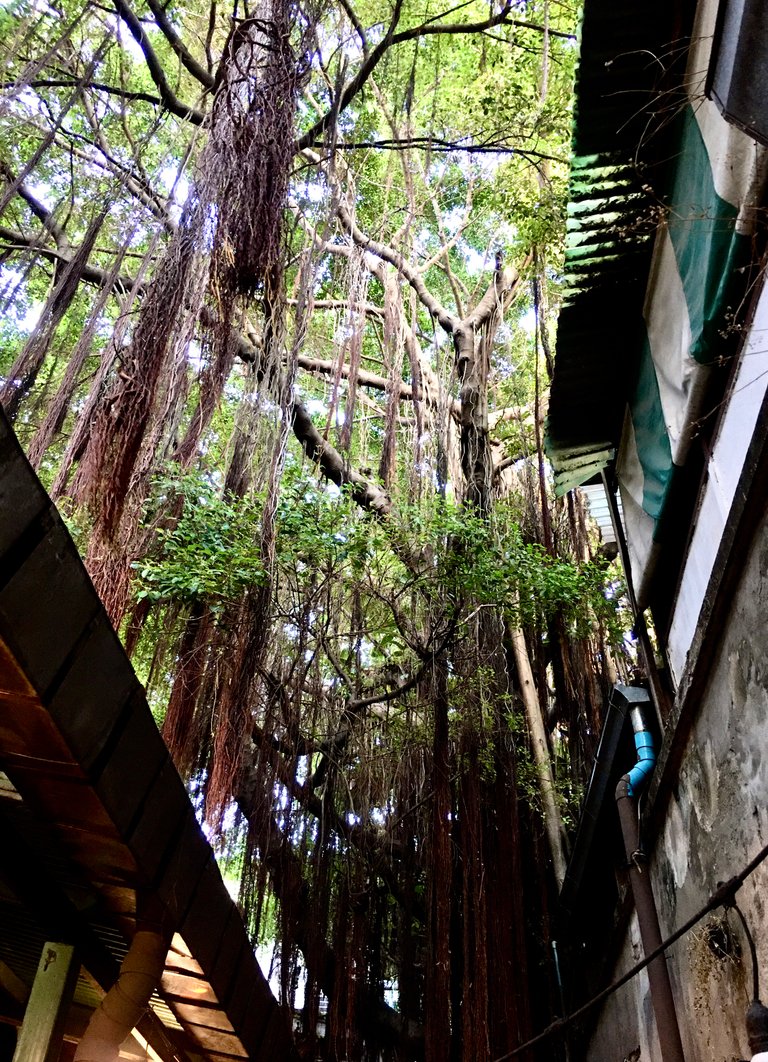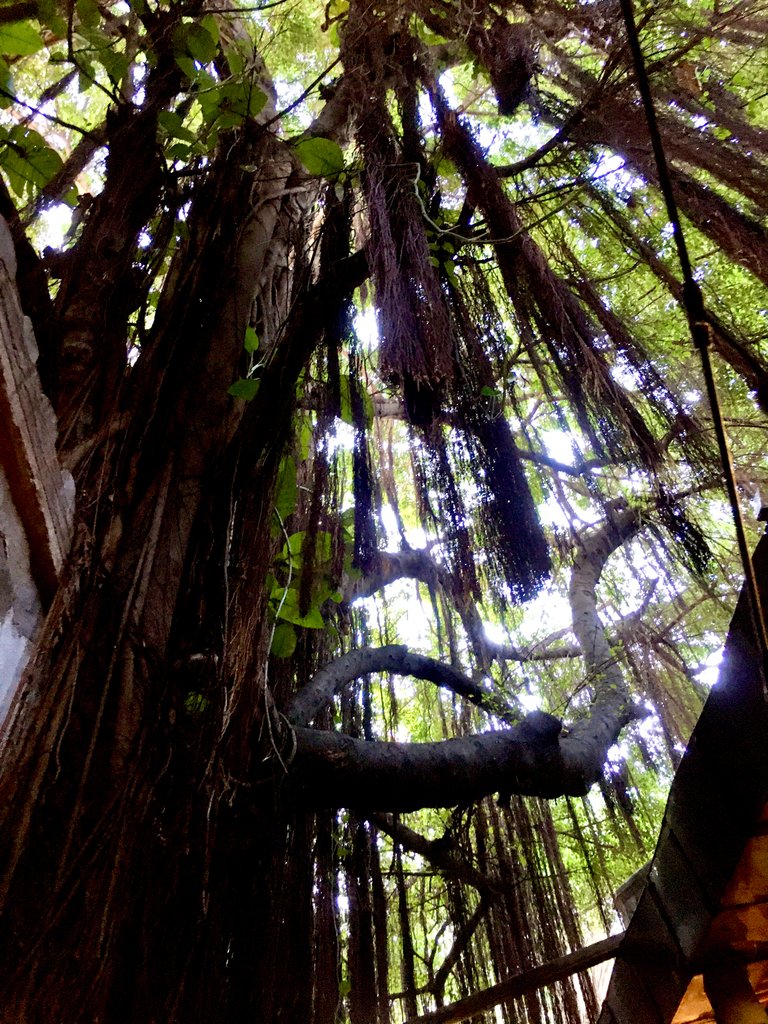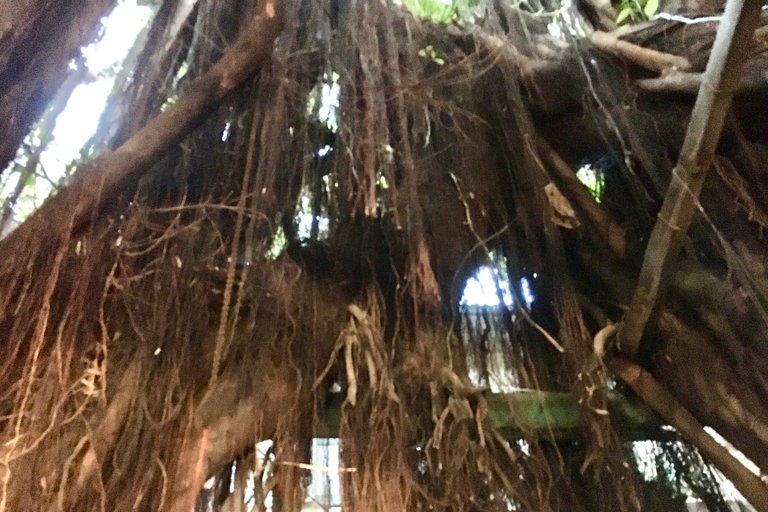 As soon as I walked through the entrance, I was surprised to see an old tree casting dark shadow and strange cool atmosphere inside the house. There's a small courtyard behind this old tree, with two old shop-houses stood behind the courtyard. There's plenty of space for a nice restaurant amidst the canopy of the old banyan tree. It felt like having dinner in the deep jungle among the old ruins as customers would be surrounded by various kinds of antiques. The original owners were three sisters who liked to collect antiques. In the past, several expats working in Bangkok were regular customers here and they always sat at the same tables.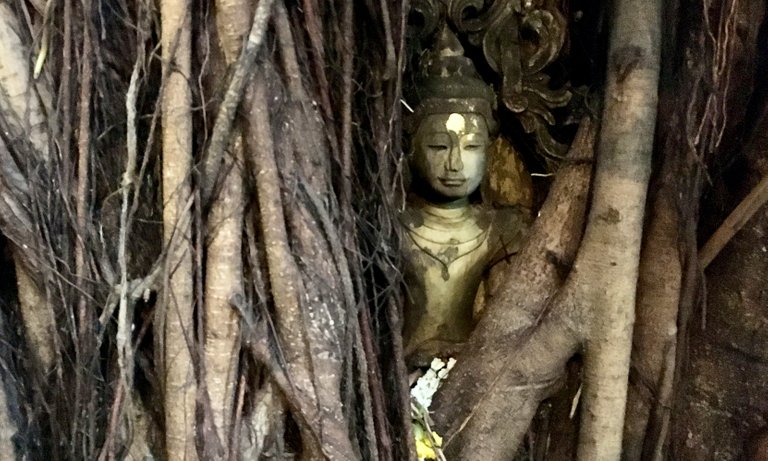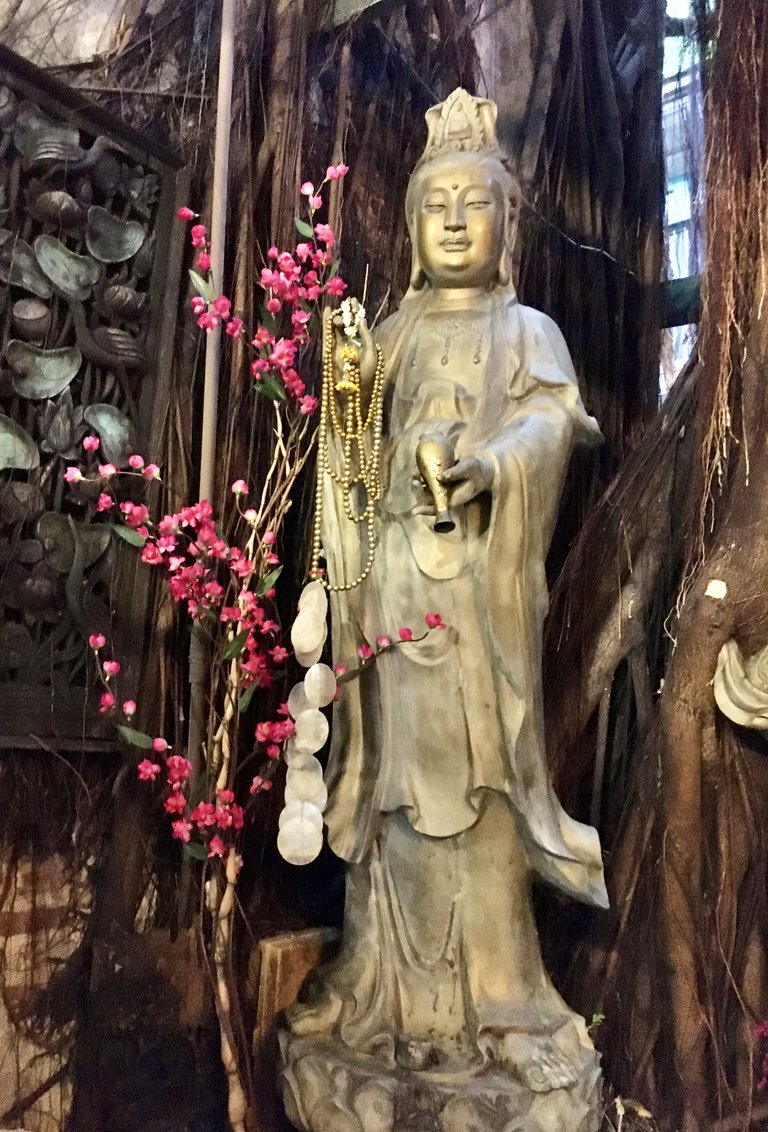 I could hardly believe what I was experiencing as my sense perceptions were bombarded with immediate stimuli, past recollection of my previous dreams and all the new vibes from the old trees, statues and antique pieces inside the two houses. Because of the pandemic, only the seating area in the courtyard was opened for service. After I told the owner that I had been here before in my dreams and I could recall the twin shop-houses being full of old furniture. He then offered to take me on a guided tour of the whole place. These houses had not been used for several months and it's all dark inside; with all the rooms closed.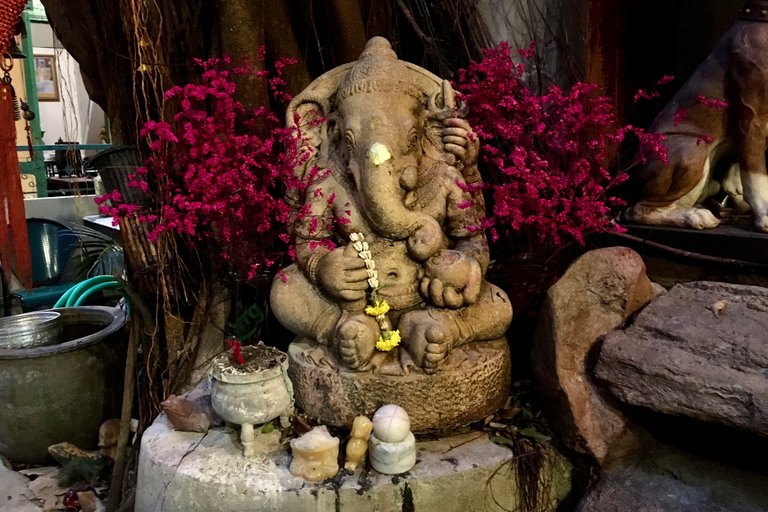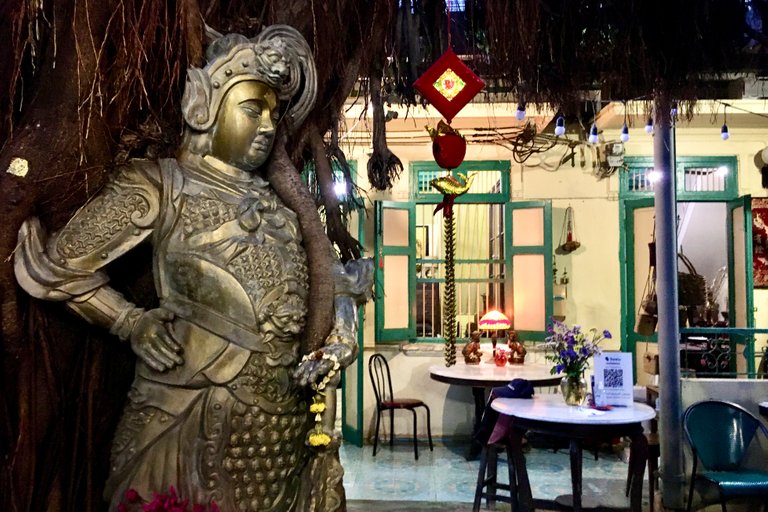 I was very surprised and grateful to his kindness. In fact he was going out when I arrived, but he changed his mind and asked his wife to look after his young daughter for him. He was carrying his three years old daughter all the time we were talking. He wanted to take me on a tour without carrying his kid around. But the little girl didn't want to let go and I told him it's okay to take her along. I could see that the little girl's curiosity was perked up with attentive eyes. She was quietly listening and observing every vibes around us. The atmosphere was quite electric; this place was full of energy and invisible beings. I did noticed strange vibes from some antique pieces; I had to formally acknowledge some of them by going very close to greet them. They must have been quite lonely without customers to liven the place with laughters and exchanges of stories. They had been bored without entertainment for several months of lockdown. Antiques also needed social vibes and entertainment!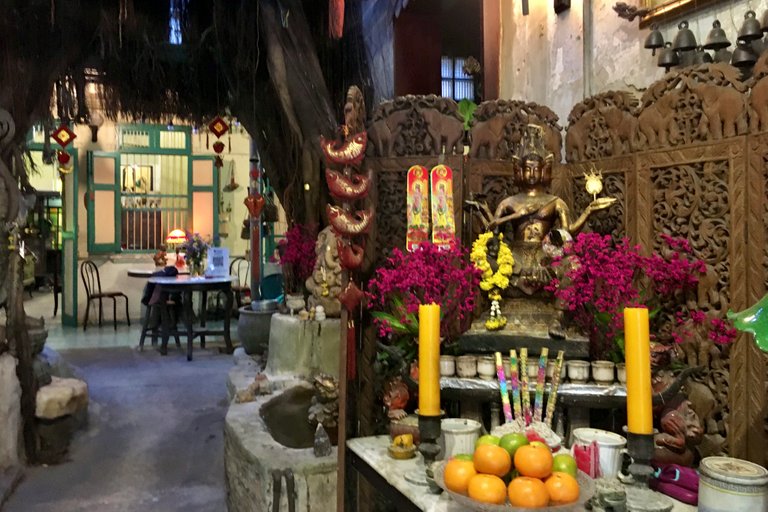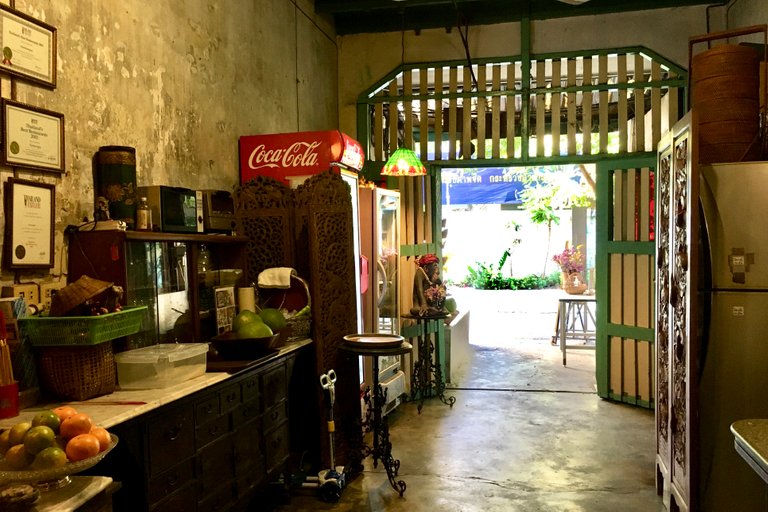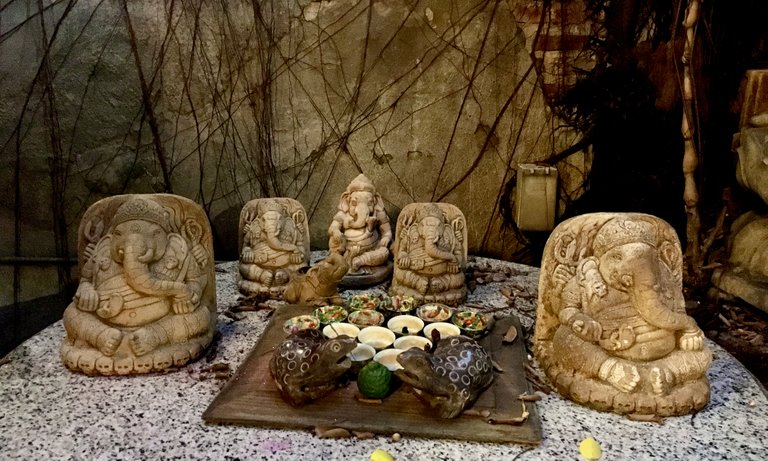 The owner showed me every room and all the important pieces of antiques. I was quite overwhelmed by his complete trust in me. He said he wouldn't normally open up some of these private rooms to people. I was shocked by the numbers and varieties of his aunts' antique collections. These could fill at least five rooms in a museum. The vibes from some old statues were very strong that I could not move as if they told me to stay and I had to turn back towards the cabinet. I had to thank them for leading me there. In fact they were waiting for me; I think I was summoned there for a purpose. Perhaps they wanted me to give the owner some warning about the future and to confirm some of his own premonitions.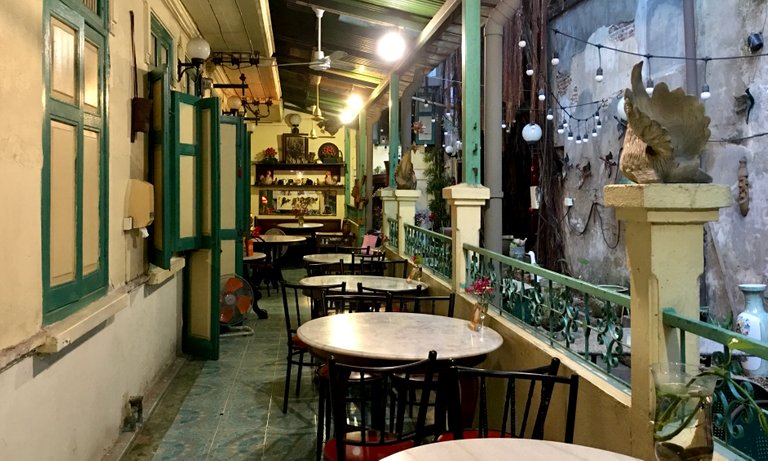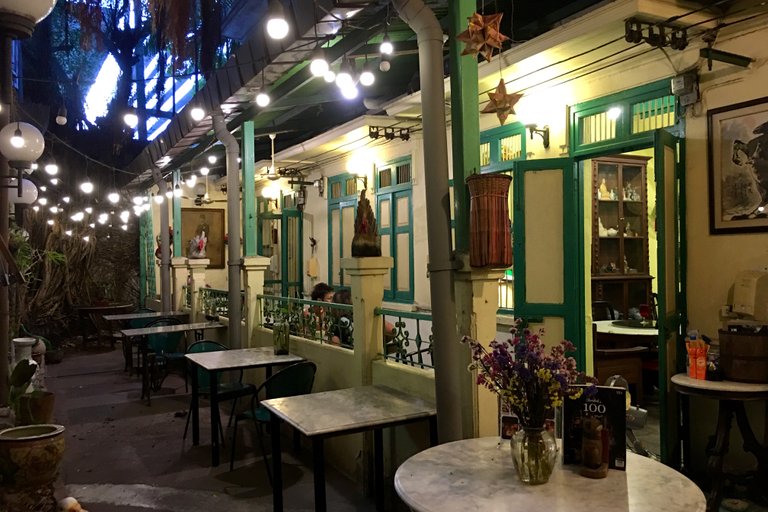 I couldn't help feeling that someone was following me and watching my every move. Some of the guardian spirits were very old and fierce. They could take offense easily if I was not respectful; they were more than three hundred years old so they should command some respect. I felt that I was walking on air after I left that small restaurant and the nice young man. His wife was a bit wary of me as she thought I could be a scammer. But her husband felt that he found an old friend in this stranger who wanted some ice cream. I couldn't tell him all that I could read from his face; but I did my best to guide him in the safest direction. I did pray for a while and thanked all the guardian spirits in that place. They all knew me from my other previous life but I couldn't recall anything from the past. The whole afternoon was like getting lost in an old museum and had a session of 'traveling back to the past' while looking out for future uncertainty.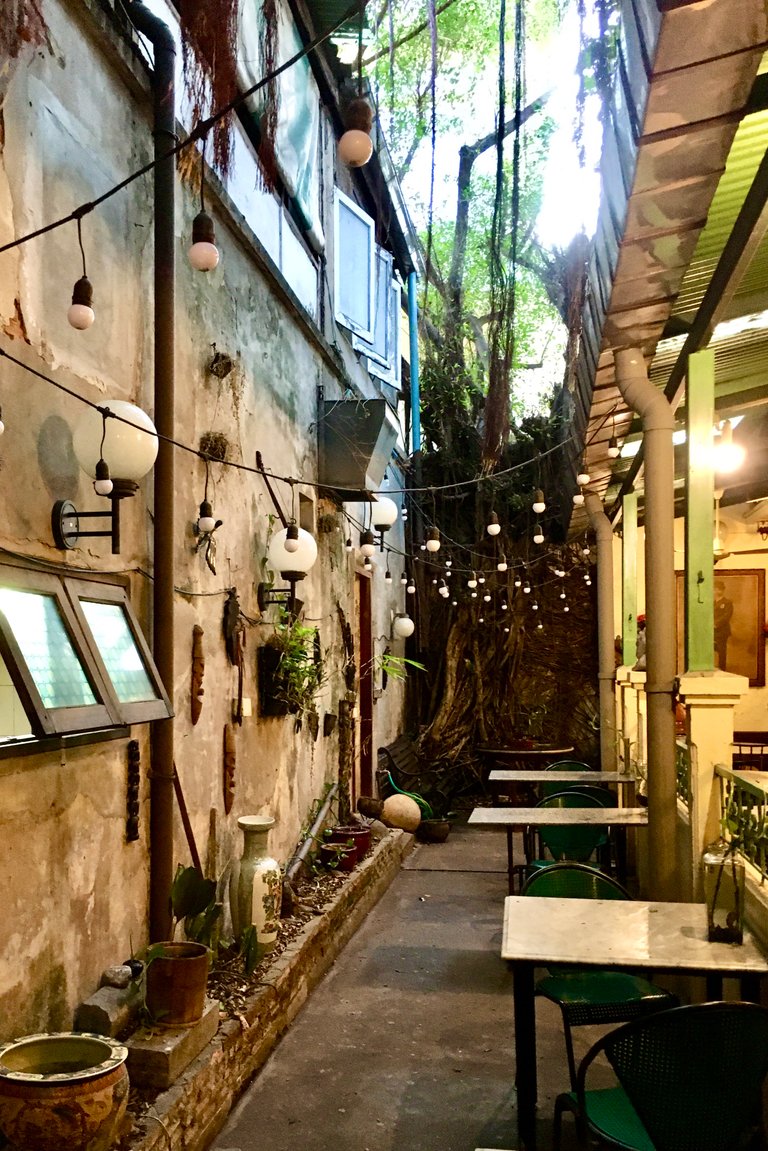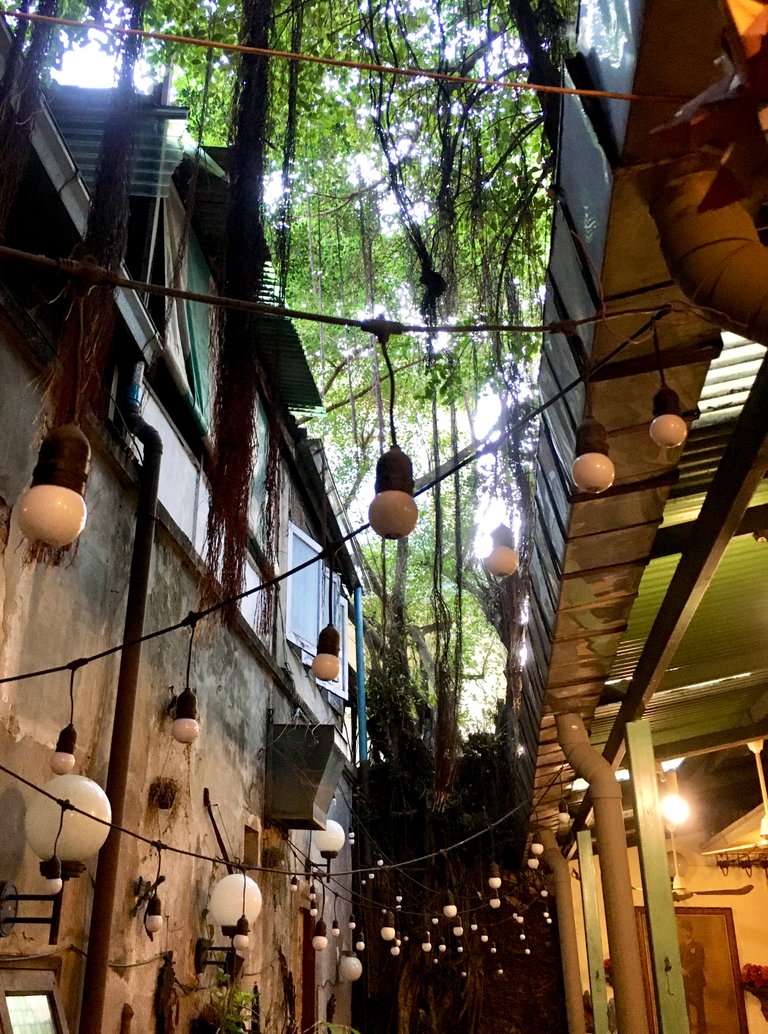 Before I left, the owner asked me whether he should sell a piece of antique which his expat customer had been wanting to buy so much. He said he felt guilty if the guardian spirit in this old Burmese treasure box was not happy about leaving with a new owner. So, we had to go back inside the room to see that piece of antique. I was wondering why he couldn't get some message from the spirit himself; I knew he was also psychic. After being still for a while, I could tell him that he should be able to let go of some antiques as some pieces used to be owned by these people in the past. Some people would be attracted to particular items without realising that they used to keep their jewelries inside these boxes in other life time.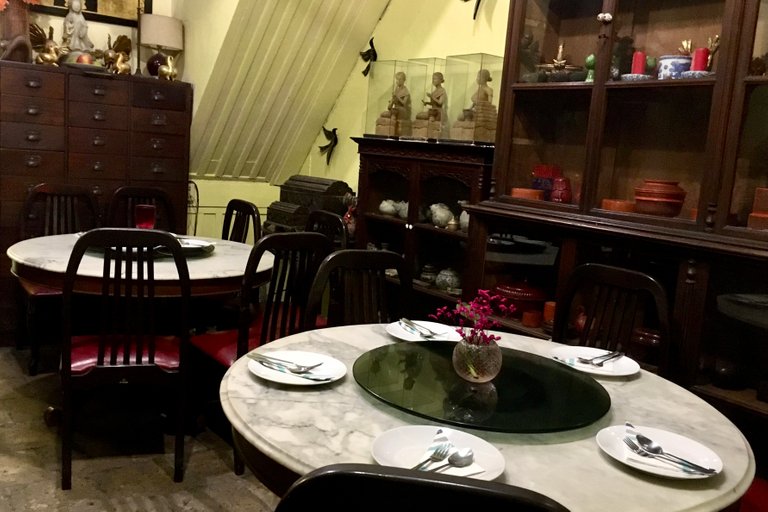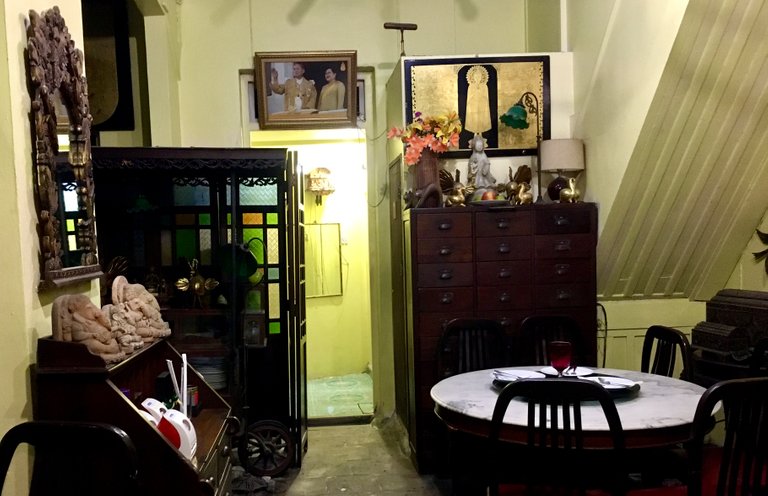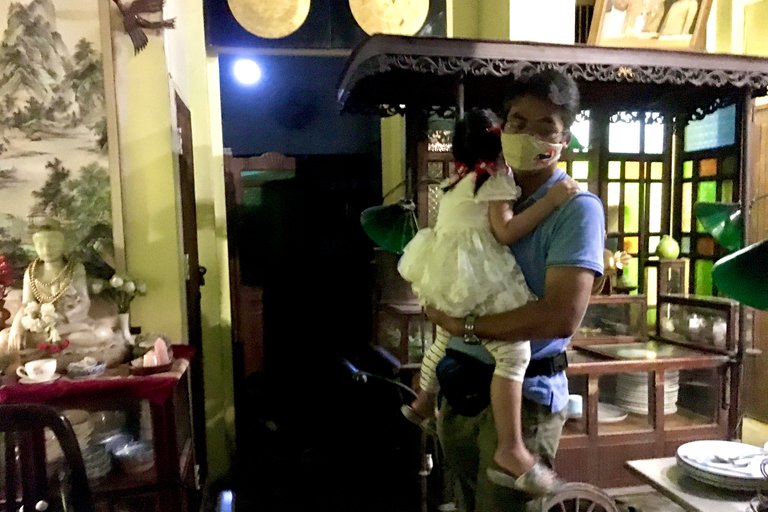 I ought to finish this post that I could fulfill my promise to him and that I could go back to see how he and his family are doing in a new lockdown. I think he's taking very drastic decision and he would need some moral support; he was thinking of me for two days now. I hope the guardian spirits there would continue to protect them all and guide them in the right direction. I did enjoy looking at the precious antique collection and impressed by the ambience of that courtyard where I felt I could almost travel back to the past to see another reality. Perhaps I would let you know how this young man and his family business has been doing late on.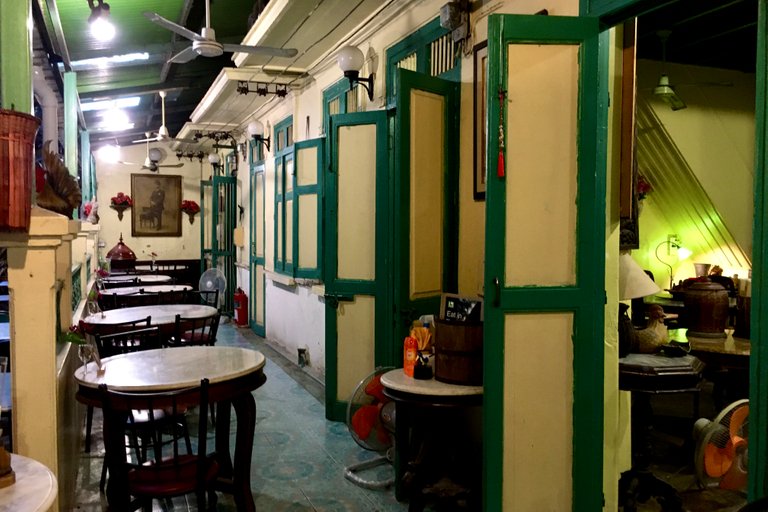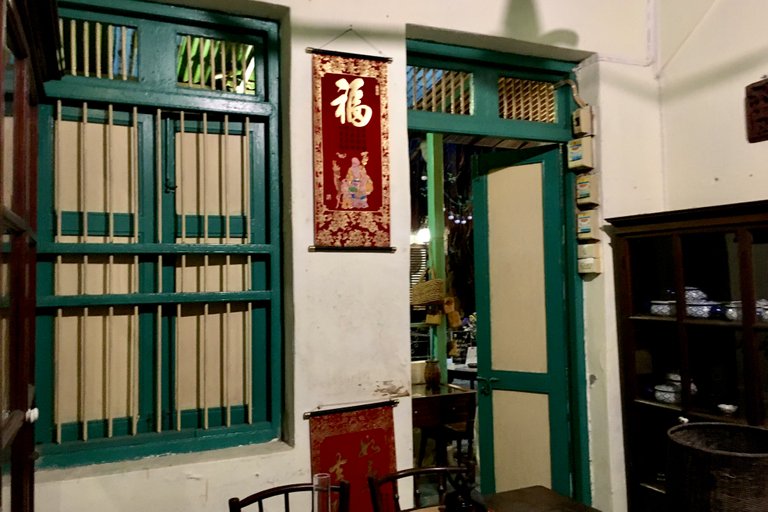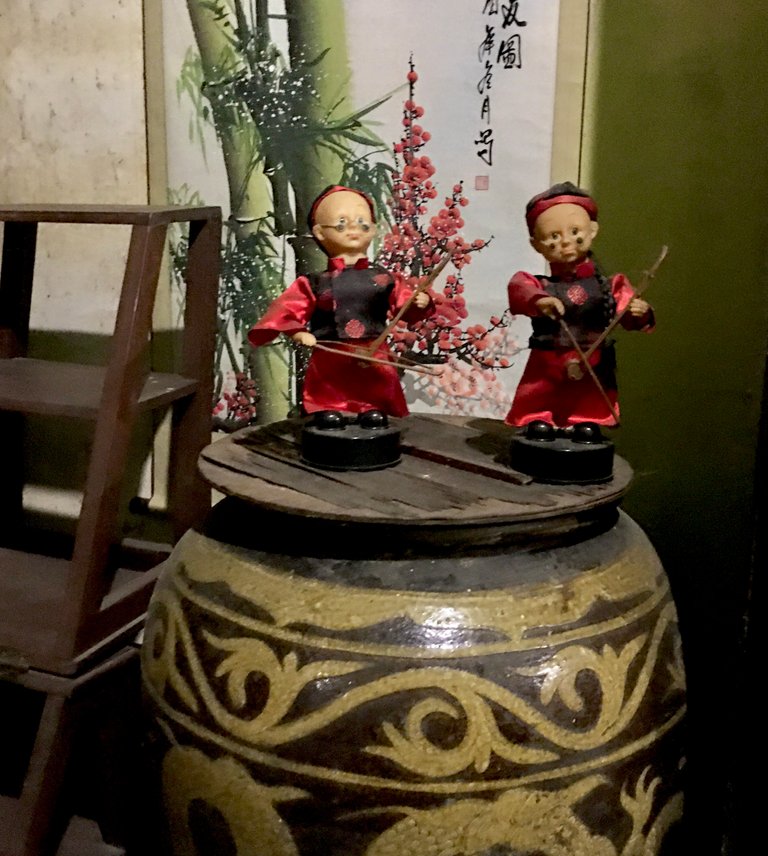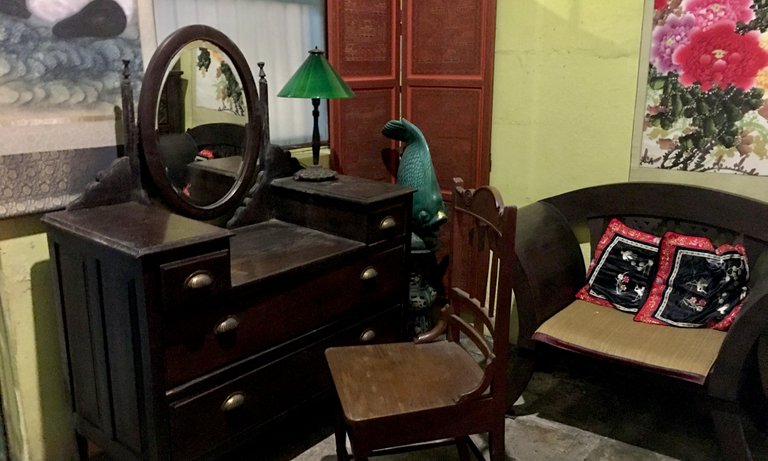 ช่วงนี้เรารู้สึกว่ามีพลังงานแปลกๆใหม่ๆเข้ามาในโลก เรารู้สึกว่าทุกอย่างมีความเร็วมากขึ้น. เรานอนไม่เคยพอเลยเพราะต้องลุกขึ้นมาแข่งกับเวลาที่ไม่เคยหยุดรอใคร เราตั้งใจจะเขียนเรื่องนี้มาหลายเดือนแล้ว แต่เราตั้งใจมากเกินไปและมีความพยายามมาก จนจิตใต้สำนึกต่อต้าน ทำให้เราไม่มีสมาธิมาเขียนเรื่องนี้. เราก็เลยปล่อยตามสบาย เราคิดว่าจะต้องหาเวลาในเขียนสักที เราก็ได้สัญญากับเจ้าของร้านว่าจะเขียนให้เป็นการแนะนำให้คนรู้จักร้านอาหารแปลกๆ ที่ดูเหมือนร้านขายของเก่าหรือพิพิธภัณฑ์มากกว่า สองสามวันก่อน เรารู้สึกได้ว่าเจ้าของร้านคิดถึงเรา และได้ตัดสินใจอะไรบางอย่าง มันทำให้เขาคิดถึงเรื่องที่เราเคยคุยกันไว้ เกี่ยวกับอนาคตที่ไม่แน่นอน และอันตรายที่กำลังจะมาถึง. เราคิดถึงวันที่เราไปเจอร้านนี้โดยบังเอิญ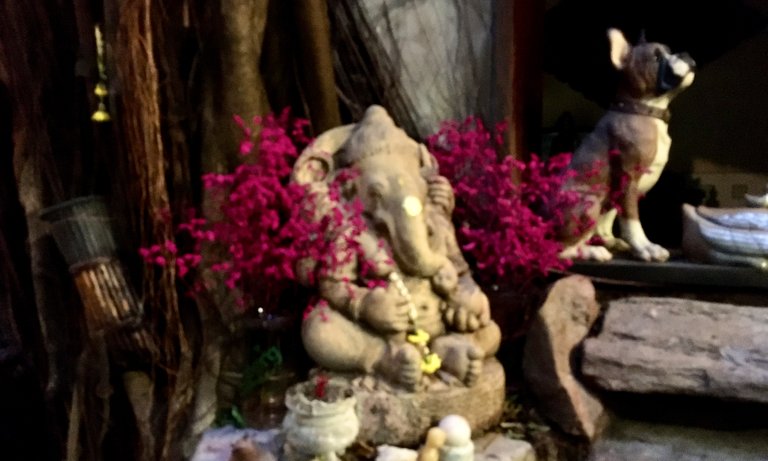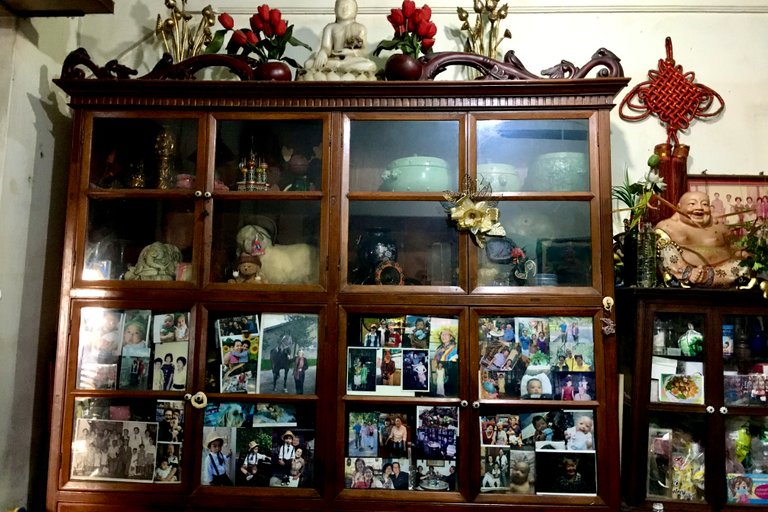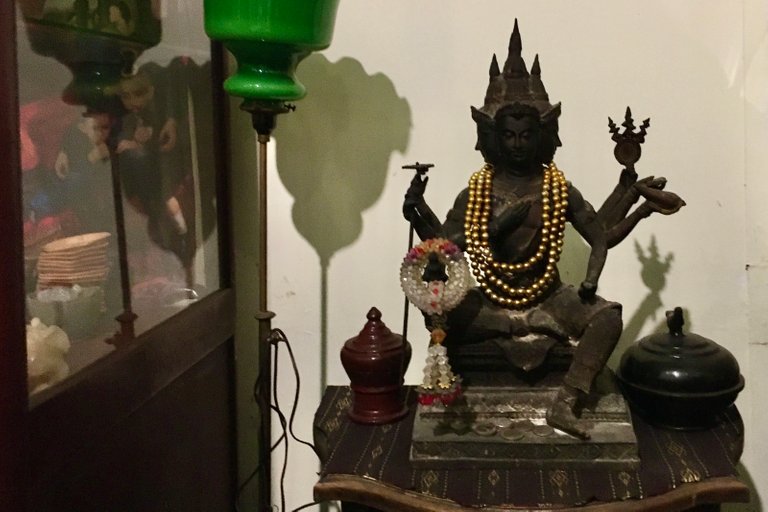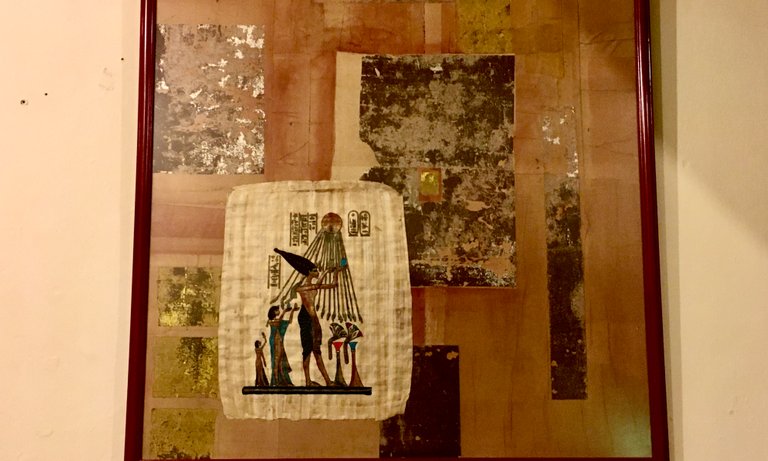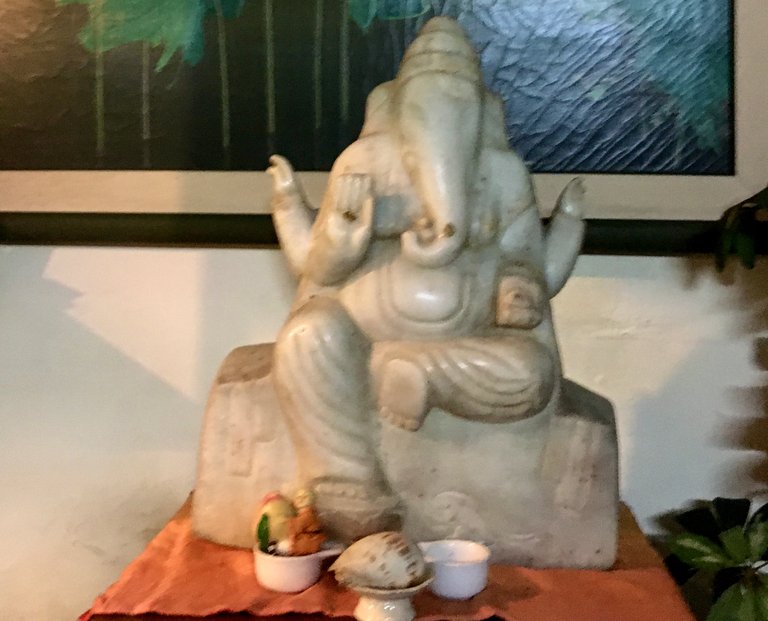 เราตั้งใจไปตามหาวัดเล็กๆที่อยู่ริมแม่น้ำ เราจะเห็นวัดนี้ทุกครั้งที่เรานั่งเรือไปเที่ยว วันนั้นอากาศร้อนและสดใส เราก็ไปเดินหาทางเข้าวัดนี้. และไปเดินเที่ยวให้สมความอยาก เราเสียดายที่วัดนี้แทบไม่มีอาคารเก่าๆหลงเหลืออยู่เลย วัดนี้เล็กมากและมีท่าเรือเล็กๆ วัดอยู่ตรงข้ามไอคอนสยามพอดี ที่นี่มีแมวเร่ร่อนหลายสิบตัวอาศัยอยู่ใต้ตึกเก่า เราก็ดีใจที่เขาเลี้ยงข้าวแมวและดูแลแมว. เราเดินกลับไปทางเดิมและ อยากกินไอศกรีมดับร้อน เราเห็นร้านกาแฟเล็กๆที่มีต้นไม้กระถางประดับอยู่ตามกำแพง เราก็แวะเข้าไปดู ปรากฏว่ากลายเป็นร้านอาหารที่มีพื้นที่กว้างมากข้างใน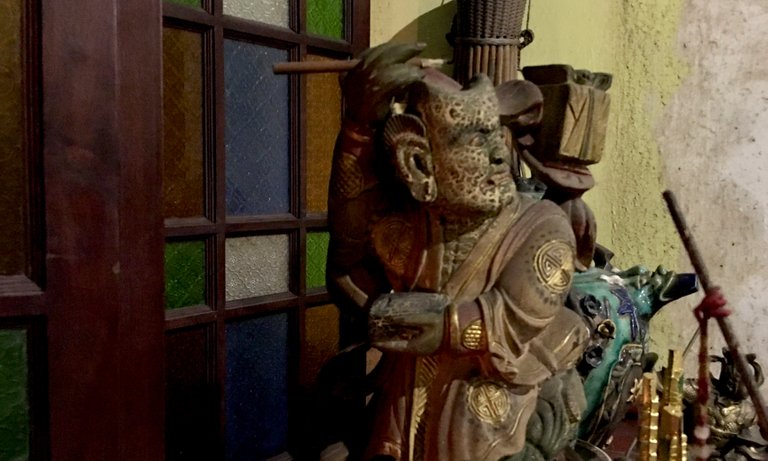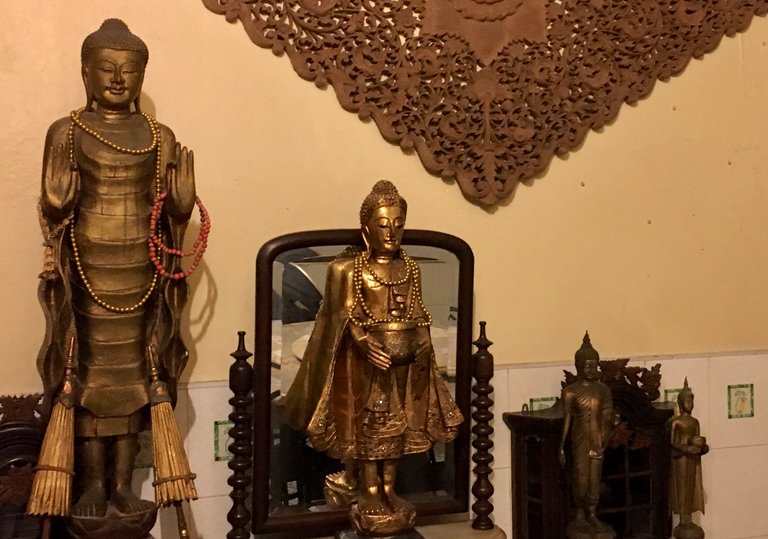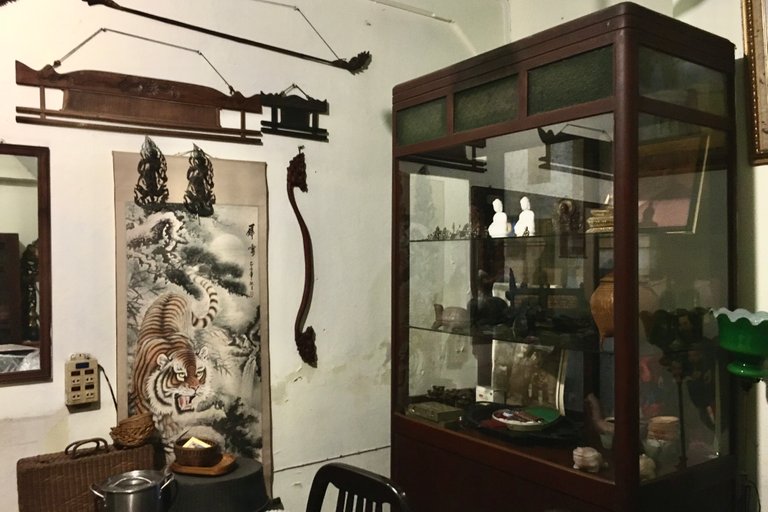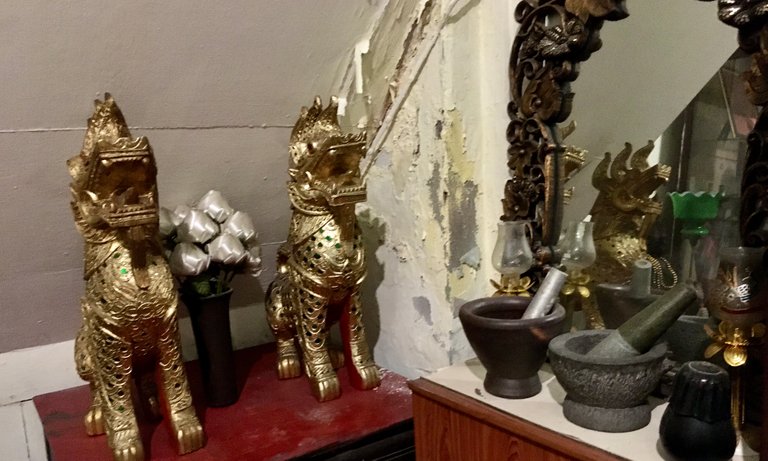 พอเดินเข้าไปเราก็เจอต้นไม้สูงกว่าสิบเมตร เป็นต้นไทรอายุกว่าร้อยปี ตรงทางเดินแคบๆ เดินต่อเข้าไปก็เจอลานหน้าบ้าน และมีบ้านสองชั้นสมัยรัชกาลที่5 อีกสองหลัง เรารู้สึกเหมือนเดินเข้าไปในความฝัน เพราะเราเคยฝันเห็นที่นี่สองครั้งแล้ว เราเดินเข้าออกบ้านสองหลังนี้อย่างสบายใจในฝัน. เราก็เล่าให้เจ้าของร้านอาหารฟัง เขาก็เลยตื่นเต้นและคุยเรื่องบ้านเก่าที่นี่ให้เราฟังหลายเรื่อง ตอนนั้นเขาเปิดร้านให้มีที่นั่งแค่ตรงลานหน้าบ้าน เขาปิดบ้านสองหลังเพราะมีของเก่าสะสมไว้มากมาย สมัยก่อนเขามีลูกค้าประจำมากมาย และมีห้องข้างในบ้าน สำหรับจัดเลี้ยงด้วย บ้านปิดมืดหมด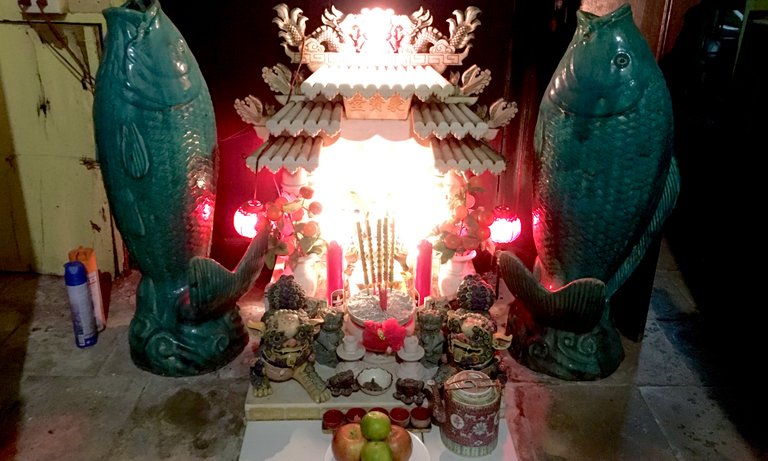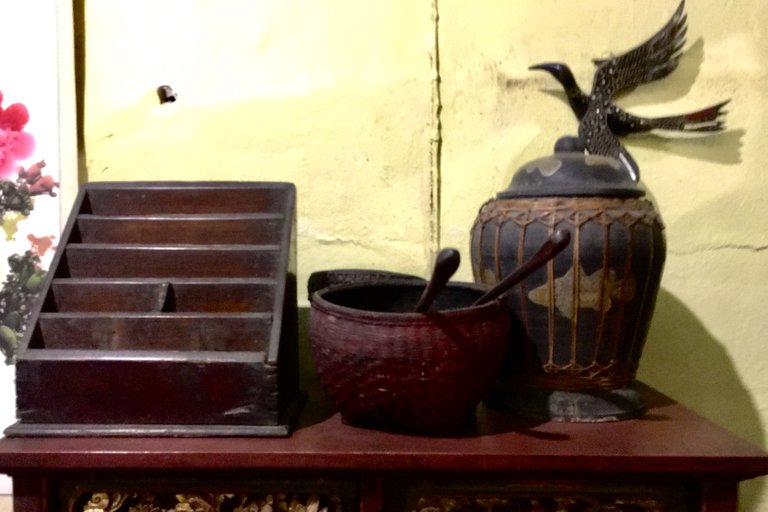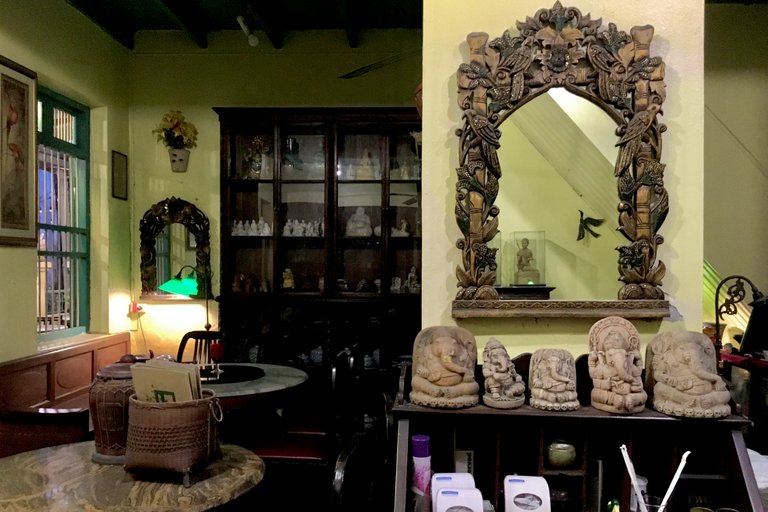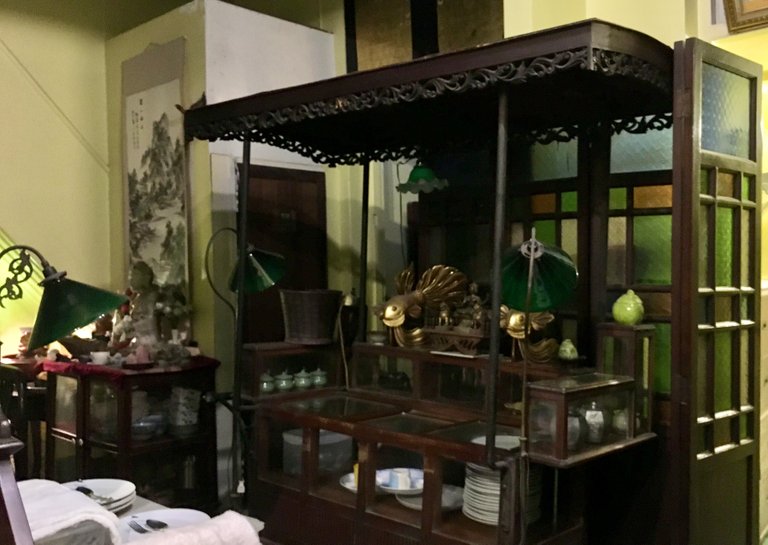 เจ้าของร้านอาหารก็ใจดีมาก เขาพาเราไปเดินดูของเก่าในแต่ละห้อง และให้เราถ่ายรูปได้ตามสบาย เราเสียดายที่กล้องถ่ายรูปในไอโฟนของเรา มันเก่าไปหน่อย เราน่าจะได้รูปสวยๆมาโชว์ ให้สมกับความน่าทึ่งและสวยงาม ของสถานที่พิเศษแห่งนี้ เราโชคดีมากที่มาเตอร้านอาหารที่ไม่มีใครเหมือนเลย. น้าสามคนที่สะสมของเก่ามาตลอดชีวิต ก็ให้เขาและภรรยารับช่วงดูแลต่อไป เขาก็ได้เรียนรู้และชอบของเก่าแก่ที่มีประวัติศาสตร์. และเรื่องราวในอดีตแฝงอยู่ เราต้องขอเขาทำสมาธิเงียบๆ และแผ่เมตตาให้กับคนที่เฝ้าของเก่าเหล่านี้ เราได้รับพลังงานแปลกๆ ในสถานที่นั้นมากจนเรามึนอยู่พักหนึ่ง ดูเหมือนพวกเขารอคอยเราอยู่นานแล้ว กว่าเราจะตามมาจนเจอร้านสะสมของเก่า ที่เหมือนพิพิธภัณฑ์แบบนี้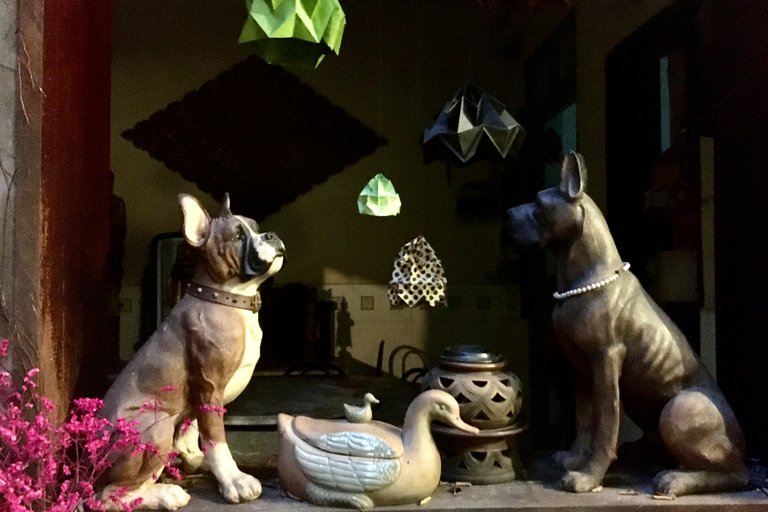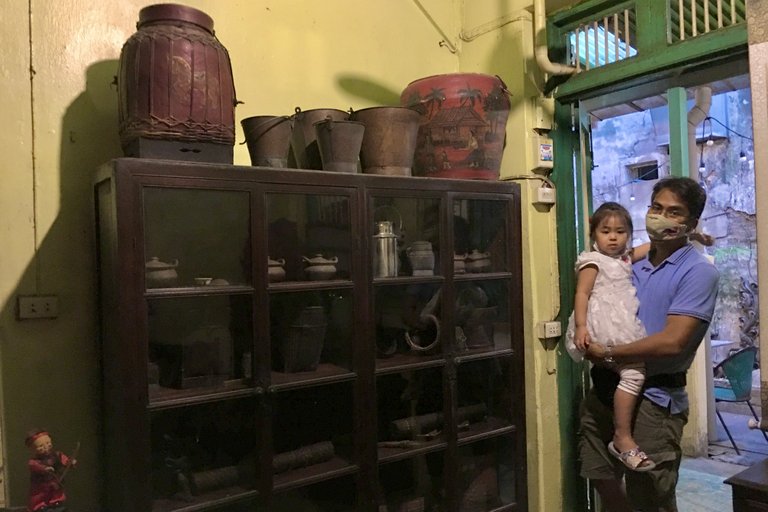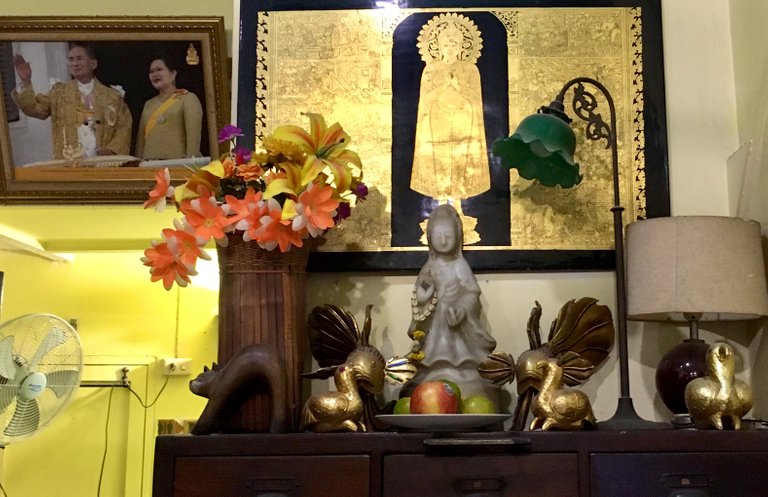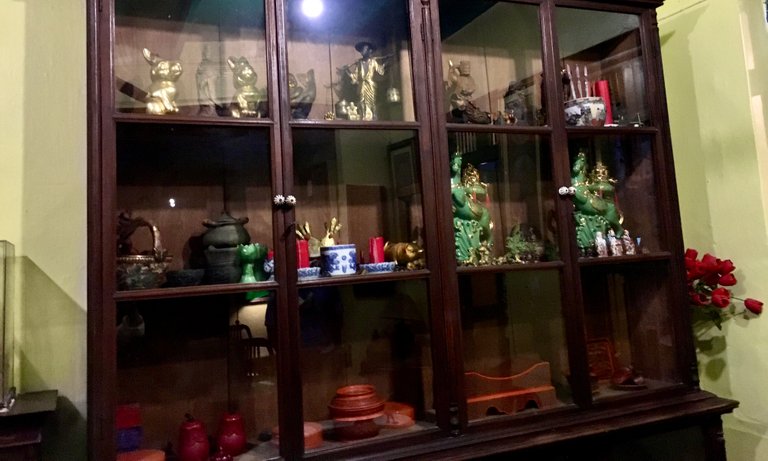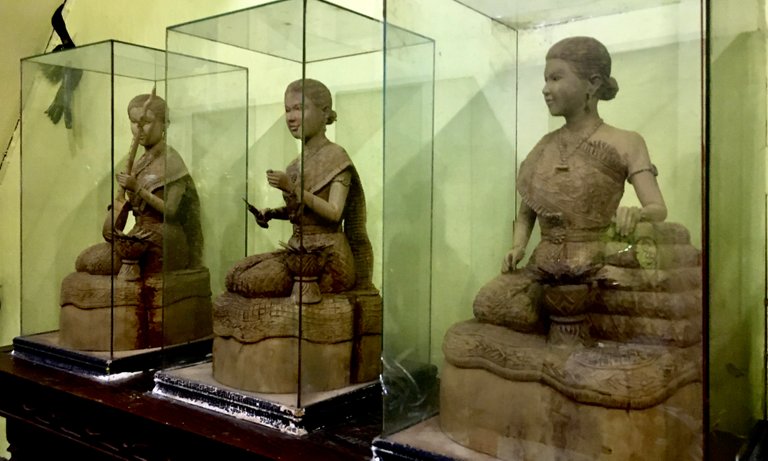 เราคุยกันถูกคอกับเจ้าของร้านมาก เขาเองก็มีสัมผัสพิเศษ เราก็แนะนำให้เขาปล่อยวาง และอย่ายึดติดกับของเก่าที่สะสมมานาน และมีค่ามาก เราไม่อยากให้ของพวกนี้กลายเป็นภาระในวันข้างหน้า เจ้าที่ที่นั่นแรงมาก เราต้องไหว้และขออนุญาตถ่ายรูปแบบประชิดด้วย แต่รูปนั้นก็ออกมาเบลอ. ท่านแรงจริง เราหวังว่าเจ้าที่เจ้าทาง และสิ่งศักดิ์สิทธิ์ที่นั่นจะช่วยดูแลคุ้มครองให้ทุกคนในร้านอาหารกึ่งพิพิธภัณฑ์นั้นทุกคน ให้พวกเขาปลอดภัยและอยู่อย่างสบายใจ และค้าขายได้ตลอดด้วย เราจะต้องหาเวลาไปเยี่ยมเขาในเร็วๆนี้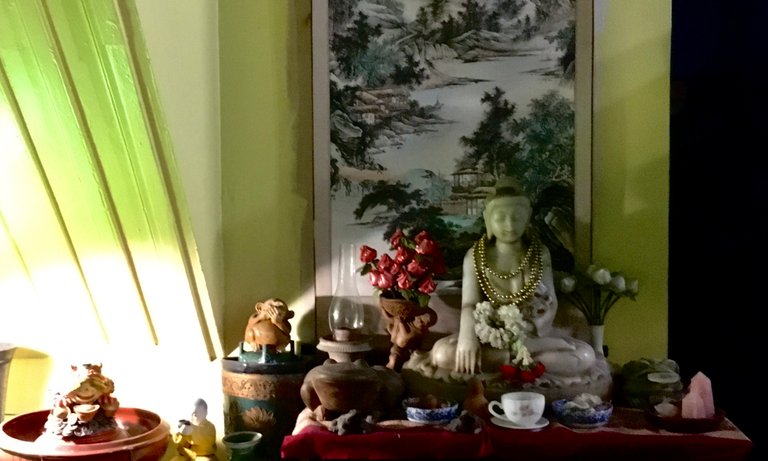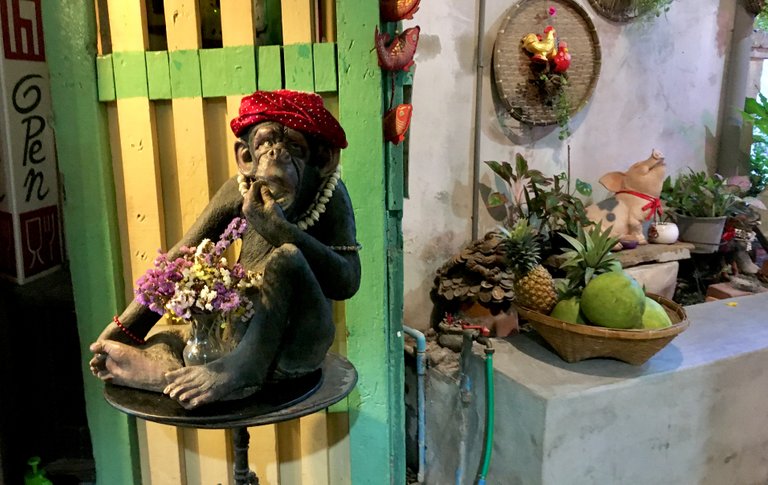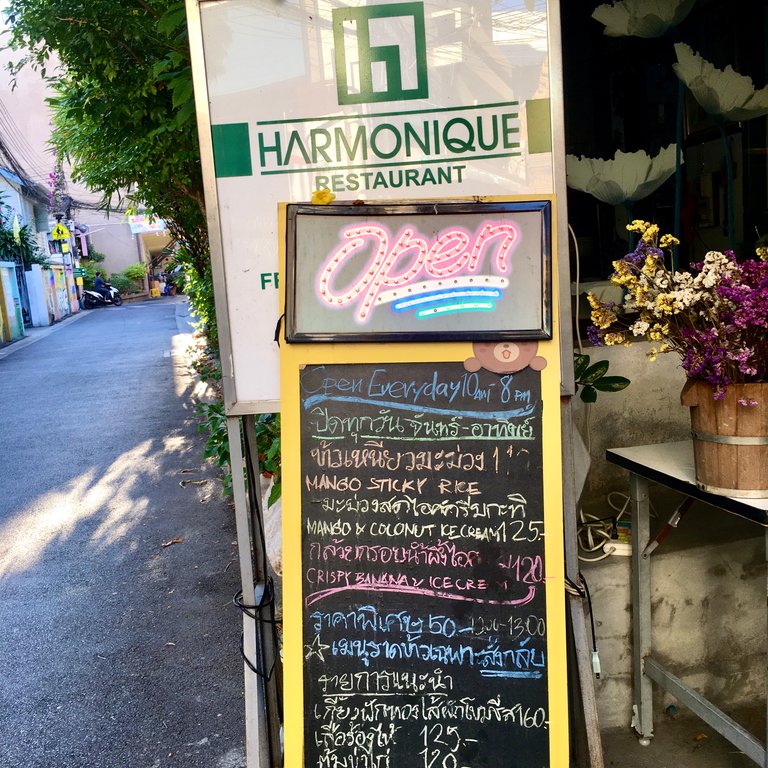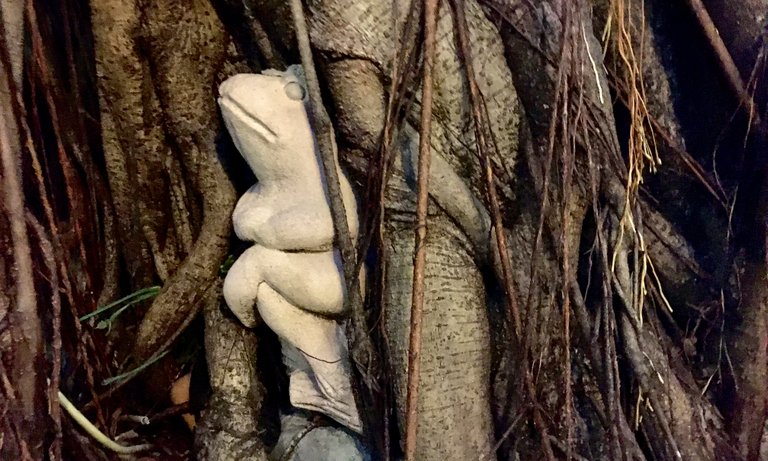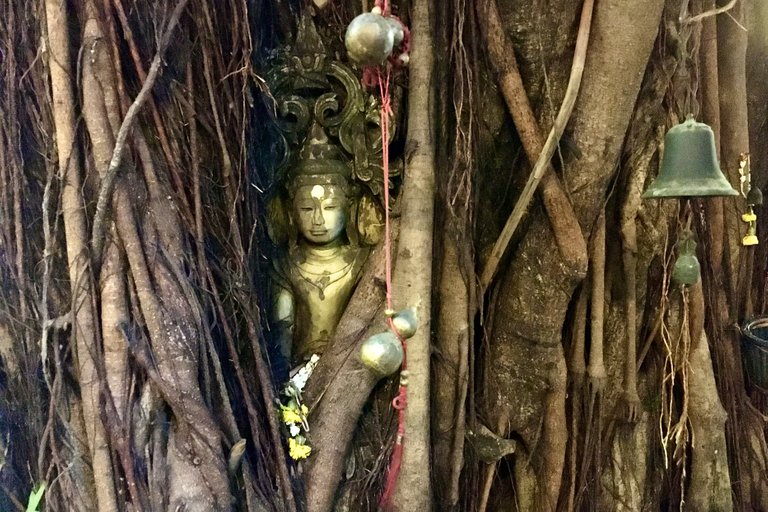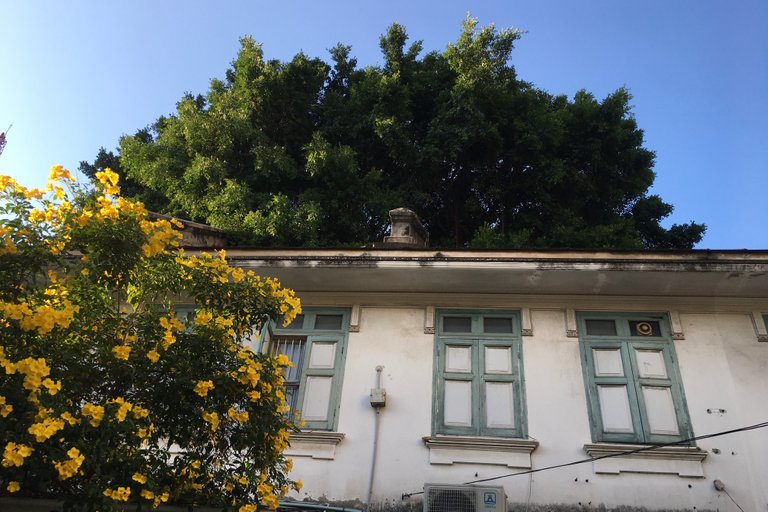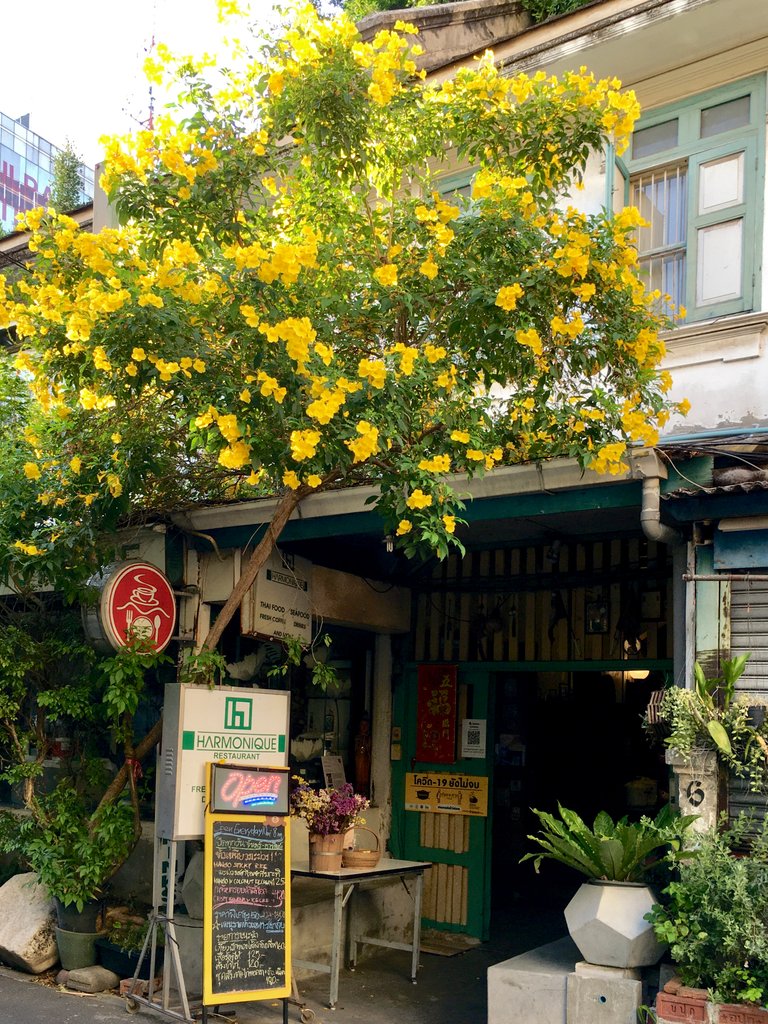 Wishing you peace, good health and prosperity.
Stay strong and cheerful.
---
---