Wednesday walk: looking for a quick lunch.
Time seemed to be running away from me so I had to try to catch up with time everyday. I was in a hurry to get various things done including some groceries. So, a quick lunch around New Road in Bangrak should be the best answer. I could do my shopping at the old shopping mall, Robinson and take a walk around the area. I wanted to visit my favourite PadThai stall in the small alley opposite Robinson. This would be the first time I went back to this area after the lockdown had ended. It would be nice to see the old place and acquaintances again.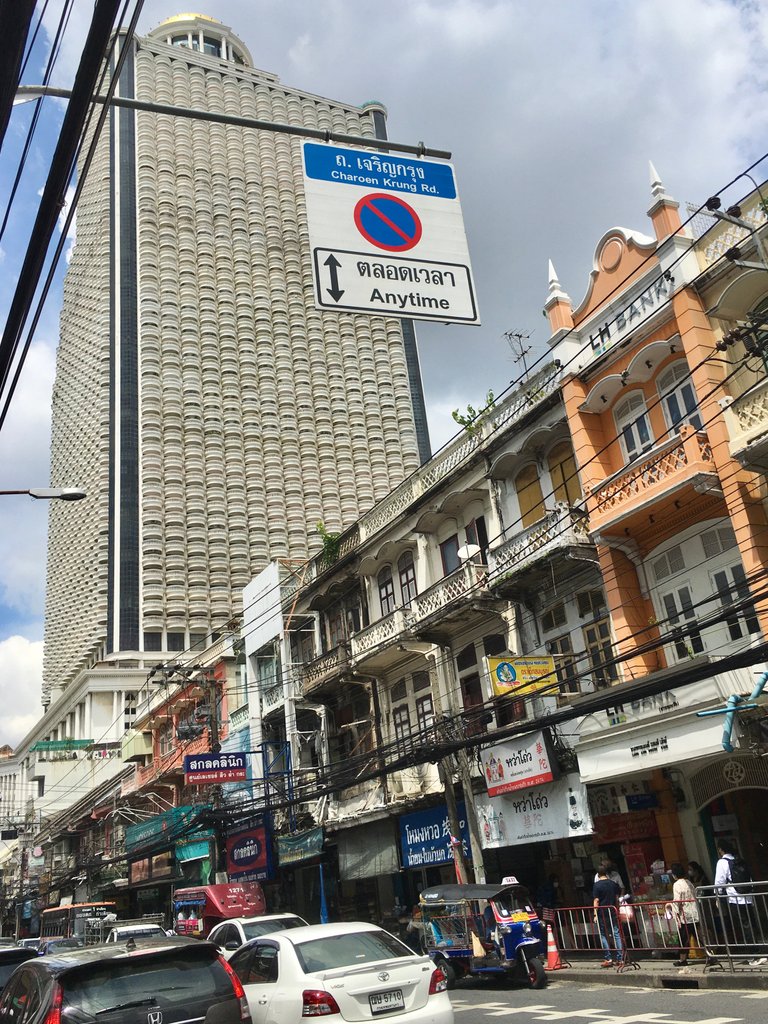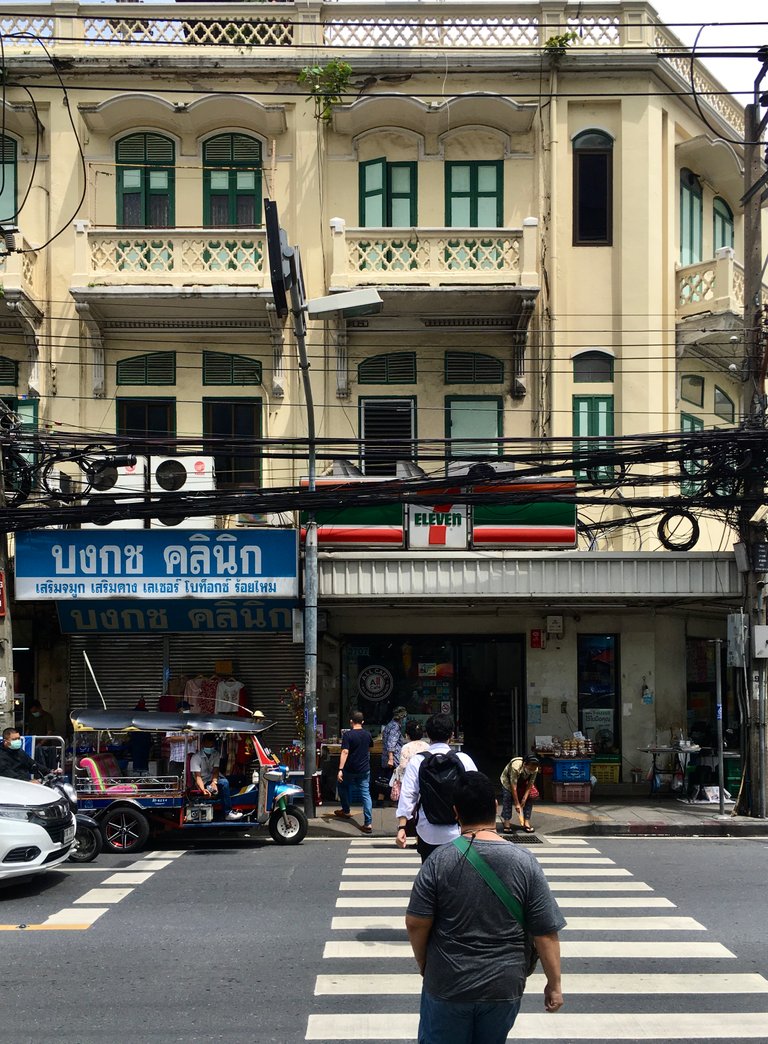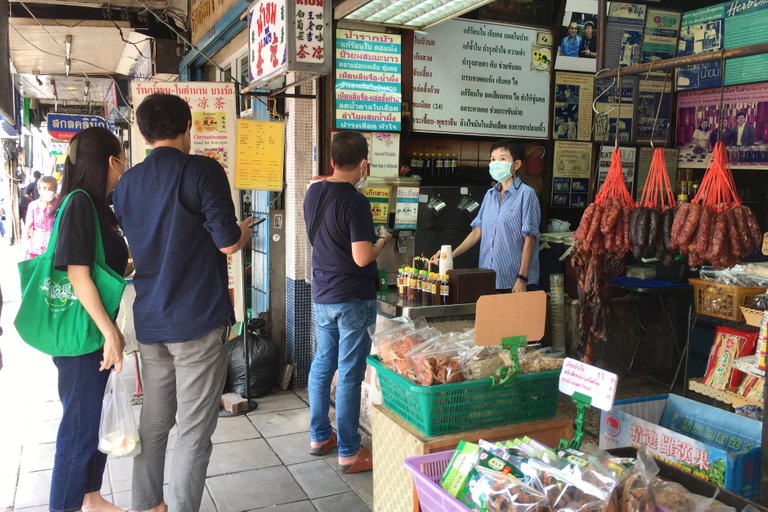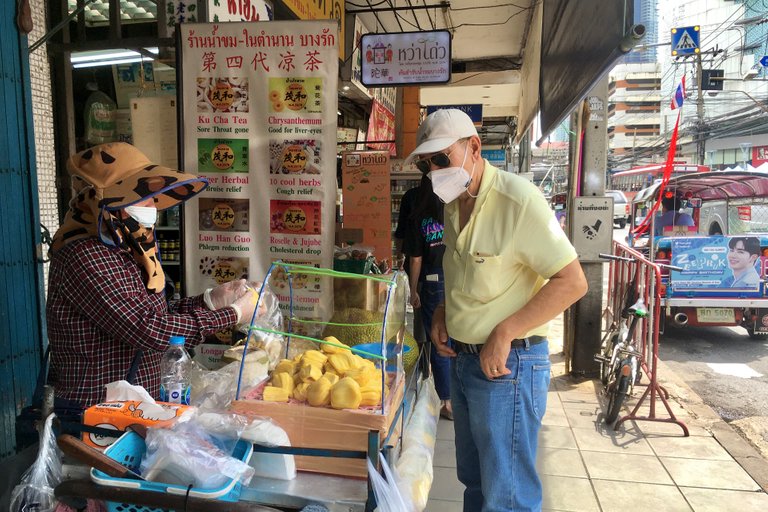 The day was still bright and warm though more gray clouds could be seen invading the sky slowly. I had to speed up my walk as I still had to go to Yannawa temple to feed those stray cats. I took some photos of the traffic and some people at the bus stop. The traffic jam has already come back and the footpath become busy with people and vendors. I could no longer complain about having crowds or traffic jams as I missed them tremendously while under lockdown.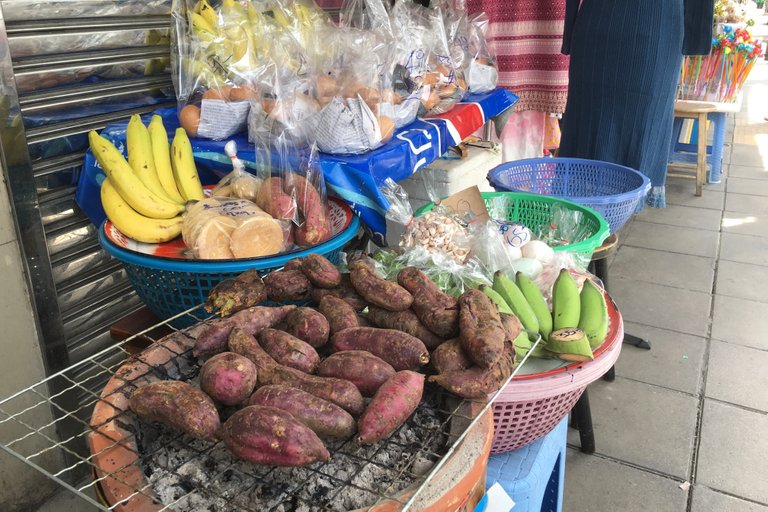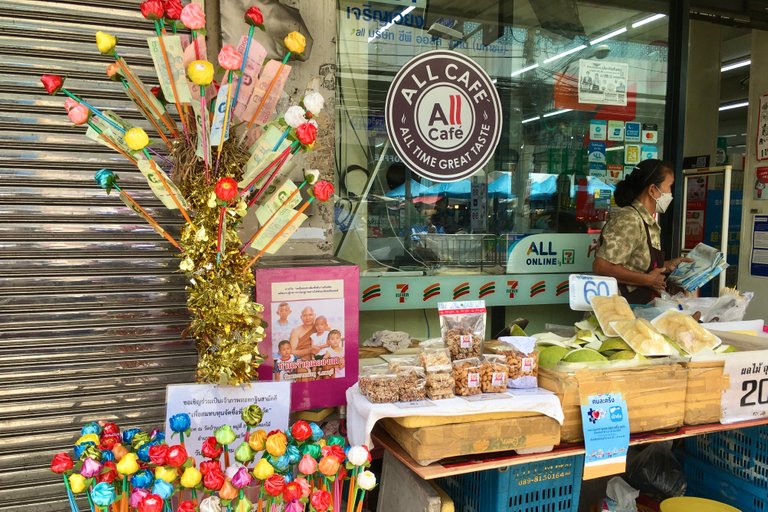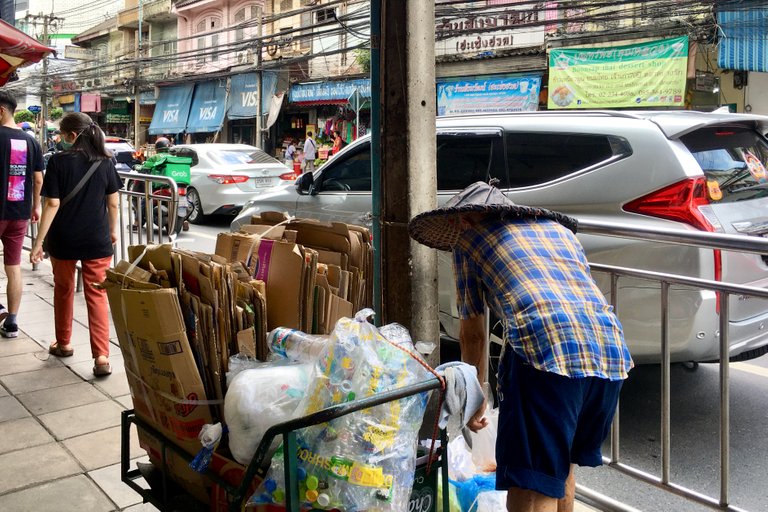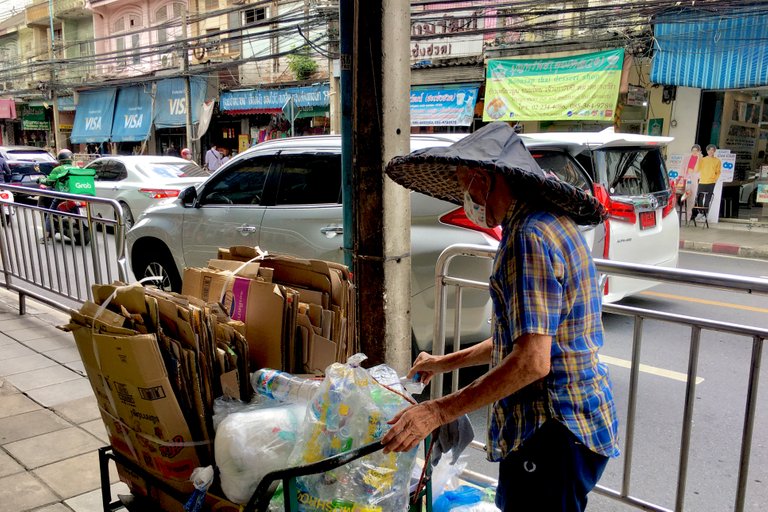 These were the symbols of life and normal daily routine for a thriving economy with hard working and active inhabitants. However, the density of the traffic had been reduced by fifty percent and half of those pedestrians have somehow disappeared. At least I started to see tourists shopping in the mall and walking along the pier by the river.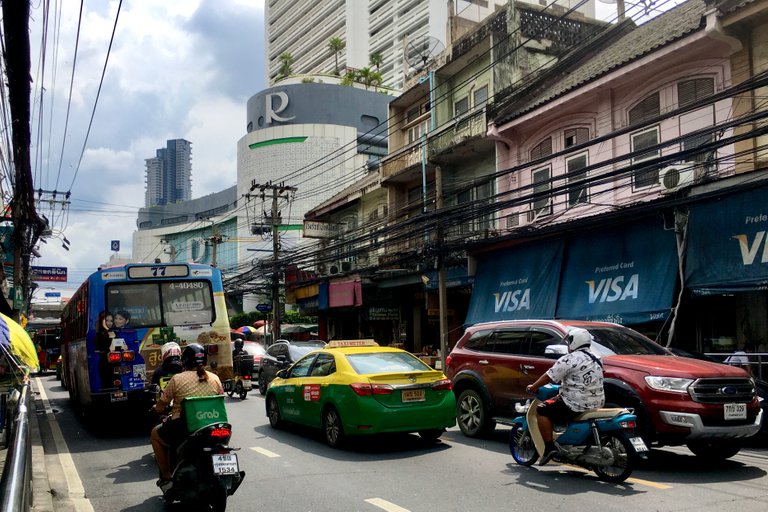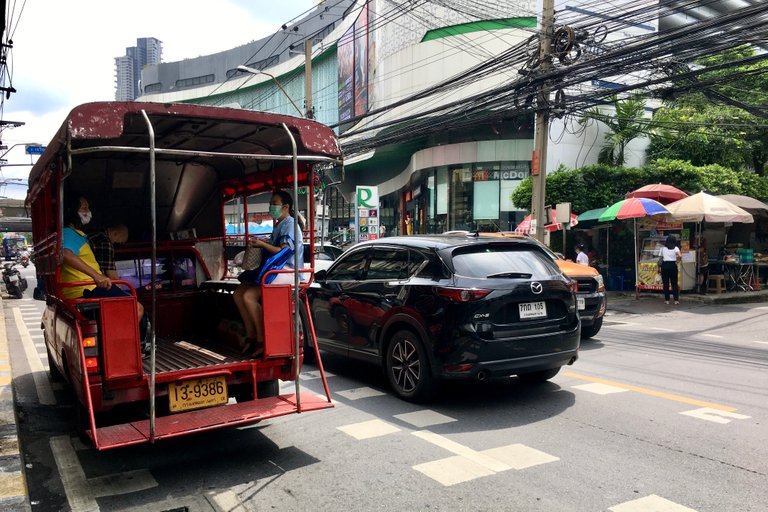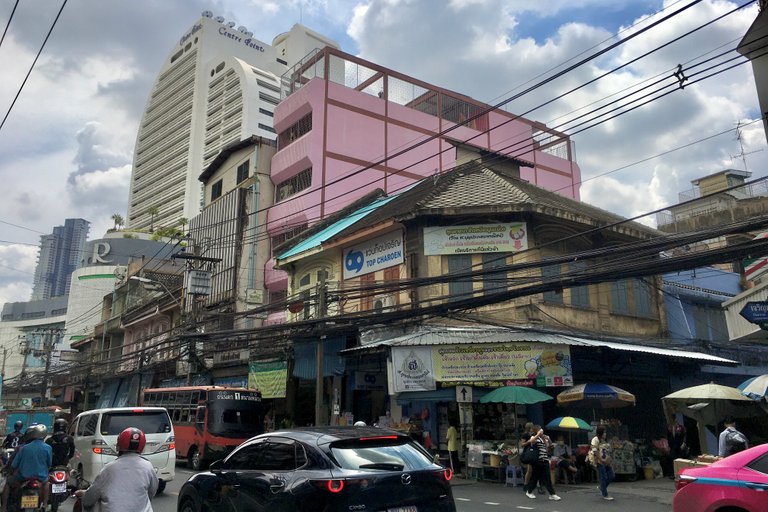 This area of New Road used to be the first 'Chinatown' in Siam as there were several piers and warehouses by the river. These were the locations for the arrival of Chinese immigrants to Siam almost two hundred years ago. There were big wet markets as sailing boats docked along the river to sell their catch from the sea in the Gulf of Siam. There were Chinese immigrants looking for work at the docks, warehouses and wet market. That's why I could spot old restaurants and grocery stores which have been managed by at least three generations of Chinese families. I did feel very much at home in this area as many old houses built during the reign of Kjng Rama V have been preserved. We used to live in shophouses just like these two level brick houses.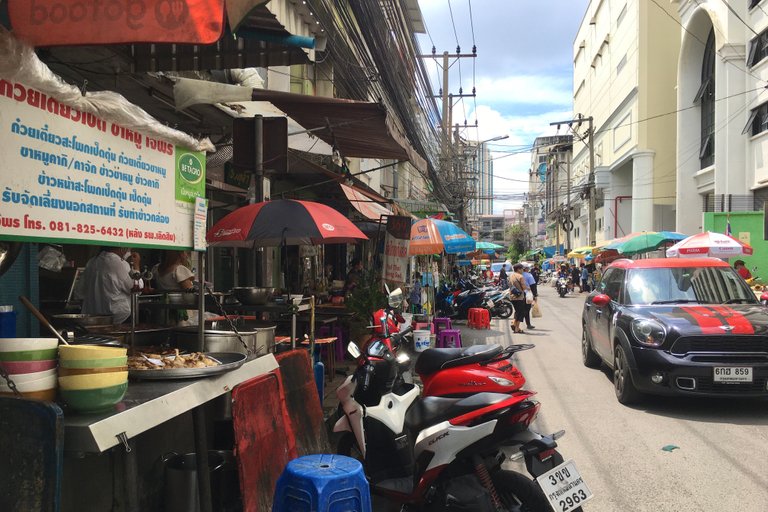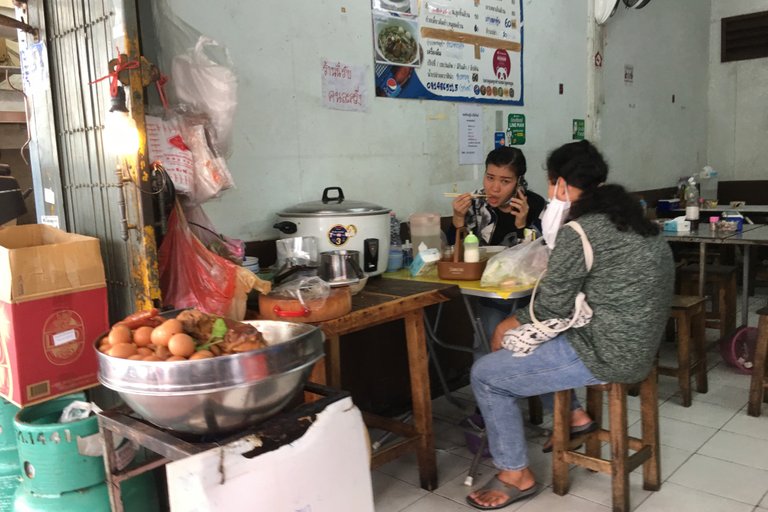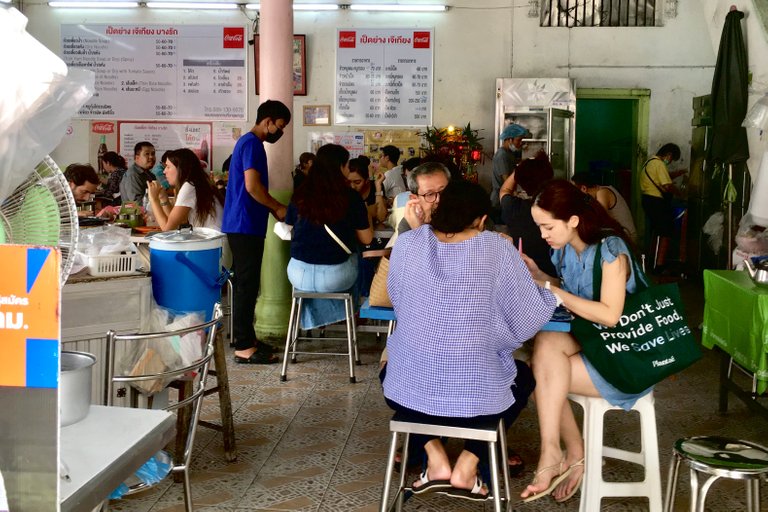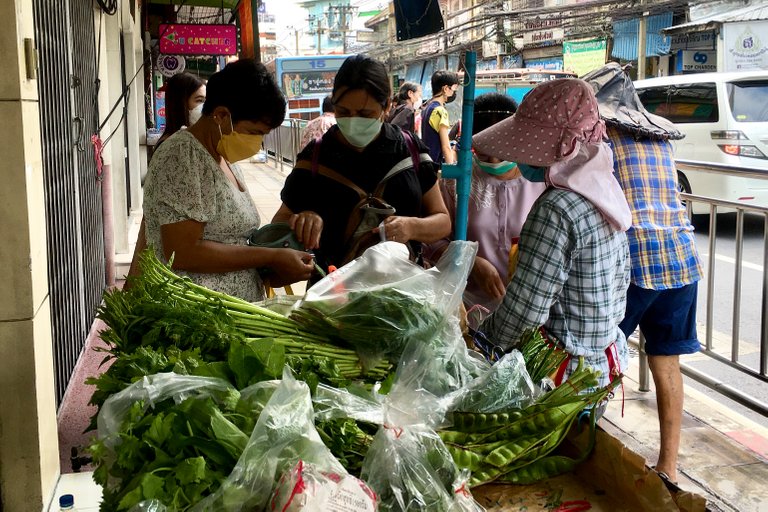 The expansion of Bangkok meant that Chinese immigrants' settlements had to be moved further down the river; which was near Suriwong Pier in Yaowarad Road. The present day Chinatown grew and expanded along both sides of Yaowarad Road. Our first house was just ten minutes' walk from Chinatown. So, I grew up being at home with shophouses, wet markets, long dark alleys full of workers waiting for their assignments. Walking along New Road made me very nostalgic of my childhood' surroundings and atmosphere.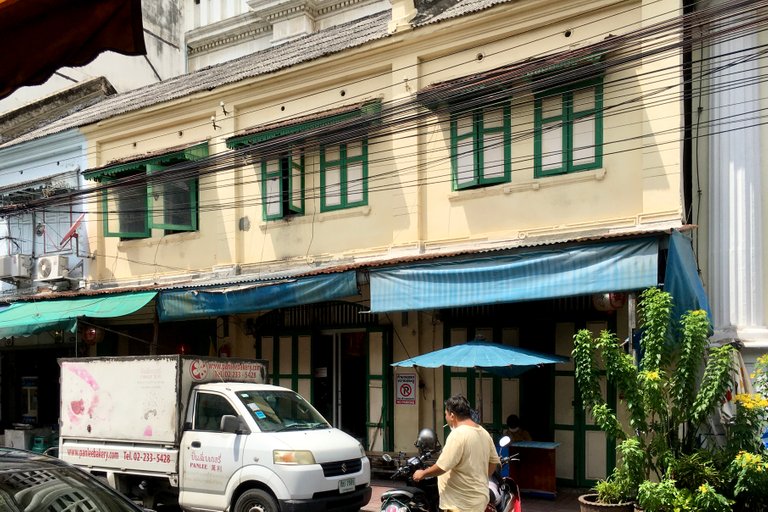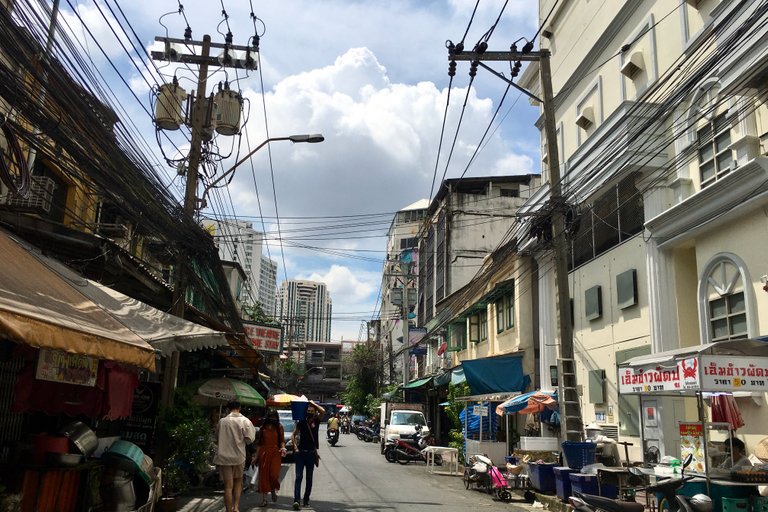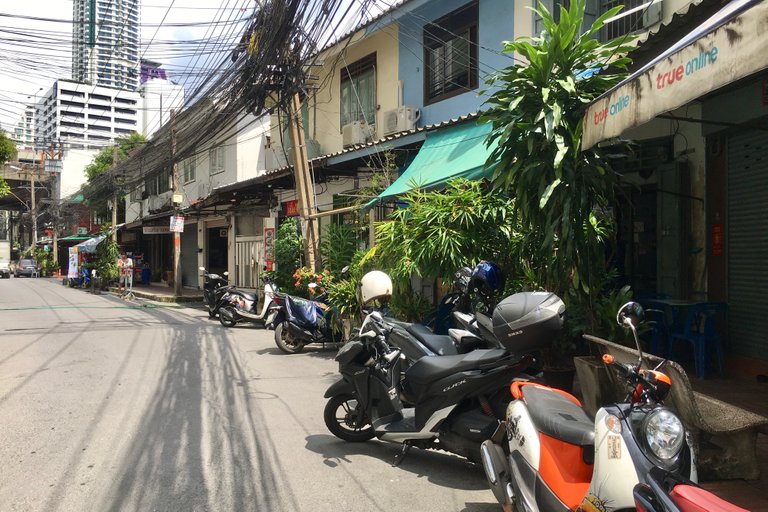 I was quite disappointed that my favourite PadThai vendor had given up her stall over a year ago during the plandemics. The other vendor told me that she was getting too old for hard work. I remembered that she was in her late seventies when I last had conversation with her. I just hoped she has been well looked after by her family. Looking around at other options of street food, I decided to find another old haunt in a narrow alley nearby. There, I could order fried rice with mixed vegetables or fried rice noodles with eggs or prawns. Most street food stalls offered two option of chicken or pork based fast food.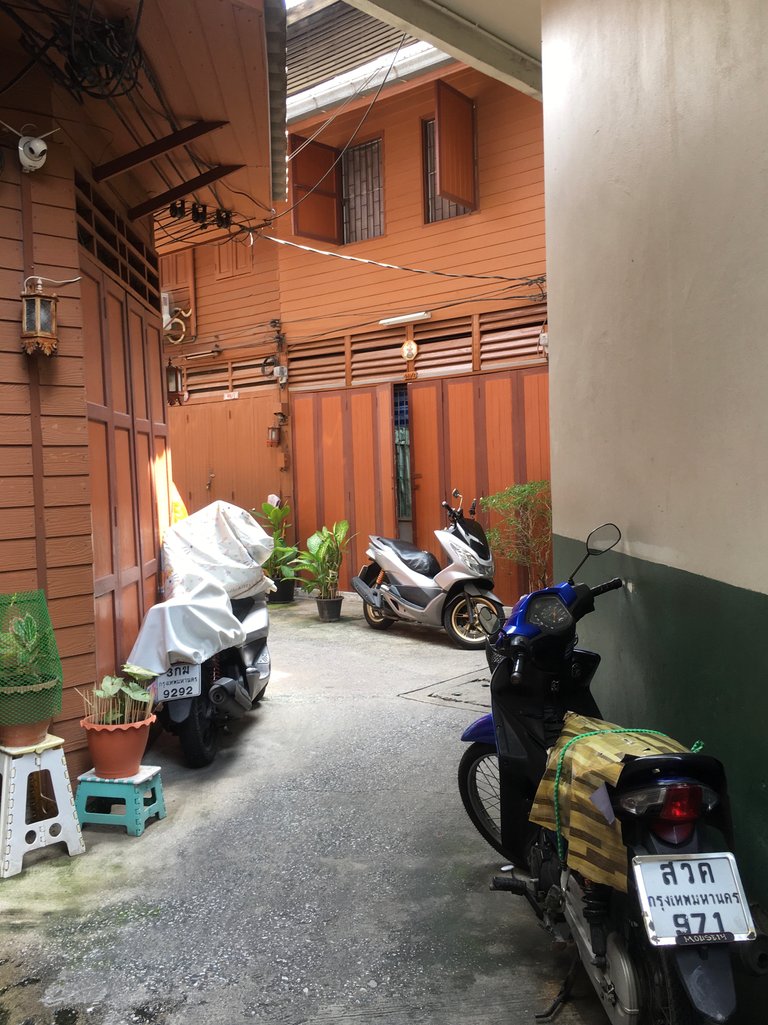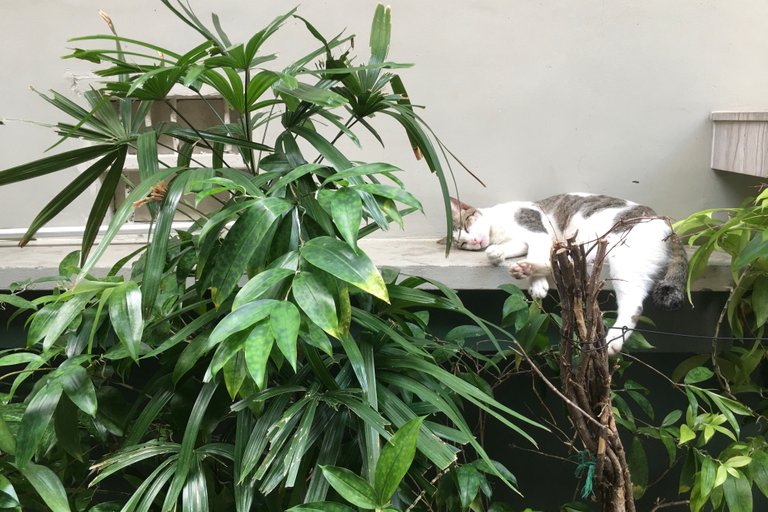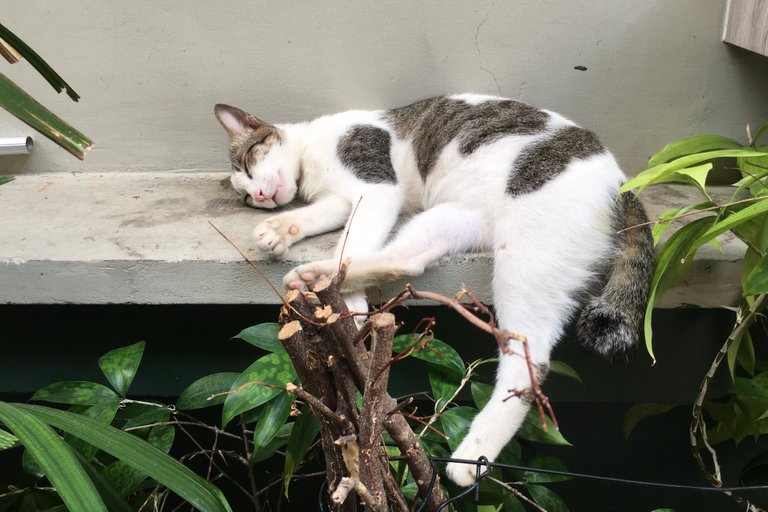 I took a short cut via narrow alley with renovated houses and an old theatre which had been converted into a hostel and coffee shop. The old theatre was called 'Prince' so there were some graffitis on the wall of the old theatre. It seemed most Chinese residents around the area were very fond of gardening. Having no gardening space was not a problem, some did manage to create a big shrub of green garden in pots to hide their front doors. Luckily, no one complained about the encroachment on public footpaths so pot plants continue to thrive.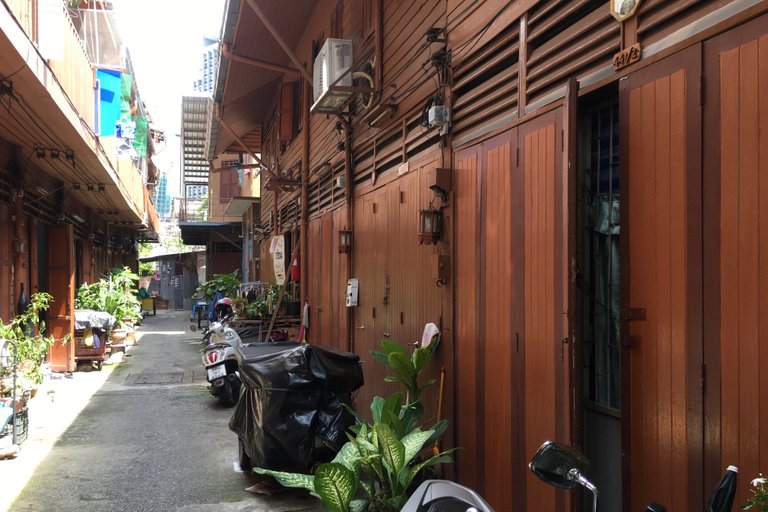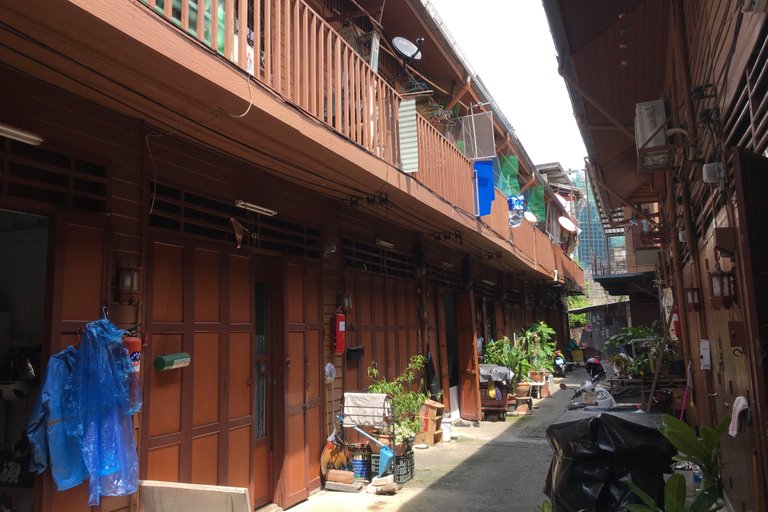 Luckily, that old noodle stall was opened on the afternoon. During the plandemics, I couldn't find any street food to satisfy my hunger when I went around in abandoned and lonesome atmosphere of New Road. At that time, I thought all were list and nothing could return back to what it used to be. Fortunately, these people proved me wrong in my pessimism. They rose up with their hopes and fighting spirits for a better future and their survival. They realised that two years of lockdown and harsh policies were devastating for their livelihood, yet they were compliant to all measures and suffered the consequences quietly. I was amazed by their stubborn stamina and endurance.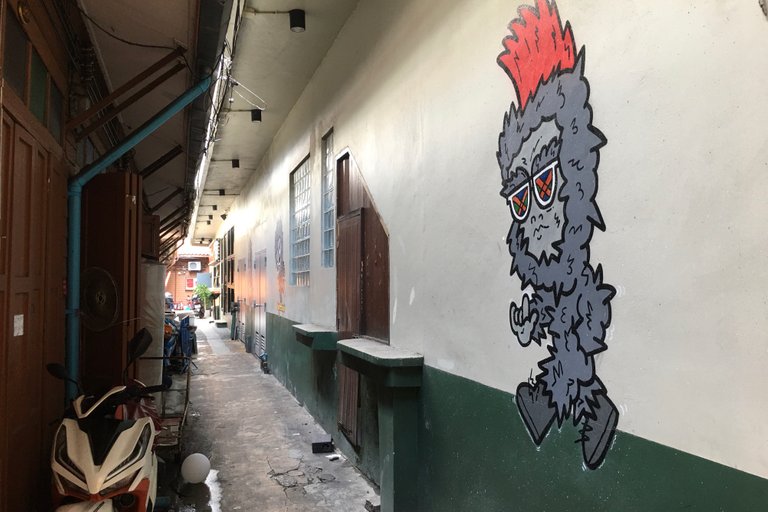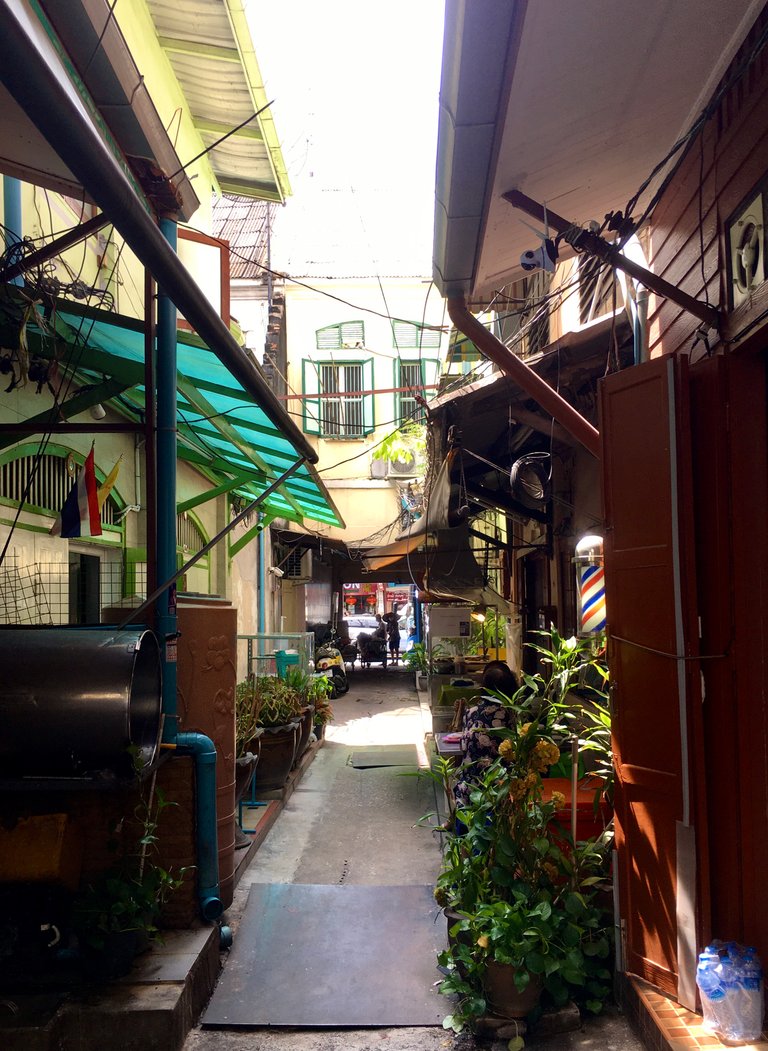 The owner of the fried noodles stall seemed to have lost a lot of weights. He couldn't recognise me any more but I was still impressed by his style of fried noodles which was very similar to my favourite Chinese restaurant in Soho, London. The style was that of a Catonese chef which we would normally find in four stars restaurant in expensive hotels. All his rice dishes were quite different from the usual Thai street food. His techniques and secret preparation of seasoning sauces were unique; he seemed more like an artist than a cook in his outlook and character. I just wish I could handle the wok and high temperature in fast cooking speed and precision. Cooking could be my worst special skills which shouldn't be imitated. My cats only accept my omelette!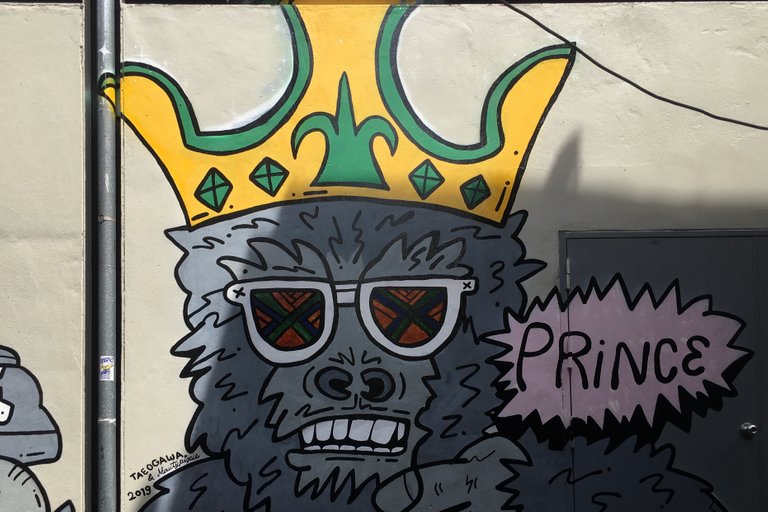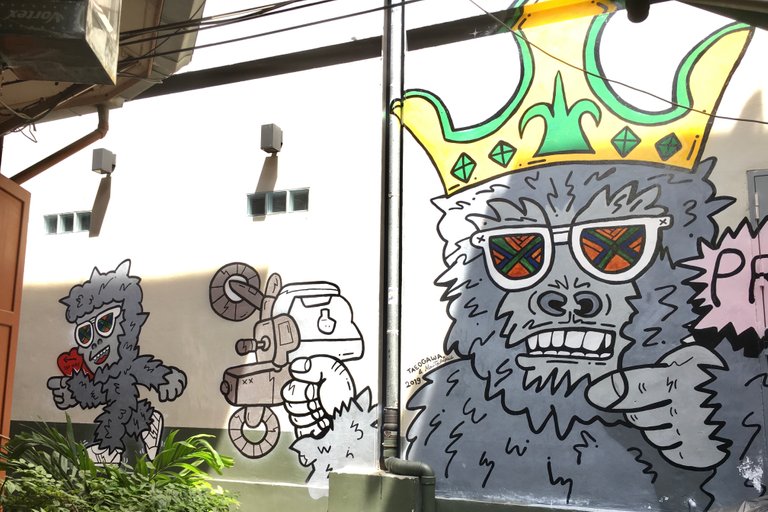 Finally I was so glad I got my fry rice noodles with shrimps and green vegetables. The price hasn't gone up after two years of lockdown while the prices of gas and ingredients have rocketed. The taste was just nice as I asked him not to add and MSG or sugar in the gravy. Four tourists from Singapore followed me into the dark alley for my fried noodles. They saw me taking photos of food stalls along New Road and probably thought I was either a Japanese or Korean tourist. When they saw me sitting down and order my lunch, they prompt tried to find a table for four.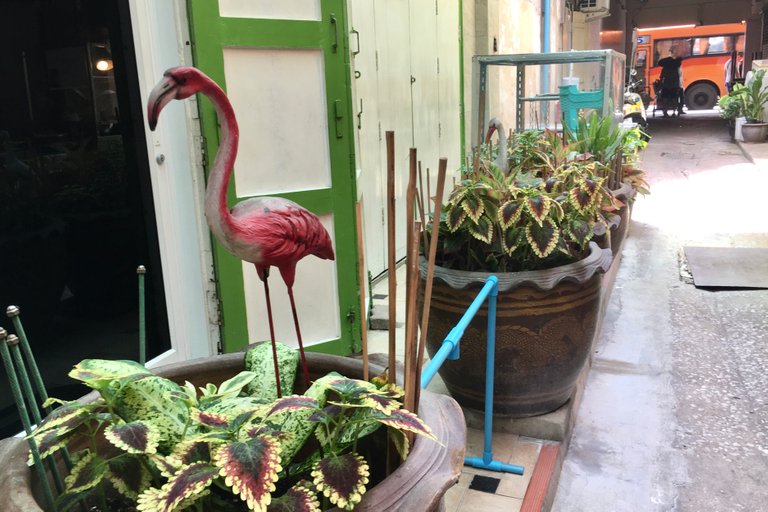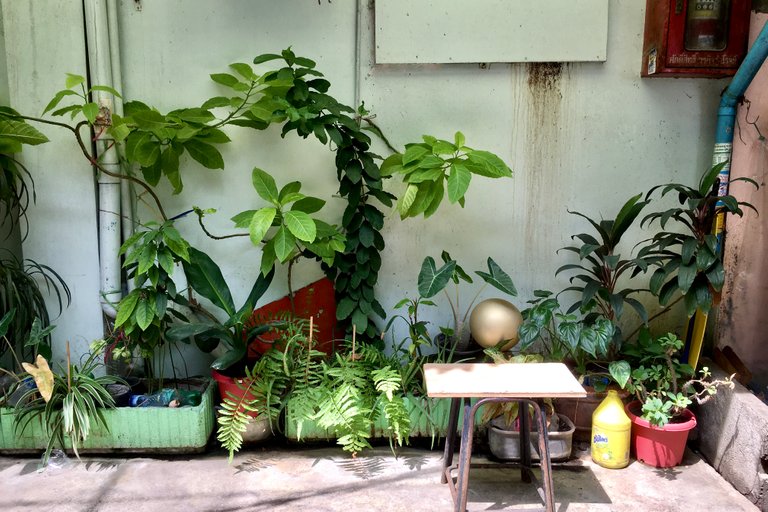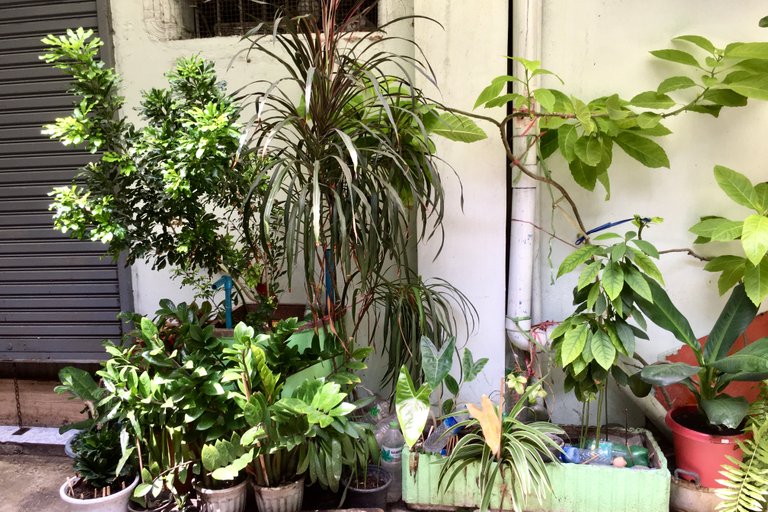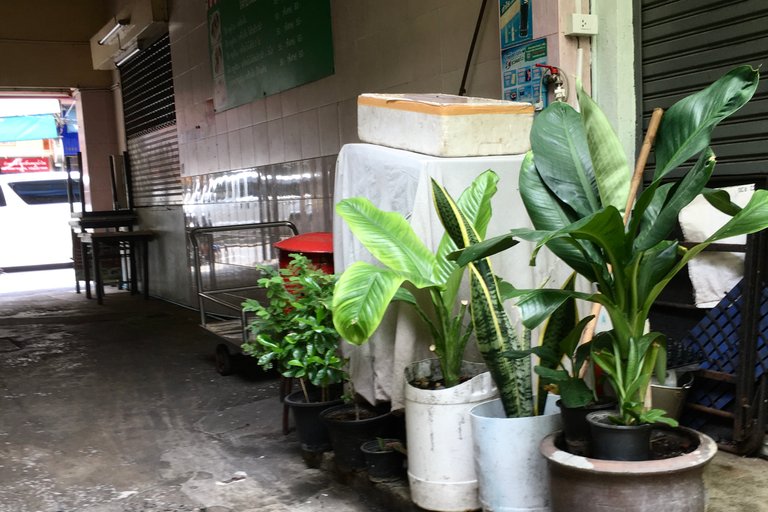 The staff there had to ask me to sit at a smaller table and let the tourists have the bigger table. These four tourists ordered four different dishes and shared the food with chopsticks. I found it very funny eating rice on a plate with chopsticks. One person took several video clips of the vendor cooking their food.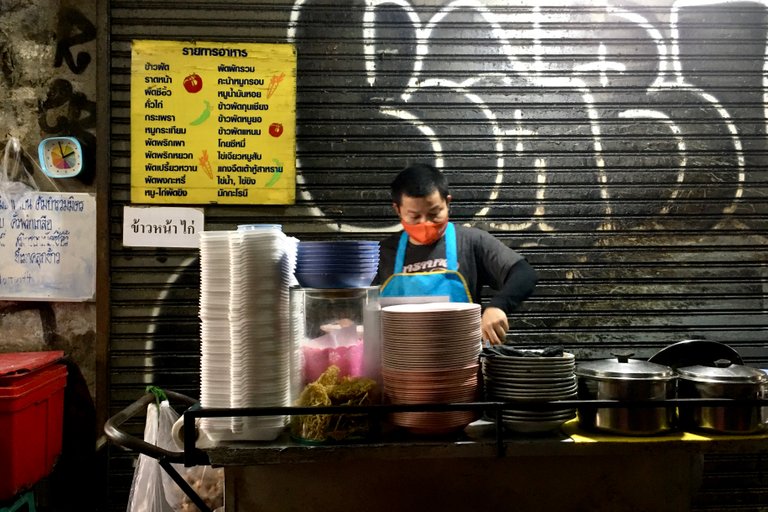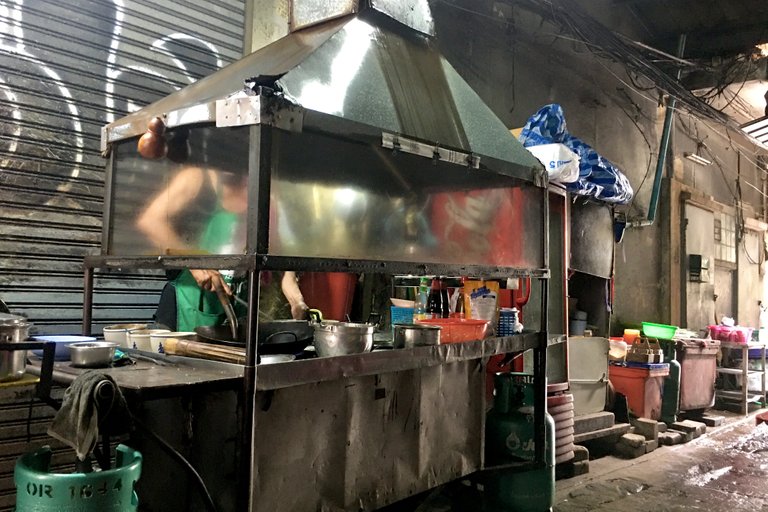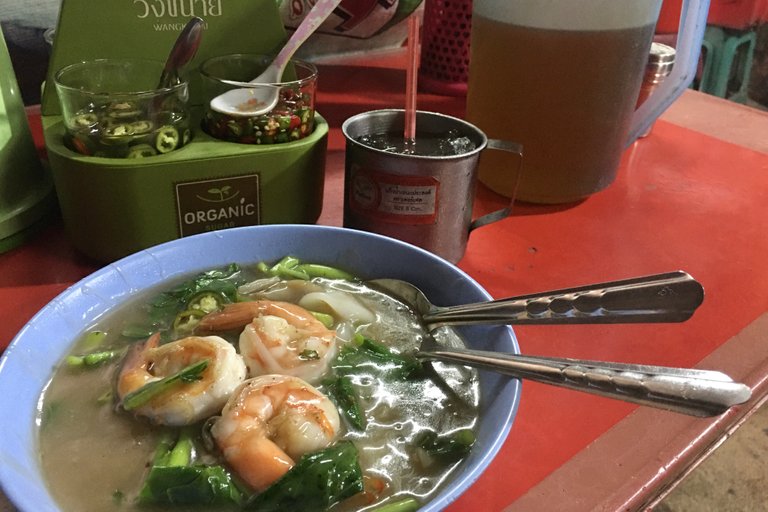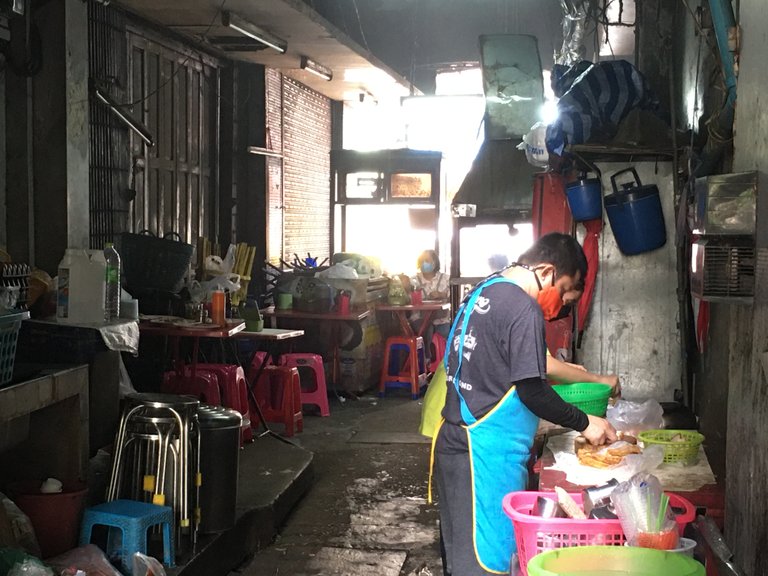 After lunch I walked further down this alley and found three orange cats. One cat was very friendly and unreserved, some residents took a leak at me playing with the cat. They knew I was just a tourist so they ignored me. I took a few photo and rushed check to the car park as my free parking time was almost over. Then I had to get to feed those waiting stray cats at the temple as they would be anxiously waiting for their special snack.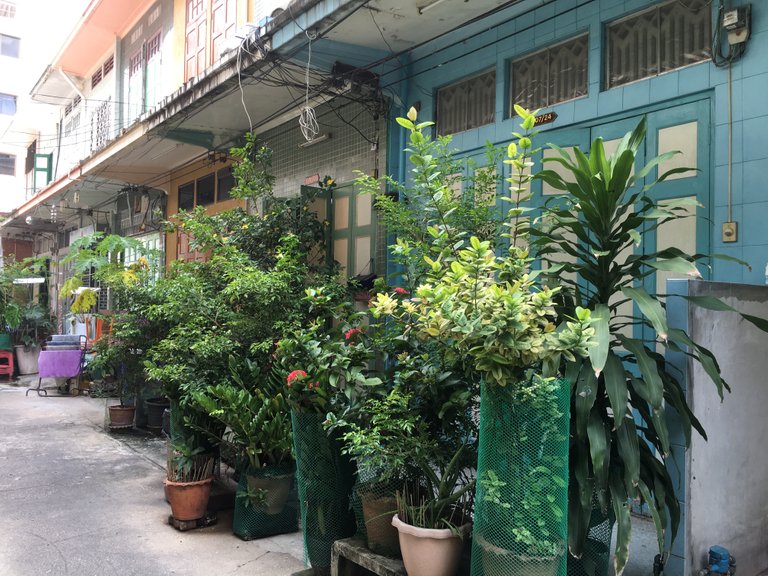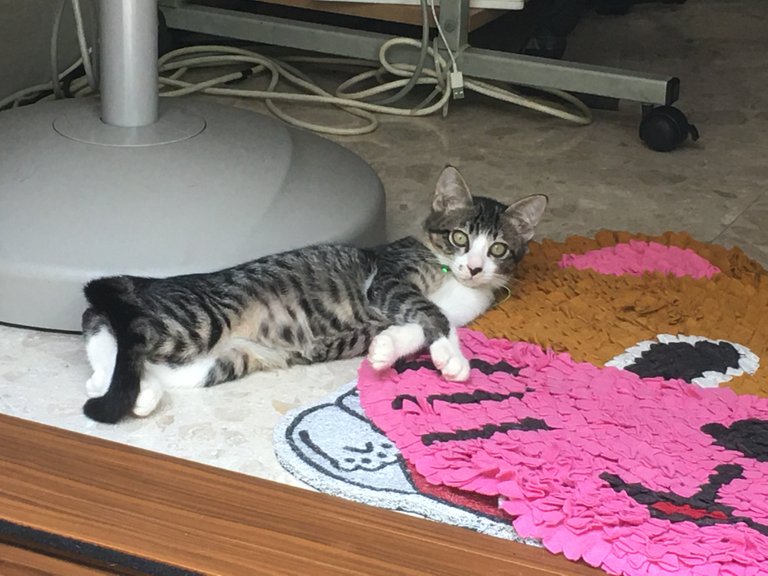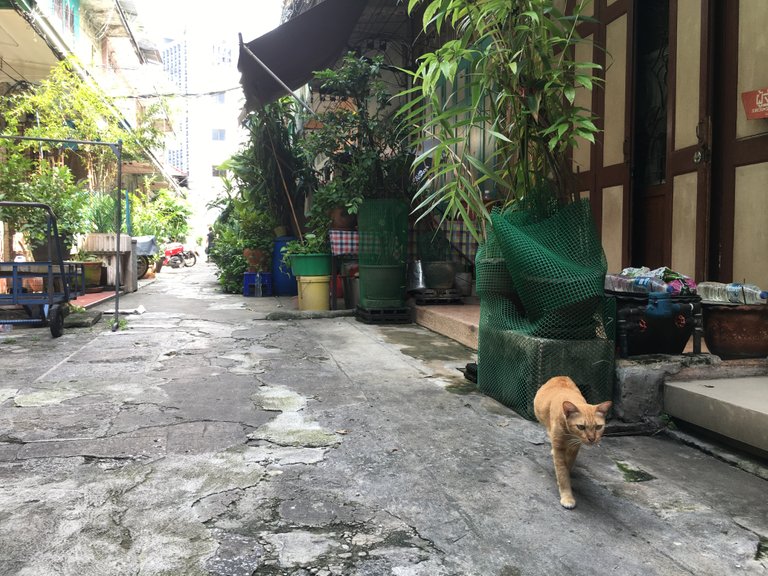 The day was a mixture of reminiscing my childhood, hunting for favourite food stalls and feeding stray cats. So many varied emotions flew through my brain in just under a few hours. No wonder I was exhausted and wanted to sleep after I returned back to my dwelling.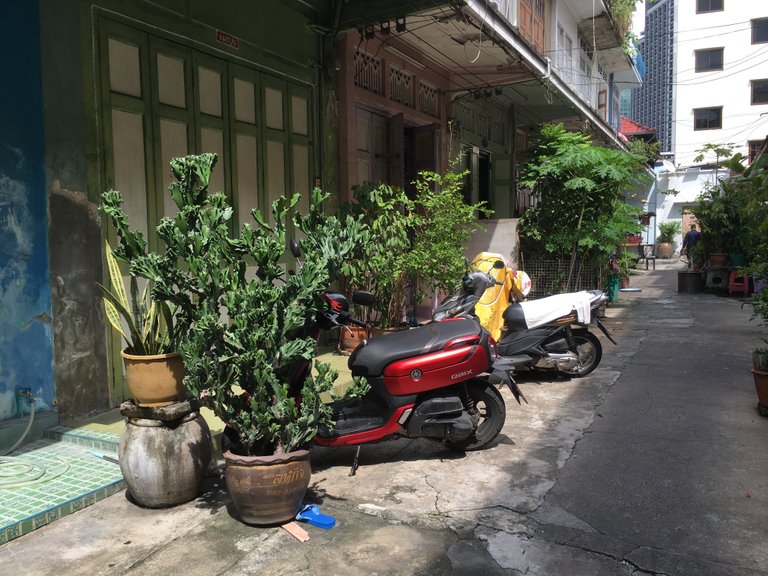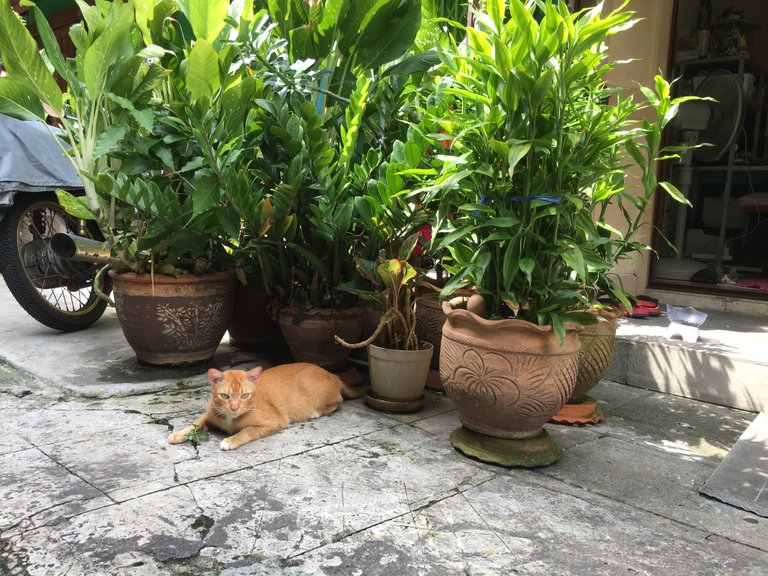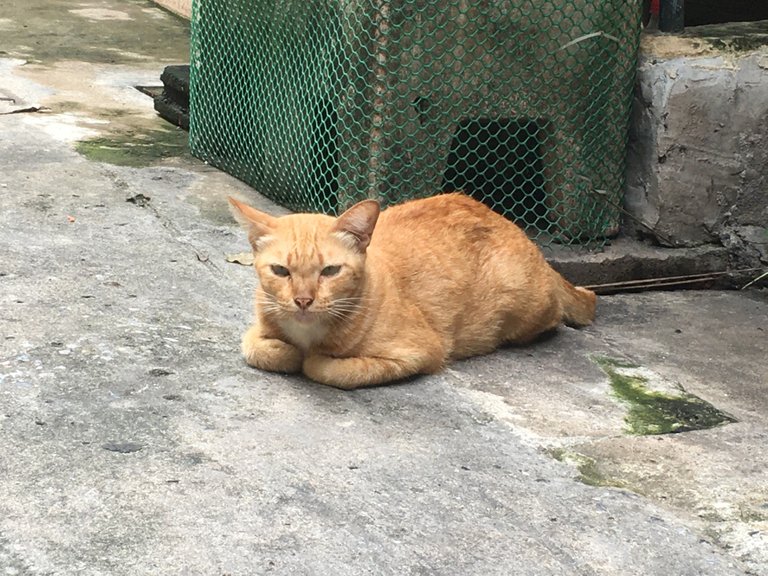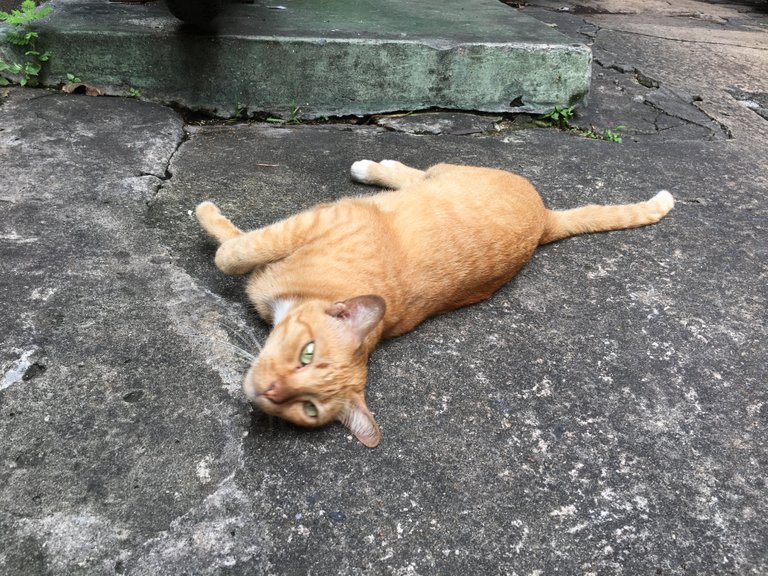 Wishing you peace, good health and prosperity.
Stay strong and cheerful.
---
---