Rising Star | I have been completing my collection
Bear market situations, grinding and not giving up. The last couple of weeks/months in the crypto market have not all been that charming for the lovers of a lot of movement. Well, there was a lot of movement, but surely not to the way that we would like it.
But this is the perfect time to grind forward without thinking to much on the price and just go ahead with what you are all doing.
For me this example is best to be seen in the Rising Star Game. I have been playing this game since the beginning of times and actually I have made a lot of hive out of it while doing so. But now at the moment the time has reached where the game is not that profitable and that means we have to think about how much we are liking this game.
The fact is...I really still do, because I really like collecting cards and liking them to the music community.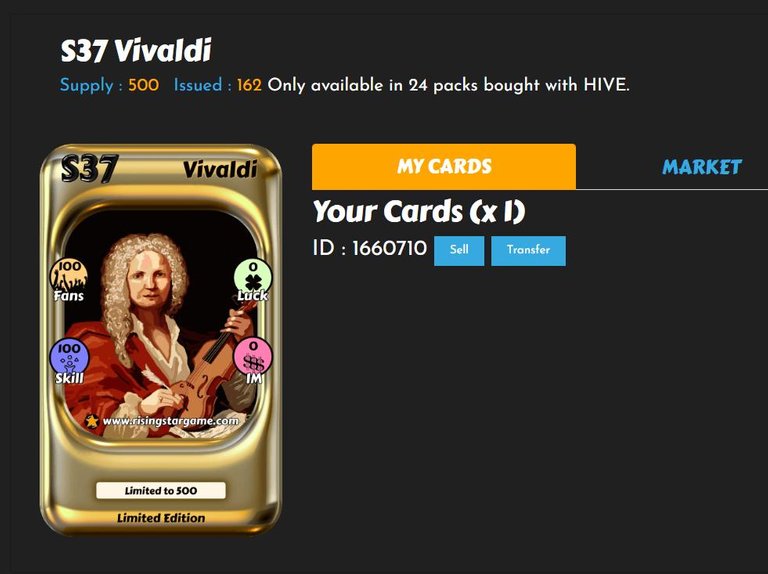 So what I have been doing over the last couple of weeks/months is that I have been spending a good amount of Starbits (actually everything, because I can not remember my last starbits trade actually) on completing my collection especially on the a bit more rare cards.
When the price of Starbits was good purchasing these cards used to feel like that wasn't such a good investment, but now actually...It seems more than reasonable to go on grind modus again.
It does make me wonder a bit...How is the burning of starbits going? I know it happens through getting starpro which is released every day with a fixed amount, and with that mechanism starbits are being burned and lost forever so that is good for the inflation.
And I also know Jux is working hard on the raves and I have seen a lot of testing passing by, but I am not sure how that is going at the moment. Because from what I understood back than, that also would mean that a lot of starbits (or starpro?) would get burnt, which would ofcourse be really good for the economics.

I have also been buying a lot of record NFTs as you can see in the image. Where you have the download sign in there, those are the ones that I also own so I am making a good grind with it in there.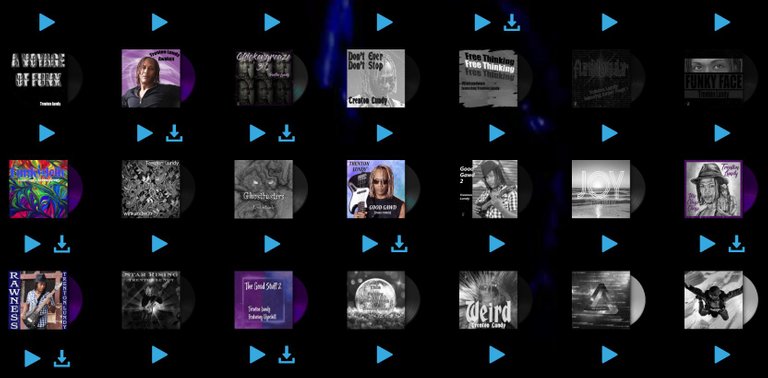 Actually, purchasing the record NFTs feels best for supporting the Hive crew, because these are all musicians here from on the board who are spreading their music, and we can only support just the bit being doing so right?
I would love the record NFTs to end up as something super valuable for the ones who had put them on there. Because..you know, getting music out there isn't easy if you want to make a buck out of it. Every form of spreading the name is a good one, so why not this? And I think I did see some form of mission somewhere that you can only run when having 10 records in there, so there you have your incentive.




Or when looking on getting on something that you would normally woudn't do. I just got 'The Bros' card coming from the mancave community paid by the LGN token which is currently 1 on 1 on hive engine. So why not smack some starbits on there, to get some LGN and get this card.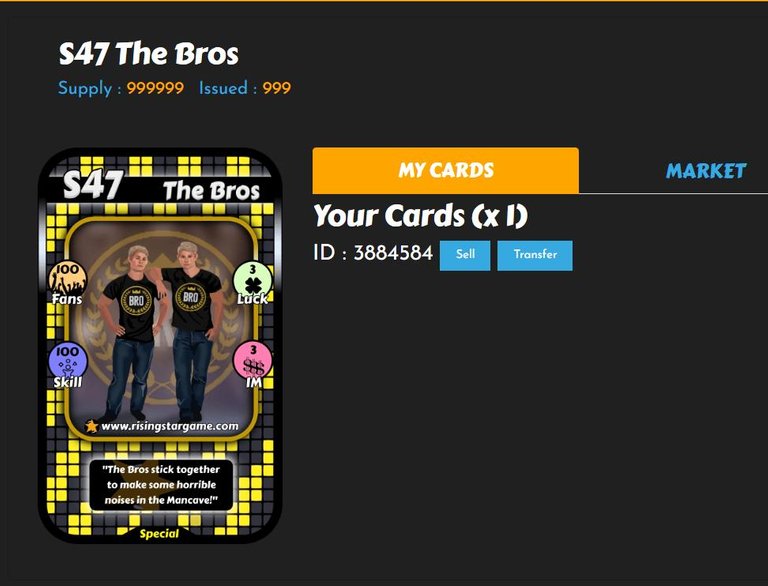 Yeah, these are the bear market things I am doing. Collecting cards because I like it and I like to support the causes. I should get back on burning starbits on the music promoter mission as well. That will help the game. I think we all should, because Rising Star is too much of a nice game to let it go under.
---
---