Storytime of my two days part-time job in Valmy company [SPA-ENG]
Hola hola hermosa comunidad de Hive 😊 ¿Que cuentan? Como lo prometido es deuda hoy les traigo el storytime de mi trabajo a medio tiempo de dos días 🤣 que título ¿Verdad?
Hello hello beautiful Hive community 😊 What's up? As promised is due today I bring you the storytime of my two days part-time job 🤣 what a title Right?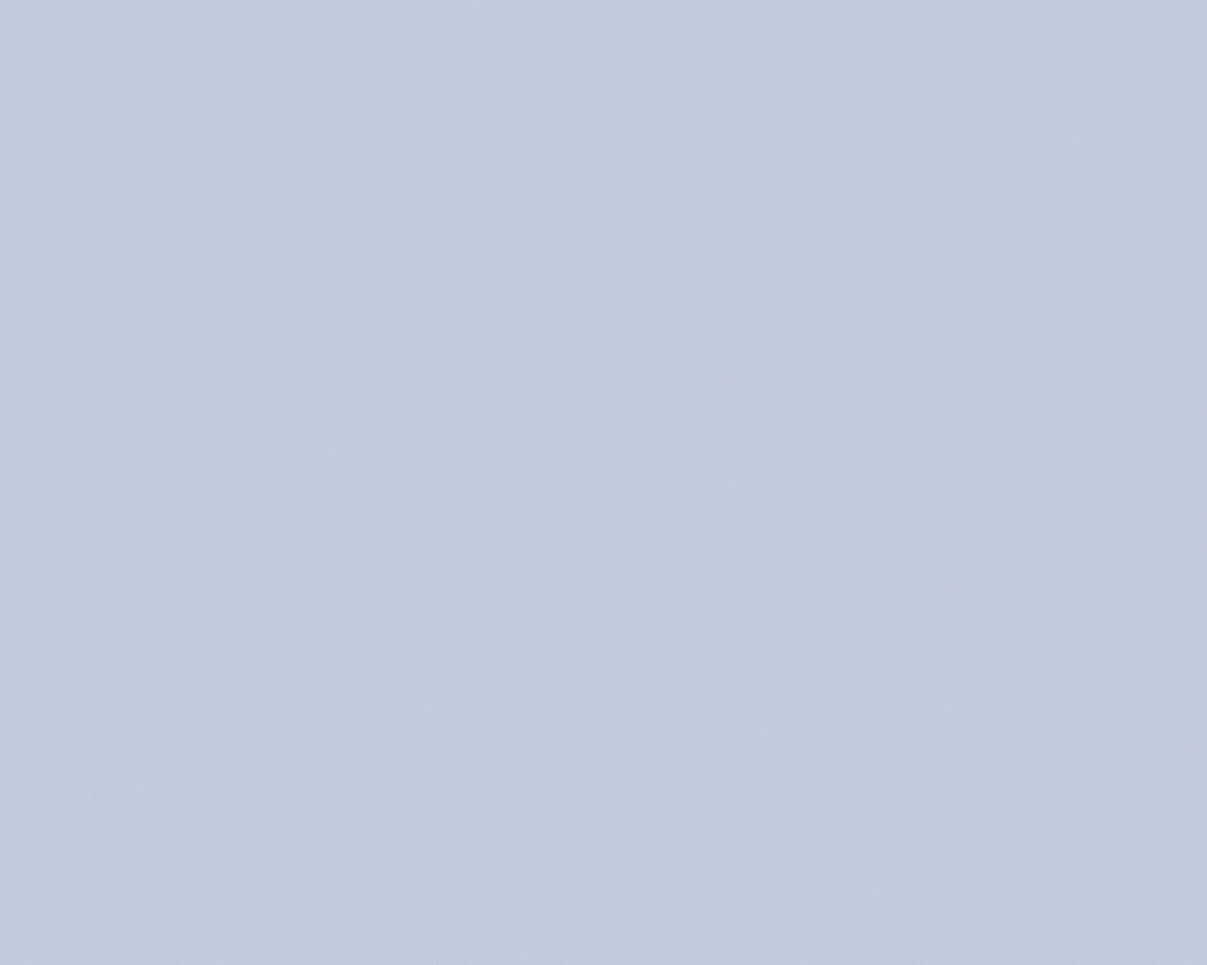 Bueno, como ya lo había comentado en una curación, la semana pasada el miércoles y jueves, estuve trabajando en una jornada de masajes en silla para la empresa Valmy aquí en Caracas.
Para quienes me leen de otras latitudes, Valmy es la empresa líder en productos venezolanos para la belleza. Producen esmaltes para uñas de todos los tonos y colores imaginables, incluyendo una línea de fórmulas para el cuidado de las uñas, así como maquillaje, cremas y productos para el cabello.
Ahora se preguntarán, bueno ¿Y como tú sabes dar masajes? ¿No y que eras escritora? Pues la respuesta es que…yo se hacer muchas cosas 🤣
Mi mamá es psicoterapeuta corporal. Y como parte de su formación está el saber dar masajes, los masajes dan dinero, luego descubrió las sillas para masajes corporativos y voala… su hija aprendió a dar masajes en silla para ayudarla cuando salieran estos trabajos 😎✌🏻
Lo cierto es que mi mamá lleva más de 15 años dando masajes y terapias psicológicas, y está fue la tercera vez que trabajamos para Valmy con motivo de su aniversario.
Well, as I had already commented in a curation, last week Wednesday and Thursday, I was working on a chair massage day for the company Valmy here in Caracas.
For those of you who read me from other latitudes, Valmy is the leading company in Venezuelan beauty products. They produce nail polishes in every shade and color imaginable, including a line of nail care formulas, as well as makeup, creams and hair products.
Now you may be wondering, well, how do you know how to give massages, not that you used to be a writer? Well the answer is...I know how to do a lot of things 🤣.
My mom is a body psychotherapist. And as part of her training is knowing how to give massages, massages make money, then she discovered corporate massage chairs and voala...her daughter learned how to give chair massages to help her when these jobs came out 😎✌🏻.
The truth is that my mom has been giving massages and psychological therapies for more than 15 years, and this was the third time we worked for Valmy on the occasion of her anniversary.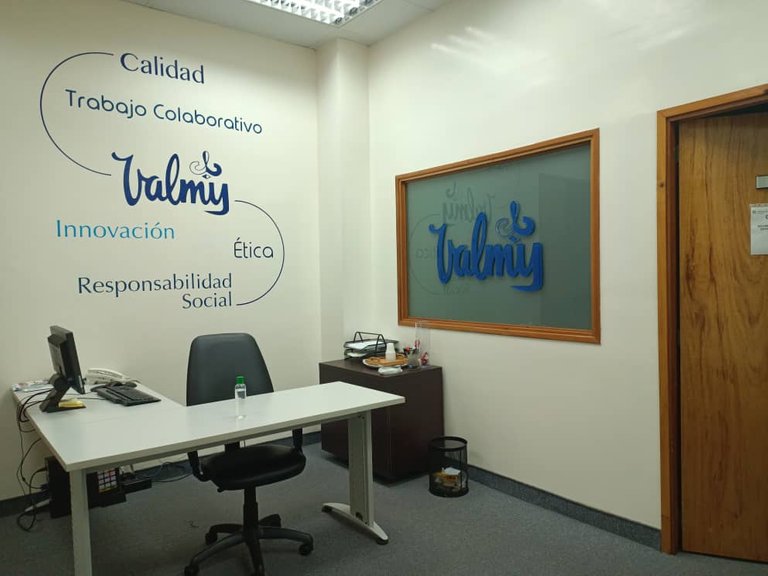 Pero, gracias a cierta pandemia 🙄 teníamos más de dos años sin practicar. Ahora la jornada empezaba el miércoles. Practicamos si acaso una hora el lunes… mis nervios por dejar mal el nombre de mi mamá estaban a 1000%
El primer día dejamos a mi hermanito y a Púa con mi tía y salimos a las 6:30 de la mañana. Gracias a Google maps, llegamos super rápido. En esta oportunidad también estaban trabajando con nosotras dos compañeros de mi mamá, el Sr. Anatoly y la Sra. Gioconda.
But, thanks to a certain pandemic 🙄 we had more than two years without practicing. Now the day was starting on Wednesday. We practiced for an hour or so on Monday... my nerves about getting my mom's name wrong were at 1000%.
The first day we dropped my little brother and Pua off with my aunt and left at 6:30 in the morning. Thanks to Google maps, we got there super fast. On this occasion two of my mom's colleagues, Mr. Anatoly and Mrs. Gioconda, were also working with us.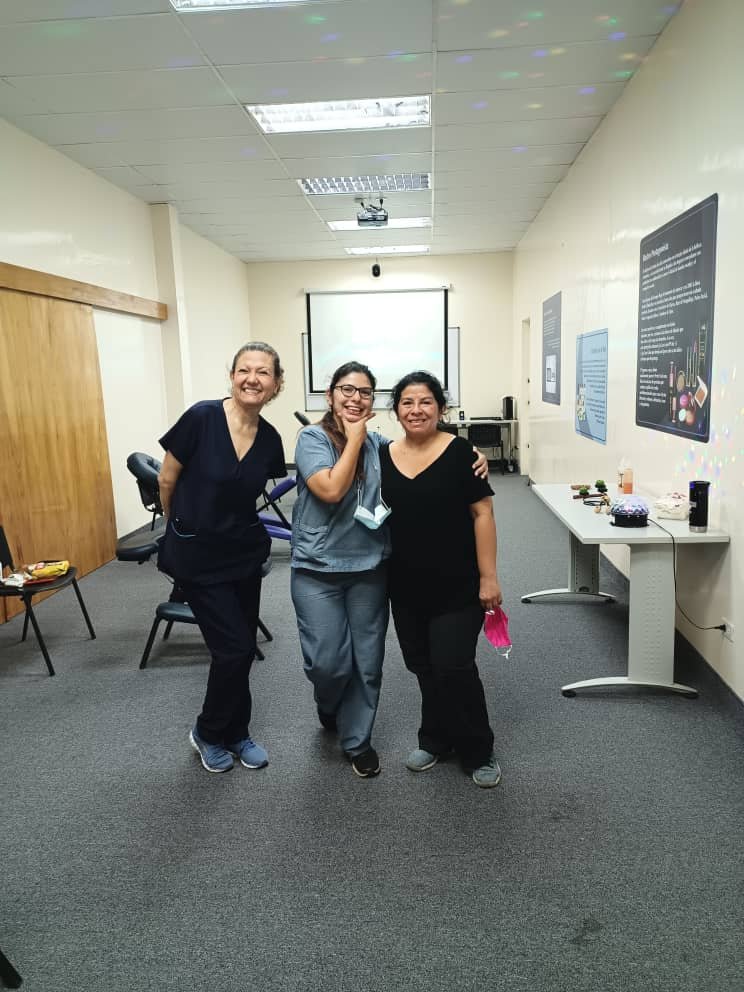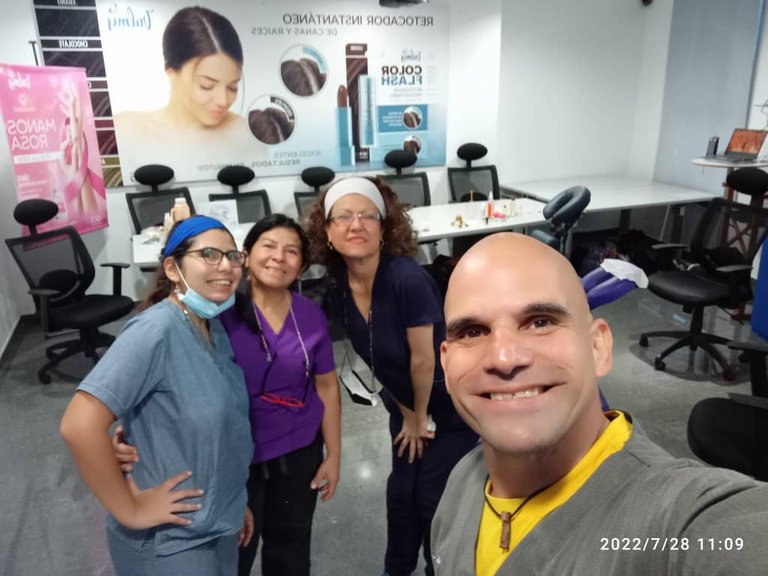 Pues bien, llegamos con las 4 sillas de masajes en el carro. Pero tocaba subirlas hasta el lugar del evento. Gracias a Dios, a la gerente de recursos humanos se le ocurrió montar todo en el montacargas de la empresa 🙏🏻 porque sino eran 4 pisos con 20kg encima 🥵
Luego de saludar, presentarnos y pasar por algunos protocolos de bioseguridad, pasamos al comedor para desayunar. Mi mamita bella me trajó un croissant que no me llegó a ningún lado 😅
Ya era la hora de ponernos a ordenar. Los espacios de está empresa son en verdad preciosos y con los elementos adecuados, ciertamente parecía un spa empresarial.
Well, we arrived with the 4 massage chairs in the car. But we had to take them up to the place of the event. Thank God, the human resources manager had the idea to mount everything on the company's forklift 🙏🏻 because otherwise they were 4 floors with 20kg on top 🥵.
After greeting, introducing ourselves and going through some biosecurity protocols, we went to the dining room for breakfast. My mommy bella brought me a croissant that I didn't get anywhere 😅.
It was time to tidy up. The spaces in this company are indeed beautiful and with the right elements, it certainly looked like a corporate spa.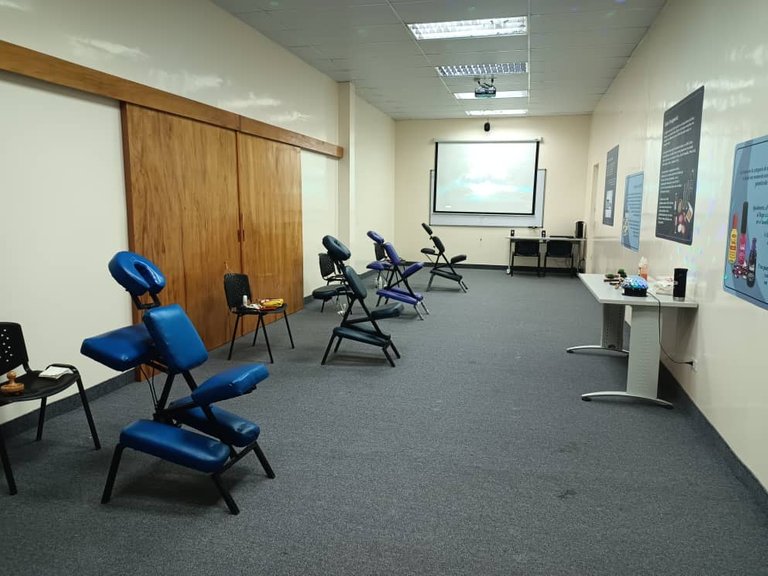 Estábamos bastante nerviosos, así que que nos pusimos a practicar un poco para refrescar el conocimiento (sobretodo yo, que apenas si me acordaba de algo)
Llegó el momento de la verdad. A las 9am empezaron a llegar los primeros trabajadores. Serían 2 horas en las que sólo escucharía la música de fondo y nada más.
Yo estaba aterrada. Tenía mucho miedo de no hacerlo bien y que se me olvidaran los movimientos. No sé si fue por el entorno y la llamada memoria muscular, pero fue como ese dicho que reza "Si aprendes a manejar bicicleta, no se te olvida nunca"
Poco a poco fui haciendo lo que me recordaba, veía de reojo lo que hacía mi mamá y así forje mi propio ritmo.
La cosa con los masajes es que te distraes pensando en muchas cosas y se te pasa un poco el tiempo con cada movimiento, y eso irremediablemente hace que te retraces por segundos, y puede que no logres hacerle todos los movimientos a un cliente en el estricto tiempo de 15 minutos.
We were quite nervous, so we started practicing a bit to refresh our knowledge (especially me, who could hardly remember anything).
The moment of truth arrived. At 9am the first workers started to arrive. It would be 2 hours in which I would only listen to the background music and nothing else.
I was terrified. I was so afraid of not doing it right and that I would forget the moves. I don't know if it was because of the environment and the so called muscle memory, but it was like that saying "If you learn to ride a bike, you never forget".
Little by little I was doing what I remembered, I would watch out of the corner of my eye what my mom was doing and so I forged my own rhythm.
The thing with massages is that you get distracted thinking about many things and you spend a little time with each movement, and that inevitably makes you delay for seconds, and you may not be able to do all the movements to a client in the strict time of 15 minutes.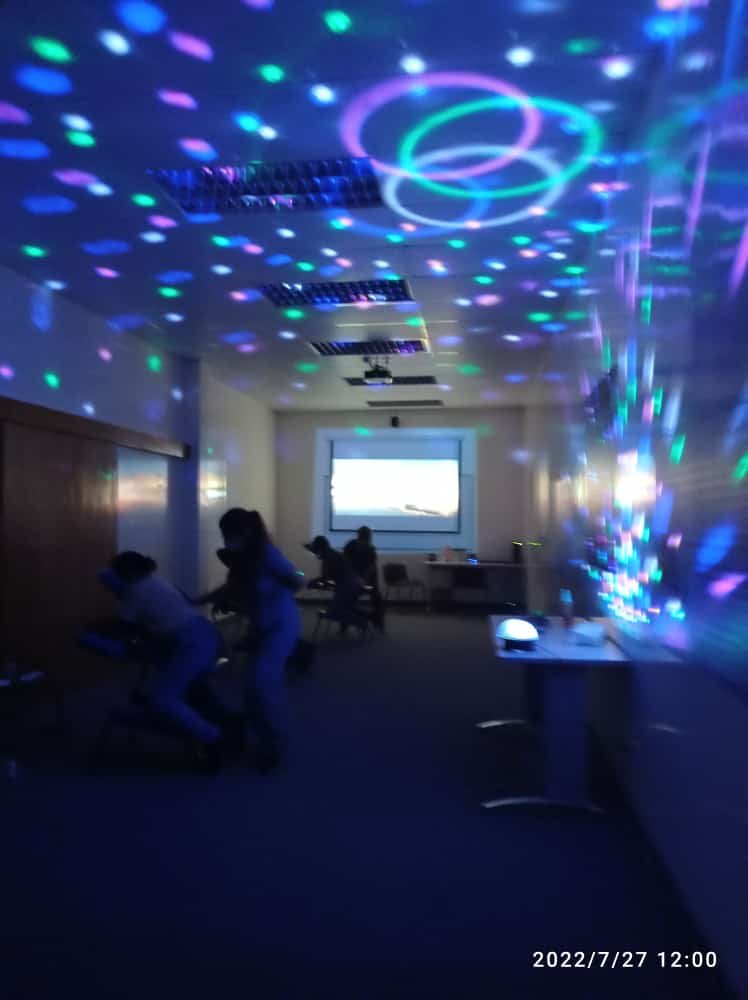 Pues bien, completamos las primeras dos horas y tocaba un break, nos buscaron café y todo estaba bastante chévere.
La verdad yo no sentí el paso del tiempo, pero si me dolía un poco la espalda. Anatoly fue super amable y me dio un pequeño masaje de presión que me dejó la espalda fina para las próximas 3 horas más.
Trabajamos una hora más y justo a las 12 estábamos haciendo la cola para calentar la comida en los microondas.
Esta vez, mi mamita bella si me sorprendió, porque me trajo pollo con brócoli, arroz y salsa 😋 acompañado de un rico jugo de tamarindo.
Seguimos la faena por 2 horas más y a las tres en punto habíamos terminado.
Well, we completed the first two hours and it was time for a break, they got us coffee and everything was pretty cool.
The truth is that I didn't feel the passage of time, but my back was a little sore. Anatoly was super nice and gave me a little pressure massage that left my back fine for the next 3 more hours.
We worked for another hour and right at 12 o'clock we were lining up to heat up the food in the microwaves.
This time, my mamita bella did surprise me, because she brought me chicken with broccoli, rice and sauce 😋 accompanied by a rich tamarind juice.
We continued the task for 2 more hours and at three o'clock we were done.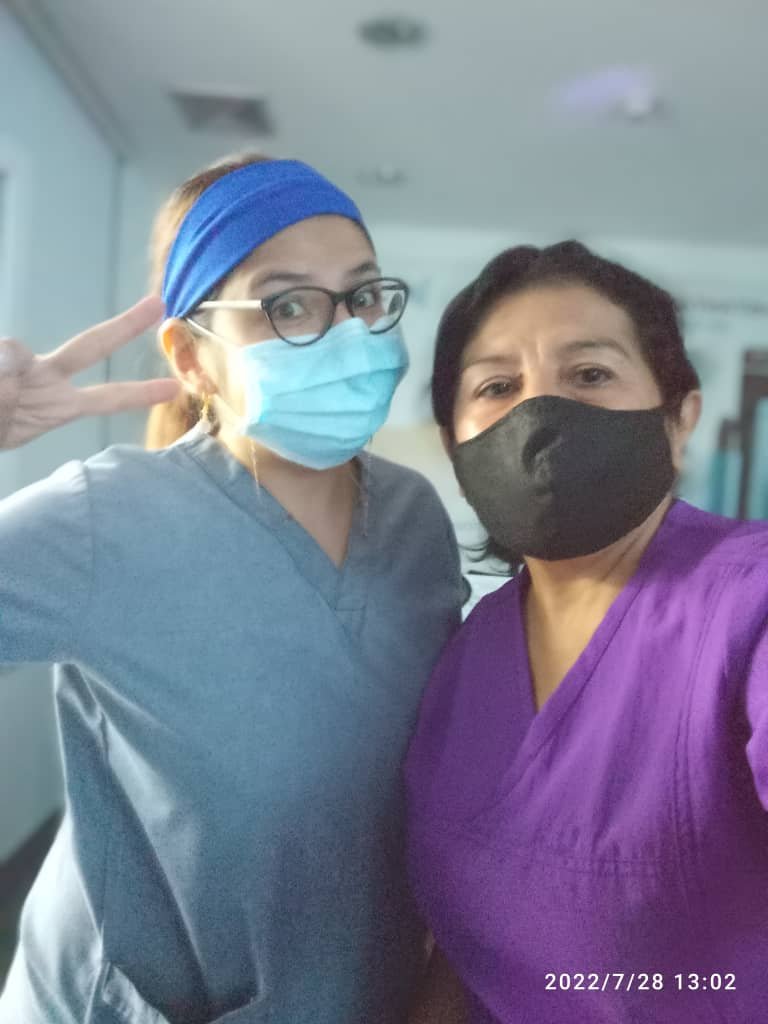 Llegué a casa con dolor en la cadera. Pues hay ciertos movimientos en la rutina de masajes en los que necesariamente debo estar de rodillas o muy inclinada para trabajar las piernas del cliente.
Pues bueno, mi tía también me consintió porque limpio todos los topes de la cocina ❤️ esas son las ayudas que enamoran.
Esa noche me disponía a descansar muy temprano y tranquila… pero no contaba con que… ✨vivo en Venezuela ✨
Cómo sabrán por mis blogs, yo vivo en un barrio, con tendencias políticas cuestionables. Justo a las 12 de la noche se escucharon los primeros cañonazos para conmemorar el cumpleaños del "comandante intergaláctico"🙄
I came home with hip pain. Well there are certain movements in the massage routine where I must necessarily be on my knees or very bent over to work the client's legs.
Well, my aunt also spoiled me because I clean all the stoppers in the kitchen ❤️ those are the aids that you fall in love with.
That night I was getting ready to rest very early and quiet... but I didn't count on that... ✨I live in Venezuela ✨.
As you may know from my blogs, I live in a gettho, with questionable political tendencies. Right at 12 o'clock at night the first cannon shots were heard to commemorate the birthday of the "intergalactic commander" 🙄
Tenor
Pues nada, aquello fueron cañonazos cada 3 horas… se podrán imaginar que me levanté fina… y mi hermano estaba molesto y trasnochado también.
Cómo la chamba llamaba, me puse a hacer las cosas de la mañana para estar lista cuando llegará mi mamá… que también se paró tarde 🤦🏻‍♀️
Una particularidad de vivir en Caracas es que salir a las 7am ya es suuupeer tarde. Aquí hay que salir a las 6 o más temprano si tienes que estar en un lugar a las 8. Parece chiste, pero es anécdota 🙃
Nos agarraron como 4 colas y nos metimos mal en un desvío. Llegamos a las 8:15… allí desayunamos lo más rápido que pudimos y nos pusimos a ordenar todo de nuevo porque nos habían cambiado de espacio.
Well, nothing, that was cannon shots every 3 hours... you can imagine that I woke up very tired... and my brother was also annoyed and late at night.
As the job was calling, I started to do the morning things to be ready when my mom arrived... who also got up late 🤦🏻
One particularity of living in Caracas is that leaving at 7am is already suuupeer late. Here you have to leave at 6 or earlier if you have to be somewhere by 8. It sounds like a joke, but it's anecdotal 🙃
We got caught in like 4 tails and got into a detour wrong. We got there at 8:15... there we had breakfast as fast as we could and got everything sorted again because we had been moved to another space.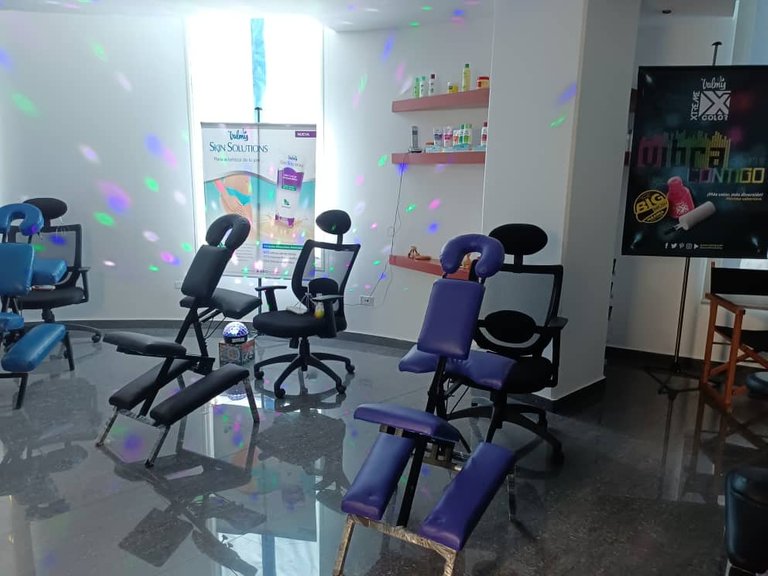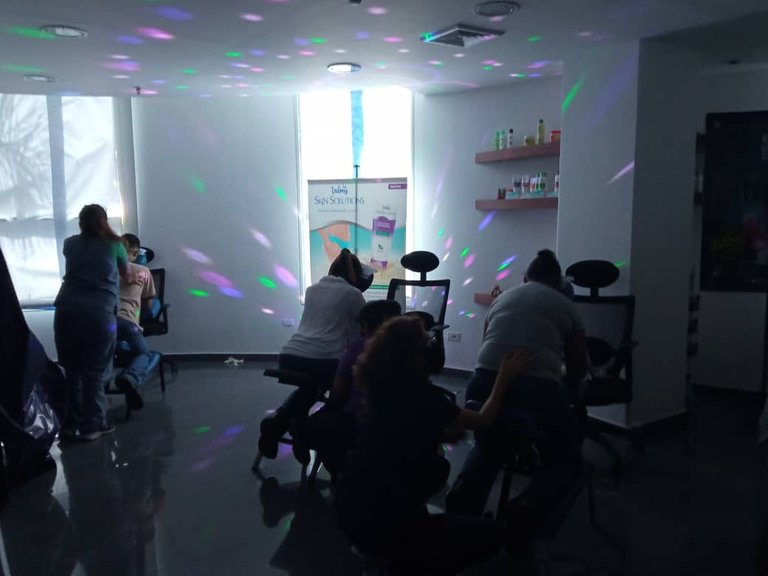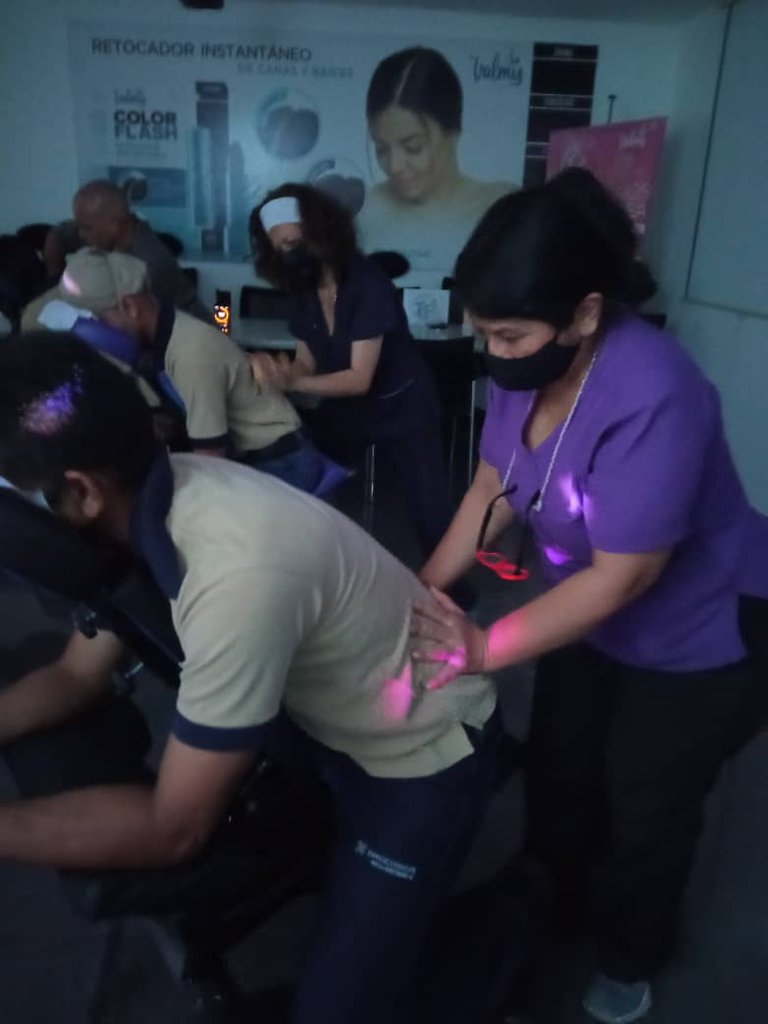 El estrés de mi mamá estaba 1000% y créanme, trabajar con mi mamá estresada es ✨una experiencia ✨
Ese día me tocó doble trabajo puesto que debí estar al pendiente que el estrés de mi mamá no se saliera de control y terminara maltratando tanto a la gerente como a los compañeros.
Pero no fue solo eso… también debía controlar a la parte oscura que vive en mí para no terminar robando, tomando prestado sin permiso, uno de los tantos productos que tenían en los estantes de la sala de conferencias 😓
Fue un suplicio ver durante horas la química endurecedora de Valmy en el estante de muestras, puesto que es algo que necesitaba con urgencia, desde que se me ocurrió la gran idea de hacerme un manicure semipermanente… mis uñas se me dañaron horrible y solo con las fórmulas de Valmy es que se han ido recuperando.
My mom's stress was 1000% and believe me, working with my stressed out mom is ✨an experience ✨.
That day I had double duty since I had to be on the lookout that my mom's stress didn't get out of control and end up mistreating both the manager and co-workers.
But it was not only that... I also had to control the dark part that lives in me so I didn't end up stealing, borrowing without permission, one of the many products they had on the shelves of the conference room 😓
It was an ordeal to see for hours the Valmy hardener chemistry on the sample shelf, since it is something I needed urgently, ever since I had the great idea of getting a semi-permanent manicure... my nails were horribly damaged and it is only with Valmy's formulas that they have been recovering.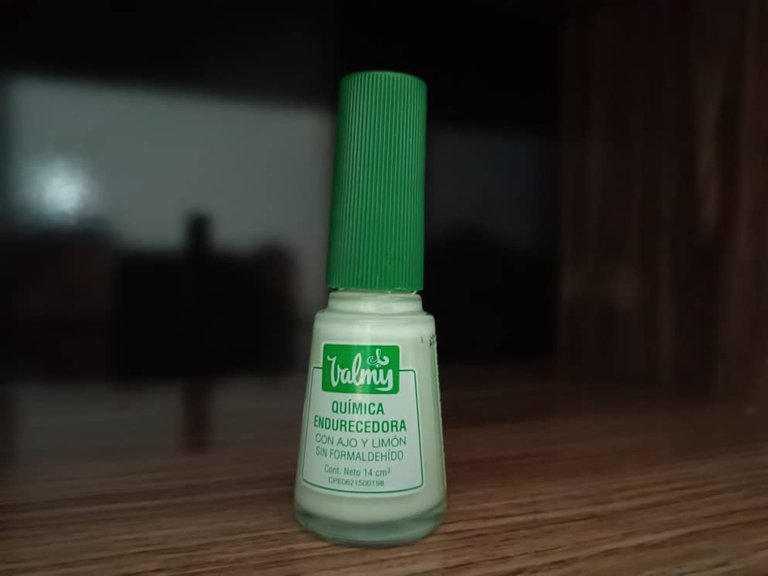 Las horas y los pacientes iban pasando. Mientras más me concentraba en el trabajo mejor respuesta recibía de los trabajadores. Muchos nos dieron bendiciones para que siguiéramos trabajando y para que regresaramos pronto en otra jornada de salud 😊
Sin embargo, para la hora del almuerzo ya empezábamos a sentir el cansancio… A todos nos dolía la espalda y la cadera, pero por suerte las personas seguían saliendo encantadas.
En la última ronda ya solo quedaban la gerente de recursos humanos y la de mercadeo, los dos masajes más importantes.
En una solución salomónica mi mamá y Anatoly decidieron dar estos últimos masajes y yo le di uno a la sra. Gioconda que de verdad había trabajado un poco más difícil que los demás, pues era la encargada de dar los masajes a las personas más corpulentas que no podían sentarse en las sillas de masajes.
The hours and patients were passing by. The more I concentrated on the work the better response I received from the workers. Many gave us blessings to keep working and to return soon for another health journey 😊
However, by lunchtime we were already starting to feel the fatigue... Everyone's back and hips were hurting, but luckily people were still leaving delighted.
By the last round, only the human resources manager and the marketing manager, the two most important massages, were left.
In a Solomonic solution my mom and Anatoly decided to give these last massages and I gave one to Mrs. Gioconda who really had worked a little harder than the others, as she was in charge of giving massages to the heavier people who could not sit on the massage chairs.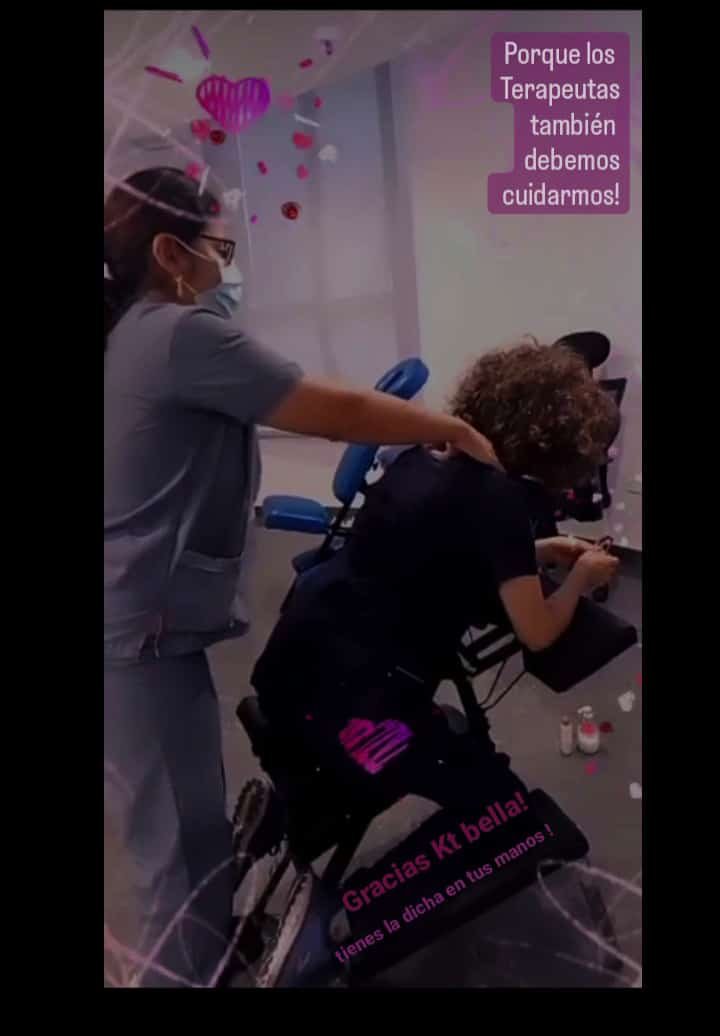 Ese día más temprano a todos nos habían dado un pequeño cotillón qué contenía un Pepito (Frito) y dos esmaltes de uñas. La verdad esos colores no me animaban mucho, pero a mí mamá le habían dado un corrector de base. Intenté negociar pero no hubo éxito en ese primer intento.
Cuando vi que se acercaba el final del evento, decidí poner en práctica el viejo dicho que reza "el que no llora no mama" 😛
Con la mayor educación le pregunté a la gerente si me podía cambiar uno de los esmaltes por la química. La respuesta fue más que positiva. A cada uno nos entregaron un neceser con una crema exfoliante y una crema perfumada, y además me regalaron la química especialmente para mi 😍🥰🤩🥳
Mi mamá obvio me dijo que soy una desvergonzada, y pues, como ahora dicen en las redes, Si Soy 🤣
Earlier that day we had all been given a small cotillion which contained a Pepito (Frito) and two nail polishes. The truth is that those colors didn't really cheer me up, but my mom had been given a base concealer. I tried to negotiate but there was no success on that first attempt.
When I saw that the end of the event was approaching, I decided to put into practice the old saying that says "success doesn't come easily" 😛
With the utmost politeness I asked the manager if I could exchange one of the glazes for the chemistry. The answer was more than positive. We were each given a vanity case with an exfoliating cream and a perfumed cream, and they also gave me the chemistry especially for me 😍🥰🤩🥳.
My mom obviously told me that I'm shameless, and well, as they now say in the networks, yes I am 🤣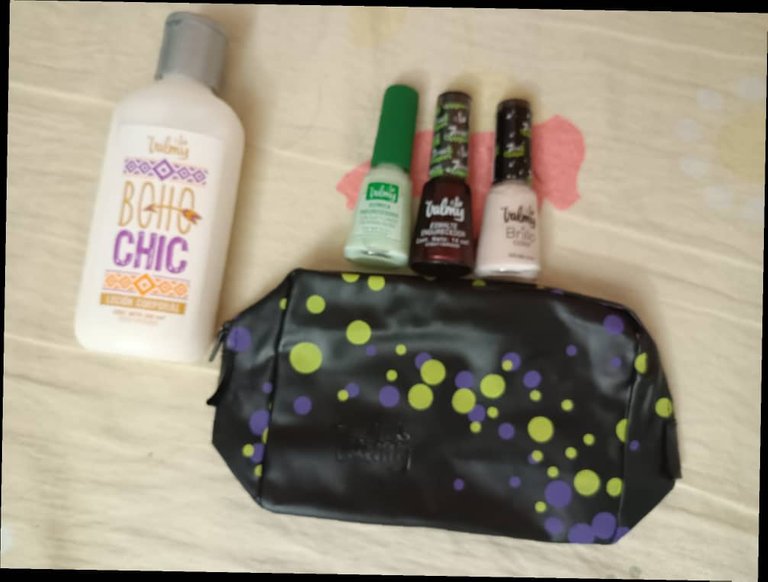 Luego en el camino de regreso (con la espalda y las piernas vueltas ñoña) mi mamá sacó el tema de nuestra previa negociación 😏 Con un intercambio de crema exfoliante por corrector, ahora puedo aprender a utilizar un nuevo cosmético 🤭
Al llegar a casa me encontré con el inicio de otra saga en mi vida que aún continúa hasta la noche de hoy, mientras escribo este post. Se me daño la bomba de agua 🙃
En fin, espero que les haya gustado este pequeño storytime de mi vida 😊 y ya saben si están en Caracas y necesitan un masaje ✨call me✨
Then on the way back (with my back and legs turned sappy) my mom brought up the subject of our previous negotiation 😏 With an exchange of exfoliating cream for concealer, I can now learn how to use a new cosmetic 🤭
Arriving home I was met with the beginning of another saga in my life that still continues to this evening as I write this post. My water pump is damaged 🙃
Anyway, I hope you liked this little storytime of my life 😊 and you know if you are in Caracas and need a massage ✨call me✨.
Kat-Nee (o la chica que ha aplicado la desfachatez toda su vida)
Kat-Nee (or the girl who has applied cheekiness all her life)

Todas la fotos utilizadas en este post fueron tomadas con mi teléfono Infinix Zero 5G
All the photos used in this post were taken with my phone Infinix Zero 5G
---
---