Introducing a new Greek - Community Account @greeksontheblock
I am very happy to present to you our new account for the Greeks here on hive!
Some of you may know that there used to be a bigger Greek community in the past. Due to the fact that many users are not active anymore, we decided to revive our community with a new account.
This post serves both as an introduction post and also as a short tutorial about how to create a hive account.
| Greek | English |
| --- | --- |
| Πώς να δημιουργήσετε ένα hive λογαριασμό | How to create your new hive account |
| Υπάρχουν πολλοί τρόποι, σχεδόν κάθε dApp (decentralized Applications) σας παρέχει έναν τρόπο. Μπορείτε να δείτε στο https://signup.hive.io και στο https://leofinance.io που μπορείτε να χρησιμοπoιήσετε λογαριασμό twitter or facebook. Σε αυτή τη δημοσίευση θα χρησιμοποιήσουμε το ecency αλλά εσείς μπορείτε να επιλέξετε όποιον τρόπο θέλετε. | There are many ways to create a hive account, almost every dApp can offer you a different way. You may check https://signup.hive.io/ or https://leofinance.io where you may use your twitter/facebook account for signing up. |
| ΠΡΟΣΟΧΗ | ATTENTION |
| Να κρατήσετε τα κλειδιά σας και να πάρετε back up. Αν τα χάσετε δεν υπάρχει τρόπος ανάκτησης. | Pay extra attention & make sure to back up your keys, there are no way to restore them if you loose them. |
---
Referral Links:
https://ecency.com/signup?referral=katerinaramm
https://hiveonboard.com/create-account?ref=katerinaramm
Step 1
Fill in the info:
username & - users email address
Συμπληρώνουμε πληροφορίες
όνομα χρήστη και email χρήστη
Πατάμε continue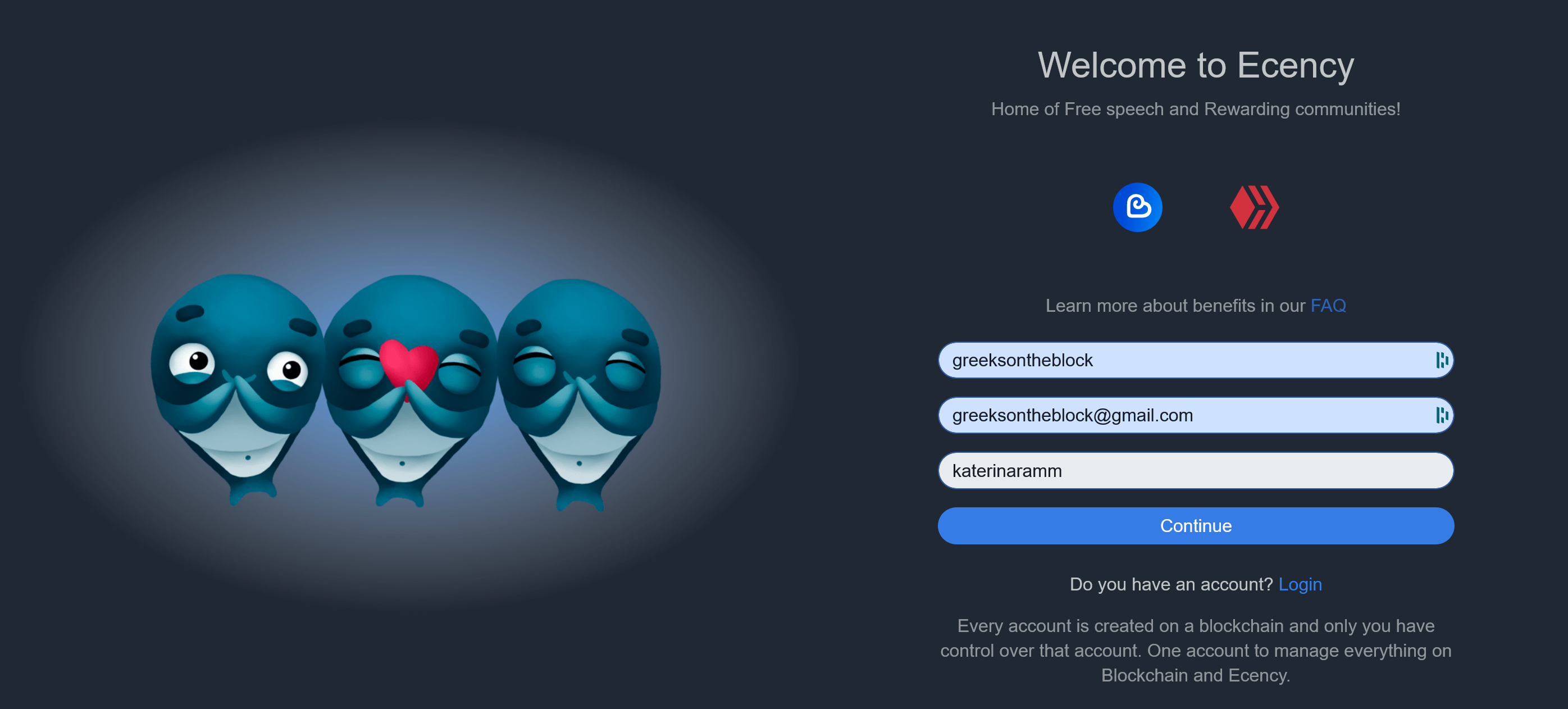 Step 2
Go to the email and follow the instructions
Πήγαινε στο μαιλ και ακολούθησε τις οδηγίες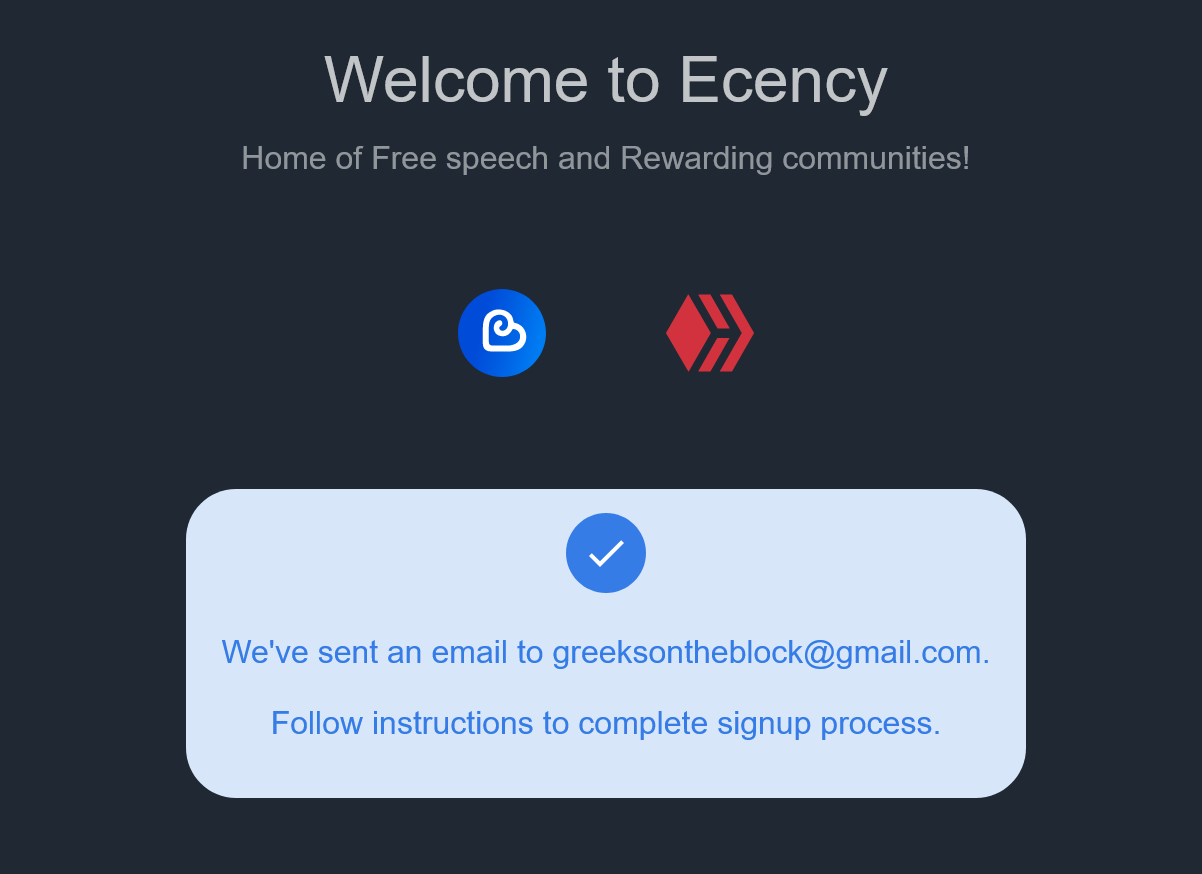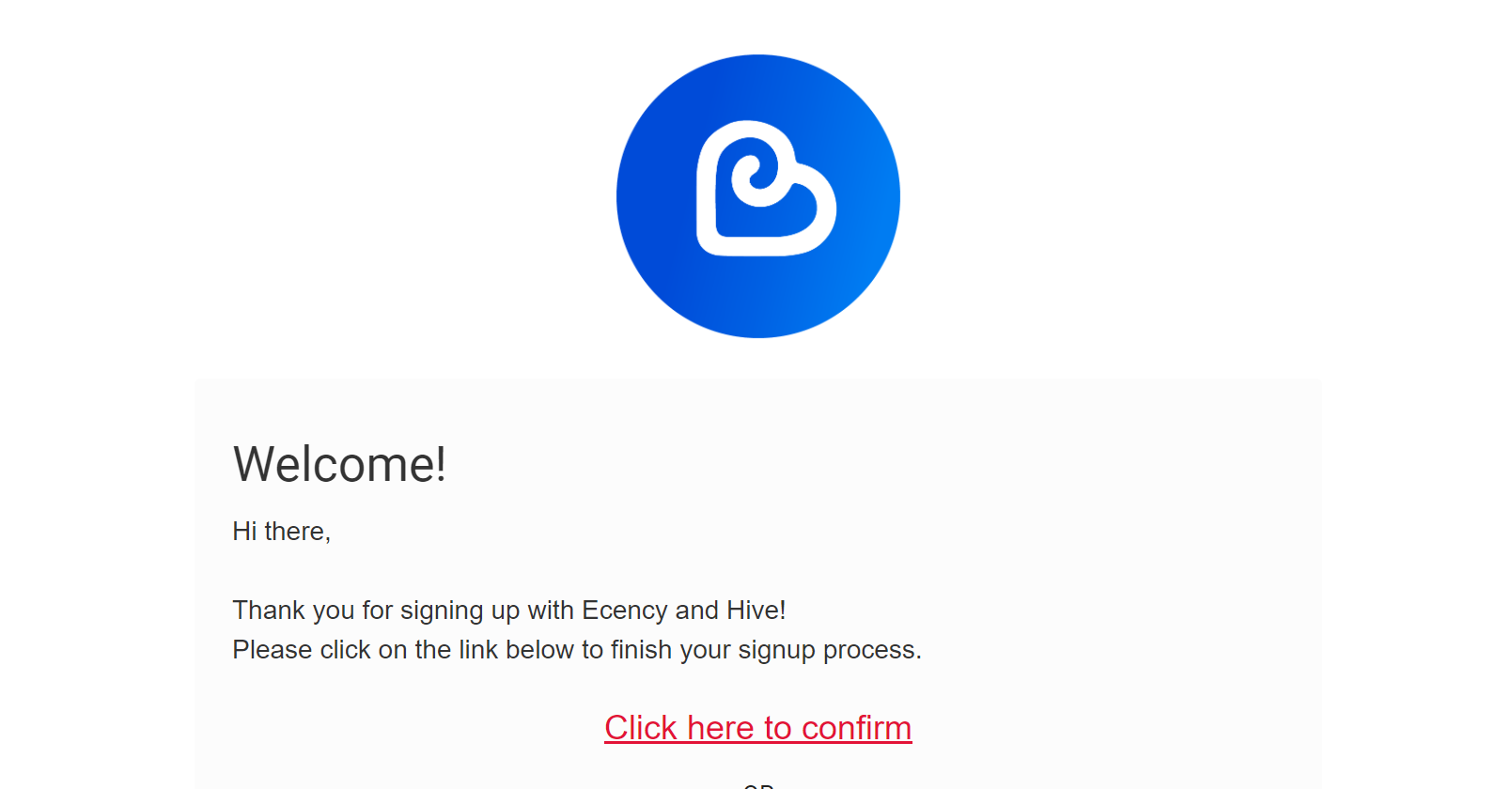 When the link will be verified you will receive another email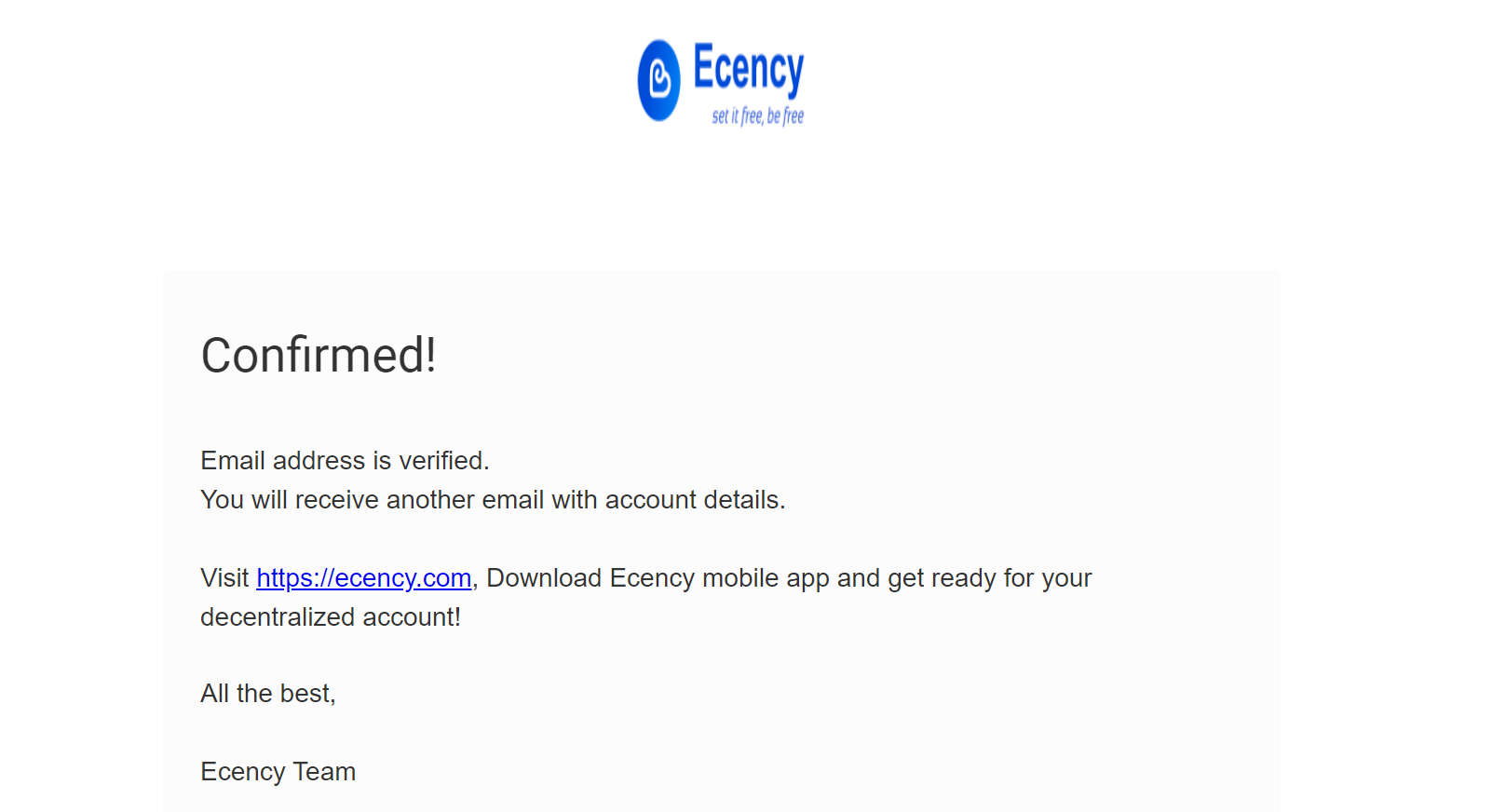 Step 3
Πάμε να κάνουμε Log In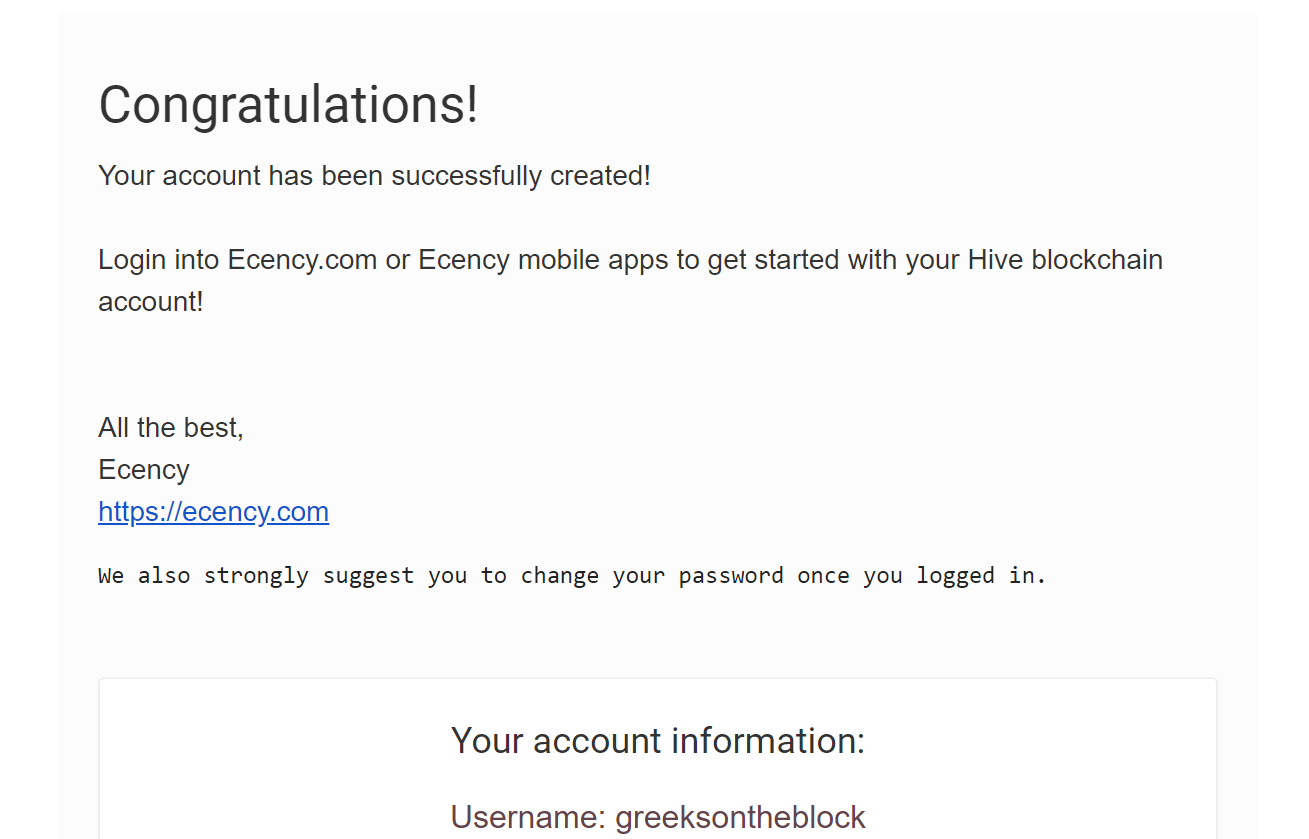 ---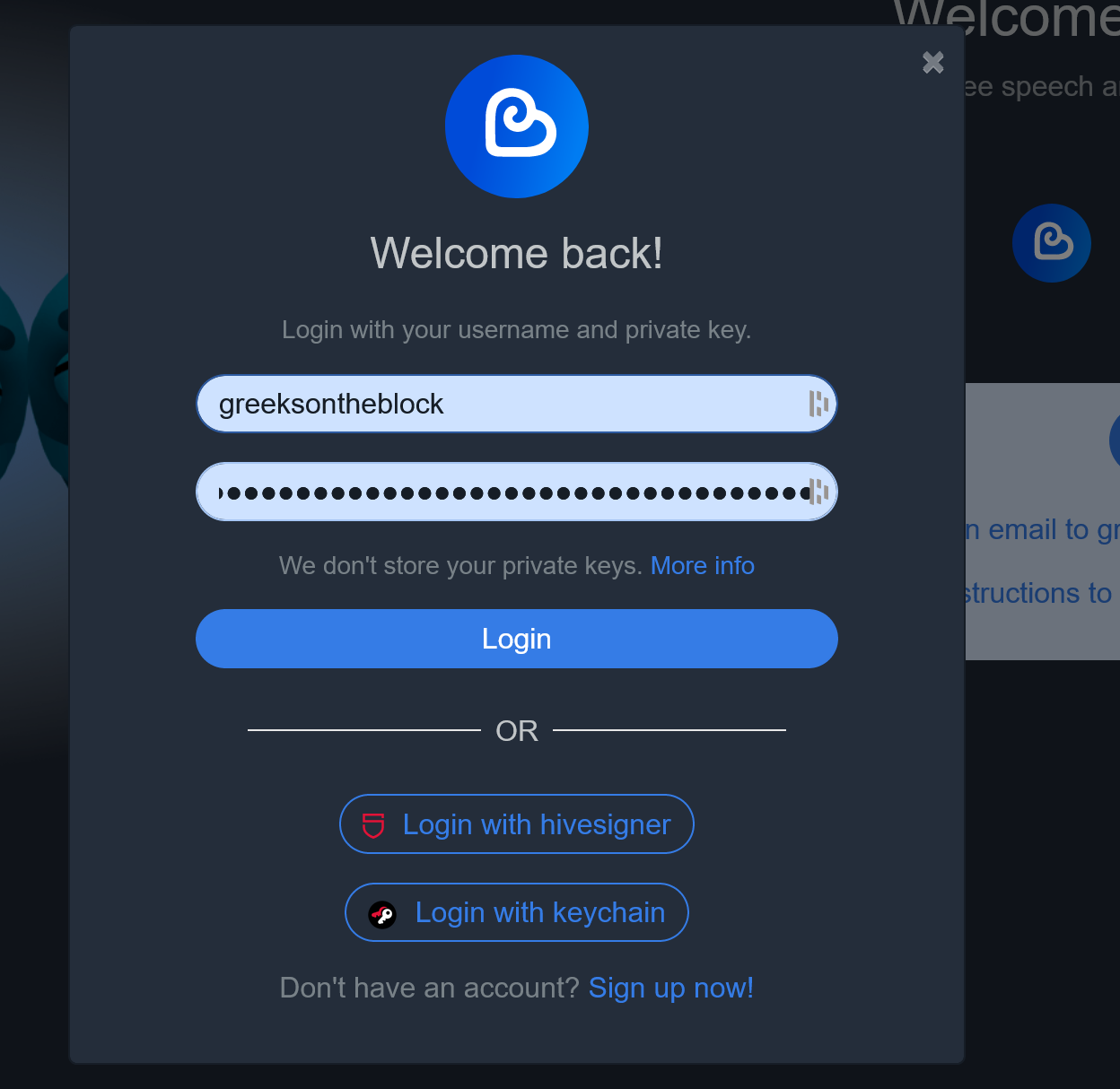 ---
This is the initial screen so we will just start by following some of our Greek Friends (for starters)
Αυτή ειναι η αρχική εικόνα και θα πάμε να ακολουθήσουμε μερικούς φίλους Έλληνες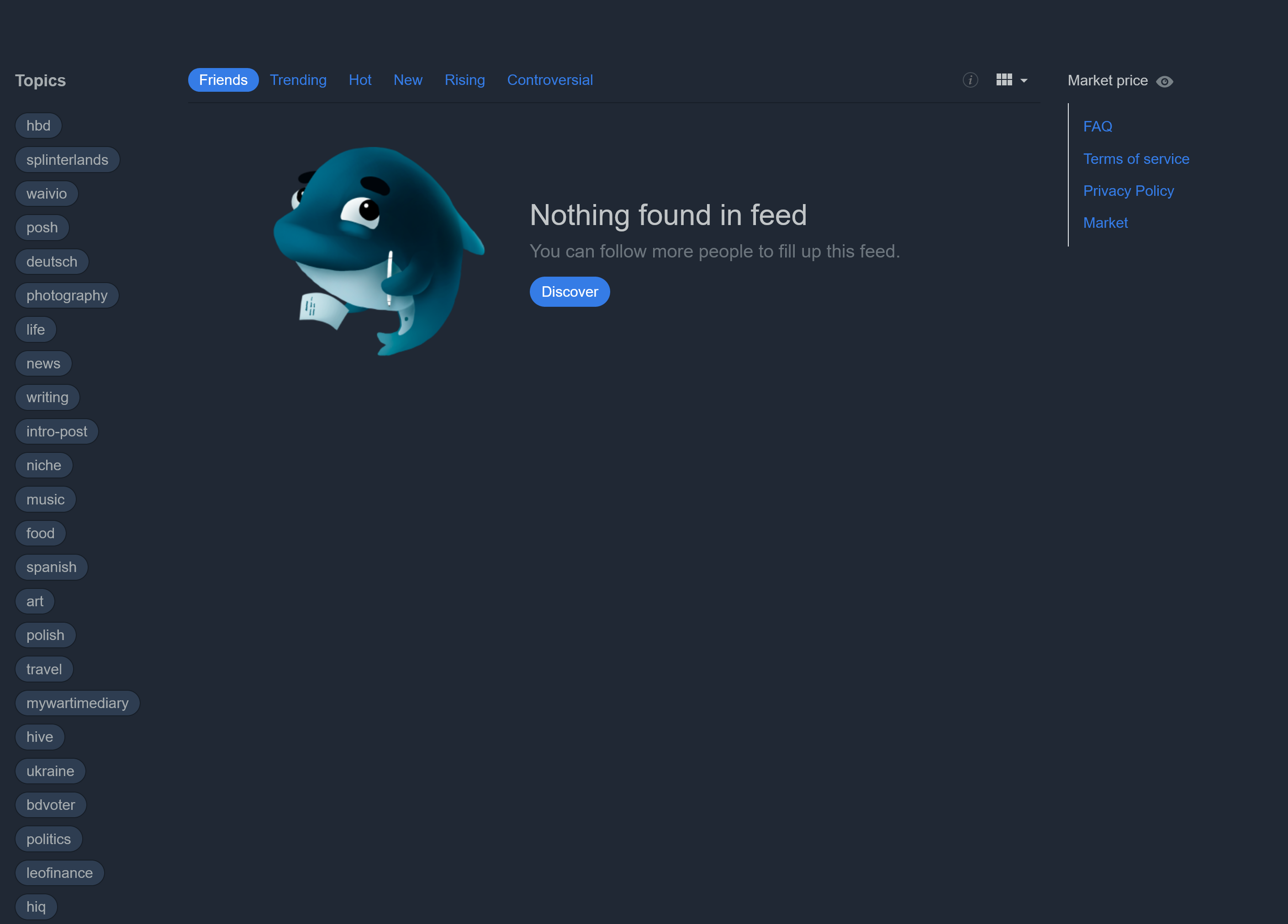 Next Steps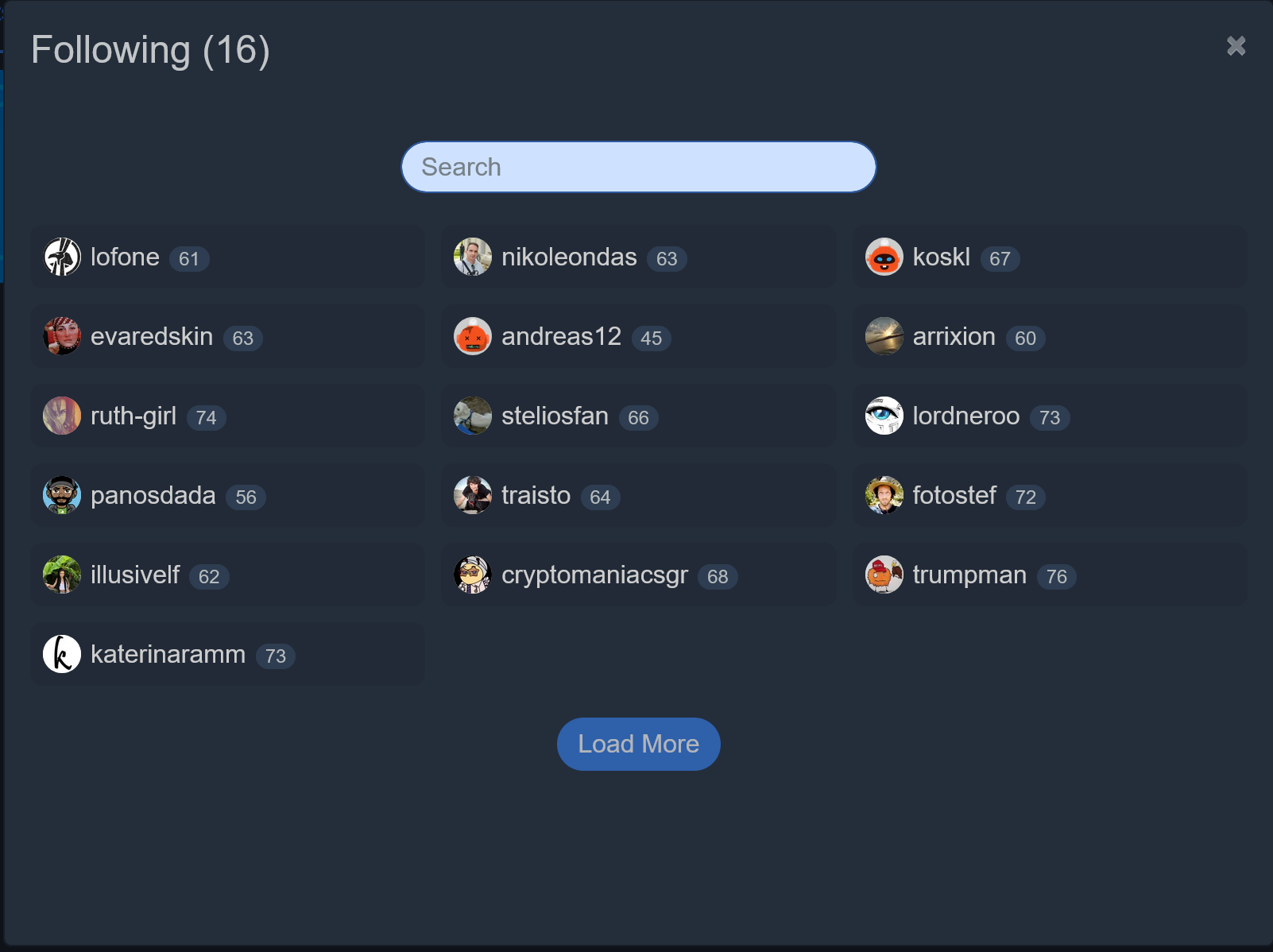 Μόλις αρχίσαμε και σίγουρα έχουμε πολλά να κάνουμε.
Για αρχή, ας έχουμε μία λίστα με όλους τους Έλληνες, να ξέρουμε που να ρωτήσουμε αν κάτι χρειαζόμαστε ... στη γλώσσα μας :)
Μέχρι στιγμής τo account ακολουθεί 17 άτομα.
Πείτε μου αν κάποιον ξέχασα για να τον ακολουθήσω
Τα άτομα που ακολουθεί είναι τα:
(με αλφαβητική σειρά:))
@andreas12
@arrixion
@cryptomaniacsgr
@evaredskin
@fotostef
@illusivelf
@katerinaramm
@koskl
@krevasilis
@lofone
@lordneroo
@nikoleondas
@panosdada
@Ruth-girl
@steliosfan
@traisto
@trumpman
https://hackmd.io/NovapA4MT0ydJKgJEjRcPA
Delegations
Μόλις έκανα delegate 100 HIVE και θα βάλω όλους τους Ελληνες στο auto-support για τώρα, μέχρι να οργανωθούμε καλύτερα :)
Για όποια ιδέα/απορία μπορείτε να με βρείτε στα:
https://twitter.com/katerinaramm1
katerinaramm#7862 (discord)
Πάμε να σετάρουμε το auto-vote:
https://leofinance.io/@katerinaramm/how-to-auto-vote-selected-users-on-hive-using-hive-vote
Στις επόμενες εβδομάδες θα δούμε τα διαδικαστικά και φυσικά στο μεταξύ μπορείτε να κάνετε όποια ερώτηση θέλετε εδώ
---
Thank you for visiting!
I believe that this account will help onboard more Greeks and will be able to play a vital role in bringing hive closer to the Greek (crypto and not only) community.
There is much to consider and to organize, but we say that start is half the work done :)
Any recommendations from you, questions and tips are welcome :)
Are you aware of other country-communities? If yes, could you please post the links below?
I would like to automate some of the actions performed, any idea how to do that?
Thank you again!
Posted Using LeoFinance Beta
---
---