(Esp/Eng) DIY/ "ADORABLE MUÑECA CON LETRERO DE FELICES FIESTAS"/DIY/ "ADORABLE DOLL WITH HAPPY HOLIDAYS SIGN".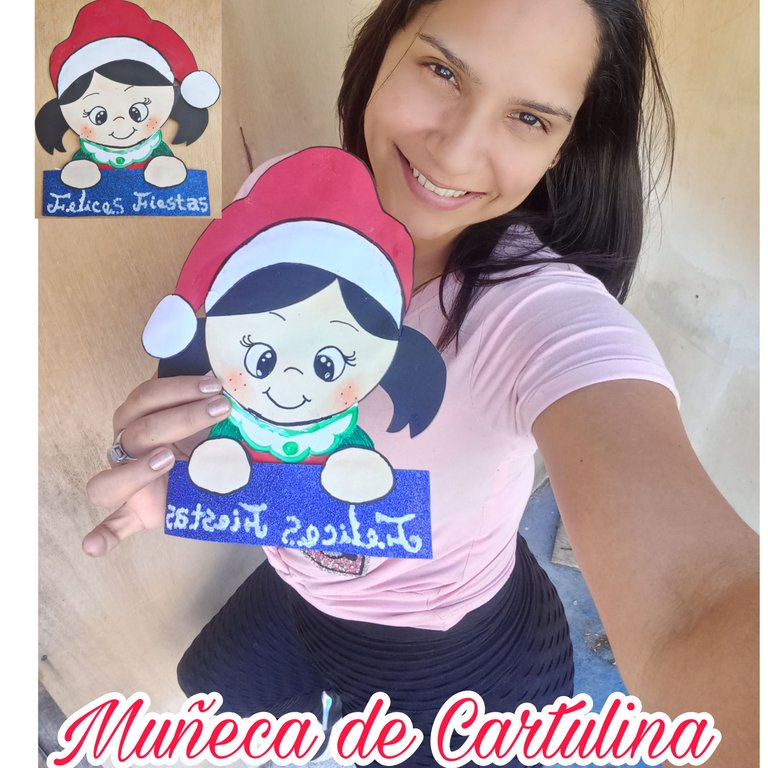 Hola mis queridos amigos artesanos, espero estén pasando un grandioso día lleno de mucha salud; Hoy les mostraré la elaboración de Una Adorable Muñeca con Letrero de Felices Fiestas.
Hello my dear crafting friends, I hope you are having a great day filled with lots of health; Today I will show you the elaboration of an adorable doll with a Happy Holidays sign.

MATERIALES:
Cartulina Roja, verde, blanca, negra y color piel.
Goma Eva azul con escarcha.
Marcadores.
Patrón de la muñeca y del gorro.
Cola blanca escolar.
Temperas.
Pincel.
Tijeras.
Regla.
MATERIALS:
- Red, green, white, black and skin colored cardboard.
- Blue eva rubber with frosting.
- Marker pens.
- Pattern of the doll and hat.
- White school glue.
- Tempera.
- Paintbrush.
- Scissors.
- Ruler.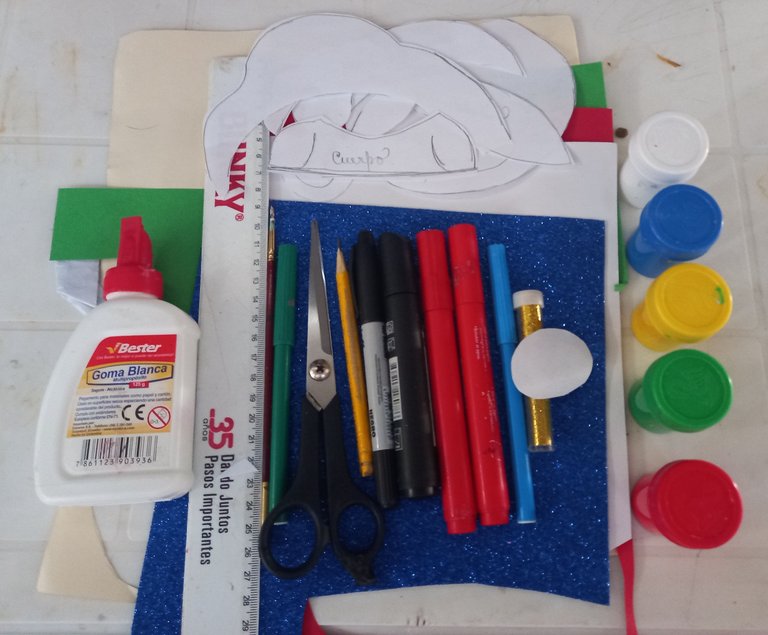 PROCEDIMIENTO
PROCEDURE
Comenzaremos marcando todos los patrones sobre las cartulinas que hayamos escogido para cada pieza y recortamos.
We will start by marking all the patterns on the cardstock we have chosen for each piece and cut them out.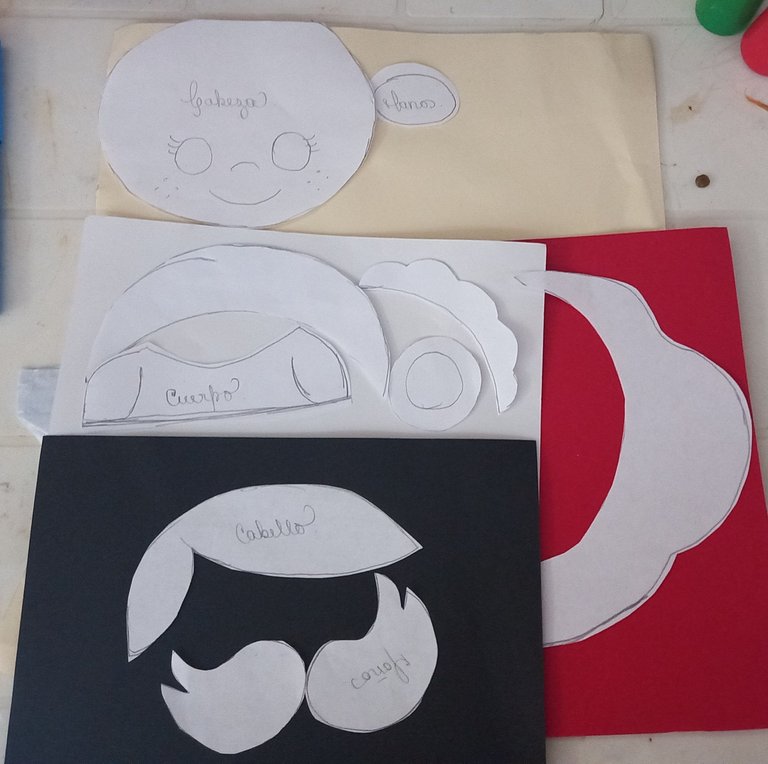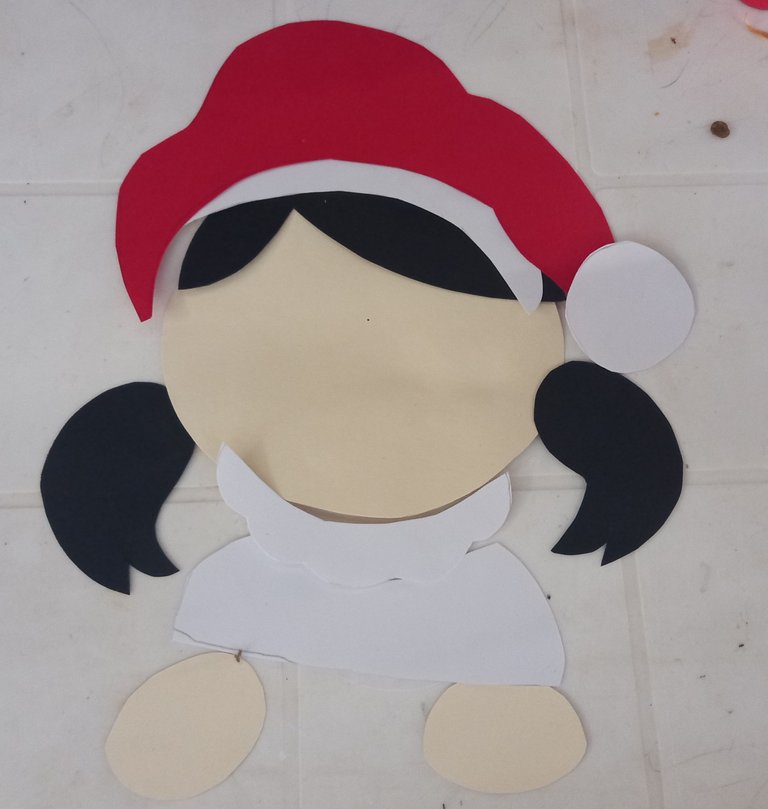 Después que todos los patrones estén recortamos, empezamos a armar la muñeca fijando primero el cabello, después el gorro y pintamos los ojos, la nariz y la boca con marcador negro y tempera blanca, además agregamos un poco de rubor en las mejillas.
After all the patterns are cut out, we start to assemble the doll by first fixing the hair, then the cap and paint the eyes, nose and mouth with black marker and white tempera, and add a little blush on the cheeks.

Luego pegamos la mitad del cuerpo de color blanco y pintamos las mangas del traje con marcador verde. Seguidamente pegamos el vivito del cuello, repasamos sus bordes con marcador y témpera verde y pintamos el resto del traje con marcador rojo.
Then we glue half of the body in white and paint the sleeves of the suit with green marker. Then we glue the neck bivouac, go over its edges with marker and green tempera and paint the rest of the suit with red marker.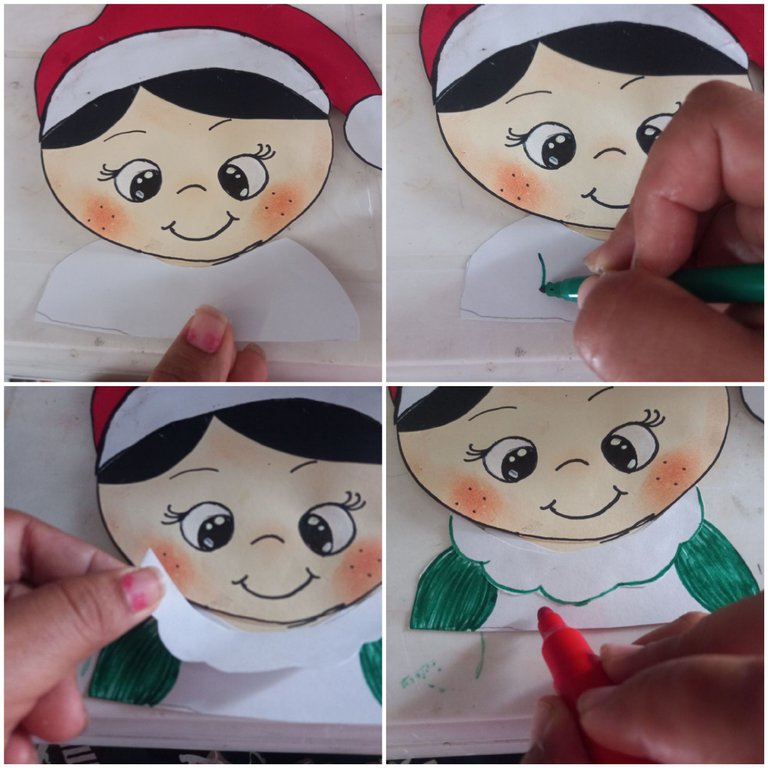 Posteriormente pegamos los dos moñitos a cada lado de la cabeza y una cinta de Goma Eva azul debajo del cuerpo de la muñeca.
Then we glue the two little bows on each side of the head and a blue Goma Eva ribbon under the doll's body.
Finalizamos escribiendo la frase que más nos guste, con témpera blanca y fijamos sobre el letrero las manitos.
We finish writing the phrase we like the most, with white tempera and we fix the little hands on the sign.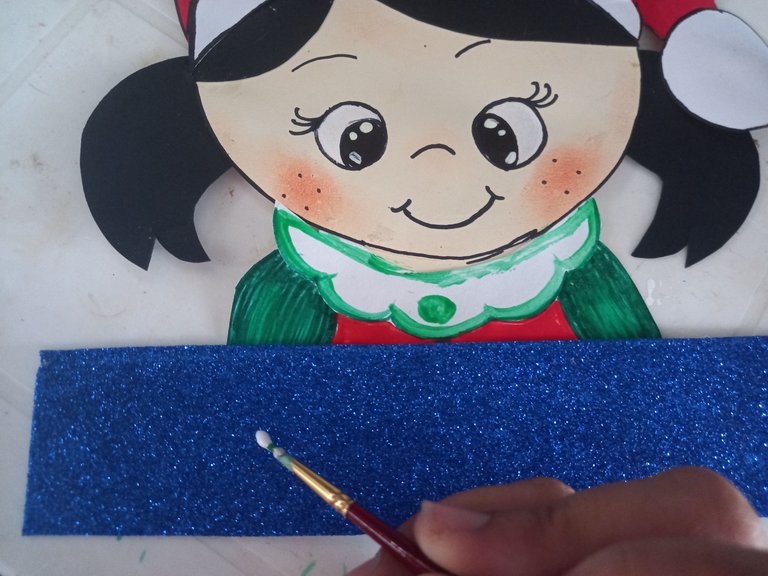 RESULTADO FINAL
RESULT FINALLY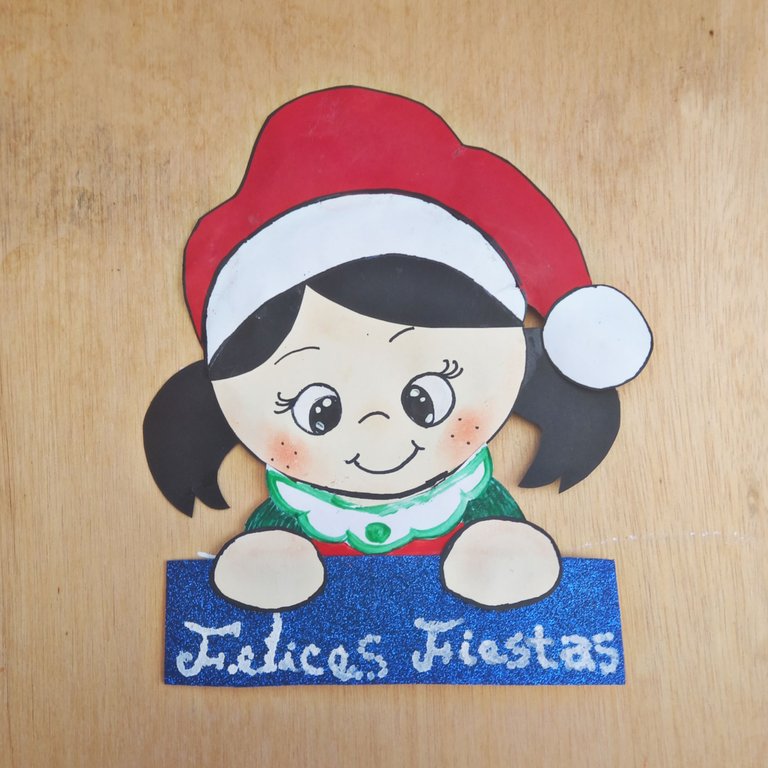 Gracias mis queridos amigos por visitar, espero que les haya gustado el resultado y lo pongan en práctica.
DIOS LOS BENDIGA
Thank you my dear friends for visiting, I hope you liked the result and put it into practice.
GOD BLESS YOU
---
---