(Esp/Eng) DIY/ "TIERNA Y SIMPÁTICA LLAMA DE CARTULINA"/ DIY/ "TENDER AND CUTE CARDBOARD FLAME"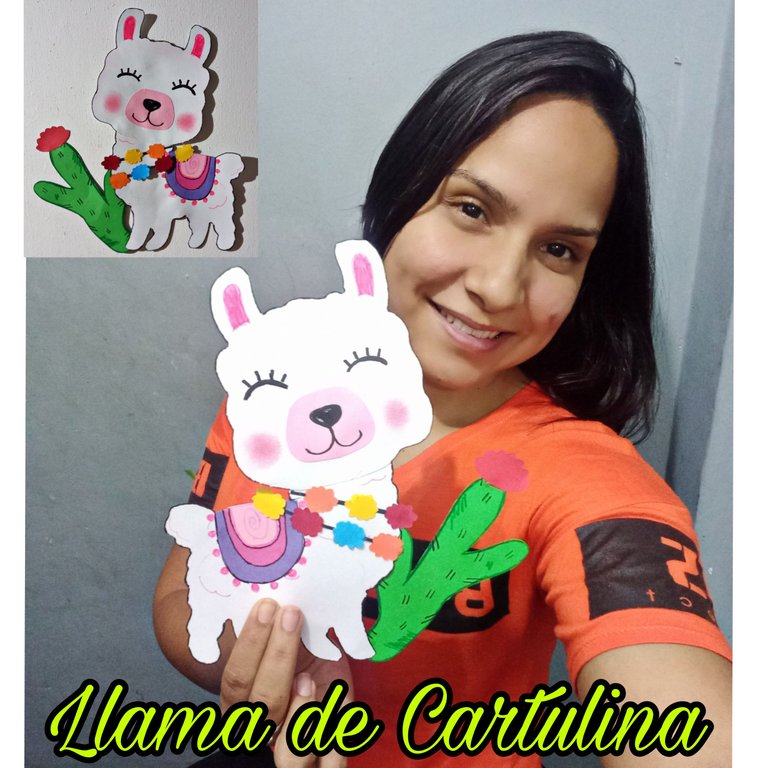 Hola queridos amigos artesanos de #Hive-Diy, espero se encuentren muy bien 👍, hoy quiero compartir con ustedes la elaboración de una "Tierna y Simpática Llama" de Cartulina" con hermosos colores. Espero les guste.
Hello dear crafty friends of #Hive-Diy, I hope you are very well 👍, today I want to share with you the elaboration of a "Tender and Cute Llama" of Cardboard " with beautiful colors. I hope you like it.
MATERIALES:
Cartulina blanca, roja, rosada, azul, negra, verde y morada.
Patrones de la llama.
Patrón de cactus 🌵.
Marcadores de distintos colores.
Tijeras.
Cola blanca escolar.
MATERIALS:
- White, red, pink, pink, blue, black, green and purple cardstock.
- Flame patterns.
- Cactus pattern 🌵.
- Markers of different colors.
- Scissors.
- White school glue.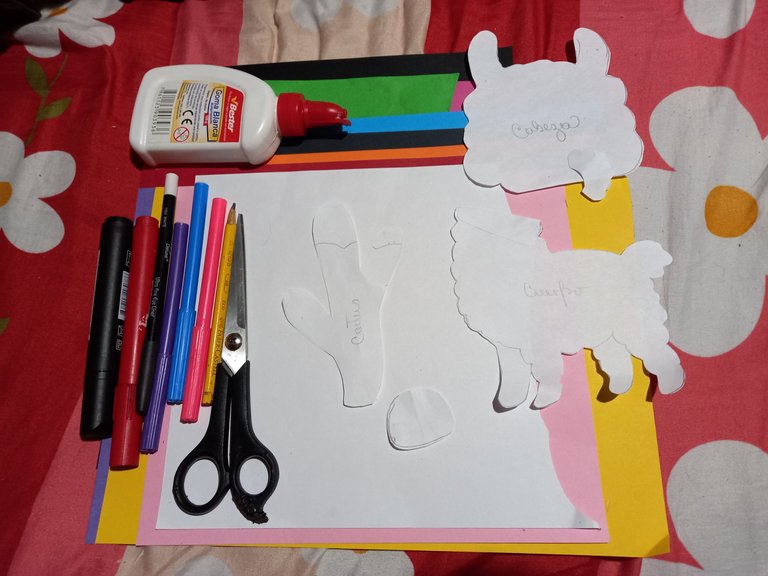 PROCEDIMIENTO
PROCEDURE
Comenzaremos marcando los patrones sobre cada cartulina según el color que hayamos escogido para cada uno de ellos y recortamos.
We will start by marking the patterns on each cardboard according to the color we have chosen for each of them and cut them out.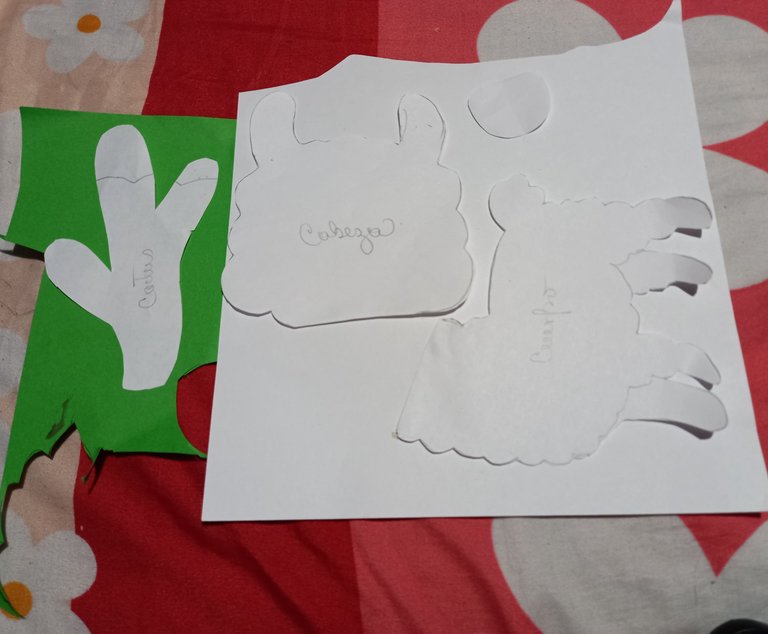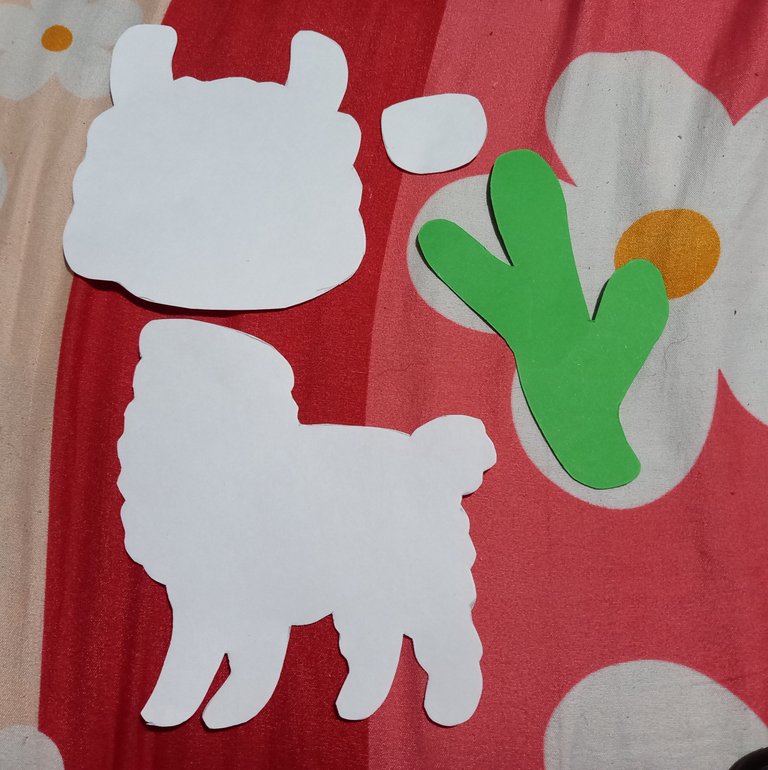 Después unimos las dos piezas de la llama, en éste caso el cuerpo y la cabeza y marcamos sus bordes con marcador negro.
Then we join the two pieces of the flame, in this case the body and the head, and mark their edges with black marker.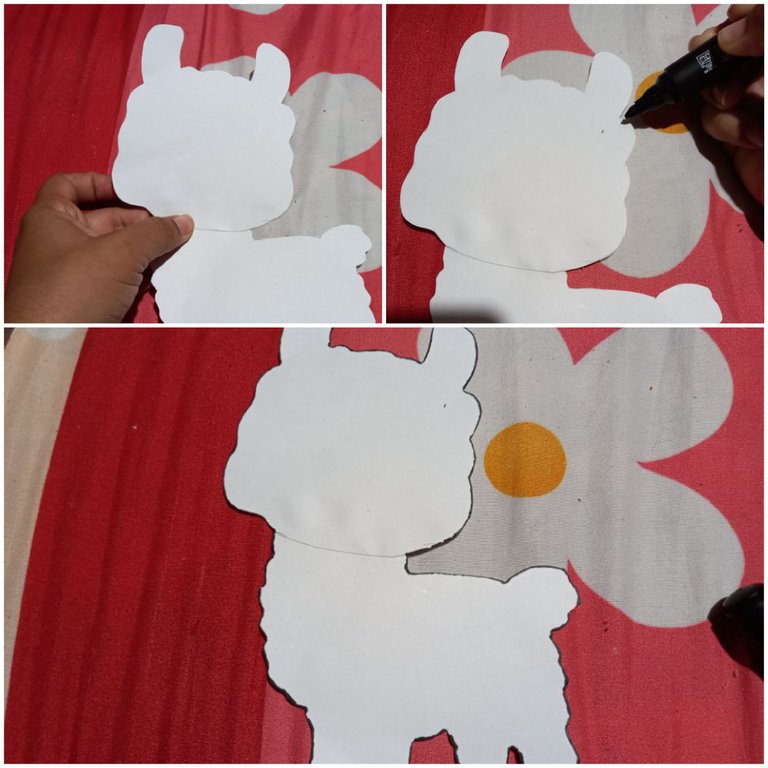 Pegaremos el contorno de la trompa de la llama hecha en cartulina rosada y pintaremos la nariz, la boca y los ojos con marcador negro, además pintaremos las orejitas con marcador rosado y aplicaremos un poco de rubor en las mejillas.
We will glue the outline of the trunk of the llama made in pink cardboard and paint the nose, mouth and eyes with black marker, we will also paint the ears with pink marker and apply a little blush on the cheeks.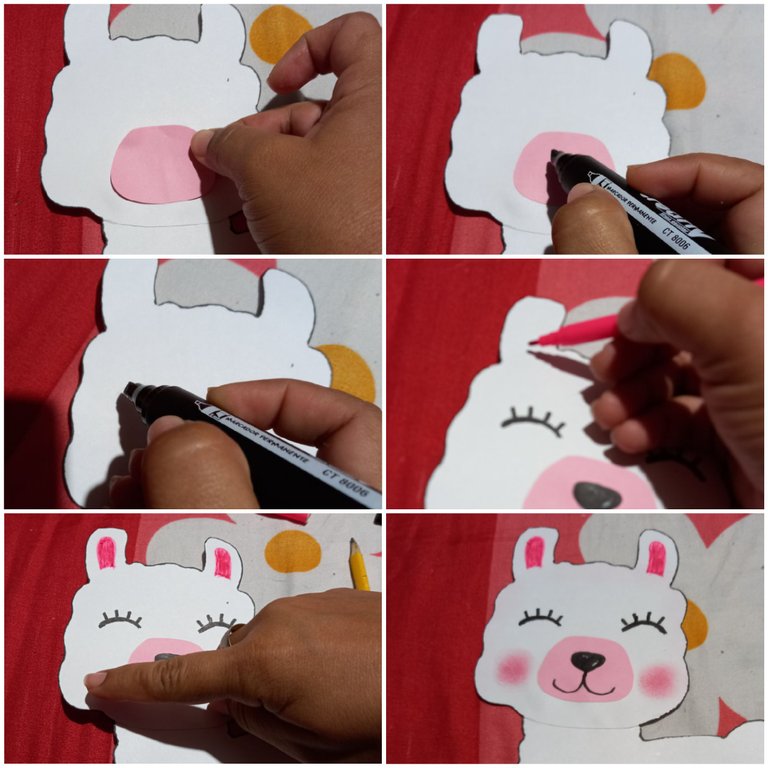 Seguidamente realizaremos con cartulina morada, fucsia y rosada la manta que va encima de la Llama.
Next, we will use purple, fuchsia and pink cardboard to make the blanket that goes on top of the Llama.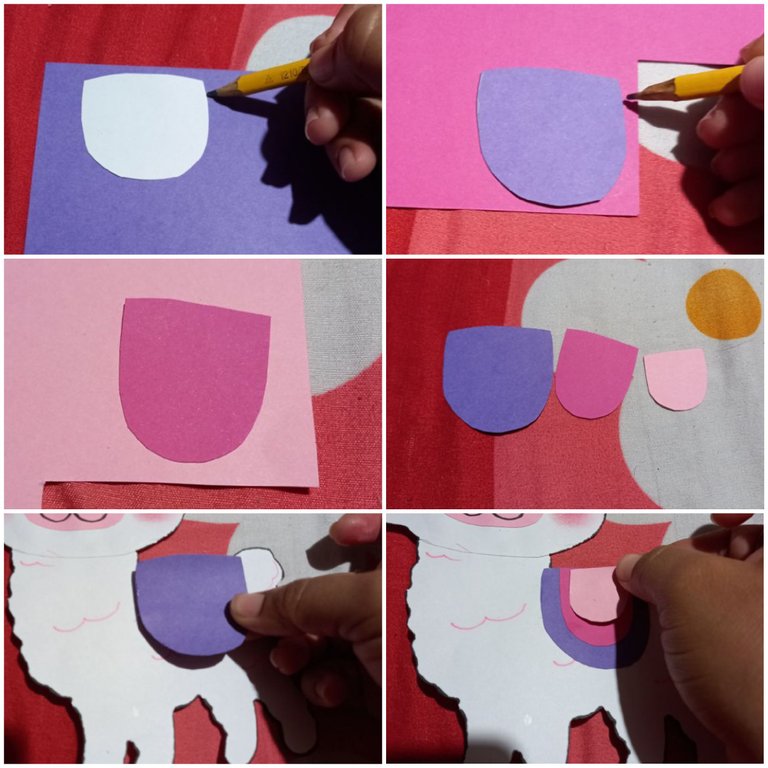 Después hacemos una especie de collar con flores de color azul, rojo, anaranjado y amarillo y lo fijamos en el cuello de la Llama.
Then we make a kind of necklace with blue, red, orange and yellow flowers and attach it to the neck of the Llama.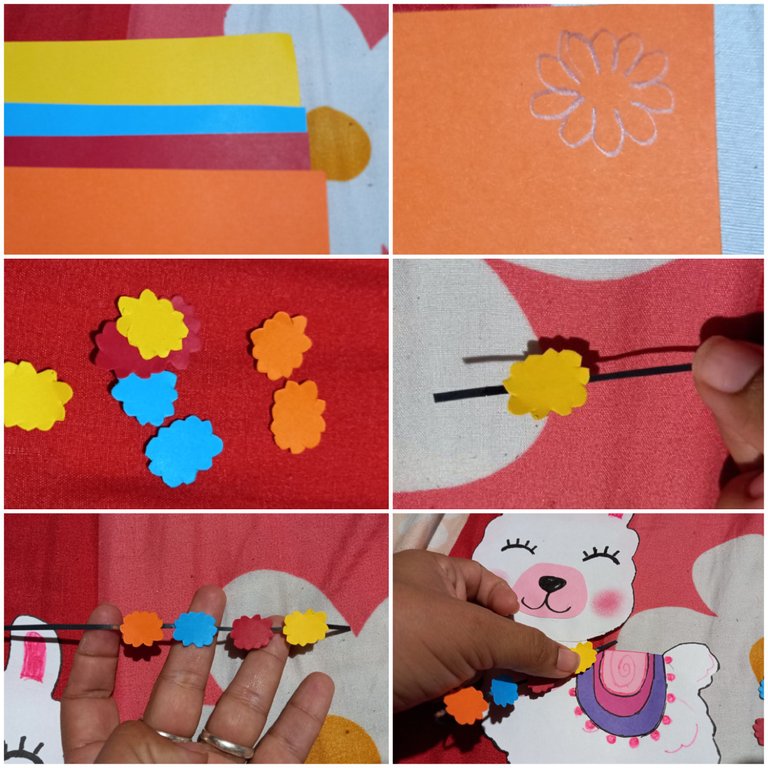 Finalizamos marcando todo el contorno del cactus 🌵 con marcador verde y pintamos las púas con marcador negro, además fijamos en la punta una pequeña florecita y lo fijamos junto a la cabeza y las patas de la Llama.
We finish by marking the entire outline of the cactus 🌵 with green marker and paint the spikes with black marker, we also attach a small flower at the tip and fix it next to the head and legs of the Llama.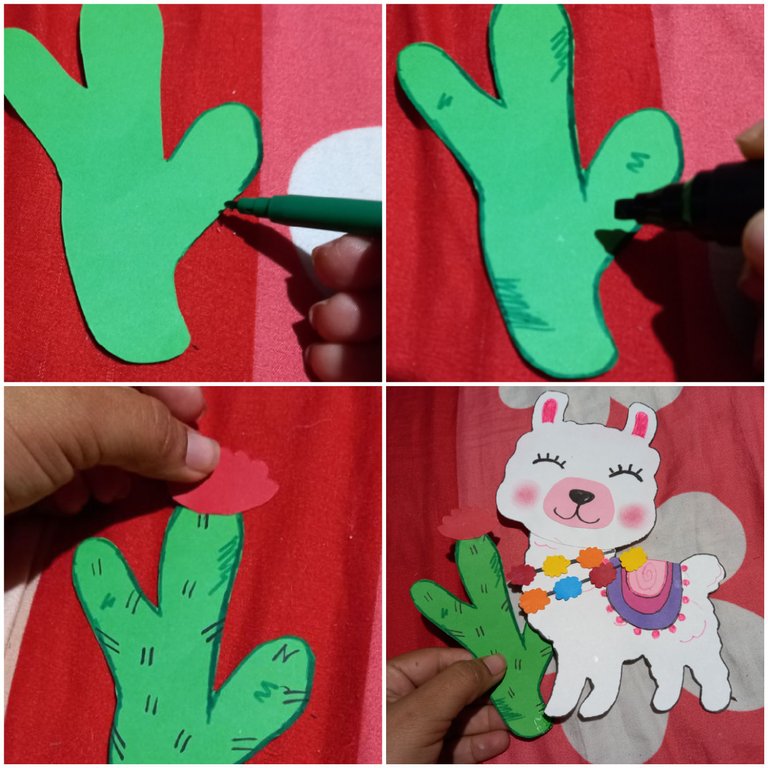 RESULTADO FINAL
FINAL RESULT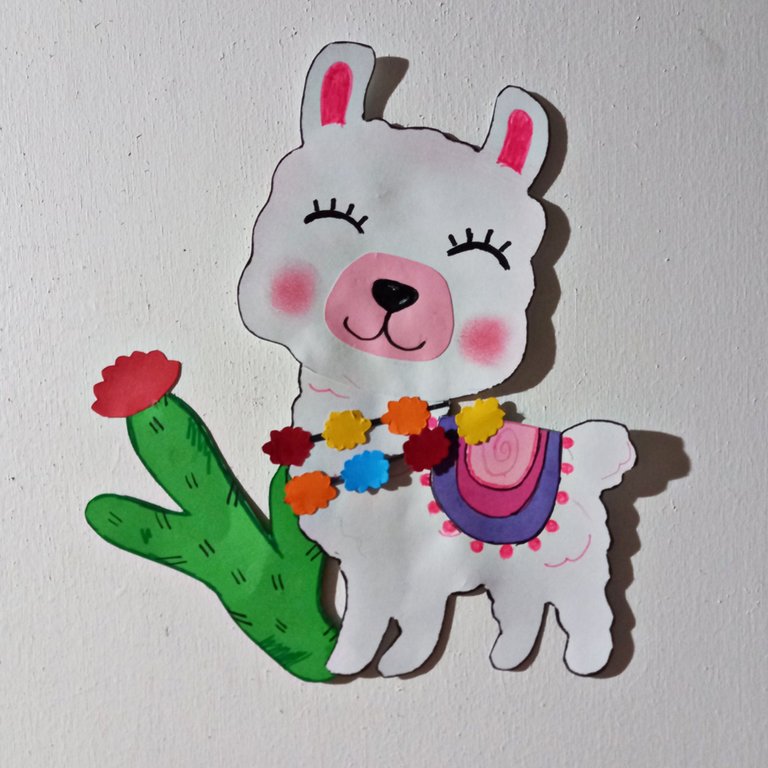 Espero les haya gustado éste material y lo pongan en práctica mis amigos.
DIOS LOS BENDIGA
I hope you liked this material and put it into practice my friends.
GOD BLESS YOU
---
---