[ESP-ENG]- ¿Cómo hacer letras 3D de manera fácil y divertida? // How to make 3D letters in an easy and fun way?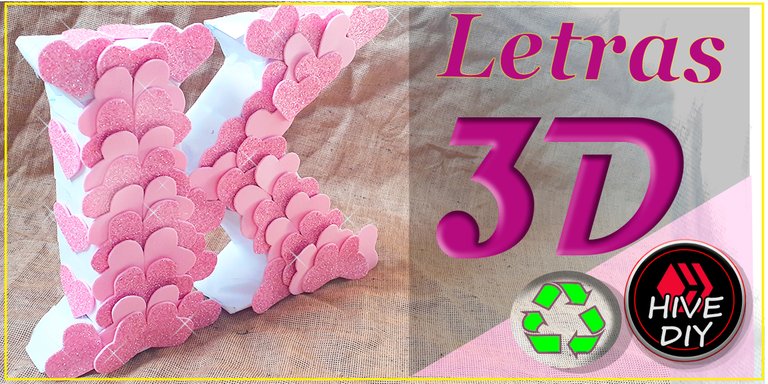 Para el arte de las manualidades no existe límite alguno, por lo que nos permite dejar volar la imaginación para darle vida a nuestras creaciones; cuando elaboramos ciertas obras con material de reciclaje ésta se carga de mucho más valor, ya que paralelamente a nuestras obras estamos salvando al planeta.

There are no limits to the art of crafts, which is why it allows us to let our imagination run wild to bring our creations to life; When we make certain works with recycled material, it is loaded with much more value, since in parallel with our works we are saving the planet.

Un saludo mis queridos amigos de la colmena, me hago presente en esta oportunidad para compartir con ustedes el paso a paso de cómo realizar las letras 3D con material de provecho. La función que tiene esta manualidad es decorativa, ya que podemos colocarlo en un lugar en específico para llamar la atención de manera muy agradable. En este caso lo realicé para el primer cumpleaños de mi bebé; siempre quise hacer una letra 3D mas sin embargo no había tenido la oportunidad de realizarlo hasta ahora y me aventuré no solo a hacer una letra si no todo el nombre de mi pequeña: KIARA. sin más que acotar les doy la cálida bienvenida de este paso a paso que veremos a continuación…

Greetings my dear friends of the hive, I am present in this opportunity to share with you the step by step of how to make the 3D letters with useful material. The function of this craft is decorative, since we can place it in a specific place to attract attention in a very pleasant way. In this case I made it for my baby's first birthday; I always wanted to make a 3D letter but however I had not had the opportunity to do it until now and I ventured not only to make a letter but also the whole name of my little girl: KIARA. Without further ado, I warmly welcome you to this step-by-step that we will see next...

Materiales
Cartón
Hojas blancas desechables
Tijera y lapicero
Foami escarchado
Pega silicón caliente
Pega blanca
Anime
Materials
Paperboard
Disposable white sheets
Scissors and pen
Frosty foami
Hot silicone paste
Glue
Anime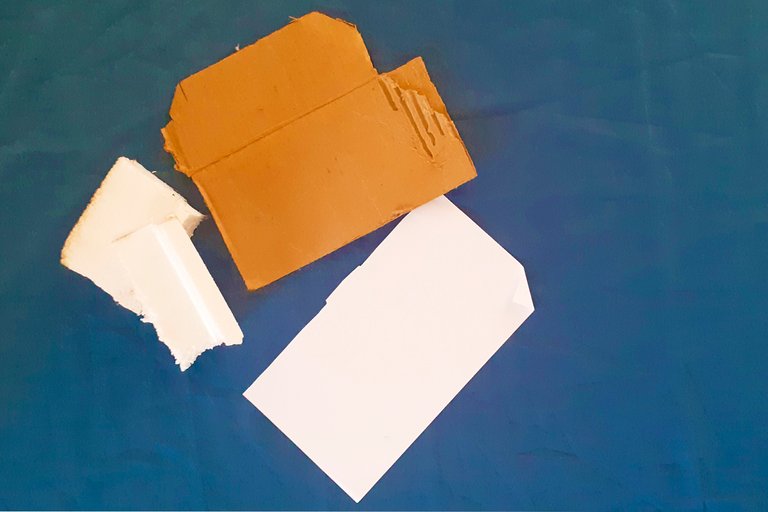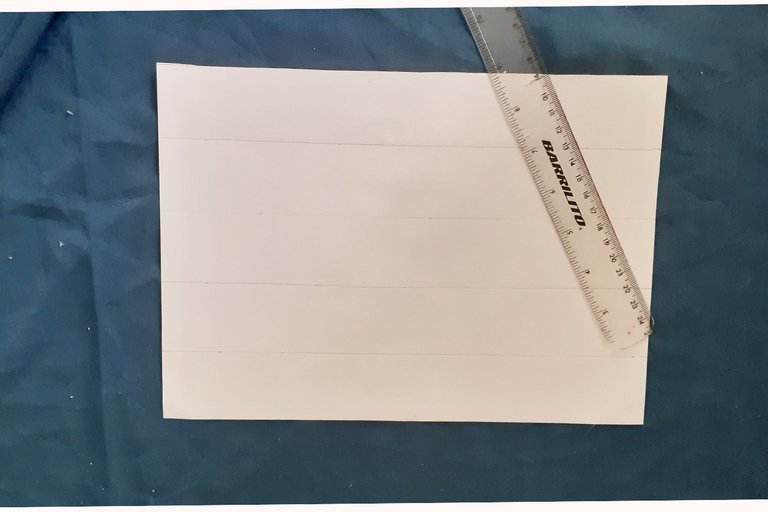 Pasos // Steps
1: Vamos a necesitar trazar las letras en cartón, cada letra debe ser reproducida 2 veces exactamente iguales.

1: : We are going to need to trace the letters on cardboard, each letter must be reproduced 2 times exactly the same.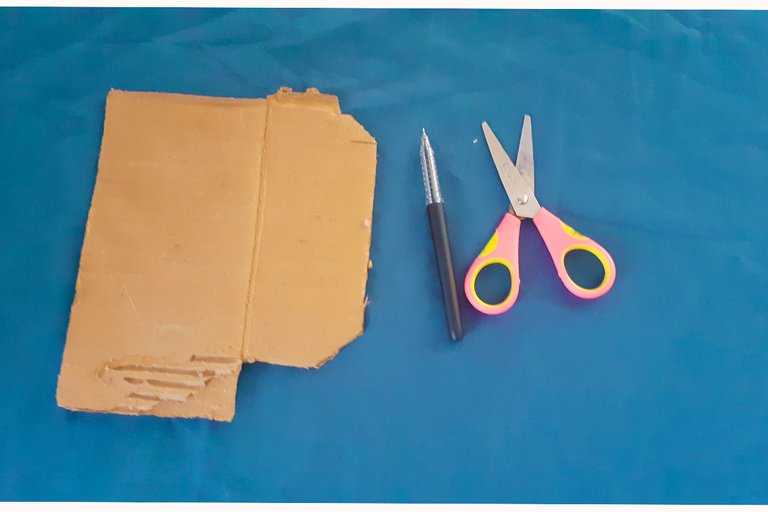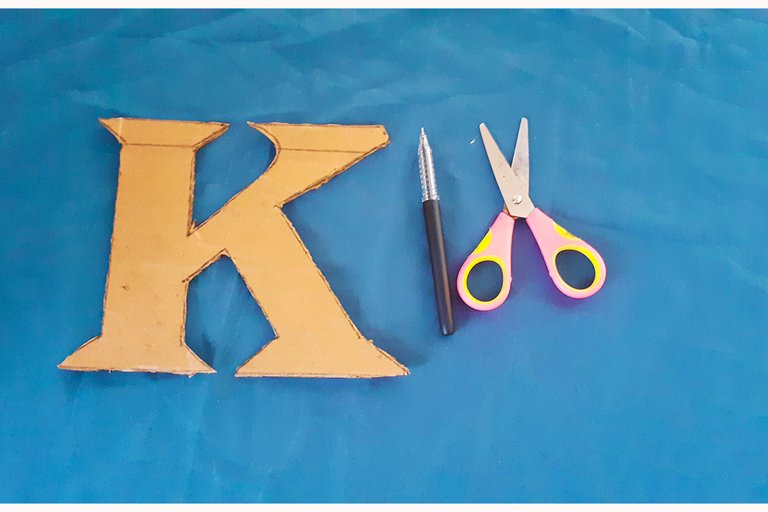 2: Luego vamos a forrar una de las caras de cada letra con papel blanco reciclable, dejando la parte blanca visible.

2: Then we are going to cover one of the faces of each letter with white recyclable paper, leaving the white part visible.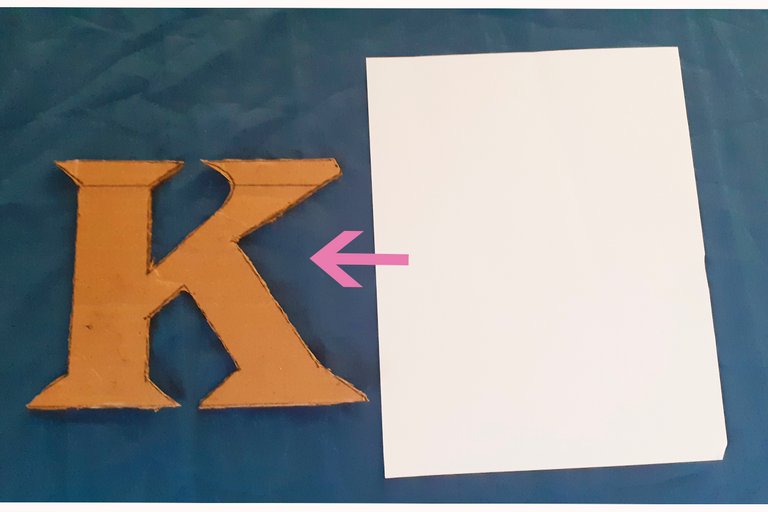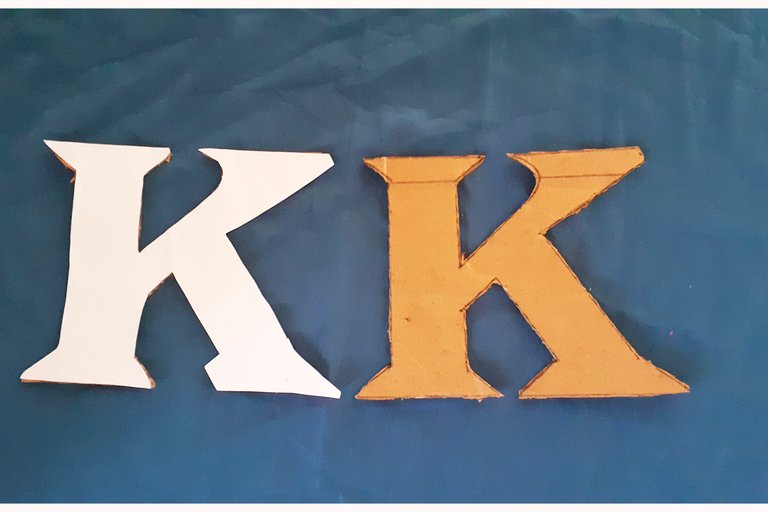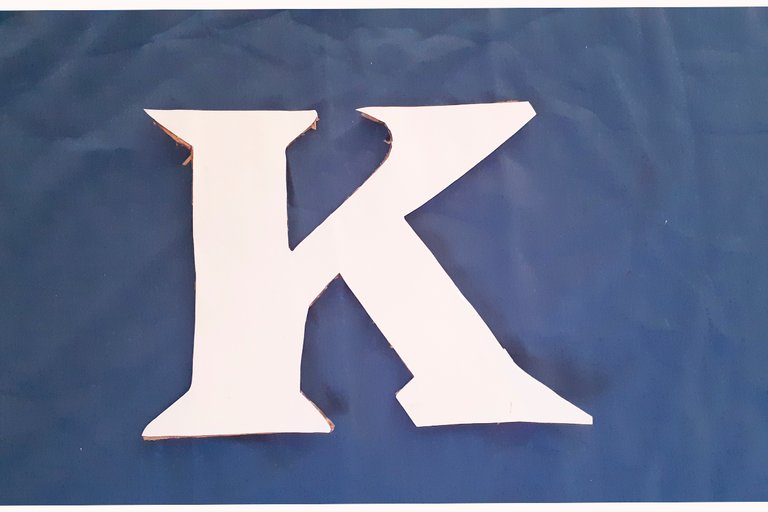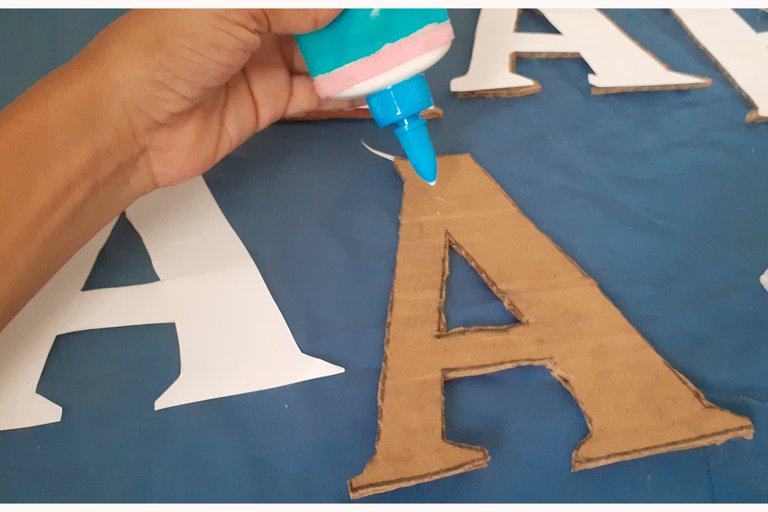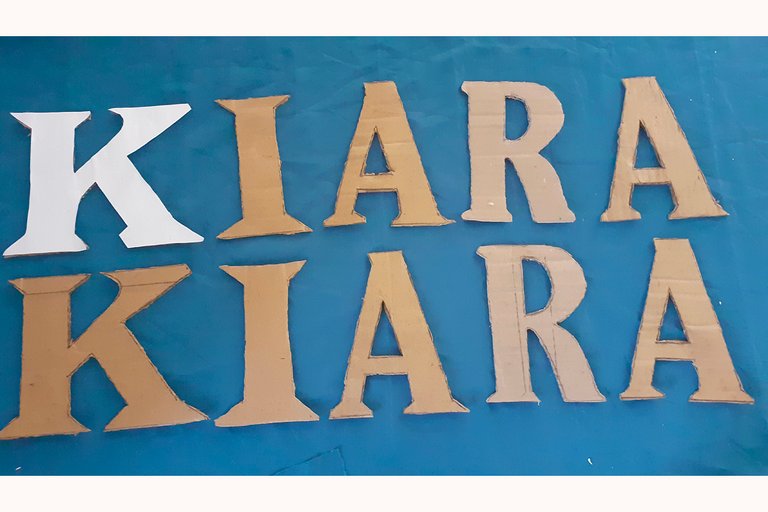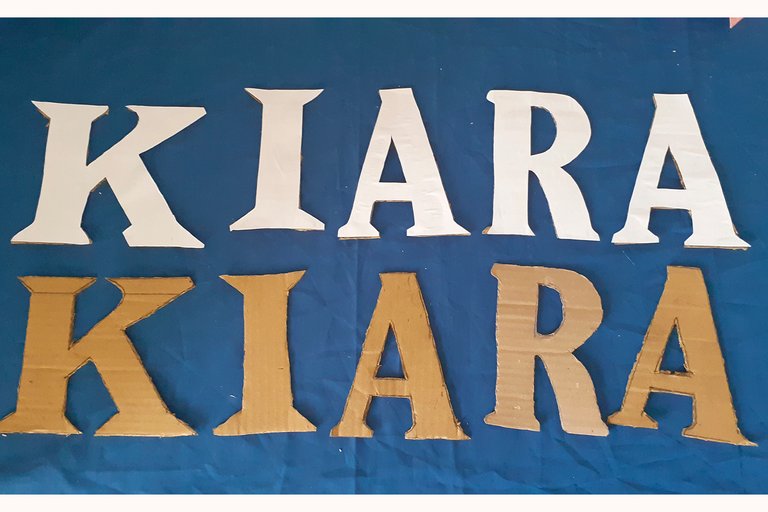 3: Para el siguiente paso vamos a necesitar anime; éste definirá la dimensión y el grosor de nuestras letras 3D. es por ello que con ayuda de una regla piquemos en trozos bastante uniformes.

3: For the next step we are going to need anime; this will define the dimension and thickness of our 3D letters. that is why with the help of a ruler we chop into fairly uniform pieces.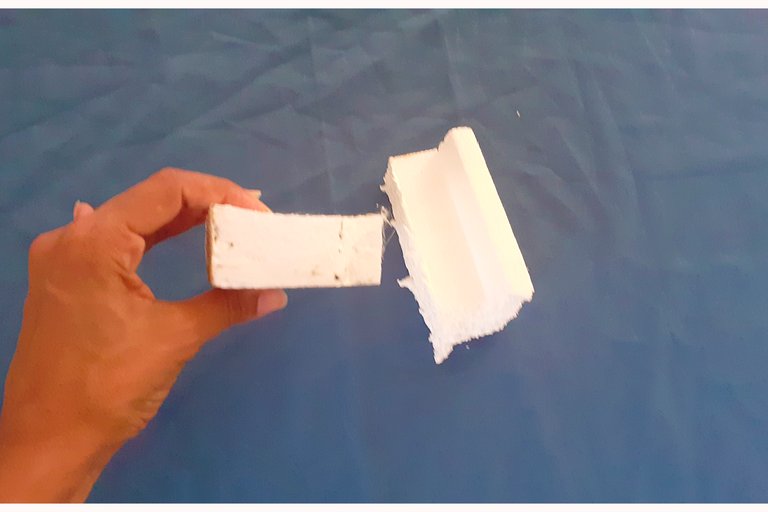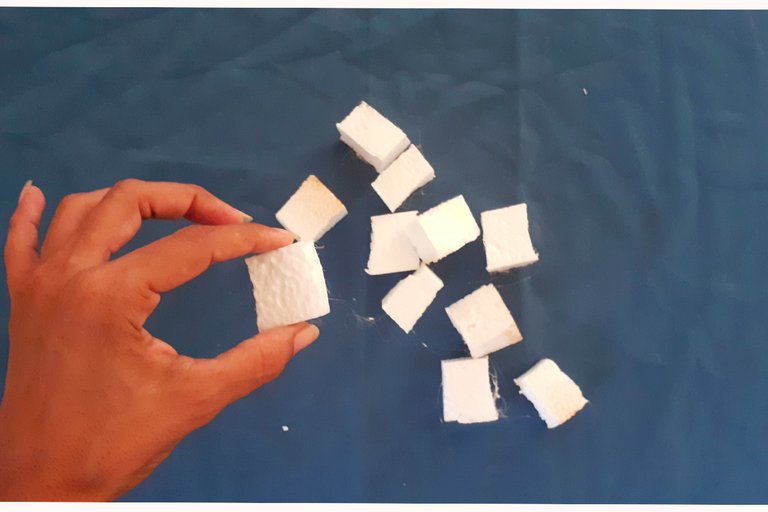 4: Cuando tengamos listos nuestros taquitos de anime los vamos a pegar estratégicamente sobre el cartón inferior de nuestra letra.

4: When we have our anime taquitos ready, we are going to stick them strategically on the lower cardboard of our letter.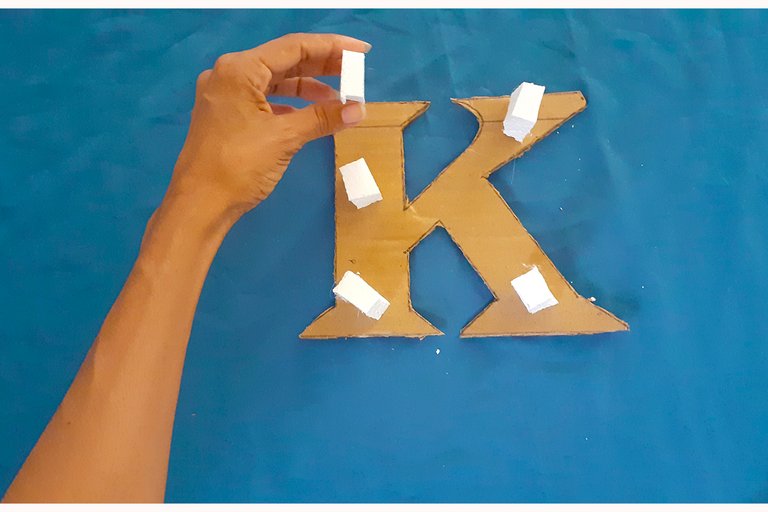 5: Luego de formar la base de taquitos de anime, colocamos la careta principal sobre la misma, sellando con silicón. Haremos el mismo proceso con todas las letras.

5: After forming the base of anime taquitos, we place the main mask on it, sealing it with silicone. We will do the same process with all the letters.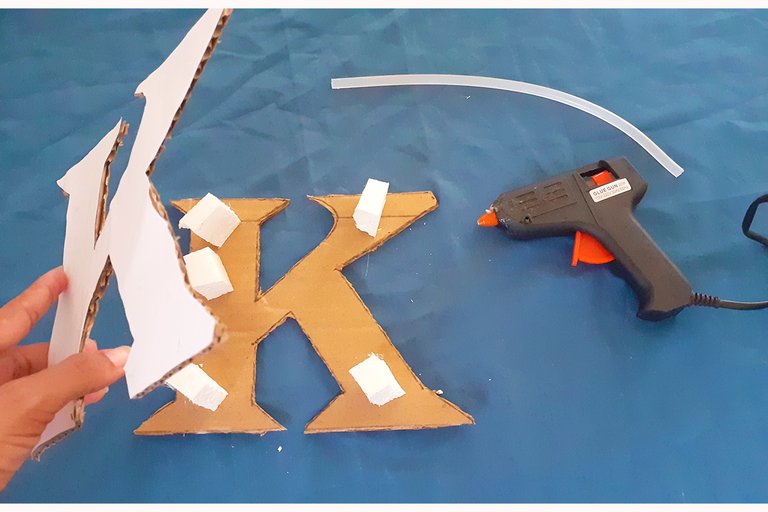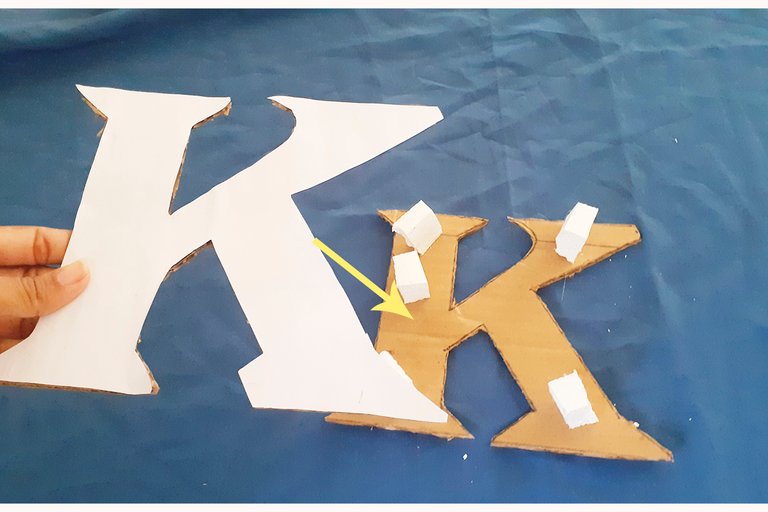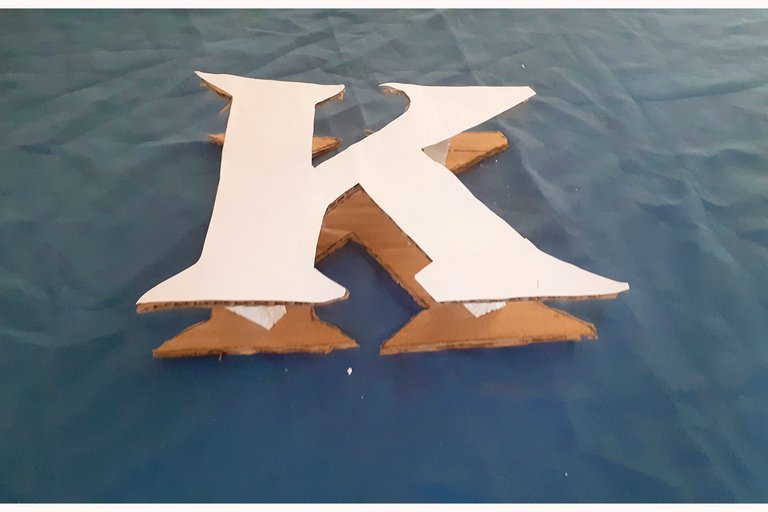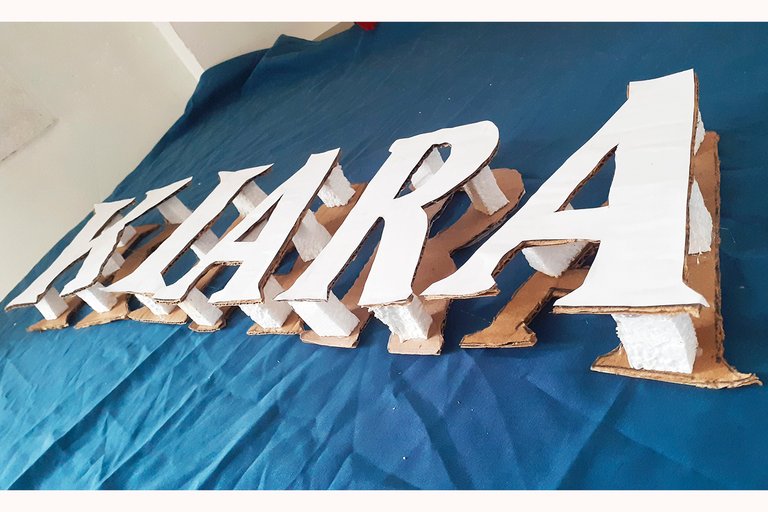 6: Para colocarle los bordes utilicé papel reciclable en tiras en la misma medida en la que estamos trabajando con el grosor de los animes, con ayuda del pegamento lo vamos sellando.

6: To place the edges I used recyclable paper in strips to the same extent that we are working with the thickness of the animes, with the help of the glue we are sealing it.
![](
)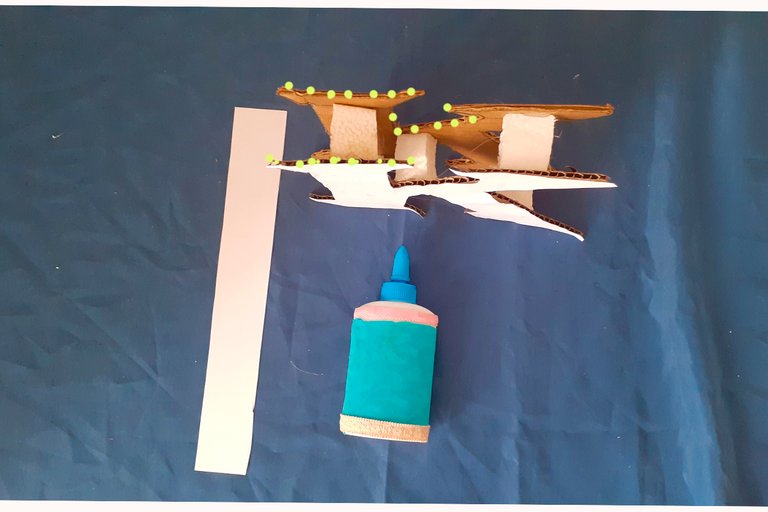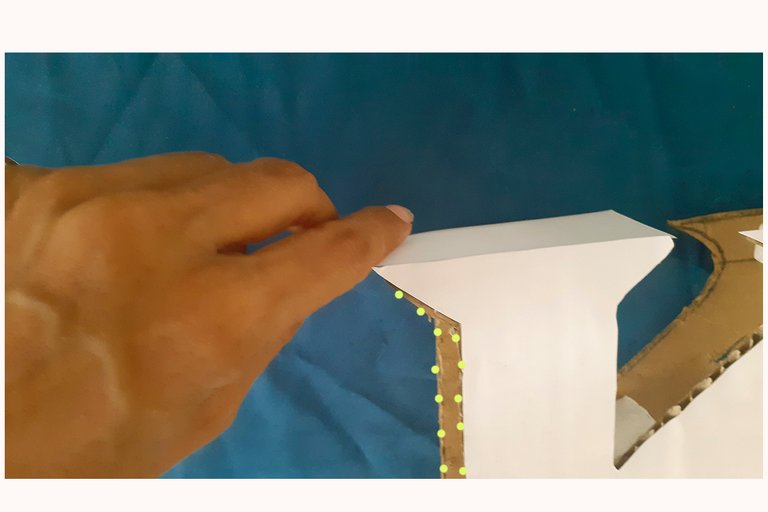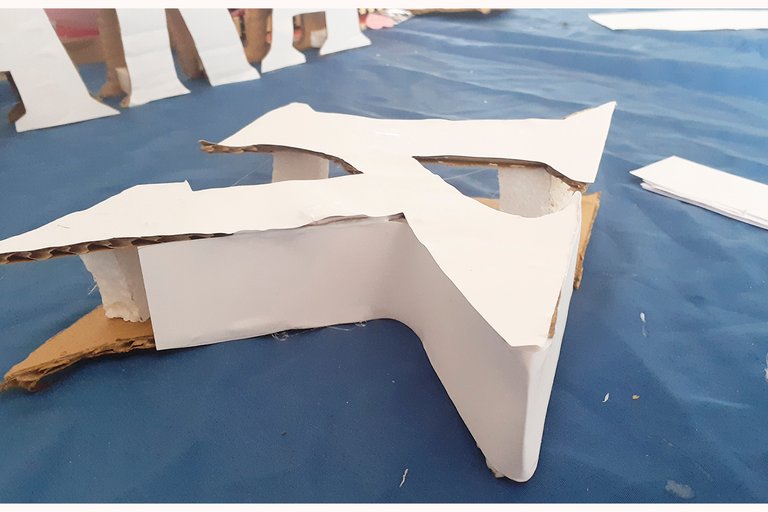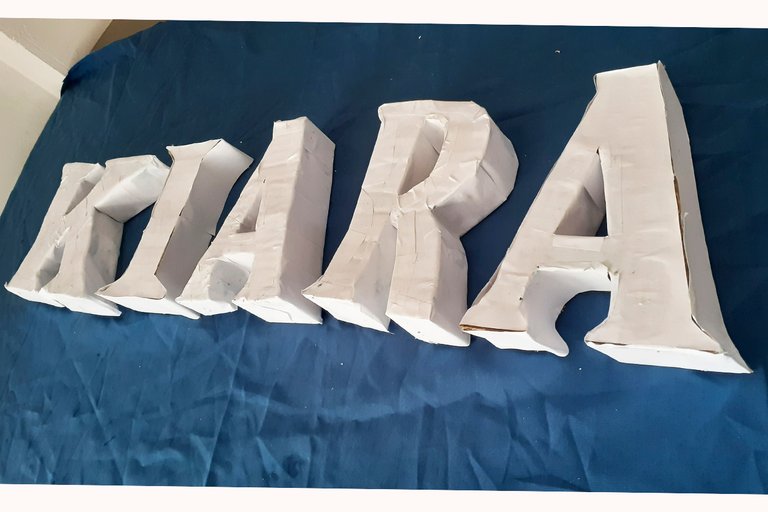 7: Para decorar la parte frontal y laterales de las letras utilicé el foami en forma de corazones rosa escarchado, y lo reutilicé también por la parte inversa para tener una textura rosa mate; lo que me permitió darle un efecto de contraste en la manualidad.

7: To decorate the front and sides of the letters I used the foami in the shape of frosty pink hearts, and I also reused it on the reverse side to have a matte pink texture; which allowed me to give it a contrast effect in the craft.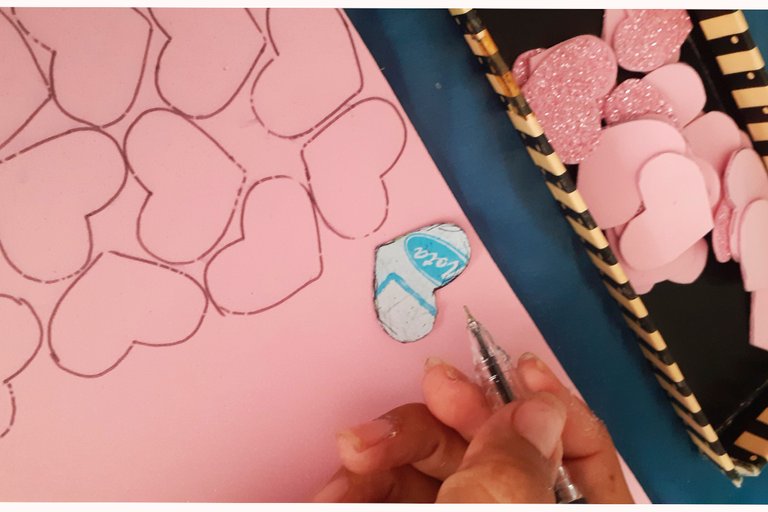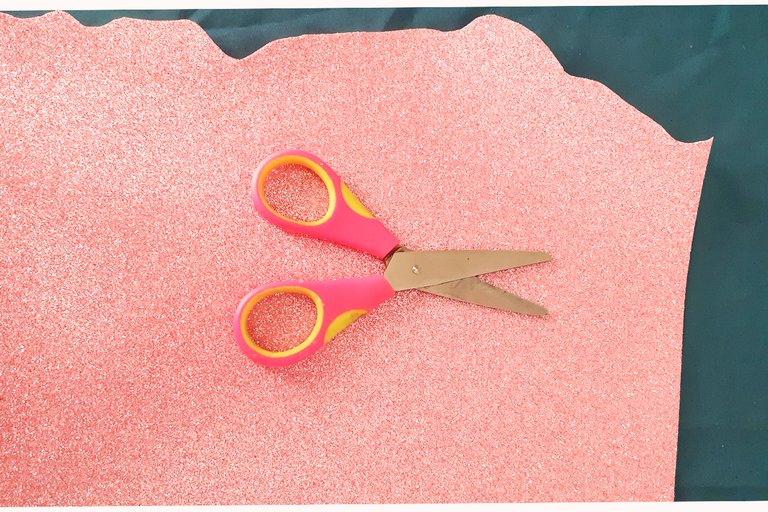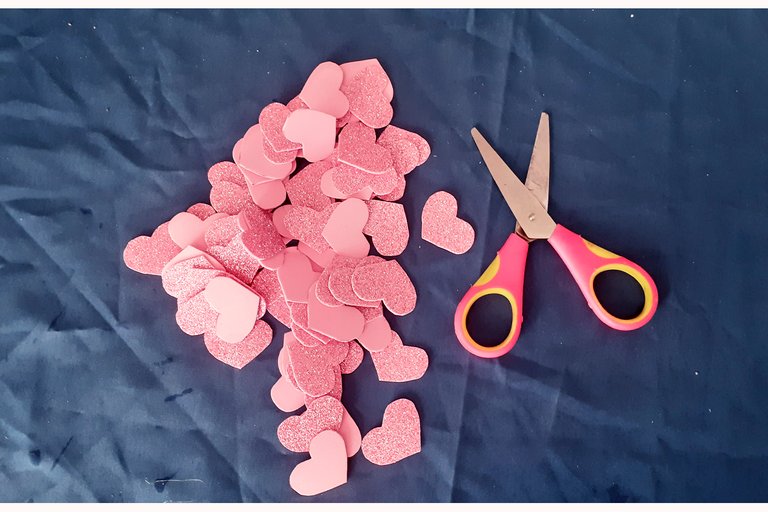 8: Antes de pegar en definitivo, debemos armar las posiciones de cada corazón, de manera que encaje armoniosamente en la figura de cada letra.

8: Before gluing definitively, we must assemble the positions of each heart, so that it fits harmoniously in the figure of each letter.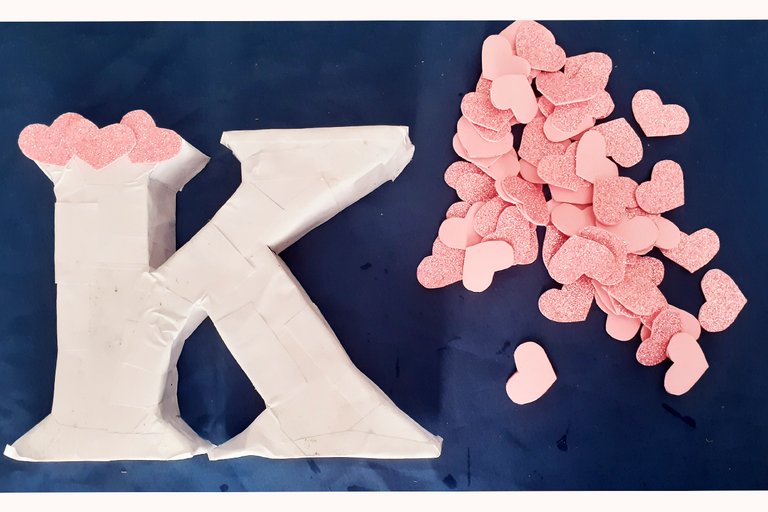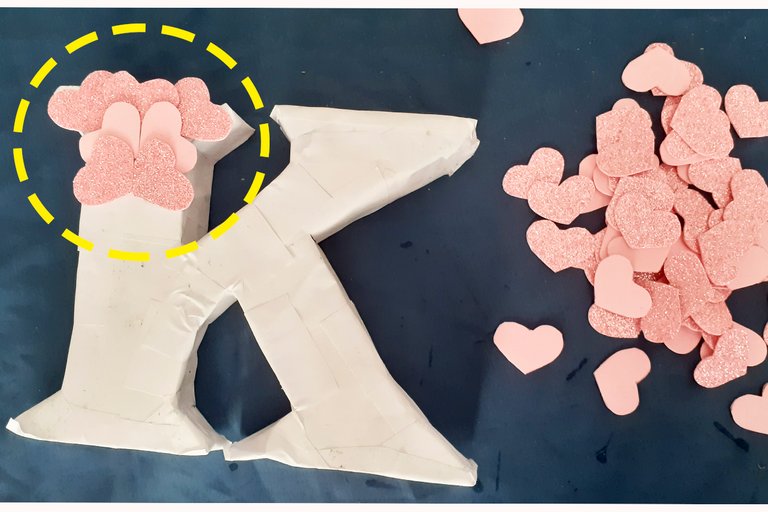 9: Pegamos con silicón y dejamos secar.

i9: Glue with silicone and let dry.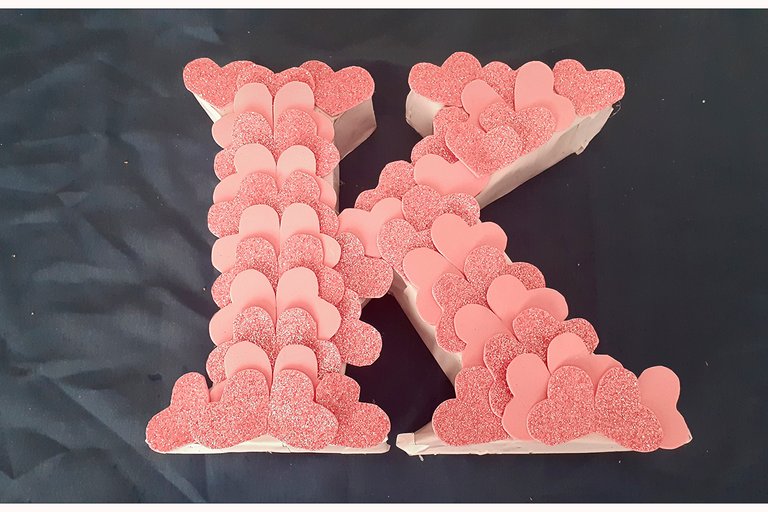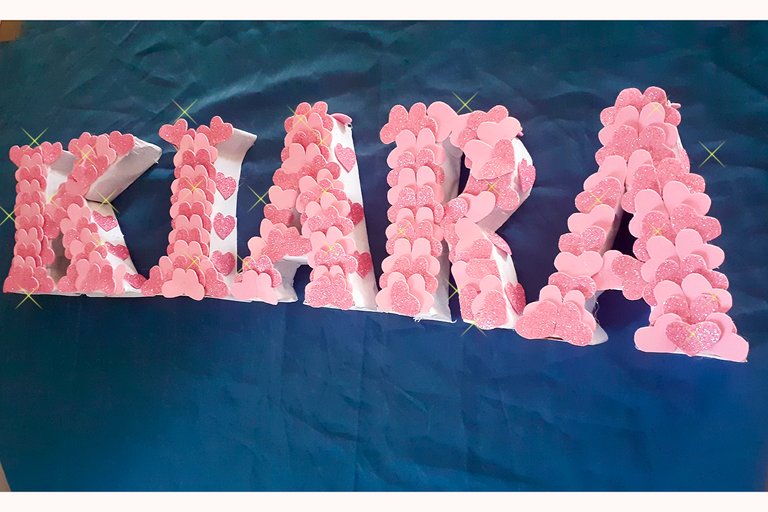 Hemos terminado cada letra con éxito, por lo que me toca agradecerles a todos ustedes por haber llegado hasta esta parte del post.

We have successfully finished each letter, so I have to thank all of you for having reached this part of the post.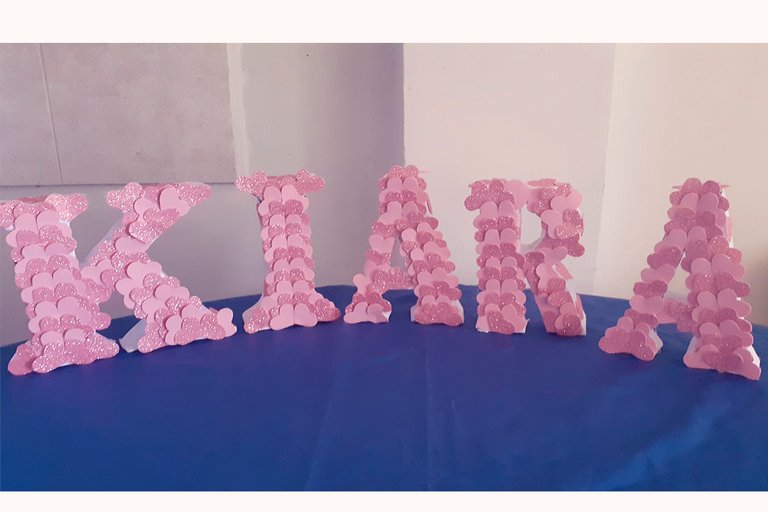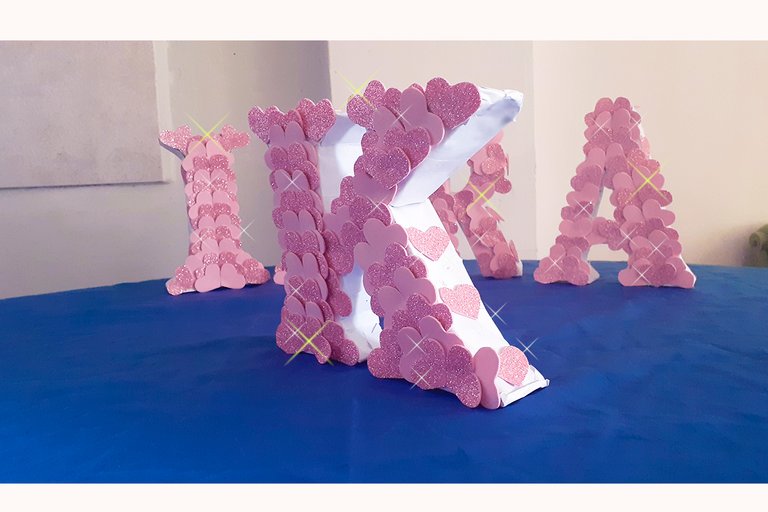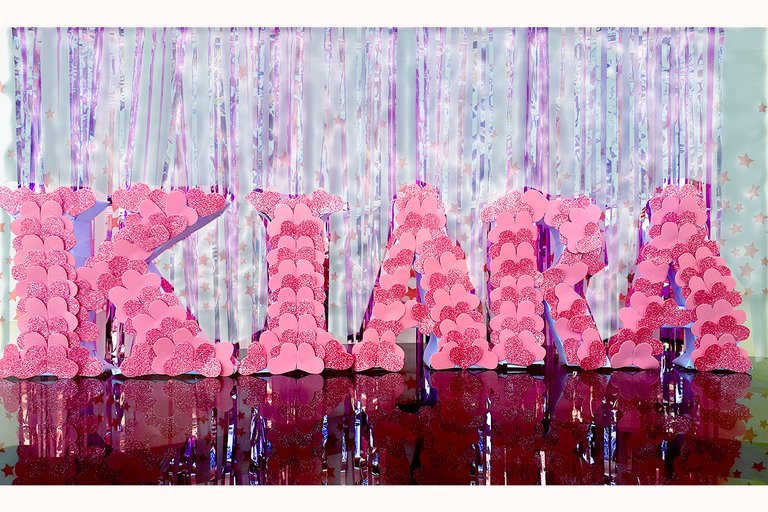 Nota: Podemos suplantar el anime por otro material que tengamos a mano como por ejemplo hacer bolitas con papel reciclable; yo elegí el anime por ser un material fácil de moldear y muy ligero.

Note: We can replace the anime with other material that we have on hand, such as making balls with recyclable paper; I chose anime because it is an easy material to mold and very light.

Esto ha sido todo por el día de hoy, espero les haya sido de su agrado, como siempre agradecida de formar parte de esta grandiosa comunidad que nos permite día a día dar lo mejor de nosotros mismos, personalmente he aprendido mucho de cada uno de ustedes quienes comparten sus grandiosas obras que de alguna manera nos ayudan a hacer la vida más práctica y al mismo tiempo promover el reciclar lo que nos garantiza una vida más larga y más saludable. ¡Se les quiere un montón, hasta un próximo post! Bendiciones.

This has been all for today, I hope you have liked it, as always grateful to be part of this great community that allows us to give the best of ourselves every day, personally I have learned a lot from each one of you who share their great works that somehow help us make life more practical and at the same time promote recycling, which guarantees us a longer and healthier life. They are loved a lot, until a next post! Blessings.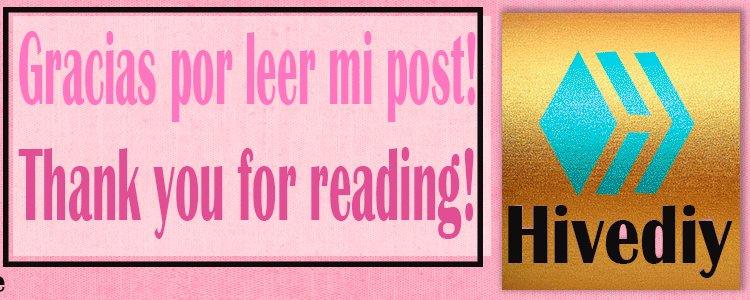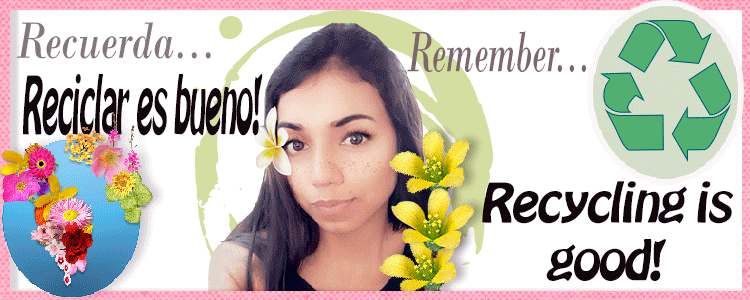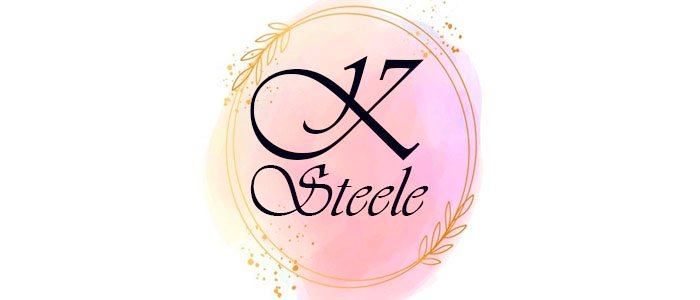 Fotografía por | Photography by: @kathysteele, Android A10.Edición por | Edition by: @kathysteele, Photoshop.Separador y stikers| Separator and stikers: autoria propia.Translated with www.traductorgoogle
---
---