Homemade baked pieces of chicken breast stuffed with Edam cheese and spinach, with potatoes and carrot salad / Pierś z kurczaka faszerowana serem żółtym i szpinakiem, z ziemniakami i surówką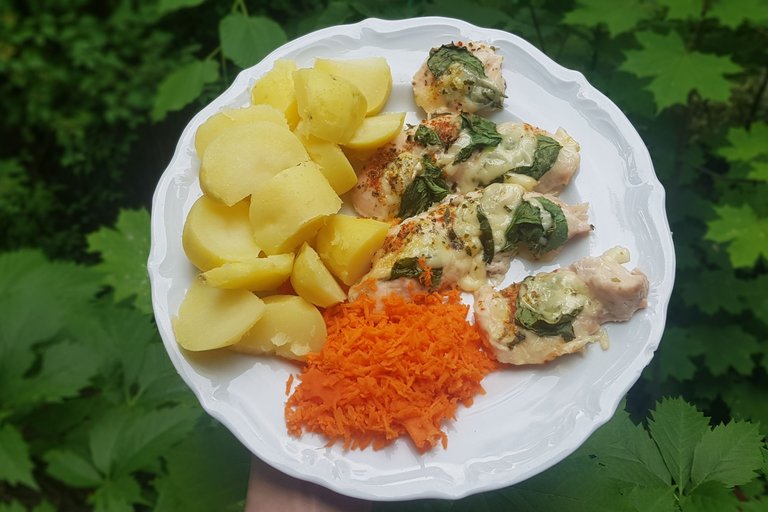 I usually fry breaded chicken breasts and make chops similar to pork chops. This time I decided to make a different dinner dish and baked a chicken breast stuffed with Edam cheese and spinach in the oven.
Zazwyczaj smażę piersi z kurczaka w panierce i robię z nich kotlety podobne do schabowych. Tym razem postanowiłam zrobić inne danie obiadowe i upiekłam piekarniku pierś z kurczaka faszerowaną serem Edam i szpinakiem.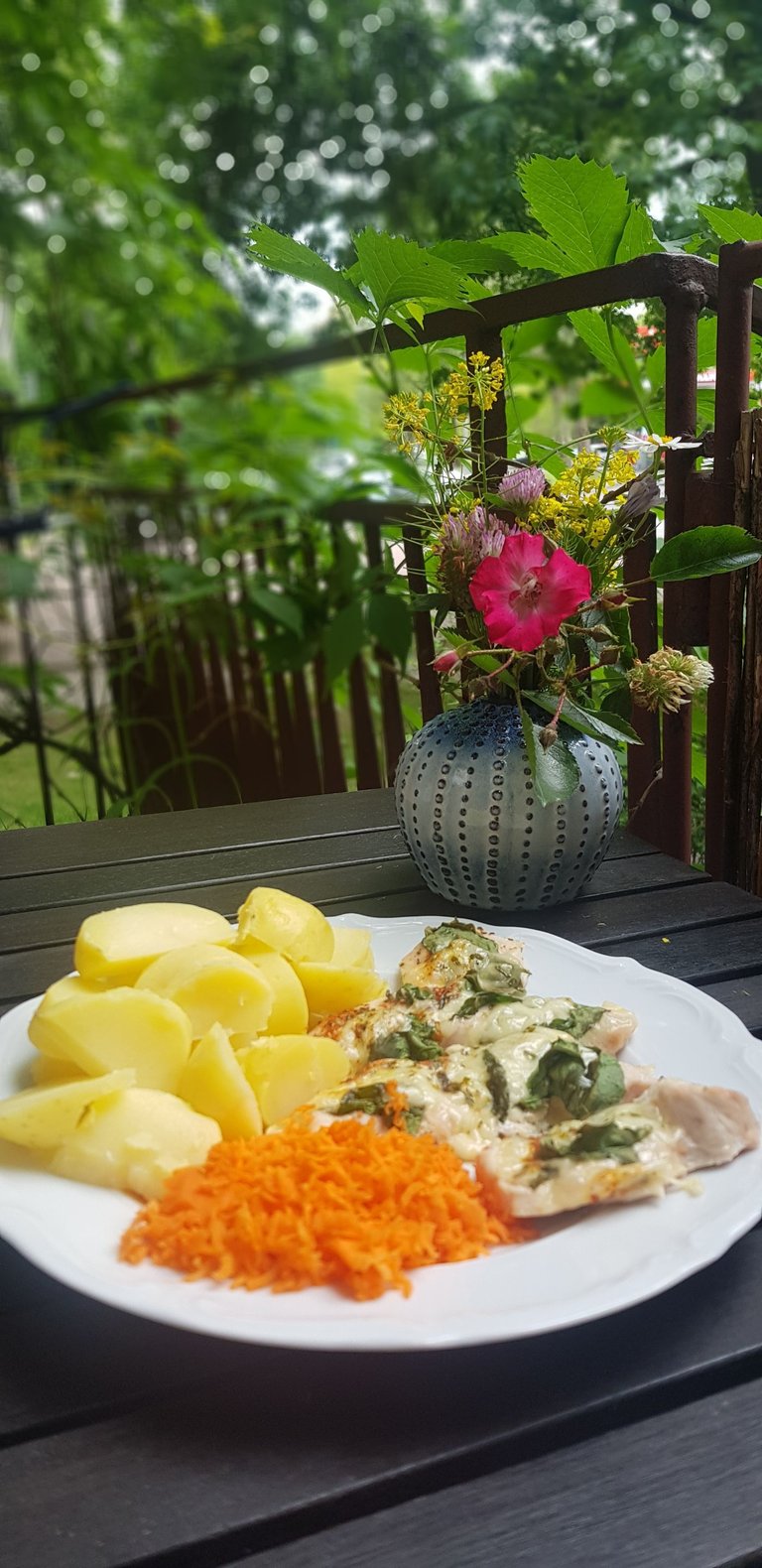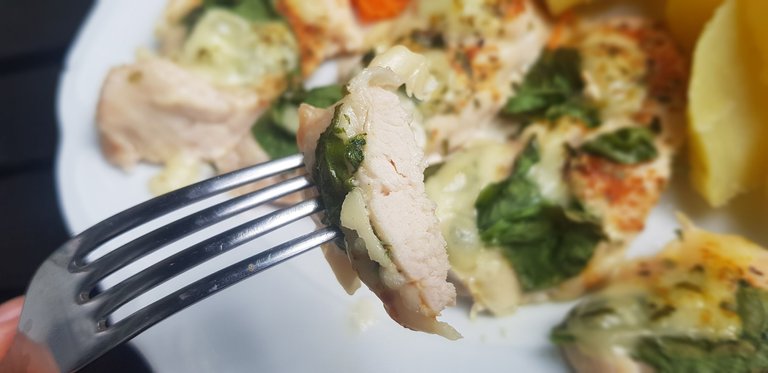 Ingredients:
chicken breast
Edam cheese
spinach
potatoes
carrot
spices: oregano, wild garlic
Składniki:
pierś z kurczaka
ser Edam
szpinak
ziemniaki
marchewka
przyprawy: oregano, czosnek niedźwiedzi
olej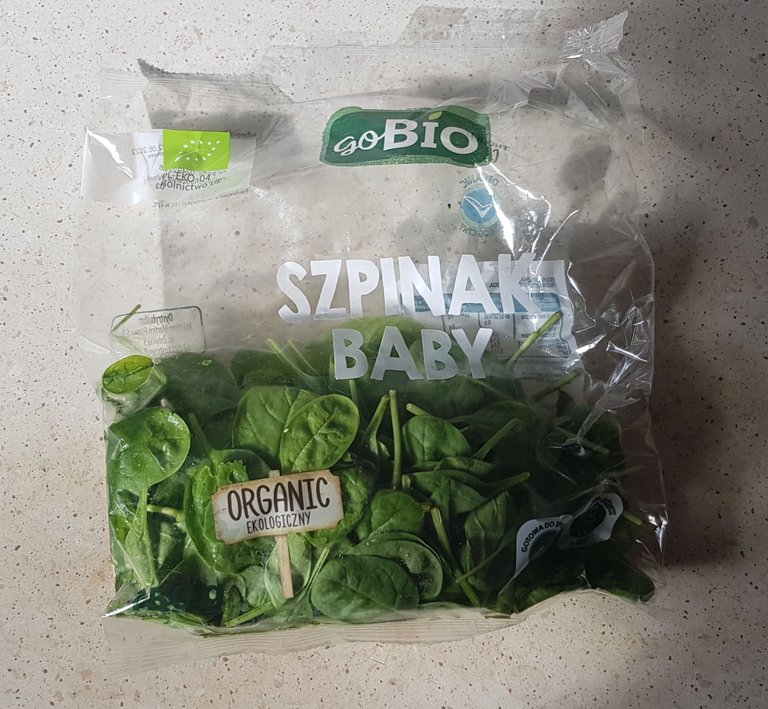 Cut the chicken breast into strips and stuff each stripe with cheese. It is inserted into the notches on the strips.
Pierś z kurczaka należy pociąć na paski i każdy z pasków faszerować serem żółtym. Wkłada się go w nacięcia na paskach.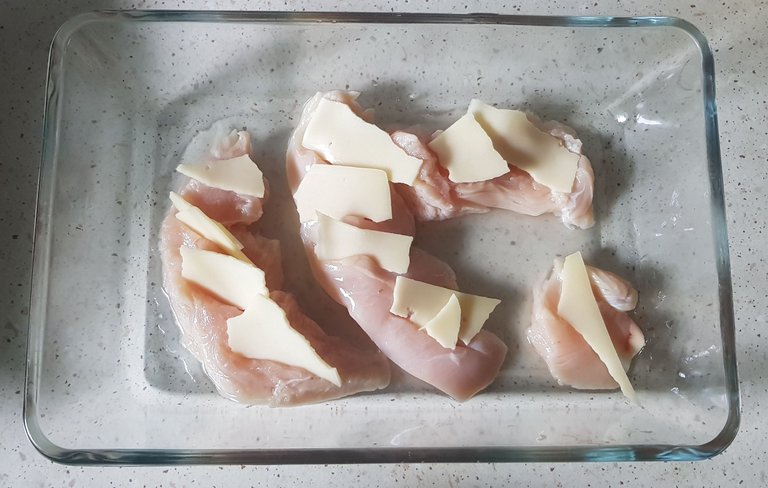 Then season the breasts. In addition to wild garlic and oregano, I sprinkled the pieces of breast with chicken seasoning.
Następnie przyprawiamy piersi. Oprócz czosnku niedźwiedziego i oregano posypałam kawałki piersi przyprawą do kurczaka.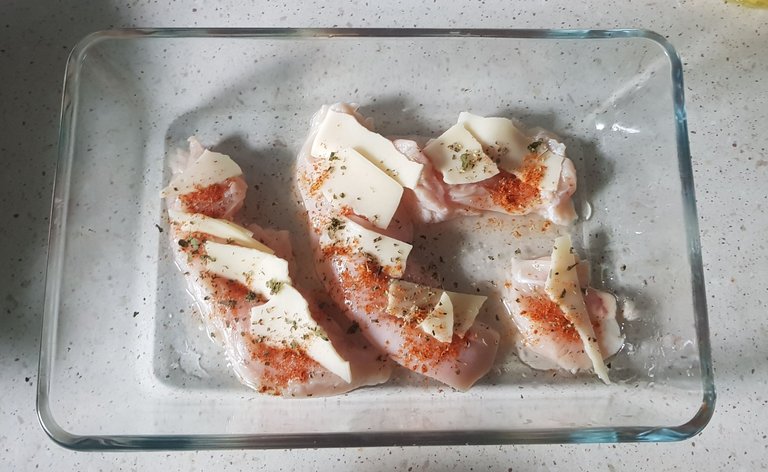 Finally, add the spinach. We put it in the same cuts on the chicken strips where we previously put pieces of Edam cheese.
Na końcu dodajemy szpinak. Wkładamy go w te same nacięcia na paskach kurczaka, w które wcześniej włożyliśmy kawałki sera żółtego.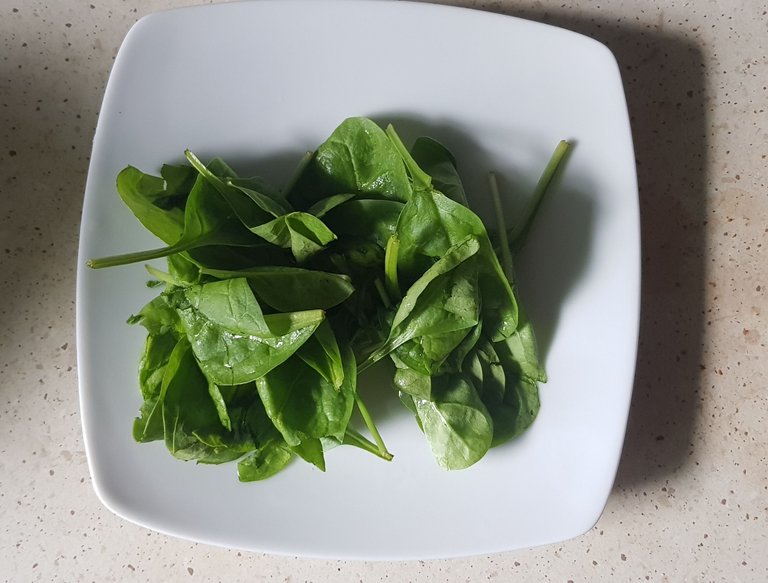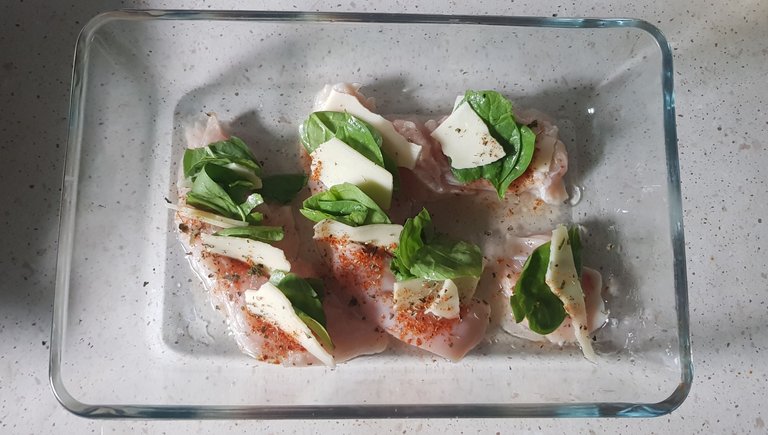 Then bake the chicken for 20-30 minutes in an oven preheated to 190 degrees.
Następnie pieczemy kurczaka przez 20-30 minut w piekarniku rozgrzanym do 190 stopni.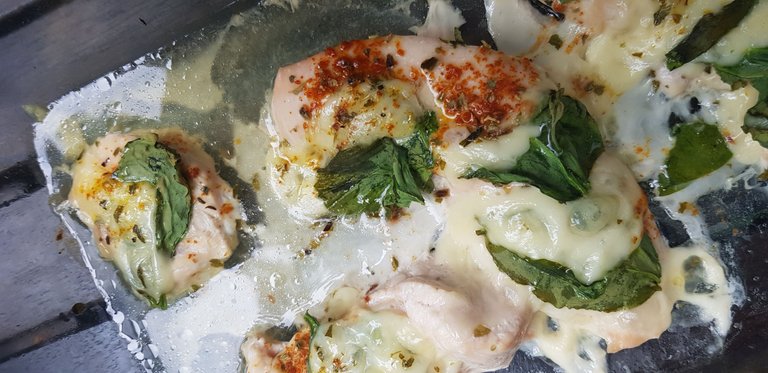 The potatoes cooked at the perfect moment. About the time I was taking the baked stuffed chicken pieces out of the oven.
Ziemniaki ugotowały się w idealnym momencie. Mniej więcej wtedy, gdy wyjmowałam z piekarnika upieczone faszerowane kawałki kurczaka.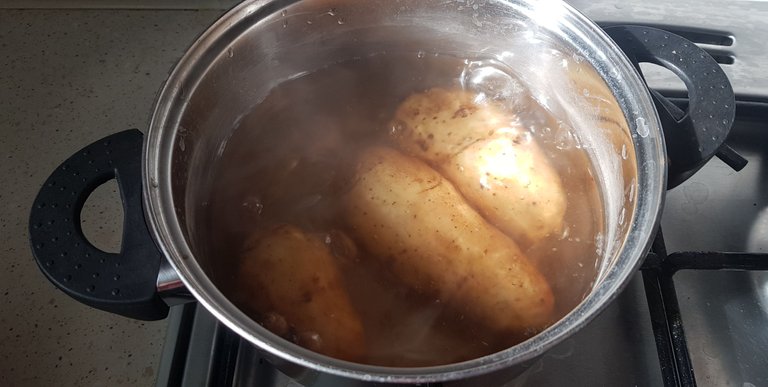 It's worth experimenting in the kitchen. The stuffed chicken tasted amazing and was a nice addition to my kitchen. The taste was as good as fried chicken cutlets, and it was definitely less fat.
Warto eksperymentować w kuchni. Faszerowany kurczak smakował niesamowicie i stanowił fajne urozmaicenie w mojej kuchni. W smaku niczym nie ustępował smażonym kotletom z kurczaka, a był zdecydowanie mniej tłusty.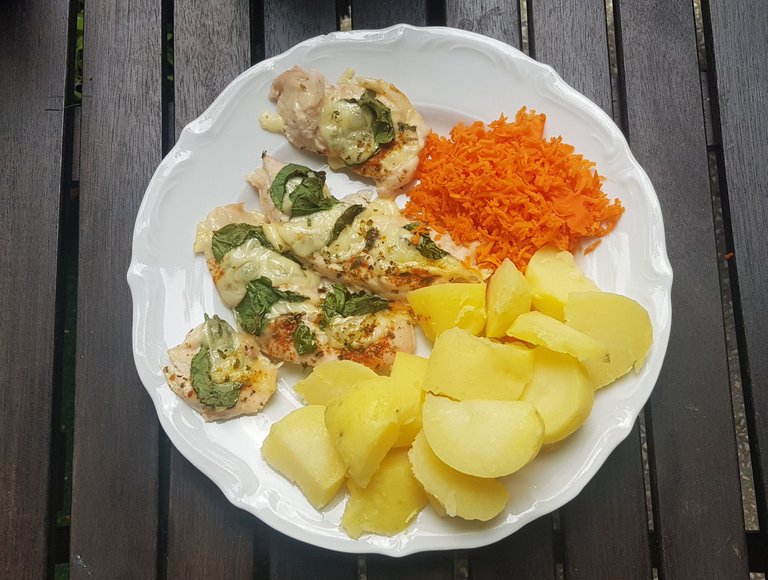 The Edam cheese melted and stretched out nicely. The spinach added an interesting flavor. It turned out to be a great, nutritious dish.
Żółty ser roztopił się pod wpływem temperatury i fajnie się ciągnął. Szpinak dodawał ciekawego aromatu. Wyszło mi świetne, pożywne danie.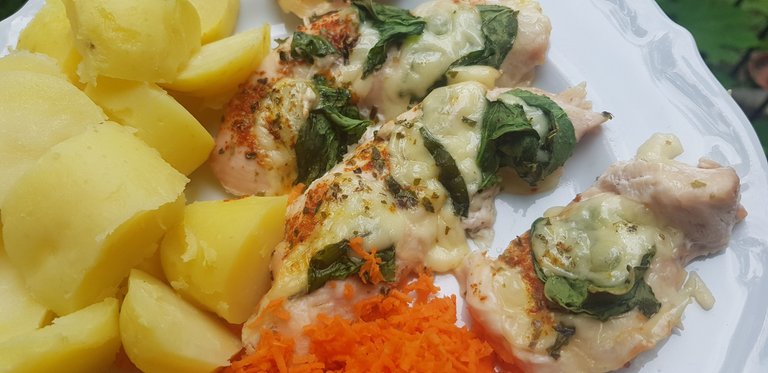 ---
---