Quinoa with zucchini, tomatoes, onions, pistachios, avocado and Grana padano cheese / Kasza quinoa z warzywami i serem Grana padano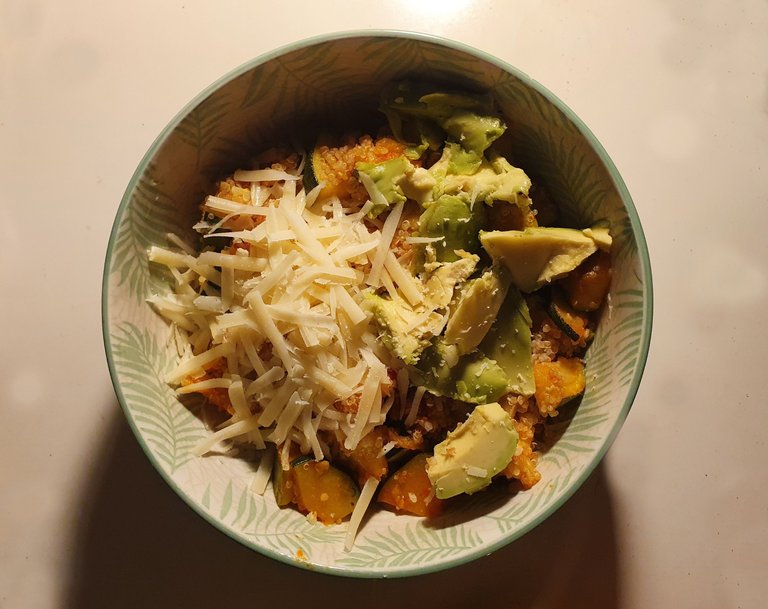 It's been a long time since I made my favorite vegetarian dish with quinoa and vegetables and cheese (it could be Gouda, Edam, or Parmesan or Grana Padano). With vegetables, the base for this dish is zucchini and tomatoes. Sometimes I also added carrots, and now I have used two types of tomatoes - red and orange. Recently, I really liked the orange variety of tomatoes - they are sweeter and have an interesting taste. I also diversified this dish with nuts - pistachios.
Dawno nie robiłam mojego ulubionego wegetariańskiego dania z kaszą quinoa i warzywami oraz serem (może być Gouda, Edam, albo parmezan lub Grana Padano). Z warzyw bazą dla tego dania jest cukinia i pomidory. Czasami dodawałam też marchewkę, a teraz użyłam dwóch rodzajów pomidorów -czerwonych i pomarańczowych. Ostatnio bardzo polubiłam pomarańczową odmianę pomidorów - są słodsze i mają ciekawy smak. Urozmaiciłam to danie również orzechami - pistacjami.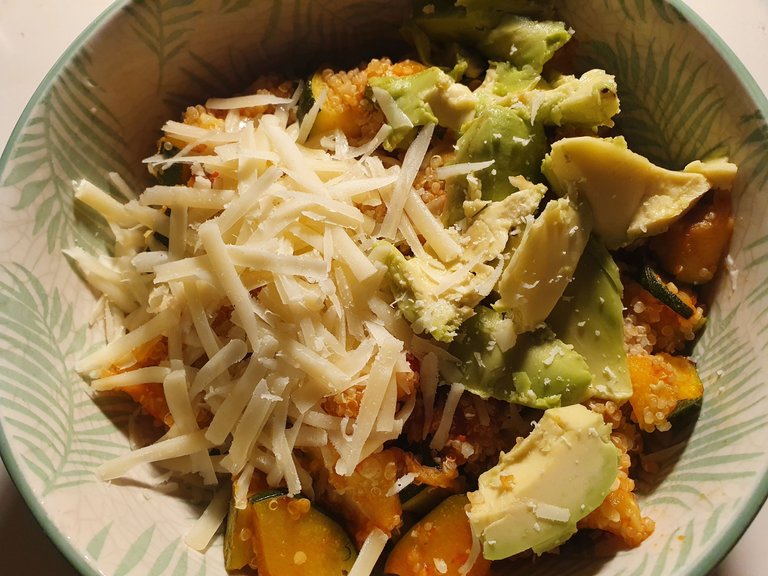 The quinoa have a very nice, slightly nutty flavor and is my favorite grits, and it's also very healthy.
Kasza quinoa ma bardzo fajny, nieco orzechowy smak i jest moją ulubioną kaszą, a poza tym jest bardzo zdrowa.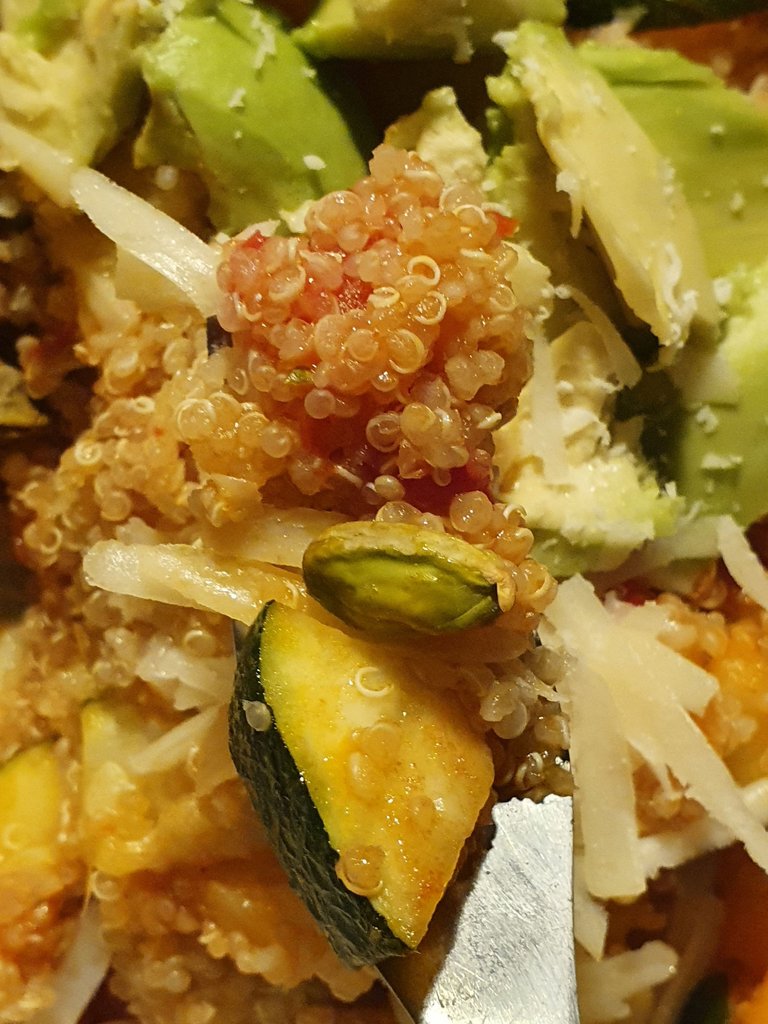 Ingredients:
quinoa groats
Grana Padano cheese
zucchini
red tomatoes
orange tomatoes
onion
avocado
pistachios
spices: cumin, oregano and turmeric
Składniki:
kasza quinoa
ser Grana Padano
cukinia
pomidory czerwone
pomidory pomarańczowe
cebula
awokado
pistacje
przyprawy: kmin rzymski, oregano i kurkuma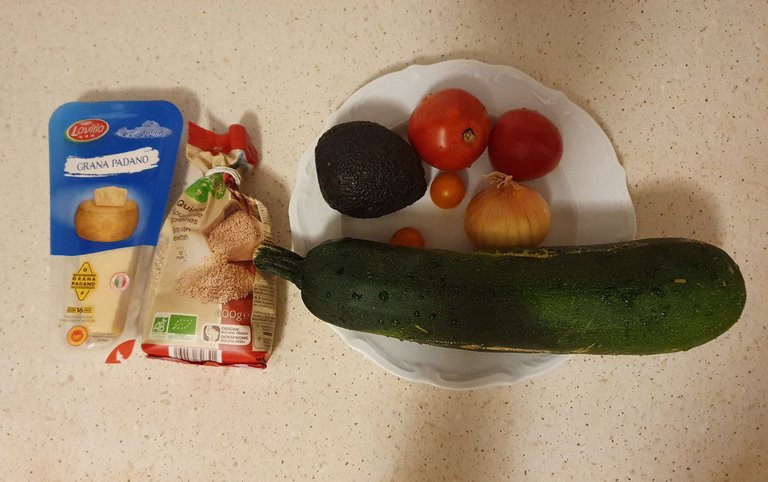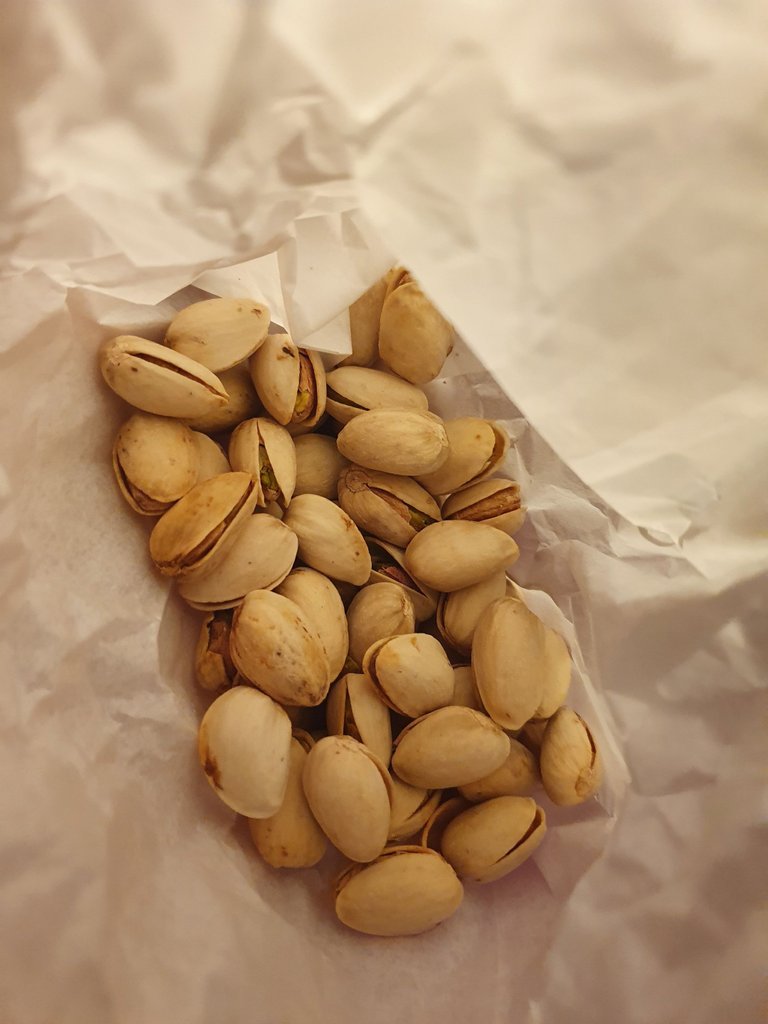 First, I fry the zucchini cut into pieces in olive oil and the onion cut into slices.
Najpierw podsmażyłam na oliwie z oliwek cukinię pokrojoną na kawałki i cebulę pokrojoną w piórka.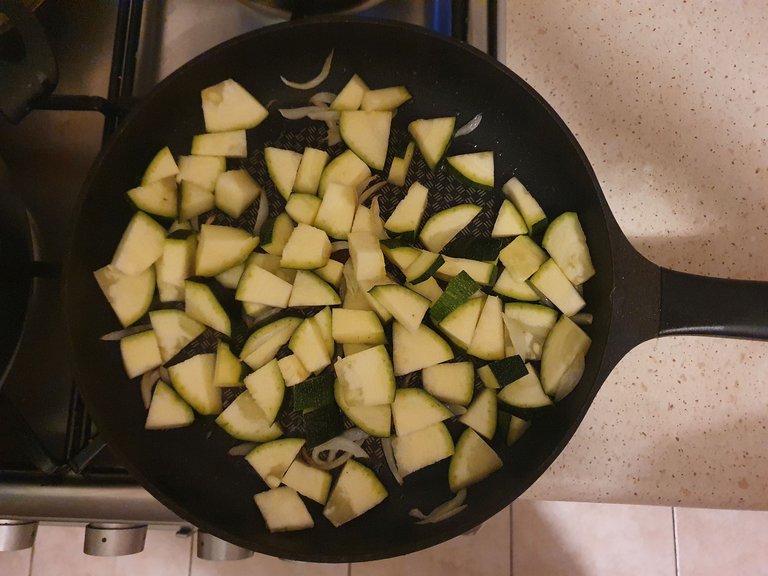 Then I added the peeled and chopped tomatoes.
Następnie dodałam obrane ze skórki i pokrojone na kawałki pomidory.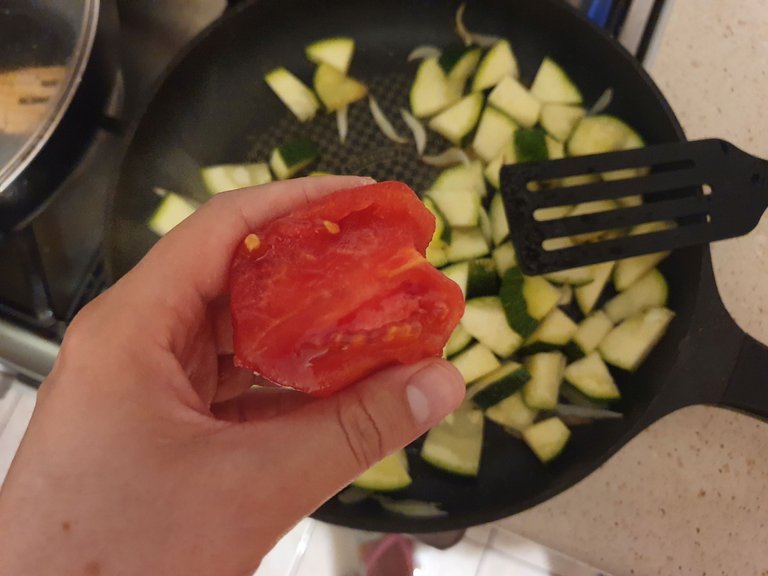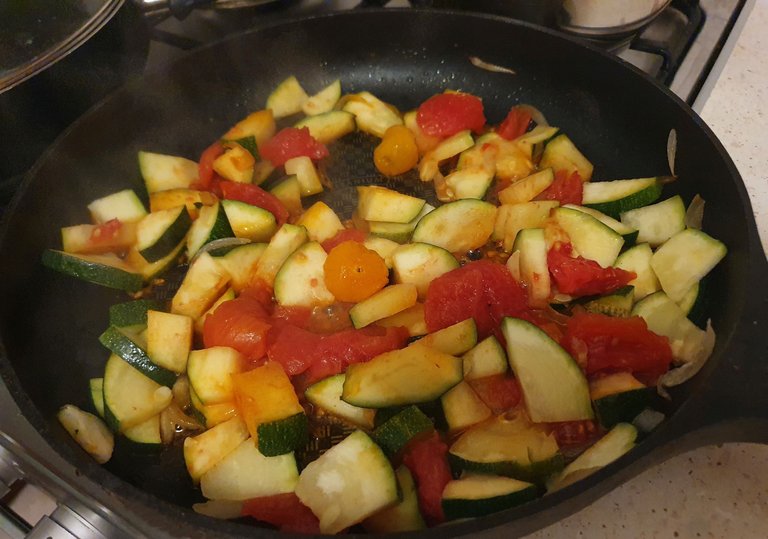 It turned colorful in the pan and the pleasant vegetable smells spread through the kitchen. When the vegetables were fried a little, I added spices: oregano, cumin and turmeric. Meanwhile, I was cooking quinoa in a pot.
Na patelni zrobiło się kolorowo, a po kuchni zaczęły się roznosić przyjemne warzywne zapachy. Gdy warzywa się trochę podsmażyły dodałam przyprawy: oregano, kmin rzymski i kurkumę. W międzyczasie gotowałam w garnku kaszę quinoa.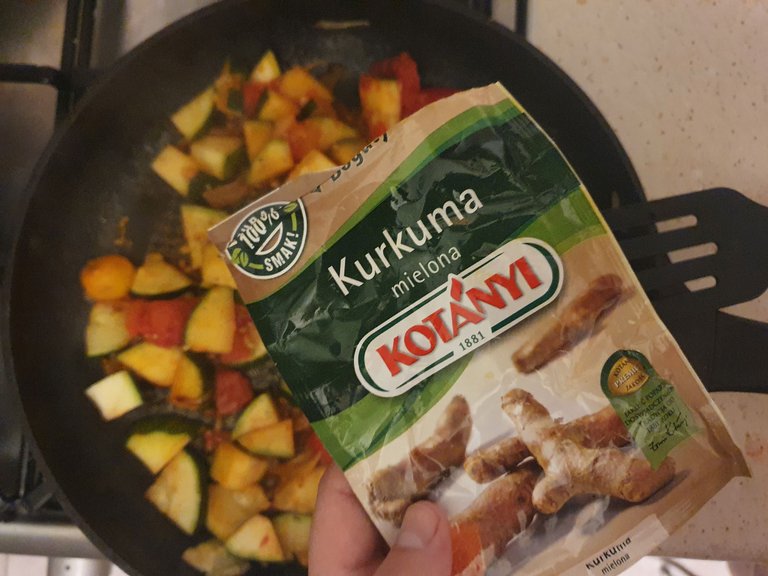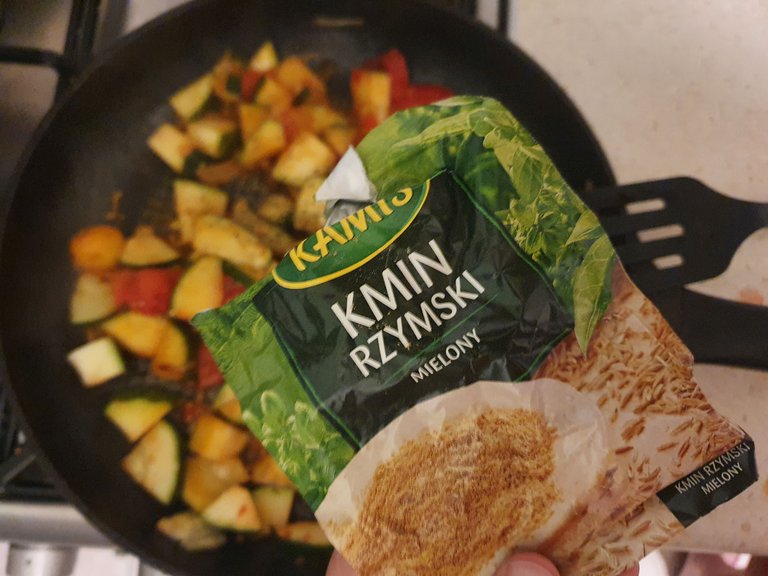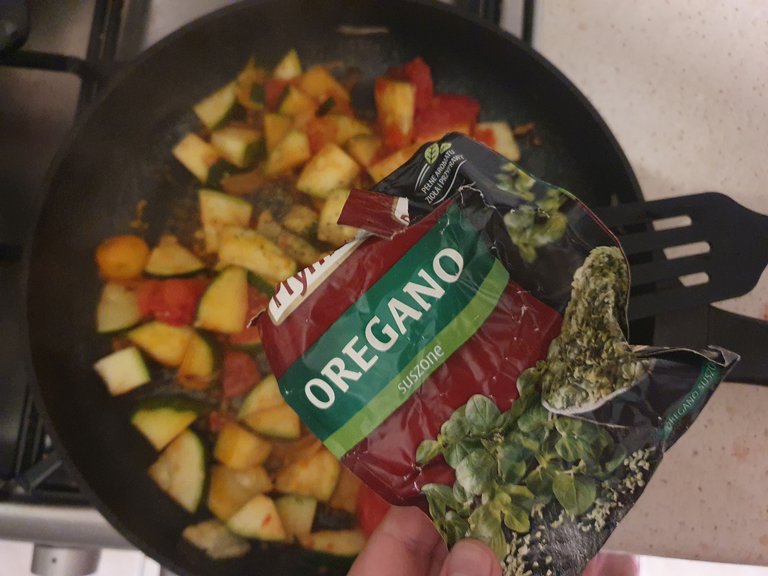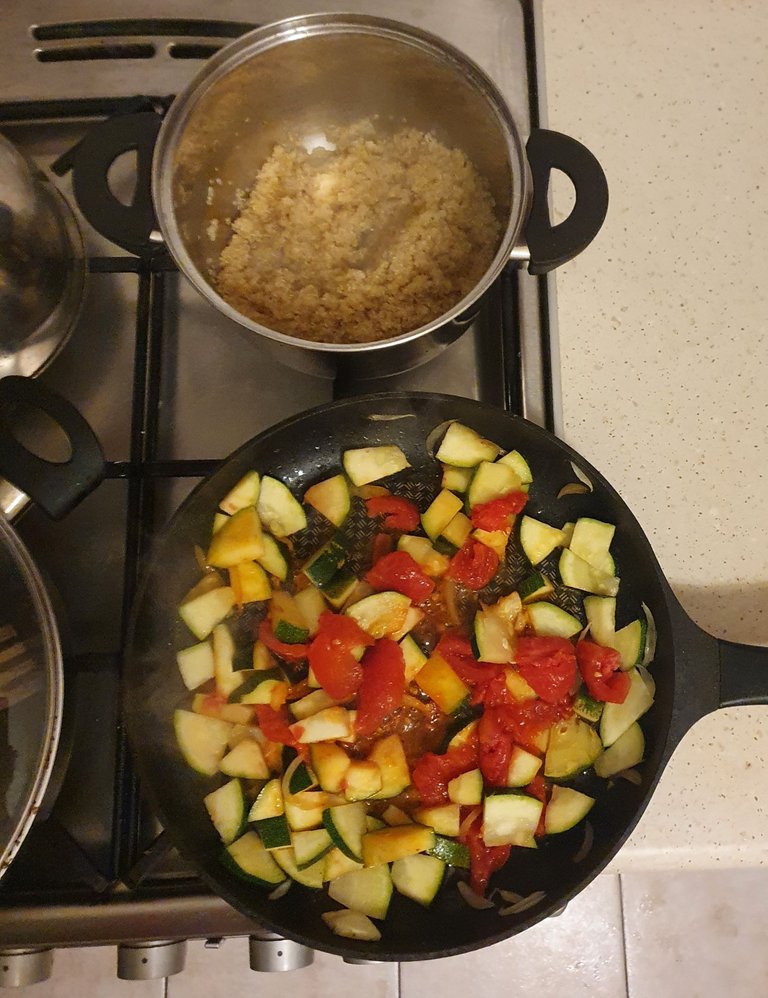 Finally, I added the cooked quinoa to the vegetables, mixed them together and sautéed together for a while more.
Na koniec dodałam ugotowaną kaszę quinoa do warzyw, wymieszałam je ze sobą i podsmażyłam razem jeszcze przez chwilę.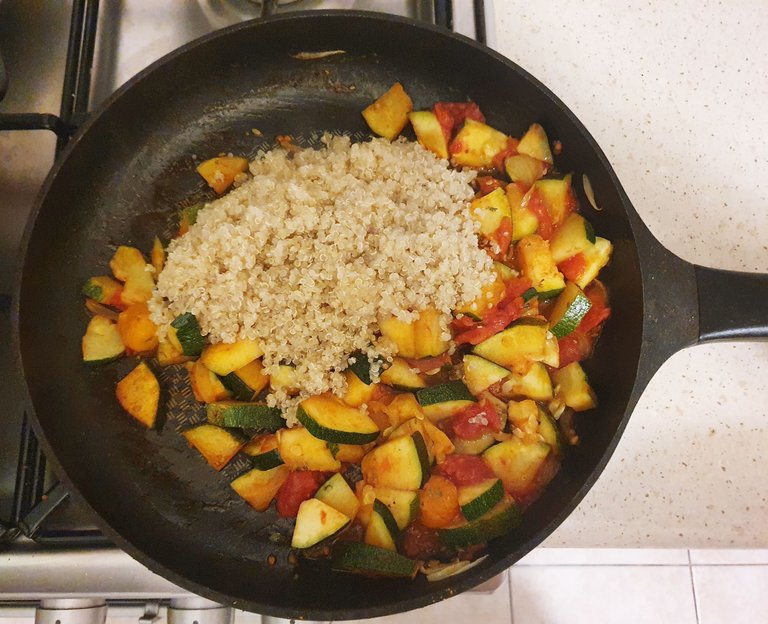 Then I added sliced avocado and a handful of pistachios to the dish and sprinkled it with grated Grana Padano cheese. The dish quickly disappeared from the plate, it tasted delicious 😋
Następnie dodałam do potrawy pokrojone na kawałki awokado i garść pistacji oraz posypałam ją startym na tarce serem Grana Padano. Danie szybko zniknęło z talerza, pysznie smakowało 😋
---
---