Traditional natural Italian ice cream with mango and cream flavor from Magia d'italia Gelati Caffe / Tradycyjne naturalne lody włoskie z Magia d'italia Gelati Caffe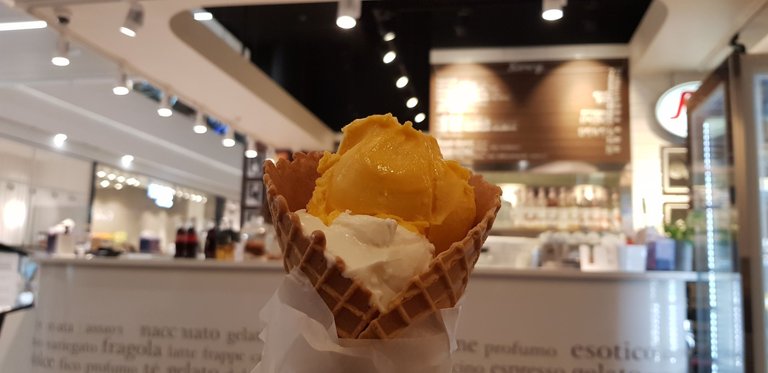 Maybe we'll have some ice cream? My mother suggested when we met a few days ago. I don't eat them very often in the fall, but why not? It was warm in the shopping mall where we went shopping and I remembered that there is a nice Italian cafe with ice cream - Magia d'italia Gelati Caffe. It is natural ice cream, made according to a traditional recipe, and we have a choice of 24 flavors. Not only fruit, but for example halva, bounty, cookies, roasted almonds or walnuts with figs.
Może pójdziemy na lody? Zaproponowała moja mama, gdy spotkałyśmy się kilka dni temu. Jesienią nie jem ich za często, ale w w sumie, czemu nie? W galerii handlowej, do której wybrałyśmy się na zakupy było ciepło i pamiętałam, że znajduje się tu fajna włoska kafejka z lodami - Magia d'italia Gelati Caffe. Są to lody naturalne, robione według tradycyjnej receptury, a do wyboru mamy 24 smaki. Nie tylko owocowe, ale np. lody o smaku chałwy, bounty, ciasteczek, prażonych migdałów, czy orzechów włoskich z figami.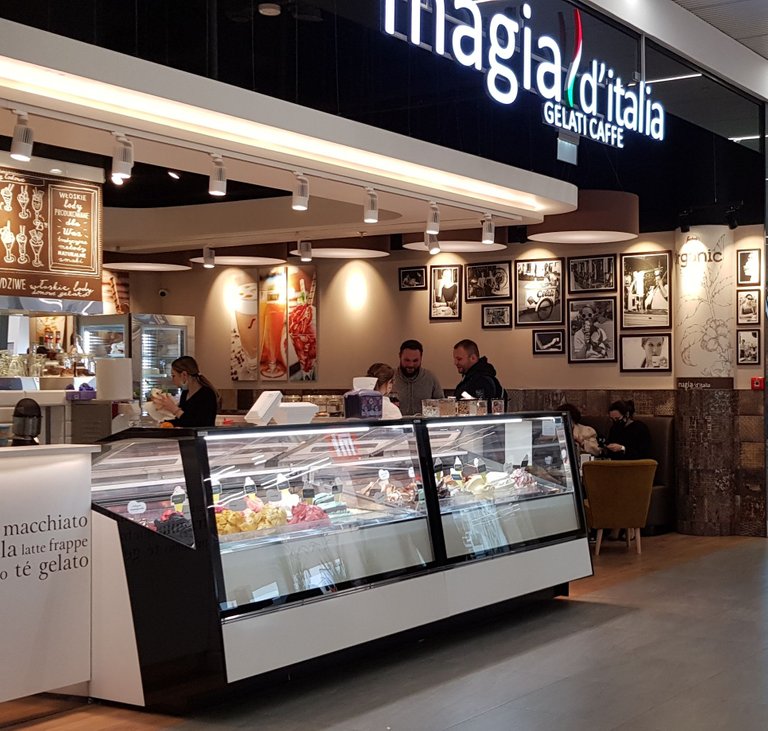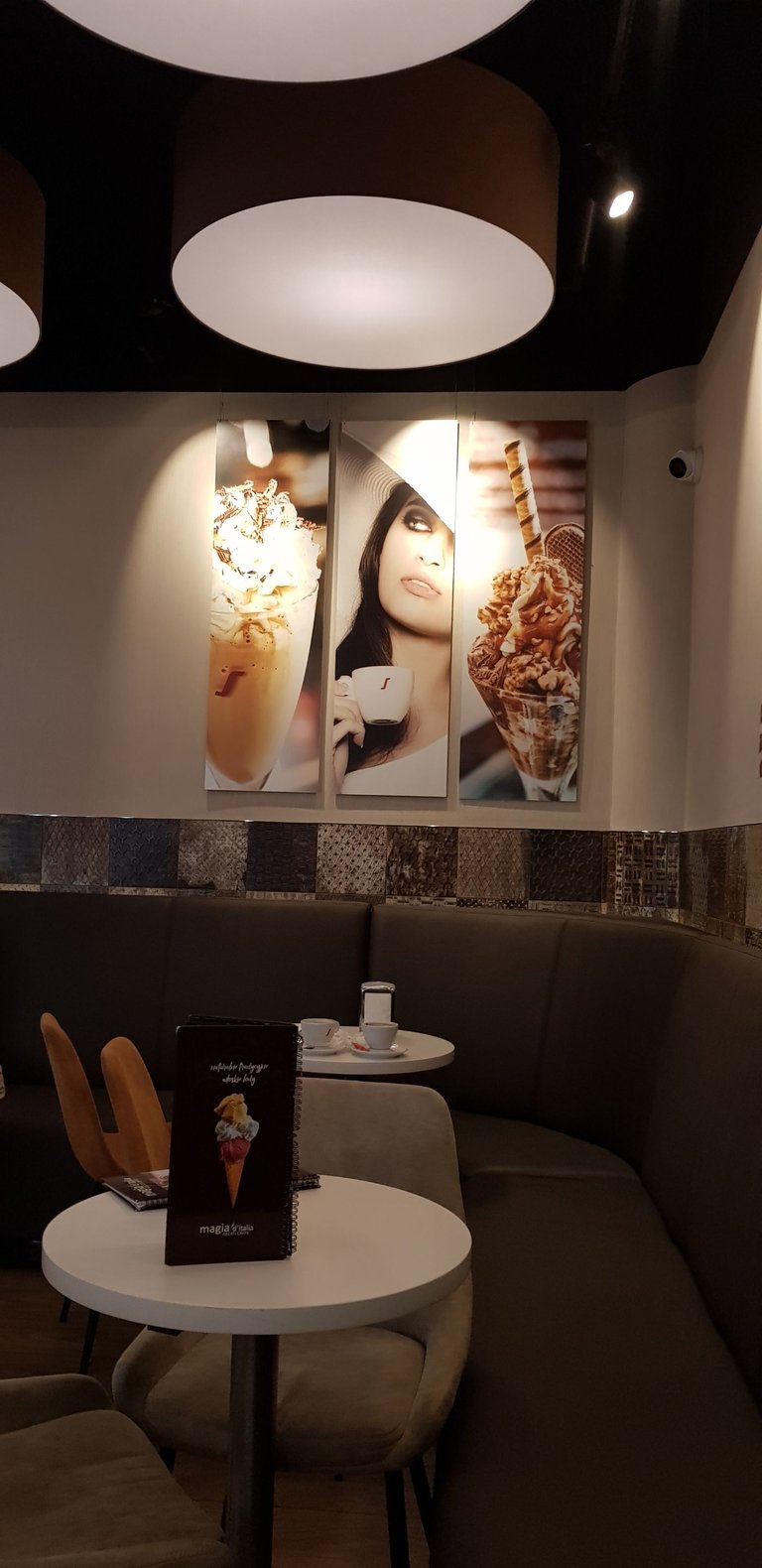 The interior of the cafe is very cozy. On the walls there are many black and white photos of Italian cafes of this type and of people eating ice cream or drinking coffee. In addition, you can feel the pleasant aromas of coffee and ice cream. The fragrances combine to create an interesting blend.
Wnętrze zostało urządzone bardzo przytulnie. Na ścianach zawieszono dużo czarno-białych zdjęć z włoskimi kawiarniami tego typu oraz z ludźmi jedzącymi lody lub pijącymi kawę. Do tego czuć przyjemne aromaty kawy i lodów. Zapachy łączą się się sobą tworząc ciekawą mieszankę.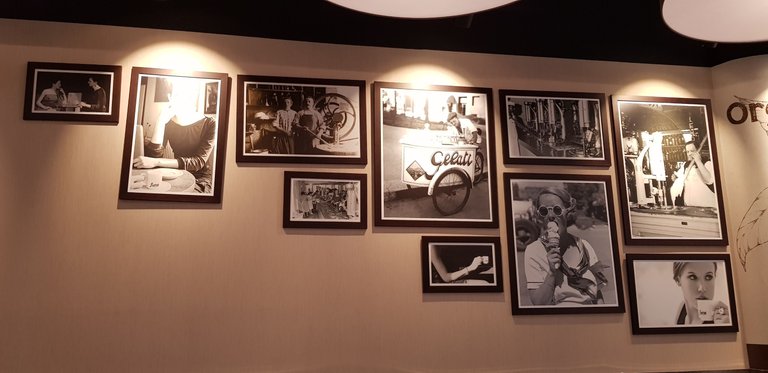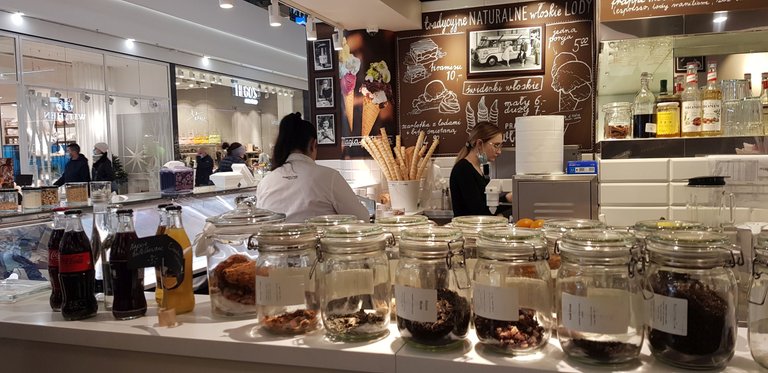 I bought two scoops of ice cream, both cream and mango flavors. My mom only bought one scoop of mango. I usually eat sherbets in summer, when it is hot, and at times like now, during autumn, I prefer slightly heavier flavors, more fatty - such as the creamy one. My choice today was sort of a summer / autumn one. The taste of mangoes reminds me of summer, the season full of fruit, although I eat mango as an imported fruit all year round.
Kupiłam dwie gałki lodów, o smaku śmietankowym i mango. Moja mama kupiła tylko jedną gałkę mango. Sorbety jem zazwyczaj latem, gdy jest gorąco, a w porach takich jak teraz, w czasie jesieni zdecydowanie wolę nieco cięższe smaki, bardziej tłuste - jak chociażby ten śmietankowy. Mój dzisiejszy wybór był jakby letno-jesienny. Smak mango przypomina mi o lecie, porze roku, obfitującej w jedzenie owoców, choć mango jako owoc importowany jem w zasadzie przez cały rok.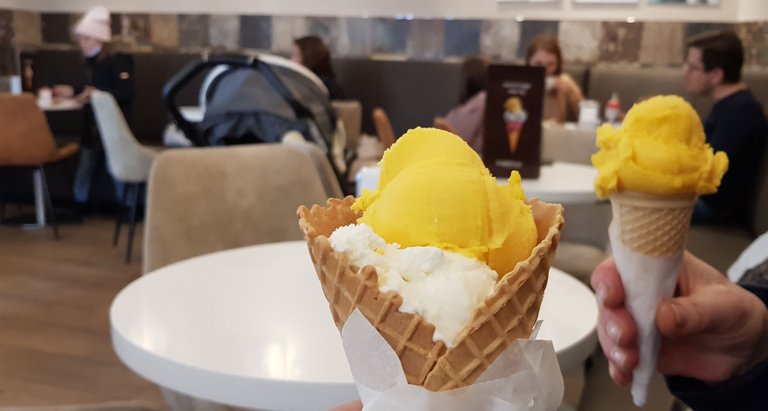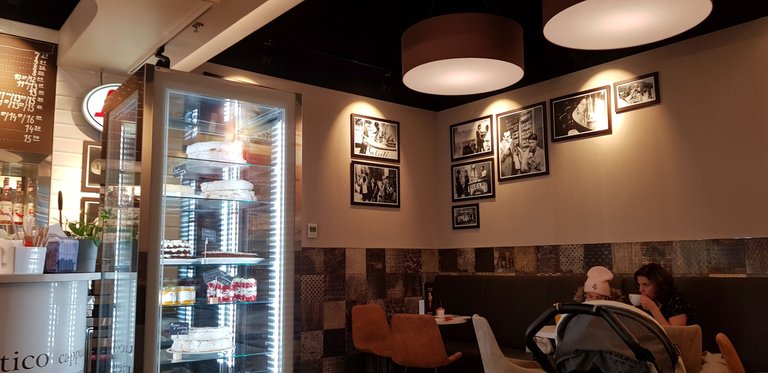 It's a variety of ice cream to choose from. As you can see, there are a lot of them. For lovers of unusual ice cream, blue mint-chocolate ice cream could be a good choice.
To różne lody do wyboru. Jak widzicie, jest ich bardzo dużo. Dla wielbicieli nietypowych lodów dobrym wyborem mogłyby być niebieskie lody o smaku mięty z czekoladą.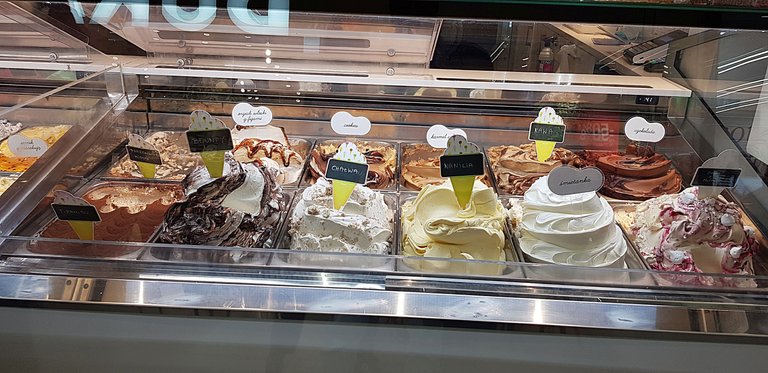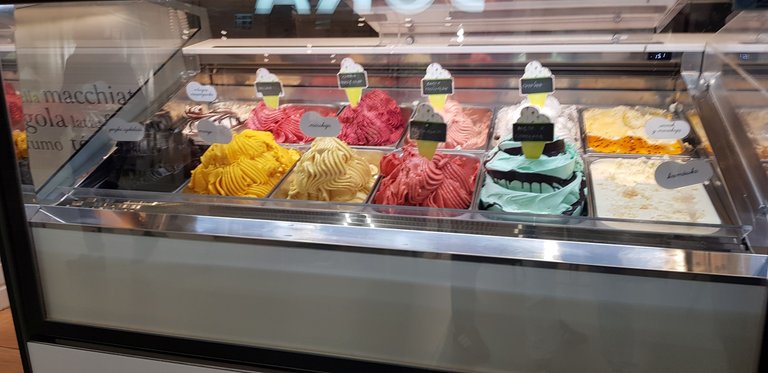 In the cafe, the tables are set inside and outside. I definitely prefer to sit inside the cafe, outside there is always someone walking by, there is less intimacy. I like comfortable armchairs with a modern design in the cafe.
W kawiarni stoliki ustawione są wewnątrz i na zewnątrz. Ja zdecydowanie wolę usiąść wewnątrz kawiarni, na zewnątrz ciągle ktoś przechodzi obok, jest mniejsza intymność. Spodobały mi się też wygodne fotele o nowoczesnym designie.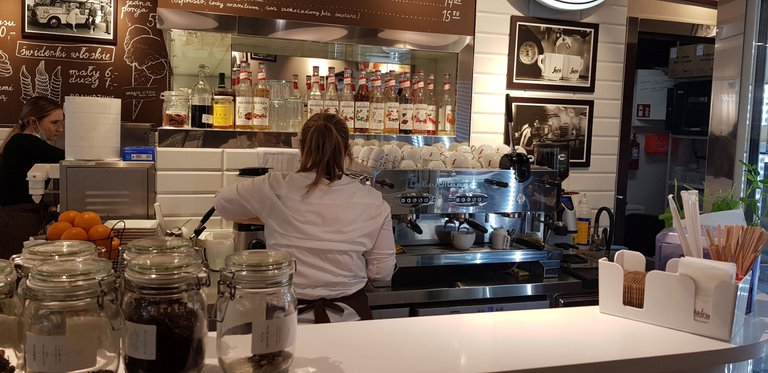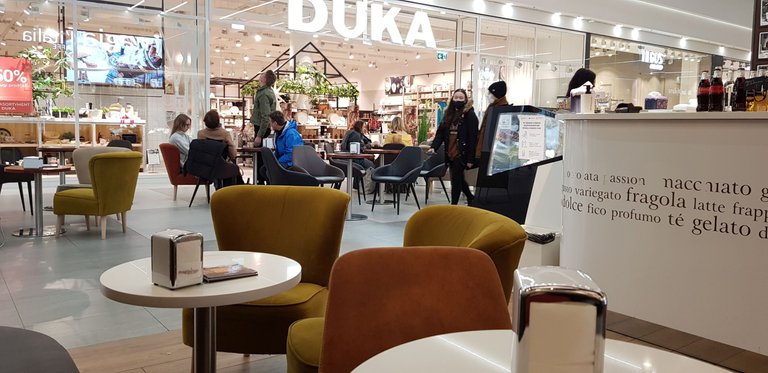 These cute leprechauns are Christmas decorations that my mom bought. She likes various Christmas decorations and gets something new every year.
Te słodkie krasnoludki to ozdoby świąteczne, które kupiła moja mama. Ona lubi różne świąteczne dekoracje i co roku zaopatruje się w coś nowego.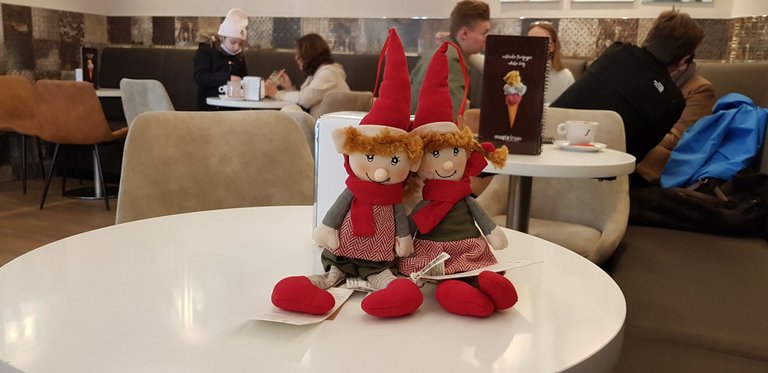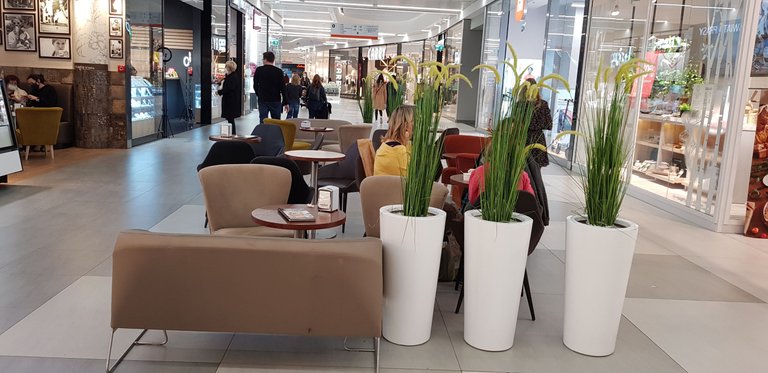 There are various desserts in this refrigerator that can be purchased as an addition to coffee, tea, or simply eaten separately. We can choose from a large meringue with raspberry, meringue with currant, carrot cake, strawberry dessert and natural yoghurt with chia seeds. A very nice place where we took a break from shopping and when we wanted to go back to the car, we had a real adventure. My mom had a hard time finding the car, forgot where she parked it. There were 3 parking lots at different levels in the mall and unfortunately we ended up going to the mall security. It turned out that many people have this problem 😉 and on the board where you can find the store in the shopping center, you can also check where the car is parked. There is an option "Find your car". You have to enter the registration number of the car and its exact location is shown - the number of the nearest parking post and parking place. Wow, I didn't know something like this existed before. We were saved, the car found quickly and my mother drove me home, and she went to her own house.
W tej lodówce znajdują się różne desery, które można kupić jako dodatek do kawy, herbaty, albo po prostu do zjedzenia osobno. Do wyboru mamy dużą bezę z maliną, bezę z porzeczką, ciasto marchewkowe, deser truskawkowy i jogurt naturalny z nasionami chia. Bardzo przyjemne miejsce, w którym zrobiłyśmy sobie przerwę w zakupach i gdy wracałyśmy do samochodu spotkała nas nie lada przygoda. Moja mama miała problem ze znalezieniem samochodu, zapomniała, gdzie go zaparkowała. W centrum handlowym były 3 parkingi na różnych poziomach i niestety skończyło się na tym, że poszłyśmy do ochrony centrum handlowego. Okazało się, że wiele osób ma taki problem 😉 i na tablicy na której można wyszukać, gdzie znajduje się dany sklep w centrum handlowym, jest też możliwość sprawdzenia, gdzie zaparkowało się samochód. Znajduje się tam opcja "Znajdź swój samochód". Trzeba wpisać numer rejestracyjny samochodu i pokazuje się jego dokładna lokalizacja - numer najbliższego słupka i miejsca parkingowego. Wow, nie wiedziałam wcześniej, że coś takiego istnieje. Byłyśmy uratowany, samochód szybko się znalazł i mama podwiozła mnie do domu, a sama pojechała do siebie.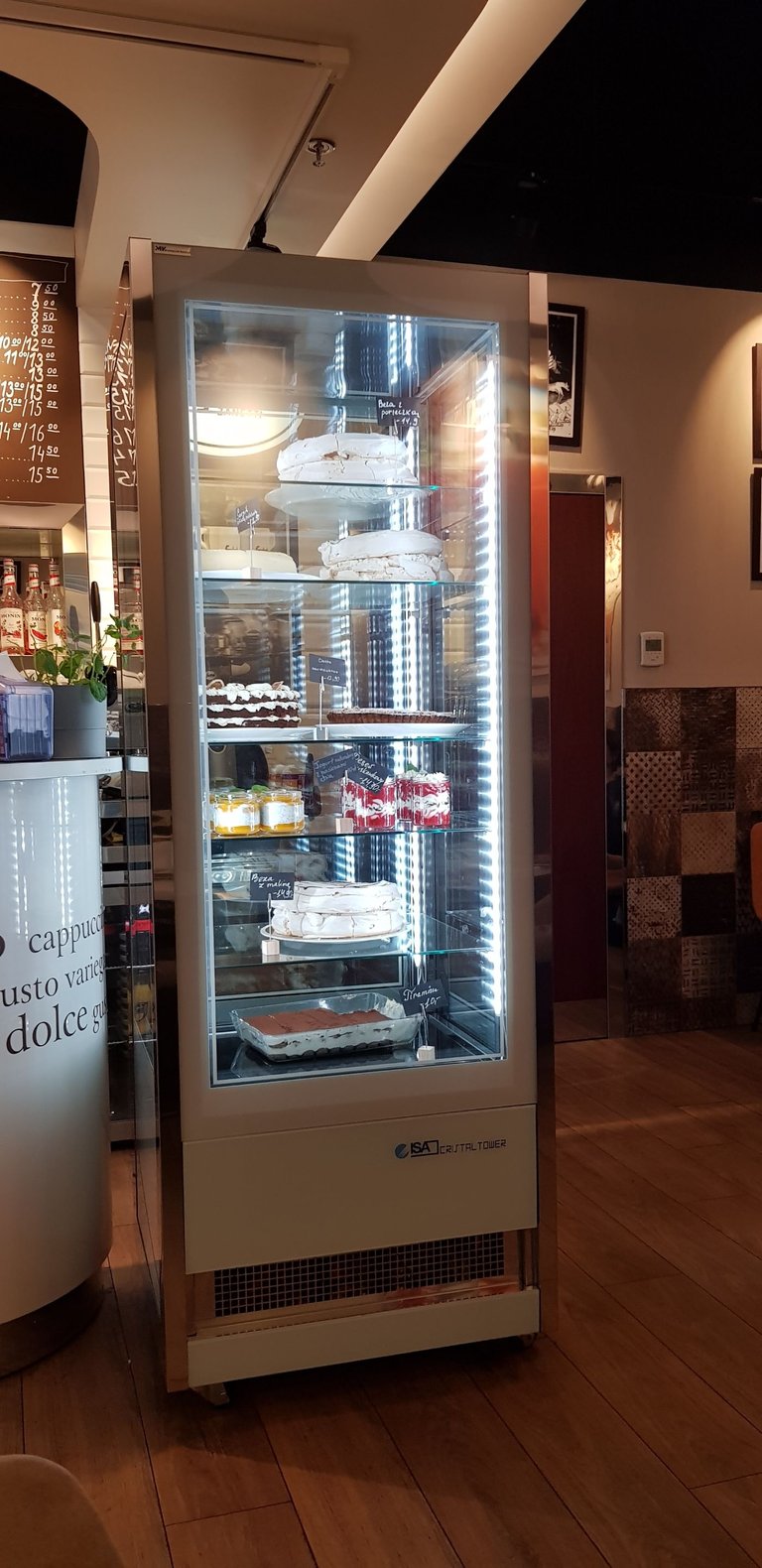 ---
---