(ENG/ESP). HOW TO RESTORE DISUSED EARRINGS./ COMO RESTAURAR UNOS PENDIENTES EN DESUSO./.(TUTORIAL
Very good night I wish for all this great family of @jewelry, it is a great pleasure to greet you on this day and show you, a very easy and simple tutorial, of How to restore earrings, which I have kept for some years, for being discolored and a little broken, but they have a great sentimental value for me, since it was a gift from a good friend, who is no longer with us, I hope you like it, then I show you./
Muy buena noche deseo para toda esta gran familia de @jewelry, es un gran gusto saludarles en este día y mostrar, un muy fácil y sencillo tutorial, de Cómo restaurar unos pendientes, que guardo desde hace algunos años, por estar descoloridos y un poco rotos, pero que tienen para mí un gran valor sentimental, ya que fue un regalo de una buena amiga, que ya no se encuentra entre nosostros,espero les guste, a continuación les muestro.
To do this use the following materials.
. Damaged earrings.
. Cutouts or scraps of white lace.
. Liquid silicone.
. white pearls
. Large white pearl
. Wire
. Scissors
. Gripper./
Para ello use los siguientes materiales.
. Aretes dañados.
. Recortes o retazo de Blonda color blanca.
. Silicón líquido.
. Perlitas blnacas
. Perla grande color blanca
. Alambre
. Tijeras
. Pinza.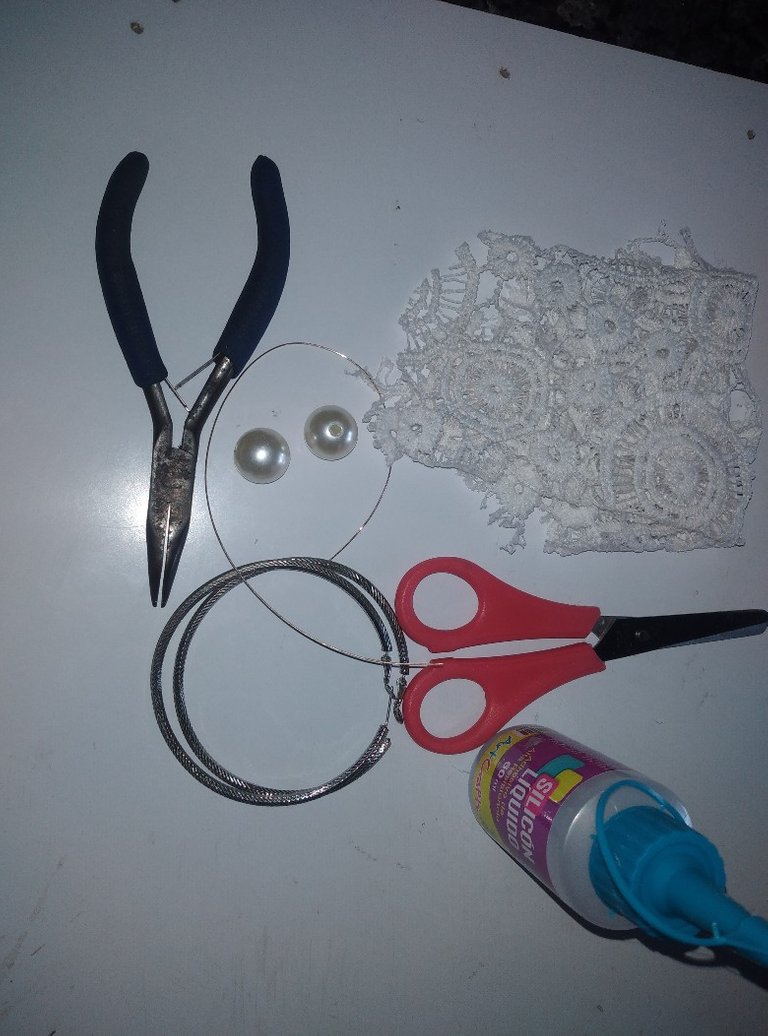 Step/Pasos
1.) Start with the most damaged earring, one of the pins has come out or detached, and it was really the cause of its disuse, then stored it lost a little more or color. Then, using the wire, he assembled that missing flavor, for this I take the piece of wire and put a coil in the place of the pin to tie, and prevent it from moving, and undulate the starting point to fix it inside the piece or ring that it still has. the earring.
1.) Inicio con el arete más dañado, este se le ha salido o despegado uno de los pasadores, y está realmente fue, la causa de su desuso, luego guardado perdió un poco más o color. Entonces usando el alambre, armó ese pasador faltante. para ello tomo un trozo de alambre y poniendo en el lugar del pasador, enrrollo para atar, y evitar se mueva, ondulo la punta de inicio para fijar dentro de la pieza o aro que aún conserva el arete.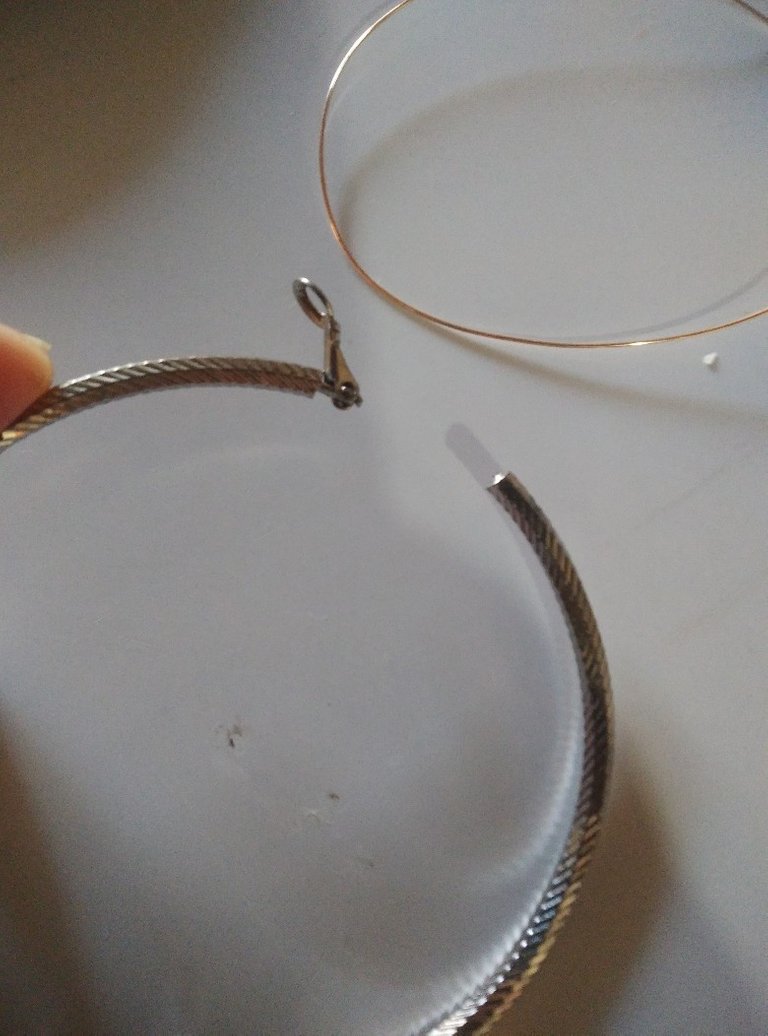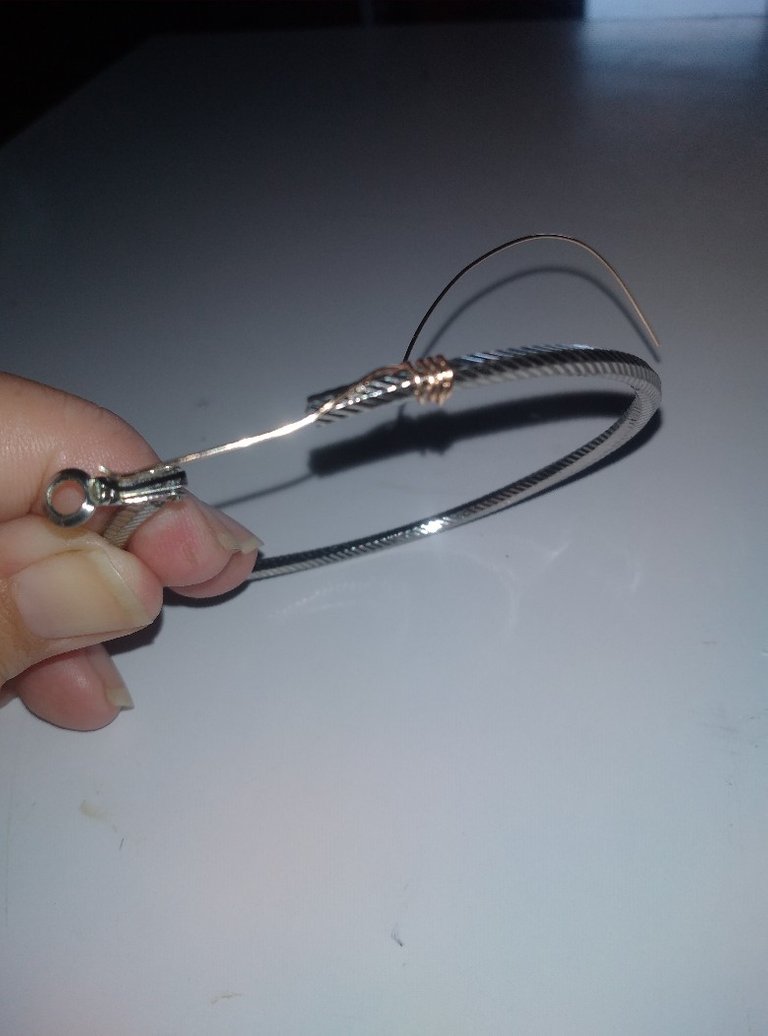 2.) Now I will take a piece of Lace and apply plenty of liquid glue around the earring and carefully stick it on the Lace, so that it is centered and let it dry for a reasonable time.
2.) Ahora tomaré un recorte de Blonda y aplico abundante pegamento líquido por el alrededor de el arete y cuidadosamente pego sobre la blonda, de manera que quede centrado, para que pueda lucir vistosa la aplicacion y dejo secar un tiempo prudente.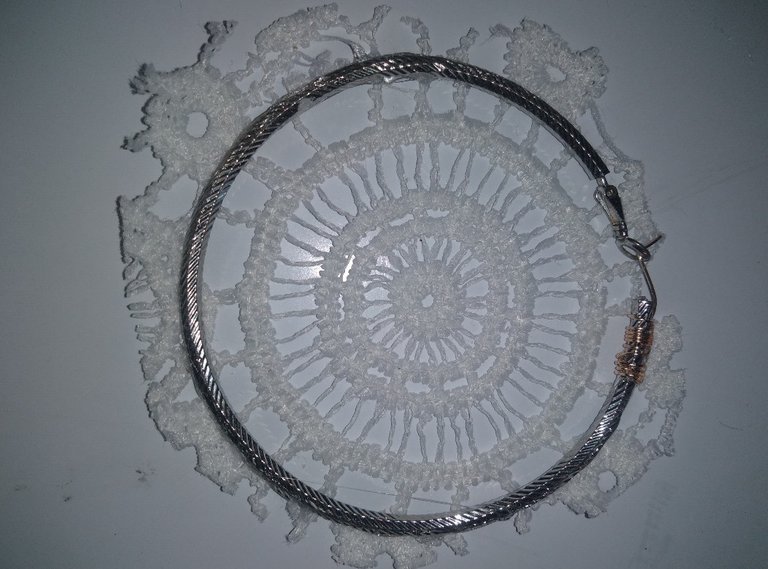 3.) I repeat the previous step to the next hoop, and after dry, I cut the lace residue and apply more glue if necessary so that the earrings have a better finish.
3.) Repito el paso anterior al siguiente aro, y luego de secos,corto el residuo de la blonda y aplico más pegamento de ser necesario para que,nlos aretes tengan mejor acabado.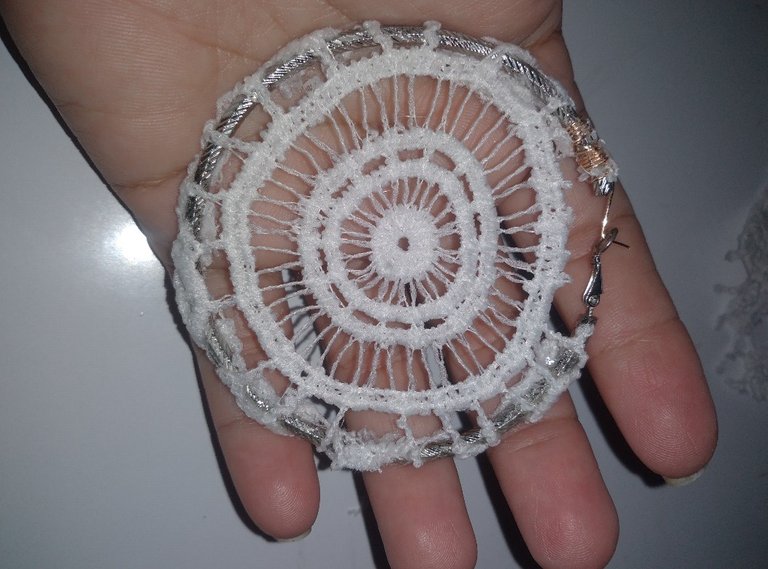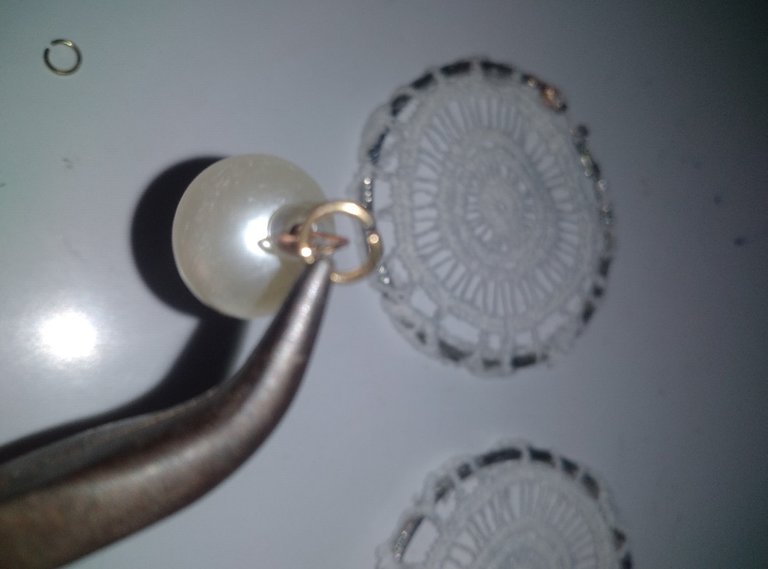 4.) In this step I take a small piece of wire and make a small hoop on one of the ends, I put a small pearl inside it, then a large and a small pearl, when I finish I make a new hoop, turning the wire.
4.) En este paso tomo un pedacito de alambre y hago un pequeño aro en una de las puntas,meto dentro de este una perlita, luego una perla grande y una pequeña, al terminar hago un nuevo arito, dando vuelta al alambre.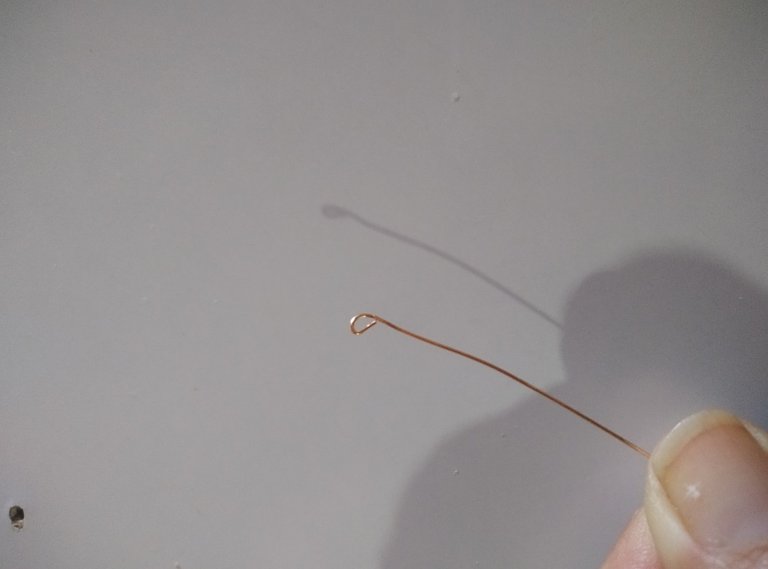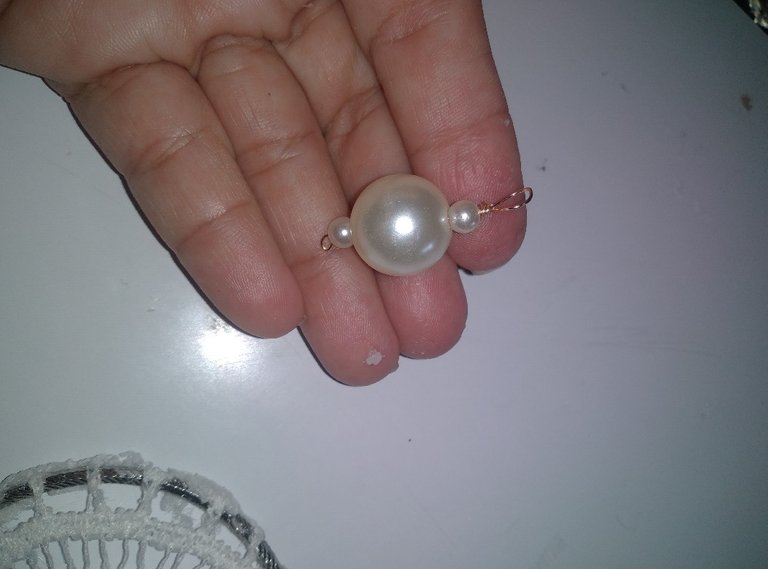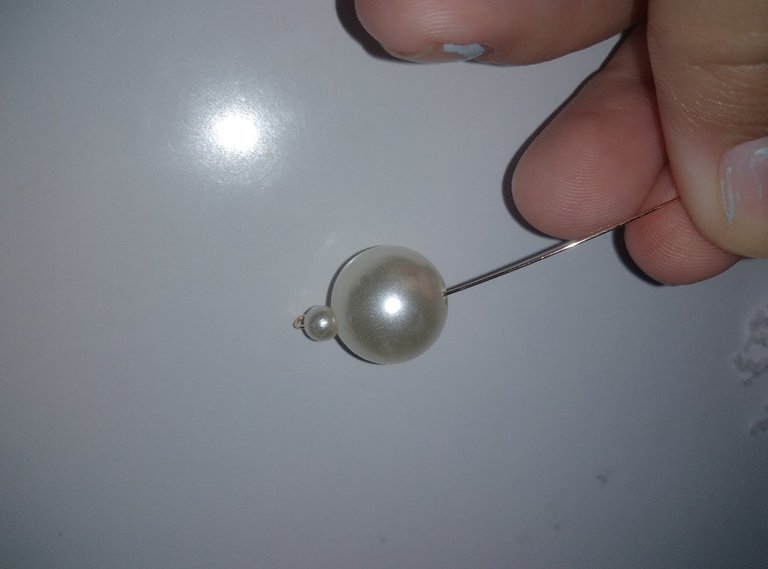 5.) I take the lower central part of the ring and with a small piece of wire I tie the application made in the previous step.
5.) Tomo la parte central inferior del aro y con un pedacito de alambre amarro la aplicación hecha en el paso anterior.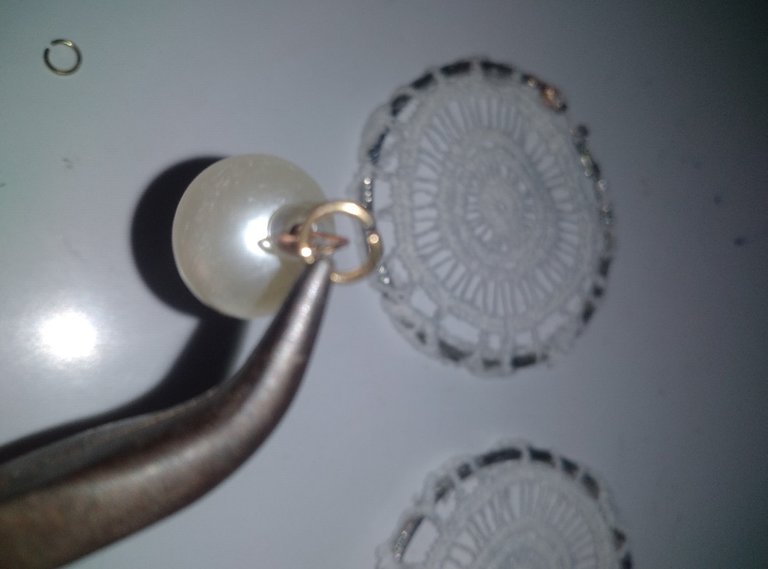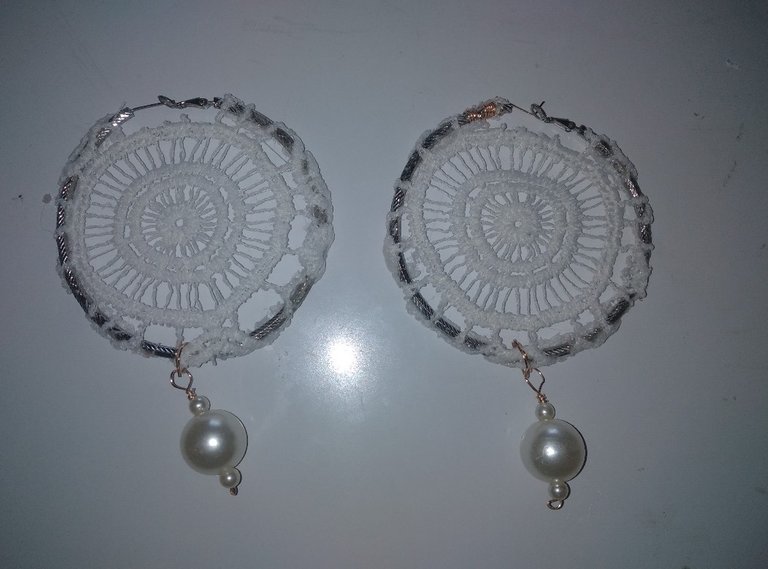 And in this way, I have completed this simple, but very significant project, since I will be able to use this birthday present that they gave me a long time ago for a while longer. Enjoy this restoration very much, I am very turned off to gifts and presents from people who are or were special to me. And extend the life of something that you wore and had left saved much more. I hope you liked it and that it motivates you to extend the life of your damaged accessories./
Y de esta forma, he culminado este sencillo, pero muy significativo proyecto, ya que podré usar por un tiempo más este regalo de cumpleaños que me hicieron hace mucho. Disfrute mucho está restauración, soy muy apagada a los obsequios y presentes de personas que son o fueron especiales para mí. Y alargar la vida de algo que lucistes y habías dejado guardado mucho más. Espero les haya gustado y que les motive a alargar la vida de sus accesorios dañados.
. All photos are my property, taken with my smartphone, during the step by step of this project.
. Use Google translate./
. Todas las fotos son de mí propiedad, tomadas con mí teléfono inteligente, durante el paso a paso del presente proyecto.
. Use traductor Google.
Estoy muy agradecida en que hayas visitado, mí blog, un fuerte abrazo de agradecimiento lleno de mucho cariñito. Será hasta pronto mis queridos amigos de @jewerly.
---
---